If you would like to visit the prettiest streets in Charleston, visit the French Quarter, an adorable area with the cutest streets in the city with the best attractions. If you are on a romantic getaway, visiting the French Quarter is certainly one of the most romantic things to do in Charleston for couples.
Here we will provide you with a walking tour of the unmissable streets in the French Quarter. If you follow our directions, without stopping for too much shopping or lunch, the walk should take around 2 hours to complete.
Firstly, a bit about Charleston. Charleston is known as the bold city. In 1670 English men and women established the city as part of the Carolina settlement. Ten years later settlers moved the town to its current location on the peninsula and set up beautiful residences, many which form part of the French Quarter of Charleston.
Streets of the French Quarter
Don't miss these unmissable streets in the French Quarter while in Charleston.
We enjoyed walking around the French Quarter a few times while we were in Charleston.
Another area we would highly recommend visiting is South of Broad Charleston which will also take you 1-2 hours walking to complete. You can walk South of Broad before or after the French Quarter.
Exchange Street
Exchange Street is the first official street in the French Quarter.
On the corner of exchange Street you can will see a cute tavern where you can buy liquor. The tavern was first established in 1686.
Exchange street has a few businesses in colourful houses that leads out to the bay. A romantic thing to do in Charleston is to go for a walk along the Bay.
At the end of Exchange Street is Waterfront Park with the famous Pineapple fountain in Charleston.
Go past the old exchange building to end edge of Gillon Street where you can find an interesting sign about slave auctions in Charleston.
Head down Gillon Street or the previous street, Prioleau Street.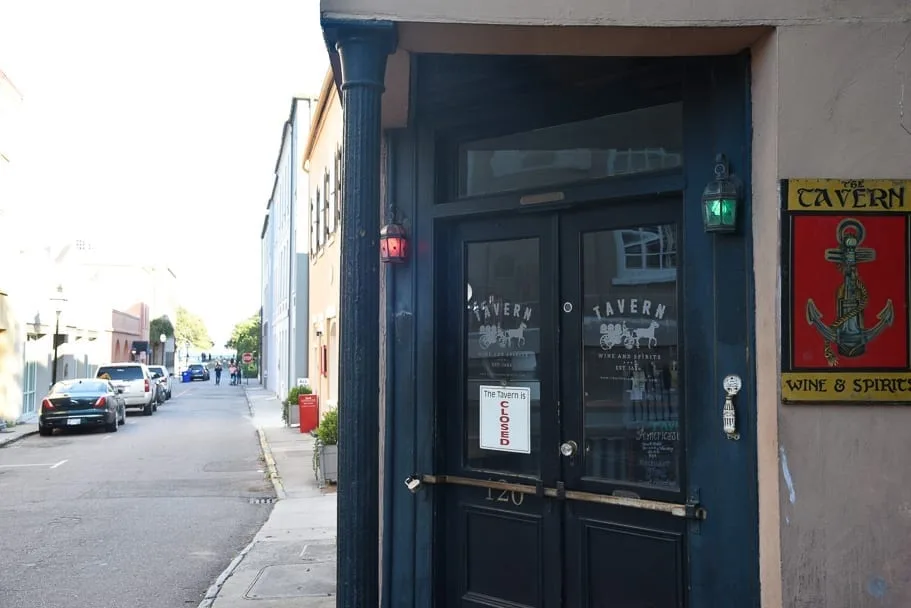 Prioleau St & Waterfront Park
Taking a left from Exchange Street you will come across Prioleau St, a charming street with cute houses, many with red brick.
A lot of the red brick you will find in Charleston was produced from slavery times at Boone Hall Plantation.
There are also some very cute pastel pink houses with wrought iron.
You can also access Waterfront Park and the Pineapple Fountain via this street.
Pineapple Fountain is one of the most instagrammable places in Charleston. At this point you will see many people snapping instagram photos.
In the park adjacent to the fountain you will see the City Gallery which is open from 11 AM to 6 PM Tuesday to Friday and Saturday and Sunday 12 PM till 5 PM if you would like to take a visit.
Waterfront Park is one of the best places for people watching in Charleston. At the park you can see people walking their dogs, taking photography, riding bikes. Often, you can see marines walking down in uniform.
If you are interested in buying a souvenir there are many street vendors at Waterfront Park including some selling traditional Gullah Art. If you would like to learn more about Gullah culture we would highly recommend a visit to Boone Hall Plantation.
If you're staying on the other side of Charleston at Patriots Point you can actually catch the water taxi to Waterfront Park.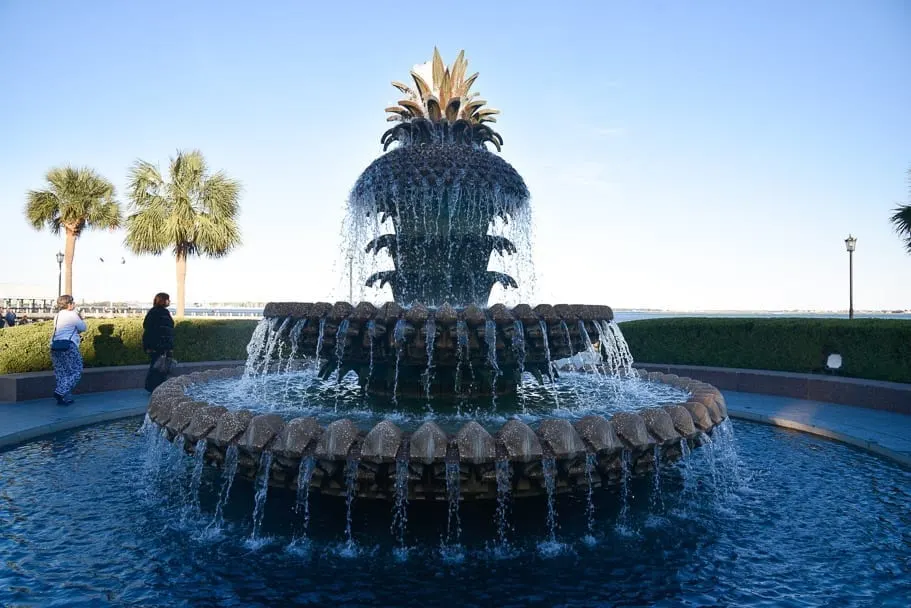 Vendue Range
Continue your French Quarter self guided tour via Vendue Range. On the straight you'll find beautiful hotels including the Harborview Inn.
There are cute shops on this street including an art shop, belgium ice cream and an English pub self-described cold Griffin perfect for pints.
There are some cute little houses including our favourite – 19 Vendue Range, a cute blue house (actually its not a house exactly its an adorable hotel called The Vendue) with overhanging flowers – Oh so cute and instagrammable!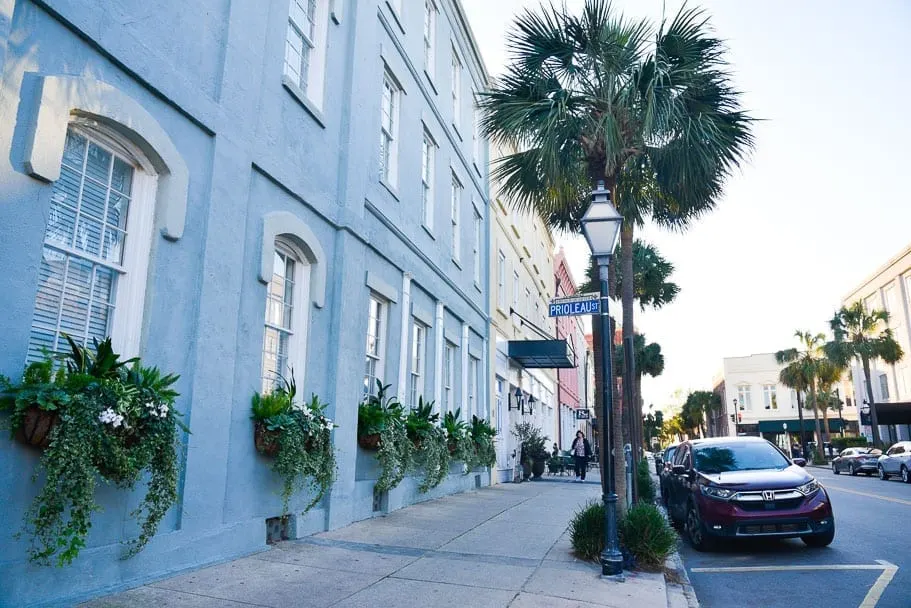 East Bay Street
Walk along East Bay Street to the very end of the French District.
East Bay is a main thoroughfare. Mostly filled with cars however you'll also find the occasional horse drawn carriage in East Bay which is iconic to Charleston.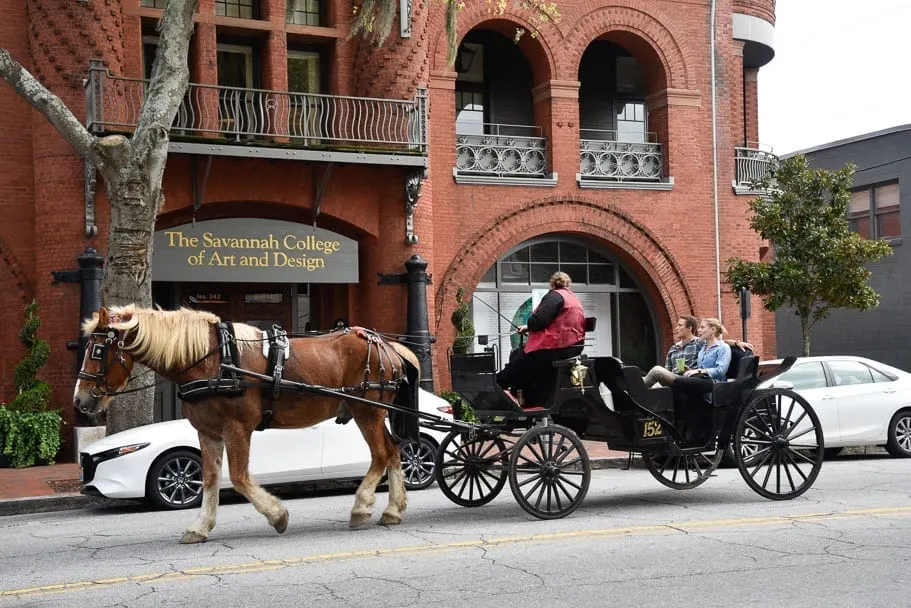 East Bay Street is a shopping and food haven so if you are hungry or feel like a little shopping this is a good place to do it.
There is a popular seafood restaurant & oyster bar called Blossom on this street. If you feel like Southern style dining in Charleston, we would recommend Magnolias, also on East Bay Street, serving award-winning Southern cuisine since 1990.
Another remarkable thing about Charleston you will notice on East Bay Street is the amount of runners walkers and joggers. People are really a lot more healthy here than the rest of the country.
As you walk along East Bay Street you will notice some beautiful art galleries. If you want to have a much fancier souvenir of your time in Charleston keep a lookout for one of the many locally produced pieces of art.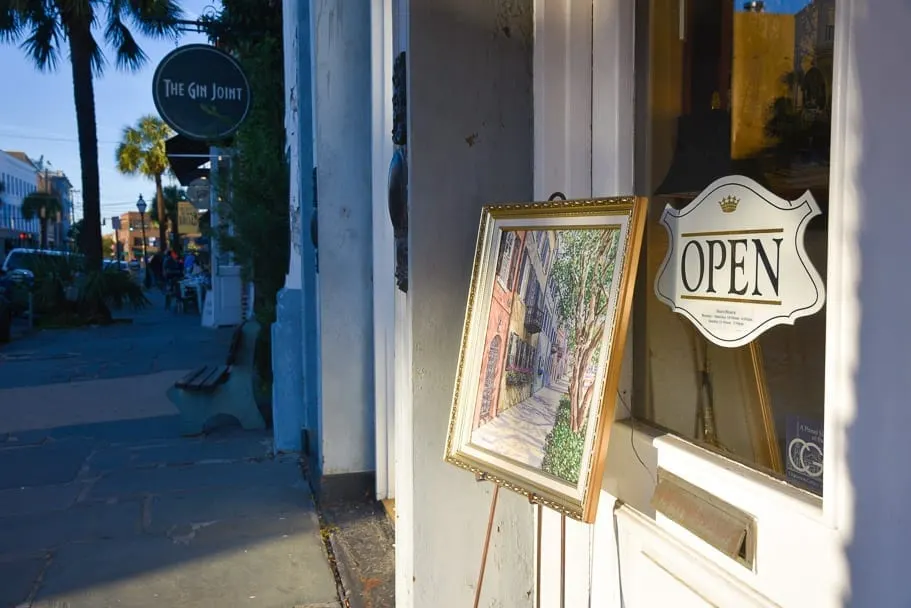 Our hot tip for a rest break anytime of the day is a little place called Carmella's. There are people literally hanging out the doors to get in Carmella's for coffee and cake and cannelloni. Note: they also serve wine.
In one corner of the French quarter is one of the most iconic buildings in Charleston the United States Custom House. If you are getting a bit tired just outside Customs House there are bikes for hire.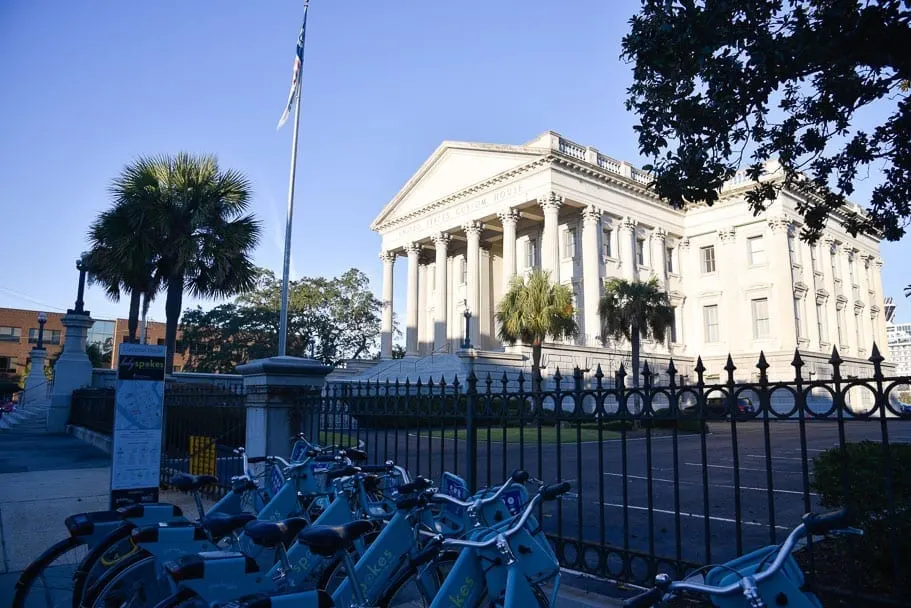 North Market Street
Make a turn at North Market Street. On the end of the street you will see Savannah Candy Kitchen, a great place for snacks.
The candy shop also offers free samples and free public toilets so program this as a toilet break into your tour.
Free public toilets are actually noteworthy in Charleston because there's not a lot of public restrooms and it's common to see signs on the doors of local restaurants that the restaurant restrooms are for private use only.
The most important thing to see on North Market Street is the Charleston City Market established 1807. The city market is a seriously impressive building which covers 4 blocks.
Here vendors sell a variety of things from hats to Christmas ornaments to locally made shoes, candy, paintings, home ornaments, toys, jewelry, wind chimes, candy, T-shirts, paintings and handmade soap. You can also buy traditional Guallah Art.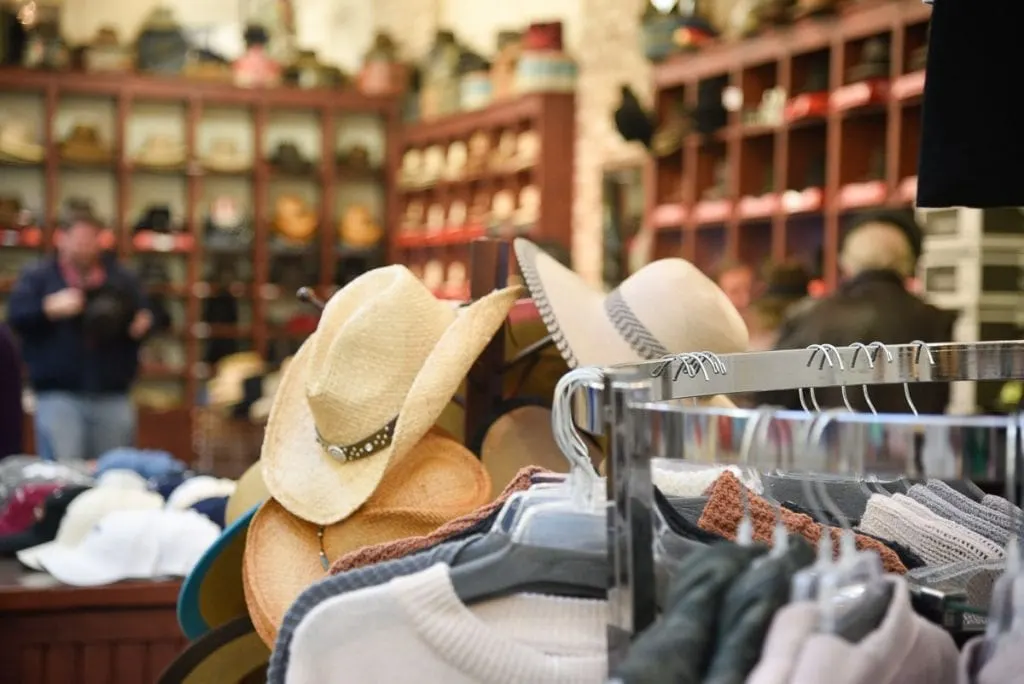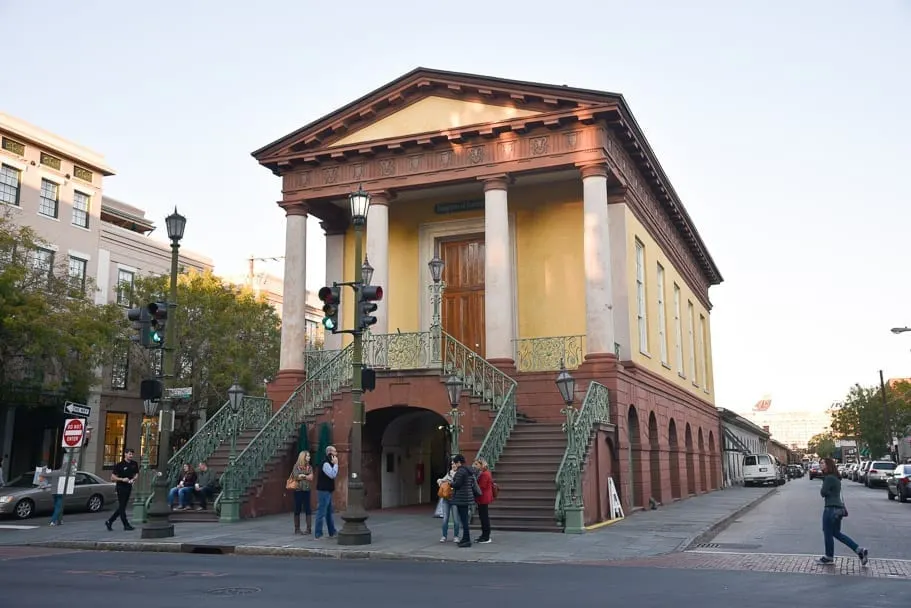 Further along the street there is a pretty funky stop that we would recommend – the five church – which is a converted church that you can now hear rock music blaring out from simple menu including burgers and fries which you can enjoy with a beer and check out the stained-glass windows.
The end of Market Street marks the end of the French Quarter.
Meeting Street
The next street you want to take to stay in the French Quarter of Charleston is Meeting Street.
If it's Christmas there is a whole store dedicated to Christmas on the corner of Meeting Street.
If you love art you might like to make a stop at the Gibbs Musuem of Art, voted Charleston's best musuem 4 years in a row.
The first floor is free and open to the public. Opening hours are 10 AM till 5 PM Monday, Tuesday 10 AM to 8 PM, Wednesday – Sunday 10 AM to 5 PM.
You may want to take a detour off some of the streets nearby including Queen Street. Queen Street has great art galleries and restaurants.
Other cute buildings along Meeting Street are the Pink Mills House and the Siberian Society of Scotland which you could easily mistake for an old Greek building.
Further down the street is our favourite church in Charleston, St Michael's. If you are lucky you will see a horse drawn cart pass St Michaels.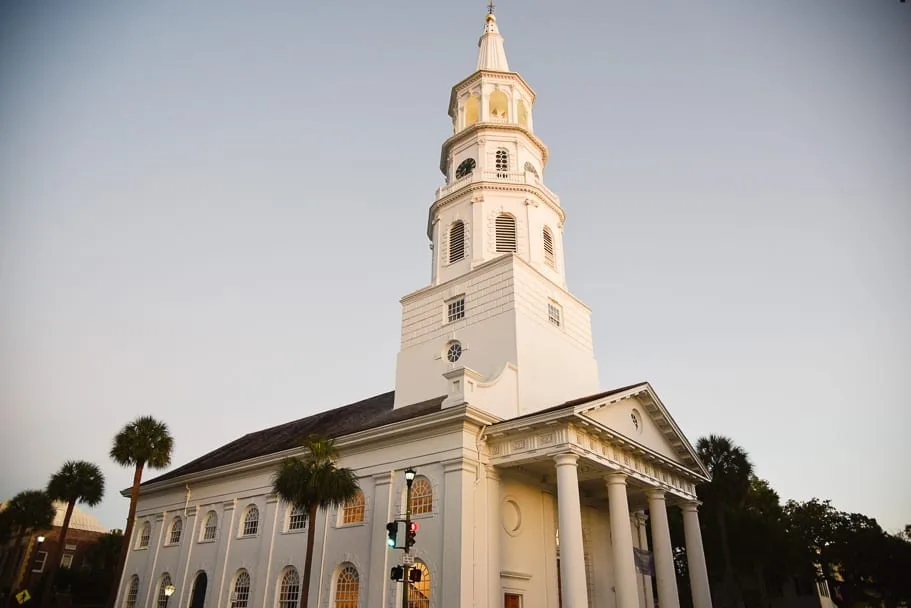 Meeting Street also has the South Carolina Historical Museum, a fireproof building. The building was designed by Charleston born architect Robert Mills. Stone flooring and brownstone seals were used in place of wood.
Chalmers Street
Just off Meeting Street is Chalmers Street which is one of the prettiest streets in Charleston. It has cobblestone streets and oak trees overreaching the street.
It also had some of the cutest houses on this street including a pink house that I'm in love with.
One of the best things to do in Chalmers Street is to make a stop at Washington Square.
Washington Park Square is a square dedicated to George Washington 's tour of the southern states in 1791.
There is a plague in the park dedicated to him which states he was rather taken by Charleston and in particular Charleston women which gave us a chuckle.
It's noted his enormous personal popularity served as a significant force in binding the former 13 colonies into a single nation.
On May 2 he landed one block south of the exchange and customs house. While in Charleston President Washington met with numerous officials and merchants, worshiped at St. Michael's and St. Phillips churches, spoke with various gatherings of citizens and attended several events held in his honour.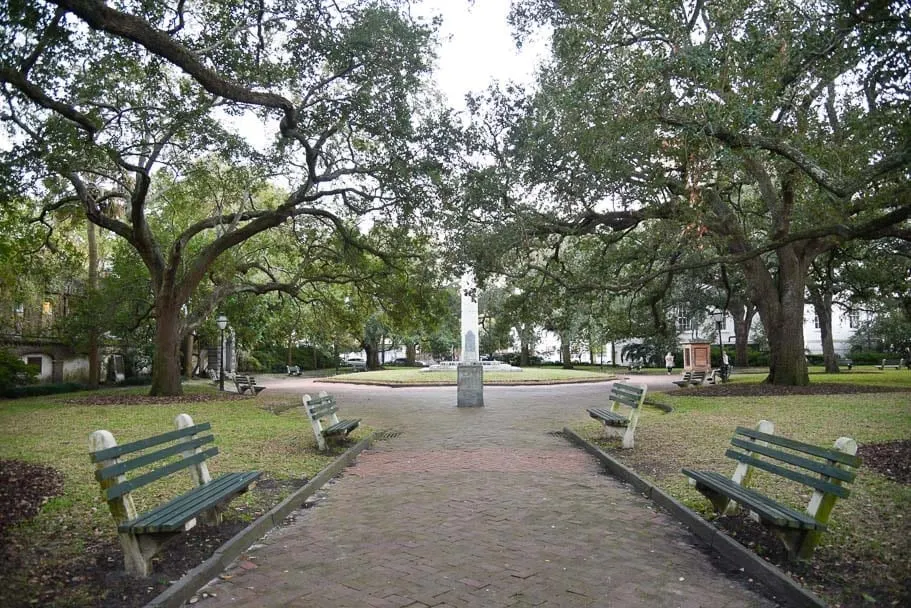 In the street you will also find some of the oldest buildings that used to be former courthouses. A home for retired women is also located on the street. The ladies are quite friendly and might stop to say hello as you pass by.
Walk through the park to the final street, Broad Street.
Broad Street
On the corner of Broad Street is the City Hall, St Michael's Church and the Postal Musuem. The city hall was built in 1801. In total Charleston cuteness, it is a cute pastel pink color.
On the back of St Michael's on Broad Street you can visit an old spooky graveyard.
It is a pretty street. It is also home to many regular businesses in Charleston like accountants, construction offices, law firms etc.
As you walk along Broad Street you will get a lovely view back of St Philips Church.
Other nice buildings on the street to look out for include South State Bank.
If you are doing your walk as night falls on Charleston, you will notice gas lit the lamps lighting the streets – a feature we LOVE about Charleston as it keeps its old world charm.
Oak Steakhouse at the end of the street is a great place to go for a romantic dinner or lunch at the end of your French Quarter walk.
We hope you enjoyed your French Quarter Charleston walk with us. If you have something interesting you noticed, please leave a comment below as it may help other walkers! Happy Charleston exploring!
French Quarter Charleston Map
See the full view of this map here. Follow this map to create your own DIY French Quarter District walking tour!
**
Looking for where to travel next on a road trip? Greenville SC is always a good option and only 3 hours away!
****
Save French Quarter Charleston to Pinterest so you can find it again later!