Driving the Golden Circle in Iceland remains one of our best travel experiences. In fact, we loved it so much we have recently returned to Iceland to do it again!
Iceland has out-of-this-world landscapes shaped by shifting tectonic plates, active thermal geysers and stunning northern lights.
Fortunately, many of the best attractions in Iceland are located on the Golden Circle – a ring loop which can be driven in as little as 4 hours and is very accessible from Reykajavik on a short trip to Iceland.
Read on to discover the Best Things to Do in Icelandon a Self Drive Adventure of the Golden Circle Iceland.
Golden Circle Map (Easy save to Google Maps)
Driving the Golden Circle is a piece of cake if you know where you're going. The best way to cover the route is by doing it yourself with a Rental Car.
We spent so much time plotting all the best things to do along the Golden Circle into Google Maps.
Lucky for you dear reader, you can now easily view and save our Golden Circle Map straight to your phone.
See our Golden Circle Route Map below. Let us know if it helps you!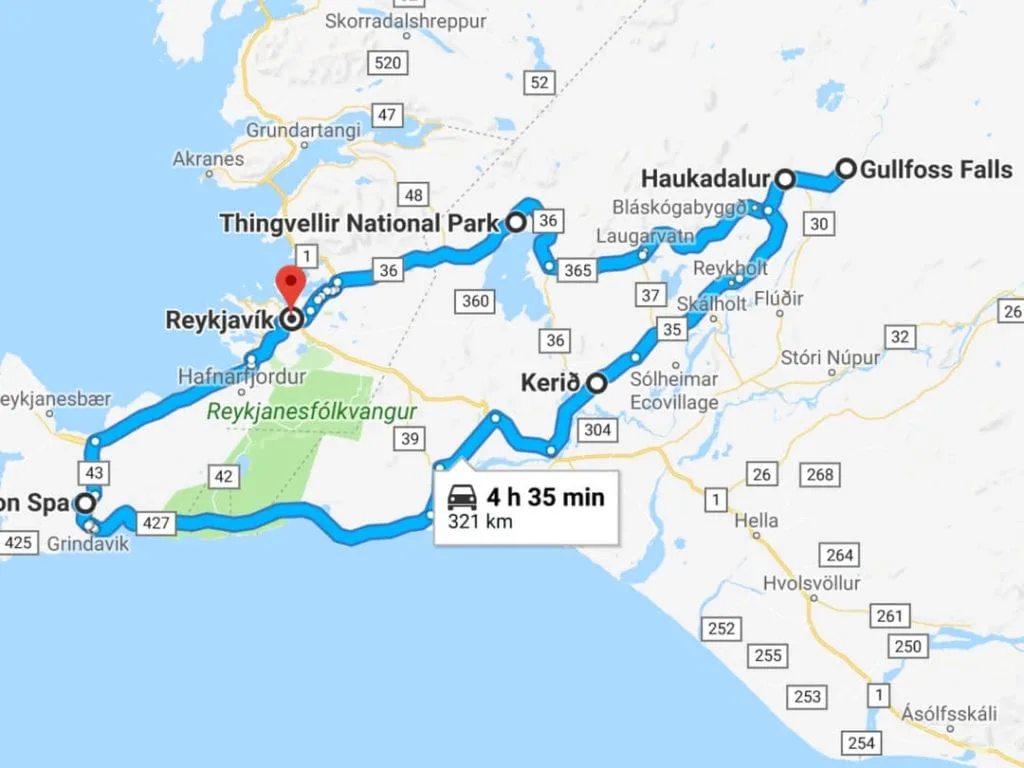 Golden Circle Iceland Map: The Ultimate DIY Driving Guide
The Golden Circle is perfect for travelers who only have a short time to see many of Iceland's best attractions.
It is possible to complete the Golden Circle in just one full day however, if you also want to visit the Blue Lagoon & a few tours (we did a horse riding tour!) we recommend 3 – 4 nights to really appreciate all the Golden Circle has to offer.
If you have more time up your sleeve, you could consider driving the Ring Road which you will need around 10 days for. If you want to do that, we have written a guide to the best Ring Road Hotels as we found accommodation to be quite difficult to find in the more remote areas of Iceland.
Four nights was adequate to quite comfortably self drive Iceland's Golden Circle, visit the Blue Lagoon, take a horse riding tour and watch the Northern Lights!
The first time we drove the Golden Circle route was in winter and we have subsequently returned to Iceland in June to experience the midnight sun and explore the Golden Circle in summer (when it is a tad warmer!)
We completed the Golden Circle route on a couples trip and think it is definitely one of the best things to if you are taking a romantic getaway or honeymoon in Iceland.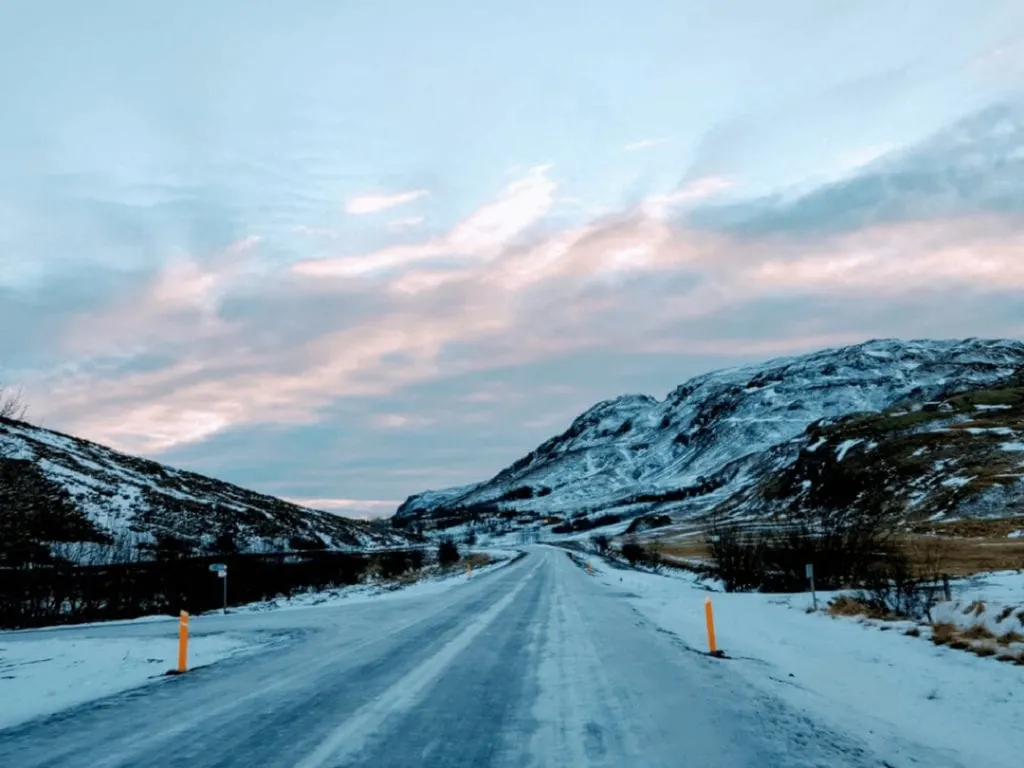 Visit Reykjavik & Take a Horse Riding Tour
For nature lovers, on a short trip to Iceland, we would advise only to briefly explore Reykjavik and prioritise most of your time on the Golden Circle.
If you have a few spare hours in Reykjavik, the city boasts a very architecturally impressive church called Hallgrimskirkjathat we would recommend. It is a gorgeous looking church which is even more stunning on a clear day in Iceland. We would recommend taking a peak inside as it has really cool architecture as well as a massive pipe organ. It is free to enter but there is a charge if you want to go to the top of the tower of the church.
We decided to stay in Reykjavik for one night as we were interested in doing a horse riding tour. Most of the horse riding tours in Iceland provide a transportation service from Reykjavik.
If you want to complete any tours and transport is included you may want to stay a few more nights in Reykjavik before completing your Golden Circle loop. This will save you on car hire for a day or 2.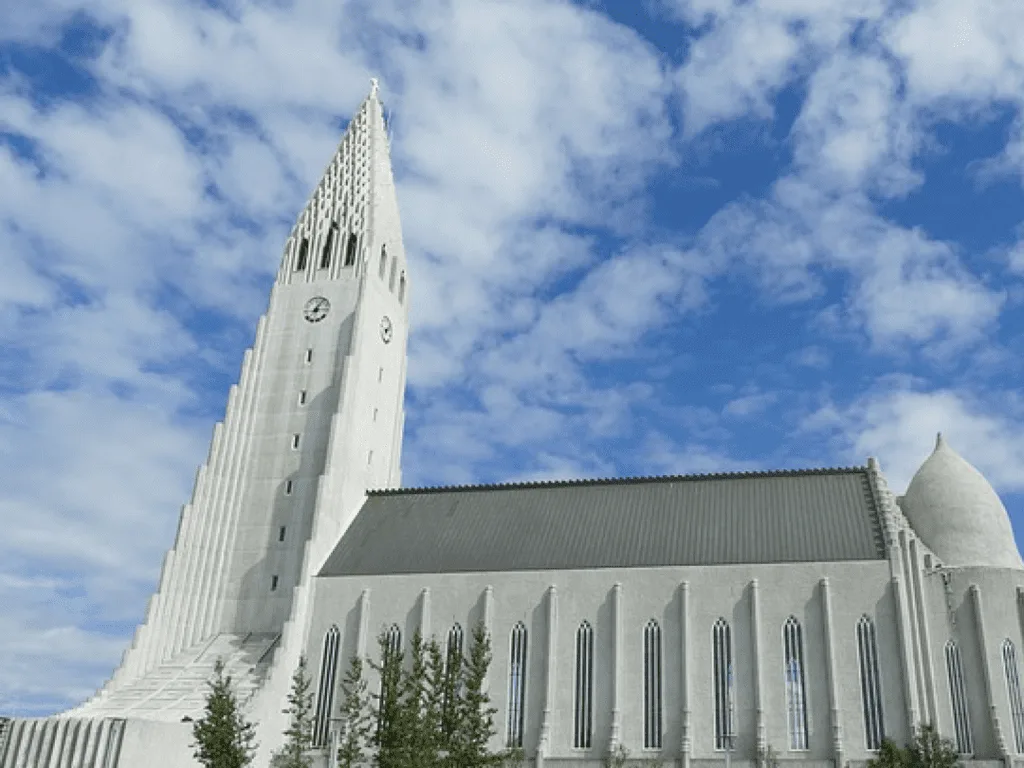 A horse riding tour is a great tour option in Iceland as Icelandic Horses are possibly the most gorgeous breed of horses we have ever had the pleasure to lay our eyes on.
This breed of horse, native to Iceland, are only about the size of a pony with noticeably strong, short legs.
On our horse riding tour in Iceland, we enjoyed a magical sunrise as the horses trotted through the thick snow – an activity we strongly recommend to anyone visiting Iceland.
We fell so in love with the gorgeous Icelandic horse that we stopped numerous times during our road trip of the Golden Circle to take pictures with the horses.
The Icelandic horses we encountered were very friendly. To our surprise, one time, the horses skated over a thin sheet of ice to greet us as we approached the fence.
Tip: Bring carrots for the ultimate Iceland horse encounter – they will love you!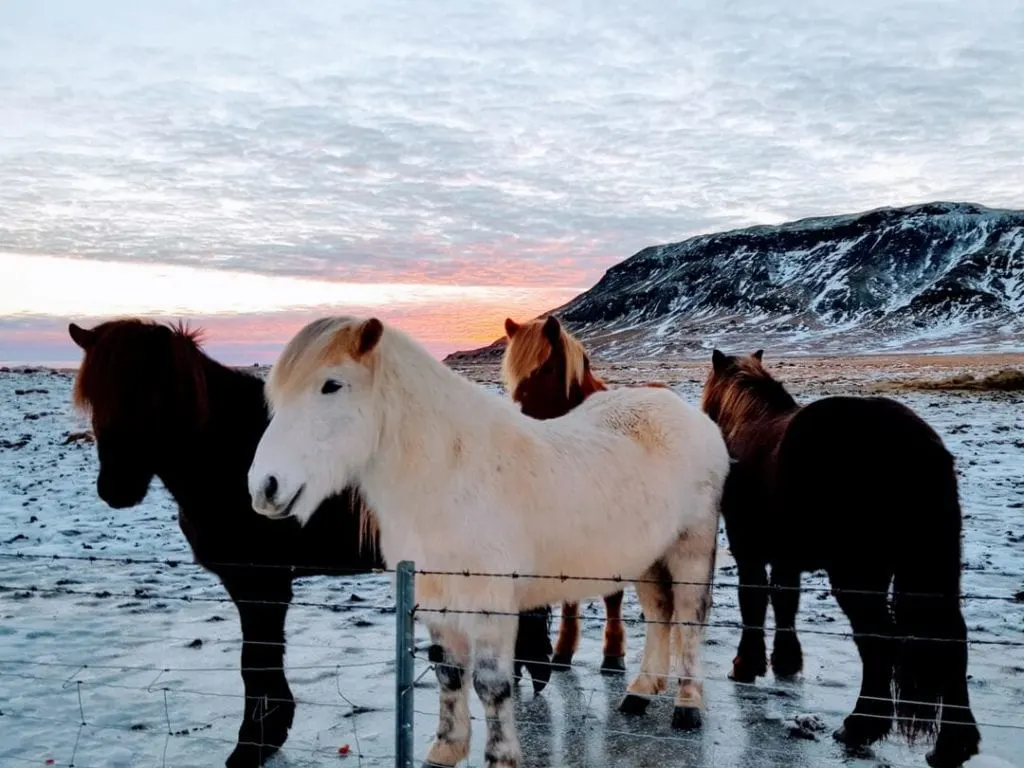 Explore Þingvellir National Park
One of the most picturesque things to do in Iceland is to visit Þingvellir National Park, Iceland's first National Park and a UNESCO World Heritage Site.
Þingvellir National Park is located 45 minutes from Reykjavik. Most visitors stop at Þingvellir National Park as the first stop on the Golden Circle. Interestingly, this was where Iceland's Parliament was established in 930 AD. It is a very historical site in Iceland and if you go there, there is a lot of information on the land's history. A lot of barbaric acts took place on this land including hangings and drowning of women.
The landscape of Þingvellir National Park was very different to what we had seen before. The unique landscape was caused by the North American & Eurasian tectonic plates drifting apart, creating fissures of perfect blue water.
On the northern shore of the park, tourists can go diving and snorkelling in the Silfra fissure. This snorkel/dive site is perfect for thrill seekers as not only is it incredibly beautiful but one of the few places in the world where you can snorkel between tectonic plates.
If you are a fan of Game of Thrones, you can also walk the Almannagjá gorge in the National Park, against the North American tectonic plate where part of the season was filmed.
Þingvellir National Park is a great place to visit year-round but we recently had the pleasure to visit the area in summer and were able to hike around the National Park and visit the stunning Oxararfoss Waterfall, which we had not previously had the opportunity to do in winter as it was just too damn cold!
Note: You can also visit Þingvellir National Park on a day trip from Reykjavik.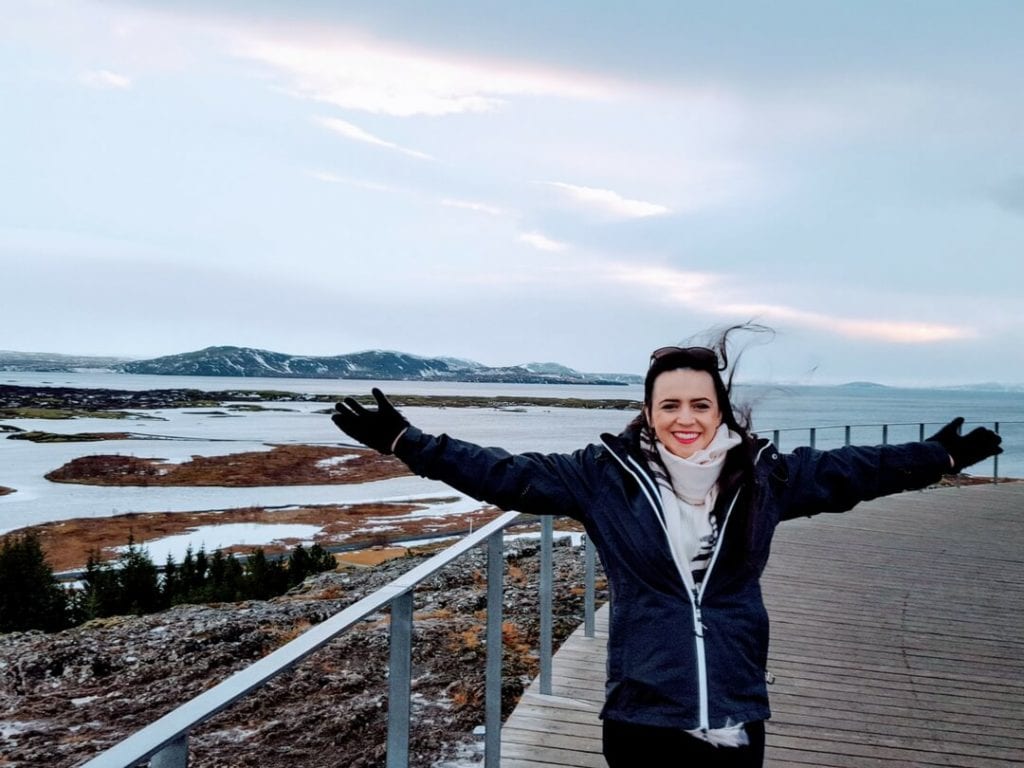 Be Amazed at the Geothermal Geysers
The next logical stop on your Golden Circle Self Driving Tour is the Geothermal Geysers in the Haukadalur Valley. The Geothermal Geysers are located about an hour's drive from Þingvellir National Park.
In our opinion, they are one of the best Things to do in Iceland. We have also previously seen geysers in Yellowstone National Park & on the Uyuni Salt Flats tour and the Geothermal Geysers in Iceland are definitely up there with the best geysers we have seen!
The landscape nearby the geysers is picturesque in its own right, however, the two Geysers in the Haukadalur Valley (the Great Geysir & Strokkur) make the area particularly unique.
The 'Great Geysir' is particularly famous as it is the earliest documented geyser and the geyser which named all others. Unfortunately, these days the Great Geysir rarely erupts.
On the other hand, it's sister geyser, Strokkur Geyser, erupts with a very impressive display of water ejected 20 to 40 metres high into the air every ten minutes. This is particularly spectacular to witness especially if you are a geyser newbie.
Tip: If you are particularly sensitive to smell, bring something to cover your nose as the geysers have a very strong rotten egg smell.
You can sometimes smell this in the water in Iceland, for example when you take a shower so you will have to get used to this smell if you plan to stay in Iceland for a while.
Be mesmerised at Gulfoss Waterfall
Just 15 minutes down the road from the geysers is Gulfoss Waterfall. Gulfoss Waterfall is one of the most beautiful waterfalls in Iceland at an impressive drop of around 30 metres.
The Gulfoss Waterfall is well known for creating vivid rainbows and received its name from the amazing rays of light often seen at the falls. An Icelandic legend surrounding the falls is that once a farmer placed a coffer of gold into the falls as he could not bear anyone else having it after his lifetime.
As we visited the area in winter, when much of the waterfall is frozen solid, we didn't see any rainbows. We did however, witness the most gorgeous white frozen waterfall I have ever seen in my life.
In the summer months, the mighty Hvítá river, which is responsible for creating this spectacular waterfall, is popular for white water rafting.
Tip! If you are visiting in the winter, wear a warm jacket as it is very cold & windy in close proximity to the falls.
Admire Kerið Crater Lake
About a 45 minute drive from Gulfoss Waterfall is Kerið Crater Lake.
This volcanic crater lake is a very impressive sight. It is believed that the Kerið Crater Lake was formed by the weight of the volcano collapsing once the magma had emptied from its chambers.
In summer, the crater lake is a deep blue colour surrounded by jaw dropping red volcanic rock.
In winter, when we witnessed the lake, ice had covered the red rock, making the lake look like a white hole into the centre of the earth.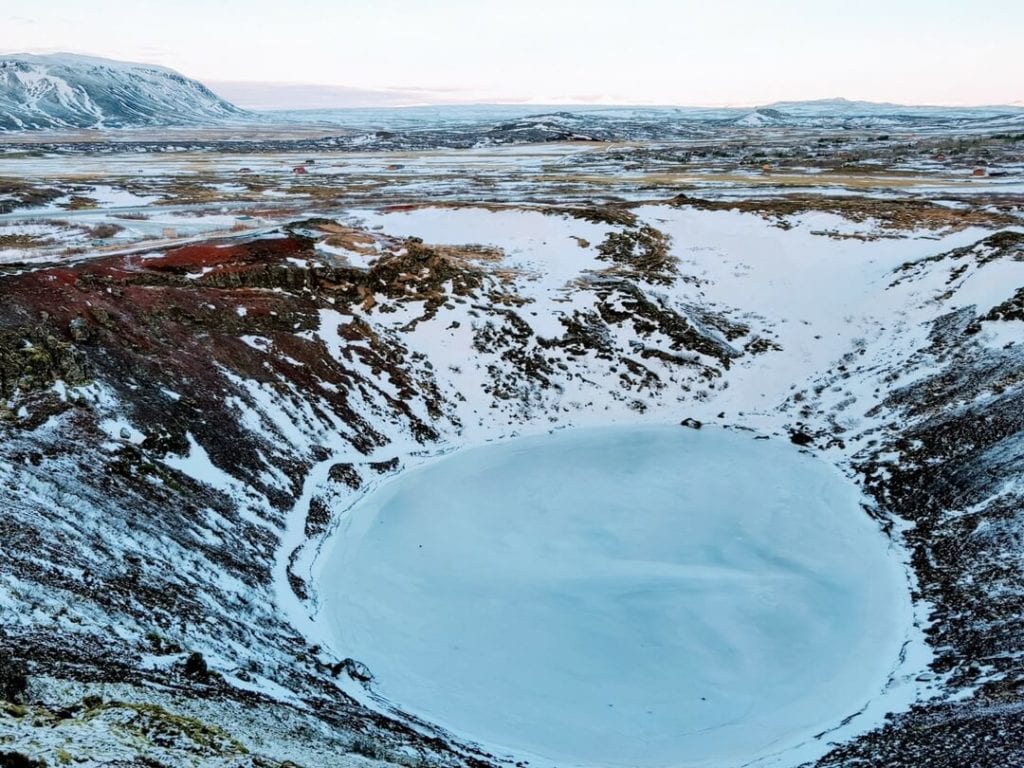 Soak in The Blue Lagoon
The last stop on our Golden Circle drive was the Blue Lagoon. While the Blue Lagoon is not technically located on the golden circle, what trip to Iceland would be complete without a trip to the Blue Lagoon. It is regarded by many as the best thing to do in Iceland and not without good reason!
After a lot of sightseeing in the Golden Circle, the Blue Lagoon is the ideal place to soak sore tired muscles. We have visited the blue lagoon twice (both in summer and in winter and both times were good).
We were completely mesmerized and in awe of the blue lagoon – the steam floating off the top of the baby blue water really makes the blue lagoon feel like a magic place.
If you want to visit a less touristic version of the Blue Lagoon on the golden circle take a dip at the secret lagoon, otherwise known as Gamla Laugin. However, if you only have time to visit one of the two hot springs, our vote goes to the Blue Lagoon – it really is incredible!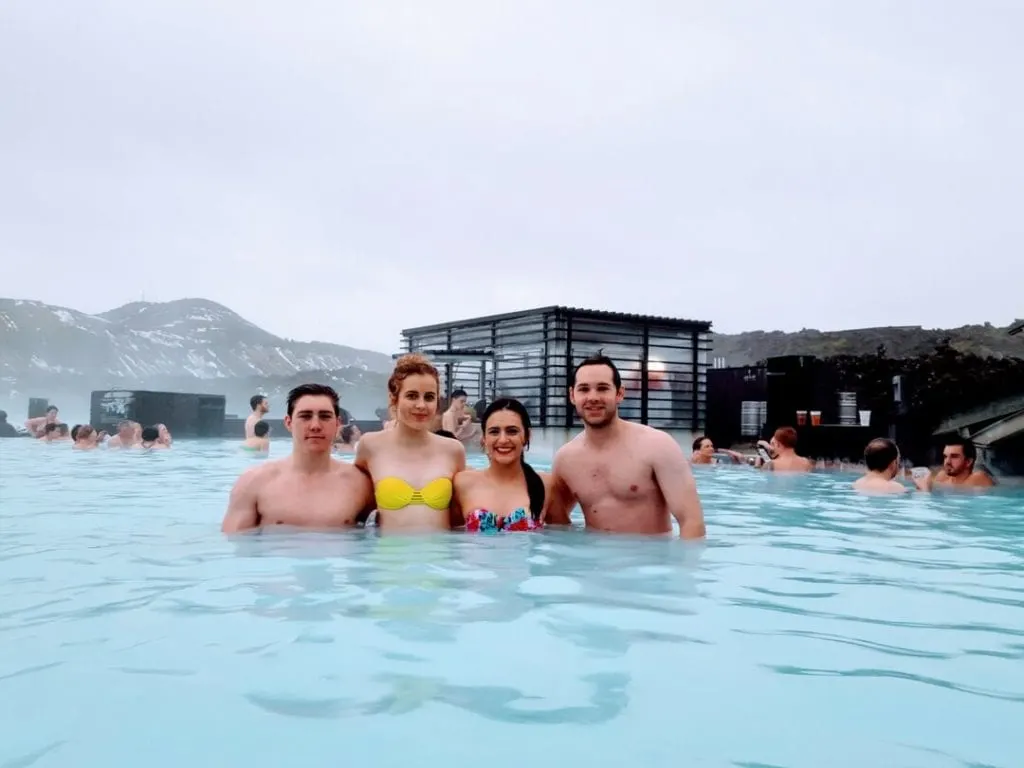 Car Rental for the Golden Circle
If you are visiting Iceland in winter, it is essential to get a reliable car. While it may be possible to hire a small car in the summer months, the roads are very slippery in winter.
For the reason, it is imperative to hire a four wheel drive with snow chains for safety.
We booked with Rental Cars, Booking.com's car rental booking service and were provided with a new & reliable car with good tread on the tires and GPS navigation built into the car.
If you want to read more about Renting a Car in Iceland, we have written a full guide with car hire tips.
When is the best time to travel the Golden Circle?
You can do a golden circle road trip year round.
Roads can be slippery in the winter time (Nov – Feb) but it is a great time to visit the hot springs. There is just something a bit magical about getting into a warm hot spring in winter.
For an all round good time of year to visit, April in Iceland is always a good month!
Summer is when the roads are the least dangerous in Iceland as the snow has completely melted. Check out what we think of Iceland in June.
Where to Stay in Iceland?
The beauty of Iceland is that there are some seriously cool and unique places to stay.
In Reykjavik, we would advise booking a hotel. We would recommend booking.com to find your hotel in Reykjavik due it's very user friendly platform. Here are our top hotel picks in Reykjavik for couples in accordance with budget:
Budget: Skuggi Hotel Reykjavík by Keahotels
Mid Range: Canopy by Hilton Reykjavik City Centre
Luxury: Black Pearl Apartment Hotel
If you plan to stay on the Golden Circle, we would recommend booking an airbnb.
In winter, it is worthwhile to stay somewhere along the Golden Circle to see the Northern Lights – a vivid display of green light.
We would highly recommend renting an airbnb with a hot tub for a highly memorable Northern Lights viewing experience in Iceland. See here for the Best hotels in Iceland with a hot tub!
To see the Northern Lights, you have to be blessed with clear skies. For this reason, it is advisable to stay a few nights on the Golden Circle to maximise your Northern Light viewing opportunities.
On the 3 nights we stayed on the Golden Circle, we only briefly saw the Northern Lights once due to cloudy skies.
If we visited Iceland again in the future, we would book a Northern Lights viewing tour as going further out into the wilderness (as far away from city lights as possible) would increase our chances of seeing the Northern lights in all their green glory. The experts know where to go to avoid any light pollution and give you the best chance to see the lights.
Going to Iceland? Here are some more Resources
If you are headed to Iceland, lucky you! Here are some more resources you might like to help you plan your vacation:
**
Have you completed or are you planning a Golden Circle Iceland drive? If you have any questions or comments about the Golden Circle in Iceland we would love to hear from you, leave a comment below.
Pin our Ultimate Guide to Pinterest (so you can find it again later!)