Looking for really good second date ideas seen as you have successfully made it past the first date, well done by the way!
But you are at the second date rut and looking for good second date ideas.
Never fear, we have you covered with 50 sensational second date ideas!
Note: If you are going to meet his parents soon and are stumped as to what to bring them, you might like to check out our ultimate guide to gifts for his parents!
Good Second Date Ideas!
Good second dates are a real struggle, believe me we've been there.
Here are 50 good second dates to keep your boyfriend or girlfriend on the edge of their seat. I guarantee they will want a third date after this!
Note: These second dates can be done anywhere. We have done all these ideas in multiple countries around the world!
There is nothing that is more interesting than the company of friends.
Invite another couple along for the date, it is sure to get some good conversation going and possibly you will learn a thing or two more about your significant other.
Top places to go on a double date include a restaurant, movies and theme parks.
2. Go to a Theme Park
While we are on the topic, a theme park is the perfect place for a good second date.
You have probably got a lot of the conversation out of the way on your first date so second date is where the fun really begins.
Good relationships are built on having a great time with each other. If you cant have fun at disneyland, the happiest place on earth, maybe you will need to re-evaluate the relationship altogether!
You might also like: Signs he is not interested after a first date (in case you want to know if you are pushing the friendship before you jump on a ride together)
3. A date of your significant other's choosing!
Did you listen carefully at the first date? A partner who listens to their significant other is sure to go a long way and win BIG brownie points.
Does your date like ballet or perhaps the driving range?
Plan a surprise date that is all about them and show them that you really care and want this relationship to go further!
4. Visit a farmers market
Farmers markets (or any markets for that matter) are so fun!
You can find the freshest most delicious produce to feast on including strawberries, mango and much more.
Why not pick out some yummy ingredients together to use for a cook up. This is a great second date idea as it will give a good indication of what life will be like together in the future when the butterflies have gone.
5. Go Rock Climbing
Rock Climbing is such a fun and adventurous activity to do as a couple.
If you are a fit and active couple, find your nearest rock climbing centre to do some rock climbing together.
This is a good second date activity because it will demonstrate trust (or lack thereof) between the couple.
6. Go Jet Skiing
Rock climbing isn't your jam, what about jet skiing?
What could be more be more than jetting through the water snuggled up to your new boyfriend or girlfriend.
If you are a fan of Hitch, you will know that Will Smith and Eva Mendes really hit it off after a jet skiing date. Maybe you will share the same fate?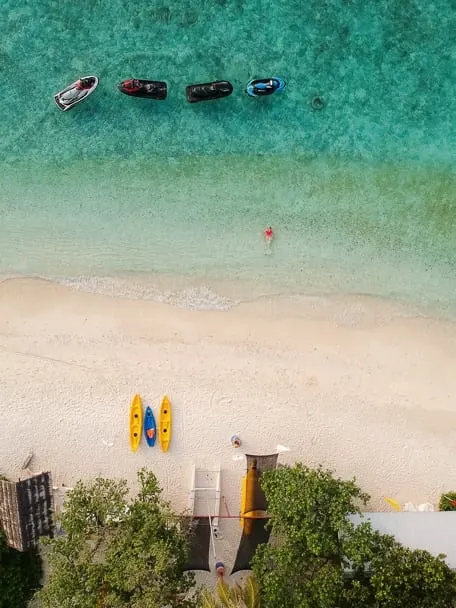 7. Rent bikes and cruise around your city
In most cities now you can rent bikes.
A super fun second date idea is to rent bikes and cruise around your city with your new beau.
Stop for coffee, ice cream and a sneaky canoodle in the park
8. Go to a stand up comedy show
A risky more but an interesting one to see what makes your new beau tick.
Are they funny ha ha or funny sarcastic? This is something you can find out by going to a stand up comedy show.
Tip: Make sure you vet the act before going or it could end up in a very awkward date!
9. Go on a road trip to a nearby city
There is nothing more fun than heading out for the day on a road trip.
Visit a nearby city and become tourists together for a day. They say that couples who can travel together stay together so here is an opportunity to put that theory to the test!
Dine at the locals favourite restaurant, eat ice-cream and just have an amazing day as tourists together.
10. Visit a State Park
Go hiking or simply go for a picnic in your nearest State Park.
Bring some of the yummiest treats including wine, cheese and chocolate of course and really make a day of it!
Our new favourite is Bahia Honda State Park in the Florida Keys. What's yours?
11. Go camping
On the State Park note, why not extend the date and go for an overnight camping adventure at the State Park.
There is nothing more romantic than snuggling with your beau while camping in nature.
We loved camping in Bahia Honda. We had a waterfront spot – falling asleep with that gentle ocean swell is super romantic.
12. Go star gazing
If a full night camping together, is too much too soon on the second date, why not just taking a short drive to a country area and go for a short stargaze after diner.
Stargazing at night in the fresh country air is one of the most romantic activities.
Bring some wine and cheese and have a sneaky drink under the stars.
Share a photo of your cute setup on Instagram. Make sure to say something nice with our romantic quotes for couples.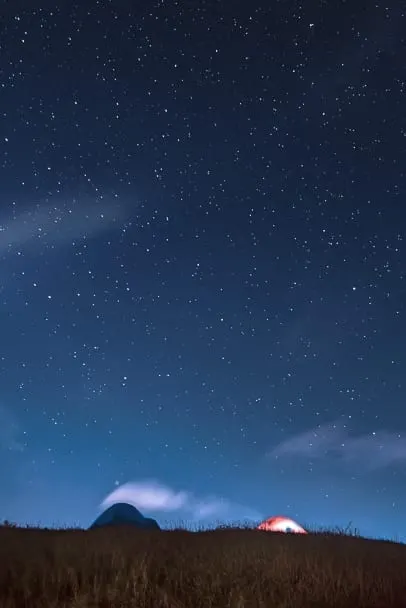 13. Go to a casino
There is nothing more fun than going to a casino to get your gamble on!
Go to the roulette table and enjoy free drinks (if you are in Vegas) while you try your luck on black or white!
If you come out with a win, go to a fancy restaurant for dinner and if you have a loss have a cute cheap date at no other than Maccy-Ds.
14. Go horse riding
We love horse riding. It is definitely one of our favourite dates ideas.
If you want to take horse riding up a notch in the romantic department, why not go for a romantic horse ride in an idyllic location such as in picturesque countryside or at the beach?
15. Watch the sunset
Research and find the best spot in your city to watch the sunset.
Ideally, you want to pick a spot where there isn't a lot of people around as tourists and screaming kids can ruin the absolute magic of a yellow sun setting on a city.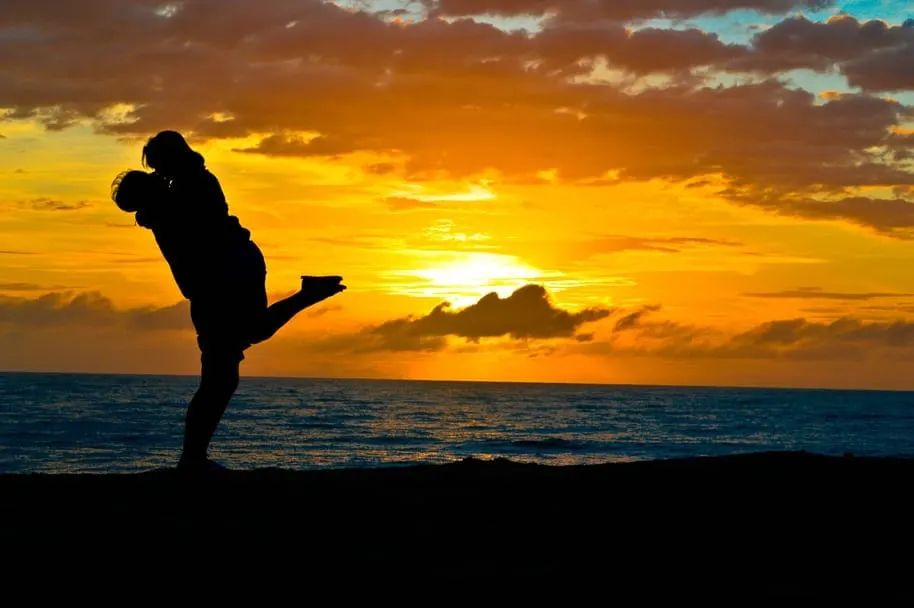 16. Go to an escape room
Escape rooms are the "it" thing at the moment. What better time to try it out than on a second date with your new beau.
An escape room is not only fun but it will provide you with memories moving in the relationship.
17. Go Skiing
If it is winter at the time of your second date, a perfect way to spend it is up in the ski fields.
If your new bf/gf does not have a lot of prior experience skiing, this is a perfect bonding experience for the two of you.
End the date with a snowball fight or drinking a warm cup of cocoa in a cozy cafe at the bottom of the slopes.
18. Helicopter Ride
If money is no object, a helicopter ride is a sure thing to impress a date!
Going on 2 helicopter rides in New Zealand was one of the highlights of our trip – seeing beautiful scenery from the sky is breathtaking.
We went on a helicopter ride that landed in a vineyard, a very good option for a second date idea.
You've found the one so why not start completing your couples bucket list today!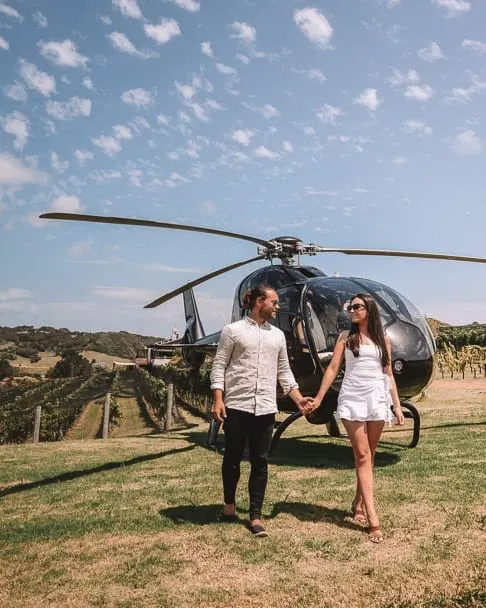 19. Make crafts together
If you are a crafty type, it might be fun to make something together.
Whether its traditional crafts or building a lego castle, doing a project of some kind can certainly bring you closer together.
20. Hire some segways or go on a tour
There is nothing quite like going on a dorky segway date together.
Join a local tourist group and tour your city, being a tourist in your own city is sure to mean a few laughs along the way.
21. Take cute pictures together
Find a scenic area and make your relationship official by taking some cute pictures together that you can hang on the wall at home.
Take some selfies or bring a tripod with you to take some DIY pictures together from a further distance.
22. Dine at the other person's favourite restaurant
Getting to know someone means getting to know what type of food they like.
Suggest to take turns dining at each other's favourite restaurant.
23. Go to a festival
There is nothing more fun than visiting a festival together.
Plan to have matching outfits and make everyone else jealous of your super cringy #couplegoals
24. Take your new drone for a spin
Impress your new date with your excellent flying skills! You can take some super cool photography of the pair of you from the air.
Make sure you always abide with drone laws in the area. It would be a failed date if you both wound up in jail!
25. Go surfing
If you live near the beach, a morning surf never goes astray.
Teach your signifiant other how to surf or fail miserably together – either way, its sure to make a date that neither of you will soon forget!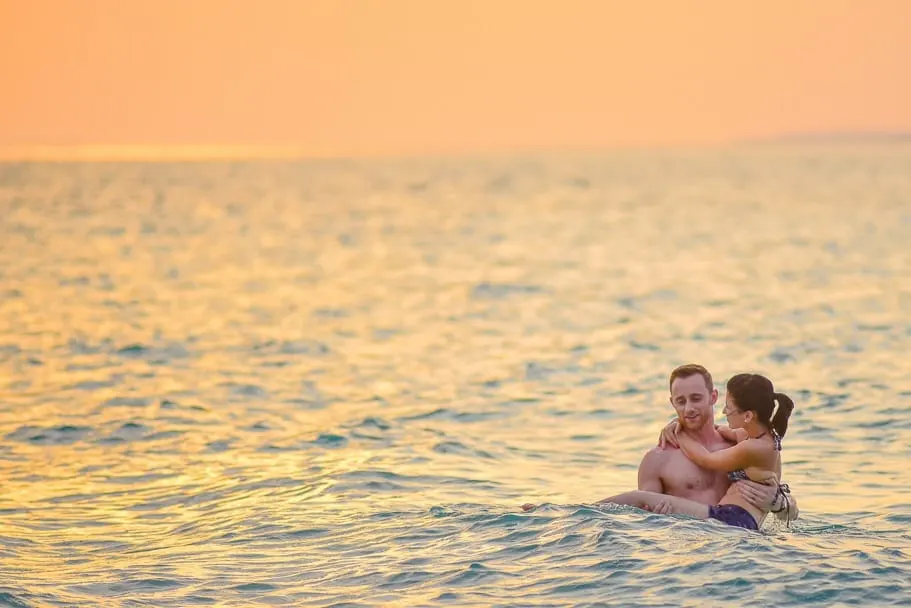 26. Go to a trampoline park
I must admit, I have always wanted to go to one of these!
How much fun jumping up and down indoors on hundreds of trampolines!
Challenge each other to fun games you did as kids on trampolines such as back flips.
27. Have a pool party for 2
Speaking pf being kids, what is more fun than a pool party!
Pump up the floaties, bring out the water guns and make some yummy cocktails.
28. Go Zip lining
We have always been very disappointed we didn't go zip lining in Costa Rica.
Zip lining is definitely a super fun date idea. I mean what is more fun than zipping through the sky together.
29. Wine Tasting at a Vineyard
Go wine tasting at a vineyard, it might become a roadtrip unless there is a vineyard near you.
In our travels, we found vineyards at the most unexpected places including one just outside London!
30. Go to a roof top bar
Room top bars are the absolute BEST because they involve both alcohol plus amazing views.
We would suggest going at night and selecting a Room top bar with a skyline view to pump the romance up!
31. Get coffee
This idea really should be on Date 1- 100000 it is a true classic and one we do every day of our life.
In true Gilmore Girls fashion, coffee spurs deep and meaningful conversation. You can really get to know each other on a deeper level over coffee.
32. Make Sushi
Sushi is such a fun date idea because it is so findly and frustrating to make.
Have fun goofing off regarding who made the best and worst sushi and have even more fun eating it. Because lets face it, even if sushi looks bad, it always tastes delicious!
33. Make Cake (or have a cake fight!)
Sushi not your jam? Then make cake or better yet have a cake fight!
Bake the cake, eat a little and head into the garden after for the fight! One of the best stay at home date ideas!
34. Have a water bomb fight
If you are a more traditional person, you could just go with a plain old water bomb fight.
Water bomb fights are so fun and really can bring out the competitive side (which is very fun to see!)
35. Go for a scenic drive
Research the most scenic drive in your local area and drive the route for your date.
Pack a picnic lunch and stop for cute rest stops only the way.
36. Visit the Botanical Gardens
You probably haven't been there since a kid so when is better time to revisit much forgotten areas of our city than on a second date.
37. Play Truth or Dare
Are you ready to reveal the whole truth about yourself or potentially go on a nudie run of your city then play a game of truth or dare.
Let's face it, you will really know if the other is marriage material after you play!
38. Go to a waterpark
If it is summer, there is nothing more fun than heading to a water park.
Go on tube rides together, chill out at the lazy river or hold each others hand in the wave pool.
A waterpark is one of the best couple things to do on a rainy day as let's face it, you're wet anyway!
39. Lord of the Rings Marathon
If you want your date to go on all day and night, opt for a Lord of the Rings movie marathon.
Most people love Lord of the Rings so this is sure to be a big win!
40. Buy matching outfits and wear them all day
Buy dorky matching outfits at a cheap store and wear them all day around town.
You will definitely create fun new memories doing a date like this!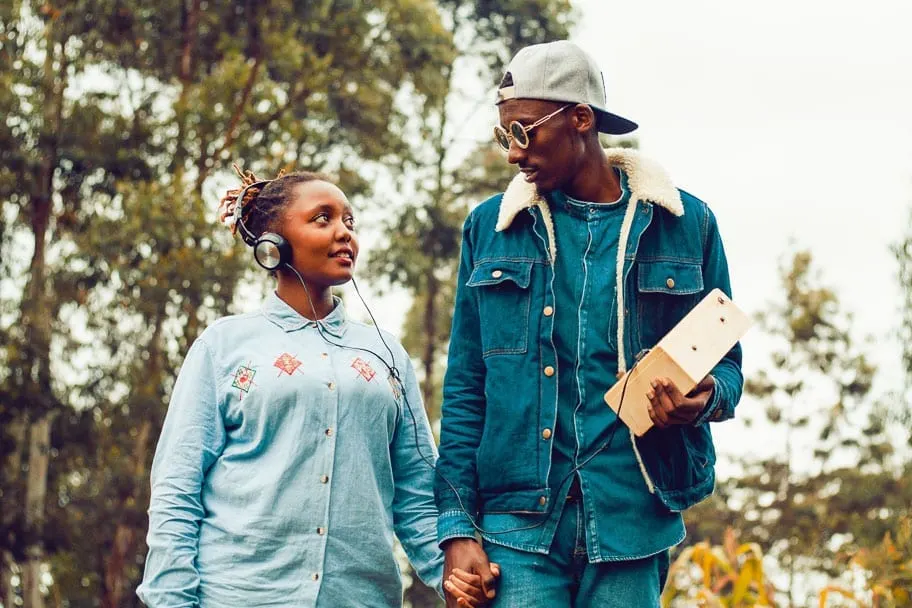 40. Go on a train and explore a new area
Even if it is just a new suburb, exploring a new area can be ever so fun!
Look at the houses in the area, imagine who lives there and find a new interesting place to have lunch!
We love the idea of catching a train on a rainy day. You can enjoy being dry while watching everyone else run around like crazy people!
When you're ready to go exploring you can cuddle up tight under an umbrella and make a dash for it. Very cute!
If you're looking for rainy day inspiration, check out our post about date ideas for rainy days.
41. Meet for happy hour drinks!
Who doesn't love a bargain! Happy hour drinks gets everyone in the right spirit because quite frankly it means you can drink twice as much.
Drinking twice as much gets the lips moving and makes for an awfully good second date!
42. Enjoy a cheese or chocolate fondue!
Fondues are so much fun – there is nothing quite like dipping sticks of strawberry or chocolate-y goodness into the most delicious sauces.
In the past fondues were only for the sweet tooth amongst us. Nowadays, savoury lovers can also enjoy a cheese fondue! Oh, the possibilities are endless!
43. Go to a ball
For the super elegant, a good second date would involve no less than a ball. Hey, lets face it, most girls would be pretty impressed if their date suggested they go to a ball for a second date!
Nowadays, charities regularly run balls to raise money for different causes so the chances are there is a ball available when you want to go for a date.
Balls usually need to be booked in advance and can be quite costly so this is a date to seriously impress!
44. Get Massages!
Go to a day spa or set up a DIY spa at home and take turns at giving each other massages.
If you opt for the DIY option make sure you buy lots of delicious smelling oil and scented candles!
45. Build a snowman
If conditions are right, there is nothing cuter than going outside and building a snowman.
In our opinion, this is a pretty darn good second date idea!
Give him a carrot nose, find some sticks for arms and make sure you take pictures for memories to show your future kids!
46. Eat ice cream at a park
Take a stroll through a park with a big scoop of of ice cream from your local gelato store.
Good scenery + good company + good taste is sure to win any date over!
47. Have a family dinner
Wait, this is a second date? Isn't that a little too soon?
Hey, we are just throwing it out there – any takers?
All jokes aside, this could be helpful as often your family know best when it comes to relationships and partner suitability.
48. Go on a ghost tour
Every city we have been to runs really cool ghost tours where they tell stories of legends past.
A ghost tour would be a good second date idea as when you are scared it is the perfect opportunity to get close and cuddly.
49. Watch fireworks
This date is really good but it involves good timing. Check your city schedule and if your date coincides with fireworks in the city, you are seriously in luck my friend.
50. Build a cubby house
Indoors or outdoors, you pick, we saved the best for last because this option is just oh so cuutttee!
And if you happen to build a cubby house, send us a picture because we love to see cuteness overload.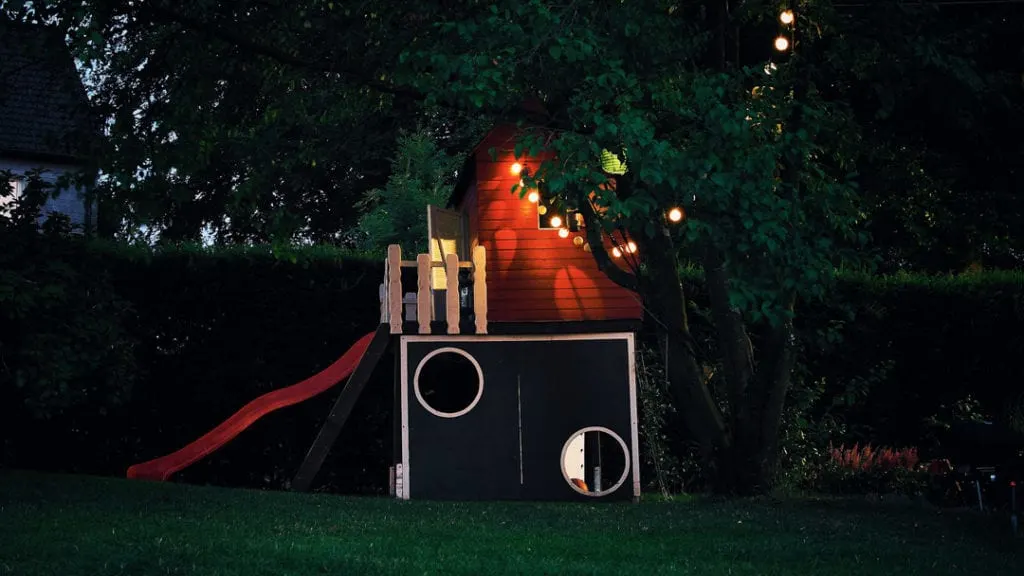 What Should Happen on a Second Date?
Second dates are a time when you are still getting to know each other.
Keep the date light and fluffy – nothing too serious and it will pave the way for a very successful long term relationship.
Second Date Rules
There is no rule book. Do whatever makes you feel comfortable or natural.
As indicted above, try to keep things light and fluffy. Most importantly, remember to have fun! Good long term relationships are built on fun times!
So there you have it, 50 GOOD second date ideas.
And I bet you didnt think we had it in us to come up with 50 (we sure didn't). If you go on any of these dates and they are a success, shoot us a line, we love to hear about happy endings.
Save these 50 Good First Dates to pinterest (so you can find them again later!)