The route from Granada to Ometepe Island or from Ometepe to Granada is one of the most popular in Nicaragua.
Fortunately, it's one of the simplest and can be completed in less than 3 hours for under $5 including the ferry to San Jorge.
We'll show you exactly how to get to Ometepe Island from Granada cheaply, quickly and safely.
Granada to Ometepe
Any tour operator in Granada will happily sell you a shuttle to Ometepe at a steep price (by local standards).
We avoid tours where possible, preferring to enjoy the local way of life instead.
Outside of Managua – which we avoid on account of some negative reviews and an absence of touristy activities – we found Nicaragua to be an extremely safe country to visit.
Also, we just took a tourist shuttle bus from Granada to Leon and it was far more uncomfortable than when we caught the collectivo on the return journey (and $12 compared to $2).
So it was an easy decision for us to chose a DIY option to get to Ometepe from Granada. Here's how.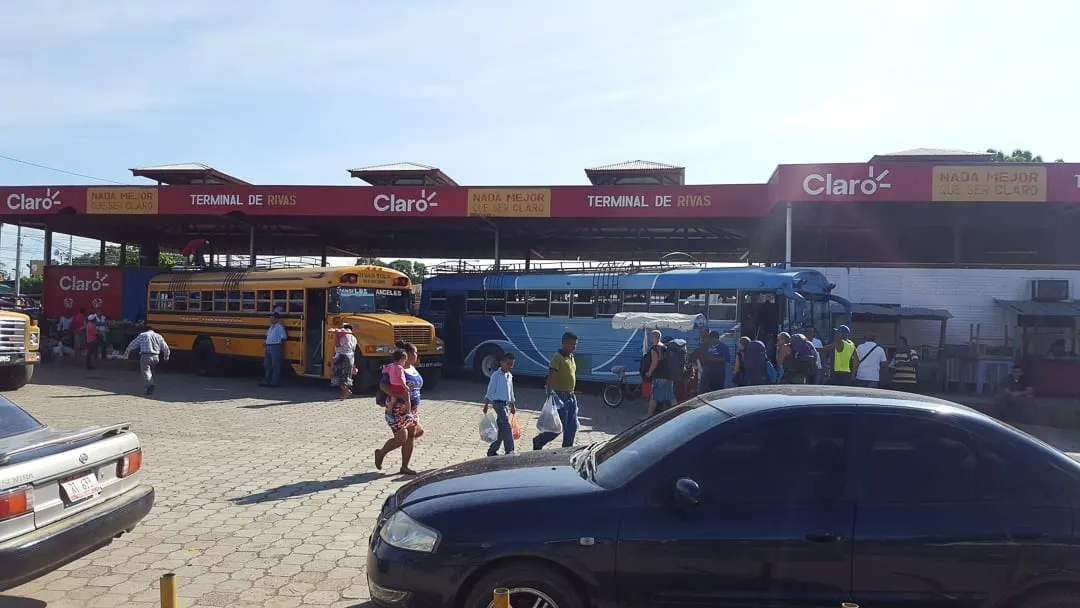 Granada to Rivas (Step 1)
In Granada catch the chicken bus to Rivas. The journey takes 1 hour and costs about 31 Cordobas (less than $1 USD).
From Granada city centre, make your way to the chicken bus to Rivas by walking south along Calle El Comercio until you reach the Uno gas station.
From there, turn left down a dusty road and walk 100 metres until you find a vacant block of land with 2 – 3 buses. The bus will be labelled 'Rivas'.
Granada Ometepe Bus Tip: Bus recruiters will in all likelihood notice you at Uno gas station and direct you to the right bus.

They didn't ask us for a tip and we noticed they were later paid by the attendant who collects the bus fare.
Rivas to San Jorge (Step 2)
In Rivas, you'll need to take a taxi to San Jorge ferry terminal. There's no Uber in Nicaragua so it's time to barter.
Technically there are chicken buses which run from just outside Rivas bus terminal near the pharmacy.
However, they appear to run very infrequently and we gave up when we negotiated a suitable fare with a taxi driver.
A taxi should cost you no more than $3USD for the entire cab however, this will require negotiation.
San Jorge to Ometepe (Step 3)
From the San Jorge ferry terminal, there are ferries and lanchas (small boats) that run regularly to Ometepe.
The ticket price varies according to which ferry you catch ranging from about 35 to 70 Cordobas ($1 – 3 USD).
Buy your tickets at the pier. No need to book in advance, they'll always find a way to fit more people and ferries leave every 30 minutes.
Ometepe Ferry Price

Most 'lanchas' cost 35 Cordobas

The Estrella – 45 Cordobas

Milton Arcia – 70 Cordobas

Che Guevara Ferry – 50 Cordobas
If you can spare the extra money I would definitely recommend going on a ferry over a lancha.
We had friends who chose to go by lancha and they said they were 'scared for their life'.
I don't know how much of this is exaggeration but in any event the ferry was an enjoyable journey and took around 1 hour to reach Ometepe island.
We received life jackets, did a safety check and then enjoyed the views as the iconic twin volcanoes grew larger and larger.
Below is a timetable scheduling the times to and from San Jorge.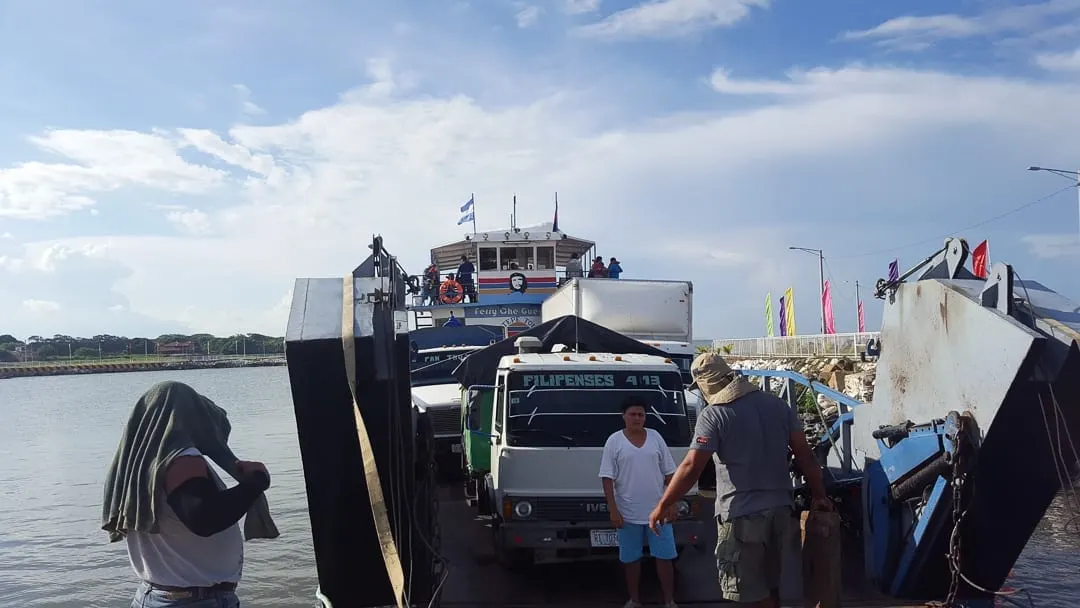 Ometepe Ferry Timetable: San Jorge to Ometepe
Hour | Embarkation
7:00am Ferry Che Guevara
7:45am Ferry Milton Arcia
9:00am Lancha Karen Maria
9:30am Ferry Rey del Coci (to San Jose)
10:00am Lancha Mozorola (to San Jose)
10:30am Ferry Milton Arcia
11:00am Lancha Estrella del S. (Not running Sundays)
12:30am Lancha Santa M.
1:30pm Lancha Karen Maria
2:30pm Ferry Milton Arcia
3:30pm Lancha Estrella del S. (Not running Sundays)
4:00pm Ferry Che Guevara
4:40pm Lancha Mozorola (to San Jose)
5:00pm Lancha Santa M.
5:00pm Ferry Rey del Coci (to San Jose)
5:45pm Ferry Milton Arcia
Ometepe Ferry Timetable: Ometepe to San Jorge
Hour | Embarkation
5:30am Lancha
6:00am Ferry Milton Arcia
6:30am Lancha
7:00am Lancha Estrella del S. (Not running Sundays)
9:00am Ferry Milton Arcia
11:00am Ferry Che Guevara
11:30am Lancha
12:30am Ferry Milton Arcia
1:00pm Lancha Estrella del S. (Not running Sundays)
3:00pm Lancha
4:00pm Ferry Milton Arcia
5:30pm Ferry Che Guevara
What to do & Where to Stay in Ometepe
The ferry will drop you at Moyogalpa on Ometepe Island, which is the perfect place to stay.
It's full of interesting restaurants, comfortable accommodation and easy access to the rest of the island by scooter or bus.
For more information about what to do, and where to stay to get the best breakfast in Central America, don't miss our guide to Isla de Ometepe including how to hike volcanoes, swim in crystal blue lagoons and hang out with monkeys.
More Nicaragua Travel Blog Posts
Best Leon Hotels, Hostels & BnBs: We loved Leon, home to some of the best street food in Central America. We may not have loved it as much if we hadn't found a place to stay in the perfect location. You can stay at the same cheap place we stayed, or some other fantastic places nearby.
Granada to Leon: How to get to Leon, the city of baroque architecture and yummy food.
Granada to San Juan del Sur: Getting from Granada to San Juan del Sur involves changing buses in Rivas. So if you're travelling from Ometepe you're already half way there.
San Juan del Sur to San Jose, Costa Rica: We show you how to cross the Nicaragua – Costa Rica border cheaply, safely and quickly.
If you have any questions about catching the bus from Granada to Ometepe Island please comment below!
Save this Granada to Ometepe Guide to Pinterest