If you are looking for a lovely afternoon stroll in Cambridge, don't miss Grantchester Meadows Walk.
This gorgeous walk is located within a 10 minute drive of Cambridge city centre
The great part about Grantchester Meadows is that it sits alongside the beautiful River Cam but outside the touristy Cambridge city centre.
Grantchester Meadows Walk
Grantchester Meadows Walk is rated as one of the best walks in Cambridge and for good reason! This beautiful river walk is sure not to disappoint even the pickiest of River walkers.
We went for an afternoon stroll after eating scones and cream at the nearby Orchard Tea Room (which by the way are probably the best scones we tasted in Cambridge!).
What we absolutely loved about this walk is that you can see people punting along the River and the beautiful nature of Cambridge without the masses of tourists.
This walk is definitely a local secret and a hidden gem in Cambridge! Shh don't tell anyone!
As you walk along the river you will pass meadows of cows grazing by the riverside.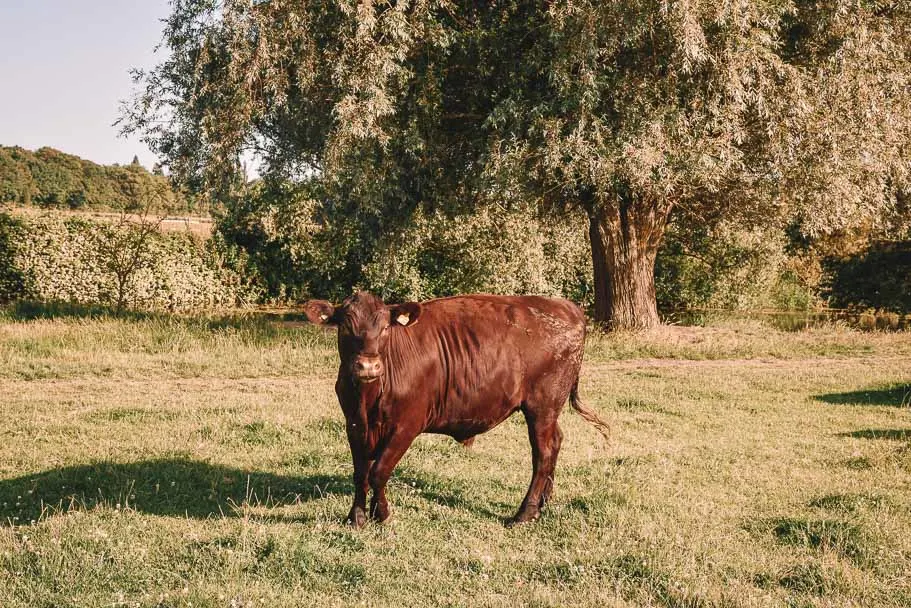 When the cows are not there, their resting spots (where they have conveniently flattened the grass) will be taken by locals sun baking in the summer or enjoying a picnic.
We noticed that many people had punted all the walk from central Cambridge and opted to have a picnic on the Grantchester Meadows river banks.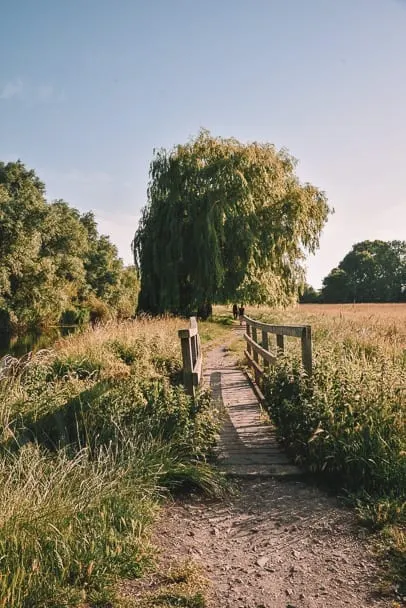 Walking Tracks
There is no designated walks at the Grantchester Meadows but you can walk along the River Cam for what seemed like miles.
Access to the start of the Grantchester Meadows walk can be found by walking through the back of the Orchard Tea Room.
We walked for around 40 minutes before getting tired.
Many locals brought their dogs for a scenic stroll along the river banks.
Swimming
In summer, you can take a dip in the River Cam via the Grantchester Meadows.
Swimming here didn't appeal to us as the water was a little murky.
However, we believe it would be perfectly safe and clean as we saw many families and kids taking a dip in the water.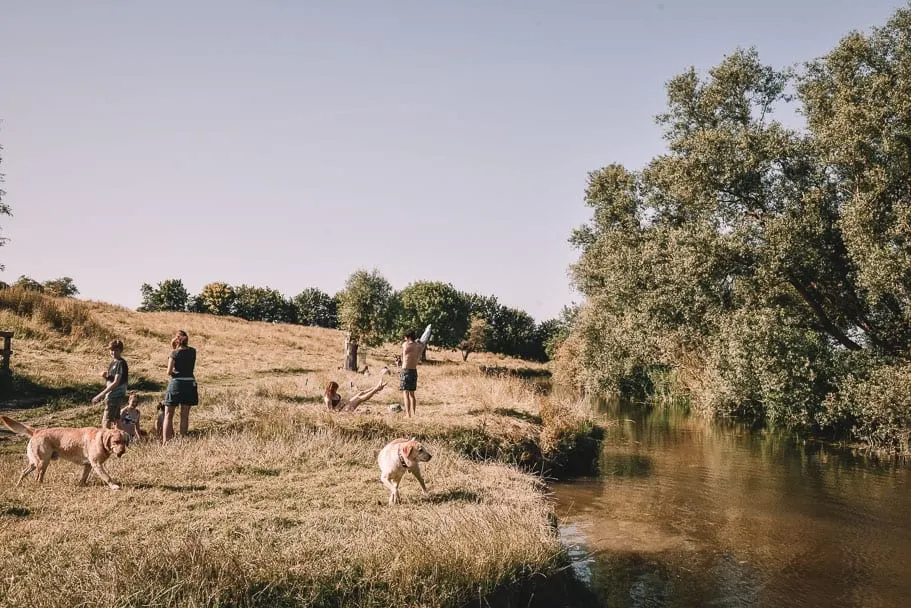 Picnics and BBQs
There is no designated BBQs that we saw along the river banks. We did however notice that many local opted to picnic along the banks.
It would be lovely to hire a punt in downtown Cambridge and stop for a picnic along the river banks of Grantchester Meadows.
We would also highly recommend visiting Orchard Tea Room for tea and scones and cream before your walk.
Parking
Parking was easy to find. You can park for free in the streets nearby Grantchester Meadows.
Other Cambridge Walks and things to do:
Exploring Cambridge?
It is one of our favourite cities in England. If you are looking for walks and other things to do you might like to check out:
Save Grantchester Meadows Walk to Pinterest