After you have finished exploring the epic scenery of Guilin & Yangshuo, one place that you could consider exploring is the amazing Zhangjiajie National Forest Park.
We traveled to from Guilin to Zhangjiajie by train, which took approximately 9 hours. Want to know how to get from Zhangjiajie to Guilin? Follow these steps in reverse!
This post is part of our guide to the best train routes in China.

Rail is the easiest way to travel in China – we have prepared a one month itinerary from Hong Kong to Beijing via picturesque Guilin, Avatar mountains in Zhangjiajie, adorable pandas in Chengdu and the terracotta warriors in Xian.

Make the most of your time in China with the best China itinerary!
How to travel from Guilin to Zhangjiajie by Train
There are no direct bullet trains between Guilin and Zhangjiajie. The quickest train route from Guilin to Zhangjiajie is via Changsha (total travel time of around 9 hours). The journey is simple if you follow these steps:
Step 1 – Catch the fast train from Guilin Train Station to Changsha South
To get from Guilin to Zhangjiajie, the first step is to catch the fast train from Guilin Train Station to Changsha South. This journey will take you approximately 3 to 3.5 hours.
Despite online sources to the contrary, as a foreigner, you can buy tickets for this train at Guilin Train Station. However, there can be long lines and wait times of over an hour to get a ticket.
You are able to buy both train tickets at Guilin Station (the first train to Changsha South & the connecting train to Zhangjiajie). A seat in second class costs 181.5 CNY (27 USD) for this leg of the journey.
After you purchase your ticket, proceed through airport style security (passport required). Make sure you allow enough time before your train departs.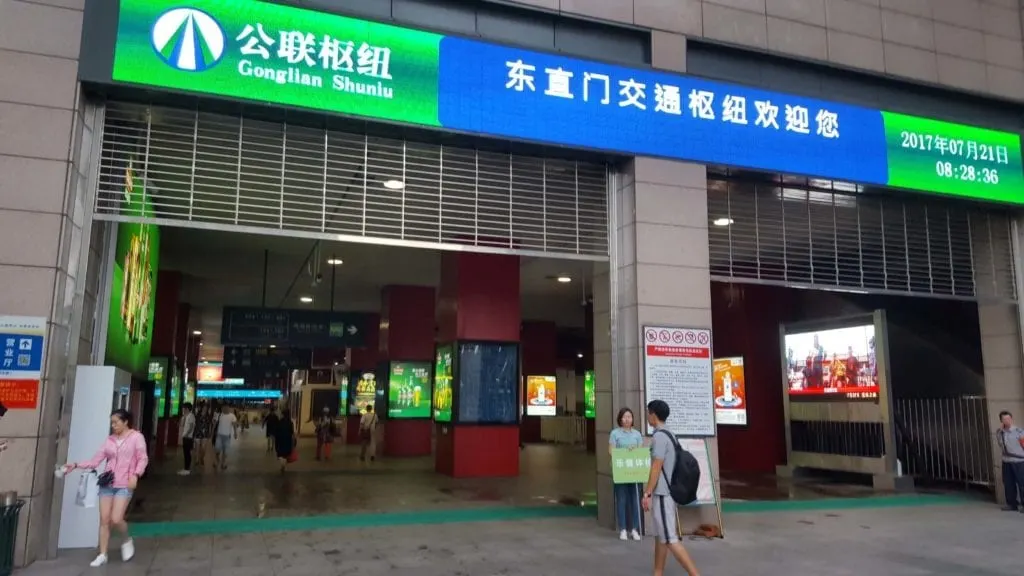 Step 2 – Catch the metro from Changsha South Station to Changsha Station
The bad news is Changsha South Station is not where you need to catch your next train to Zhangjiajie.
The good news that Changsha South Station is connected to Changsha Station easily via subway line 2. The journey will take 15 minutes and costs 2 CNY.
If you have a delay between your two trains, there is a Starbucks located directly between the two stations at Changsha Avenue Station on subway line 2.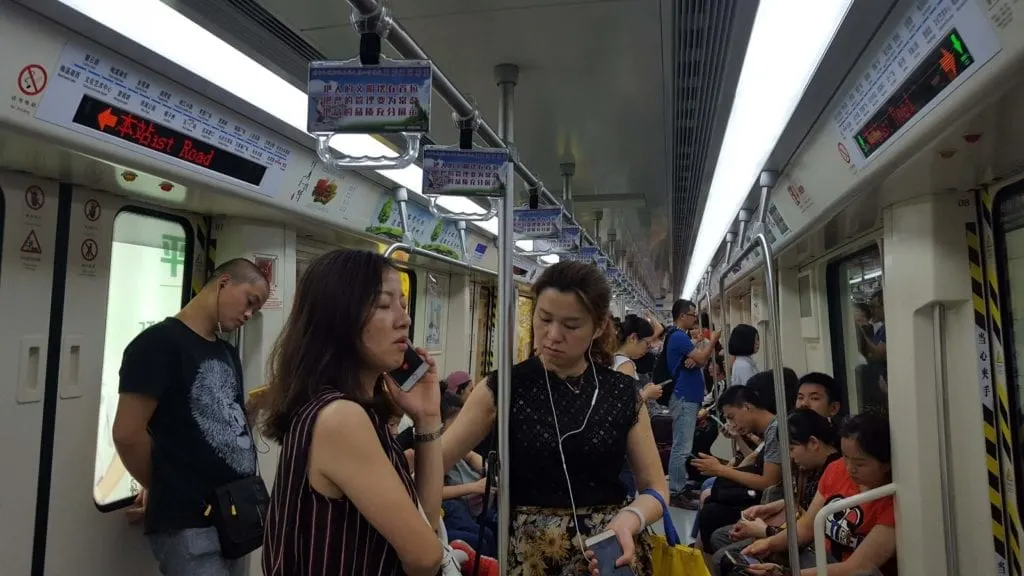 Step 3 – Take the train from Changsha to Zhangjiajie
From Changsha, catch a train to Zhangjiajie. The train is not a bullet train and will take 4.5 hours and cost CNY86.5 (US$13).
We found second class is comfortable enough for a relatively short journey.
The trains to Zhangjiajie are very clean and the seats reclined a fairly long way.
An attendant brings around trolleys of food & drink every so often if you have forgotten to bring snacks along with you.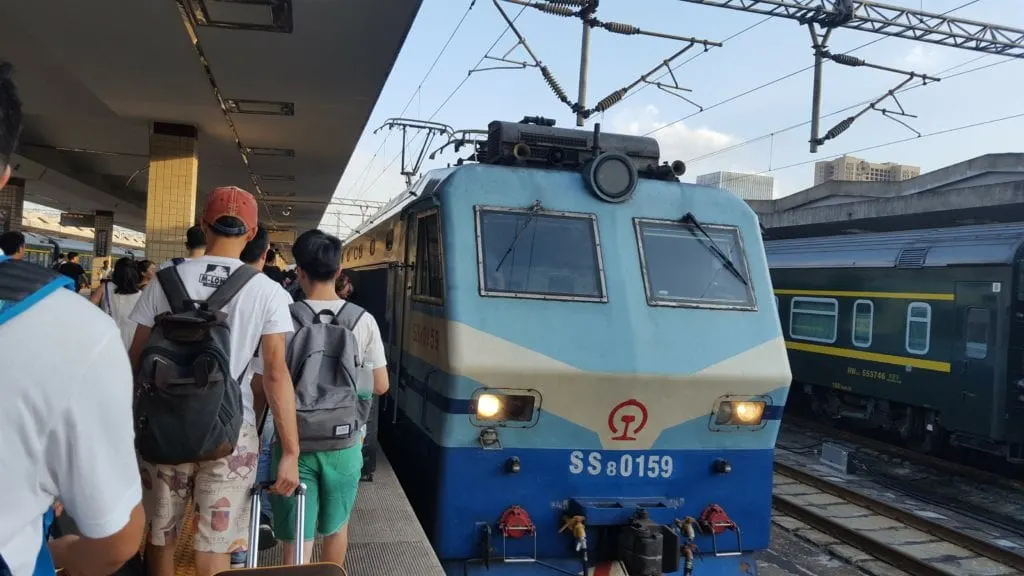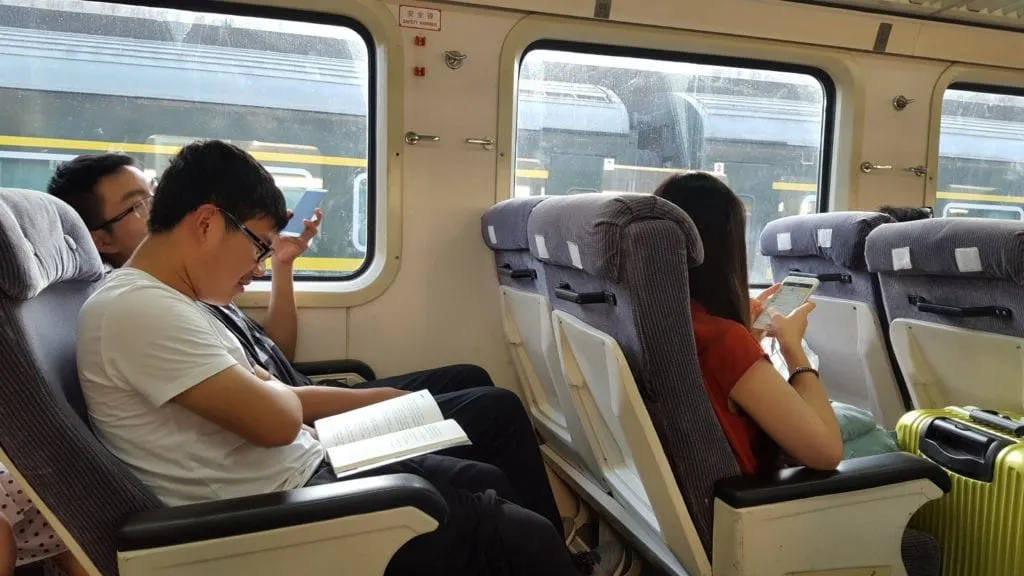 Alternative trains from Guilin to Zhangjiajie
A train from Guilin to Zhangjiajie via Changsha is the fastest connection. However, if it is sold out, the other connections from Guilin are as follows:
Guilin – Quzhou – Zhangjiajie (32 hours)
Guilin – Huaihua – Zhangjiajie (15 hours)
Guilin – Rongshui – Zhangjiajie (15 hours)
Guilin – Sanjiangxian – Zhangjiajie (15 hours)
Guilin – Yantunbao – Zhangjiajie (15 hours)
Guilin – Huaihua – Zhangjiajie (15 hours)
Guilin – Jingzhou [Hunan] – Zhangjiajie (15 hours)
Guilin – Rongan – Zhangjiajie (14 hours)
Guilin – Rongshui – Zhangjiajie (15 hours)
Guilin – Sanjiangxian – Zhangjiajie (15 hours)
Guilin to Zhangjiajie Flights
Flying from Guilin to Zhangjiajie is the quickest way to travel, however, we did not find any direct routes on our travel dates.
To fly from Guilin to Zhangjiajie you may need to fly via Shanghai or Beijing. The closest airport to Zhangjiajie (Zhangjiajie Hehua Airport DYG) is only serviced by a limited number of airlines
This may not always be the case. Skyscanner is the most convenient way to see if there are flights on your dates.
Baggage rules on domestic flights in China can be confusing so make sure to click through to the booking page to calculate the baggage fees to determine if flying is cost-effective.
Guilin to Chengdu
To get from Guilin to Chengdu we recommend stopping in Zhangjiajie on the way.
From there, getting from Zhangjiajie to Chengdu by train is super easy.
If your schedule doesn't allow a stop – Skyscanner is great for finding the cheapest flights from Guilin to Chengdu but you should make sure to test how much bags will cost for the route.
Where to Stay in Guilin & Zhangjiajie
We usually start and end our searches with Booking.com as we find it easy to use and we trust their review scores.
In Guilin we recommend splitting your time between this city and the nearby picturesque city of Yangshuo.
Here is a list of all available properties in Guilin.
Here is a list of all available properties in Yangshuo.
To save you time, we have completed a search of accommodation in different budget categories in Guilin & Yangshuo that we would personally select and stay in.
Accommodation Near Zhangjiajie National Forest Park
To visit the National Park in Zhangjiajie, you have a few choices as to where to stay:
As we arrived by the above train at 11pm at night, we decided to stay in Zhangjiajie City at the Art Hotel. This hotel was clean, comfortable and very modern with a fantastic wifi speed (very unusual for China). We only paid 170 CNY a night ($25 USD). The 9.8 review score the hotel boasts on booking.com is definitely a true representation of the quality of the hotel. The hotel also has a very nice common area and some pretty cute cats to play with. If you chose to stay at this hotel, do not pay anymore than 10 CNY by taxi from the train station to the hotel.
More Interesting China Travel Destinations
No visit to China is complete without seeing a panda. Although you can see pandas in a zoo in Beijing, we felt better about seeing them at the Panda Research Centre in Chengdu, where they work to sustain the panda population.
You can reach Chengdu from Zhangjiajie by train using our step by step guide. We show you how to visit the pandas in Chengdu.
You can also reach Chengdu from Xian by train. Xi'an is the ancient former capital of China and is home to the famous terracotta warriors.
There is way more to do (and eat) in Xian but if are short on time we write about How to Spend 24 Hours in Xian.
Next up after Xian is a train to Beijing to visit another must see in China – the Great Wall. If you haven't been yet, you might be interested to learn that there are lots of different sections you can visit and choosing the best section is very tricky.
After much research we opted to visited the Mutianyu section of the Great Wall which wasn't too touristy and had beautiful views.
Even better, you can visit the Mutianyu Great Wall without a tour from Beijing. Check out our post and video about how to do it.
We hope this guide helpful in planning your journey between Guilin and Zhangjiajie. We would love to hear from you so please leave a comment below!
Save this 'How to' Guide to Pinterest!