We had never visited Gdansk before so we were very excited to visit the Polish city that so many rave about.
An Honest Review: Hampton by Hilton Gdansk Old Town
As soon as we walked through the door at Hampton by Hilton Gdansk, we knew it was the perfect place to stay.
Both centrally located in Gdansk (overlooking the main cathedral) and clean and comfortable, the hotel could not be more ideal.
The hotel has everything you could need including an amazing restaurant with delicious food.
A more detailed report of each feature of Hampton by Hilton Gdansk below!
Hampton by Hilton Gdansk Rooms
As soon as we walked into our room at Hampton by Hilton Gdansk we were wowed.
If you are looking for somewhere special to impress your significant other than this certainly is the place.
The Hilton has many rooms to suit different budgets and family arrangements.
However, in our opinion, there is no beating the room we had – a Queen room with view.
And WITH VIEW is right!
With wall to roof ceilings and a balcony so close you can almost reach out and touch the main cathedral in town, the room was nothing short of amazing!
The room also included a beautiful bathroom like all Hilton rooms.
We were also very happy to find a beautiful welcome gift when we came into the room – thanks guys!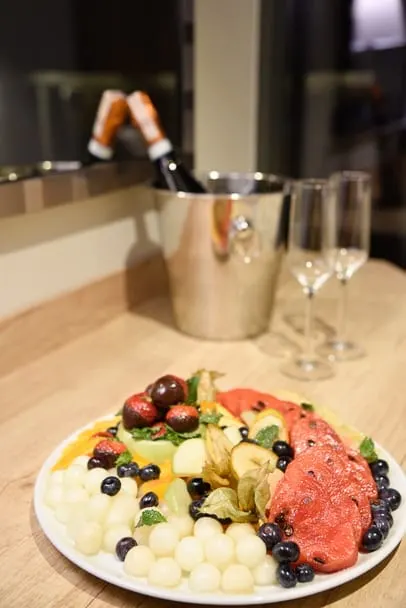 Gym
For the gym junkies out there, you will be pleased to find that the hotel has a well equipped gym on premises.
Spending our whole time looking at the view out our window, sadly, we did not make it there!
Restaurant
The restaurant at the Hampton was extremely good and very convenient.
We arrived late at night after a long day of travel to find the restaurant was open late, until 10.00pm at night (last order 9.40pm)
Each meal we ordered at the restaurant was a very high quality.
For starters we ordered the gnocchi and halloumi with eggplant.
The gnocchi was absolutely massive. I believe it may have been a main in its own right but we ordered it as an entree.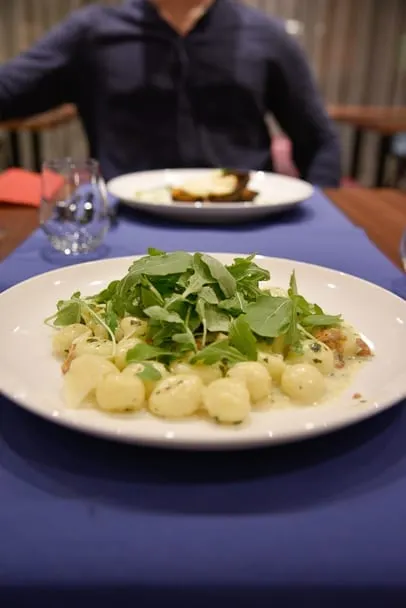 It was perfectly cooked and melted in your mouth.
The halloumi was also very delicious.
Moving away from our Duck obsession, we decided to be adventurous and ordered steak and ribs for mains.
One thing I can say about the Hampton restaurant was the meals they served were absolutely massive.
Despite being absolutely delicious, we struggled to finish the mains.
We were however nethertheless tempted by the delicious deserts on offer.
We ordered pineapple dumplings (which we were very excited about) and strawberry tart.
Both were very nice with the strawberry tart having a slight edge in our opinion if you are debating which to order!
Nearby Activities
If you are a movie buff like us, you will be delighted to discover that there is an underground cinema (Kino Kaneralne Cafe) just next door to the hotel playing all the new releases.
We went to see Once Upon a Time in Hollywood while we were in Gdansk. Highly recommended if you are looking to see a good film!
Included in your ticket is a glass of wine or a coffee, tea or other drink of your choosing.
Hampton by Hilton Gdansk Breakfast
A buffet breakfast is served each morning in the hotel restaurant.
We loved the wide array of options including eggs served to your liking, fruits, nutella, danishes, bread, cheese and ham.
You can make yourself a crafted coffee such as a latte or cappuccino to go with your breakfast.
Overall, we had a fabulous stay and would highly recommend staying at Hampton by Hilton Gdansk.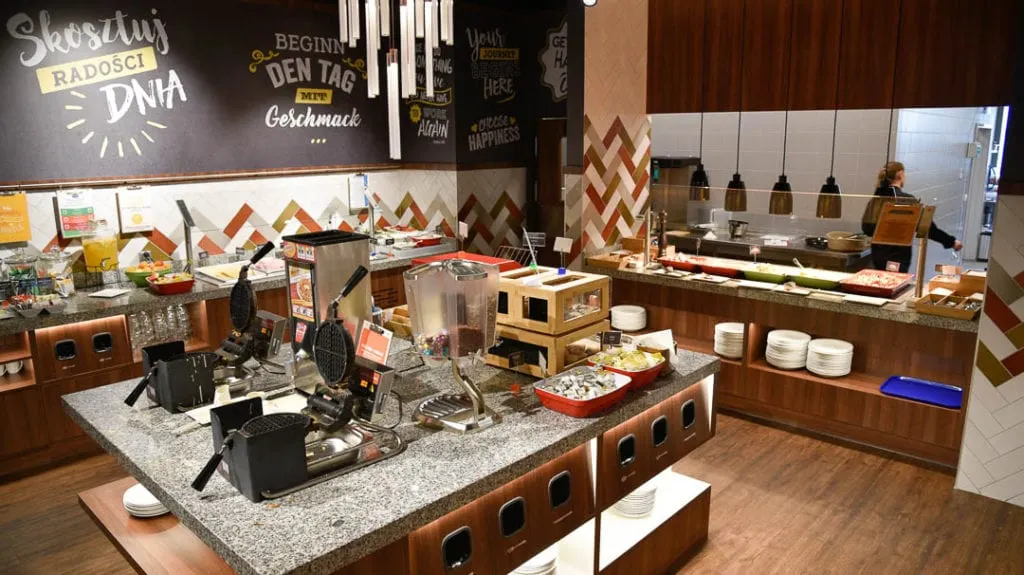 How to reach the Hilton in Gdansk?
You can reach the Hilton by flight into Gdansk however, if you are traveling around Europe, we would highly recommend traveling using the Eurail train.
We traveled from Krakow to Gdansk with Eurail and it was a very easy and stress free journey!