Despite having visited Krakow a few times, we have never been to Warsaw before. We were very excited to explore the city!! We stayed in Hampton by Hilton Warsaw City Centre and had a fabulous time.
Hampton by Hilton Warsaw City Centre is in a very convenient location for traveling Europe by train as it is in walking distance to Warsaw Central Station.
We visited Warsaw by train from Wroclaw, which we absolutely loved!
Hampton by Hilton Warsaw City Centre
Hampton by Hilton Warsaw City is a clean and comfortable modern hotel in a great location in Warsaw (right near the train line!)
We have never stayed at the Hampton line before so we were excited to see what it was about.
The hotel was a modern, quirky and fun hotel with a young and playful vibe.
When we entered reception, I noticed the chairs in the bar and restaurant were colourful. This gave the hotel a warm and happy vibe.
A more detailed report of each feature of Hampton by Hilton Warsaw City below!
Hampton by Hilton Warsaw City Rooms
The Hilton has many rooms to suit different budgets and family arrangements.
We stayed in a Queen room with sofa bed and loved it. The room is very clean and spacious.
When we entered the room, we were extremely surprised to find our full have been overtaken by million of tiny Hilton rubber duckies.
This found this touch extremely hilarious and warmed our heart after a long train ride.
Have you ever seen a rubber duckie takeover in a hotel room before?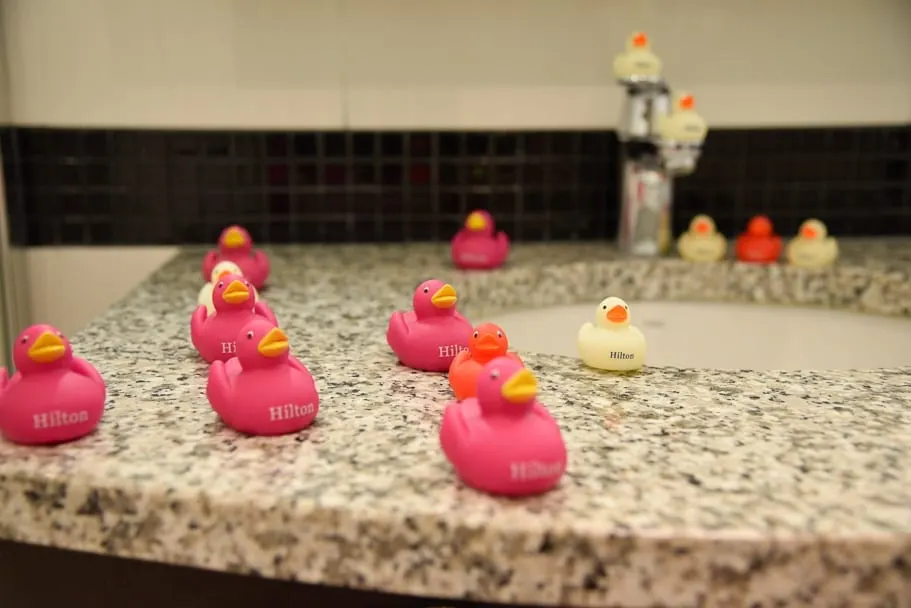 We also found two generous gifts left for us on the bed including traditional chocolates and a Warsaw map. Love a warm hotel welcome!
On the mirrors of the hotel were little notes left for us including what to do in the city and the daily weather forecast. So cool.
Gym
If you are a gym junkie, you will be pleased to discover a well equipped gym on the premises.
Breakfast
A buffet breakfast is served each morning.
We loved the wide array of options including eggs served to your liking, fruits, nutella, danishes, bread, cheese and ham.
There is a coffee machine where you can make a hand crafted of your choice such as a latte or cappuccino to go with your breakfast.
Overall, we had a fabulous stay and would highly recommend staying at DoubleTree by Hilton Wroclaw.
How to reach the Hilton in Warsaw?
You can reach the Hilton by flight into Warsaw however, if you are traveling around Europe, we would highly recommend traveling using the Eurail train.
We traveled from Wroclaw to Warsaw with Eurail and it was a very easy and stress free journey!