Having throughly enjoyed Krakow and Wroclaw, we were excited to spend some more time in Warsaw.
We stayed in Hampton by Hilton Warsaw Mokotov and have a great time in this very clean and comfortable hotel.
We have also stayed at the Hampton by Hilton City Centre if you would like to see both hotels to determine which better suits your needs!
Hampton by Hilton Warsaw Mokotow Review
We felt very comfortable during our entire stay at Hampton by Hilton Warsaw Mokotow. The hotel has everything you could need including an amazing restaurant with delicious food.
It is located in the hear of Warsaw's business district so it is a perfect hotels for business trips to Warsaw.
A more detailed report of each feature of Hampton by Hilton Warsaw Mokotow below!
Hampton by Hilton Warsaw Mokotow Rooms
The Hilton has many rooms to suit different budgets and family arrangements.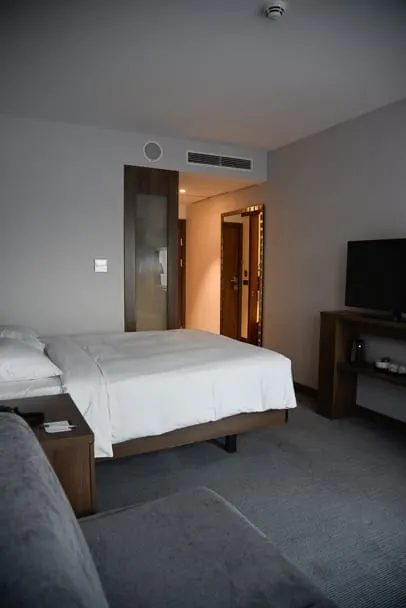 We stayed in a large double room and would highly recommend it.
The room was large and spacious with additional lounge chair provided which made for a very comfortable stay.
For those of you who are coming to Warsaw for work you will be pleased to discover a well equipped work desk provided in room.
Gym
For the gym junkies out there, you will be pleased to find that the hotel has a well equipped gym on premises.
Restaurant
We loved that there was a convenient restaurant and bar onsite that served really delicious food.
Since arriving in Poland, we have become absolutely addicted to Polish dumplings. We found ourselves ordering dumplings as an entree at Hilton and let's just say they did not disappoint!
For main, we ordered the burger and the duck leg.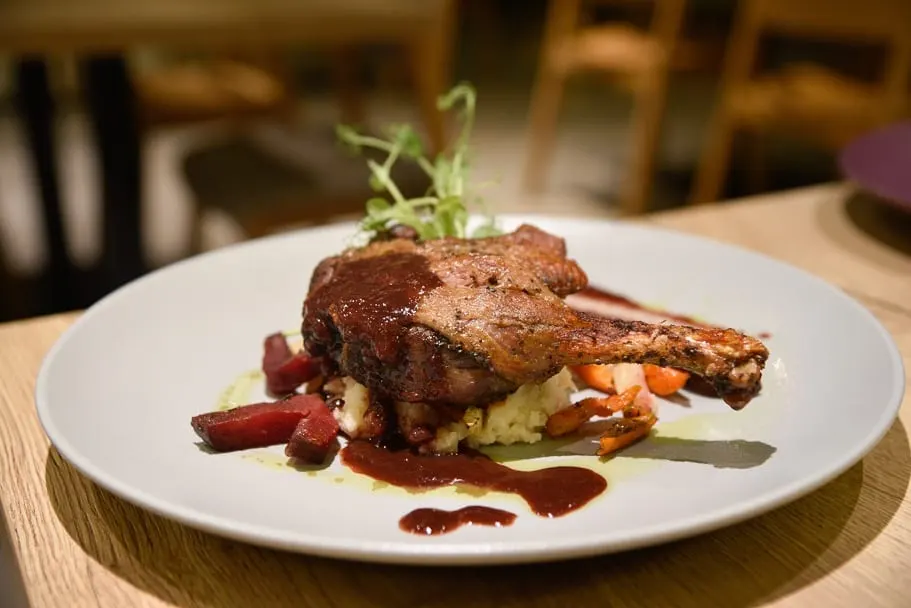 Both meals were absolutely fabulous. Duck is one of our favourite meals to order and the Hilton's version with mash potato was absolutely superb.
If you are feeling particularly hungry, order the burger, it is absolutely gigantic!
Hampton by Hilton Warsaw Mokotow Breakfast
A buffet breakfast is served each morning in the hotel restaurant.
We loved the wide array of options including eggs served to your liking, fruits, nutella, danishes, bread, cheese and ham.
You can make yourself a crafted coffee such as a latte or cappuccino to go with your breakfast.
Overall, we had a fabulous stay and would highly recommend staying at Hilton Warsaw Mokotow
How to reach the Hilton in Warsaw?
You can reach the Hilton by flight into Warsaw however, if you are traveling around Europe, we would highly recommend traveling using the Eurail train.
We traveled from Wroclaw to Warsaw with Eurail and it was a very easy and stress free journey!