Thinking about traveling to Havana, Cuba? Great idea – you've come to the right place because there's a few things you need to know about the Communist country before you visit.
The Ciudad de las Columnas, or the "City of Columns" is Cuba's capital city frozen in time – specifically the 1950s – without comparison.
It's a fascinating history of contrasts with its preserved architectural heritage, five centuries of history, cobblestone plazas which wouldn't be out of place in Italy, hot vintage American cars you'd usually see at a car convention, a glorious Capitol replica of Washington DC and welcoming locals not yet fatigued by constant tourism.
The most comparable destination to Cuba in regards to planning a trip is China. Perhaps its because they share a similar – communist – type of government.
It makes preparing for a trip to the freshly-opened-to-the-public Caribbean nation far more thought consuming than a trip to neighboring Mexico or even the Dominican Republic.
These are the most important travel tips we picked up from our trip to Cuba.
25 Things You NEED to Know BEFORE Visiting Havana Cuba
1. There are 2 Cuban Currencies: the Peso & Convertible Peso
Locals use Cuban Pesos (abbreviated to CUP) and foreigners can only withdraw or officially convert money into Cuban Convertible Pesos (CUC).
1 CUC is roughly equivalent to 25 CUP.
You can't pay for almost anything with credit card in Cuba (more on that later), so at Havana Airport you'll need to get some Cuban Convertible Pesos.
The local currency is far cheaper but most places you will visit as a tourist will only accept the Tourist Pesos. Local pesos can be used in places like the fruit markets.
2. No Uber in Cuba
For those of you looking to get from Havana Airport to downtown at a fair price, unfortunately Uber doesn't operate in Cuba.
I've got good news though – negotiating a fair price to get from Havana Airport isn't that bad. Even though government-run taxis monopolize the market, Cubans aren't shy of working so they won't hold you to ransom over a fare.
Our case in point: our Airbnb host offered a transfer for $50 USD. A maxi-taxi (enough for 4 people) from the Airport to Vedado (a great area to stay in Havana) a few minutes drive from the Old Town cost $30 USD with pretty much no bartering. Perhaps I could have negotiated further but $7.5 USD per person wasn't a bad deal.
I've become reliant on Uber – I've never been (permanently) ripped off by an Uber driver. So the though of arriving in Cuba at the mercy of the taxi mafia caused me more anxiety than I've felt in years of travelling. I need not have worried.
On our return journey, the day before leaving we arranged a taxi to the airport for $20. It didn't show up, which was concerning, but a passing taxi was happy to accept that fare.
3. The Iconic vintage American Cars are Real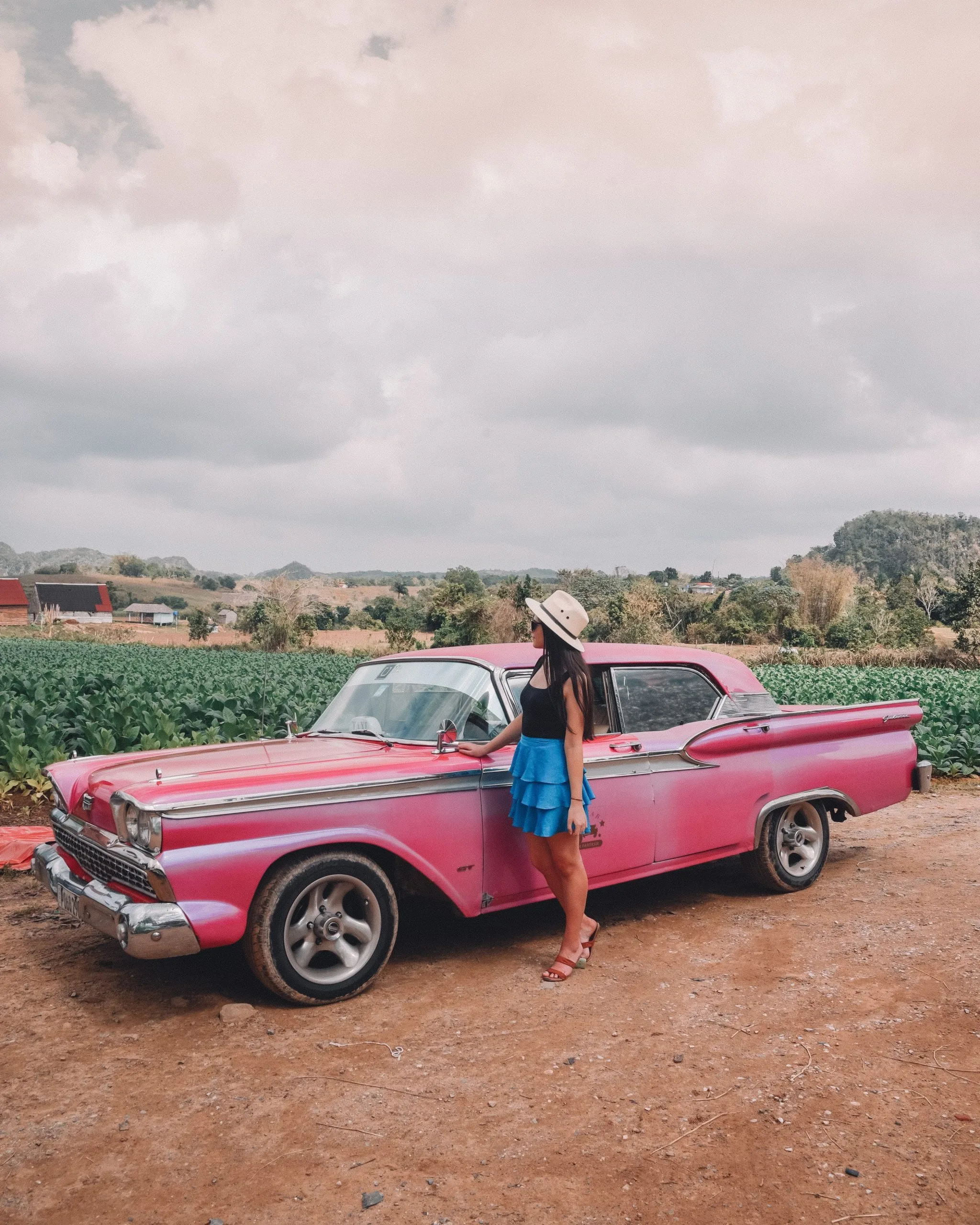 No, these aren't cheap imported replicas. These vintage American cars are the real deal, and have been on the island in service for over 60 years!
The cars are impeccably maintained. Walking through central park everyday is like exploring an exclusive vintage car show.
The best bit? You get to ride in one like a regular taxi. While some cars only accept rides for city tours, many will be happy to pick up extra work by driving you all around town.
We found the fare for a vintage car was the same for a newer yellow taxi (boring)!
So why not cruise around in like an old-school celebrity?
Interesting Facts About Cuba
4. Cuba is located in the North America continent and is a country of the West Indies in the Caribbean 150 miles south of Key West in the United States.
5. There's no Starbucks in Cuba. Or McDonalds or any other American companies. It's a law which dates back to post-revolution restrictions imposed by both nations.
6. Havana Old Town is a UNESCO World Heritage Site. Its historic urban center, cobblestone plazas, and surrounding fortifications were declared a World Heritage Site by UNESCO in 1982.
7. It's illegal to bring a drone into Cuba. If you are found with a drone in your suitcase, Customs Officers will confiscate it at the airport and charge you a $20 daily holding fee until you depart.
8. Cuban cigars which would fetch upwards of $30 in the US can be bought direct from the farm for $3. Better yet, the cigars you by in Cuba are 100% organically made and don't contain the chemicals used to preserve the cigars added to exported cigars. Buy your cigars direct on a day trip to Viñales where you visit a tobacco farm and learn how to roll a Cubano. Learn about the different ways to travel from Havana to Vinales.
9. You'll Need a Cuba Visa to Visit
Visitors from pretty much every country in the world will need a visa to visit Cuba.
Known as officially as a "Tourist Visa Card" there are two types of Cuba Visas – a green tourist card and a pink tourist card.
A pink tourist card applies to anyone flying to Cuba from the United States and it costs over $100.
If you're travelling from a US airport you will need to obtain a pink tourist card from a Cuban embassy.
Entry Requirements include the aforementioned Tourist Card, which allows you to stay in the Cuba for 30 days and is valid for only a single entry.
You will also need to have:
A passport valid for 2 months beyond the length of your proposed visit.
Proof of a confirmed return flight and booked accommodation.
Proof of accommodation for at least the 1st night in Cuba.
Travel insurance which covers medical expenses.
Remember, June is the rainiest month in Cuba – so be sure to pack the umbrella! Read about the best time to visit Cuba.
We flew from Mexico so we only needed a green visa which cost much less. This applies to US citizens flying from Mexico too.
Vacation Idea: If you have enough time, why not fly into Mexico first? In Mexico your Cuba visa will only cost $13 and you can explore so much.
Personally, we recommend flying to Cancun where you can get cheap car hire ($10 a day) and see so much in a short amount of time: from Mayan temples in the jungle to incredible cenotes (crystal clear fresh water holes) and of course stunning beaches, yummy tacos and dirt cheap beer.
For an overview of what to do, check out our Mexico road trip from Cancun which covers Playa del Carmen, Tulum, Chichen Itza, Valladolid and much more.
For details about how to get a Cuba Tourist card in Mexico, read about our flight from Canun to Havana.
10. You'll get sprayed down before landing
On our flight from Cancun to Havana we were shocked when the Captain announced the cabin crew would be walking down the aisle in a moment to spray everyone before landing.
Presumably this is to protect Cuba from certain diseases and foreign to the island nation. I didn't read about this anywhere before our trip so this came as quite the surprise.
Bonus tip: upon landing in Havana, we found the line to pass passport control was extremely fast.
There were at least 7 officers working so the line was no more than 2 people deep. We were asked if we had been to China in the last 2 weeks (on account of the Coronavirus).
We then passed through another bag screening (items like drones are prohibited) and went to collect our bags.
It took an hour for all our bags to eventually make it through which I assume was because they individually screen every single bag.
While we were waiting we noticed the air-side VIP lounge which looked really tired. Curiously it was next door to a room marked X-Ray – anyone care for a dose of radiation on arrival?
After finally getting our bag after over an hour of waiting, we went to exit the terminal only to discover we didn't have the required blue customs form.
We were sent back in search with everyone kind of pointing us somewhere different in the terminal. Eventually we found the blue forms with the bag scanning people.
Save yourself some time and grab the form as you pass through after passport control as you'll have lots of time to fill it out while waiting for your bags.
Arriving in the terminal itself was far less chaotic and stressful than many other places we've travelled to.
The taxi hawkers were not nearly as aggressive as we've experienced in other countries.
In fact, compared to arriving in Cancun where you are bombarded with offers, you were mainly left to your own devices here.
11. Your Bank card probably won't work
Regrettably, this realization only hit me as we waited in Cancun airport departure lounge and I was making final plans for our arrival in Havana Airport.
Bad blood between the US and Cuba means US issued bank cards – or indeed any cards with a connection with a US bank may not be accepted.
At Havana Airport you'll find ATMs which can be used to convert US Dollars (USD), Great Britain Pounds (GBP), Euros and a few other currencies.
Although the assistants manning the ATMs will tell you only credit cards can be used to withdraw cash – I was able to withdraw cash using my non-US bank affiliated debit card.
Hoping to use a credit card in Cuba? Forget about it. Even if you find a vendor which accepts credit card – we didn't find any – there's a pretty good chance it will fail.
The problem is credit card transactions require internet to complete the transaction. And wifi in Cuba is completely unreliable.
Our vintage car tour driver told us credit card transactions can take up to 20 minutes to process, but will probably fail anyway.
12. Stay in a Casa Particular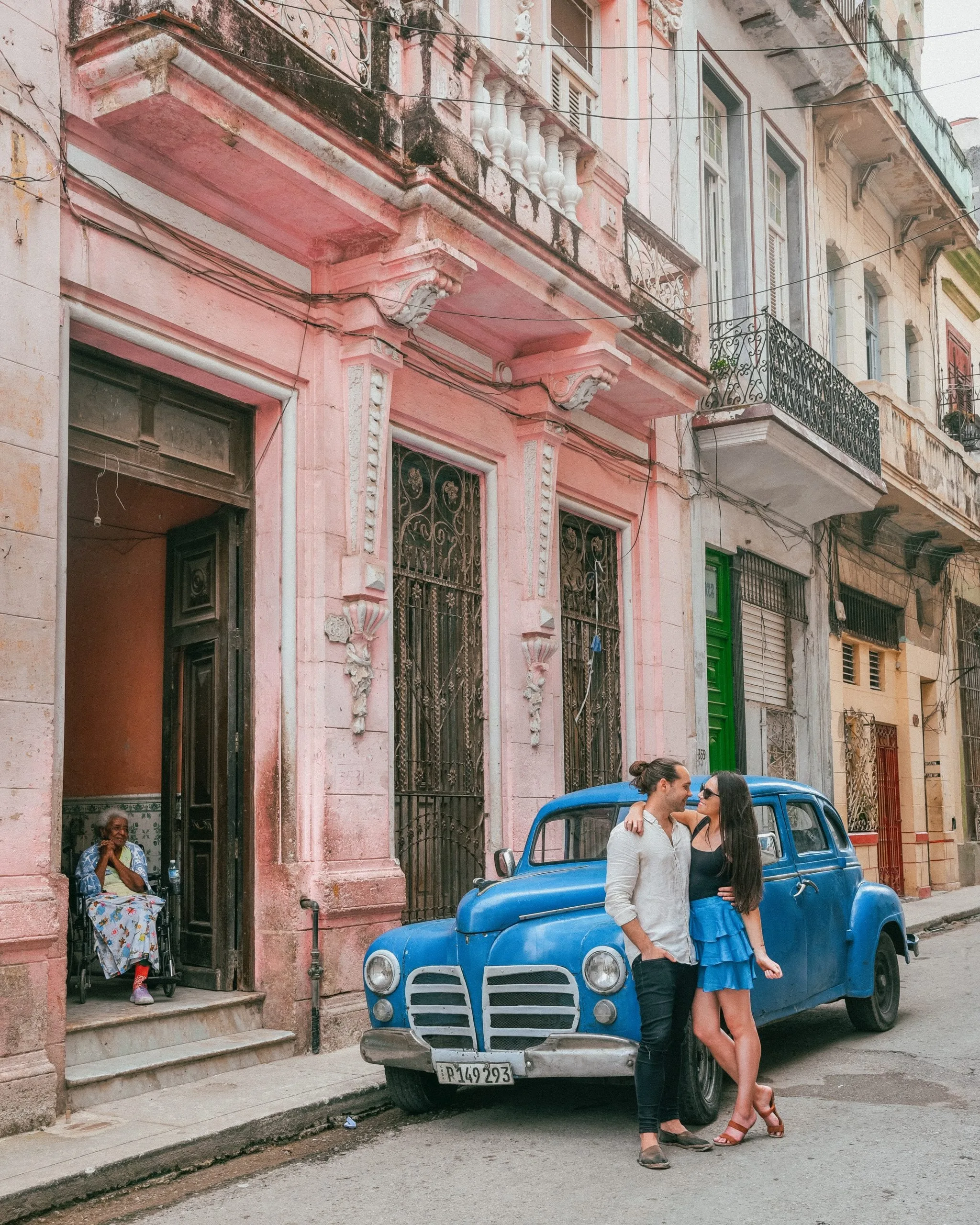 One of the most popular forms of accommodation in Cuba is renting a room in a Casa Particular which is a room in a family home.
Of course the quality varies from place to place. Even though wifi in Cuba is horrendous – we'll get to that later – locals are tuned up enough to list their properties on Airbnb.
This means if you want to stay in a Casa Particular you can rent one on Airbnb.
This is convenient because you know what you're getting into ahead of time by reading reviews and you can chose your level of interaction with the hosts.
While there are many rooms for rent inside a local family home, you can also rent entire Airbnb apartments which are coming with more Western quality facilities.
The Airbnb website is blocked in Cuba, so for any accommodation you haven't booked in advance, make sure you have a VPN which you can use to access the Airbnb in Cuba.
Keep in mind that the Airbnbs in Cuba are old. We stayed in a modernly renovated apartment which was super cool.
Even so, the building itself was a government office building on the lower floors which was in dire need of repair.
On the 18th floor there was an old corridor with floor to ceiling glass panels many of which had fallen out over the years. A child or drunk person could easily fall to their death walking from the elevator to the apartment.
Speaking of the elevator, it rattled its way up and down keeping us constantly on edge.
If the Airbnb host hadn't greeted us and reassured us the lift was fine – she'd lived there for 18 years before she sold it to the Cuban-born American owner she hosted for – we might not have stayed.
On our second day we met a local angrily talking into his phone on our floor near the lifts.
He was helping a friend find an apartment to buy and was reporting to him on the state of our building he'd come to see.
He told us the building ought to be torn down and there was no way he was taking the rickety lifts back downstairs, so he set off down the stairwell with his BMX bike.
This tested the confidence our host had given us about the state of the building but walking up and down 18 flights of stairs each day for the rest of our holiday wasn't an option.
13. Dine at a "Paladar"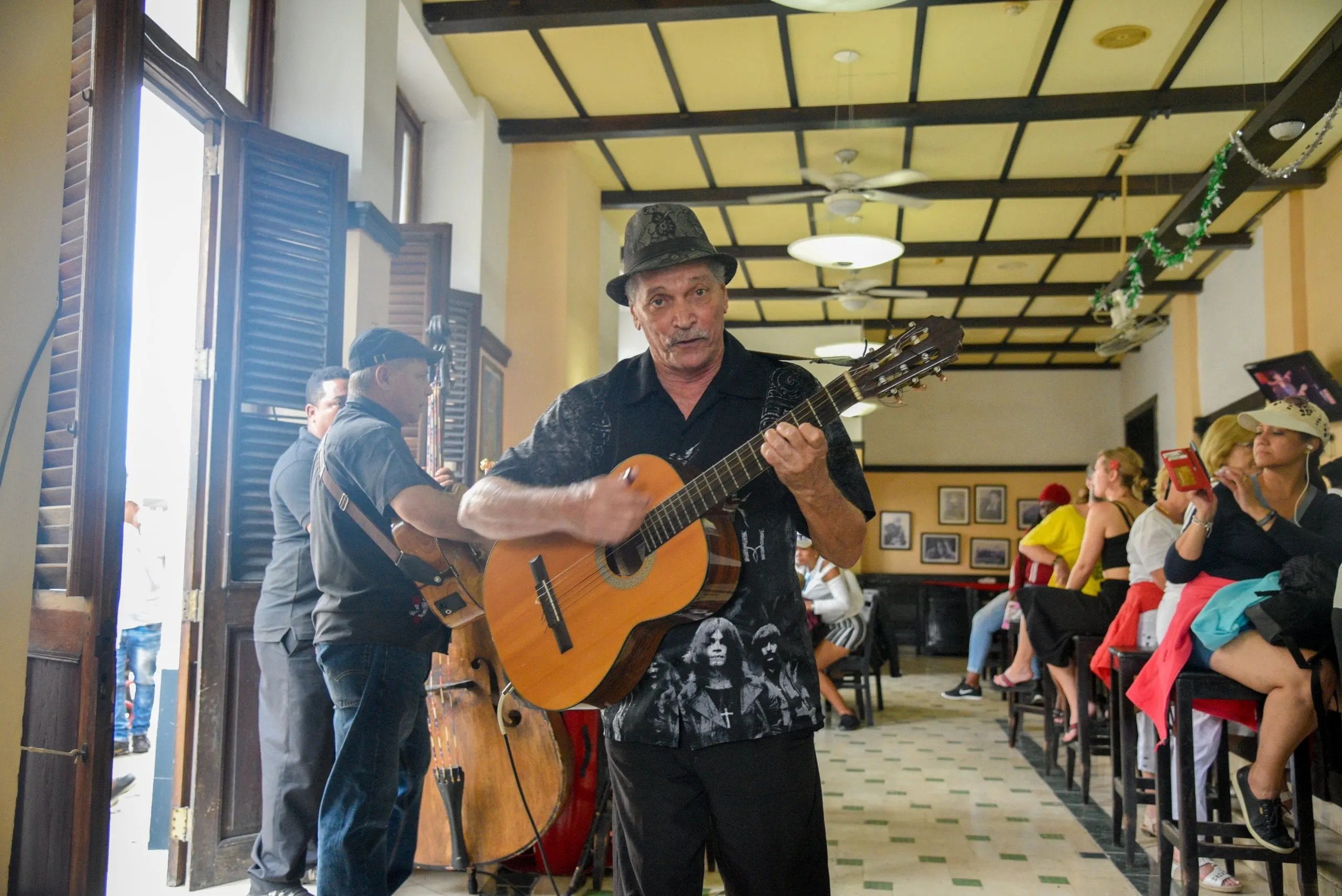 There are two types of restaurants in Cuba – government-run ones and family-run restaurants known as "Paladars".
In Cuba you will find lots of these family restaurants in the courtyard of the family home. In Havana the buildings are quite grand so you'll feel more like you're in the courtyard of a hipster hangout than a family home.
These are known as Paladar and are a great place to grab a bite to eat because not only is the food home-cooked and delicious, but you also get a glipse into local family life.
We chose against staying in a Casa Particular but enjoyed seeing more about Cuban lifestyle in our stays.
Famous Havana Paladares

Paladar Doña Eutimia – the most famous in Havana. Hemingway was a fan. #60-C, Callejon del Chorro, La Habana, Cuba (off Plaza de la Cathedral)

La Guarida – Centro Havana. Come for the food. Stay for the sunset view from Mirador rooftop bar. 418 Concordia, La Habana, Cuba

Paladar Café Laurent – Vedado. You'll notice rooftop and penthouses are the place to be in Havana. This one's listed in all the guidebooks. Penthouse, 257 Calle M, La Habana 10400, Cuba
One of our favourite places to go in Havana has the family-run vibe but is apparently neither a Paladar nor a government-run restaurant. It's just a cafe: El Cafe, #358, La, Amargura, La Habana, Cuba (near Santo Cristobal in downtown).
When in season you can get smushed avocado on toast for $3 to go with the best coffee in Havana.
If ristrettos or black coffee are your thing, you'll probably find pretty good Cuban coffee everywhere.
But coffees with milk like lattes or cappuccinos are much harder to come by. This cafe actually knows how to froth the milk right for a good albeit too cold coffee.
14. One of the 100 Coolest Places in the World is in Havana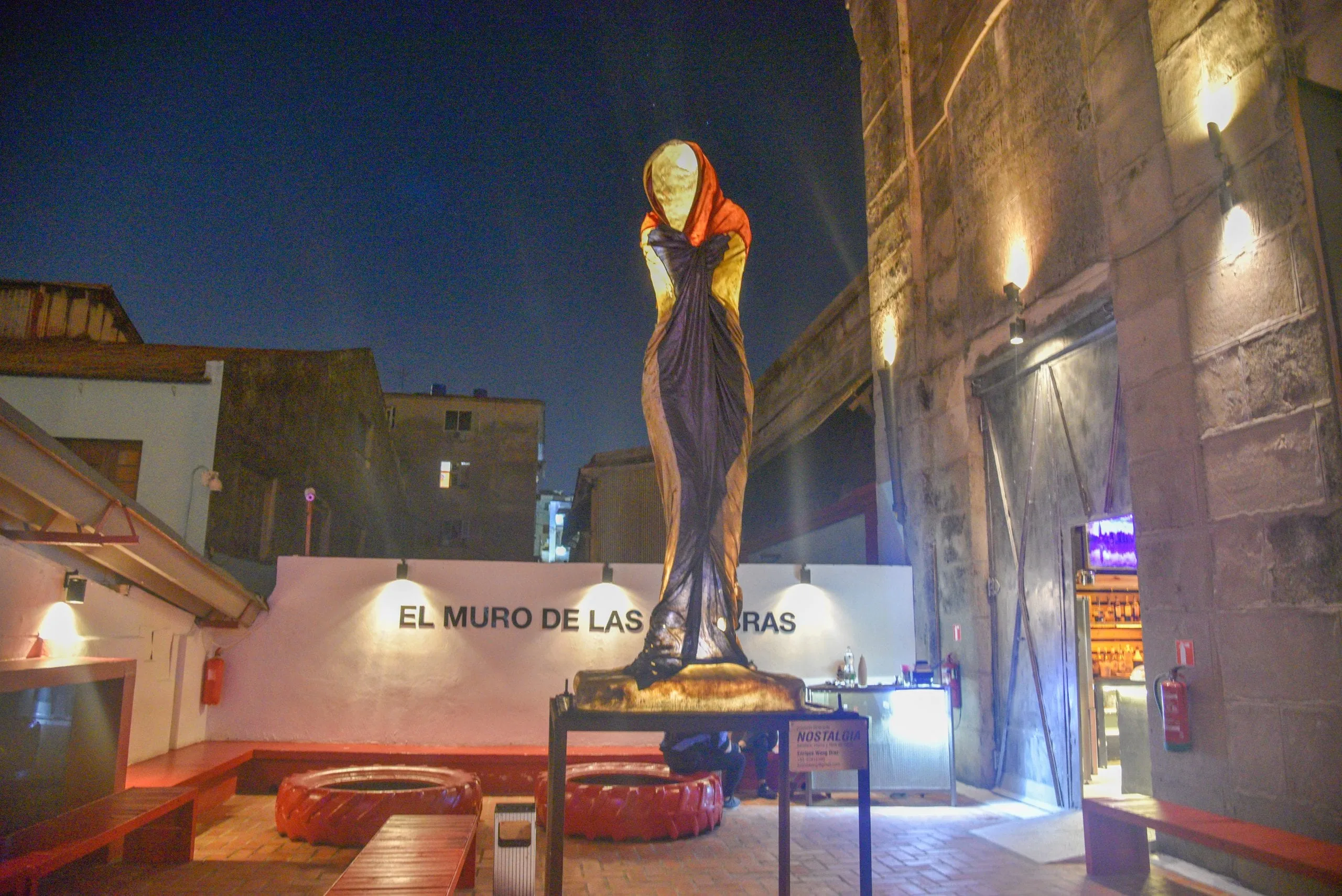 In 2019, Time Magazine selected the 100 coolest places in the world.
Among world-famous places like The Shed in NYC or Ularu is a humble warehouse-come art gallery, come restaurant come discotheque in Havana known as the Fabrica de Art Cubano.
In the early evening you can browse the impressive art pieces while sipping on a hand-made mojito or Cuba Libre.
After a while you'll stumble into another room bespectacled with signed guitars, an eclectic mix of music posters and memorabilia.
To find other hidden gems like this, check out our list of 50 things to do in Havana.
15. The Wifi situation is horrible
Before we even booked our flights to Cuba we were investigating how we could navigate the wifi situation.
Wifi in Cuba is government-run and painfully slow. On your phone 4G wifi was released a couple of years ago but it's a fraction of the quality (and speeds) you'll experience most other places in the world.
On the other side of the coin, once you wrap your head around the lack of wifi, things get a little better.
Havana really isn't the place to be a digital nomad. Photographer – yes, because it's amazing.
But digital nomad – less so.
That said, getting wifi isn't so bad – you just have to pretend like it's 10 years ago before wireless internet was prevalent.
You can visit Hotel Carribe where you can buy wifi cards from reception for $2 per hour.
This is a 100% markup on what you'll pay from a government run shop on the street but you can access wifi immediately without having to queue for up to several hours for cards.
Using Wifi in Cuba

You can use these wifi cards anywhere. Stopping internet isn't a challenge at all – all you need to do is hit disconnect on the wifi and it will automatically stop the time and you can reconnect and use the rest of your time later. This seems to have changed in recent years. Previously you needed to enter the page 1.1.1.1 to log out to save your time. Reportedly this caused as previously people reported frustrations with being disconnected and unable to reach the 1.1.1.1 page and losing their time / money. So now when you try to access wifi but your pages aren't loading – we just turned the wifi off to preserve our time.
Fortunately, at hotel Carribe Plaza we found no such trouble. We were able to load the pages we needed them without excruciating delays.
From the bar you can order a local Crystal beer for $2.5 cuc, large 1.5L water for 2.2 cuc which is only 20c more than we were quoted by a vendor in Havana Old Town or .7 more than we paid for our cheapest 1.5L bottle of water.
Wine costs $4 but it's pretty poor so I'd skip that one. You can even really get into the spirit with a Cuba Libre or a mojito. Wifi was 4mbps download, 0 mbps upload.
Where to find FREE wifi in Havana

Another place to go for free wifi in Havana is a tiny restaurant across the street from Flea Market Craft Market at 411 Obispo Lane. Keep an eye out for the blue building with spruikers out front which in the case are necessary because you would never find it otherwise. Provided you buy food or drinks you can use their wifi which is excruciatingly slow but completely free (you don't even need to purchase a wifi card). Drinks are very reasonable at $2.25 cuc for local beers, 2 cuc for a delicious freshly blended guava juice with ice (we had no problems with the ice).
Another super place to go to eat where you can also access wifi is El Cafe near San Cristobal a couple of blocks away from the Capital building into Old Havana.
Like many other adorable cafes in this area, it's in an inconspicuous location down a regular residential street which you wouldn't pick as a tourist destination from afar.
There's no al fresco dining, rather all the people are sat closely in the foyer of a regular Cuban apartment building. This place serves the best coffee in Havana (you can tell whether a latte or cappuccino is going to be bad just by looking at it) and reasonably priced at 2 cuc.
We also found the yogurt and fruit (2.5 cuc to be deliciously tangy and we discovered the red watermelon-y looking pieces of fruit were actually guava and that guava is actually super delicious and not bitter.
Another win was the ham, cheese and tomato sandwich for 4 cuc which was huge and loaded with filling. It's easily enough to split between two people.
One thing we didn't quite get before we arrived in Cuba was whether you can access wifi in your Airbnb, Casa Particular et cetera.
From our experience, the answer is no. Even though most places have a router / booster which they use to transmit the signal into your accommodation, we found the wifi to be impossible to use.
Wifi is pretty important to us, so after hours painstakingly hunting through Airbnb reviews to find one which people reported had working wifi, it was a disappointment to discover it was nothing but an oasis. The wifi sucks.
16. Download all your activities before you go
Leading on from the last point, Cuba is one destination where pre-planning is essential.
Planning to rely on Cuban wifi or hotel wifi is a recipe for disaster, frustration and wasted time.
17. Download some entertainment before you go
Even though there's plenty to do at ninght – like the Tropicana or Buena Vista Social Club shows or the Fabrica Gallery – if you're spending several nights in Cuba you'll probably eventually want an easy night in.
Unfortunately, there is no such thing as Netflix 'n' chill in Cuba yet.
Firstly, wifi won't be fast or reliable enough to offer it, and second Cuba kinda doesn't allow any American technology or companies in. This also means you won't find Starbucks in Cuba, your Citibank-issued card won't be accepted and you won't find any post-revolution American cars around.
So if you want to listen to Camila Cabello's "Havana" in Havana you'll need to download it before you go because you won't hear it played anywhere locally.
Romantic Idea: Visiting Cuba as a couple? Grab some fun couple games to bring with you to spice up a night in.
18. Watch "The Man in Havana"
This famous Hollywood movie was released shortly before the Cuban Revolution and is worth a quick look before or after visiting Havana.
The movie could be re-shot today and it would look almost exactly the same with all the vintage cars in identical condition.
19. Get ready to try a Sloppy Joe
If Old School movies aren't your thing then you can rewatch Billy Maddison to get you in the mood to. How does a 1990s Adam Sandler movie relate to Havana?
Well, the Sloppy Joe burger actually originated in Havana.
There's a restaurant called Sloppy Joe's where you can order one. It's actually a really cool bar in itself with the grandest collection of alcohol in Havana. Bottles of Club Havana rum, Chivas Bombay Saphire and many more spirits cover every wall of the bar.
The bar was also used in a scene in "The Man in Havana" and you can actually watch the movie while you eat your sloppy joe and sip on a Cuba Libre.
Of How does this relate to Adam Sandler? Well, there's a scene from Billy Maddison where he makes it to middle school and is served sloppy joe burger. Extra sloppy.
We didn't actually find the burger to be sloppy at all – it actually needed a little ketchup for stop it being overly dry. That said, it was quite tasty and it was better than the Cubana sandwich.
20. Prepare for Rainy Days in Havana
Like many Caribbean islands, Cuba is prone to days with pretty chaotic wet weather.
Want to avoid rainy season? Check out our guide to the Best Time to Visit Cuba
We experienced one where it felt like a tropical hurricane was was setting in along with crazy whirlwinds and heavy rain.
The locals were in the know with street vendors starting to pack up and take cover as the sky blackened, even as tourists continued to meander obliviously.
Once the rain sets in there's not much to do but to take cover in one of Havana's many restaurants, cafes or bars and hope there's wifi to connect to (and that you have enough wifi cards left).
Hotels lobbies and bars are a nice way to pass the time in old-school grandeur.
Aside from that, your options for rainy day activities in Havana are fairly slim. In the evening you can see a show like the Tropicana ($80 cuc), Buena Vista Social Club ($30 cuc without dinner).
To prepare for a rainy day in Havana consider packing these:-
cards
small board games (our Airbnb actually had a chess set or you can buy a lovely hand carved one from one of the markets)
travel games
Download some movies to watch (remember the wifi is unlikely to handle streaming so no Netflix which is probably geo-blocked by the Communist Cuban Government anyway).
21. Havana was once the playground of the rich and famous
Between around 1920 – 1940 Havana saw many of Hollywood's most famous faces including Frank Sinatra, Marlon Brando, Errol Flynn and many more.
Before the revolution Havana was something of a party town with opulent mansions, ritzy hotels rooftop parties, polo and of course the latest and greatest cars.
You'll find all of these iconic features in Havana today in varying stages of repair or disrepair.
In the neighborhood Vedado you'll find grand mansions, most of which are unoccupied shells which you think will one day spring back to life.
While the interior of most of the original hotels is dated, the glamorous lobbies and rooftops are still stunning and a great place to grab a drink while you are transported back to a bygone era.
The most well maintained relic of pre-revolution Cuba are the grand American cars in every shade of color as long as it's pastel.
It's a glorious marvel these cars are still running and it truly makes the city pop. Make sure to set aside time for an old car tour of the town including the Vedado mansions.
22. The Best Place to Stay is Havana Viejo
Before visiting Cuba we extensively researched the best areas to stay in town.
Although the mansions in neighboring Verdano make the neighborhood appealing, the best place to stay in Havana is the Old Town: Havana Viejo.
This is a snippet about this neighborhood from our guide: Where to Stay in Havana
This area is almost completely car free up and down the streets which makes it easy to walk.
The streets are filled with cafes and Paladar restaurants (inside the courtyard of large townhouses) which are the perfect hangout to people watch as locals and tourists go about their day.
A few minutes walk to the north or south and you'll find yourself near the bay or Parque Central where you can find taxis to take you anywhere else of interest to you in the city. Of course, there's no need to take a boring yellow taxi when you can ride in style in an old American car.
In this area you'll find many iconic restaurants including El Floridita (where Hemmingway is said to have opined the Daquiris were the best in the world), bars with a rich history of patronage like Dos Amigos (Cabbelleros) who have welcomed Frank Sinatra and Errol Flynn among others)
23. You won't find Cubano sandwiches like in Miami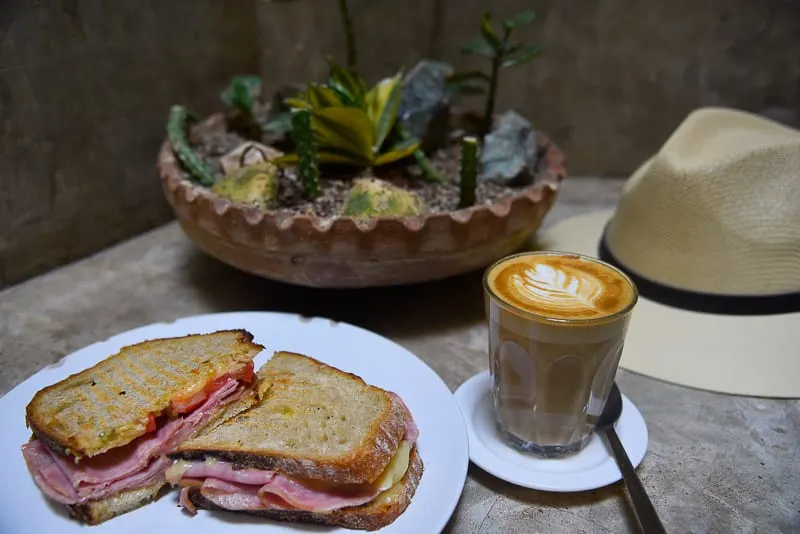 One of the things which surprised us about eating in Cuba was we were unable to find a traditional Cubano sandwich.
At least not the type as you'll be expecting if you've tried one of the famous Cubanos in Miami.
Not to worry, there are plenty of ham and cheese panini sandwiches which the closest thing to a Miami Cubano and they are very tasty.
In fact, almost everything we ate in Cuba was delicious and extremely hearty.
Update: I got violently food poisoning on the penultimate day of my trip from a street sandwich in Vedado. I was the only one to eat it, and also the only one to get sick. On reflection, the cheese was clearly left in the hot sun all afternoon (and for however many days before that). Stick to the restaurants to be safe.
24. Don't walk on the footpaths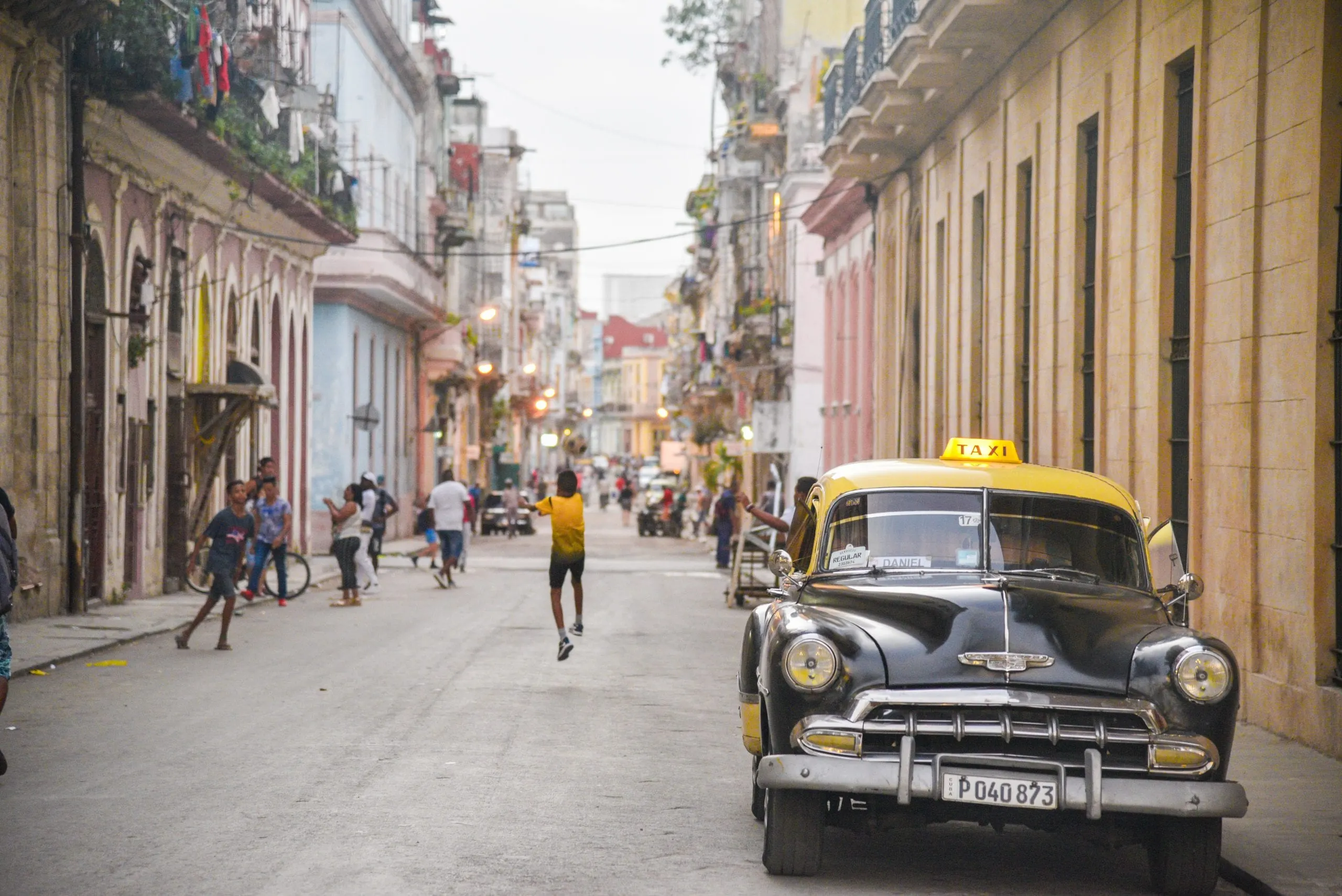 Contrary to conventional practice, walking on the footpath in Havana Old Town is a very bad idea.
Why?
Well, locals are known to throw their washing water (I hope it's that) from their balconies onto the streets below with little regard to who or what is underneath.
We even saw a construction worker empty his wheel barrow onto the street below.
Locals will advise you to walk in the middle of the narrow streets out of reach of the bath water.
Don't worry – cars, mopeds and coco-cabs will give you a fair warning beep before running you down.
25. You can't spend Cuban Convertable Units at the airport
Airside of Havana International Airport you cannot spend Cuban Convertable Units anywhere.
As you can't pay credit card your only options are to pay in US dollars, Euros or Cuban Pesos (currency for locals).
However, if you pay in USD you'll also be charged an additional 10% surcharge.
There's also nowhere to change money so your CUC will be worthless once you pass security.
If you're considering visiting Cuba – GO!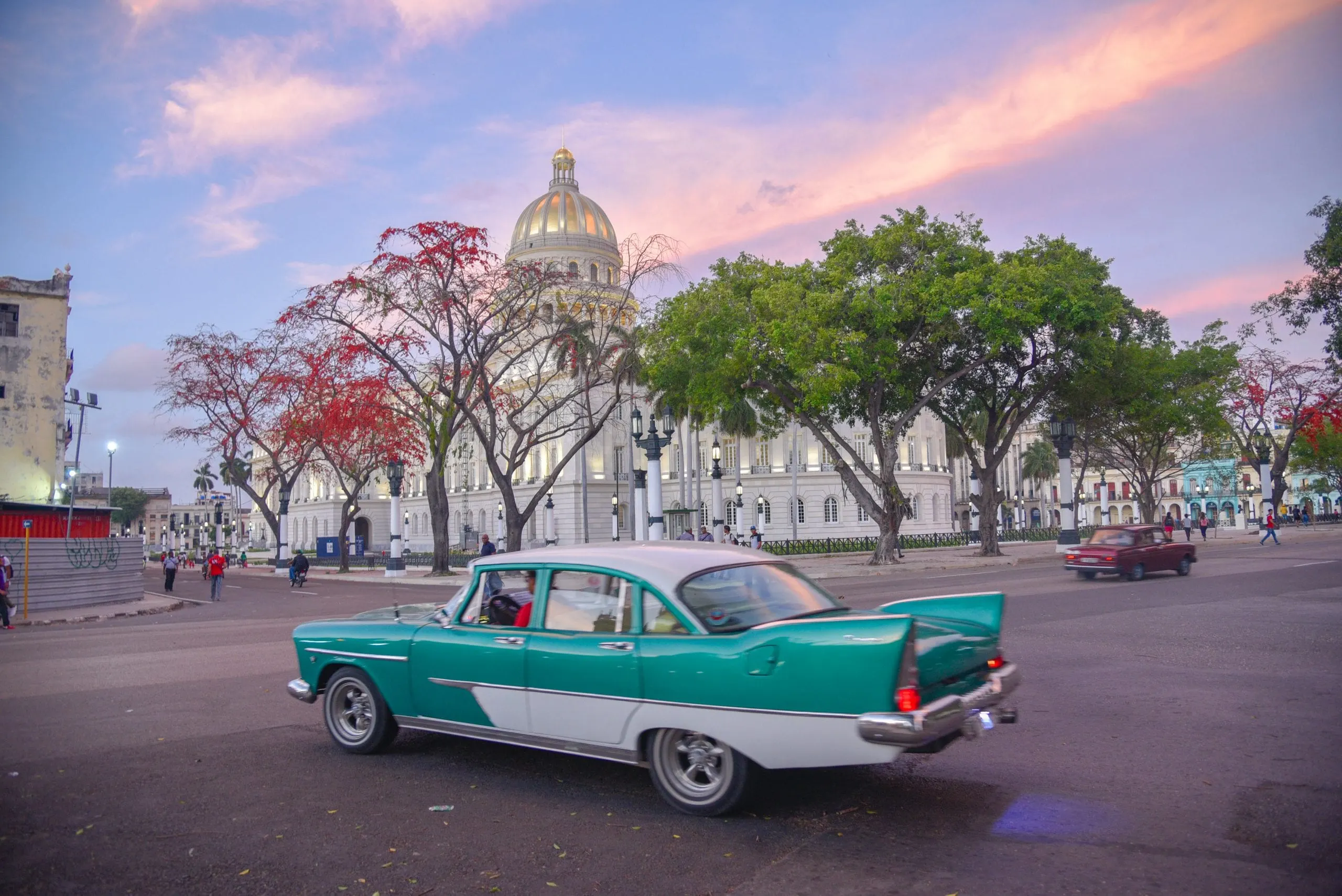 Cuba is the coolest places we've visited in recent years.
You'll honestly need to pinch yourself several times to ensure you're not dreaming you're in the set of a 1950s movie.
The colorful cars are the perfect muse for every iconic landmark in Havana.
From the Capitol (a replica of the same in Washington DC) to a huge mural of Che Guavara in Verdano – every landmark looks even cooler with a pastel pink convertible in the foreground.
While there's no prospect of the state converting from communism any time soon, it's natural that imported cars will continue to rise in the future further diluting the amount of iconic old-school cars on the road.
NOW is the time to visit Cuba!
Read More: 50+ Super Things to do in Havana
It's cheaper to visit Cuba from Mexico. Why not visit Cancun first?: Cancun to Havana (and how to buy a Cuba Visa)
Check out the coolest places to stay in Havana: Where to Stay in Havana
Wondering what's the best time of year to visit? Read our guide: Best time to Visit Cuba
Ready to Pack? Double-check it against our Cuba Packing List
Save this to Pinterest!