In the middle of the Deep South is a town that will make you feel like you magically woke up in the middle of Bavaria Germany.
In the hills of Northeast Georgia, you will find the German town of Helen complete with Bavarian architecture, rolling hills and nearby vineyards.
Despite the fact that Helen Georgia is a really small Alpine town with just over 500 residents, it consistently rates as one of the best places to visit in Georgia and draws in weekend trippers from Atlanta, especially for Oktoberfest and the Christkindlmarkt German Market at Christmas.
It is not every day that you find a quaint fairy-tale Bavarian town in the United States where you can stuff your face with bratwurst and pretzels, wear lederhosen and drink beer from a traditional stein without the expensive flight to Europe.
But would you believe there is even more than this? Located at the foot of the Blue Ridge Mountains it is an outdoor and adventure lover's paradise with some of the best hiking trails and waterfalls in Georgia.
The beautiful Chattahoochee River winds through the center of town and in summer there is an opportunity to tube down the lazy river. For the more adventurous you can take on some of the best white water rafting in the state!
If you haven't figured it already, there is an absolute abundance of fun things to do in Helen, whether you are coming as a family, are a budget RVer or on a romantic weekend trip from Atlanta.
Here are what we consider to be the 67 best.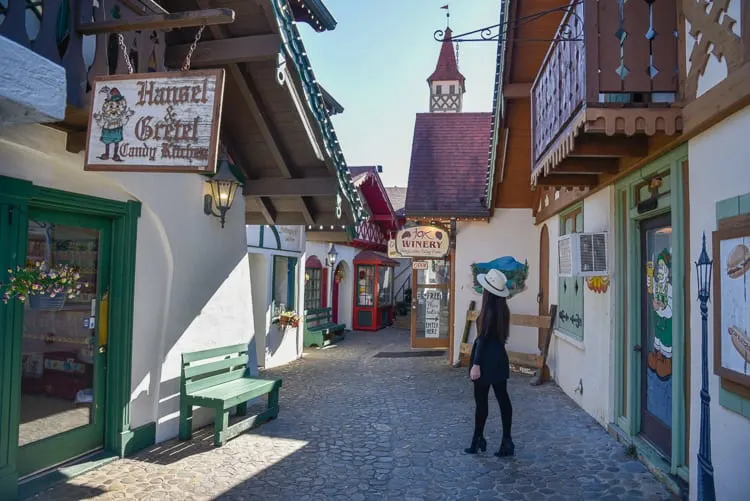 Why Visit Helen? Our Video
Where is Helen?
Helen is situated along the Chattachoochee River in White County in northeast Georgia.
From Atlanta, it takes around 1 hour 30 minutes (approx. 90 miles) to reach the town following US-19 and GA 400 S.
It's a popular day trip or weekender from many ATLiens due to its unique German theme and picturesque Alpine location conveniently located in the Appalachians (instead of the Bavarian Alps).
It definitely proved to be one of our favorite places to visit in Georgia State and we highly recommend it to anyone looking for unique places to visit in Georgia or on a Southern US road trip.
Here are some more interesting places within easy driving distance of Helen for those on a longer road trip:
Best Time to Visit Helen?
The best time to visit really depends on what appeal to you. Each season brings with it its own unique advantages.
In our personal opinion, the best time to visit would be in June to tube the Chattachoochee River, in October for Oktoberfest or in December for the amazing Christmas markets.
Summer in Helen
Summer is a great time to visit if you love activity!
Summer is the time when many of the adventure activities come to life including river tubing and white water rafting. It's very relaxing to float down a lazy river and watch the world go by (sadly, sans beer due to town city limits).
The river tubing draws many families from Atlanta to cool off on the weekends, escaping HOTlanta. For this reason, summer is the busiest time and (aside from Oktoberfest and during the Christmas festival) it is the most expensive time to visit.
Temperatures in summer reach as high as 86°F (30°C).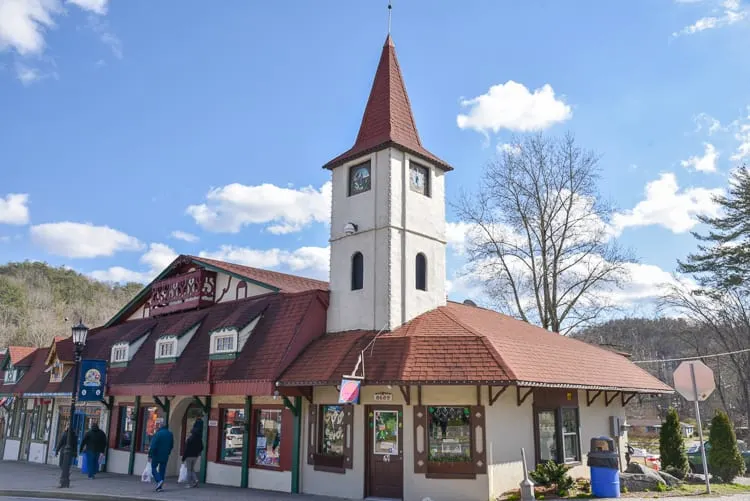 Fall in Helen
Fall is one of the prettiest times of year to visit as the surrounding Blue Ridge Mountains mountains turn a beautiful shade of red and orange.
October is a great time to visit as fall brings a lot of activities to the area like Burt's Pumpkin Farm (1 hour drive away), Oktoberfest, the Indian Cultural Festival and the Georgia Mountain Fall Festival.
Oktoberfest (Sep 6 – Oct 28), which has been running for 50 years in the area, is one of the most popular times of the year to visit.
Temperatures in fall average 71°F (22°C)
Winter in Helen
Christmas is a magical time to visit due to the Christmas lights and the traditional Christkindlmarkt German Market.
This is one of the few places in Georgia where you can experience a real European Christmas market with all the favorites like mulled wine and hot apple strudel!
After the Christmas and New Years' crowds dwindle, it is a good opportunity for budget travelers to visit as hotel prices plummet to account for the reduced demand, especially during the weekdays.
Temperatures in summer reach as low as 28°F (-2°C). Snow is possible but is less than the US average of 28 inches of snow per year. On average, Helen experiences 2 inches of snow each year – don't expect to go knee deep!
Spring in Helen
Spring is always a nice time to visit as flowers fill the quaint Bavarian town, bringing life to the city in colors of red, yellow and purple.
Wildflowers will be in blossom in the mountains making it a nice time to go hiking and trekking.
Mark April 10 onto your calendar for the Easter Festival at North Georgia Zoo in nearby Cleveland. Join a unique Easter egg hunt ($8) which you can redeem for prizes or hold a rabbit in their Rabbitpalooza.
Temperatures in Spring average 71°F (22°C).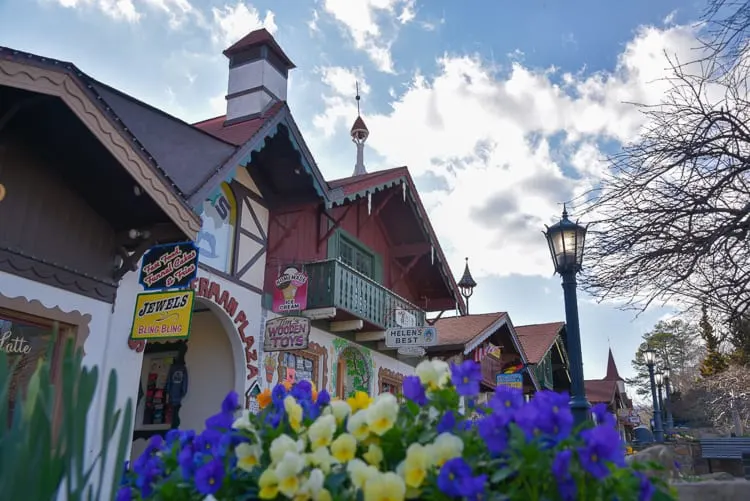 History – Why is there a Bavarian Theme?
As one would expect, Helen did not start as a Bavarian town. Over 50 years ago, it was one of many struggling logging villages in the Appalachian Mountains.
Rather than slide further into financial turmoil, it made a ballsy move to attract tourism to its struggling town – why not re-brand as a Bavarian Themed Town – they thought!
Ultimately, the switch paid off and the town has now become one of the most popular tourist destinations in Georgia. The Bavarian town has also brought awareness to some of the amazing natural attractions in the region such as the incredible hikes and waterfalls.
It's amazing to us that literally every building in town is decorated in Bavarian theme including all the hotels and even the petrol station!
The town even has a sister town in Germany, Fussen from which they draw inspiration for their village.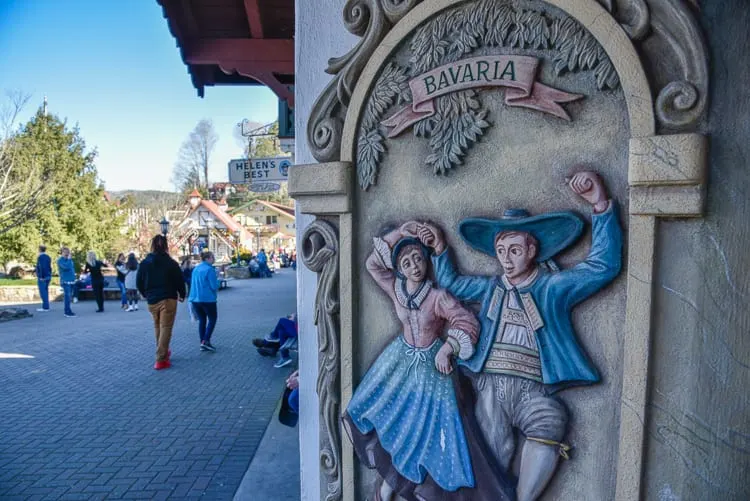 Is Helen Safe?
We read online before visiting that Helen isn't that safe, that crime rate is 240% above the National average.
In our opinion, this could not be further from the truth – it is a very safe town to visit! Much safer than some areas of Atlanta for instance.
There is probably a drunk brawl or 2 at Oktoberfest, much like it does in Munich, but walking through the downtown streets you will feel very safe.
Hotels – Where to Stay?
There are many places to stay to suit almost every budget. Being located in the countryside, there are camping opportunities for budget travelers as well as beautiful luxury hotels for those wanting a romantic weekender.
Helen GA is also a very dog friendly place due to the many great hikes around the area. Many of the hotels in the area are dog friendly. If you are looking for a pet friendly resort, we would suggest Valhalla Resort.
We were amazed that within downtown every hotel we saw was constructed in traditional German style. I suppose that is what makes the town so special and unique!
This hotel consistently receives good ratings and during low season costs as little as $50 a night on weekdays.
Not only is this Inn clean and comfortable but the best part is you get to stay in a traditional German House (exactly as you would see in Bavaria!) which is located in walking distance to the downtown area.
If $50 a night is not budget enough for you or you are traveling in an RV, there are numerous camping places located nearby. We recommend Yonah Camping ($35 a night) as it provides safe, clean and comfortable camping only 10 minutes drive from downtown.
Being an Alpine area, one of the most romantic things to do is to rent a little cabin near town.
Black Forest is one of the best places for totally adorable cabin and townhouse rentals featuring hot tubs, terraces and even fireplaces!
If you don't care for a cabin, we would suggest the Country Inn and Suites for a very comfortable yet affordable accommodation choice for couples (as little as $75).
The two reasons we would suggest the Holiday Inn for families are 1. its great location and 2. its fabulous indoor pool which the kids can make use of year round.
Another great option for families with a great indoor pool is the Alpine Crest Resort.
The Tuscan Rooster is another good option but best left for summer, as they only have an outdoor pool.
Festivals: Upcoming Events
Helen's charm makes the German inspired town a hub of festivities with events, festivals and activities planned throughout the year.
If you want to visit during one of the major festivals (especially Oktoberfest), it is HIGHLY recommended to book your accommodation well in advance. As you might expect of town with barely 500 permanent residents, accommodation is very limited at peak times.
If you do find yourself in a situation where you can't find accommodation in town, we suggest looking at these nerby cities towns: Commerce GA, Toccoa, GA, or Gainesville, GA. Our top pick is Commerce, 40 minutes drive away. Of course, this means you need a designated driver so better book in advance!
Here are the biggest events throughout the year:
Fasching February (February 15)
Annual Trout Tournament (March 28)
Easter Festival in nearby Cleveland (April 10)
Winefest (May 2)
Spring Bierfest (May 9)
Bavarianfest (May 23)
Oktoberfest (Sep 6 – Oct 28)
Festival of Trees (Mid Nov to early Dec)
Christkindlmarkt German Market (Nov 28-29 + Dec 5-6)
Dropping of the Edelweiss (December 31)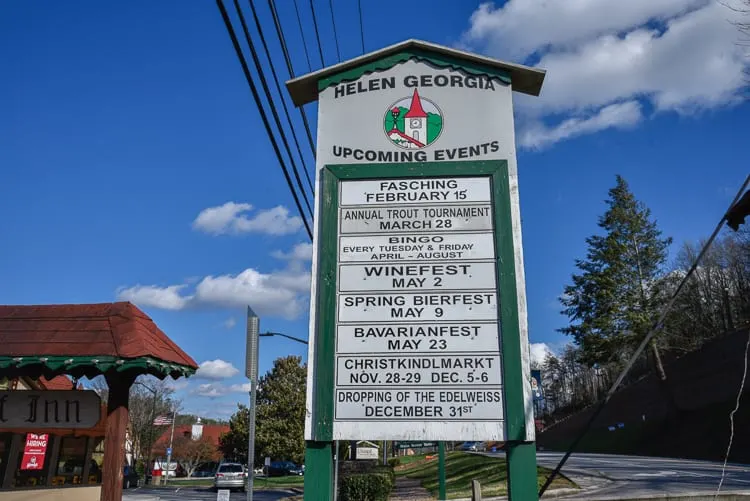 Map: Things to Do
Use this map below to see where all the interesting attractions in Helen are located.
Click here or press the brackets in the top right corner of the map to save it to your phone so you will know exactly where the things we mentioned below are located!
Looking for free parking?
You'll find free parking in the Unicoi Hill Park car park and on Narr Weg. Use our map below to help you find the free parking. Note, the Bavarian theme includes German street names!
To get to Unicoi Hill Park car park set your directions to White Strasse (just past the main strip of Town on your right hand side) and drive a few hundred feet uphill.
For free parking on Narr Weg (in English "Fool Way") keep an eye out for the pizza restaurant 'Slice of Helen' on your right as you drive into town. We found plenty of available free parks even on a busy Saturday in March.
Tip: Car parks which are not free clearly advertise the $5 parking fee as you drive into the car park. You'll also notice either a booth where a local collects payment or a machine to pay for your ticket by cash or credit card.
The parking situation is not nearly as bad as people make out (except maybe during Oktoberfest weekends).
If the thought of finding a park gives you anxiety, consider booking one of these hotels in town with free parking.
Suggested Itinerary
We recommend spending at least a weekend to really appreciate all the town has to offer.
Everyone is different but here is how we would suggest splitting up your time.
Day 1-2: Explore the downtown area, eat a bratwurst, try a pretzel, drink beer and go shopping!
Day 2-4: Explore some of the fun outdoors activities including some of the best hikes and waterfalls nearby.
Day 5 + – Visit some of the nearby towns and areas including Lake Chatage
Shopping: What to do in Downtown
The first thing you should do when you arrive is to head to the downtown area.
Helen has so much to offer and one of the biggest draw cards to this quaint, Bavarian town are the very unique and interesting shopping opportunities it provides.
Guys, don't despair, there is really something for everyone from jerky shops, to handmade fudge, to locally made craft beer and pretzels – you are sure to find something you like too 😉
Even if you aren't the shopping type per se, it is fun to meander downtown and see what interesting stuff you can find.
Below are some shops in the the downtown area that we found the most unique and interesting.
Note: During the weekdays, especially during the winter, some shops choose to close. General hours of operation (if the shops don't have reduced mid-week hours) are from 10am – 5pm Mon – Sun. Due to weekend trippers, shops are almost certainly open on Saturday and Sunday as these are the busiest days for them.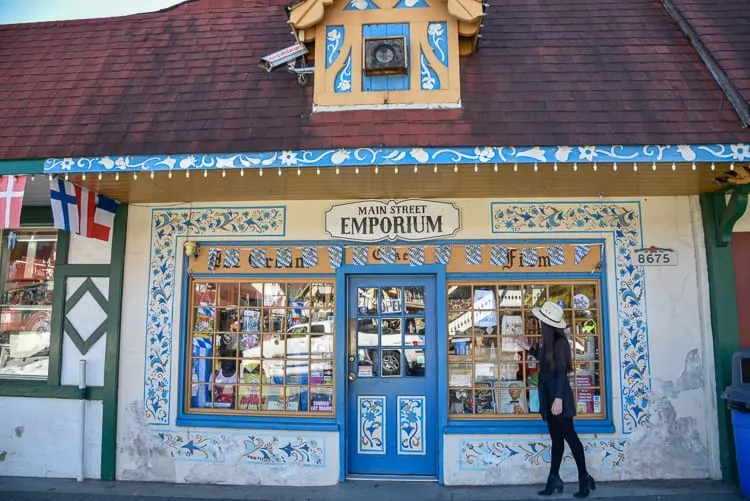 Honey on The Hill
If you love honey, you will absolutely LOVE Honey on the Hill. It was definitely one of the most unique shops we visited.
Inside you will find a honey-lovers fantasy with a shop filled to the absolute brim with 100% natural based honey products.
You will find everything from honey candy to honey candles to super-food infusions in this adorable shop.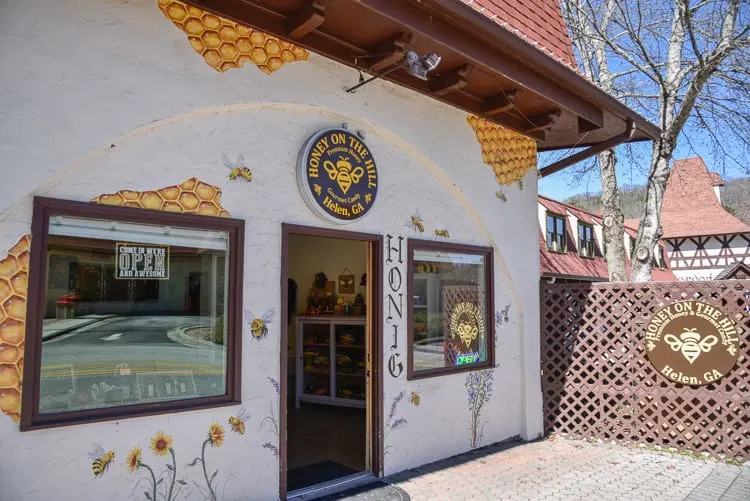 Christmas Shops
Like Pigeon Forge, we were a little surprised to find that it is always Christmas here! I'm someone who loves Christmas so I actually really like it always being Christmas!
Helen has not just one but two awesome Christmas shops in the town which are open year round.
The first, called the 'Christmas and More' is located inside the Shoppes at Castle Inn.
The second Christmas shop which includes a Santa and sleigh outside (make sure you get a cute or funny picture) is located down the other end of town.
You really can't miss it. It is even called The Christmas Shoppe.
Alpine Dispensary
If you are looking for some alternative medicine *cough* *weed* *cough* you will find it at the Alpine Dispensary.
All jokes aside, we found the Alpine Dispensary to be a pretty cool place.
Inside you can find oils, vaping products, soft gels, topical creams and even pet products! I told you there is something for everyone here, even our furry friends!
If you are looking for the shop it is also located inside the shops at Castle Inn above the Troll Tavern.
We heard this shop might not be around for too much longer as the laws regarding the sale of hemp are proposed for review in Georgia. Sooo, if you want to pick up these kind of products the time has never been better.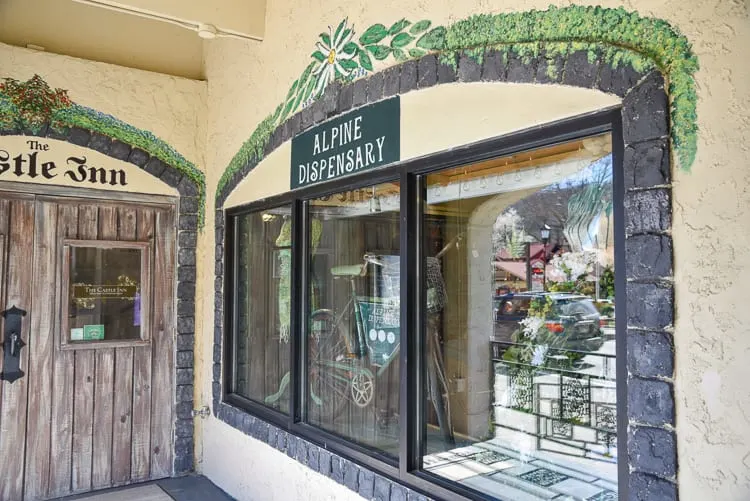 Alpine Olive Tree
Next door to the Alpine Dispensary, you will find the Alpine Olive Tree, one of our favorite stores in town.
Inside you will find the largest supply of oils and balsamic vinegar ever. Well, it was the most oil I have seen in my life!
And, if you can stomach it, every single oil and vinegar in the shop (even strawberry flavor if you would believe that exists) is available to sample, which is kind of fun.
After a stop at the Olive Tree, you might like to pick up a gorgeous Southern hand made quilt from Southern Comfort Quilts – they have some seriously gorgeous high quality quilts in there!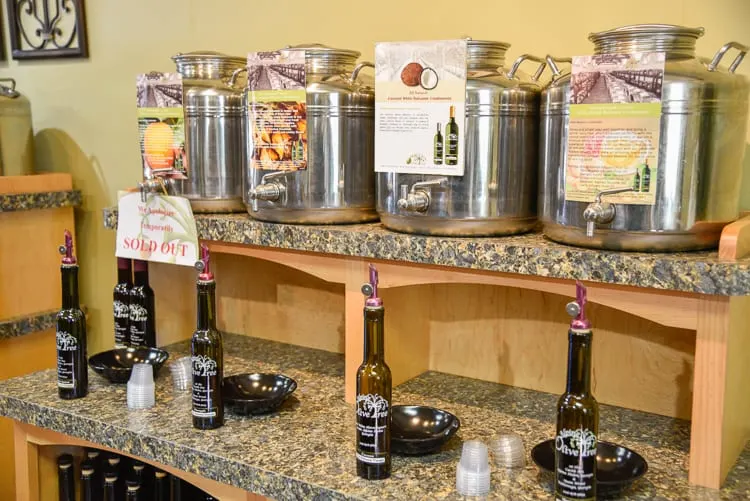 Alpine Festival of Arts and Crafts
Fancy visiting the largest gift shop in the area?
The Alpine Festival of Arts and Crafts is a window shoppers delight. You can find anything from quirky signs to hand crafted wood ornaments to antiques (I saw a really nice antique rocking horse for sale).
It is also a great place to pick up a rather politically incorrect gift for your friends. I did spy a pretty funny pair of Donald Trumps socks while I was there. Great Christmas stocking fillers!
The Alpine Fantasy shop is another cool place to go for a bit of this and a bit of that. Here you will find a mix of Christmas ornaments, clothes and t-shirts.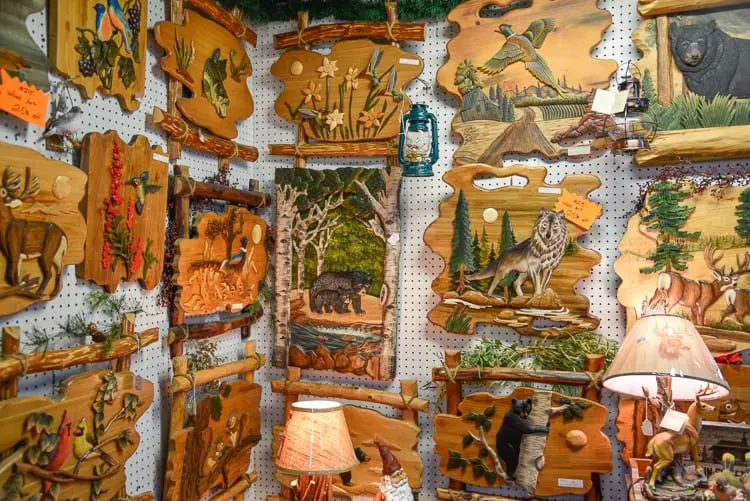 Jerky Shops
You will see numerous shops where you can buy jerky along the streets of Helen.
The one that I found the most interesting was called 'The Jerky Shop' (pretty original huh?!) as it had some really unique jerky for sale inside including alligator, wild boar, ostrich, kangaroo, alpaca and reindeer.
For adults, there is also some alcohol infused jerky options available!
You can sample all the jerky you like inside. Oh, and if you are looking for a German beer stein without the large price tag, this is a great place to go.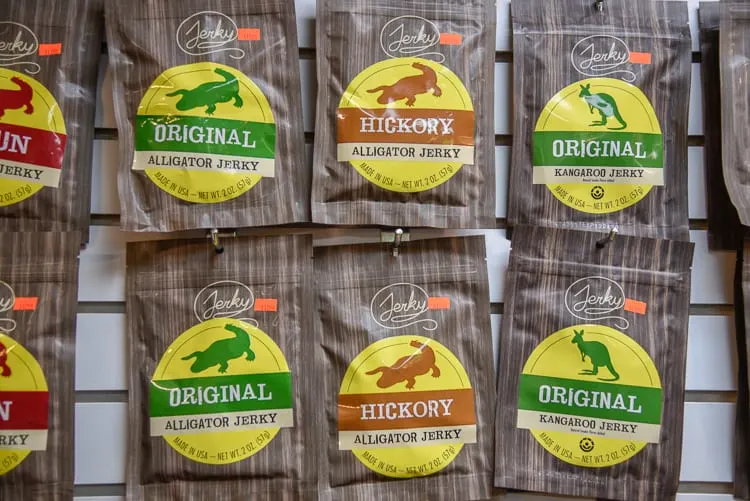 Lindenhaus Imports
One of our favourite German shops in downtown is the Lindenhaus imports shop.
Here you can find some seriously interesting stuff from Scandinavia, Europe and around the globe.
You will find everything from cuckoo clocks, traditional wool hats from Oktoberfest and really unique beer steins (my Granddad would have a field day in here!)
If you want to pick up a German inspired souvenir of your time, this is THE place to go!
Tip – Another shop you can check out if you are in the market for a German wool hat for Oktoberfest is a store called Helen's Treasures, on the opposite side of the road to Lindenhaus Imports.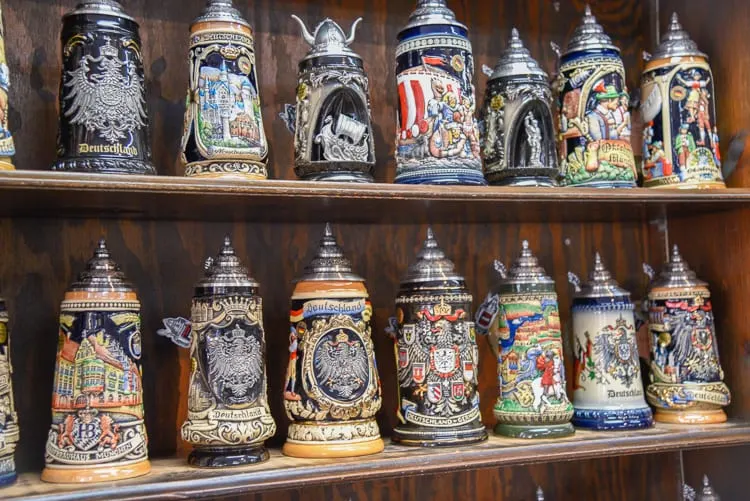 The Pickled Peach
If you love quaint and super interesting stores then the Pickled Peach is definitely the store for you!
Inside you will find everything from amazing smelling bath products, to t-shirts to cute wall plaques.
You might not be particularly surprised to hear that the shop is called the Pickled Peach as it specializes in absolutely delicious peach marmalade. If you like marmalade, highly worthwhile to pick up a jar to enjoy at home.
Note: This store is looking for a new owner in 2020 as the owner is retiring. It may not be there n the future – let us know the outcome of the store or what replaces it in the comments below!
Chatahoochee Leather Works
Behind the Cowboys and Angels bar (cool bar by the way), you will see a very unique shop called the Chatahoochee Leather Works.
Inside, you will find beautiful leather jackets, men's clothing and unique motorcycle helmets.
Even if you don't consider yourself a bikie, it is worthwhile checking out for the unique pieces which start even before you set foot in the door with quirky animal steel figures outside.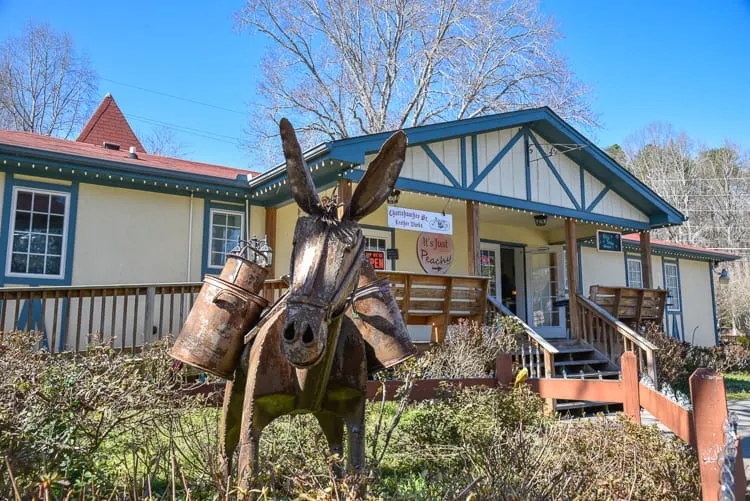 Artisans Market
This unique gift store is located in King Ludwig's Square – where you will find some of the most picturesque German buildings and even an outside German beer hall!
Inside, you will find a wide range of unique gifts and souvenirs including great art pieces and wall hangings.
One quirky part about the store is they have a bit of a hippy vibe. Inside, they can mix you up some great lotions with relaxing properties.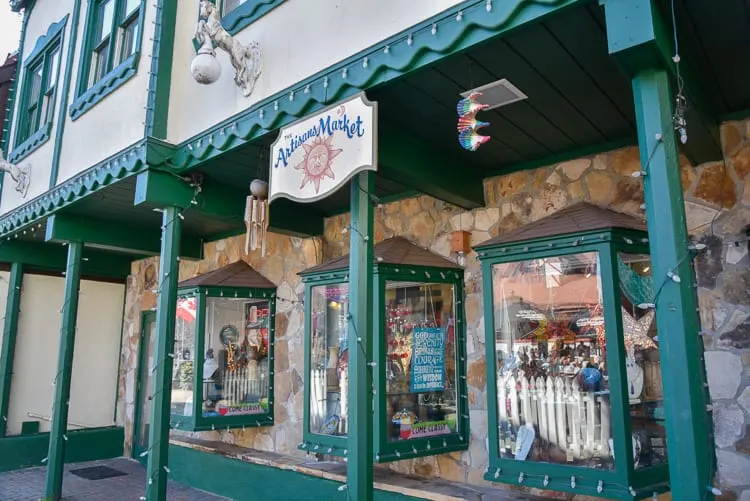 Nora Mill Granary
A bit outside of downtown, this is a really interesting store that even the kids might like to check out as it was once a grits mill.
Even to this day you can see the way the mill works inside and actually buy water-powered and stone-ground whole grains.
If you love delicious and unique food – this is also a great place to go. Inside you can find a wide variety of jams and jellies, baking supplies as well as grits.
You can also see some beautiful antique pieces at the granary.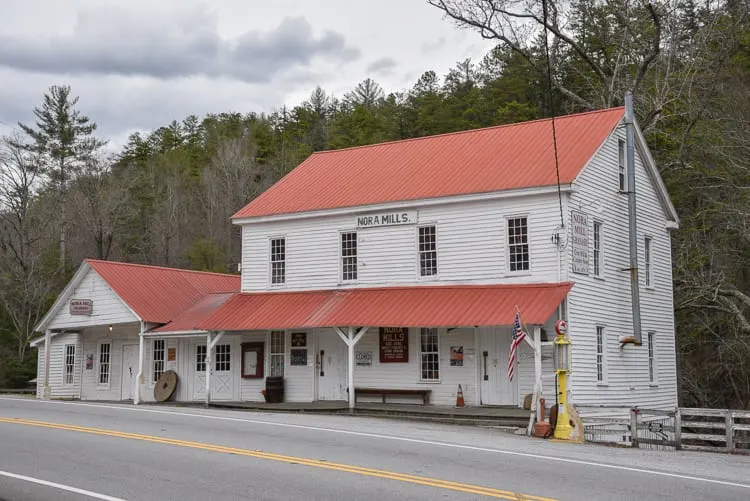 Windmill Dutch Imports
In King Ludwig's Square you will also find another of our favorite shops – the Windmill Dutch Imports.
This adorable shop is seriously straight out of Amsterdam.
Inside, you will seriously find the exact same souvenirs you would find in Amsterdam including clogs, beautiful white and blue figurines, plates and souvenirs.
If you haven't visited the Netherlands, you will want to visit this shop for an insight into traditional Dutch life.
Near Windmill Dutch Imports you might also like to check out Zuzu Petals Rock Shop.
Mining and natural rocks is a big thing in Helen (once a mining town). Inside Zuzu you will find a wide range of rocks and minerals – many with supposed healing properties.
Sweet & Treat Shops
If you have a sweet tooth like me you will be in absolute candy-heaven in Helen! There is an interesting candy shop about every four shops along the main strip.
Our favorite sweet shops include Lui Lous Sweets (behind the cowboy bar) and Mountain Haus Treats (you can also buy cigars, jerky, kettle corn and Bavarian nuts here).
Brookstown Fudge is another great place to check out if you are a true fudge lover!
For the theatrics of it, we would recommend checking out the Kopper's Kettle Fudge Shop. Here you can watch the Confectioners make fudge from scratch, which is a very impressive sight to say the least as they mix and spread it with a very large paddle on a beautiful marble table.
Inside Kopper's Kettle, you can buy some very delicious fudge (shocker!) and chocolate covered strawberries.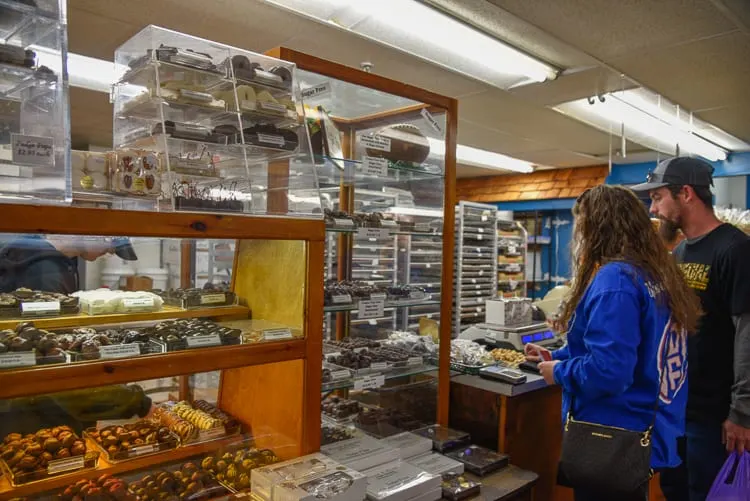 Betty's Country Store
If you decide to rent a cute little cabin, you might like to visit Betty's Country Store, the #1 specialty store in Helen for delicious country-inspired food, to stock up on some goodies.
Inside is everything from firewood to locally-sourced wine to homemade country food ready to heat including their famous homemade Chicken Pot Pie.
Don't miss the fabulous deli at the back of the store with fresh meats, cheese and lots of fabulous ready to eat meals.
Even if you don't need any food or drink, it is interesting to take a peek inside Betty's to see their live working beehive. Perhaps, you might like to take home some fresh honey with you!
Wildewood
Wildewood was by some distance one of our favorite shops as everything inside was just so interesting!
Here you will find everything from hand made wooden birds nests to gemstones. We saw a group of young kids absolutely loving filling a pack of cute colorful gems for $5.
You can also find beautiful women's clothing as well as ornamental lamps, wind catchers and very interesting mugs!
If you feel like eating some traditional German food after your shopping spree, next door is a very traditional German restaurant where you can get all the favorites: Schnitzel, Sauerkraut and Apple Strudel. It's called the Old Bavarian Inn Restaurant.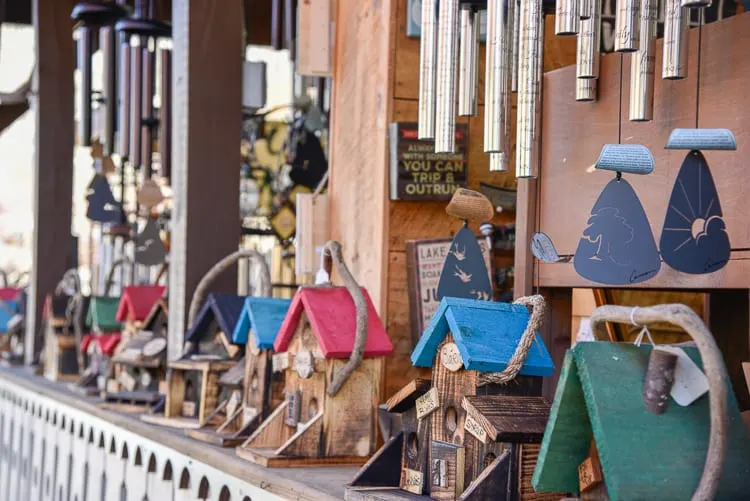 The Willows Pottery
If you love beautiful pottery, this store is definitely worth worth a look!
The cool thing about The Willows Pottery is that it is a fully functioning pottery store that showcases the work of 6 amazing artists. If you love buying local, this is a great place to go!
If you're really lucky you'll get to see one of the artists in action crafting impressive pottery pieces.
Inside, you will find the most beautiful finished handmade pottery in all different styles, colors and designs. They also have some other interesting hand-crafted items for sale in the store including hand woven baskets.
Note: The Willows Pottery is outside the downtown area in Nacoochee Village.
Fred's Famous Peanuts
Boiled peanuts are a southern specialty, and Fred's Famous Peanuts located just outside town is the best place to try them.
Fred has been operating for over 30 years and sells just about every peanut you can think of from Cajun peanuts to boiled peanuts to fried.
The shop also sells other delicious items including homemade peanut brittle, beef jerky, jellies and jam.
Program your GPS to 17 Clayton Rd to find Fred's on your way into town or your way home. You won't miss the cute roadside store!
The Glassblowing Shop
If you like visiting unique, interesting shops with more than just merchandise to admire, head to the Glassblowing Shop.
Inside you will see the cutest little glass figurines ever – everything from tiny kittens, deer, dolphins as well as larger artwork.
What I loved, however, was watching the glassblower at work in the store. It was impressive to see how she crafted a simple piece of glass into a complex and unique work of art!
There used to be another interesting glass shop in town called the Glass Mountain Gallery & Studio which has now closed.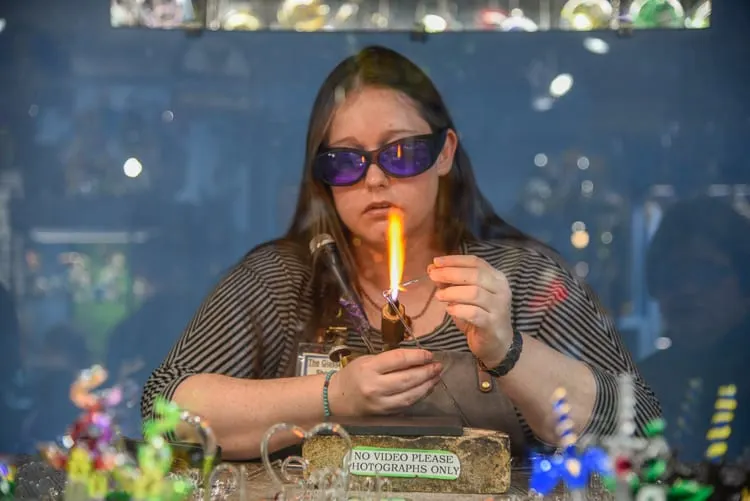 Notre Gift Handmade Art Studio
This place is a must-do for those who prefer more hands on souvenir fun.
What is super cool about the Notre Gift Handmade Art Studio is that you can actually make your own scarf, pillow or bag while you are there.
The owner in the store is great and really hands on with helping you make a special creation to take home. This place is a great opportunity to get a special Mothers Day gift handcrafted by you with love!
The Village Peddler
The Village Peddler is a fun store to visit for the gals as it specializes in women's clothing and cabin decor.
Inside you will find more than just beautiful clothes but also funny signs sure to keep you entertained on a girls weekend. Aside from clothing, the store also has stunning wall art and quilts.
Across the road from the Village Peddler you might like to stop in at Hofer's German Bakery. It's not just the architecture that's traditionally German, but the baked goods in the Bakery are some of the most authentic you'll find outside of Germany. This is because the pastries are baked in store using a stone oven.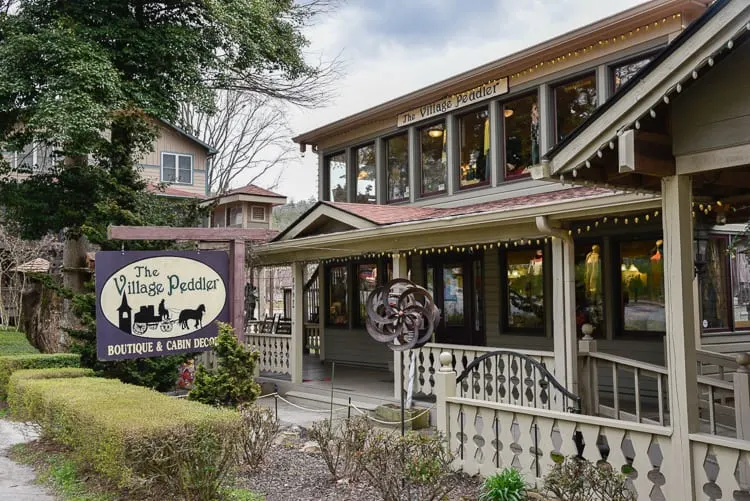 Places to Eat in Helen
As there are so many great places to eat, it is hard to reduce it to just a few!
Being a German-inspired town, you really must try a German dish for lunch or dinner on your visit.
Some of the delicious German food you will find includes schnitzel, pork shanks, bratwurst, goulash with bread dumplings and apple strudel for dessert. Have I got your mouth watering yet? 😉
If you're not sure what to order, you'll find the restaurant staff in town are more than willing to help explain the German dish and tell you what their favorite dish is on the menu!
Paul's Margarita Deck
Who doesn't love a good view? That's exactly what you will find at Paul's Margarita Deck.
As the town is located right on the Chattahoochee River, there are a few good places to eat and drink with a river view – Paul's Margarita Deck being one of those.
What's great about this place is on weekends you can enjoy live music while you enjoy the great food with a view.
Note: During winter, Paul's Margarita Deck only opens Friday, Saturday and Sunday.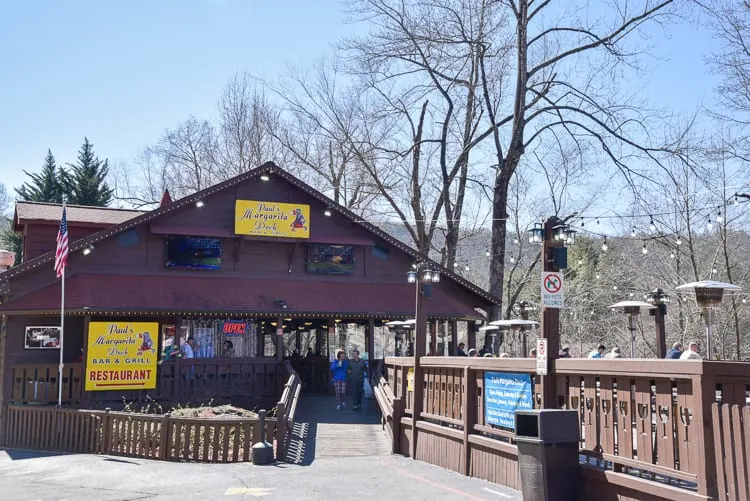 Troll Tavern
On the other side of the Chattahoochee River, you will find the Troll Tavern, another great option for dining with a view.
Here you can find huge, delicious burgers, more pub grub and most importantly, ice cold beer.
If you come during the winter months, we would recommend arriving mid morning to early afternoon. In the late afternoon the sun sets and it gets very cold sitting out on the patio of the Troll Tavern. Nice view if you can handle a bit of freeze!
Cafe International
Opposite Troll Tavern you will see another great food option – Cafe International.
If you can't tell by now, we love a view and Cafe International is also located on the Chattahoochee River, so it has a beautiful river view from its large deck.
Here you can find fantastic German sandwiches and if you are on the hunt for a particularly good German pretzel, it is a great choice!
Alpine Pretzel Haus
One can simply not come to Helen without devouring a giant German pretzel.
One of the best places to get one, if you don't want a serviced restaurant, is the Alpine Pretzel Haus.
Here you can pick up a freshly baked takeaway pretzel for $12. They also specialize in German funnel cake which is really tasty ($6).
In keeping with the German theme, as one would expect, prices for food and drink do fall a little on the expensive side. A take away pretzel for $12 is kind of highway robbery #justsaying.
Eurofood
If you want to take some European food home with you, head into Eurofood on the main street in downtown.
As all the goods are imported from Europe, most of the labels are in German but the kind owner is more than happy to help you find something new and unique to try!
P.S. If you are on the hunt for Milka and Kinder chocolate, you will find it here!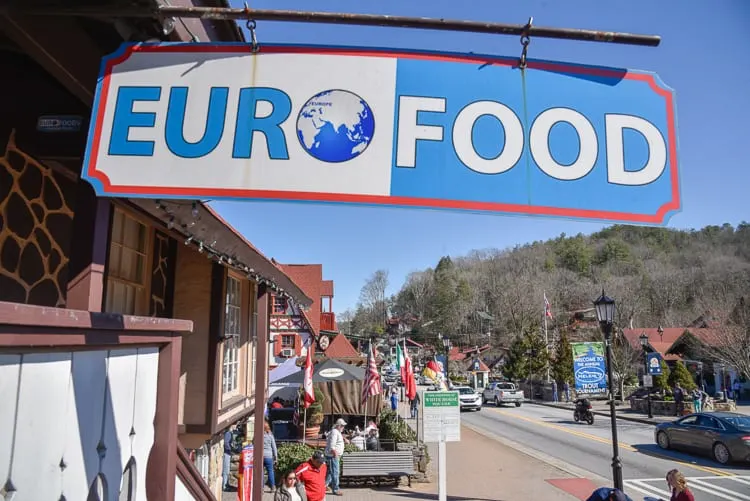 Old Heildlberg
Old Heidlberg Schnitzelhaus – the cutest restaurant in town painted white and baby blue trimmings – is a must do if you want to try some seriously good German food.
They offer all the traditional German favorites including schnitzel, bratwurst, goulash and apple strudel for dessert.
Another reason to visit this restaurant is the awesome view. If you score an outside table from the balcony you can watch the festivities going on in King Ludwig Biergarten below and also watch people walking up and down Main Street.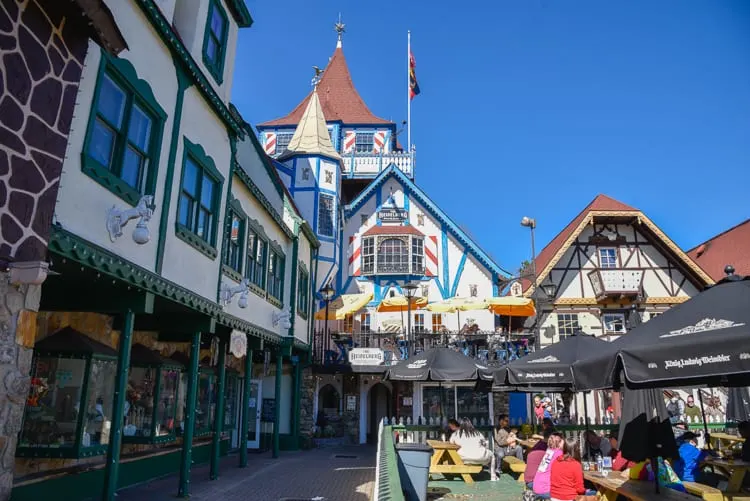 King Ludwig Biergarten
If you want to experience the closest thing to an outdoor beer garden in Germany, head to King Ludwig Biergarten.
When the Oktoberfest festival is not on, the best place to enjoy a beer with a super atmosphere is right here. You can grab a Bavarian-sized 32oz beer for $11, which is actually cheaper than at Oktoberfest in Munich.
There is often live music playing here which is a nice touch and while you may not hear Fliegerlied playing like you would at the original German Oktoberfest Munich you can sing and dance along to some American favorites including Sweet Caroline.

Hofbrauhaus Restaurant German Pub
One of the most popular restaurants in town is Hofbrauhaus restaurant.
Located outside the downtown area, it is popular because it provides a very traditional German experience, serving traditional German pub meals in a totally German-themed restaurant. Even the outside facade is Bavarian themed!
We love that inside they pump out the German songs including those commonly heard at Oktoberfest in Munich. You just might just hear Fliegerlied playing here!
Two Tire Tavern
Two Tire Tavern, right near the Christmas Shoppe, is another fabulous place to eat or enjoy a beer in town. You will notice it right away as it has an iconic photo op out the front.
This restaurant specializes in casual dining and serves a mix of German and American comfort food.
One of the biggest draw cards of this restaurant is that it has a dog-friendly deck. If you are traveling with your furry friend this is a good place to go!

Romantic Things to do
It probably is no surprise that Helen is a very romantic town. It is one of the most popular romantic weekend getaways for couples from Atlanta, located a short 1.5 hour drive away.
While we were there, we saw numerous couples meandering the Bavarian streets, playing mini golf and visiting the wineries.
Here are the best activities we would recommend for couples.
Horse Drawn Carriage Ride
One of the absolute cutest things to do for couples is to go on a horse drawn carriage ride.
The biggest company operating is the Alpine Carriage Company.
Not only is this a really romantic activity but it is very affordable too! For a 20 minute ride in a Cinderella style carriage, it only costs $10 a person or $20 a couple which I think is very reasonable.
If you are visiting in the summer, it is a nice way to escape walking around in the summer heat or perhaps as an alternative activity for adults who prefer not to go tubing.
In winter, it is also a great activity for couples. The company provide cozy blankets to use so you can snuggle up in the back of the carriage.
The ride includes some of the backstreets as well as the main tourist strip. The operators are very friendly and will wave to you as you pass and direct you where to go to board.
The horse drawn carriage rides appear to only run on weekends in low season. We were there on a Friday in winter and there was not one in sight. We saw quite a few running on Saturday though!
Tip: It is more enjoyable if you take a ride on a day not crowded with people. With so many cars on the main street, the ride loses some of its ambiance.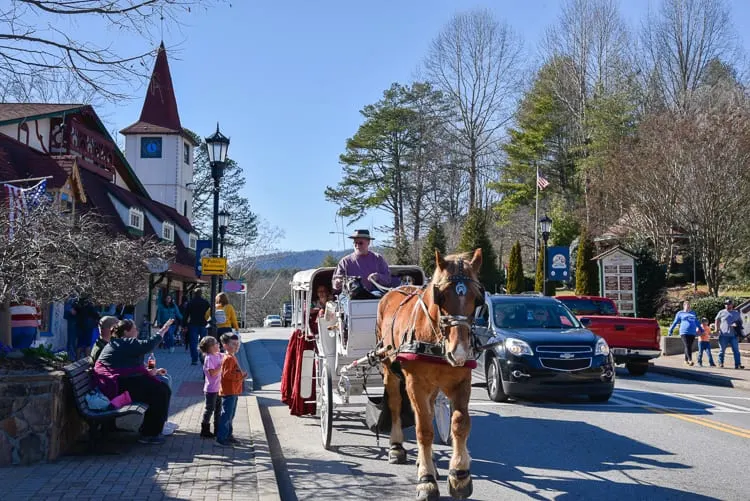 Hot Air Balloon Ride
Helen Georgia is one of the best and most romantic places in the USA to go for a hot air balloon ride! If you are looking for a romantic place to propose near Atlanta, this might be a good pick!
In Spring each year one of the best hot air balloon festivals in the United States sets off from Helen called the Atlantic Hot Air Balloon Race and Festival.
May 30 is a great time to be in town as it is incredible to see the annual hot air balloon race fly over the alpine village.
Read More: 11 Ridiculously Romantic Places to Stay in Helen, GA
Stay in a Windmill
The Heidi Windmill Motel is one of the most romantic places to stay for couples in the area.
Why? Well it is not every day that you can say you have stayed in a windmill suite, now is it?
Even if you don't plan to stay at the hotel, it is a great place to have a photograph taken together with a pretty backdrop.
Nacoochee Village Antique Mall
For couples who love antiquing and finding some hidden gems, we would highly recommend a visit to the Nacoochee Village Antique Mall.
This is the type of place you can invest some serious time into if you are so inclined as the antique mall is not one, not two, but three floors large.
It includes all sorts for antiques ranging from WW2 antiques to jewelry to art.
Play a Game of Golf
If you are an active couple, there is a great golf course nearby, called the Innsbruck Golf which is considered 'the King of Georgia's Golf Courses' as it is both challenging and offers picturesque views!
A 9 hole round of golf will set you back $24 pp Monday to Friday and $30 pp on a Saturday and Sunday.
Bavarian Architecture
We noticed a lot of couples on weekend getaways while we were there and what I personally think draws them in is the super cute Bavarian architecture.
There is nothing more romantic than a town filled with Bavarian architecture! You can even stay in a cute Bavarian style chalet like you would in Bavaria.
We were a little surprised to see that literally every building in town was in Bavarian style – even the petrol station is decorated this way.
For those who are wondering, Helen is not a new development. It has been a German inspired town for 50+ years! The town has a friendship sister town with Fussen in Bavaria, Germany.
Visit the Georgia Wine Highway
Helen is located right near the Georgia Wine Highway – a highway in the middle of picturesque countryside where you can go wine tasting at many of Georgia'a best wineries.
Two nearby wineries include the Habersham Winery and the Mfic Helen Winery. At Habersham Winery, wine tasting costs $10 a person, includes 5 wines and a souvenir wine glass per person.
Yonah Mountain Vineyard is also a nice winery to check out. It is a very picturesque and romantic winery which often hosts weddings.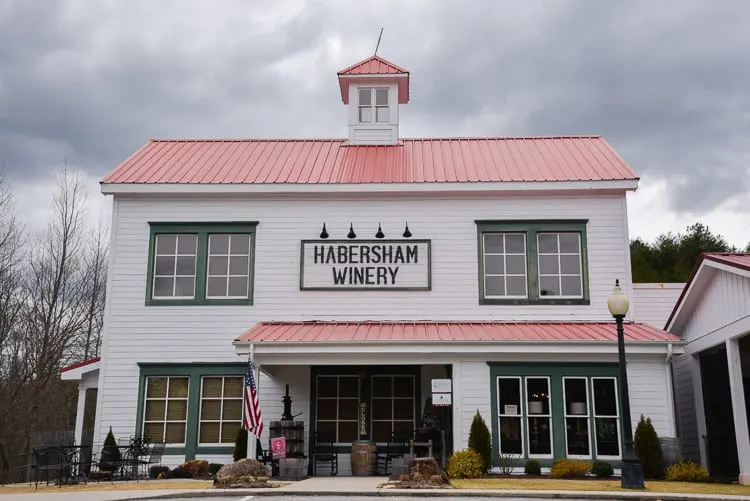 Go wine tasting in Downtown Helen
If you don't feel like leaving the downtown area, there are a few wineries located directly in downtown Helen.
One of the most unique wineries in downtown is located in King Ludwig's Square called Helenbach Winery. What makes it so unique is the fact that it is not just a winery but a beautiful candle store.
Inside, you can taste wine and even try beautiful scented soy candles including Creme Brulee, Chanel #5 and cherry blossom flavor to name a few.
The owner of the store showed us that the candles can also be used as a type of oil/creme to rub on your skin to relieve dry skin. It can also be used for massages – a very romantic thing to take home and try together in the hotel later – just don't burn the place down.
On the other side of the road is another winery located in downtown called The Fox. This is possibly the more popular of the two as it is a more traditional winery. I noticed that this winery was popular with both couples and girls trips.
Go for a romantic boat ride on Lake Chatage
Lake Chatage is located 35 minutes (25 miles) from Helen and is a great place for couples to go to unwind in the middle of nature being located in the scenic Southern Appalachian Mountains.
One of the most romantic things to do on the lake is to hire a boat to explore. You may also fish, swim and picnic around the lake.
Get Married or renew vows at Alpine Wedding Chapel
One of the cutest wedding chapels I have ever seen is the Alpine Wedding Chapel.
It is very affordable too! If you plan to elope, a ceremony at the chapel only costs around $300.
The only slight weird thing is that it is located across the road from the Pirates Mini Golf which pumps out pirate music LOL.
Buy (and Eat) Cheese at the Chattahoochee Cheese Market
There is nothing more delicious in life than a good piece of cheese. Who's with me?
After you've picked up some great wines while wine tasting, you are no doubt looking for a good cheese to pair with it? AmIRight?
If you want a good cheese look no further than the Chattahoochee Cheese Market. You might want to stop in before/after your walk to Ruby Falls as it is right nearby.
Even if you don't love cheese the store is really interesting in its own right. There are lots of cool things aside from cheese sold at the store including great lattes, bakery items, craft beer (and wine), mugs and beautiful home wares like cushions, unique handbags and picnic baskets.
In the winter time, it is only open Thurs – Sun. It also has reduced hours on a Sunday 9am-3pm.
Fun Things to do for Families
One of the parts we loved most about Helen is that it really has something for everyone.
Families will love all the fun activities in town for kids including adventure activities like the Georgia Mountain Coaster and the Alpine Fun Factory and educational activities like showing your kids how to use equipment to mine for gold!
Alpine express (train ride)
Little kids will love the little train that takes you for a tour of the downtown area. It is seriously the most adorable train ever!
If you are interested in going for a ride, we only saw it operating on a weekend.
Helen goes a bit dead during the week so if you want to make the most of all the kids activities in town, the weekend is definitely the best time to go.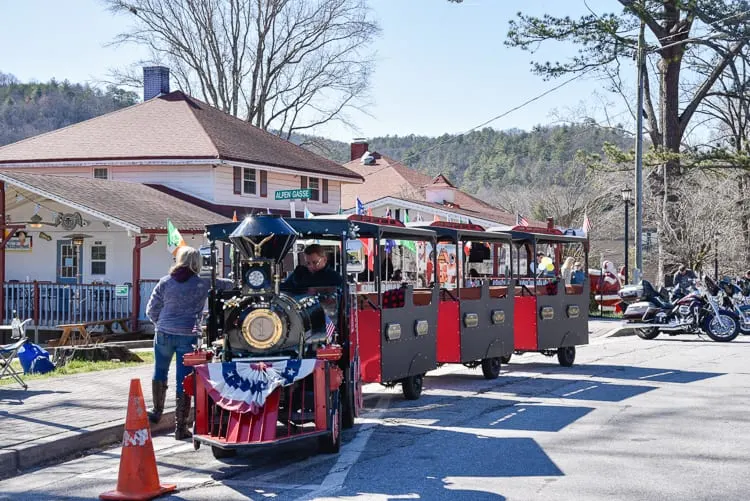 Charlemagne's Kingdom
Charlemagne's Kingdom is a consistently highly rated activity to do with kids. To be fair, it is pretty darn cool and a great rainy day attraction!
The massive model train display of a traditional Bavarian town was the owner's retirement project. Countless hours would have gone into the project as the town is incredibly intricate.
It is very cool to see the little trains run around through the buildings and streets of the constructed mini Bavarian town.
It is not a long activity (you only need around 15 minutes to view). The model town is only in 1 room but as you enter they give you a little scavenger hunt to complete.
If you have a choice as to when to visit we would suggest either at noon, 3 or 6pm as at these times the Glockenspiel in the Gingerbread House comes alive with six wooden carved dancers in traditional dress dancing to traditional German music!
Go mini golfing
There are numerous mini golf courses that are really cool. Three of the best include the Bavarian Mountain mini golf, the Alpine Mini Golf and the Pirates Cove Mini Golf.
Our personal favorite is the Pirates Cove Mini Golf which is entirely set up in pirate theme and comes complete with pirate music.
Despite this being our winner, the Bavarian Mountain mini golf is consistently rated as the very best in town as it has a very well maintained course and a separate games room.
Alpine Fun Factory
On one of Helen's backstreets you will find one of the all time family favorites – the Alpine Fun Factory.
The cool thing about this place is that kids of all ages will enjoy the attraction as they offer fast go karts for adults and older kids and amateur go carts for the younger kids.
The center also offers laser tag in a Call of Duty theme, a complete arcade with over 40 games and even a Bounce Zone.
You can find more information as well as current prices for various activities on their website.
Buy Your Kids a Unique Souvenir
One of the most interesting kid's shops we saw was Tim's Wooden Toys shop.
Inside you will see traditional unique handmade wooden toys for kids. What makes the toys so unique is the fact they are all hand crafted from within the shop.
Tim's has virtually every wooden toy you can think of from push and pull toys to trucks, trains and tool boxes for Daddy's little helper. There is also the possibility to personalize your kids toy with hand engraving ($5).
Another of the best kids stores in town is Jolly's Toys. Inside is an incredible selection of interesting toys from handmade children's toys to more commercialized toys. The place is absolutely bursting with toys so you are sure to find something your kid likes for a special treat or perhaps for under the Christmas tree!
Unicoi Hill Park
This is one of the best places for free parking. It is also a great place to let your little ones run free on the playground for a while.
If you prefer to bring a packed lunch for the kids it is a nice place for a little picnic before you explore more of what Helen has to offer. There are numerous picnic tables dotted around the park
At the base of Unicoi Hill Park as you proceed back to downtown, look out for a lovely little waterfall.
Note: This is totally different to Unicoi State Park (below)
Go Mining!
One of the cool things about the area is the ability to take your kids mining!
One of the best places to do this is Duke Creek Gold and Ruby Mines where kids will love panning for gold like they did in the Gold Rush. There is also the chance to hunt for rare gems including rubies, sapphires, emeralds, amethyst and topaz.
It currently costs $20 to pan for gold and $12 pp to mine for gems and fossils.
Aside from Dukes, another place you can go to pan for gold in the area is Outpost Gold and Gem. You might also like to check out and buy beautiful gems at the Chattahoochee Ruby Mines.
Georgia Mountain Coaster
One of the most fun activities I saw in town was the Georgia Mountain Coaster.
The coaster is the only alpine coaster in Georgia and one of the most popular activities for families in the area. It is also one of the newest attractions in town!
It costs $15 per adult, $12 per child (7-12) and $6 per child (3-6) to ride the coaster. If it is too windy or rainy, occasionally the coaster doesn't run so it is necessary to check the website in advance if you want to ride it.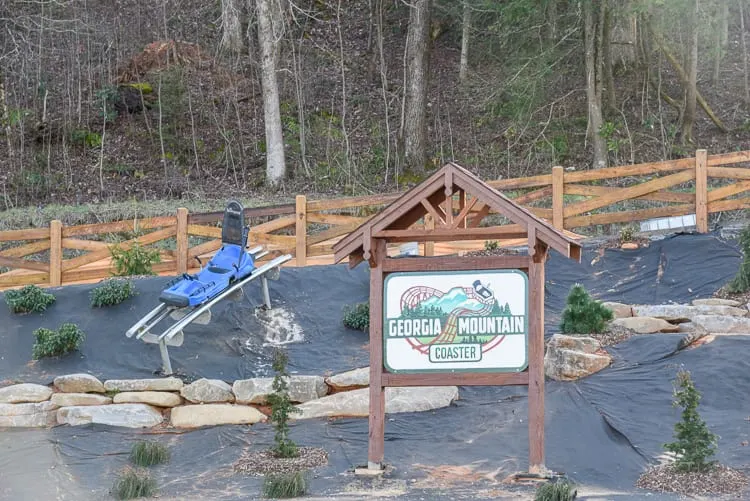 Cheap & Free Things to do in Helen
If you are a budget traveler coming to town, you will be happy to know that there is an abundance of cheap or free activities in the area to fill up your day.
Whether it be watching the locals live demonstrations, eating free candy until you are sick or admiring beautiful art – it is virtually impossible to get bored in Helen.
Helen Visitor Center
When you first arrive you might like to pop into the Bavarian style visitor center for some free information about the best activities in the city.
The staff inside are more than happy to help you plan your stay and direct you to some of the best hidden gems too!
I find it always helpful to visit the visitor center when we first arrive in a new place in case there is an interesting event or activity in the town happening during my stay that I'm not aware of.
Aside from free information, there are restrooms at the center you can make use of if you are coming in from a long drive. There are also lots of gifts and souvenirs at the center so if you don't like shopping much, you can pick everything up here in one hit!
Soak up the Countryside Air and Play with the Cows
As Helen is situated in absolutely beautiful countryside with cow-filled pastures, it is nice to take a walk and breathe in the fresh air.
There are also some particularly friendly cows here so feel free to make a brief stop to play with them. If you approach the fence they will more than likely run over to greet you.
Cabbage Patch Babyland
One of the most quirky and unique activities just outside of Helen in the town of Cleveland is the Cabbage Patch Babyland.
It is one of the less well-known free activities but it is definitely not one to write off as it has been voted one of the Top Ten Toylands by the Travel Channel!
Inside, you go on a self guided tour of the facility where cabbage patch babies are "born". There is an opportunity for the kids to play with the cabbage patch kids and even adopt one of their own to take home.
Old Time Photos
Getting an old photo taken is really something very unique to do in the city.
It is also a really fun, cheap activity you can do with friends or family as getting a photo done only costs $20.
There are a few places in the town where you can get an old school photo taken including Wild West Old Time Photos and Steve's Old Time Photos to name a few.
Inside, there are lots of interesting props and outfits to use to create your dream old time photo souvenir to take home! One funny photo I saw was of a guy posing in a bath tub – hmmmmm.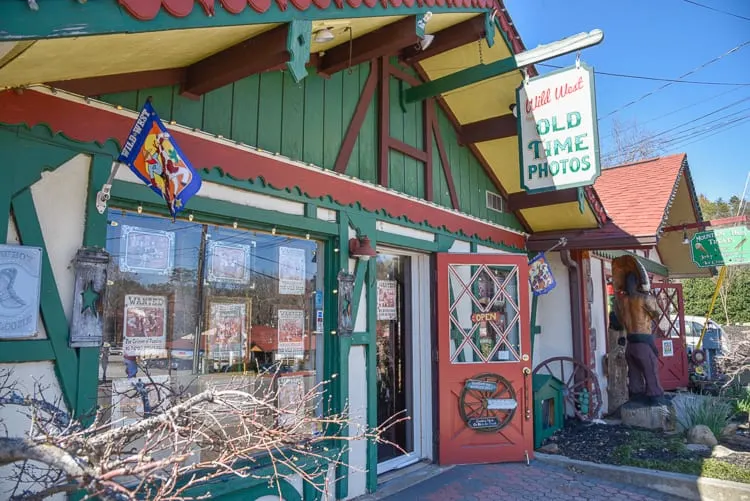 Helen Arts and Heritage Center
The Helen Arts and Heritage Center is a great place to go if you don't want to spend a whole lot of money on your trip.
It is completely free to enter the non profit art gallery. Inside, you will find a whole lot of interesting stuff to check out including a gift shop, pottery studio and history museum which first opened in 2007.
At the museum you can learn more about Helen's history and the surrounding area.
It was closed when we were there so note the opening hours – Monday to Sunday 12.00pm – 4.00pm.
You might also like to check out their website for what's on during your time as from time to time they offer fabulous art classes and therapeutic workshops (additional fee required).
Note: Museum of the Hills was another great place to check out local art but it is now permanently closed.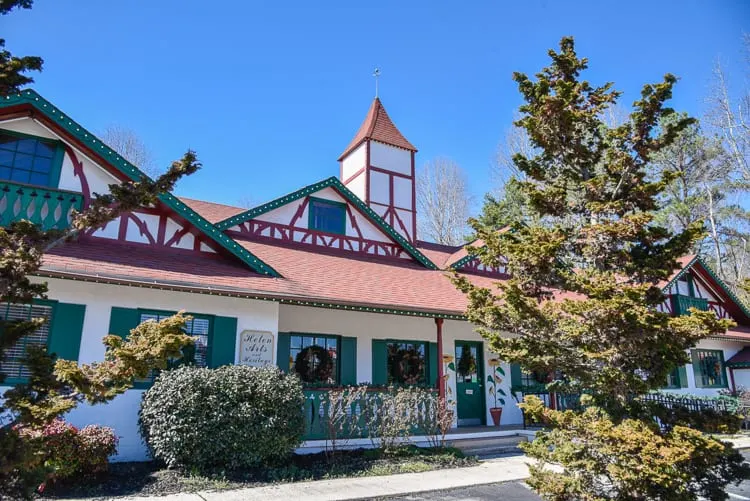 Hansel & Gretel Candy Kitchen
The Hansel & Gretel Candy Kitchen is one of the best candy shops I have ever visited!
They specialize in fudge and peanut brittle and it is extremely delicious to say the least. There is also other lollies and treats you can buy in the shop including candy apples.
Okay so what is free or cheap about it? Well, inside there are about 12 tasting stations where you can taste different types of fudge & peanut brittle like maple pecan fudge, milk and dark fudge and peanut beer brittle.
I think I tried almost every station and I felt rather sick by the time I walked out. If you want to buy something to take home, I felt the prices were also very reasonable.
There are two Hansel & Gretel Candy Kitchens that we know of. One right in the downtown area and one (pictured below) as you leave town. If you get peckish on your way out of town you can always stop at this one.
Tip: If you head down the nearest alley to the entry of the downtown store you will see a little shop window where you can see them making the lollies and fudge which is rather interesting!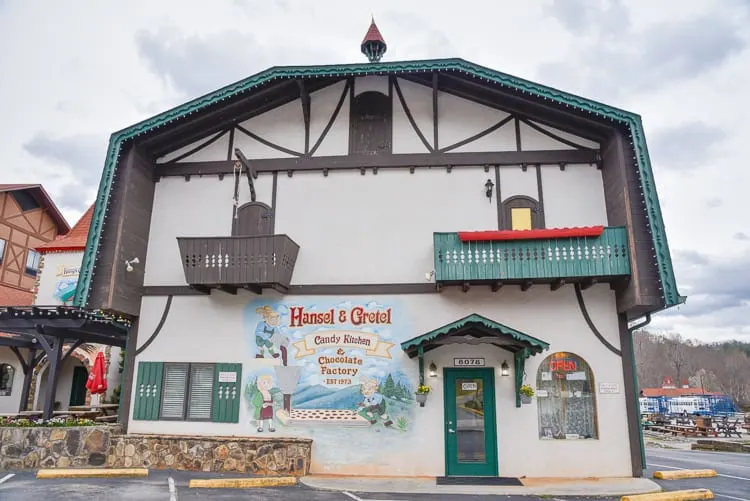 Outdoors Activities
As Helen is an alpine village located at the foot of the Blue Ridge Mountains, there are tonnes of fun outdoor activities to enjoy. Some of the best include:
Visiting the amazing waterfalls
River tubing
White water rafting, fishing, mountain biking or zip lining
Tubing the Chattahoochee River
Let's start with one of the biggest summer draw cards of Helen – the ability to go river tubing down the Chattahoochee River (May – September).
We really love tubing. We have previously tubed in Blue Springs State Park, Kelly Park and Ginnie Springs in Florida and can't wait to return so we can tube the Chattahoochee River.
One benefit of tubing outside Florida is that there are no alligators due to the cool mountain climate! I didn't say there aren't fish or snakes though!
If you are familiar with tubing the Chattahoochee River elsewhere, it is necessary to note that alcohol is not allowed while tubing in the Helen City Limits.
There are two main tube rental companies in town – Cool River Tubing and Helen Tubing and Waterpark.
Current tube pricing:
There is also a possibility to use your own tube and DIY. However, this does not give you access to the shuttle service which is a problem after you have floated 1-2 hours down the river. Sometimes operators are willing to let you hitch a ride for a few bucks but this is risky business!
If you don't want to tube the river, you can always just go for a leisurely walk along it which is a great alternative activity outside of tubing months.
In summer, it is also possible to swim in the river but due to the currents we would always suggest using a tube or some kind of floatie device for safety. If you wish to go for a swim, it is better to use the roped off area at Unicoi State Park.
Explore The Waterfalls
There are some seriously picturesque waterfalls nearby that are worth visiting if you love nature!
Here's a rundown of the best waterfalls near Helen:
Horse Trough Falls (0.6 miles roundtrip) – This walk is beautiful but note it is for people on longer trips as it is 45 minutes drive away.
Helton Creek Falls (0.6 miles roundtrip) – This is a great option for those who want a short yet beautiful walk near Helen. Bring your furry friends on this one as it is dog friendly!
Anna Ruby Falls (1 mile roundtrip) – An easy 1 mile round trip hike the whole family can enjoy. Anna Ruby is a stunning pair of twin waterfalls which drop to smaller falls below. $3 per person entry fee to access. Dogs are welcome.
Duke Creek Falls (2 miles roundtrip) – One of the most popular falls is Duke Creek Falls as it caters really well for families and is also dog friendly. Note: The return trek is a bit of a mission as it is mostly uphill.
DeSoto Falls (2.2 miles roundtrip) – Another of the more popular waterfall hike is DeSoto Falls due to its historic value. Legend has it that in the 16th century explorer DeSoto found a piece of armor at the falls.
High Shoals Falls (2.4 miles roundtrip) – This walk passes through beautiful green forest first to Blue Hole Falls and finally ending at the impressive High Shoals Falls.
Raven Cliff Falls (5 miles roundtrip) – Raven Cliff Falls is a 5 mile round trip hike through a stunning wildflower forest which passes by streams and forests. The walk ends at the very impressive Raven Cliff Falls.
Smithgall Falls (8 miles roundtrip) – This falls is part of the Smithgall Woods State Park and is famous for being part of Georgia's gold rush history. Known for being a great fall walk due to the beautiful colors in the park.
Go for a Hike
There are some beautiful hikes in the nearby countryside. Here are some of the best places to go for a walk or hike near Helen:
Mount Yonah Trail – (4.4 miles round trip) – This very scenic hike is best for fit and active people as it involves a moderately hard climb to the top of Yonah Mountain. Those who do decide to take on the hike will be rewarded with incredible views of the southern Appalachian Mountains.
Stovall Mill Bridge – (Short walk up to bridge from highway) One of the most iconic walks nearby Helen is to see the cute Stovall Mill Bridge, only 38 feet long and made entirely of wood! It was constructed in 1895 after the first bridge washed away. The bridge makes a lovely photo op from the outside. The inside is sadly covered in graffiti.
Smithgall Woods State Park – This State Park offers 5 miles of trails to enjoy through picturesque countryside. It is also a popular location in Georgia for catch and release fishing.
Unicoi State Park
You can swim, fish, boat and camp at the beautiful Unicoi State Park.
There is no life guard on duty so swimming is at your own risk. There is, however, no current and a designated roped off section to swim in.
All around the State Park are picnic tables with incredible views of the lake. Just down the road from Unicoi State Park you will also find one of the most picturesque waterfalls in Helen: Anna Ruby falls.
If you are looking for a cute cabin, there are adorable little cabins to rent at the State Park if you prefer a cabin rental to camping.
It is $5 a day for a car to visit the State Park. If you are a local and want to make a lot of use of the area, you can also get an annual pass for $50. Entry is based on a trust system where you place the money in a little box. Occasionally, there is a ranger to collect the money from you at the ranger station.
White Water Rafting
If you are up for some serious adventure, about a 45 minute drive from Helen in the town of Clayton you can complete white water rafting on the Chattooga River with South Eastern Expeditions.
The company offers rafting to various difficulty levels depending on your need for thrill and adventure!
If you are traveling with kids, note there is an age limit of 8 for the easier rapids and 12 for the harder ones.
Prices start from $77 and depend on what type of adventure and rapids you wish to take on.
Zip Lining
You don't need to go all the way to Costa Rica to get your zip lining adrenaline rush. There are three main places that offer zip-lining experiences in Helen:
If you have a fear of heights UniCoi is a great company to go with as the staff have a history of helping people work through and conquer their fear of heights.
See an Indian Mound
If you would like to see an Indian Mound, there are numerous cultural Indian mounds to check out in the area.
In case you weren't aware, Indian Mounds were built by mound builders who constructed these mounds for ceremonial, burial and residential purposes.
Two of the best Indian mounds to see nearby Helen include the Romeo and Juliet Indian Mound and the Nacoochee Indian Mound.
In the paddock where the Nacoochee Indian Mound is located are some really friendly cows. I was completely shocked when they came over to fence to say hello. Even more, if you run, they will actually chase you up and down the gate.
Don't believe me, give it a try? 😉
Mountain Biking
There are lots of fabulous mountain bike trails in and around the Helen area, 53 in total found by this mountain bike trail website which maps out where they are located for you.
If you haven't brought a mountain bike with you, there are lots of places in town where you can rent a mountain bike to use.
Woody's Mountain Bikes is one of the most popular places to rent mountain bikes. What's nice about this company is they actually organise little tours around the area for you.
The Preserve Trail Ride ($60) – for beginners down a single-track trail.
The Gap Ride – Covers some of the most beautiful waterfalls in the area along the Chattachoochee River including Horse Trough Falls
***
So – what do you think – do you love the idea of a Bavarian town in the middle of the deep South or is it something better left in Europe? Will YOU be visiting Helen anytime soon?
What's next? You might like to check out some romantic things to do in Augusta GA.
Save this to Pinterest!