We absolutely LOVE visiting Prague. Sadly, so does everyone else in the world as it is one of the most picturesque fairytale towns in Europe! This mean that many of the major attractions in Prague are overcrowded. Luckily there are still many undiscovered hidden gems in Prague, waiting to be discovered!
Hidden Gems in Prague
We have visited the Charles Bridge and barely been able to walk across it! We needed to shuffle – very NOT cool.
We are not saying to NOT visit the iconic locations in Prague, many of these are what makes Prague so special after all but we love discovering secret places during our travels, hidden gems that are not overcrowded – this is part of the magic of travel for us.
Therefore, with no further adieu, here are our favourite hidden gems in Prague.
Wallenstein Garden
In Letenská in Malá Strana in Prague, the Wallenstein Garden is home to a beautiful large lake and Baroque-styled statues.
We went to photograph the Charles Bridge early morning, it was absolutely filled with tourists so we decided to shoot at the Wallenstein Garden instead. No-one was around. Yippee!!
This amazing garden was made alongside the Wallenstein Castle from 1623-1629.
Ambling in the garden is pleasurable while watching birds flying about. Look out for white and blue Peacocks with all their feathers out. They are soooo beautiful!!
Concerts and theatrical performances often play in summer in the garden.
The entrance is completely free so it is definitely worth a visit.
It is open from Monday to Friday from 7:30am–6:00pm. Saturday and Sunday from 10:30am-6:00pm.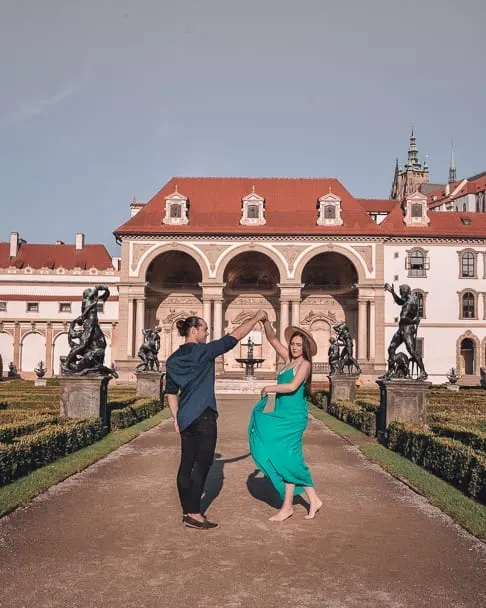 Colloredo-Mansfeld Palace
Huddled in Karlova, this palace also goes by the name, Galerie hlavniho Mesta Prahy.
This stunning palace standings in the Knights of the Cross Square.
Originally, it was built in Roman and Gothic style. In 1735, Prince Heinrich Paul von Mansfeld-Fondi bought the Palace and restored it in Baroque style.
The four gigantic wings create a rectangular courtyard. Situated inside its walls is a beautiful fountain with a Neptune Statue made of sandstone.
What we love is that everything inside is well preserved from the statues to the wallpaper; the interior of every part of the magnificent Palace is original.
The most beautiful part of the palace is the Piano Nobile – the Dance Hall – which is decorated by paintings illustrating Olympic gods.
If you're in Prague, you simply have to visit this divine Palace. You can either take a tour guide with you or self explore.
It is important to note that the Palace is closed on Mondays. From Tuesday to Sunday it is open from 10:00am–6:00pm.
There is an admission fee of 60 CZK ($2.50 USD) to enter.
Thunovská Street
Thunovská Street, aka the yellow street in Prague,
You will be happy to know that Thunovská Street is located in Malá Strana in the heart of Prague.
The street got its name from the Thunovský Palace, which nowadays serves as the office of the British Embassy.
There are also some popular attractions around the street such as the Prague Castle and the St. Vitus Cathedral.
There is an eerie legend associated with this street. It is said the ghost of Salieri – an Italian Composer haunts the street.
Absinthe Bar
One thing that Mike was desperate to do while in Prague was to visit an Absinthe Bar – the traditional drink of Prague.
As it is a traditional drink Prague has a ton of absinthe bars and shops. Astoundingly, they serve absinthe cocktails, absinthe coffee, absinthe ice-cream and even absinthe soap. Who knew alcohol could be used to make soap?
You can even find delicious absinthe at the Green Devil's Absinth Bar & Shop in Old Town. The atmosphere is distinctive with all the green decorations and the staff is helpful.
The absinthe menu includes absinthe creams, absinthe cocktails and drinks. Your experience there will be as eccentric as the place itself.
The bar is open from 12:00pm-1:00am daily.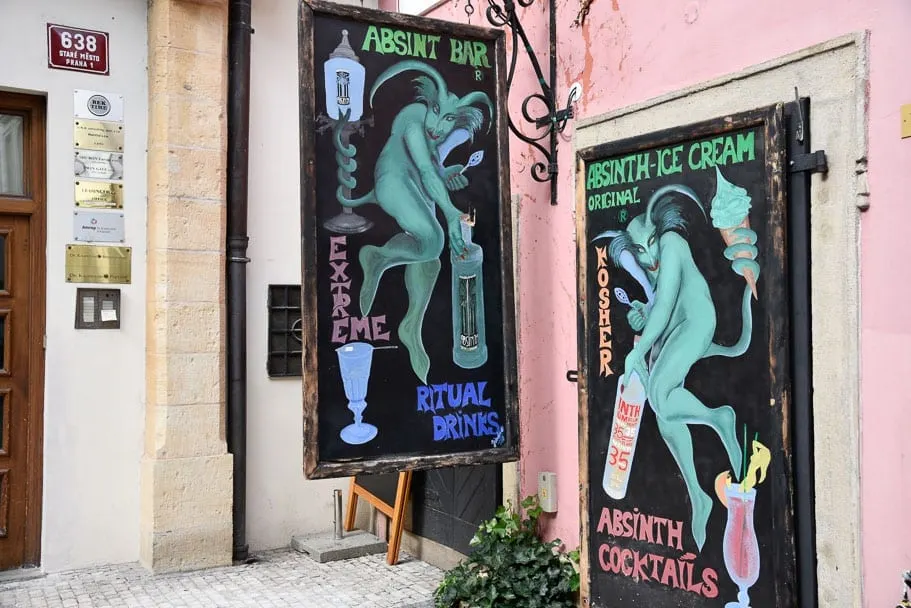 Loreta
Loreta is a monastery in the Hradčany district in Prague.
This Baroque pilgrimage site has stood for almost 400 years, welcoming pilgrims and tourists to its grand interior.
Inside the monastery you will find chapels like the Nativity of Our Lord and Our Lady of Sorrows. You will also find stunning walkways and gardens
Loreta also has a tower with a bell carillon of 27 bells that carols the Marian song, "A Thousand Times We Greet Thee."
In the amazing treasury on the first floor you can admire the Prague Sun – adorned with 6222 diamonds. Built in 1626, it was designed by Giovanni Orsi, an Italian architect.
It is open from 1st April to 31st October from 9:00am-5:00pm and from 1st November to 31st March from 9:30am-4:00pm.
There is an entrance fee is 150Kč per adult and children from 6-15 get a reduced fair of 80Kč. Family ticket (2 adults plus kids under 15) 310Kč.
'Swan Feeding Spot' Near Charles Bridge
Near the Charles bridge, there is a stunning spot where you can feed swans. It is also great for photography.
From the Bridge to Mala Strana and turn right.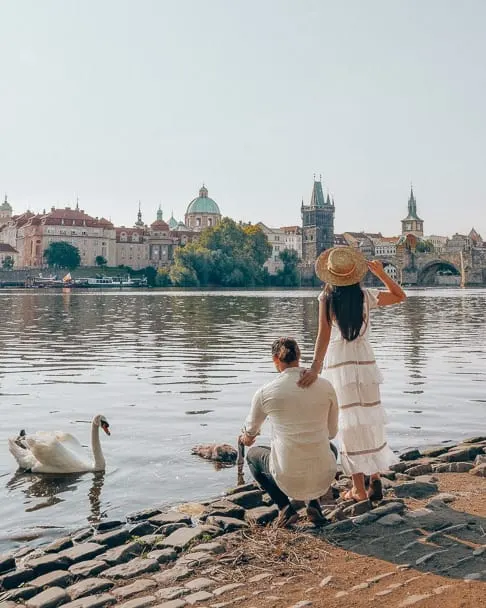 Černín Garden
Christened as Černínská Zahrada, this garden is another hidden attraction in Loreta Square.
This beautiful terrace garden was sketched by the architect Francesco Caratti in the 17th Century.
Originally in the Baroque-style, it was later altered by Domenico Rossi.
The garden has two levels with a summer house, Sala Terrena and a Hercules statue.
The larger pool is located on the upper level while the smaller of the two pools flows from the upper to the lower level.
In total, there are four alluring gardens. Nowadays, the "Ministry of Foreign Affairs" utilizes the garden for their uses.
The garden is open on Saturday and Sunday from May to September from 10:00am-5:00pm.
You will be happy to know that it is free to enter!
Výstaviště Praha
Výstaviště is an exhibition ground nestled close to the metro station on the Metro line C Nádraží Holešovice and the Stromovka Park in Prague.
The grounds are formed by various building, the prominent one being the Industrial Palace. Other areas are the Křižík's Light fountain, World of the Oceans aquarium and the Lapidarium of the National Museum.
Every spring, St. Matthew's Fair takes place in the Amusement park in the northern end of the ground. A vast variety of cultural and entertainment events, 50+ exhibition projects and trade fairs are arranged in this place. All of the displays are creative and showcase the Czech culture and traditions.
If you want to experience the true Praguian culture and architecture, then drop by this spot, a true hidden gem.
Sex Machine Museum
In 2002, a sex Machine Museum was established in Old Town in Prague.
It features a lot of sex devices used since ancient times up to modern day toys.
Being in a sex museum is an interesting experience and it's informative to say the least; you get know about various unusal devices.
Inside the museum, you will discover the culture of sex and traditional vintage devices and accessories. Some devices have a story behind them while others are just plain scary!
It's a quirky place with its erotic instruments and sex history lesson. If you're fascinated by that kind of thing, then drop by the museum.
It is open from 10:00am-11:00pm daily. There is an entrance fee of 250Kč per adult to enter.
If you are planning a trip to Prague make sure you not only visit the well known tourist attractions such as the Prague Castle but also include some of the hidden gems above in your itinerary.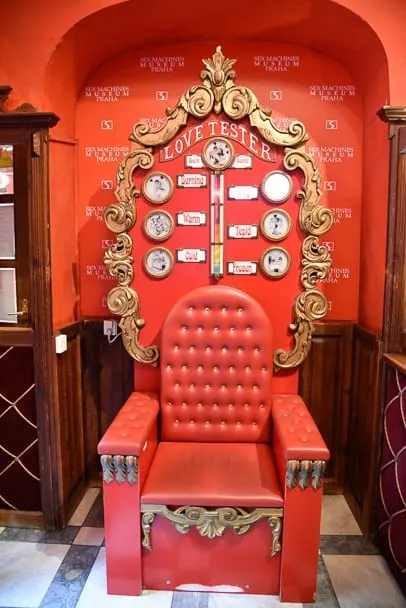 Lyčkovo Náměstí
The Lyčkovo Square features an Art Nouveau Primary School and a lovely park.
Situated near both the Kaizlovy Sady and the Baroque Invalidovna building, the square is not that hard to spot.
Constructed in 1904, the building of the school is an architectural gem. Painted in beige with the roof being brick red, the building has a simple black and white clock above the entrance.
The Art Nouveau style was planned by the architect Josef Sakař.
Statue of the Brown noser
This is truely one of the funniest things we have ever seen.
It's a sculpture crafted by the visual artist David Černý. He created the 'work of art' in 2003.
The massive lower halves of two bodies are leaning against the side of the building with a large hole at the junction of the legs.
Viewer are encouraged to climb a ladder and stick their head inside the anus.
Surprisingly, inside the hole is a television showing President Václav Klaus and Artist Milan Knížák feeding each other human waste as the Queen's utters, "We are champions."
Want to see this weird statue? Then, visit the back garden of the Art Museum Futura at 49 Holečkova.
Municipal Library in Prague
The Municipal Library in Prague was something we were very excited to see while in Prague.
Why?
There is an incredible infinity tunnel of books inside the library.
Sadly, on the day we visited the entire museum was closed for renovations which was very disappointing.
Other interesting aspects of the museum include that it is one of the largest libraries in the Czech Republic and houses a bible from 1488.
If you are interested to visit it is located on Mariánské náměstí 98/1. It is closed on Sunday but open Monday 1 pm – 8 pm, Tuesday – Friday 9 am – 8 pm and Saturday 1 pm – 6 pm
Here is what the museum looks like from the outside: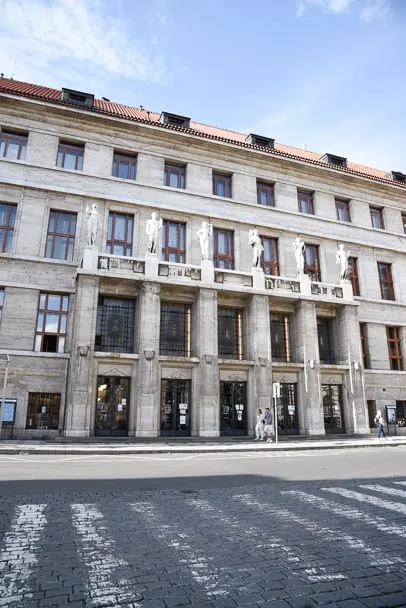 Jubilee Synagogue
The Jubilee Synagogue was built in 1906.
A blend of the decorative Moorish and Art Nouveau styles can be seen in the wonderful interior; the colors used are vivid and deep.
On the front of the synagogue is an arch that covers a rosette window on which David's star is crafted.
Two turrets guard the entrance and inscriptions in Hebrew and Czech are written on the western front face.
In the women's gallery, there is an exhibition that shows how atrociously the Russians treated the Jews, compelling them to migrate.
You can also discover the Tablet of Mosses inside this Jewish building.
Nestled in the Jewish area in Prague, this synagogue will teleport you to Jerusalem.
It is open from April to October from 11:00am–5:00pm daily except Saturday and Jewish holidays.
There is an entrance fee of 100Kč to enter.
Petřín Tower
Better known as Prague's Eiffel Tower, this tower shows the most breathtaking sights of Prague from way high up.
It was built in 1891 for the Jubilee Exhibition as a miniature copy of the Eiffel Tower in Paris.
There are 299 steps to reach the top of the tower. If you are elderly or disabled, there is an elevator you can take.
There are amazing views at the top of the Petřín Tower.
It is open 10:00am-10:00pm daily.
There is an entrance fee of 60Kč per adult and 40Kč for children between 3-15 years, students and retired people.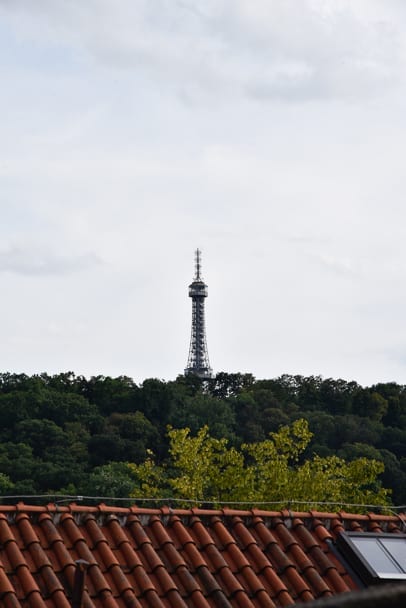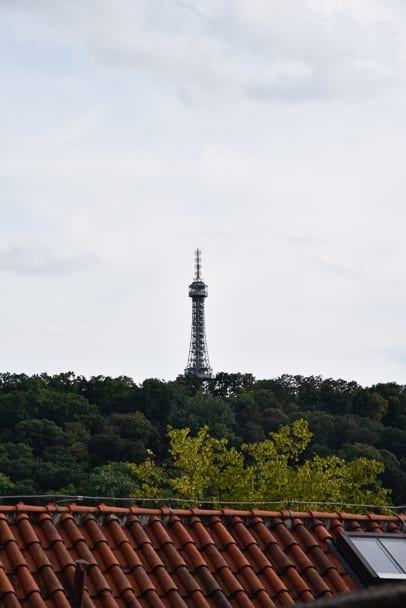 Petřín Hill
This peaceful hidden hill is mapped with twisting pathways and hidden gardens.
Spectacular views will greet you from the 19th century Petřín Tower. Petřín is renowned for its rocky terrain and rose gardens.
It can be found in Praha 1 above the left bank of the Vltava River.
Vrtba Garden
Around 1720, this appealing Baroque garden was made because of František Maximilian Kaňka's quick thinking. It's one of the beautiful gardens on the slope of the Petřín Hill in Malá Strana.
Yet, it's a bit hard to find because of its unattractive gate.
The garden is small with stylish staircases, flower beds, terraces, banisters, statues and hedges.
As its beautiful in every season, weddings, art exhibitions, garden parties and theatrical performances are regularly held there.
It is open from April to October from 10:00am-7:00pm daily.
There is an entrance fee of 40Kč per adult, 25Kč for children and students and 100Kč for family.
Střelecký Island
Under the Legion Bridge in the center of the city, lies this enchanting hidden island with mature trees.
It's a romantic yet unknown island in Prague. Often, concerts, open-air festivals and other cultural events are assembled there.
Bring your cameras if you ever decide to stop by the island. You have to take pictures of the astounding view from the Vltava River.
It is open from November to March from 6:00am-8:00pm and from April to October from 6:00am-11:00pm.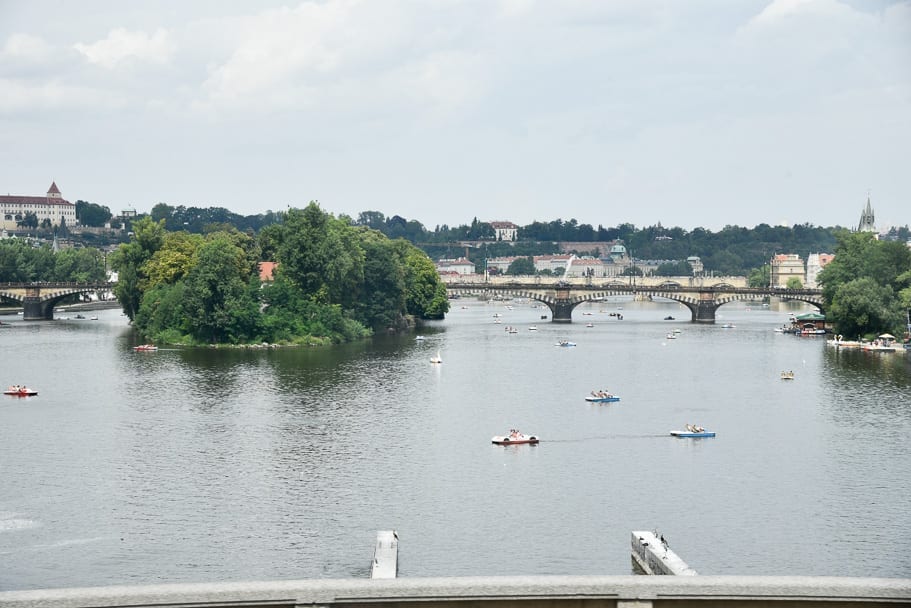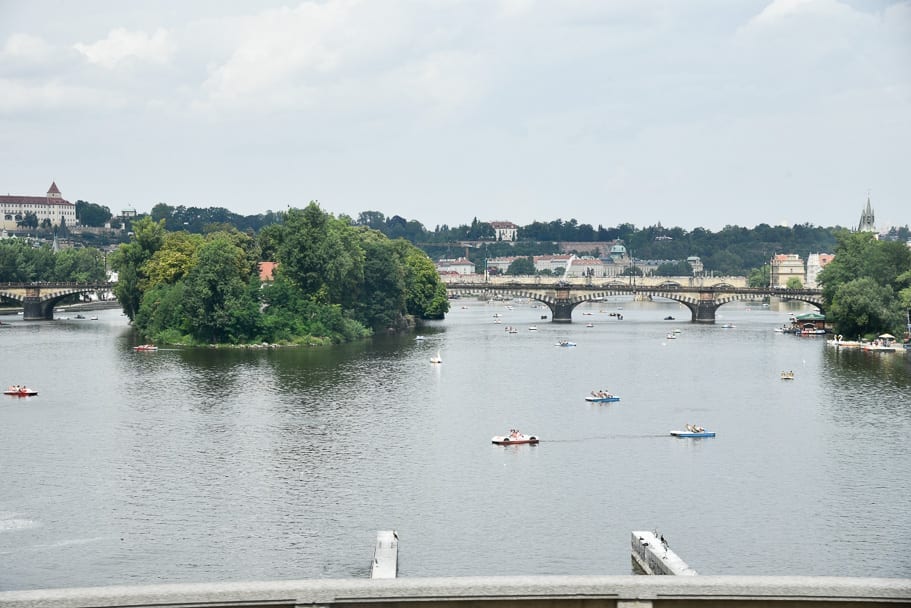 Decayed Human Arm in St. James Church
This is seriously too weird to be true!!
The Church may be a tourist destination but few have heard about the human arm that dangles from a meat hook near the entrance.
This black, withered arm makes the already Gothic Church seem even more eerie. Want to hear a really gruesome tale behind the arm from the 16th or 17th Century?
The legend goes that a thief once sneaked into the St. James Church. He was awed by the beauty of the Church and the jewels embellished on the statues. Subsequently, he tried to steal the gems on an icon of the Virgin Mary.
Suddenly, the icon came alive and griped his arm. The next morning, a couple of monks found him trapped inside. Unable to free him, they were forced to ask help from the butchers. During the horrendous process, the screams of the thief could be heard for miles. Thieves are openly warned not to steal from the Church or they might suffer the same fate.
If you would like to see it, it is open 9:30am-12:00pm and 2:00pm-4:00pm
Royal Garden
Stationed in the Prague Castle, this garden was created in 1534 by Emperor Ferdinand I of Habsburg.
Tranquility can be found abundantly in this old vineyard turned garden.
It's particularly cool due to its rare and exotic plants and botanic botanical specimens.
The decorative flowerbeds display its Baroque-style and Giardinetto (an eatery with art on the walls) near the Royal Summer Palace represents the Renaissance style.
You can enter the gardems via the three entrances: one is the northern gate near the Royal Summer Palace and two are the western gates in the street of U Prašného Mostu.
It is open from mid-June to mid-September from 10:00am-6:00pm daily. The entrance fee is 20Kč per person.
Lennon Wall (possibly a hidden gem in Prague?)
The Lennon Wall, a dedication to John Lennon in Prague, is a pretty cool and unique thing to do in Prague.
It is fairly popular with tourists but considering that I did not know about it until my third visit to Prague, we are including it as a hidden gem.
The wall is a beautiful mural of street art dedicated to the legend John Lennon.
You will often find buskers at the wall singing John Lennon songs.
While we were there, there was a busker with a sign, 'getting money so I can fix my time machine to return to the 70's'
It is of course free to visit and located in Mala Strana, across the Charles bridge from the old town and turn left.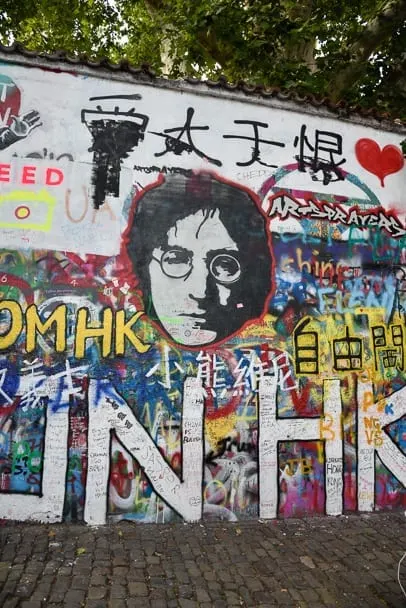 Vajanovy Sady
Huddled in U Lužického semináře 17 in Praha 1, Vajanovy Sady is also called Vojan Gardens – the Garden of Eden.
You can relax on the benches by immersing yourself in a good book or sightsee in the Vojan Gardens.
Amid the tress, lies an ornamental fish pond and a glasshouse.
Spring is the best time to view the stunning well-maintained flower beds. In spring, the Magnolia trees are also in full bloom.
It is open daily from 8:00am. The closing time depends on the months From February to March and October to November it closes 5:00pm, from April to September at 7:00pm, from December to January at 4:00pm.
There is no admission fee to enter the park.
Note: There is a children's corner and wheel chairs can be brought inside.
Airship Gulliver
In 2013, the DOS Centre's management had the grand idea to introduce something that would clash with the existing architecture.
Martin Rajniš, an infamous architect was hired and the result was outstanding. A 42m long and 10m wide airship was constructed with steel and wood.
In 2016, it was open to the public. It's a paradise for book lovers as many literary discussions are carried put inside its walls. If you're in Prague, visit this distinctive monument on the rooftop of the DOX Centre's building.
If you want to check it out, it is open Monday, Saturday and Sunday from 10:00am-6:00pm. Wednesday and Friday from 10:00am-7:00pm and on Thursday from 10:00am-9:00pm.
Gardens Below the Prague Castle (a true Hidden gem in Prague)
The Gardens below the Prague Castle are such a picturesque place to explore in Prague.
One of the best parts of the gardens is that they provide absolutely incredible views of the city.
These gardens are situated nearby the Prague Castle. A good option is to visit them either before or after a visit to Prague Castle.
These gardens are so beautiful, they will take your breath away. Inside the garden are many stunning intricately designed areas, romantic winding stairways and benches to sit back and smell the roses.
As one would expect, they are particularly beautiful in Spring when all the flowers are in full bloom.
They gardens are open daily from 10.00am – 8:00pm at night. The entrance fee is 80Kč per person.
Note: The gardens involve a lot of stairs so they may not be suitable for small children or the elderly.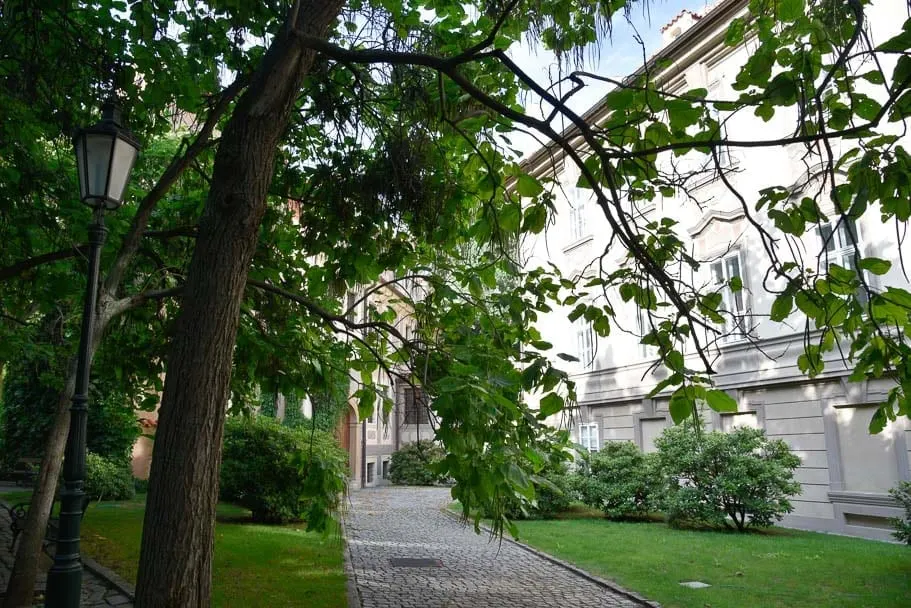 Havlíček Gardens
On the edge of the Vršovice, Nusle and the Vinohrady neighborhoods in Prague, the Havlíček Gardens are fashioned in the Italian Renaissance style.
It's an English Park with statues, fountains, water cascades (mini waterfalls), lakes and pavilions.
The park is also called Grébovka Park as its founder Moritz Gröbe had to buy it in 1870 in very bad condition.
You can leisurely sit in the delightful Vineyard Gazebo and the Grébovka Pavilion garden café with its unique replica of the Bowling Alley from the 1870s.
It is open from 6:00am-10:00pm daily.
Go to a Puppet Show in Prague
The Czech Republic and Prague has a long history with puppets so it is interesting to go to a puppet show while in Prague.
From the 17th century, puppet shows were big in the Czech Republic due to cost. Being a country who appreciates frugality, it was less expensive to run puppet shows than regular shows.
The puppet shows started as a cruel form of adult entertainment. These days they are a great family activity while in Prague.
I think marionettes are particularly cool as I used to collect them as a kid.
One puppet theatre in easy walking distance from the Old Town is the National Marionette Theatre on Zatecka 98-1.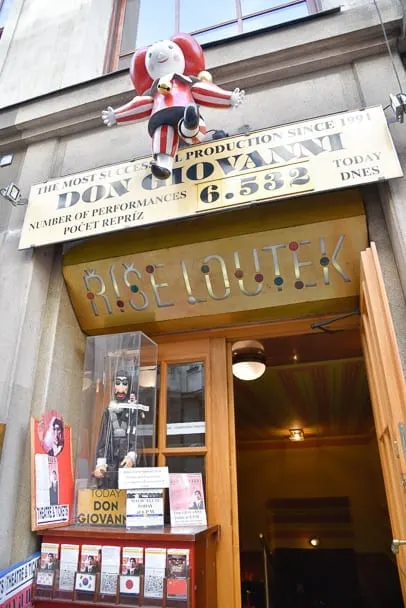 The Dead Horse: Upside Down
David Černý struck again with his idea of King Wenceslas riding an upside-down dead horse.
As you stroll into the atrium of the Lucerna Palace, you will be greeted by the sight of a Monarch on an upside-down horse. This comical statue is located inside the Palace in Vodickova.
This statue is worthy of making a monumental statement. In fact, many believe that the artist created it to taunt the past and present leadership of Prague.
Still, it's only a theory as the artist has not revealed the inspiration that led him to this statue.
Don't skip out on this interesting statue; it's also highly photogenic so bring your cameras.
The Dead Horse is available for viewing Monday to Friday from 9:30am-7:00pm. Closed on Saturday and Sunday. It is a free attraction in Prague.
Franciscan Gardens
These gardens are a true oasis in the heart of the city. This exuberant garden was made in the 14th Century.
In the summer, the span metal arches above the benches are brimming with fragrant roses. Moreover, fruit trees, herb beds, fountains and sculptures are scattered around the gardens, making it a quite magical place.
It also has a playground with swings and a sand box for the little ones to immerse themselves in.
Tucked in Vodičkova in Nové Město, it's near the Jungmannovo Square and the Wenceslas Square.
If you would like to visit it is open from 7:00am-10:00pm daily.
Communism Museum
In the heart of the Old Town of Prague you will find the communism museum.
If you are into history, this is a great place to visit. The museum includes many interesting exhibitions about the time in history when Prague was a communist state.
It is very interesting as it provides an informative account of the post–World War II Communist regime in Czechoslovakia, behind the Iron Curtain.
If you would like to visit the museum is located at V Celnici 4 in Prague. It costs 290Kč per adult, 250Kč for students and 270Kč for seniors.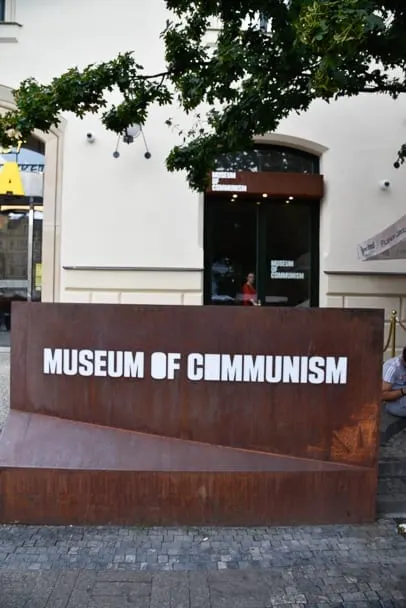 What to Eat in Prague?
Food in Prague gives us so much joy – it is one of our favourite cuisines and so delicious.
An absolute favourite meal of ours in Prague is Prague duck. We have both actually named it as our last 'green mile' meal which is saying a lot.
Here is where we would recommend eating duck in Prague:
For half a duck with red cabbage and dumplings expect to pay around 350Kč. It is enough for two people for lunch or a light dinner.
Tip: For the best value, make sure you are getting half a duck. Sometimes, you will order a quarter of a duck or s single portion and pay almost as much!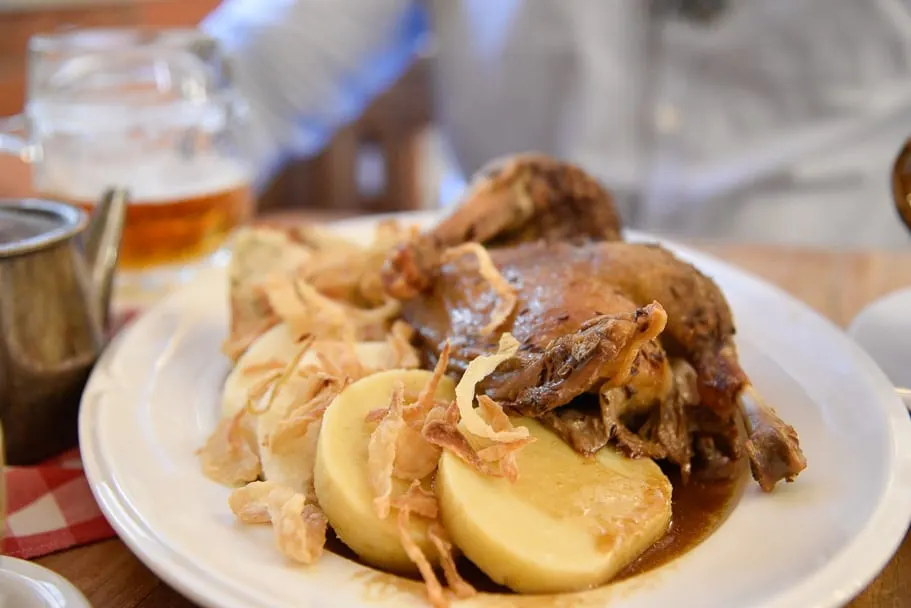 Where to Stay in Prague?
We stayed in two amazing Hilton Hotels while in Prague – Hilton Prague Old Town and Hilton Prague.
Hilton Prague Old Town is right in the centre of Prague which is great and Hilton Prague is the largest hotel in Prague where famous people like former president Barack Obama have stayed.
Here are our recommendations on where to stay in Prague by budget:
So what did you think about these hidden gems in Prague? Any that you will be visiting?
Save these Hidden Gems in Prague to Pinterest (so you can find it again later!)