The Hilton Budapest City is a fabulous hotel to stay right in the heart of Budapest.
It is the perfect place for an urban retreat during a leisurely-spent weekend.
Hilton Budapest City
If you are looking for a centrally located, luxury hotel you cannot go past Hilton Budapest city, a beautiful hotel in the centre of Budapest.
Combining the Hilton's amazing culinary experience with visiting the historic attractions in Budapest, it is the perfect place for a romantic getaway.
What we love about the hotel is its great location, being a hop skip and a jump to a train station and the only hotel in the city linked to a shopping mall.
We think the hotel is in a perfect location for exploring all Budapest has to offer. It is in walking distance of the stunning Budapest parliament and the Danube River.
This was one of the best hotels we have stayed in as the rooms are massive, the executive lounge is a fabulous perk and the breakfast was delicious.
A more detailed report of each feature of Hilton Budapest City below!
Hilton Budapest City Rooms
The Hilton has many rooms to suit different budgets and family arrangements.
We stayed in an Executive room and would highly recommend it.
A great part about staying in an executive room is that it gives you access to the executive lounge (see below!)
When we first walked into the executive room at the Hilton we were very impressed.
The room was extremely spacious with its own lounge room including 2 reclining day beds, an extremely large bathroom with TWO showers and a very spacious seperate bedroom with a great desk for working (perfect for us travel bloggers!)
For those who appreciate generous sized hotel rooms, this room was about the size of a small apartment.
We were also pleasantly surprised to discover The Hilton had left a lovely welcome treat including a fruit basket, cold beverage and 2 cakes.
We really appreciate it when a hotel goes an extra mile to make you feel comfortable during your stay and the Hilton certainly checked this box.
The room also included tea and coffee making facilities as well as a large complimentary water.
As we mentioned above, we were very impressed that the room had not only one but 2 showers available (including one large bathtub).
If you are a family staying this room is perfect for getting the kids ready in one go.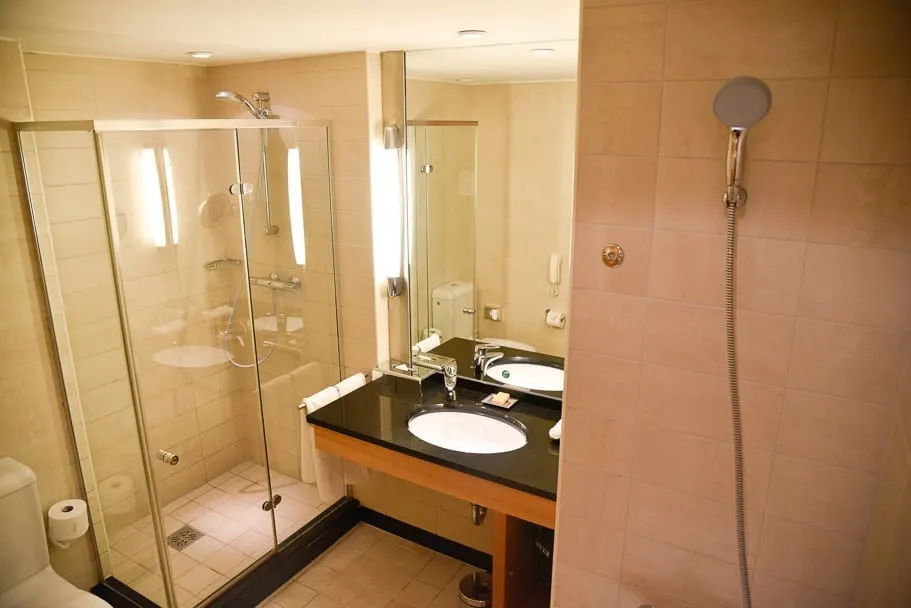 Hilton Budapest Executive Lounge
If you book a an executive room or a suite you will receive access to the amazing executive lounge at the Hilton.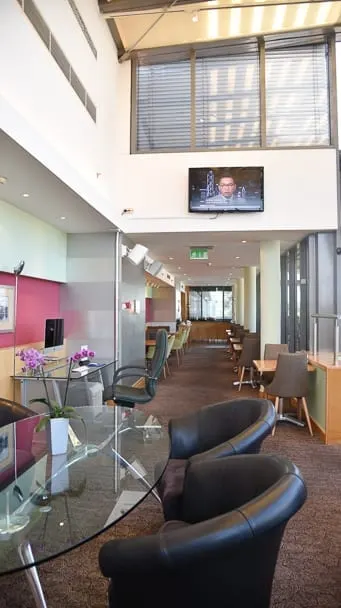 The lounge is located on the 4th lounge and open between 6.00am to 11.00pm at night.
In the morning a buffet breakfast is served at the lounge between 7:00am to 10:00am daily.
During the middle of the day, the hotel serves light refreshments including coke, fanta, spite, tonic water, ginger ale, apple juice as well as a wide variety of nuts, olives, museli bars and fruit.
If you are looking for alcoholic beverages they are served daily from 6:00pm to 8:00pm.
This time is very popular as the hotel serves a light evening meal including pasta, chicken and rice, salads and yogurt.
We noticed that many guests took advantage of this awesome perk.
Interestingly, if you are a solo traveler you are permitted to bring one guest into the lounge with you. Each additional guest costs €20 per day.
Tip: There is a fantastic view of Budapest City from the top of the executive lounge.
Hilton Dining – Arrabona
While at the Hilton in Budapest we were lucky enough to experience their in house restaurant, Arrabona.
Arrabona has a wide menu to suit all different palettes including a range of popular Western dishes (such as steak) as well as traditional hungarian dishes such as Goulash soup.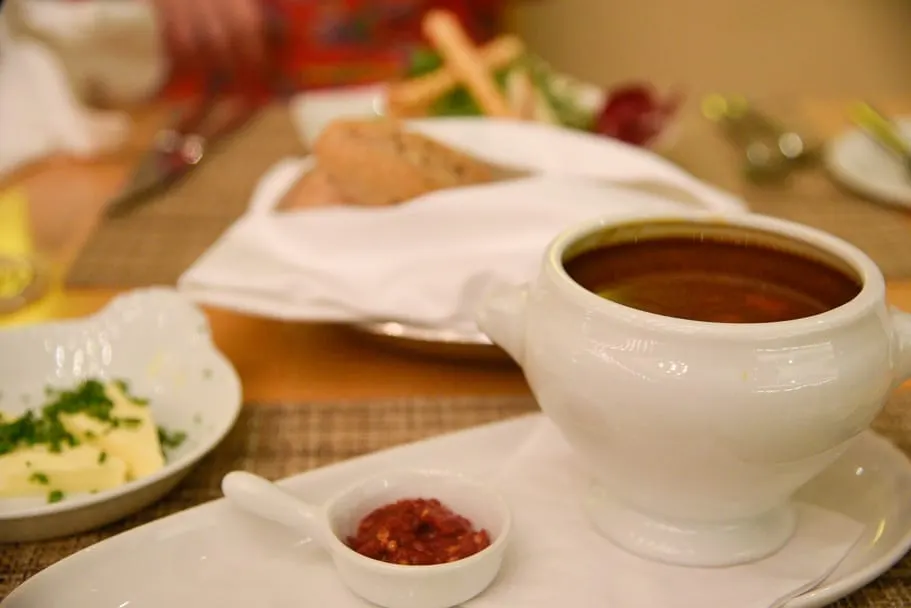 We chose to enjoy a mix of Western and Hungarian dishes.
For starters we had the Goulash soup and the Haloumi cheese. Both dishes were very delicious.
The Goulash soup had a slight kick to it (which we enjoyed) and the Haloumi cheese was paired with a delicious salad including eggplant.
For main course we chose to try the steak and the duck meal.
We were very impressed to discover the steak was cooked exactly how we requested (medium rare rare). It takes a good chef to achieve this request!
The duck was equally as delicious as it was paired perfectly with apple and red cabbage puree.
I am drooling looking back at it.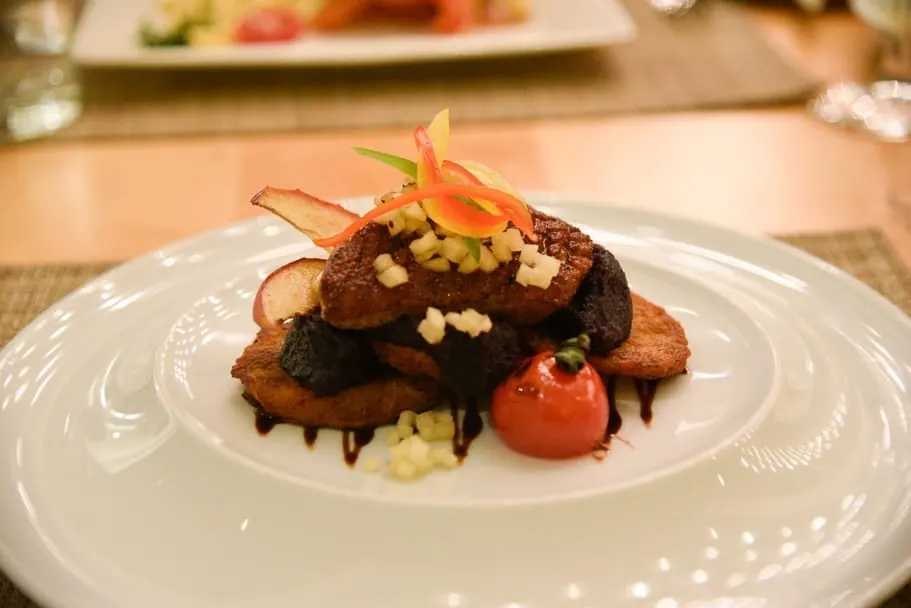 Considering the food was so good we decided to squeeze in desert.
We ordered an apple pie and Dobos Torta, a traditional Hungarian desert. Like the rest of the meals, these were delicious.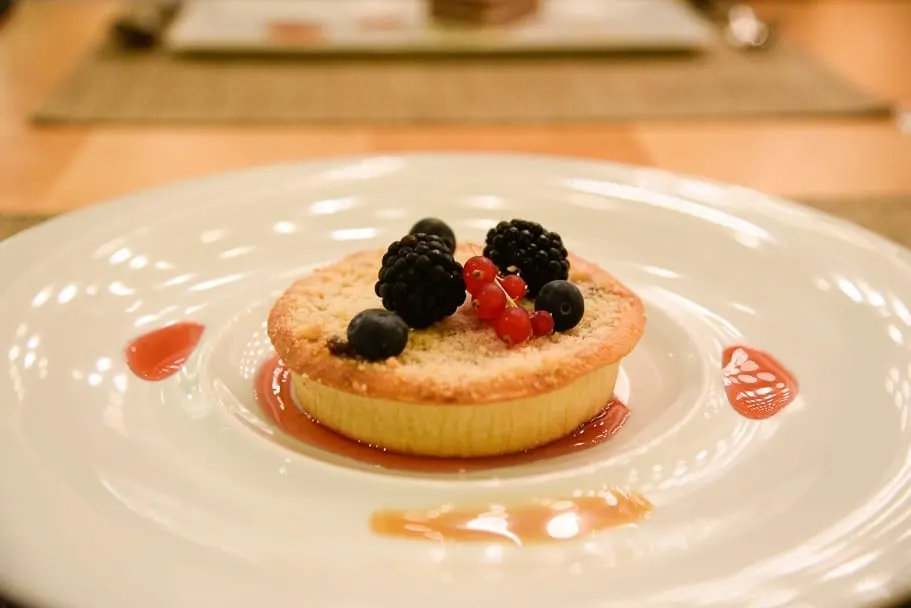 The Breakfast
A buffet breakfast is served each morning at the Hilton Budapest City.
It has a wide and plentiful selection of breakfast items including an al a carte menu with eggs any way, a pancake machine, fruit, nutella, danishes, bread, cheese and ham.
You can also order a hand crafted coffee such as a latte or cappuccino to go with your breakfast.
How to reach the Hilton in Budapest?
You can reach the Hilton by flight into Budapest however, if you are traveling around Europe, we would highly recommend traveling using the Eurail train.
We traveled from England to Budapest in Hungary and it was a very easy and stress free journey.
This particular journey involves 4 legs:
Save Hilton Budapest City to Pinterest (so you can find it again later)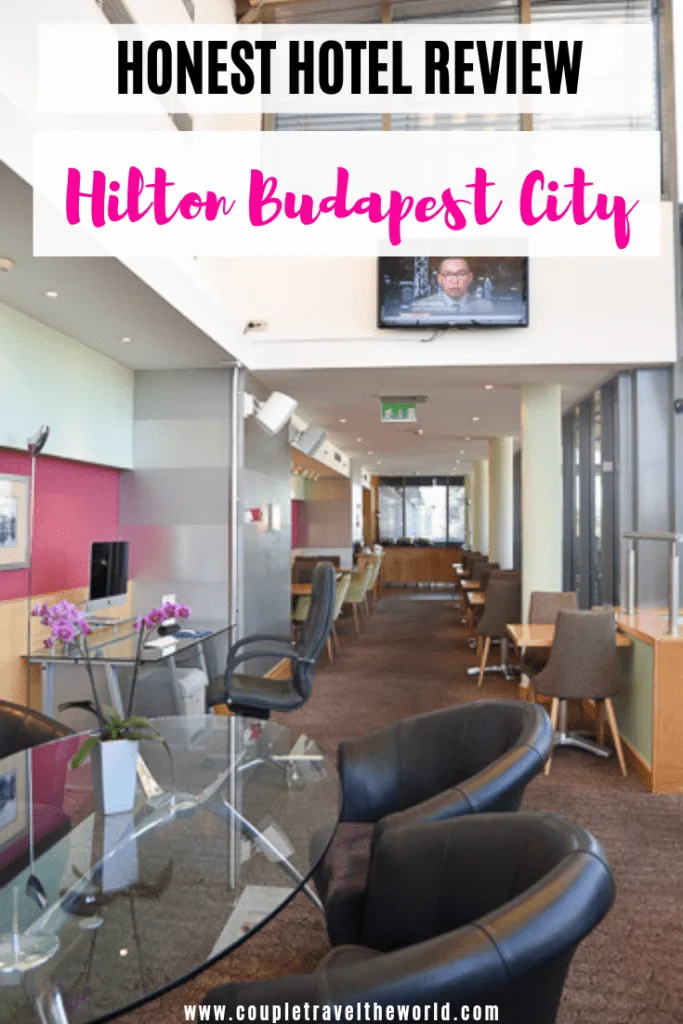 Disclaimer: We were invited as guests to Hilton Budapest City & on Eurail. However, this does not affect our views and opinions. As always, all opinions are our own.