We have been to Krakow a few times before and absolutely loved it so we were very excited to go back and stay at the Hilton Garden Inn Krakow.
Hilton Garden Inn Krakow Review
With only a 15 minute walk into the Old Town of Krakow and a hop, skip and a jump to the Krakow castle and Wawel Dragon, the Hilton Garden Inn is a fabulous choice for comfortable accommodation in Krakow.
With an onsite restaurant and bar (with an amazing bartender) as well as a mini supermarket inside you really can't go wrong with Hilton Garden Inn in Krakow.
A more detailed report of each feature below!
Hilton Garden Inn in Krakow Rooms
The Hilton has many rooms to suit different budgets and family arrangements.
If budget permits, we stayed in a Junior suite and would highly recommend it.
The suite was extremely spacious and included a seperate room with TWO sofas in it.
We were happy to find a very generous welcome gift in the suite consisting of homemade biscuits, jam, red wine and a fruit platter. So very generous!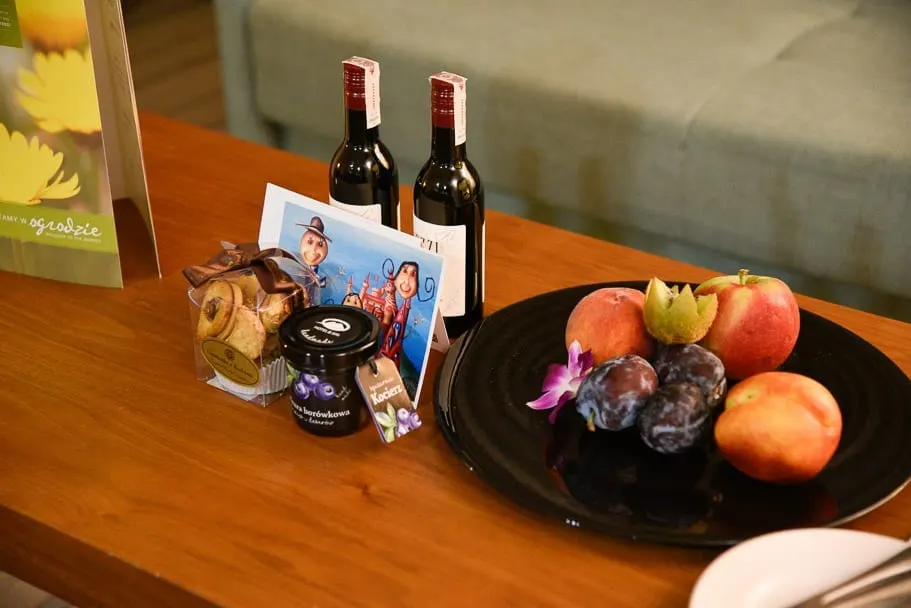 Gym
For the gym junkies out there, you will be pleased to find that the hotel has a well equipped gym on premises.
We were bust exploring Krakow so we didn't have time for the gym – oppsie!
Restaurant & Globe Bar
One aspect we loved about the hotel is that it had an onsite restaurant and bar so you didn't really need to venture outside to find food (especially if you come in on a late night flight or train).
The food in the restaurant was absolutely sensational and cooked to perfection.
Since arriving in Poland, we have become absolutely addicted to Polish dumplings.
We have ordered these in almost every Polish city we visited. A must try when traveling to Poland!
The Hilton served a version of cheese dumplings which we highly recommend trying.
For main, we ordered the duck and steak.
The duck was delicious but the outstanding winner was the steak. It was cooked to perfection and came with a delicious caramel sauce. Highly recommended.
We were too late in the evening to order a desert so instead tried a virgin Pina Colada cocktail.
The bar woman was absolutely lovely and advised that we might like to try a cocktail instead of a desert as she is particularly good at crafting them.
Generally, we avoid cocktails as they are too strong and don't come with enough ice but the ones she made were absolutely outstanding.
Possibly, the best Pina Colada cocktail we have ever tried.
Hilton Garden Inn Krakow Breakfast
A buffet breakfast is served each morning in the hotel restaurant.
We loved the wide array of options including eggs served to your liking, fruits, nutella, danishes, bread, cheese and ham.
You can also make yourself a crafted coffee such as a latte or cappuccino to go with your breakfast.
Overall, we had a fabulous stay and would highly recommend staying at Hilton Garden Inn Krakow.
How to reach the Hilton in Krakow?
You can reach the Hilton by flight into Krakow however, if you are traveling around Europe, we would highly recommend traveling using the Eurail train.
We traveled from Warsaw to Krakow with Eurail and it was a very easy and stress free journey!