Having already spent a few nights in Hampton by Hilton Gdansk Old Town, we were absolutely loving Gdansk already.
For a new experience and to see a different part of the city we stayed for 2 nights a Hilton Gdansk and absolutely loved it.
We traveled to Gdansk from Krakow where we stayed at Hilton Garden Inn Krakow.
An Honest Review: Hilton Gdansk
There is no doubt that the Hilton Gdansk is a beautiful hotel in Gdansk, located directly on the river.
The restaurant (which we will discuss later) actually has stunning river views – a super romantic place – we actually witnessed a couple get engaged in the restaurant there!
A more detailed report of each feature of Hilton Gdansk below!
Hilton Gdansk Rooms
You cannot go wrong with any room at Hilton Gdansk. The entire hotel is stunning.
You know you are going to be experiencing luxury as soon as you walk into the very glamorous lobby.
We stayed in a suite and it was absolutely spectacular.
The room had amazing river views and even a quirky glass encased capsule balcony. Something we had never seen before and absolutely adored.
A perfect balcony for year round use might I add.
The room also included a beautiful bathroom like all Hilton rooms.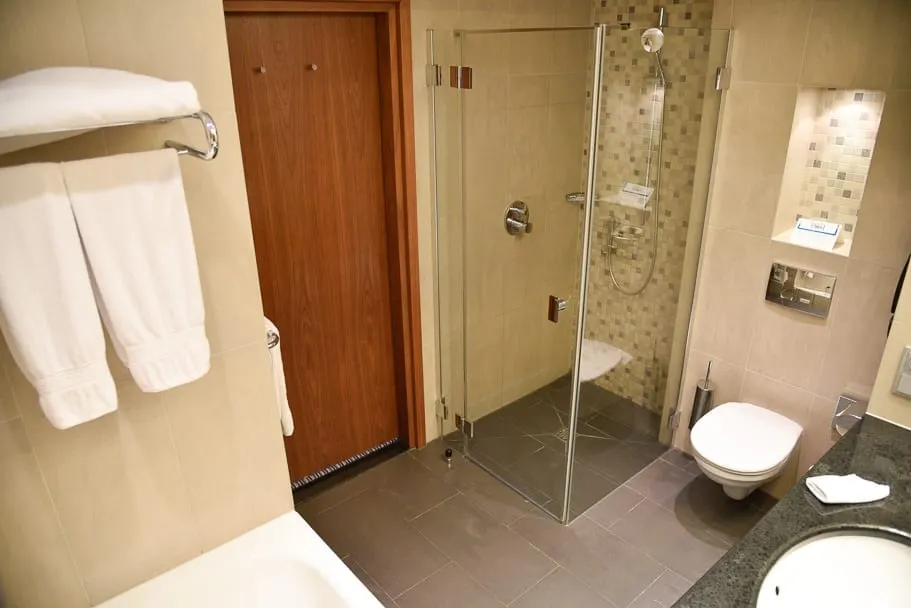 We were also very happy to find a beautiful welcome gift of hand crafted chocolates from the restaurant and not one but 2 fruit platters – thanks guys!
Gym & Pool
There is a large indoor pool and gym on the premises.
There are plenty of deck chairs to sit and relax on both inside the indoor pool and outside on the amazing roof terrace – perfect to get a tan in the summer sun!
Urban Day Spa
While we were staying at the Hilton we tried the hotel's Urban day spa.
What an absolute treat!
We opted for the couples luxury treatment which included a whole body scrub, a whole body wrap, a whole body massage and a facial.
The whole treatment took 150 minutes and we walked out feeling on cloud 9!
Our entire body was ridiculous soft from the treatment – highly highly recommended to unwind while holidaying in Gdansk.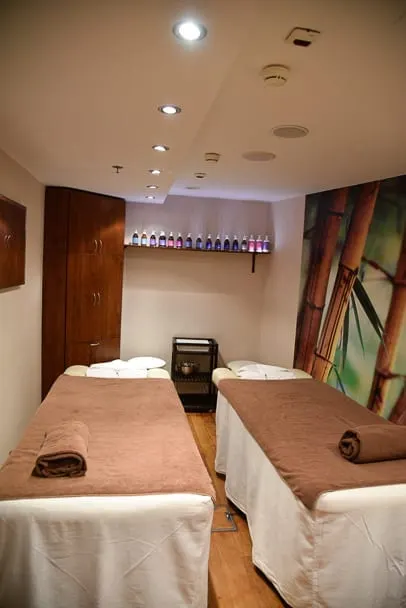 Mercato Restaurant
Inside the Hilton is a fine dining restaurant known as Mercato with a river view to dine for.
There is a ferris wheel in Gdansk which lights up at night. It is very romantic with all the lights and Mercato is in an ideal spot for watching the ferris wheel and other river lights.
As we mentioned above, it is a very romantic restaurant. We witnessed one couple get engaged there. The staff were were obliging and assisted the gentleman with red roses and photography.
We decided to try the Tasting Menu at the Mercato restaurant which is a degustation of meals each paired with a wine, hand picked to flavour match the meal.
For fish lovers, one of Mercatos specialties is fish but as we are not big fish eaters (we don't eat raw fish for example) the chef was more than obliging to alter the menu to suit our needs.
The tasting menu is as follows:
Marinated salmon with horseradish ice cream,salmon mayonnaise
Asparagus salad with fennel, pickled cucumber and smoked cream
Fried sturgeon with broad bean, pea, wild herbs and ramson
Lamb loin, young cabbage, onion purree and chives
Strawberry, cardamom, tequilla, sponge, meringue.
Each meal was cooked to a very high standard.
The staff at Mercato were very passionate about their flavourings and explained the idea and theory behind each dish.
We were given delicious cleansers between each meal (so to not impact the flavour) like this celery shot below.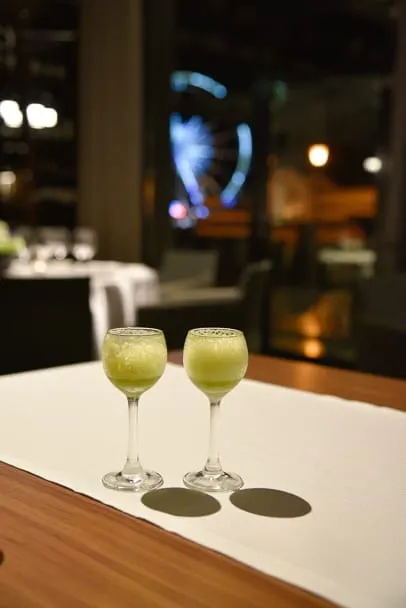 While each meal was delicious we both agreed our favourite was the lamb loin – it was cooked to perfection and melted in your mouth.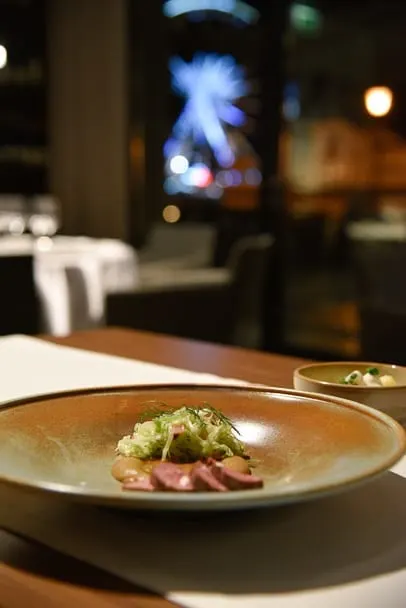 The desert was also very delicious!
Hilton Gdansk Breakfast
A buffet breakfast is served each morning in the hotel restaurant.
You have the choice to sit outside by the river on the patio which is highly recommended in summer.
We loved the wide array of options including eggs served to your liking, fruits, nutella, danishes, bread, cheese and ham.
You can make yourself a crafted coffee such as a latte or cappuccino to go with your breakfast.
There is also a al la carte menu available including waffles, pancakes and specialty eggs. The staff will bring these to your table.
Overall, we had a fabulous stay and would highly recommend staying at Hilton Gdansk.
How to reach the Hilton in Gdansk?
You can reach the Hilton by flight into Gdansk however, if you are traveling around Europe, we would highly recommend traveling using the Eurail train.
We traveled from Krakow to Gdansk with Eurail and it was a very easy and stress free journey!