After not having visited Prague for more than 10 years we were very excited to go back and explore this beautiful city.
We stayed at the Hilton Prague Old Town during our time in the city as well as Hilton Prague (you can compare the properties and see which is more suitable for you to stay!)
Hilton Old Town is located in a fabulous location for exploring all that Prague has to offer, being in the heart of the Old Town (we walked everywhere from here!)
Hilton Prague Old Town
If you love Art Deco architecture, you definitely need to book a stay at Hilton Prague Old Town during your time in Prague.
Nestled in the heart of the orange rooftops, Hilton Prague Old Town is the ideal place to explore the Prague Old Town.
While the outside of Prague takes you back to the middle ages we loved that after coming home from a long day sightseeing we had a different contemporary environment at Hilton Prague Old Town
Inside the hotel is an amazing art deco restaurant, a pool and fitness centre as well as an executive lounge.
A more detailed report of each feature of Hilton Prague Old Town below!
Rooms at Hilton Prague Old Town
The Hilton has many rooms to suit different budgets and family arrangements.
We stayed in an executive room and absolutely loved it.
We loved Hilton's executive lounge access (we had previously experienced it at Hilton Prague and were absolutely sold!
Like most Hiltons, the rooms at Hilton Prague Old Town were plush, modern and beautifully decorated.
One of the defining features of this hotel room were the massive tv and gorgeous marble bathroom. Absolutely stunning.
Upon arrival we were found a refreshing cold beverage as well as a small fruit platter.
Love a warm hotel welcome!
The room also included tea and coffee making facilities as well as a large complimentary water.
The Pool and Gym
Being located in the heart of the Old Town of Prague we were amazed to find a pool and a gym located within the hotel.
After a long day in Prague, it is lovely to be go for a relaxing dip in the pool.
Executive Lounge at Hilton Prague Old Town
If you book a an executive room or a suite at Hilton Prague Old Town you will receive access to the amazing executive lounge at the Hilton.
The lounge is open until 9.00pm at night.
In the morning a buffet breakfast is served at the lounge (or you can alternatively enjoy breakfast at the main buffet as we did!)
During the middle of the day, the hotel serves light refreshments including coke, fanta, spite, tonic water, ginger ale, apple juice as well as a wide variety of chips and gummie bears (a personal favourite!)
If you are looking for alcoholic beverages they are served daily from 6:00pm to 8:00pm.
Zinc Restaurant at The Hilton Prague Old Town
While you are in Prague (even if you are not staying at the Hilton) you simply must try the Zinc Restaurant.
Like the rest of the hotel, the restaurant is decorated in a beautiful Art Deco design.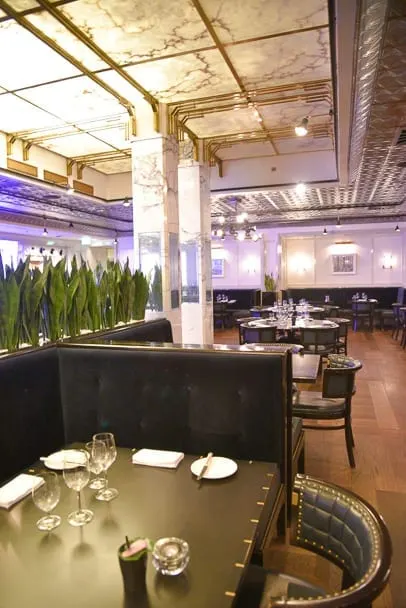 It also served absolutely delicious food including our absolute favourite thing to eat in Prague – duck!
For dinner at Zinc restaurant we had their duck buns, goats cheese fondant, steak & Pork knuckle.
Each meal was just delightful!
We loved that the duck was an adapation to traditional Prague duck coming in an entree sized with a bun around it. This mini duck burger was te highlight of our night – you need to try it!!
For cheese lovers, the goats cheese fondant was very tasty and something we had never tried before. The texture was similar to a quiche.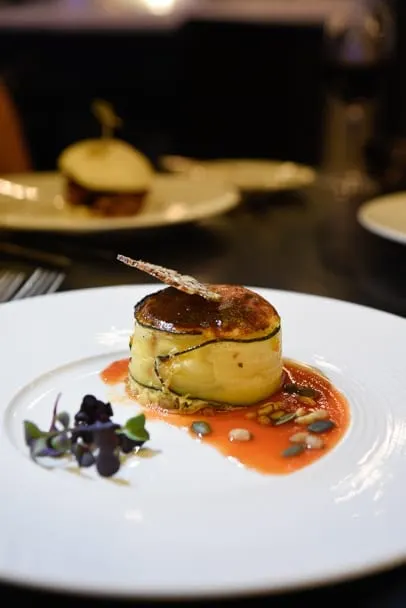 We were also happy to discover the steak was cooked to absolute perfection (medium rare rare as we requested!)
Zinc Restaurant serves its own label of red wine – give it a go if you like red wine, its very nice.
Breakfast
A buffet breakfast is served each morning in the Zinc Restaurant or in the executive lounge if you have access.
We loved the wide array of options including eggs served to your liking, fruits, nutella, danishes, bread, cheese and ham.
You can also order a hand crafted coffee such as a latte or cappuccino to go with your breakfast.
Overall, we had a fabulous stay and would highly recommend staying at Hilton Prague.
How to reach the Hilton in Prague?
You can reach the Hilton by flight into Prague however, if you are traveling around Europe, we would highly recommend traveling using the Eurail train.
We traveled from Budapest to Bratislava with Eurail and it was a very easy and stress free journey!