We love Prague, it is a place that keeps drawing us back for more. Not only does the city have many well known landmarks, there are many hidden gems in Prague waiting to be discovered.
We stayed at the Hilton Prague during our time in the city and loved every minute of this beautiful hotel.
It is a great place to come for a comfortable stay in Prague.
Hilton Prague Review (A hotel fit for the Queen!)
Hilton Prague is a beautiful hotel in the heart of Prague.
We absolutely loved staying here as all of Prague's major attractions and shopping centers are within easy reach.
The hotel itself is massive. From the moment we walked in the door we were wow-ed by the gradiuer of the hotel.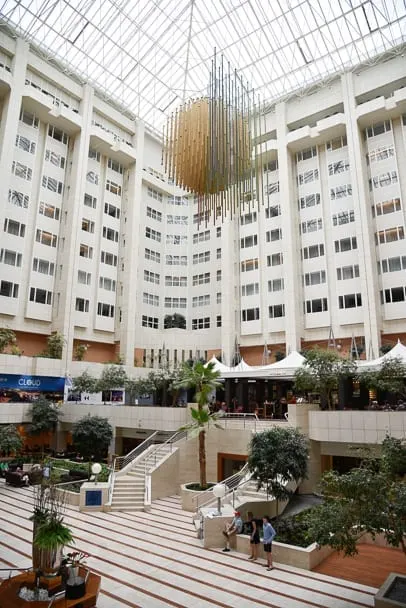 While we were staying at the hotel we learnt that it is the largest hotel in the whole of Prague and many famous people have stayed here including Barack Obama and the Clintons.
I'm not sure if the Queen has stayed but if she hasn't, she should!
Inside the hotel is a pool & fitness area, a day spa, a very impressive rooftop bar and an executive lounge.
A more detailed report of each feature of Hilton Prague below!
Rooms at Hilton Prague
The Hilton has many rooms to suit different budgets and family arrangements.
We stayed in an executive room and absolutely loved it.
We loved Hilton's executive lounge access (we had previously experienced it at Hilton Budapest and were absolutely sold!
The rooms at Hilton Prague were extremely plush and modern. Everything in the room was brand new and fresh which we absolutely loved.
Hilton Prague had also kindly left a welcome gift of delicious chocolates on a modern platter & a cold beverage for us to enjoy upon arrival.
A very nice touch indeed!
The room also included tea and coffee making facilities as well as a large complimentary water.
The Pool and Gym
One of the main draw cards of Hilton is the amazing pool and gym it offers.
When we first arrived we overheard an American group raving about the amazing pool.
They were right!
After a long day in Prague, it is lovely to be go for a relaxing swim.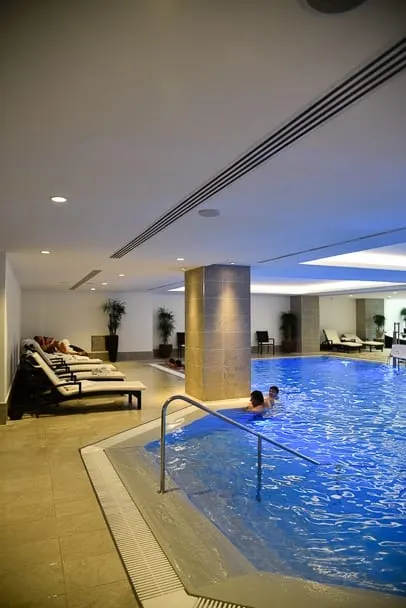 Executive Lounge at Hilton Prague
If you book a an executive room or a suite you will receive access to the amazing executive lounge at the Hilton.
The lounge is open until 10.00pm at night.
In the morning a buffet breakfast is served at the lounge.
During the middle of the day, the hotel serves light refreshments including coke, fanta, spite, tonic water, ginger ale, apple juice as well as a wide variety of nuts, olives, museli bars and fruit.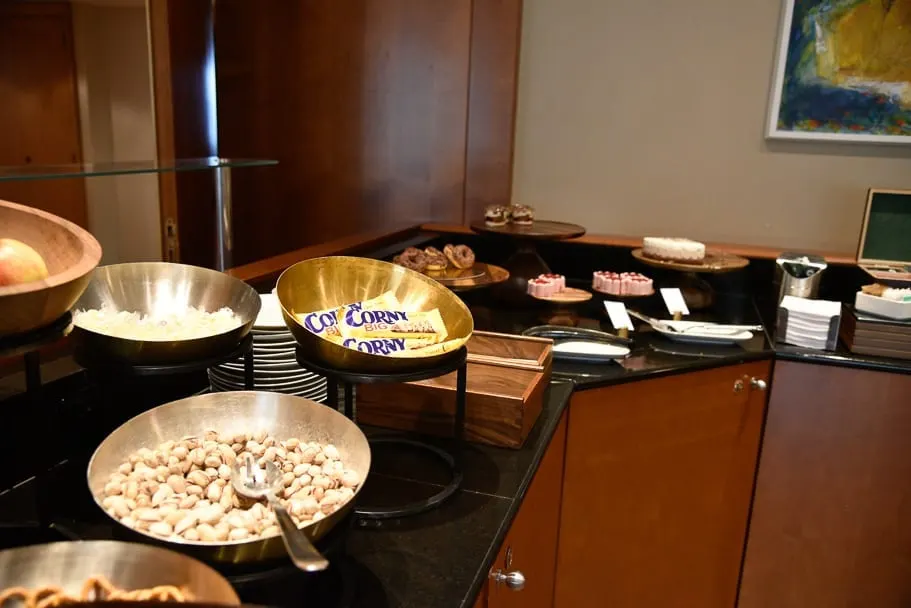 If you are looking for alcoholic beverages they are served daily from 6:00pm to 8:00pm.
This time is very popular as the hotel serves a light evening meal including pasta, chicken and rice, salads and yogurt.
We noticed that many guests took advantage of this awesome perk.
Hilton Prague Restaurant: Cloud 9 Sky Bar & Lounge
The Hilton Prague had extra unique feature, a Cloud 9 Sky Bar & Lounge which is located 40 meters above the Vltava River on the rooftop of Hilton Prague.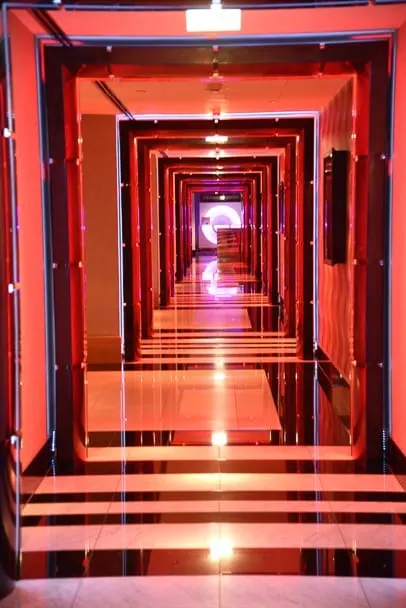 We absolutely loved this sky lounge as it offered amazing views over the city of Prague, from the inside and also from the terraces.
The bar provides many unique drinks as well as an amazing menu of bar food.
While at the Cloud 9 Sky Bar & Lounge we tried the tacos (perfect for sharing with friends) as well as their signature burger and steak.
Each meal was absolutely delicious and mouthwateringly good!!
The steak and burger meat was absolutely delicious and cooked to perfection.
We would also HIGHLY recommend trying the tacos which came with guacamole, sour cream and a salad to go inside. They were very delicious.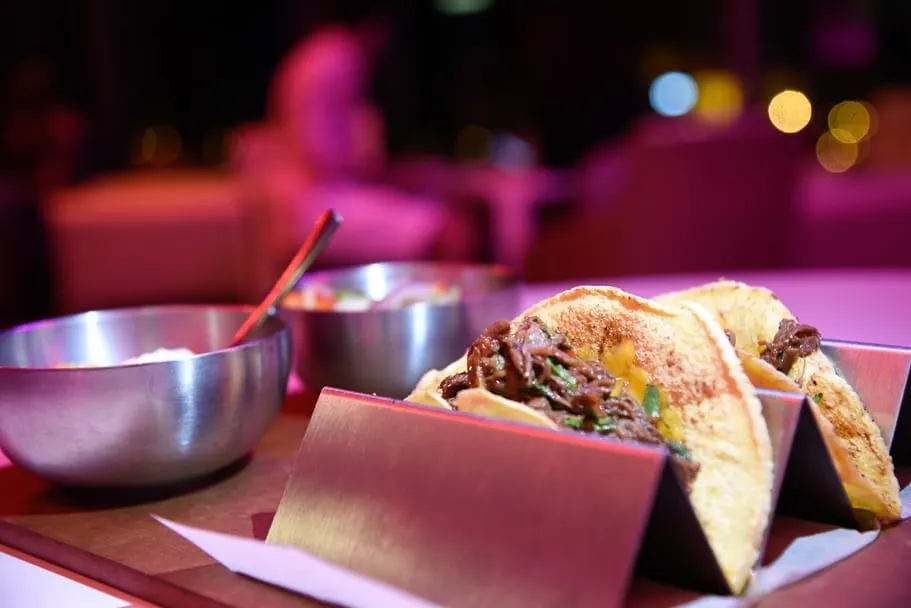 A prime time time for enjoying the skybar is Friday and Saturday when a DJ plays. There is also a special Sunday Brunch experience every Sunday from 4 pm.
Breakfast
A buffet breakfast is served each morning in the lobby.
We loved the wide array of options including eggs served to your liking, fruits, nutella, danishes, bread, cheese and ham.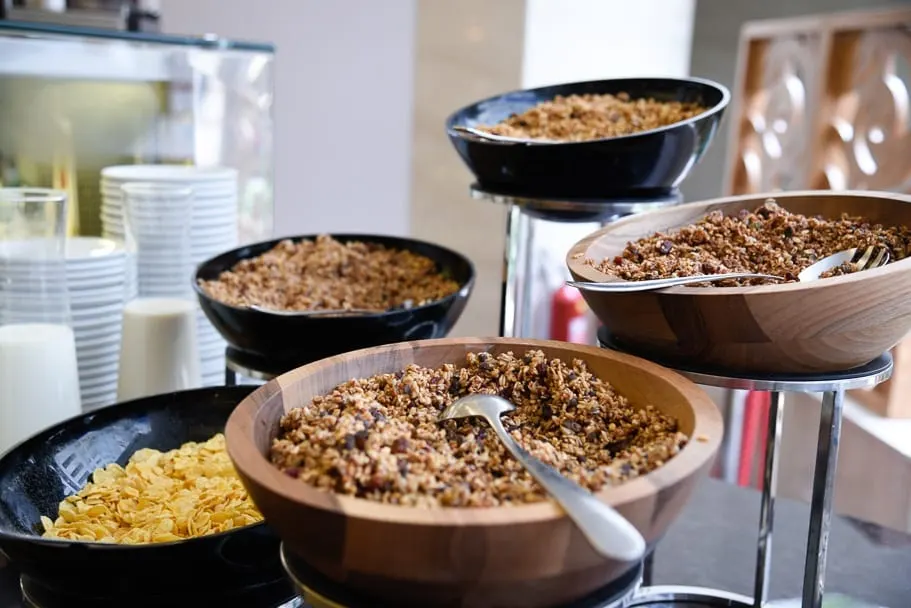 You can also order a hand crafted coffee such as a latte or cappuccino to go with your breakfast.
Overall, we had a fabulous stay and would highly recommend staying at Hilton Prague.
Hilton Prague Spa
We enjoyed a couples massage at the Hilton Prague and would highly recommend it.
We almost didnt get to experience this as the spa was so booked out, we found it extremely hard to get a time.
Our advice, book in advance as getting a massage at the spa was a very worthwhile experience.
How to reach the Hilton in Prague?
You can reach the Hilton by flight into Prague however, if you are traveling around Europe, we would highly recommend traveling using the Eurail train.
We traveled from Budapest to Bratislava and then Bratislava to Prague with Eurail and it was a very easy and stress free journey!
Save Hilton Prague to Pinterest (so you can find it again later)
Disclaimer: We were invited as guests to Hilton Prague & on Eurail. However, this does not affect our views and opinions. As always, all opinions are our own