Planning your honeymoon in Lisbon? Great choice. It is for sure one of the best honeymoon destinations in Portugal.
Lisbon is widely recognized as one of Europe's most stunning cities, and for good reason.
Throughout its history, the city of seven hills overlooking the ocean has accumulated an eclectic mix of cultural and architectural gems.
From Neolithic ruins to contemporary nightlife, Lisbon has something for everyone. Seeing all there is to offer is a must for any honeymoon in Lisbon.
If you are a honeymooner who just wants to stay inside and snuggle, this might be the city for you.
But if you also, want to have some real fun in a city that never sleeps – keep reading.
To make the most of the city, let's get straight to the best tips to get to know Lisbon like a local.
Forget what you've heard and prepare for an experience of a lifetime. Make sure to keep this guide on your phone and get ready to explore the most romantic places in Lisbon with wifey or hubs.
Honeymoon in Lisbon: Best things to do for Couples
Honeymoon Hotel Quick Links: Our Top 3 Picks:

Hotel Britania: Located in the heart of Lisbon, Hotel Britania offers luxurious guest rooms and suites, a rooftop terrace with stunning views of the city, and a restaurant serving traditional Portuguese cuisine.
Corinthia Hotel Lisbon: This five-star hotel offers stunning views of the Tagus River, an outdoor pool, and a spa and fitness center.This hotel is located in the historical district of Lisbon, providing guests with easy access to iconic attractions such as the Castelo de São Jorge.
My Story Hotel Rossio: Located in the heart of Lisbon, this hotel offers modern guest rooms and suites, a rooftop terrace with views of the city, and a restaurant serving traditional Portuguese cuisine. Great location – just a few steps away from the iconic Rossio Square.
Is Lisbon Romantic?
One of the questions we get all the time is: is Lisbon romantic? To answer your question, yes, it is very romantic. It reminded us a lot of Paris.
There are lots of restaurants and cafes for honeymooners to enjoy (eating is of course of of the best parts of any honeymoon!) as well as beautiful viewpoints to admire and historic sights to explore to keep you entertained.
Lisbon also has great shopping so if you significant other loves to shop, he or she is going to LOVE Lisbon.
Best Activities for Couples in Lisbon
St George Castle (Castelo de S. Jorge)
One of the best and most impressive sights of Lisbon is St George Castle (Castelo de S. Jorge), perched high on the hillside overlooking Lisbon city.
Situated near the historic Alfama district of Lisbon, St. George's Castle stands as a glorious reminder of the city's rich history. From its commanding position atop a hill, it offers magnificent views of the Portuguese capital and is one of the most iconic attractions in Lisbon.
This castle is a must-see for anyone visiting the city, and especially for honeymooners as it is one of the most romantic places in the city – its grandeur is sure to leave a lasting impression and in our opinion, it offers one of the best views of the city from above.
St. George's Castle is a stunning example of medieval architecture, and its various features provide a glimpse into the past. It has a long history. It was originally built by the Moors in the 11th century, subsequently served as a royal palace in the 13-15th century.
When inside you will wonder how it was ever used as a palace. The answer to this question is that it was largely destroyed by an earthquake in Lisbon. After that it was used as a military base until it was restored as a public exhibition in the 1940s.
If it was just the castle itself, we probably wouldn't recommend a visit however, the views from the top absolutely blew us away. You can see the iconic Christ statue and the Abril bridge in the distance. There's a cafe inside the castle where you can get a drink and soak it all it – it is certainly one of the most romantic places in Lisbon.
You Should Know: The castle shuts at 7pm in October to February and opens to 9pm for the rest of the year. It cost 14€ to enter. The line up for tickets was long, even in February which is off season so we would recommend purchasing one in advance here. That ticket also gives you an audio guide of the castle which is very useful and makes the whole trip a long more interesting as you know what you are looking at.
Lisbon is a hilly city and the castle is perched high on top of one of those hills. It is a 20 minute walk from the centre of town but expect the walk to be a bit exhausting as it is uphill.
Praça do Comércio
One of the highlights of Lisbon is visiting Praça do Comércio, the main town square, which is situated next to the river. An interesting fact is that it is actually one of the largest (and in my opinion) most grand squares in Europe.
The history of this square is that it was once a Royal Palace which was destroyed by an earthquake in the 18th century. Despite the fact that now you will just find government buildings, restaurants and cafes surrounding the square, it does not take away from its grandeur.
One of the most popular places to stop for a drink in the square is the Beer Museum, especially in the summer as they have some great alfresco dining. As you would expect for a beer museum they also have a wide range of beer to select from, perfect for beer lovers!
In the middle of the square there is a prominent statue of Former King Jospeh I riding a horse.
At the back of the square you will see a stunning arch called Arco da Rua Augusta which leads on one of the most popular and cool streets in Lisbon, Rua Augusta with many shops, restaurants and souvenir shops. It is a very lively street and popular with buskers. In summer, the street can get very congested so make sure you look after your belongings and be aware of pick pockets!
We stopped in one of the bakeries in the street to sample, the famous Portuguese Pastel de nata, a Portuguese egg custard tart pastry, optionally dusted with cinnamon.
Alfama
One of the coolest places in Lisbon for couples is the very romantic and fun area of Alfama. If you prefer to stay in a very authentic area of Lisbon, Alfama is a great choice.
You could get lost in the many hills and small winding alleyways of Alfama, so if you are cr*p with directions you may prefer to visit Alfama on a walking tour.
One of our favorite things to do in Alfama was to enjoy sunset at the Miradouro de Santa Luzia, one of the most romantic areas in the city. If you feel like stopping in for a drink, there is a great bar at the viewpoinyt called Bar Terraco de Santa Luzia.
Keep walking further and the view keeps getting better. If you are a fan of a cocktail, we recommend stopping into the Pizza House restaurant for one of the best pina coladas we have ever tasted. The pina colada served wizzed up with ice in a full pineapple (enough for 2) costs 15€. You can enjoy this in their alfresco dining setting overlooking the stunning red roofs of Lisbon.
To really take in this area, it is best to explore the nearby streets of Alfama and Castelo, where centuries-old architecture mingles with the youthful energy of the people who now call this area home. Here, you will find a vibrant blend of the old and the new, a testament to the city's ever-evolving spirit.
Note: Alfama is an area which is very hilly, including a lot of staircases. If you have difficulties walking you may prefer to explore the area with assistance of a sitway.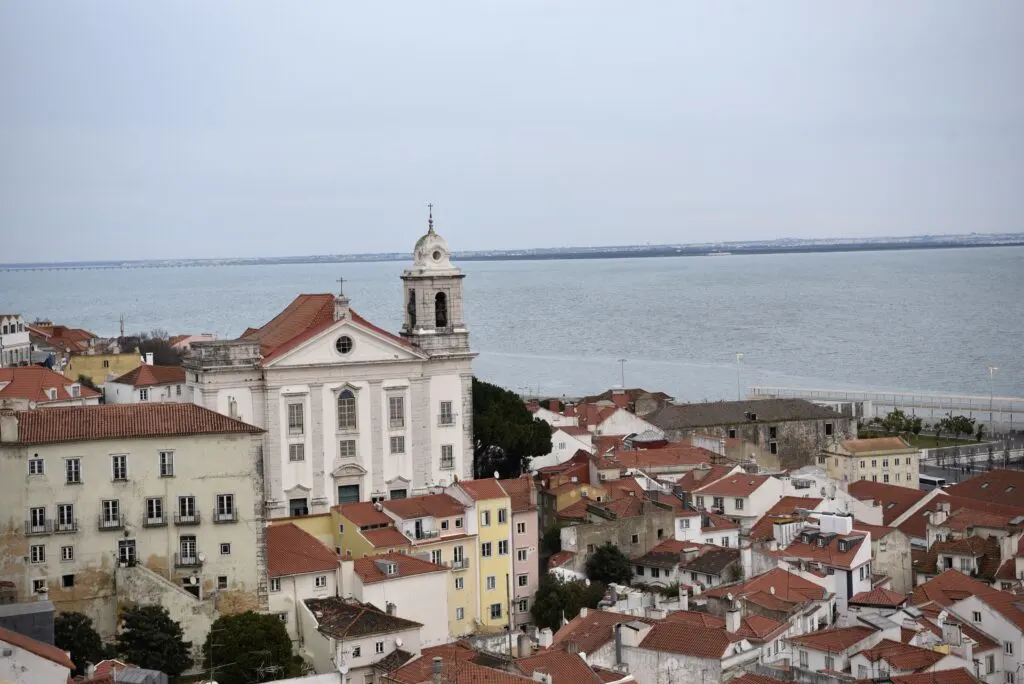 Lisbon Cathedral
One of the best things to do in Alfama is to visit the Lisbon Cathedral, the oldest church in Lisbon.
While it is not as impressive as some other churches around Europe, it has a long history which makes it quite interesting. While we wouldn't recommend a special trip out of your way to see the Cathedral, it is worthwhile checking out while you explore the Alfama district, so programme the cathedral into your Alfama itinerary. If you decide to go on a walking tour of Alfama it will no doubt be included in that tour.
The church was first built by Alfonso in 1147. It has been been rebuilt many times since then as it has been partly destroyed by quite a few earthquakes including the major earthquake that rocked the city of Lisbon in 1755. Due to this, the cathedral is now a mix of the Romanesque, Gothic, and Baroque architecture.
In the Gothic cloisters of the church there are archaeological excavations which are very interesting as they reveal different layers of Lisbon's past 3000 years, with foundations of Roman, Visigothic, and Moorish constructions.
The Cathedral is open daily from 10.00 – 17.00 and there is a small fee of 4€ if you want to have a look inside the church.

Rossio Square (Don Pedro IV Square)
One of our favorite areas in Lisbon is without doubt the Rossio Square (historically known as Don Pedro IV Square).
Located in the Baixa Chaido neighbourhood, it is a great area in Lisbon for couples as it is so vibrant and there is plenty of cafes, restaurants and shopping to enjoy. We found some really awesome and trendy hipster thrift stores while exploring the side streets of this area. We also purchased a really good quality mens blazer from a store called Mister Man.
One of the most iconic restaurants in the area is no doubt Cafe Nicola, our uber driver even spoke to us about it on the way from the airport. We checked it out and if felt too much of a "tourist-trap" for our liking with even a very aggressive spruiker outside, trying to get people in. You may wish to dine in for a light meal and a drink anyway for the old school ambience of the restaurant. It is one of the most iconic restaurants in Lisbon, founded in 1787 by Italian Nicola Breteiro.
Some of our personal favorites in the nearby area were La Romana ice cream, which offers some of the tastiest ice cream in Lisbon, the salted caramel and yogurt flavors were particularly tasty. Tip: The ice cream at La Romana is a bit on the expensive side but you can fill a huge tub for 8€. Although it is probably intended for take away, we just ate it with sample spoons in the store. Whether you are on a romantic getaway or not you gotta love value.
If you are feeling like a caffeine hit, we would recommend Folk Cafe for a good coffee in the area. If you are feeling peckish they also offer "soul food".
Something interesting to check out in Rossio Square, is the Fantastic World of Portuguese Sardines shop, where you can buy a tin of sardines with the year of your birth on it as a souvenir for 7€. While not very romantic, sardines are a Portuguese delicacy which you will find served in many restaurants around Lisbon. If you find yourself in Lisbon in June, you can even take part in the Feast of St Anthony: a Festival of Sardines in Lisbon.
Note: You can see the Fantastic World of Portuguese Sardines shop in a few other areas of Lisbon as they are a chain.
Eat at some of the best traditional restaurants in Lisbon
There are plenty of good restaurants to select in Lisbon, it is a foodies paradise for choice. If you lived in Lisbon, you would be very happy as some of the best rated restaurants in the area serve international cuisines like Indian, Chinese and Japanese.
If you are a tourist and have limited time, we would suggest you try some of the more traditional cuisine. Some traditional things to try in Lisbon include the "Peri-Peri" chicken (you can try some good peri peri chicken at Chickinho in LX Factory) and the cod cake which you can buy all over the city at a store called Pastel de Bacalhau.
Two restaurants that are "must dos" while in Lisbon, and are perfect for couples due to the romantic ambience are Anthony Bourdain's favorite seafood restaurant in Lisbon – Ramiro and the best Portuguese steak restaurant in Lisbon, Café de São Bento. Both restaurants are extremely popular so we would recommend booking well in advance.
We visited Ramiro without a reservation. We spent about 30 minutes in their waiting bar before snagging a table. We ordered the garlic prawns, the garlic clams and their special sandwich for desert. Everything we had was absolutely delicious and including a beer each we were shocked to find that the total bill only came to 42 €.
We expected a much larger bill. We opted out of the lobster as we read online that it was served without butter, which seemed a bit bland. I think you could expect a much larger bill if you select lobster or crab which is sold by the kilo.
Café de São Bento was equally as good as Ramiro if not better. It was lucky we were staying in Lisbon for a few days as we rang up for a booking and could not get in until 3 days later – it is that busy!
Café de São Bento is a really romantic restaurant in Lisbon with a cozy, intimate vibe. It has a funky entrance in that you have to ring the bell to enter. We ordered duck pate to start followed by a Portuguese steak and a traditional Café de São Bento steak (which we shared to get a taste of both).
Both steaks were cooked to perfect and were absolutely delicious. The Portuguese steak is served in a garlic sauce and the Café de São Bento steak is served in a creamy sauce. Usually, we are not a fan of creamy meals but I think this one is an exception – it was sensational. We ordered both steaks Portuguese style with an egg on top (recommend) which costs a few Euros more. Our total bill including a salad, a beer each, and an extra wine came to 115€.
We would recommend dining in but if you simply cannot get a reservation at Café de São Bento, there is a pop up store at the Time Out Market.

Santa Justa Lift
Perhaps one of the coolest things to see in Lisbon is the Santa Justa Lift, an elevator that was built back in 1902.
Even in the off season, there is a long line up to take the lift to the top to Carmo Square in Bairro Alto. At the top is a great view over the whole city and of the Carmo Convent, which we recommend you visit after getting off.
Located as you get off the lift is one of the most popular Portuguese food chains which you will see all over Lisbon called Pastel de Bacalhau, where you can try a Portuguese delicacy, the cod fish cake.
Served in bread with cheese, it is a nice cheap light lunch while exploring Lisbon which will only set you back 5€ a. cod cake. While this chain is all over the city, we found this store to be one of the nicest places to try a cod cake in Lisbon as it has a nice alfresco area with a view. Be aware, the cod cake has a rather fishy taste so you will really need to like fishy seafood to enjoy it.
The lift is open from 7am – 10pm year round and until 11pm from May to October in peak season. The price of the elevator is 5.30€ return.
Tip – If you are in reasonably good shape, you can take the stairs instead of the lift and see the exact same view at the top.
Carmo Convent
At the top of the Santa Justa Lift you will find the Carmo Convent, a church and archaeological museum.
This church is another victim of the 1755 earthquake, where it was largely destroyed. When reconstruction started in the 19th century, they decided to leave the church roofless to keep a romantic feel. We loved the roofless-look of the church and found it very unique.
There is a small 5€ entry fee for adults which includes entry to a small archaeological museum with various tombs and mummies inside as well as other artefacts. The mummy of young girl and boy displayed in the museum was particularly interesting as the girls hair and some other features were still almost entirely intact.
Visiting the church and museum will only take 30 minutes to an hour of your time and is worthwhile if you find yourself in the area. Nearby the convent is a really nice bar/restaurant/coffee shop called Cafe Marzano which serves great coffee, pizza and light platters.

16th-century Jerónimos Monastery
The 16th-century Jerónimos Monastery is one of Portugal's most renowned landmarks and is a must-see destination for any sightseeing tour of Lisbon.
This stunning monument is of immense cultural and historic importance and it is no surprise that it has been awarded the esteemed UNESCO World Heritage Site accolade.
Built with intricate detail and grandeur, this site is a testament to Portugal's rich architectural heritage and it is an absolute must-see for anyone visiting the country.
Get your ticket here.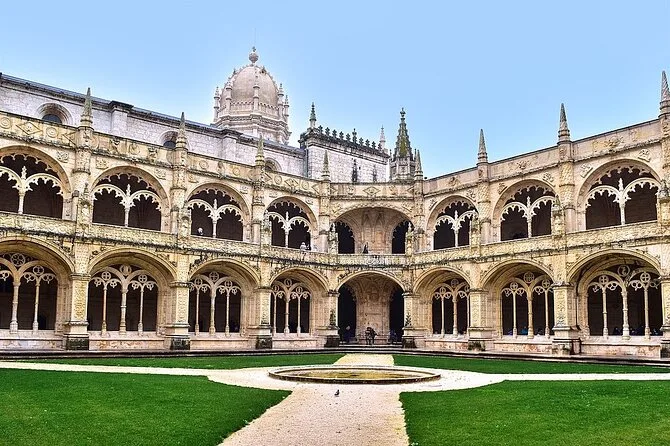 GRAÇA Viewpoint
GRAÇA Viewpoint is one of the most beloved meeting points in Lisbon. Every day, locals and visitors alike flock to the viewpoint for its stunning views of the city, stretching from the castle to the river.
But it's not just the views that make it so special (and quite romantic); the atmosphere is always vibrant and alive, especially when the weather is good.
As a starting point for exploring the city, especially the neighbourhoods of Mouraria and Baixa Pombalina, it's unbeatable – and it can be the perfect place to end your day. Whether you're a longtime Lisbon resident or a first-time visitor, Graça Viewpoint is definitely worth a visit.
Here's the thing about Lisbon, it's a great city but there is a LOT of hills and I mean a lot. They don't call it the city of 7 hills for nothing. If you don;t feel like walking up to the viewpoints (it's your honeymoon afterall), we recommend going on an e-bike tour.
Calouste Gulbenkian Museum
The Calouste Gulbenkian Museum, located in Lisbon, Portugal, is a magnificent cultural treasure and one of the most renowned museums in Europe.
With an impressive collection of art from Egypt and other countries spanning over 4,000 years from the ancient era all the way to the late 20th century, the Gulbenkian Museum showcases a stunning array of priceless pieces.
From ancient Egyptian sculptures to captivating modern works from the 20th century, the museum is a true testament to the beauty of art throughout the ages.
Visitors of the Gulbenkian Museum can explore and appreciate the diverse collection of works, and learn more about the culture and history behind the pieces.
TIME OUT MARKET LISBON
Time Out Market is an incredible foodie experience that offers something for everyone! From the freshest produce to the finest gourmet cuisine and craft cocktails, this market is the place to be.
And let's not forget their renowned Portuguese custard tarts (Pastel de nata) – they are by far the best in Lisbon!
Whether you're in the mood for a light snack or a full-on feast, Time Out Market Lisbon has got you covered!
Address: Mercado da Rebeira, Avenida 24 de Julho, 1200-479 Lisbon
LX FACTORY
LX Factory is a unique landmark in Lisbon. What was once an abandoned factory is now a bustling hub of creativity and culture. It contains a variety of restaurants, shops, markets and events, both indoors and outdoors. One of the coolest things here is the LX Factory Library (pictured below).
This innovative concept was initially intended to be temporary, yet its success has been so remarkable that it's now been firmly rooted in the city. It's hard to imagine Lisbon without the vibrant energy of LX FACTORY!
Park of the Nations
Located by the Tagus River, Park of the Nations is a vibrant part of Lisbon. Colloquially known as Expo, it was the site of the 1998 Lisbon World Exposition and was later transformed into a modern commercial and residential district.
It's a great place to explore – you can find the Lisbon Casino, the Oceanarium and a cable car ride, as well as a variety of eateries and cafes.
Whether you want to take a leisurely lunch along the river or enjoy the nightlife, Park of the Nations is the perfect spot to visit.
With its wide array of entertainment, it's a small city within the city, and a must-see destination for any tourist, even ones on a honeymoon as it's such a fun place to be.
Lisbon Oceanarium
The Lisbon Oceanarium is a cool place to go for a kid or a pair of child-like honeymooners, with an artificial lagoon built on a pier resembling an aircraft carrier.
With a huge collection of 16,000 individuals of 450 species, the centerpiece of this oceanarium is a 1,000 m2 tank that holds 5,000,000 L of water and has large windows strategically placed around it, providing a stunning view of the open ocean and creating the illusion of an uninterrupted marine environment.
Visitors can get up close and personal with the ocean's inhabitants, explore the interactive exhibits and educational materials, as well as enjoy the many activities and events hosted at the oceanarium.
From its majestic design to its diverse array of marine life, the Lisbon Oceanarium is a must-see destination.
Book your ticket including the helpful hop on hop off here.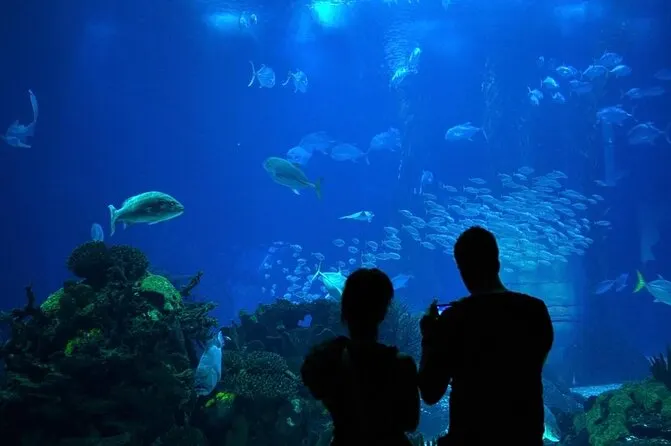 Lisbon Tropical Botanical Garden
The Lisbon Tropical Botanical Garden is situated right next to the Jerónimos Monastery, and is a veritable time capsule of Portuguese colonialism.
It is a place of study, where information on agriculture in Portugal's colonies is collected and shared with other institutions.
The garden is made up of mainly species found in Angola, Cape Verde, East Timor, Guinea-Bissau, Macau, Mozambique and São Tomé and Príncipe, making it a one-of-a-kind botanical experience.
Visitors to the garden are sure to be transported to a time when Portugal had a vast colonial empire, and to witness the beauty and diversity of the flora and fauna from those distant lands.
We suggest you grab some local delicacies from Time Out market or a local shop and set up a picnic here.
TEJO POWER STATION & MAAT – MUSEUM OF ART, ARCHITECTURE & TECHNOLOGY
This stunning example of industrial architecture was built in the first half of the 20th century and was once used to power Lisbon.
Now it has been added to the EDP Foundation's heritage and transformed into the Lisbon Museum of Art, Architecture and Technology.
The TEJO power station offers a unique museum experience, with a Museum of Science and Industrial Archaeology concept, featuring themed and experimental exhibits and hosting a variety of cultural events.
The MAAT is home to national and international exhibitions of contemporary art, architecture and thought, as well as showcasing the EDP Foundation's Art Collection.
Don't forget to experience the beautiful sunsets on the rooftop of the new building – it's a sight you won't forget!
Day Trips from Lisbon for couples
Sintra
A day trip to Sintra is a must-do experience when visiting Lisbon. Just a 40-minute train ride away, this romantic destination is a living fairytale, boasting regal royal palaces, mysterious mansions and a stunning Moorish castle dating back to the 8th century.
Surrounded by hills, valleys and lush greenery, a visit to Sintra will take you back in time to a world of old-world charm and captivating stories.
Whether you are an avid history buff or a culture enthusiast, you will be awestruck by the beauty, majesty and grandeur of this historic town. A trip to Sintra is sure to be a memorable one and a must do for honeymooners!
Wondering the easiest way to get there? This tour is for sure the way to go.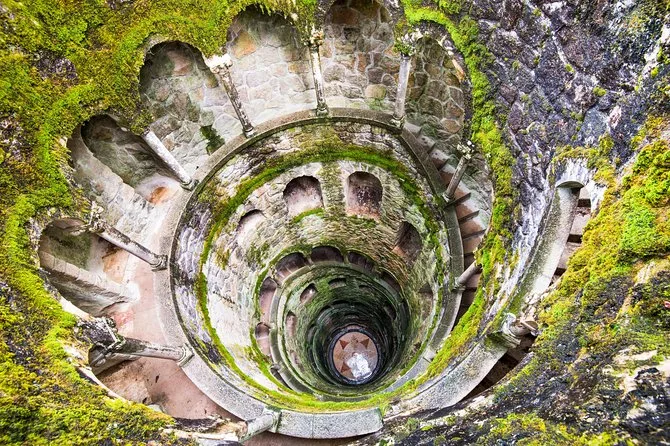 Cascais
A day trip to Cascais is a unique opportunity to experience the perfect blend of history and modernity.
From the majestic 19th-century architecture to the stunning beaches, the city is full of exquisite sights.
Visiting the parks and mansions, adorned with priceless furnishings, is sure to be an unforgettable experience.
The Paula Rego Art Museum is also a must-see, offering an insight into the city's rich cultural heritage.
It's no wonder the Portuguese royal family chose Cascais as their preferred holiday destination at the turn of the 20th century – the city still exudes a glamorous atmosphere today.
This tour covers both Sintra and Cascais so if you are low on time, it is a great one to take.
Visit one of the nearby beaches
Beaches in Lisbon offer something for everyone, from Costa de Caparica to Cascais, and each beach has its own unique character.
Costa de Caparica, the closest beach to the centre of Lisbon is a 20 minute Uber or taxi ride south of Lisbon, over the Tagus river.
It's a long, clean beach full of beauty, and is a great place for swimming, sunbathing and beach activities.
Further out, Cascais is a stunning beach with crystal-clear waters and plenty of opportunities for watersports and other activities.
Whether you're looking for a family-friendly beach day or an adventure-filled escape, the beaches of Lisbon have something for everyone.
Tip: Costa de Caparica to Cascais is a great place to learn how to surf which is a fun activity to do as a couple. Here is one of the best rated schools at the beach.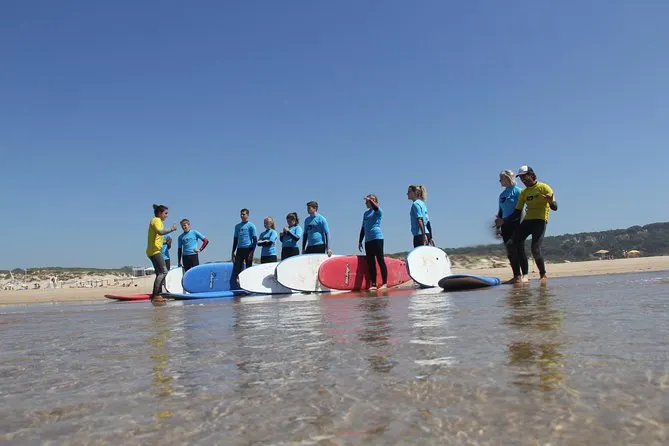 Romantic Lisbon Honeymoon Hotels
There are no shortage of really great (and romantic) honeymoon hotels in Lisbon. Here are some of the best rated hotels for couples in Lisbon which we would recommend:
Hotel Britania: Located in the heart of Lisbon, Hotel Britania offers luxurious guest rooms and suites, a rooftop terrace with stunning views of the city, and a restaurant serving traditional Portuguese cuisine.
Corinthia Hotel Lisbon: This five-star hotel offers stunning views of the Tagus River, an outdoor pool, and a spa and fitness center.This hotel is located in the historical district of Lisbon, providing guests with easy access to iconic attractions such as the Castelo de São Jorge.
Olissippo Lapa Palace: Located in the historic district of Lapa, this five-star hotel offers luxurious guest rooms and suites, a spa, and a rooftop terrace with stunning views of the city. This hotel offers luxurious suites with private terraces, as well as a Michelin-starred restaurant.
My Story Hotel Rossio: Located in the heart of Lisbon, this hotel offers modern guest rooms and suites, a rooftop terrace with views of the city, and a restaurant serving traditional Portuguese cuisine. Great location – just a few steps away from the iconic Rossio Square.
Hotel Real Palacio: Located in the heart of Lisbon, this five-star hotel offers luxurious guest rooms and suites, an outdoor pool, and a restaurant serving traditional Portuguese cuisine. Located in a 19th-century palace, this hotel features a rooftop pool and panoramic views of the city.
Lisbon Portugal Honeymoon Cost
Once a really cheap place to go on a honeymoon, it's not dirt cheap anymore, that being said, it is a cheaper European city than say Paris or London so your honeymoon bucks will go a little further here.
Hotels: 200 – 400 € a night for a 4-5 star nice hotel in a good location;
Restaurants: Around 30 € a plate at a moderately priced establishment
In total you are probably looking at around 2000 € plus for a nice 4-5 night honeymoon in Lisbon, at a minimum.
****