Thousands of people flock each year to the breathtaking Hot Air Balloon Festivals held all over the United States. And 2022 will be bigger and better than ever.
Hot Air Balloon Festivals are an out-of-the-world experience that can't be missed if you are traveling to the States!
36 Must-Visit Hot Air Balloon Festivals in the USA
Hot Air Balloon Festivals take place in almost every state in America, except Hawaii. The reason for its absence is the severe heat in Hawaii.
Below is the list of the festivals in USA that you don't want to miss.
Albuquerque Hot Air Balloon Festival
This International Balloon Fiesta is an enormous event which takes place in New Mexico in October.
Every year about 500 to 700 hot air balloons are released into the wind.
This festival offers live music, car shows, morning and evening glows, carnival games and kid's rides.
Pilots and balloon riders get a kick out of taking part in the Dawn Petrol Show, Special Shape Balloon Events and America's Challenge Gas Balloon Race (the main attraction).
With so many interesting activities and a picturesque view, what's not to love?
Definitely put this hot balloon festival on your bucket list or better yet book a ride for the festival will be held in the Fiesta Park from the October 1 – 9 this year.
Freedom Aloft Hot Air Balloon Festival Weekend
Held in Greenville, South Carolina, this festival is rich in history.
It is held each year from 23 to 26 May.
Freedom Aloft Weekend festival sees colorful balloons hover in the sky for three days.
It also includes fun-filled activities such as the Frisbee Dog Contest, the Vintage Car Show and music concerts by the nation's top singers. They even had a spectacular kid's zone!
This balloon festival is featured alongside Memorial Day so its one not to be missed.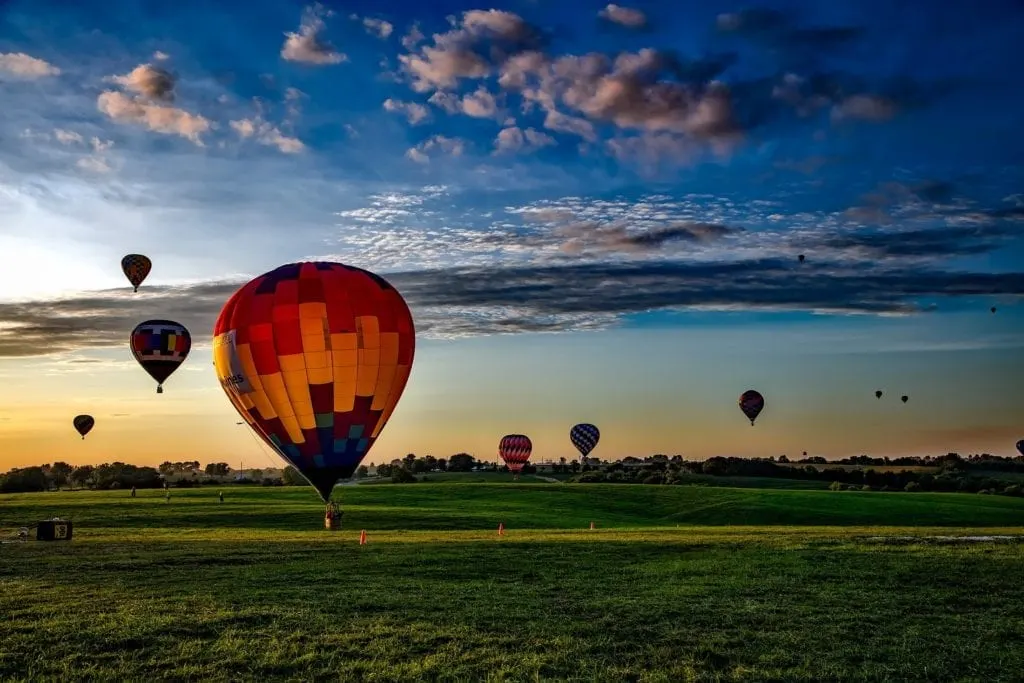 Colorado Springs Labor Day Lift Off
If you're free around in September 2022, then be sure to go see the hot air balloons in the Memorial Park in Colorado Springs.
From the heart of the rocky mountain, 70+ vibrant balloons fly into the wilderness.
Besides the balloons, you can go wakeboarding or paddle boarding in the majestic Prospect Lake – a perfect way to cool off in the heat.
You can also try your luck in the Doughnut Eating Contest or the Chainsaw Carving Competition.
Adirondack Balloon Festival
From the 22nd to the 25th of September 2022, balloons in all shapes and sizes will liven the streets of Glens Falls, Queensbury, New York.
At Crandall Park, the festival will open with the launch of about 20 balloons, live music, foods vendors and kid's activities.
The infamous Big Balloon Breakfast will be served in the Floyd Bennett Memorial Airport on Saturday and Sunday.
The art shows, kite flying, fireworks and military aircraft display are also events to look forward to.
Temecula Valley Balloon and Wine Festival
Temecula Valley is renowned for its best wines and a lovely climate for hot air ballooning. It is celebrated in Lake Skinner Recreation Area in California from June 3 – 5, 2022.
Offering morning glows, balloon tethers (perfect for first timers), wine tasting, pony rides, face painting and a commercial court with food vendors, the festival is one not to be missed!
NOTE: A tethered balloon does not fly into the wind but has a rope that tethers it to the ground but the balloon is still above ground.
Read our guide to the best California Instagram captions for the perfect way to start your story.
Southwest Iowa Hot Air Days (Hot Air Balloon Festival)
At least 60 balloons escape to the sky annually in this festival.
There is also a Balloon Parade with balloonists and marching bands, a Craft Fair and a Flea Market.
The Bathtub Race is worth getting excited about.
Moreover, there will be a Pet Show just for pets!
Tethered balloon rides, Presidential Doll Display and a book sale will be there.
Try to drop by Creston, Iowa on Friday September 18th but hurry for the festival will end on Sunday the 21st.
US Bank Great BalloonFest
The Grand Balloon Festival takes place annually on 25 – 27 April yearly in Kentucky Exposition Center, Louisville. Reserve it for 2022 for it's the best festival in all of Louisville.
The traditional Balloon Rush-Hour Race –a form of the Hare & Hound Race – hallmarks a leading balloon which drops a marker and the remaining balloons have to drop their markers as close as possible to it to win.
The Balloon Glimmer and Glow showcasing is great to watch alongside the race.
What is a Balloon Glow?
Good question! A balloon glow is when pilots give a fire boost to the balloons, lighting them up. The lit-up balloons give an unearthly glow to the night sky which is a must-see phenomenon.
Great Reno Balloon Race
The Great Reno Balloon Race is to be held in September from 9th to 11th in Rancho San Rafael Park, Reno, Nevada.
Being the biggest free ballooning festivals in the world, it has events like Dawn Petrol (you have to be up super early for this one), tethered rides and glow shows.
The Balloon Blackjack competition – so fun to watch – makes pilots steer around a field of giant playing cards.
Along with ballooning, the restaurants and other activities for families are present. Take my advice and don't let this race slip by you.
Dates: SEPTEMBER 9-11, 2022
Balloons Over Rockbridge (Lexington, VA)
On 2nd and 3rd of July, the Hot Air Balloon Rally at the Virginia Horse Center Oak Hill property, Lexington, was held just right around the corner of the Independence Day.
Tethered balloons and piloted balloon flights, live music and kid's activities were there to enjoy.
In the rally, striking balloons were seen soaring over Rockbridge County, a sight worth the trip.
The best part was the free admission rule. You just have to make room for it next July.
Dates: July 2 – 3, 2022
Sonoma County Hot Air Balloon Classic
With food and crafts booths and mystic glow shows, the Sonoma County Hot Air Balloon Classic is a spring festival.
It usually has 5-10 minutes tethered rides; if you're scared of going on a full flight for your first time in a balloon, you should try them.
Enjoy the wines, live music and delicious breakfast food at Windsor in California in the warmth of June 4th and 5th, 2022.
Dates: June 4 – 5, 2022
Stamford Downtown Parade Spectacular (Stamford, CT)
Parade Spectacular is one of the most highly rated hot air balloon festivals in the USA with over 100,000 attendees.
This year's theme is Festival Parades through the Decades so start rummaging through your closet for your costumes.
The parade also has cartoon characters (the main highlight) in the form of helium balloons, be it Kung Fu Panda or Shrek.
Try finding your favorite character in November this year in Stamford, Connecticut. It's an ideal festival for the kids.
QuickChek Balloon Festival (Readington, NJ)
This jam-packed Festival stars more than a 100 sport air balloons along with special shaped ones and refreshing music.
It's the best summertime festival in all of North America!.
It had so many exciting family entertainments, delicious food and awe-inspiring fireworks.
Centered at Solberg Airport in Readington, New Jersey each year from July 29 – 31, 2022.
Ruby Mountain Balloon Festival (Ruby Mountain, NV)
Want to fly in the scenic stage of the Ruby Mountains of Nevada?
Then pack up to explore the Ruby Mountain Balloon Festival at Spring Creek from July 29 -31.
It even has a Balloon Camp so that teens can learn more about the sportsman spirit and the science needed to make and steer hot air balloons.
What more could you want?
Dates: July 29 -31, 2022
Alabama Jubilee Hot Air Balloon Classic (Decatur, AL)
This classical festival is held on 28th to 29th of May yearly.
The festival includes events for balloonists such as the Hound & Hare task (with bean-bag markers), glow shows, public flights – tethered ones included – and fireworks.
You surely don't want to miss the Lynn Layton Key Grab Task, a type of race in which balloonists try to grab a ring from a very tall pole.
Dates: May 28-29, 2022
Teton Valley Balloon Rally (Driggs, OH)
From July 1st to 4th yearly the Teton County Fairgrounds in Driggs, Idaho takes place.
With an Independence Parade, balloon launches, public balloon rides and a fiddling contest, this festival enthrals thousands of people.
A walk-in air balloon is aerated for the enjoyment of the public and tethered rides are available.
This event is magic in its purest forms so in 2022, travel to Teton Valley to see it.
Dates: July 1 – 4, 2022
Great Texas Balloon Race (Longview, TX)
Each year the Great Texas Balloon Race takes place from 26th – 28th of July in Longview, Texas.
This festival attracts agile pilots from all over the US and the world for the official race and the Young Guns – for players under 29.
Famous bands beat their tunes all day long while visitors view arts & crafts displays.
They even have a Special Shape Spectacular with pirate balloons and Mr. Z (a zebra balloon).
Dates: 17 – 19 June 2022
Lancaster Hot Air Balloon Festival (Bird-in-Hand, PA)
This festival with colorful balloons, kids' activities and helicopter rides was a dashing sight indeed.
Inflatable games, skydivers, food and crafts made it even more special.
This one was also held in September from 16th to 18th in Bird-in-Hand, Pennsylvania.
Dates: September 16 – 18, 2022
Arkansas Hot Air Balloon State Championship
In the breathtaking Ozark Mountains, the Arkansas Air Balloon Festival will be underway from 10 – 22 April 2022.
There will be Beer and Wine Gardens, tethered balloons – which may also be used for glows shows – and a free concert.
For the children, a CASA Kids Corner will be filled with face painting, pony rides and inflatables for jumping.
You simply have to come down to downtown Harrison, Arkansas for this incredible event with a majestic landscape.
Warren County Farmers Fair & Balloon Festival
Come see vibrant balloons floating in the blue sky above the green pastures in Warren County, New Jersey.
Be quick because you can only catch the balloon launches, tethered rides and the races – Bicycle Balloon Race and Hound & Hare – from Saturday July 30 through August 6, 2022.
The list of the competitions is astounding; they may have a singing, sewing, tractor driving competition or even a prize for the best garden.
It's a great way to earn yourself some trophies.
Indiana National Balloon Classic
You can also go to the Memorial Balloon Field, Iowa, Indiana, to be a part of the National Balloon Classic.
It has a Kid Land for kids, music to liven up the atmosphere and glow shows.
From July 29th – August 6th, 2022, the doors of the park will be open with night flights, Dawn Petrol, fireworks, balloon rides, contests and bands like Pork Tornadoes.
There will be a U.S. Ballooning Hall of Fame Induction at the National Balloon Museum – so much history in one place.
Chester County Balloon Festival
The festival – from 10 – 12 September – spiced things up in Chester County with its Balloon History Display, Monster Truck Rides, Fire Truck Parade and heart-warming glow shows.
It offered a lot of family fun for the young and old alike.
Fireworks, 100+ food vendors, crafts, live bands, and a Kid Zone with Stubby the Helicopter were events to attend.
The Paragliding Show and the Franklin Institute Traveling Science Show (space travel information is given) were events to look forward to.
One for the 2022 event calendar.
The Stoweflake Hot Air Balloon Festival
This hot air balloon festival was from 5th to 7th of July and showcased radiant balloons gliding through the sky, balloon rides and glows and live music – rock n roll and folk.
People even had their facials and messages done at the Stoweflake spa while watching balloons fill the horizon.
Come to this interesting balloon festival in July of 2022. You don't want to miss it!
All Ohio Balloon Fest
In August this year the Union County Airport will be streaming with tourists attracted by the mesmerizing balloon launches, the glows and the 5K run/walk.
This regional event features more than 35 air balloon gliding in the blue sky, helicopter rides, skydivers, live music and a Kidz City, brimming with inflatables, food and drinks.
This race promises a weekend pass to the Ohio Fest to its participants.
With passionate balloonists with balloons like Master Yoda, Coco the Clown, Buzzy the Bee and Blue Checker, this festival will rock.
Poteau Balloon Fest
In October 2022 at the LeFlore County Fair Grounds in Oklahoma, the Poteau Balloon Fest will bring night glows, mud pit race, crafts booths and carnival rides. Why not ride in the wind in Oklahoma?
This Fest also hosts helicopter, carnival, pony and tethered balloon rides.
The Big Fox Run ATV/ UTV Racing, Pumpkin Mud Run, Mean Machine Monster Truck Rides, Belly Flop, Lttle Miss & Mrs. Balloon Fest Pageant and Pet Contest and Attitude Midget Wrestling are events worth the tiring trip.
If you decide to go to this festival, you might like to also check out:
Delaware Hot Air Balloon Festival (Georgetown, DE)
After being cancelled last year, save the date in September 2022 for the Sussex County, Georgetown Hot Balloon Festival will which kicks off from Delaware Coastal Airport amid the dune-baked beaches.
It will feature balloon rides, tethered balloons, tasty food and kids' activities.
Come explore the interior of the gigantic balloon in the walk-in balloon event.
It will surely be one of the best balloon festivals so book your flights now!
NOTE: This will be the first balloon festival in Sussex County since 2001.
Owl-O-Ween – Kennesaw, GA
The spooky Owl-O-Ween is usually hosted in October but 2022 dates are still to be confirmed.
Eerie but classy cosplay, night glows, the Levitation Stage and the Kids Playfield is the ideal match for families.
Design your Halloween costumes and go for an early trick or treating in this festival.
Are you scared of heights? Don't worry, the tethered balloons are low enough that you won't be scarred for life.
Read more:
51 Free things to do in Atlanta
Why you must visit the fairytale Bavarian town of Helen, GA
Snowmass Balloon Festival (Aspen, Colorado)
The Snowmass Village, Colorado is known for having the best winter ski resort but did you know it also has great summer/fall/spring events such as the Snowmass Balloon Festival.
ivid balloons against the backdrop of the Colorado Mountains is a sight worth the trip.
You can see or compete in the races, while watching balloon glows in September. Dates TBC.
Havasu Balloon Festival and Fair
This festival runs annually in January, with 2022 dates being 20th, 2022 @ 12:00pm – January 23rd, 2022 @ 3:00pm in Havasu Lake City, Arizona.
The reflection of the Arizona peaks on the Havasu lake's surface is an awe-inspiring sight indeed, especially if you're looking down from an air balloon.
Aside from hot air balloons, the fair brings you carnival rides, live music and a Classic Cars Show.
Tickets cost $20 and are good for all 4 days.
Arizona Balloon Classic
The Arizona Balloon Classic festival is held annually on January 28th to 30th 2022 in Arizona.
The festival includes Hound & Hare races, Desert Glows and the 3rd Annual Street Foodfest with food to die for.
There will be live entertainment, stunt shows, fireworks, a Kids Free Breakfast (only on Saturday) and a Family Fun Zone.
Charge up your cameras as there are plenty of photogenic moments at this amazing festival.
Up Up and Away Florida Hot Air Balloon Festival
From May 6th to 8th 2022 in Lakeland, Florida, this festival offers balloon launches from the Sun n' Fun Expo Campus.
Helicopter and tethered balloon rides, skydivers, food and crafts vendors and music (Rico Monaco Band and others) will provide never ending entertainment for visitors.
If you do visit, you must see the Car Show, Fire Truck Touch and the magical balloon glows which will transform the balloons into huge light bulbs.
Mark it on your calendar because you don't want to miss out on the fun.
Why not make a real vacation of it and spend some time in Key West or maybe Miami while you're in the Sunshine state? We've got the perfect Miami caption for your Instagram post when you visit.
Winnemucca Balloon Festival
Recheck your September calendar so that you have time to come to this stunning festival in Winnemucca Sports Complex in Winnemucca, Nevada.
The beautiful glow shows and the morning and evening balloon launches are calling you.
In September this festival will be running with delightful balloons like Citrus in the Sky, Sierra Sunrise 2, Synchronicity, Knight-n-Gale, La Jolla and Morning Glory.
They only have a handful of balloons since they are a small community but all of them are enough to brighten up the festival.
Feeling the wind on your face, the zeal of the ride and the scenery are the factors which have made balloon rides so popular over the years.
Balloon Fest, (Centralia, IL)
This 3 day event in late August 2022 is held at the Centralia Foundation Park in Centralia.
Aside from hot air balloons the event is known for showcasing handicrafts and games.
40 Hot Air Balloons will be on display as well as a main entertainment stage, kids activities and fireworks.
Date: Late August 2022
Kiwanis Hot Air Balloon Fest, Bloomington Indiana
This hot air balloon festival is a particularly cool one as it includes balloon launches every morning and evening of the festival.
One of the best parts of this festival is The Night Glow. During this event, balloons are lit up from the ground for all to see. A very cool part of the festival.
This festival is held at Monroe County Fairgrounds in Indiana and runs from Friday, September 8 – Sunday, September 10, 2022.
Balloon Fiesta, Las Vegas
If you are not 'balloon-ed out' in October, head to the Balloon Fiesta in no other than Las Vegas.
The Balloon Fiesta is held on the Nevada Day weekend.
At this festival, hot air balloons glow each evening. People can purchase tethered rides from $20 per person.
This event also offers great packages for couples with romantic rides over the neon Las Vegas Skyline available.
Make sure to caption your romantic balloon ride with the perfect Sin City caption!
2021 Date: THU OCT 07 2021 AT 06:00 AM TO SAT OCT 09 2021 AT 09:00 AM UTC-07:00
Clovis Fest And Hot Air Balloon Fun Fly
October is proving the month for hot air balloon rides with Clovis Fest and Hot Air Balloon Fun Fly on the 25th – 26th September.
Operating since 1974, the festival prides itself on being a family fun festival with a chance to get up close and personal with the 'giant orbs'.
The event offers a lot of family fun entertainment including multicultural performances and storytelling.
Opening ceremony starts at 9 am sharp on Saturday 25th.
Charleston Hot Air Balloon Festival & Polo Match
Interestingly, this is the only hot air balloon festival in Charleston. It's held this year on 26 November 2021.
This festival is in its 16th year of operation and is one of the Charleston favourites.
There are evening Hot Air Balloon Glow and Tethered Rides and an opening hot air balloon launch from the a polo field.
So there you have it folks, our favourite 36 hot air balloon festivals in the USA.
For a complete list of Hot Air Balloon festivals in the USA by date, see below.
Planning a trip to Charleston? Start here:
Romantic things to do for couples in Charleston
The Ultimate DIY Walking Charleston Walking Tour
Complete list of Hot Air Balloon Festivals in the USA
Maryland Preakness Balloon Festival – May 10 – 12
Great Falls Balloon Festival in Lewiston, Maine – Aug 16 – 18
Gulf Coast Hot Air Balloon Festival in Foley, Alabama – May 3
Hot Air Balloon Craft and Music Festival in Quechee, Vermont – June 14 – 16
Balloon Festival in Sandy City, Utah – August 9 – 10
America's Freedom Festival in Provo, Utah – July 4 – 6
Angola Balloons Aloft in Angola, Indiana – July 12 – 13
Annual Poorly Attended New Year's Day Rally and Hangar Party in Tracy, California – January 1st
Ashland BalloonFest in Ashland, Ohio – June 27 – 29
Jamesville Balloon Fest in New York – June 28 to 30
Balloon & Cinco de Mayo Festival in Roswell, New Mexico – May 3 – 5
Balloons over Bend in Oregon – July 26 – 28
Balloons Over Horseshoe Bay Resort in Texas – April 19 – 21
New York State Festival of Balloons in Dansville – August 29 – September 1
Spiedie Fest and Balloon Rally in Binghamton in New York – August 2 – 4
Balloons Over Vermilion in Danville, Illinois – July 12 – 13
Blueberry BalloonFest in Plymouth, Indiana – Aug 30 – September 2
Burger Fest Hot Air Balloon Rally in Seymour, Wisconsin – August 9 and 10
Casper Balloon Roundup in Wyoming – July 19 – 21
Cherry Blossom Festival Macon in Georgia – March 22 – 31
Chesapeake Bay Balloon and Wine Festival in Cordova – August 2 – 4
Chicken-Fried Steak Festival and Balloon Rally Lamesa, Texas – April 26 through 28
Winnemucca Balloons Hot Air Balloon Festival in Nevada – May 17 – 19
Cambridge Valley Balloon Festival in New York – June 7 – 9
Empire State Hot Air Balloon Festival in Poughquag, New York – June 21 – 23
Saratoga Balloon and BBQ Festival in Ballston Spa, New York – June 21st to 23rd.
Wausau Balloon and Rib Fest in Wisconsin – July 11 – 14
Thunder on Water in Grenada, Mississippi – June 12 – 16
The Great American Duck Race in Deming, New Mexico – Aug 22 to 25
Spirit of Boise Balloon Classic in Boise, Idaho – Aug 28 – September 1
Letchworth Red, White & Blue Balloon Rally in Castile, New York– May 24 – 27.
Great Wellsville Balloon Rally in New York– July 19 – 21.
Hudson Valley Balloon Festival in Rhinebeck, New York – July 12 – 14.
US Balloon Festivals on a Map
Looking for a Balloon Festival near you? Use this map to search for Hot Air Balloon festivals in your state and town.

Save this Hot Air Balloon Festivals Guide to Pinterest (so you can find it again later)