Looking for Hotels in Gatlinburg TN with Hot Tub for a romantic vacation?
If you're thinking about taking a trip to Gatlinburg Tennessee, there are so many awesome hotels and motels for you to choose from. But it can be difficult to locate one with a jacuzzi, whirlpool or hot tub in room for that extra special treat.
That's where we come in! In this guide you will find Gatlinburg hotels with jacuzzi , hot tub or whirlpools in room. We have even hunted some out with a jacuzzi and fireplace in room and some with indoor pools and hot tubs.
If you are traveling to Gatlinburg and Pigeon forge, you might also like to check out our Gatlinburg and Pigeon forge Itinerary to help plan your stay.
17 New Gatlinburg Hotels with Hot Tubs
This hotel is located right on the river and you can even get a room with a balcony overlooking it.
Take advantage of continental breakfast every morning, a glass of wine and cheese every afternoon, and freshly baked cookies with ice cold milk every night, all complimentary.
The hotel's location is within walking distance of all the fun of shopping, restaurants, and all the other great attractions Gatlinburg is known for.
All rooms are furnished with a TV, coffee maker, microwave, mini-fridge, and most rooms have gas fireplaces and romantic in-room whirlpool tubs for you and your sweetheart to enjoy during your stay in Gatlinburg.
Take a dip in the indoor swimming pool with waterfall or check out the outdoor swimming pool while enjoying the beautiful view surrounding the hotel. One of the best Gatlinburg hotels with hot tub!
River Edge Inn, located in downtown Gatlinburg, is centrally located to all the fun and attractions you will want to check out while in town, there is something here for everyone to enjoy.
Enjoy breathtaking views of the Smoky Mountains National Park while cooling off in the seasonal outdoor swimming pool or relax in your room with one of the many Jacuzzi, balcony, or fireplace rooms. All rooms have a mini-fridge, a microwave, coffee maker, and Bath & Body Works amenities with some of the most comfortable beds you will ever sleep on.
Enjoy a complimentary breakfast each morning or start your day off with the right fuel to help you explore the Smokies.
The River Edge Inn also offers free WiFi, as well as free parking for anyone staying on property during their trip to Gatlinburg. Stay two nights or more and you can even get a free ticket to check out Anakeesta, one of Gatlinburg's most popular attractions!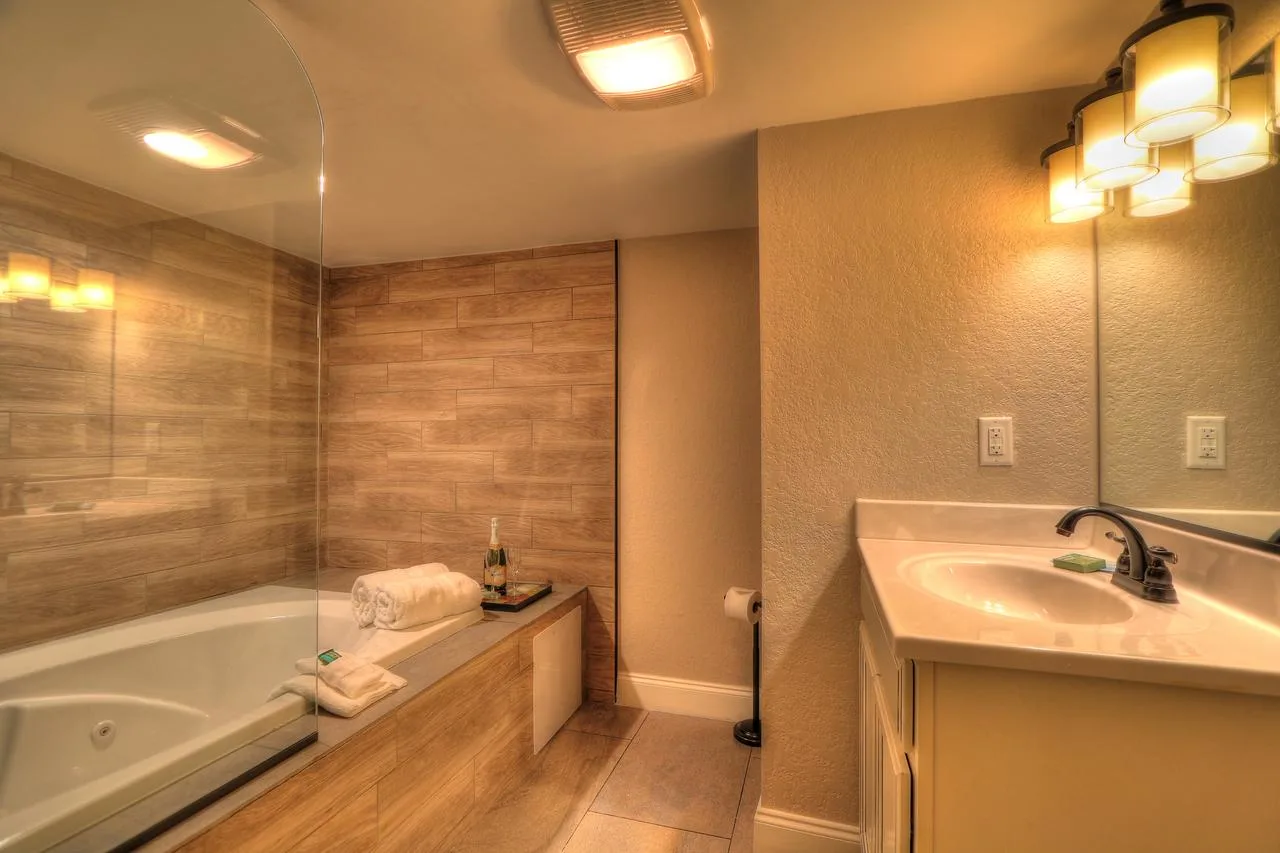 Located just one mile from the entrance to the Great Smoky Mountains National Park, as well as within walking distance of the main shopping, dining, and attractions of Gatlinburg is the Crossroads Inn and Suites.
In your room you will find the softest beds with plush pillows, free WiFi, TV, a coffee maker, mini-fridge, microwave, and if you decide to upgrade you can even get a room with a Jacuzzi and/or a fireplace for your stay. A top pick for those looking for Gatlinburg hotels with jacuzzi in room.
Cool off in the pool, check out the fitness room, and make sure to grab your complimentary breakfast each morning before setting out to explore the town.
With its location being so close to the National Park, you will get a breathtaking view no matter what room you book. Being so close will also entice you to plan your very own hike in the mountains whether you are a beginner or expert hiker, there is a trail for every skill level, in every season.
See more: Romantic Mountain Getaways in the USA and beyond!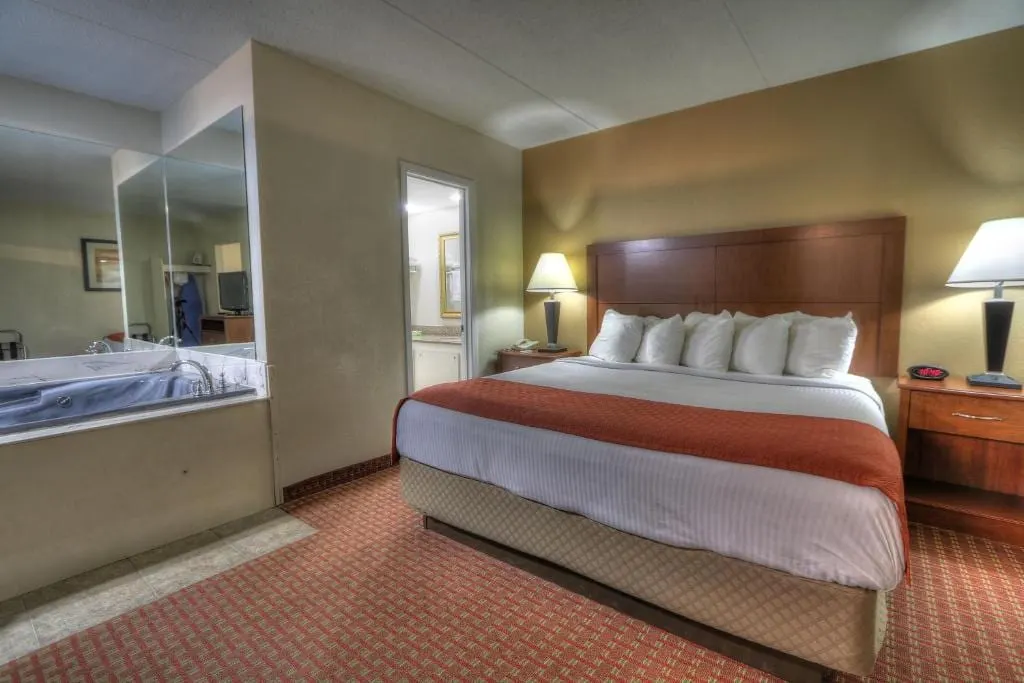 If you're looking for luxury during your stay, look no further than Westgate Resort and Spa. Enjoy many amenities on property including an indoor water park, spa, zipline, mini golf, and onsite food and drinks.
Located just minutes from the Great Smoky Mountains National Park, as well as being only minutes away from Dollywood, this resort's location is ideal for anyone wanting to enjoy both Gatlinburg and Pigeon Forge as it is ideally located between both.
Besides the indoor water park, there are also two outdoor pools and hot tubs to relax in. Get a massage at the spa or get your nails done before heading out to one of the many nearby restaurants you might want to check out while in town.
Rooms are equipped with kitchenette's so you can even cook yourself a midnight snack if you want. Stay in a Deluxe Bedroom and take advantage of the in room jetted tub to relax after exploring the town.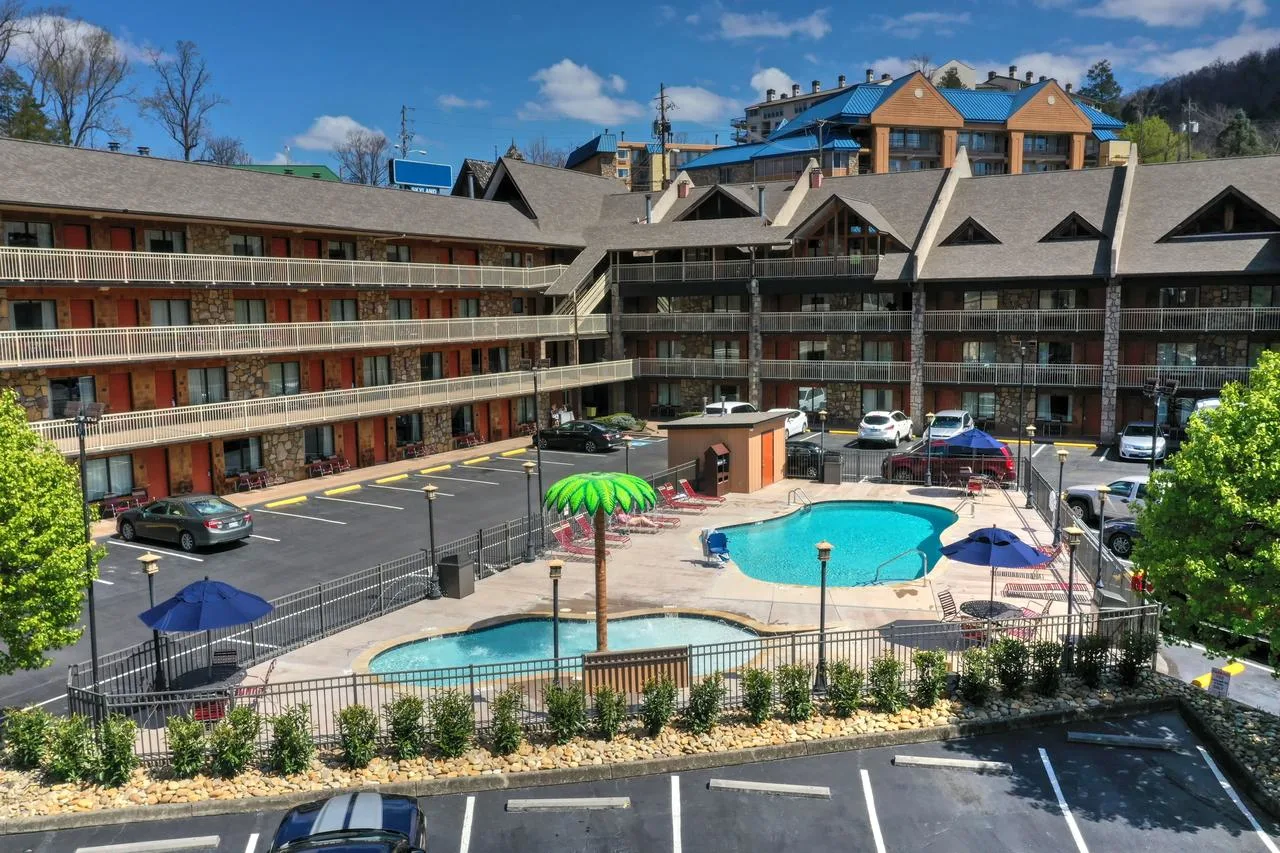 Baskins Creek Condos by Wyndham, with over 62 condos to choose from, is one of the most popular places to stay when traveling to Gatlinburg.
Between its great location on the Parkway in downtown Gatlinburg, only minutes away from Ripley's Aquarium of the Smokies, and its luxury amenities, you will be glad you booked a condo with Baskins Creek.
Each condo features a spacious private balcony, where you can view the rippling stream while drinking your morning coffee or sipping a glass of wine in the evening to wind down after a long day of exploring the city with your sweetheart.
The condos also feature gas fireplaces, fully equipped kitchens, washer/dryer, and a jetted tub in the master suite. There are also resort-like amenities including an outdoor pool, hot tub, fitness center, and more.
Go hiking in the park and know you will be able to relax with ease in your condo when you return to it for the night.
Book a stay at the Quality Inn and Suites Gatlinburg and enjoy a free complimentary hot breakfast every morning and free WiFi as well.
Take a dip in the outdoor seasonal pool or swing by the laundry facility so you don't have to wash clothes when you get back home, everyone's least favorite thing to do after a vacation.
Room amenities vary but include in room whirlpools, fireplaces, balconies, TV, hair dryers, wet bars, coffee makers, and more. Beds are equipped with premium mattresses and linens, as well as fluffy pillows and a plush blanket to help you get a great night's sleep.
Staying at the Quality Inn and Suites Gatlinburg, you will be located just minutes from the Gatlinburg Mountain Coaster, a must-see attraction for any coaster lovers. You are also located nearby to the Great Smoky Mountain National Park, Ober Gatlinburg, Gatlinburg Sky Lift, and Dollywood's Splash Country so you never have to stray far to have fun.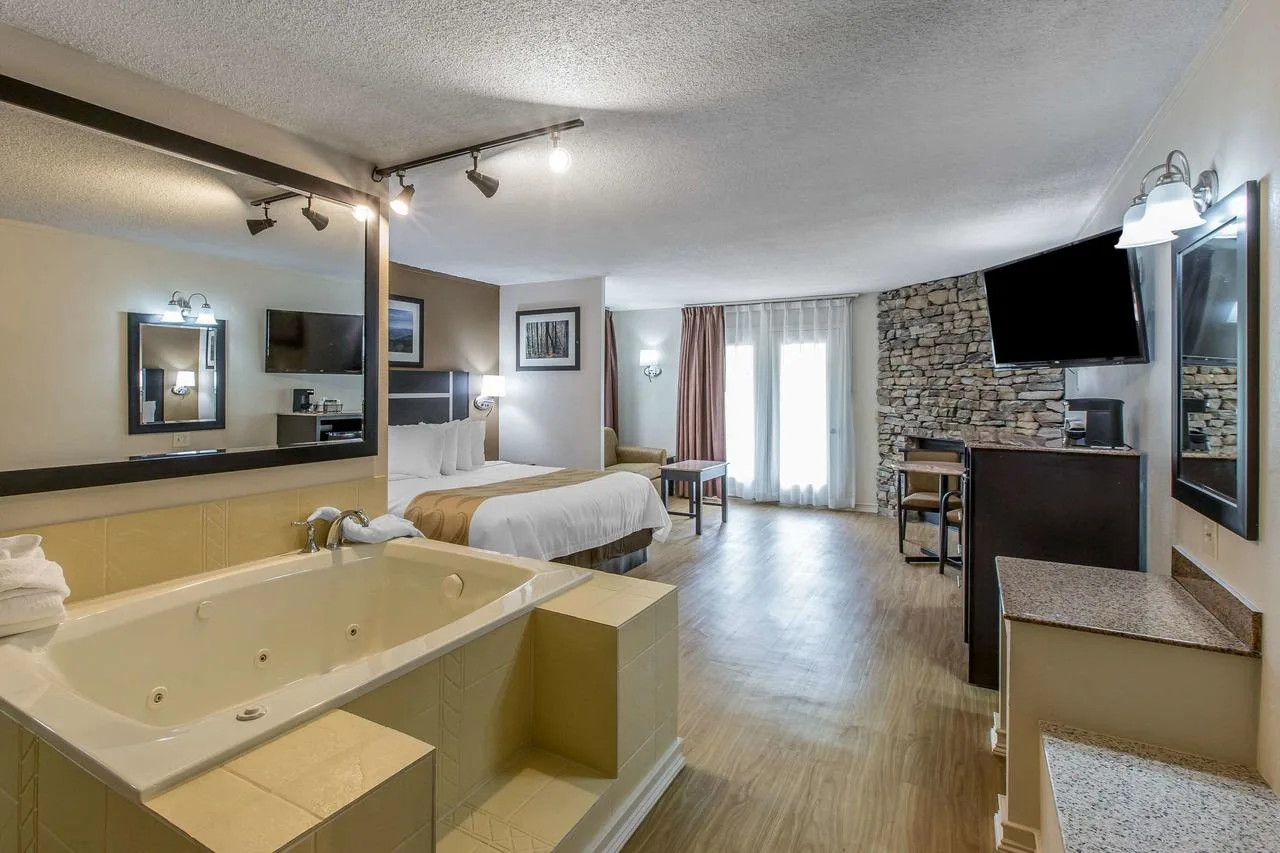 Sleep Inn and Suites, located in downtown Gatlinburg, is centrally located to all the fun Gatlinburg has to offer. If you are looking for hotels in gatlinburg tn with hot tubs, this is a good choice.
From a free continental breakfast each morning to a heated indoor pool complete with a lazy river and hot tub, this hotel has amenities for everyone. Check out the fitness center or grab a free weekday newspaper to read up on the events of the day.
Rooms are equipped with hot tubs, balconies, microwave, fridge, fireplaces and more. Book your stay here and explore all that Gatlinburg has to offer, all while knowing you get to come back at night to premium bedding to relax on while watching TV and just spending time with your loved one.
Located directly in front of a trolley stop, park at the hotel and walk or ride the trolley to any of the attractions you're wanting to visit while you're in town, including the Titanic Museum or the Ole Smoky Tennessee Moonshine Distillery for drinks.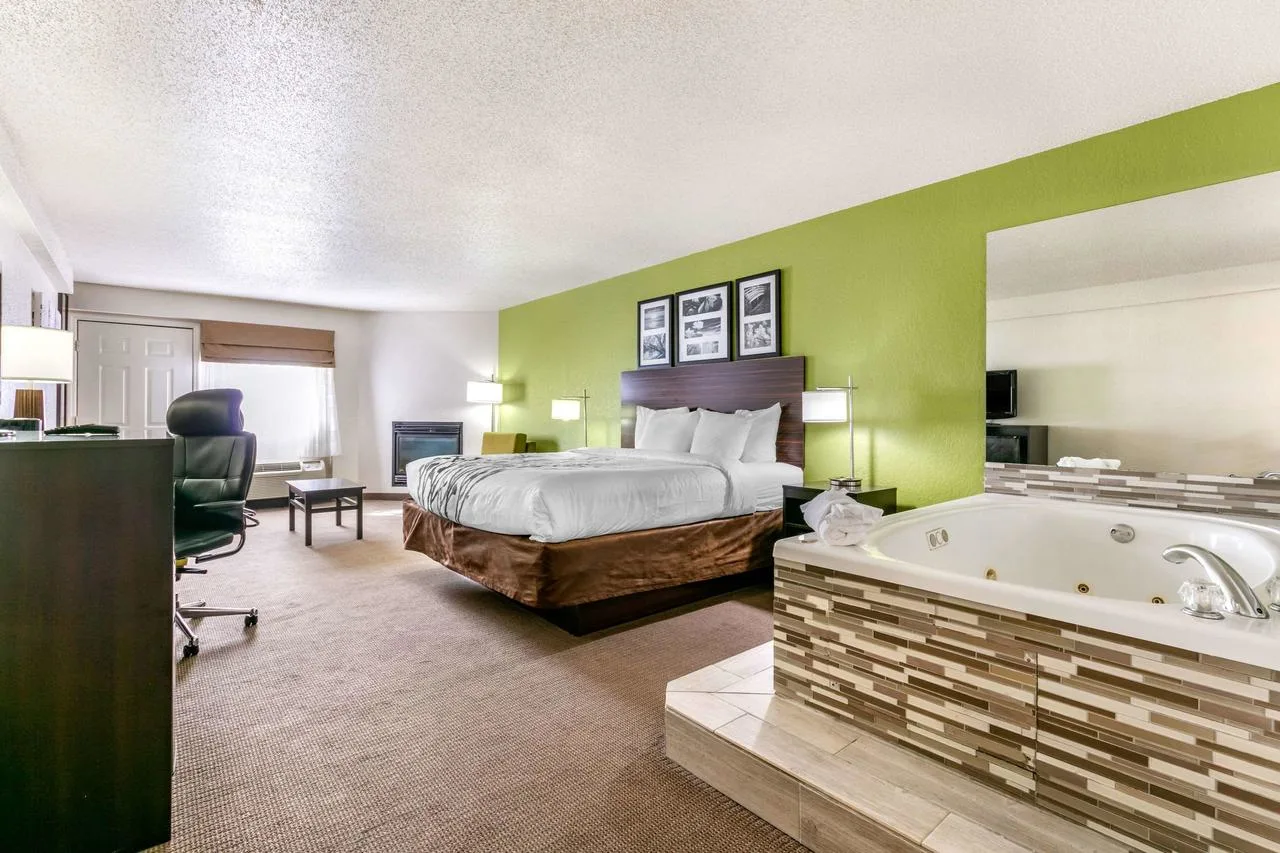 Book a stay at the Hilton Garden Inn Gatlinburg and take advantage of the comfort of their many amenities. Located a half mile from the Great Smoky Mountains National Park and the Gatlinburg Trailhead, this is a great location for those wanting to explore Gatlinburg as well as the Smoky Mountains during their visit.
Some hotel amenities include free parking (a hard thing in itself to find in Gatlinburg), on site restaurant, a chemical free indoor salt water pool, and a fire pit area overlooking Pigeon River, among other things.
Book a room with a fireplace or jetted tub and enjoy the luxury of relaxation after you're done exploring the area during the day. Each morning start your day off with a cooked-to-order breakfast and be sure to check out the pantry area to stock up on snacks before taking off for a hike in the Smokies.
Everything you need, all in one place at the Hilton Garden Inn Gatlinburg.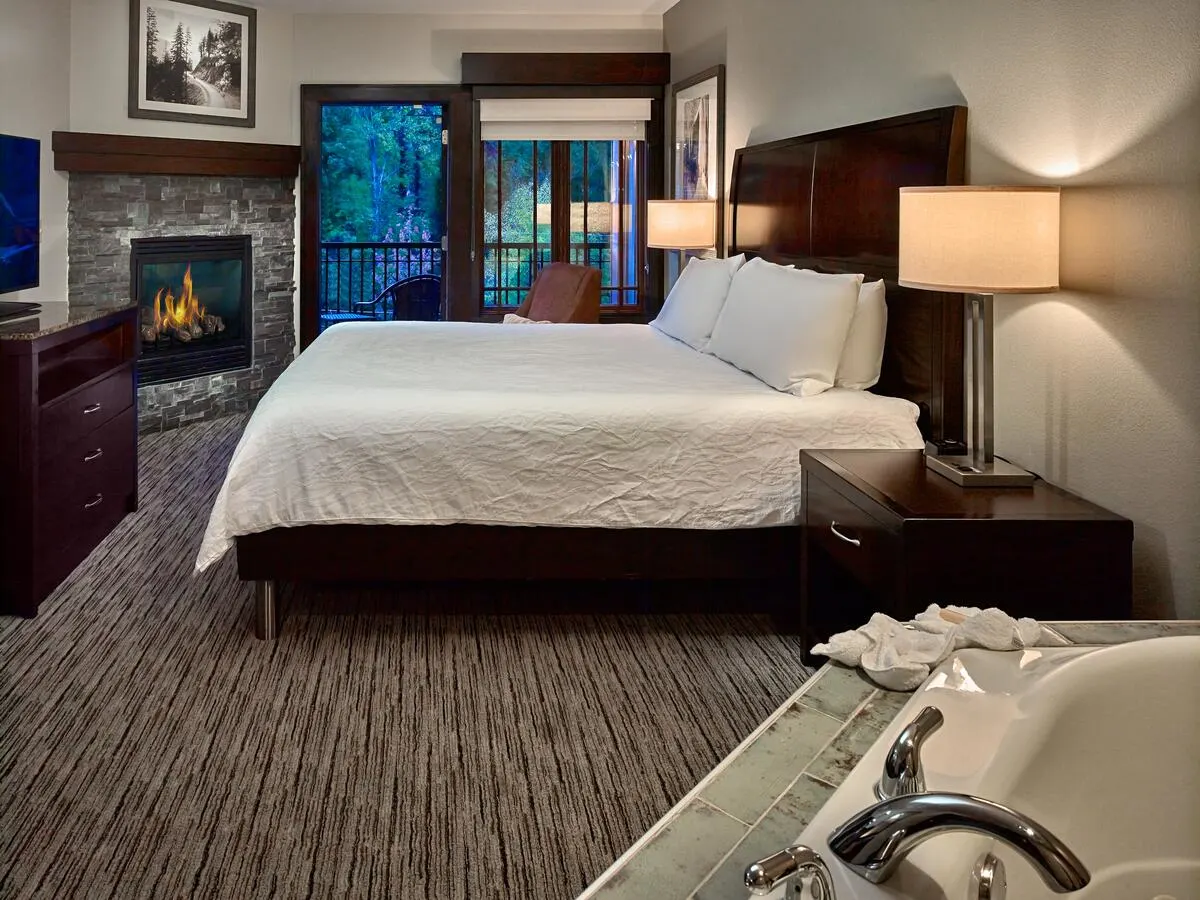 Pigeon Forge Jacuzzi Suites
If you'd rather stay on the Pigeon Forge side of things, there are many great places to stay here as well! Check out the Hampton Inn Pigeon Forge, located just minutes from the central area of Pigeon Forge.
It is merely one mile away from The Island, one of Pigeon Forge's main attractions and boasts amenities such as both indoor, outdoor, and activity pools as well as a hot tub and public back porch area to hang out and enjoy the views while people watching.
Grab free breakfast each morning, enjoy free WiFi, or run by the fitness center to work off some of that mouthwatering food you will be tasting.
Book one of the rooms with a fireplace and sit back and relax with your loved one after a long day of adventure or check out the jacuzzi suites. Rooms include fresh, clean Hampton beds with linens that are sure to make you want to say 'five more minutes'.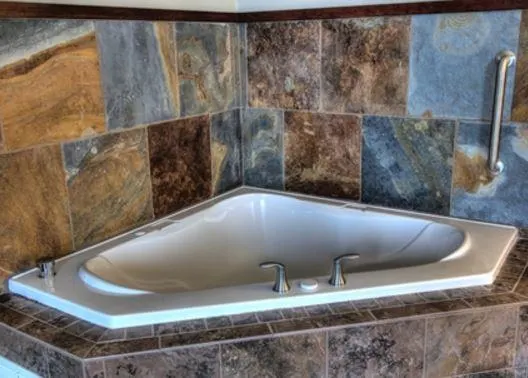 SpringHill Suites Pigeon Forge is another must book hotel to check out during your visit to the Smoky Mountains.
Surrounded by breathtaking views and more attractions than you can pack into one trip, you will be sure to have a great time. Visit Dollywood and try to ride all the rollercoasters, see all the shows, and enjoy some of the most mouthwatering funnel cakes in the whole state.
Check out the LeConte Center and see what might be going on, Pigeon Forge is host to many car shows all year round and the LeConte Center is the host for most of them!
In your room enjoy plush bed, clean linens, fluffy pillows, and luxurious comforters, sure to make you feel like you're at home. Book a Studio room and spend every night, or your whole trip if you'd like, relaxing in the in room whirlpool tub alone or with your sweetheart. Either way, you really can't lose with this hotel.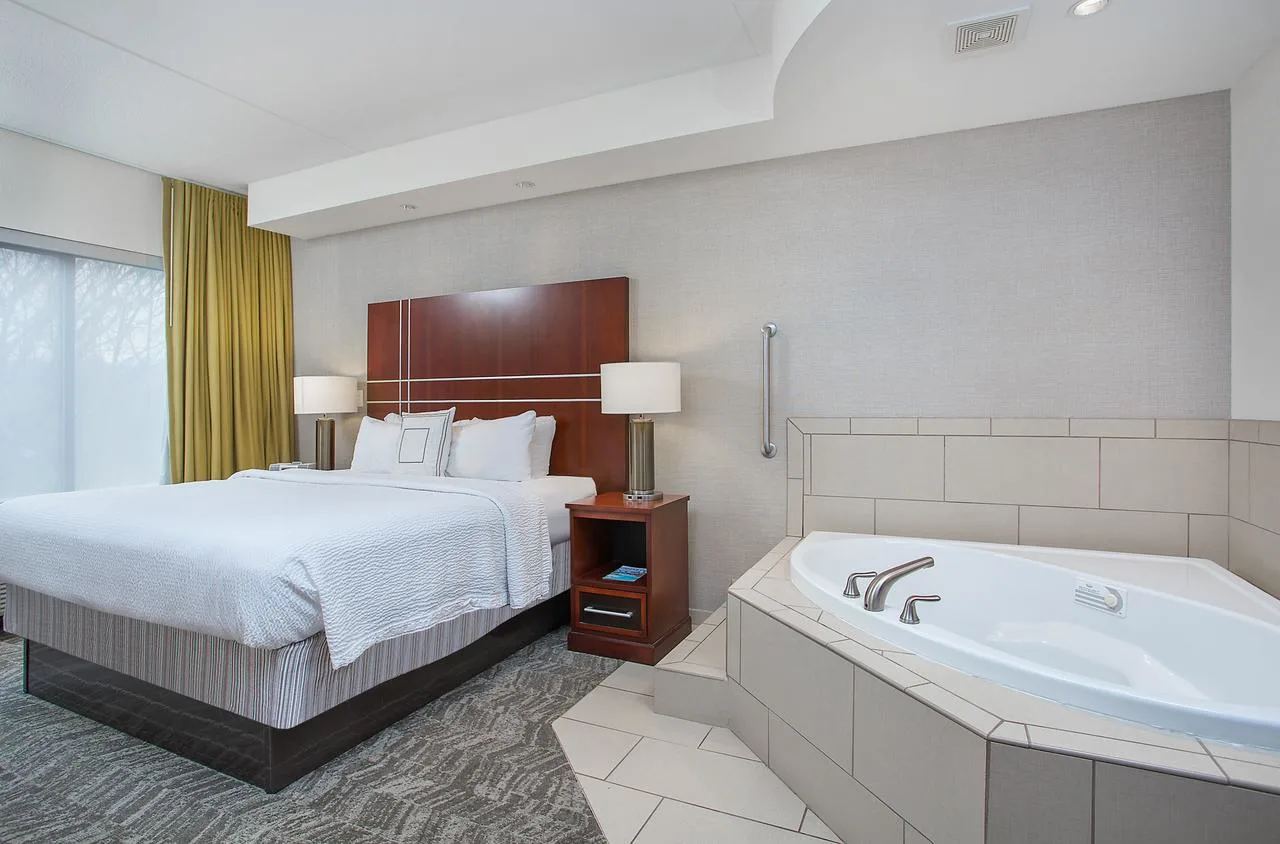 Just minutes from Dixie Stampede lies the Best Western Plaza Inn, a hotel well known for its comfort and hospitality. Stay here and travel anywhere in Pigeon Forge or Gatlinburg you'd like to see or spend some time in the Great Smoky Mountain National Park and see what wildlife you are able to encounter.
With three pools on property, two outdoor and one indoor, there will always be a spot for you to take a dip if you want, or you can hit up the river and go tubing! Grab breakfast every morning for free before starting your day and get the fuel you need to explore the area.
Book a room with a whirlpool tub or an electric fireplace and cozy up together for a weekend of fun together with never a dull moment.
Go for a horseback ride at Five Oaks Riding Stables or head over to The Track for some go kart racing, arcade games, and more.
If you are looking for a unique experience during your stay, look no further than the Music Road Resort Hotel!
Located within walking distance of the busiest areas of Pigeon Forge, you can park here and walk or ride the trolley to anywhere you're wanting to do so you don't have to fight with traffic yourself.
On property you will find access to two outdoor water parks complete with 60-foot water slides, lazy rivers, and a kiddie pool, as well as both indoor and outdoor pools with hot tubs, game rooms, and rooms with scenic views of both the Little Pigeon River and the Smoky Mountains from your private balcony.
Sit in the lobby and enjoy the fireplace with a cup of coffee or book a room with a whirlpool tub or fireplace and hide away from the world for your stay in Pigeon Forge simply enjoying the comfort and Southern hospitality the Music Road Resort Hotel has to offer.
Great Smokey Mountains Hot Tubs (inc. an outdoor view)
Wanting to explore Pigeon Forge, Gatlinburg, and the Great Smoky Mountains but would rather stay a little further away?
Check out Sevierville, Dolly Parton's hometown! Stay at the Hampton Inn Sevierville and wake up every morning to free hot breakfast including waffles! By staying in Sevierville, you are located close to all the fun and action, but far enough away you can enjoy some peace and quiet as well.
Take a dip in the indoor pool or check out the fitness center to keep in shape. Book a room with a whirlpool tub and soak all your worries away while enjoying the comfort of the stylishly decorated rooms and the company of your loved one.
Being in Sevierville, you will be surrounded by many new restaurants to try out, and every single one of them is worth the trip. There is so much to do in this area there is no way you can do it all in one trip.
Bent Creek Golf Village is fun for everyone, not just golf lovers! Nestled in the foothills of the Great Smoky Mountains, you are central to all the fun.
Relax by the pool with a nice, cool drink in your hand and soak up the sun on a nice warm day while reading a book to take all your cares away and enjoy your stay.
Take a trip to the park and hike one of the many trails available and enjoy the sounds and sights of nature, you might even see a bear! Or hang out in your room, equipped with everything you need to make your stay feel like home including a full kitchen, fireplace, breakfast bar, screened-in porch, tv, washer/dryer, and a whirlpool tub.
Some other on-site activities you can enjoy include basketball, golf, volleyball, BBQ areas, game room, pool tables, and more. Whether you're looking to explore or simply relax, there is something for everyone to do here.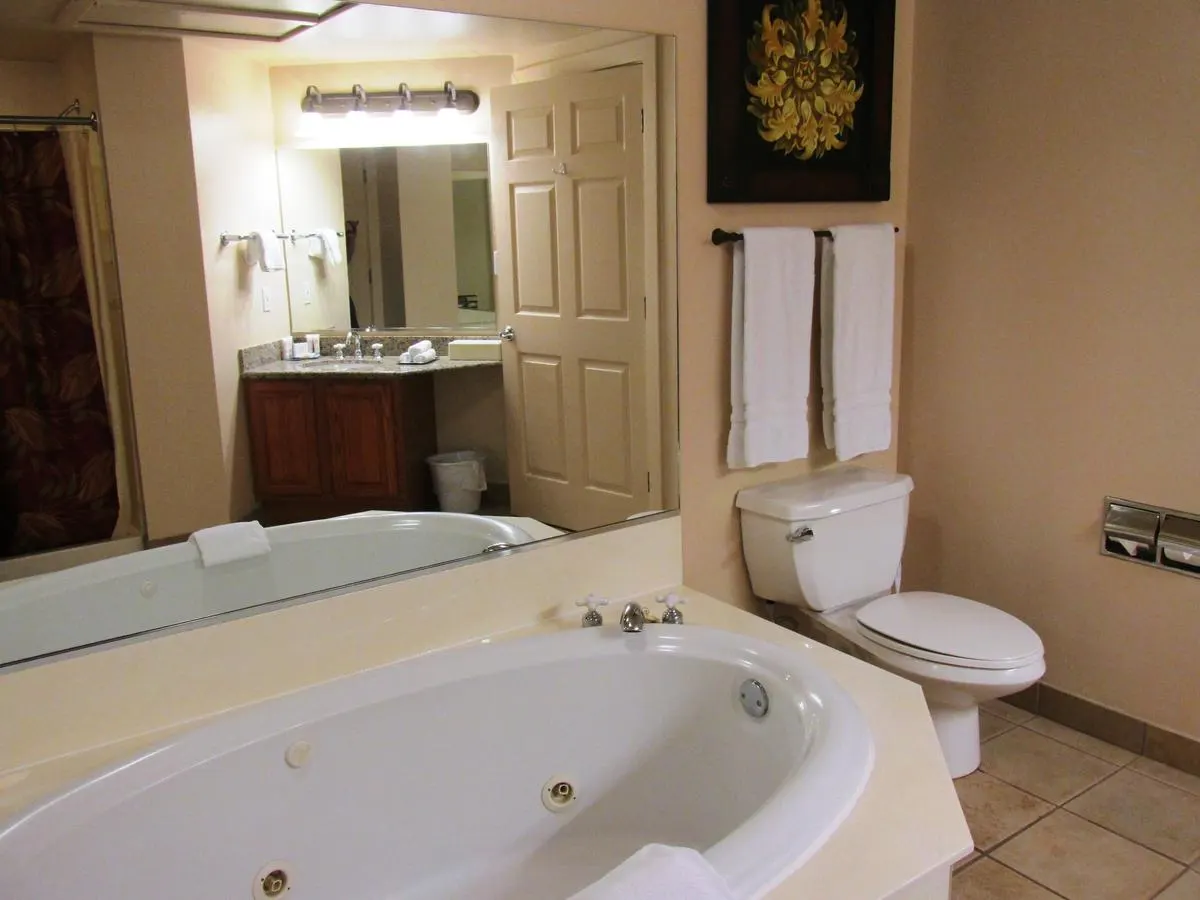 Hotels in Gatlinburg TN with Jacuzzi and Fireplace
Located in downtown Gatlinburg is the Old Creek Lodge, complete with rustic charm décor.
Enjoy amenities such as in room Jacuzzi tubs, fireplaces, refrigerators, free continental breakfast, free WiFi, free parking, private balconies overlooking the mountain stream, and an outdoor heated pool to keep you entertained for your entire stay whether you want to go off exploring or just hang out around the hotel.
With its great location, you can park your car when you check in and never have to drive for the rest of your stay. Whether you want to take the trolley or walk around, you have easy access to everything Gatlinburg has to offer.
Make sure you ask about all the different ticket packages available through the hotel, by booking your stay here and get discounts for many of the area's popular attractions. Gatlinburg has everything from miniature golf to multiple Ripley's attractions, as well as different museums that are fun for the whole family to visit.
Book your stay at the Edgewater Hotel and Conference Center and you will be smack dab in the middle of the action in Gatlinburg.
By booking your stay here, you will enjoy the southern hospitality the resort property has to offer as well as many fun amenities and discounts for area attractions. Go trout fishing in the resort's front yard, check out the 800+ miles of hiking trails located just minutes away, or spend your day walking through the city and shop to your heart's content before stopping by Blake Shelton's Red's for dinner before heading back to the resort for the night.
Some of the resort amenities include a fully heated indoor-outdoor pool, complimentary breakfast, poolside hot tubs, fitness center, and much more.
In your rooms, you will find private balconies, fireplaces, Jacuzzis, a mini fridge, among other comforting amenities. Staying at the Edgewater Hotel and Conference Center, you will feel like you are at home while you're here.
If you are looking for cabins in gatlinburg tn with hot tub – this is a great choice.
Sidney James Mountain Lodge, located in the heart of Gatlinburg, is settled right on a breathtaking mountain stream within walking distance of both downtown Gatlinburg and The Great Smoky Mountains National Park.
Enjoy a day of shopping and sightseeing, then head back to the hotel to relax in your room with its fireplace and whirlpool tub, perfect for a nice soak after a long day.
Check out the indoor and outdoor pools on property and take a dip to cool off and get some exercise in. If you're hungry, check out the poolside café and grab some quick food to keep you going for breakfast or lunch instead of waiting in long restaurant lines.
At Sidney James Mountain Lodge, on top of the hotel rooms available, there are also cabins available to rent for your stay. By booking a cabin, you get to enjoy all the same amenities as you would if you were staying in the hotel as well.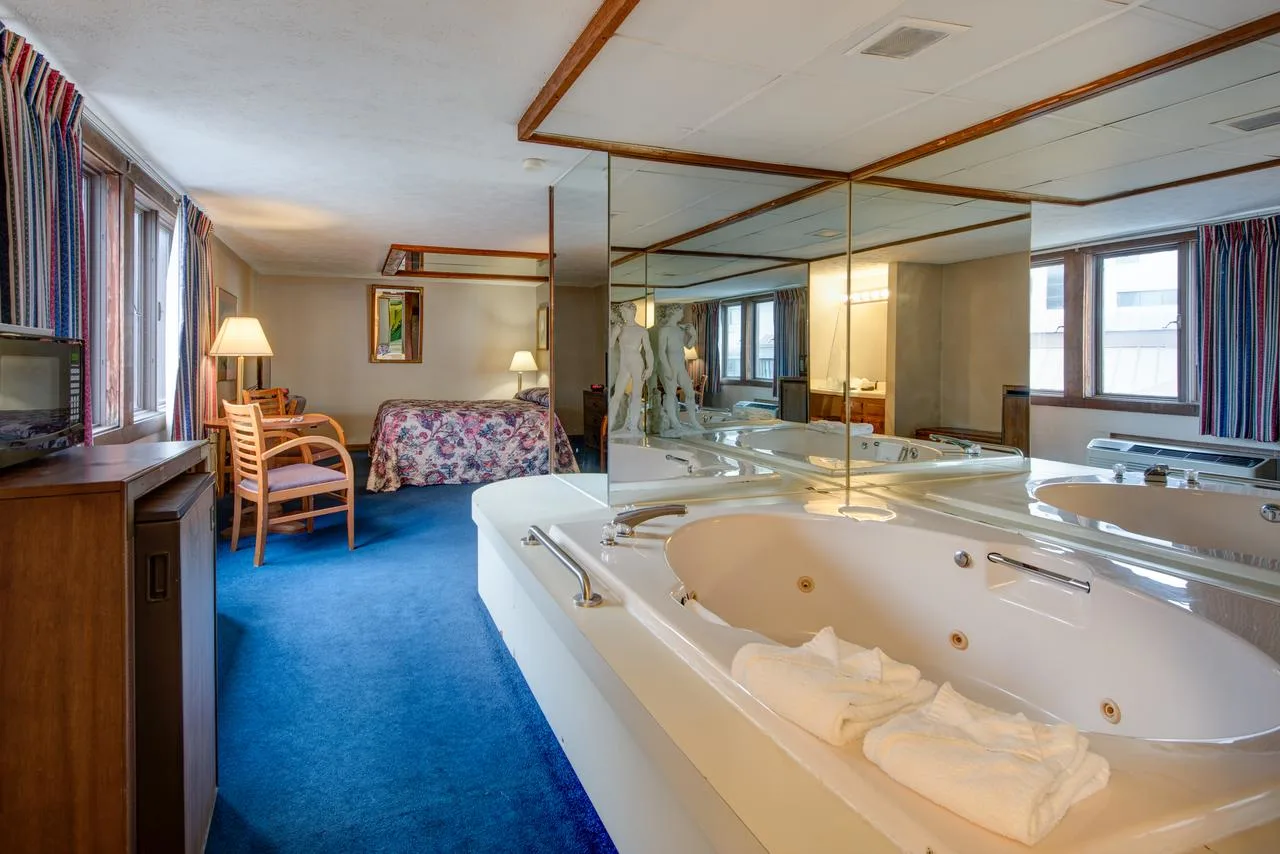 If you're looking for a little slice of paradise for your stay, be sure to book your stay at the Margaritaville Resort Gatlinburg!
There is so much to do at this resort that you might not even leave to explore Gatlinburg while you are here.
Try out the coffee at Joe Merchant's Coffee and Provisions, grab a frozen drink (alcoholic or not) at the License to Chill Bar, or head over to the LandShark Bar and Grill to try their beer and beach food, all designed to give you the feel of being at the beach while you are staying in the mountains.
Get yourself a massage at the St. Somewhere Spa or take a dip in the pool to cool off on a hot summer day. After a long day, head up to your room and enjoy the many amenities including a fireplace, whirlpool tub, private balconies, walk-in rain showers, fridge, microwave, in-room safe, free WiFi, and much more.
One of the best hotels in gatlinburg tn with a jacuzzi and a fireplace!
**
More Hot Tub Getaways?
If you are already planning your next romantic getaway, here are some more great romantic hotels from all across the USA: