Looking for hotels with hot tubs in room in Michigan? Here you will find the best romantic jacuzzi suites in Michigan!
If you are looking for a super romantic getaway, there is nothing better than staying in a room with a whirlpool, jacuzzi or hot tub to soak in after a long day exploring!
If you're looking to travel to Detroit, be sure to check out Trumbull & Porter Hotel. Located in the Corktown neighborhood, the hotel is newly refurbished and ready for your stay!
Hang out at the outdoor courtyard and enjoy the sights and sounds of the neighborhood and make sure to stop by the Red Dunn Kitchen for a bite to eat any time, day or night.
Book the Rolling Stones Suite and stay in the room the band did in 1964! Or book a Whirlpool Suite and relax in the tub – so romantic!
One of the very best hotels with jacuzzi in room near Detroit.
See more: Detroit date ideas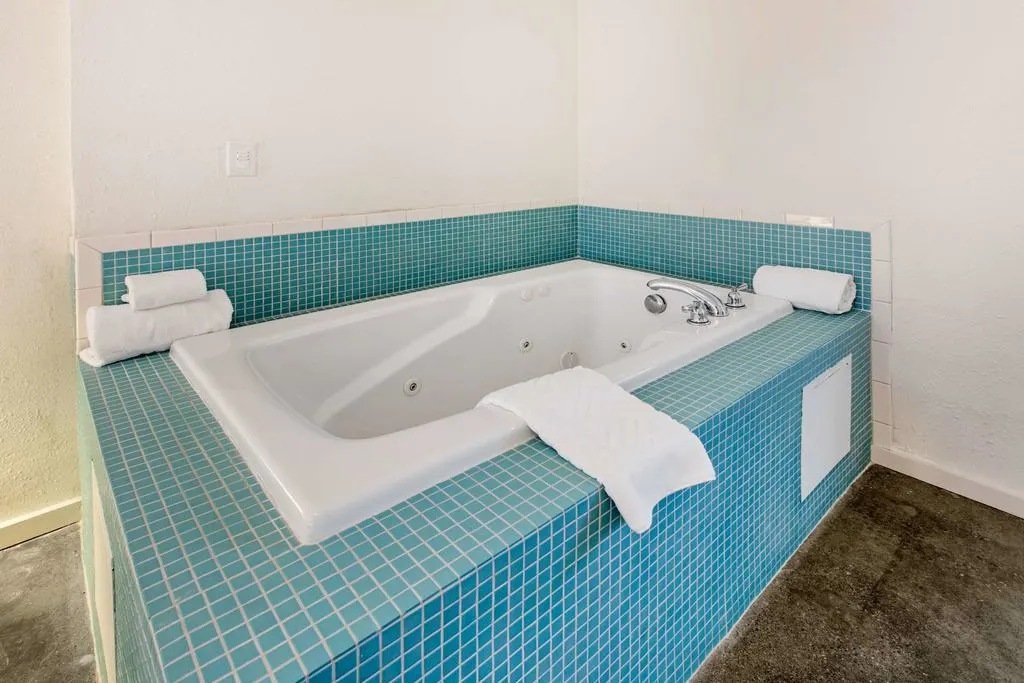 The Atheneum Suite Hotel, located in the heart of Greektown, boasts an atmosphere rich in Greek mythology and history. While here, check out the Pegasus Taverna for authentic Greek cuisine which has been being served for almost 40 years.
Book one of the hotel's suites and enjoy the added perk of having a whirlpool tub right in the room, perfect to soak in after a long day of walking around the city. Also enjoy other amenities at the hotel, such as a 24-hour fitness center, barber shop, valet parking, and same-day laundry and dry cleaning.
A fabulous hotel with jacuzzi in room in Detroit Michigan.
Located near the General Motors Technical Center, Chrysler, US Army TACOM, and General Dynamics is the Holiday Inn Express Detroit – Warren.
This location also places the hotel near Motor City, which means it is an ideal location for those wanting to visit the Detroit Zoo, Comerica Park, or the Henry Ford Museum.
Another great perk to staying in this hotel is the rooms! Furnished with black-out shades, coffee maker, triple-sheeted beds, and a whirlpool or spa bathtub – there is everything you need at this hotel to make your trip memorable.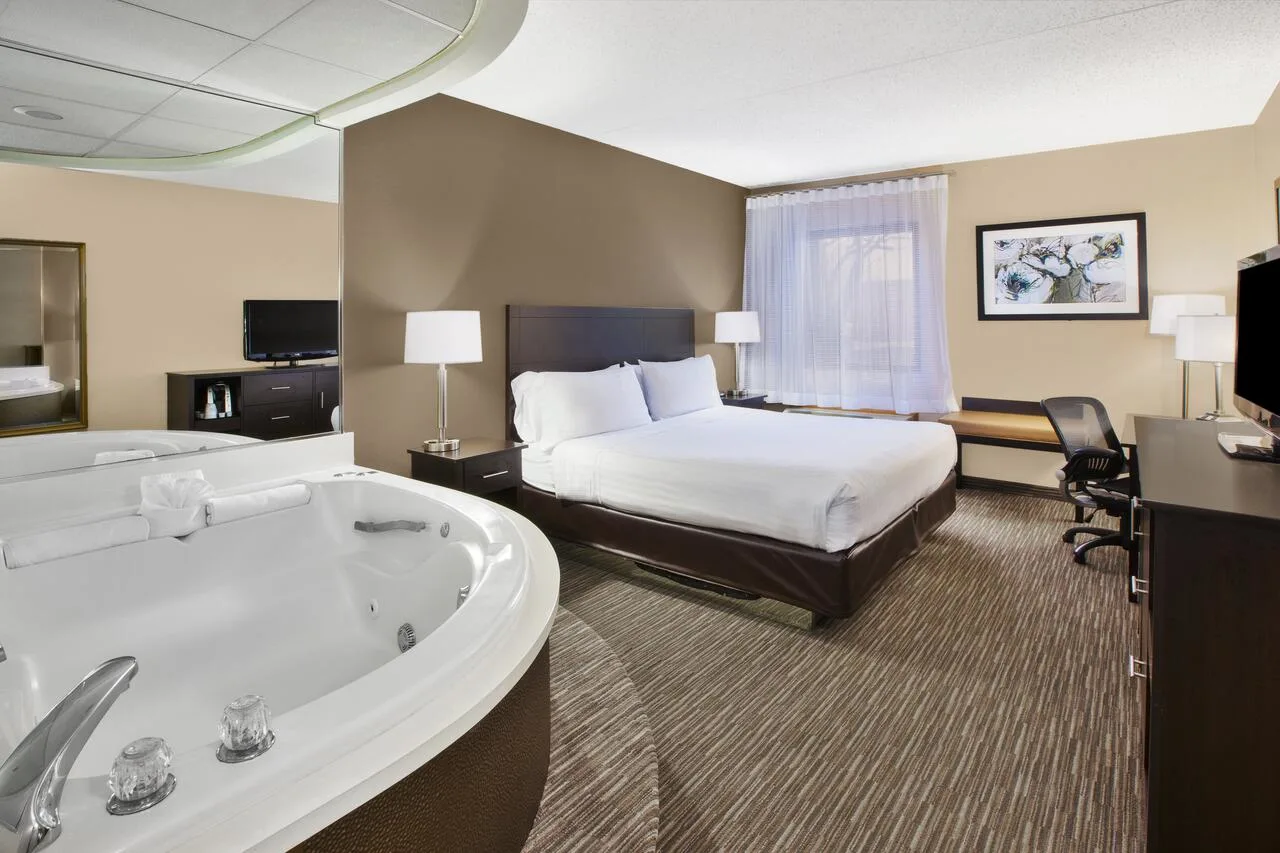 Hawthorn Suites by Wyndham Warren is located just outside downtown Detroit, which is the perfect location for your trip to Detroit – only minutes away from attractions such as Detroit Zoo, Comerica Park, Palace of Auburn Hills, and Ford Field.
Each morning wake up to a fresh, hot complimentary breakfast before making your way out to explore the city. Enjoy plush pillow-top mattresses, in-suite kitchenettes, and in-room whirlpool tubs for your comfort and relaxation during your stay.
Take advantage of free parking, free WiFi, fitness center, seasonal outdoor pool, and hot tub.
At the Comfort Inn & Suites Allen Park – Dearborn hotel, located within minutes of the Henry Ford Museum and all the shopping and dining you will want to check out during your stay.
Check out the Detroit Opera House or head over to the Renaissance Center and enjoy the local arts.
Enjoy amenities such as a fitness center, indoor heated pool, hot tub, and a delicious complimentary hot breakfast featuring free coffee and the hotel's famous waffles. Head up to your room and relax in front of the fireplace or soak away your stress in the in-room whirlpool tub.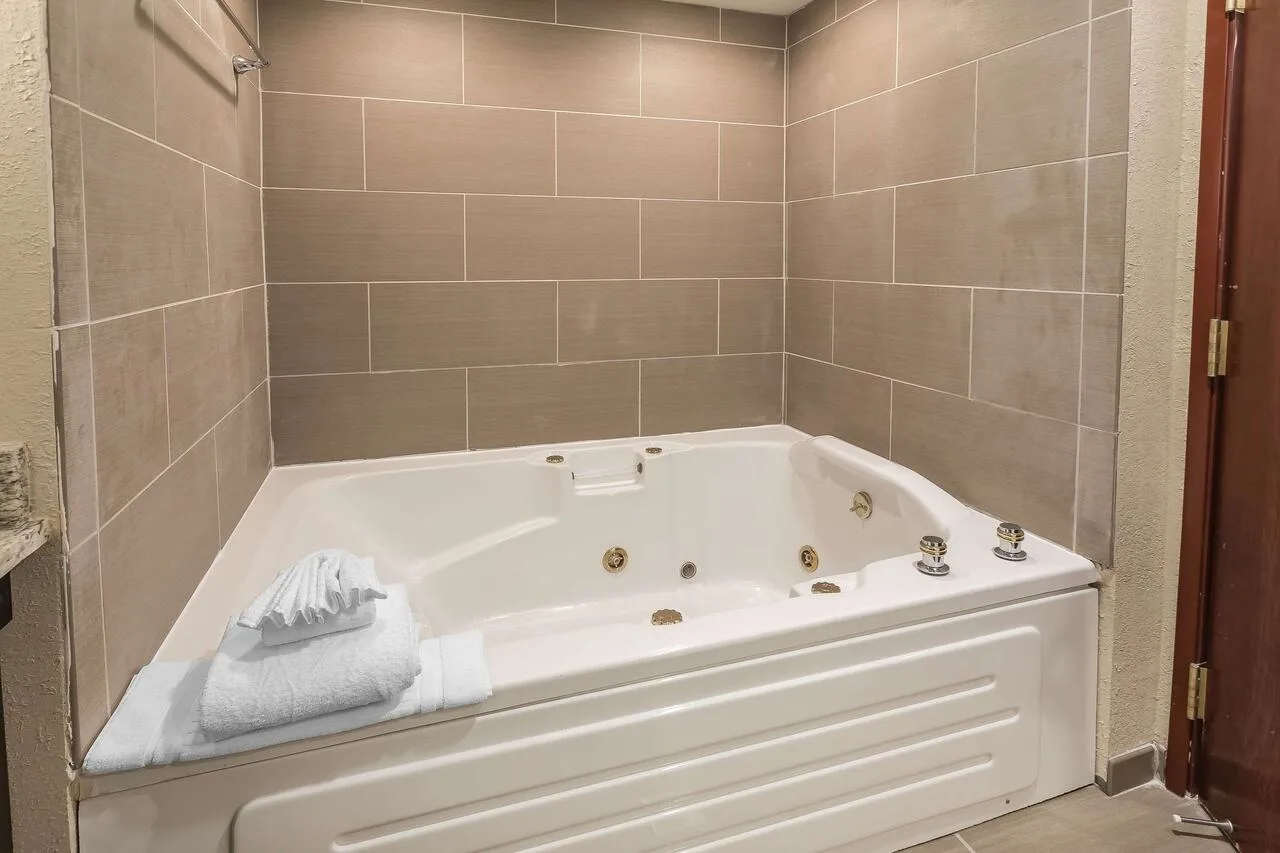 Near Detroit (within 30 min drive):
Check into the Holiday Inn Express Hotel & Suites Novi and enjoy the many amenities this location has to offer.
Take advantage of the hotel's free shuttle service within a 5-mile radius and visit the Twelve Oaks Mall, Fountain Walk Entertainment Plaza, Baypointe Golf Club, and many other locations. Grab a deluxe hot breakfast each morning featuring Asian options, as well as American options.
Take a dip in the indoor heated pool or check out the 24-hour fitness center on-site. Relax in your room at the end of the day with all the amenities you could ever wish for including a romantic hot tub!
One of the best hotels in novi mi with jacuzzi in room.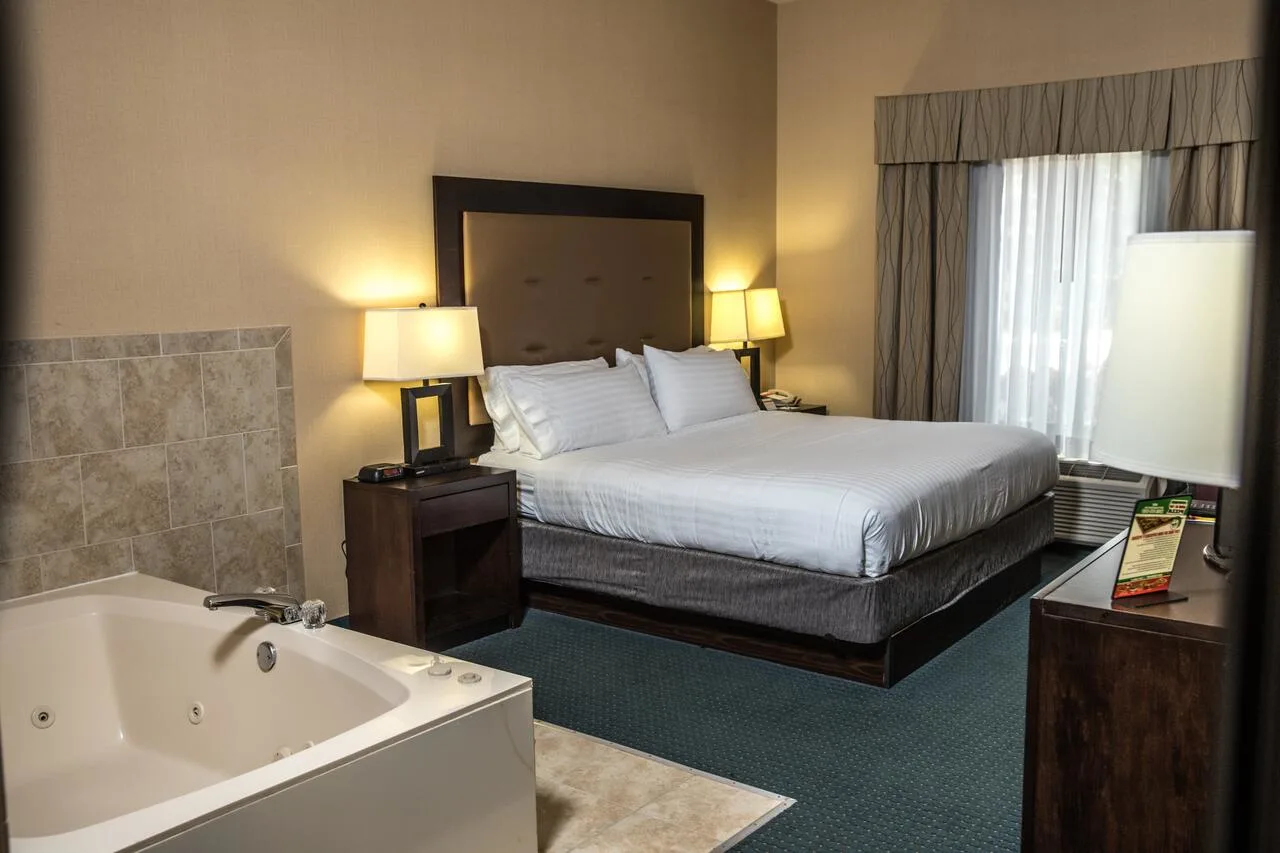 Located 20 miles from downtown Detroit is the quaint little town of Birmingham, Michigan.
Stay at The Townsend Hotel and enjoy the peace and quiet of the small town while still being close enough to Detroit to enjoy the city as well. Eat at the on-site restaurant Rugby Grille, enjoy Afternoon Tea, or check out The Townsend Bakery for some sweet treats.
Book in-room spa services and be pampered into relaxation without ever having to leave your room. Relax in your deep soaking bathtub and soak all your worries away.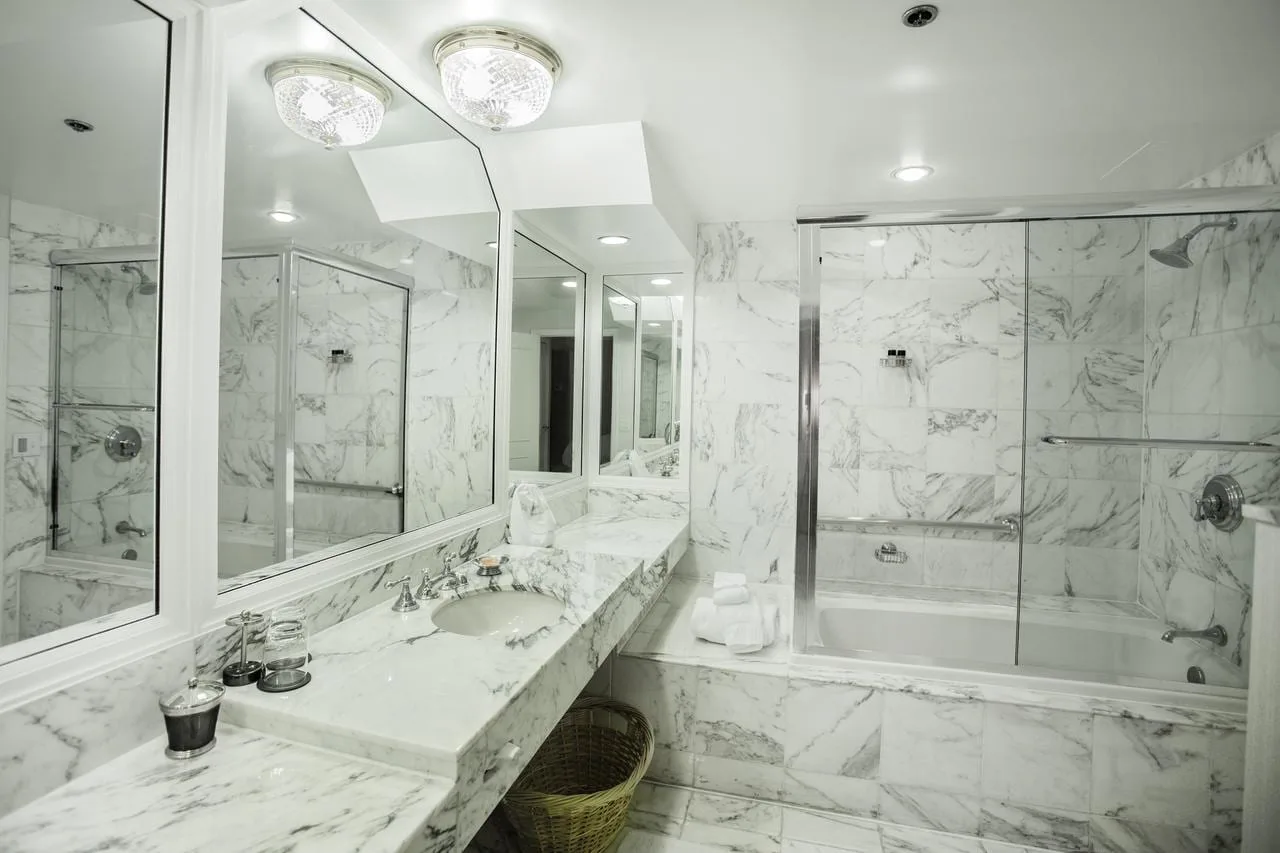 MORE SPA TUB SUITES IN CENTRAL MICHIGAN
Flint, MI:
The Hampton Inn and Suites Flint/Grand Blanc is located nearby the Bishop International Airport as well as the Flint Institute of Arts and the University of Michigan. Flint, is a great place to relax and enjoy your trip to Michigan.
Take a dip in the indoor pool and don't forget to swing by and take advantage of the complimentary hot breakfast each morning. Book a room here and enjoy amenities such as a plush bed complete with soft linens, mini-fridge, fluffy towels, a specialized showerhead, and a small kitchen area.
One of the best private pool suites in Michigan.
Also located in Flint is the Best Western Plus Flint Airport Inn & Suites. Located in the quiet suburban Flint area in Mundy Township, this location is nearby to shopping centers, restaurants, universities and much more.
Each morning start your day off with a complimentary hot breakfast including gluten free options! Check out the newly renovated pool room, now including a sauna and whirlpool to soak away your cares in.
Book a room with a kitchenette and you can even make some of your own meals if you're having too much fun at the hotel to venture out.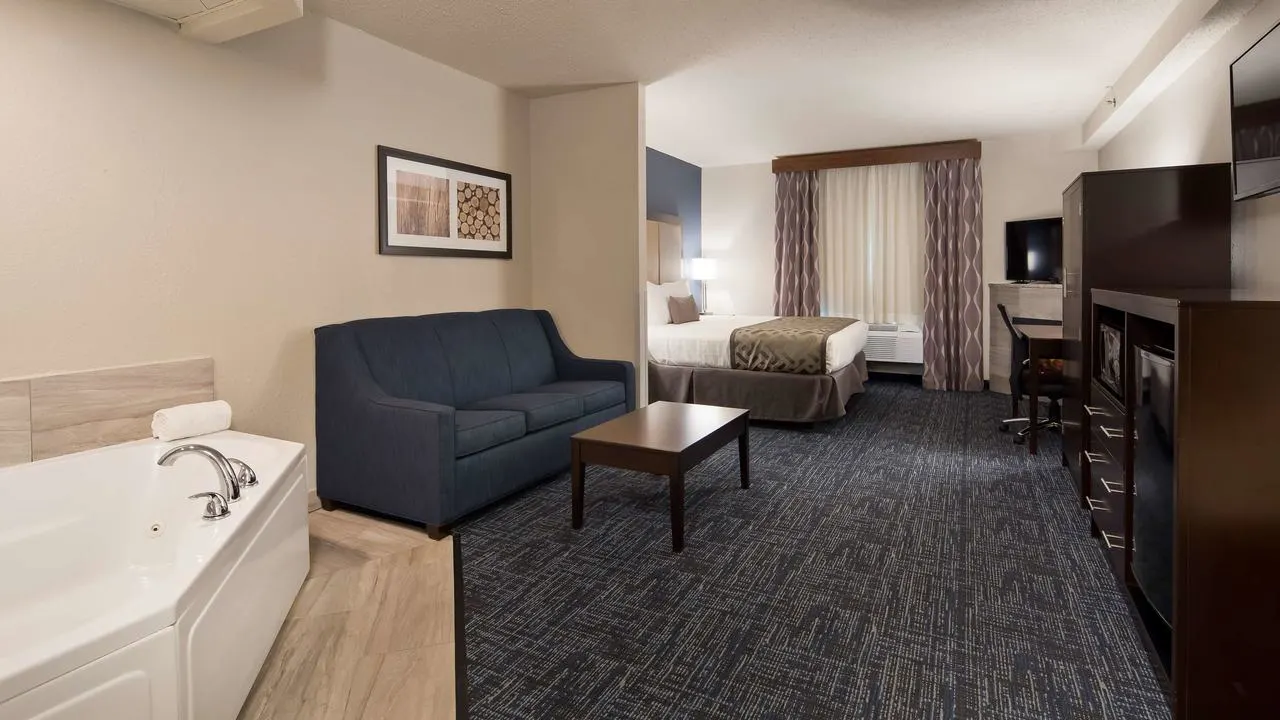 Located near Bay City is the Holiday Inn & Suites Express Saginaw. This hotel is only 5 minutes away from downtown Saginaw, as well as being centrally located to all the local area attractions such as the Fashion Square Mall, Saginaw Bay, Frankenmuth's Little Bavaria German Village, and more.
Grab free hot breakfast each morning and complimentary coffee 24/7 in the lobby. Each room features amenities such as black-out shades, lush soaking tub, flat-screen TV, mini-fridge, coffee maker and much more for your absolute comfort during your stay here.
If you're looking for something a little more romantic, look no further than the Castle in the Country Bed and Breakfast.
Sitting on 65 secluded acres in Allegan Michigan, this B&B has everything you're looking for. From jetted tubs and fireplaces to free WiFi and private baths, you will never run out of comfort or luxury here.
Explore the 65 acres in a complimentary kayak or paddleboard or take a hike through the numerous walking trails on property. In the winter enjoy a snowshoe hike through the trails and explore the wintery wonderland.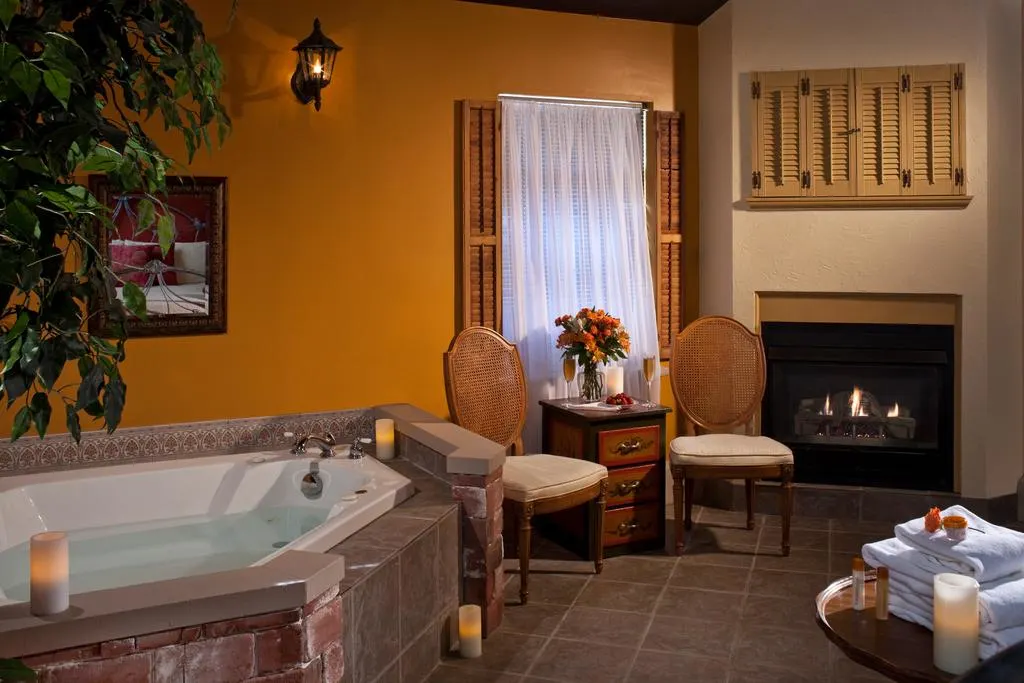 Located only two miles from the shores of Lake Michigan in Holland is the Pigeon Creek Inn, complete with any amenities you might be wanting for your trip.
Featuring a three season cathedral ceiling porch overlooking 35 acres of wooded Pigeon Creek Trails, book your stay here and you won't regret it.
Each room features a gas fireplace, king-size bed with pillow top mattresses, spacious enclosed showers, and more. Some rooms also feature a two person whirlpool bath, perfect for soaking in after a long day of exploring the local trails.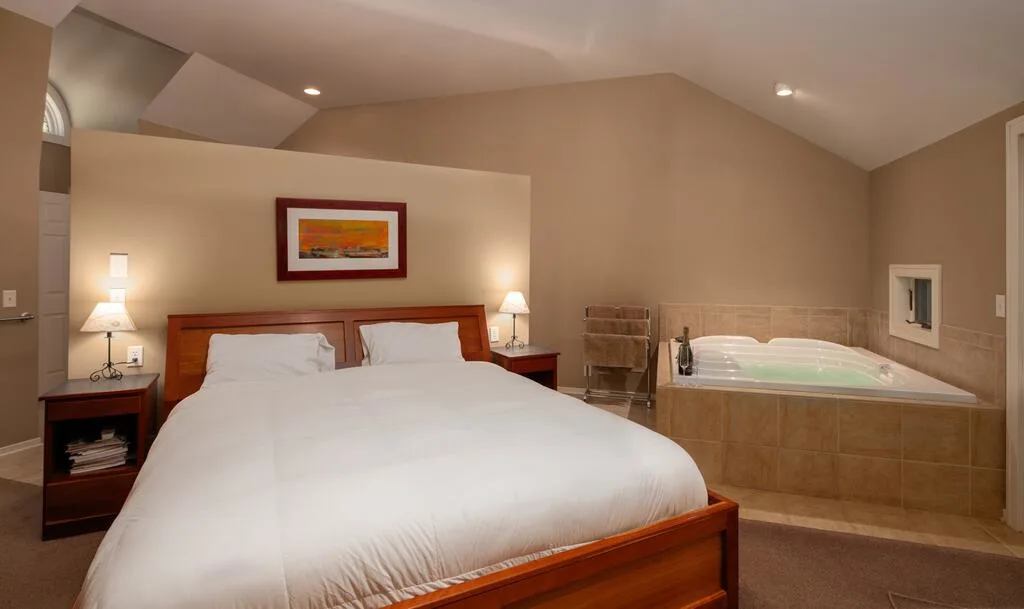 GRAND RAPIDS, MI INN WITH JACUZZI TUBS
Prairieside Suites, a Grand Rapids Bed and Breakfast, offers each guest a personalized and relaxing getaway.
Room amenities include large two-person whirlpool tub spa suites, romantic electronic fireplaces, large European showers with body jets, breakfast each morning either in room or as a group in the main dining room, a private couple's massage room, spa soaps, bath salts, lotions, and shampoo, homemade hot chocolate, and a seasonal outdoor escape.
Also be sure to enjoy their bottomless cookies and desserts available in the kitchen 24/7. In the winter enjoy the heated toilet seats!
One of the best hotels with jacuzzi in room in Grand Rapids MI.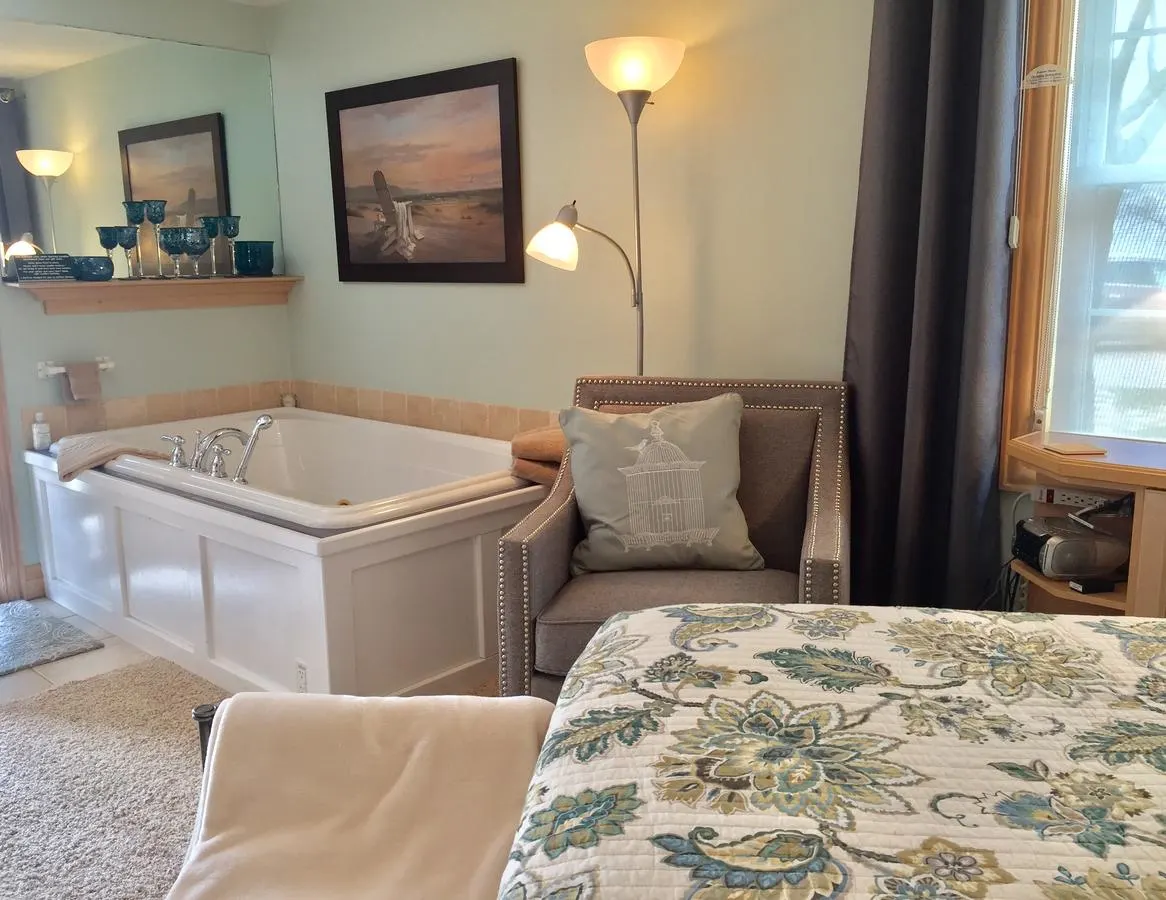 Also located in Grand Rapids is the Country Inn and Suites Grand Rapids East. Located less than 10 minutes from downtown, this is a great hotel to stay at to explore the area.
Take advantage of the outdoor activities of the area including hiking, biking, kayaking, and more and when you're done, check out one of the many restaurants and/or breweries in the area.
Take a dip in the indoor pool or sit and soak in the hot tub before heading up to bed in your luxurious guest room, complete with your own private whirlpool tub.
HOTEL HOT TUBS IN GRAND RAPIDS & WESTERN MICHIGAN
Saugatuck MI:
One of the best michigan hotels with hot tub in room is undoubtedly Kingsley House.
The Kingsley House Bed and Breakfast Inn is located in the Heart of Southwest Michigan and is the perfect location for a romantic getaway for outdoor lovers.
Enjoy sunsets over the beaches of Lake Michigan, explore wine country, shop for antiques, or be adventurous and try your hand at downhill and/or cross-country skiing or ice skating.
Room features include Jacuzzis, fireplaces, and you will receive generous hospitality in a beautiful and peaceful country setting, there is nothing like what you will experience during your stay at the Kingsley House.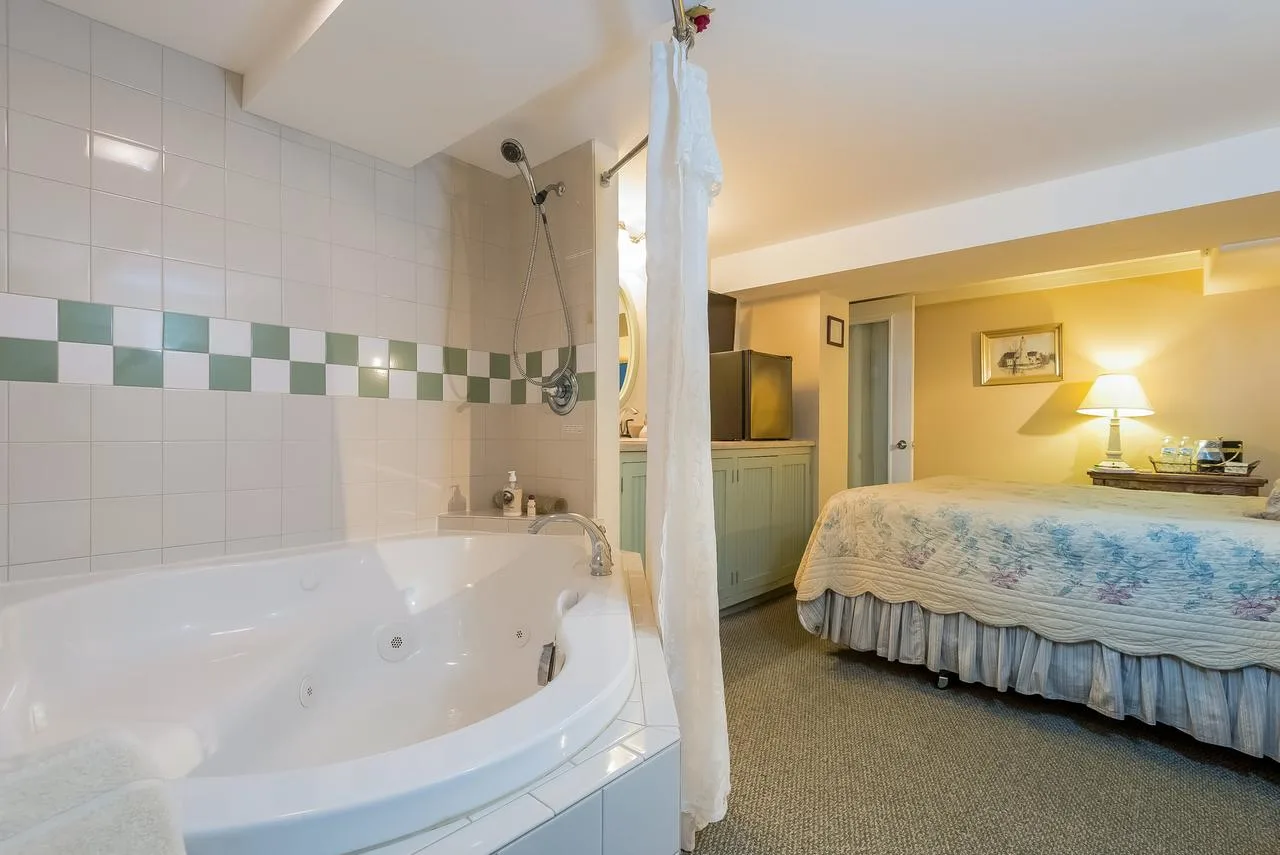 Book your stay at the Hidden Garden Cottages and Suites in downtown Saugatuck and sit back and relax into their hospitality.
Explore the city and try a different restaurant for each meal, and never be disappointed with the food! Spend a day just walking through the numerous stores, galleries, and boutiques or check out Oval Beach and take a sunset cruise on the Star of Saugatuck.
Each room's kitchen is stocked with a continental breakfast so you can enjoy your free breakfast each morning on your own schedule and each room features whirlpool tubs and fireplaces for your comfort.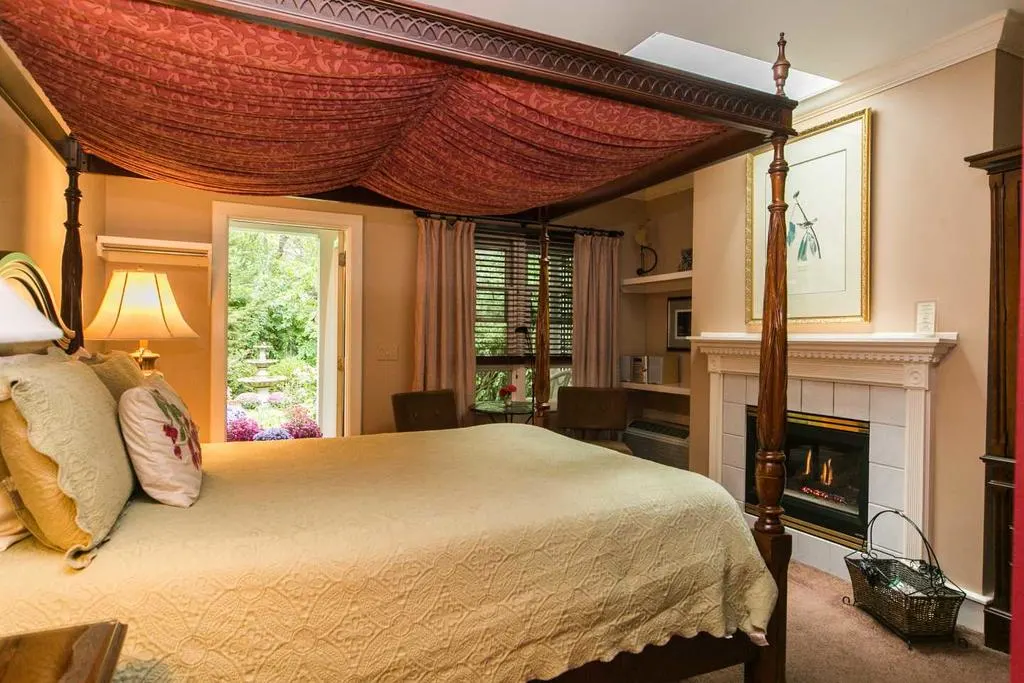 Stay at the Radisson Plaza Hotel Kalamazoo Center and never have to worry about a thing during your stay!
Walk through downtown and enjoy the area attractions, restaurants, boutiques and breweries. Visit the Kalamazoo State Theatre and attend a sporting even or watch a Broadway show at Western Michigan University, both within walking distance of the hotel.
Check out the Kalamazoo Athletic Club and inquire about yoga, Power Hour, or Hard-Core classes or swim your worries away in the indoor heated pool before heading up to your room for the night. Be sure to book a room with a with private whirlpool!
Located in South Haven, Michigan is the Inn at the Park. Built in 1996, this Inn offers everything you might want for your romantic getaway.
The rooms are adorned with romantic fireplaces, private baths, TV, and some even include a cozy whirlpool tub – perfect for relaxing after a long day of exploring the area.
Grab free coffee and hot breakfast each morning and in the afternoon enjoy some adult beverages in the Garden Bistro. Explore Lake Michigan or check out the on-site gardens with the beautiful butterflies to sit and watch while drinking a glass of wine and reading that book you've been putting off.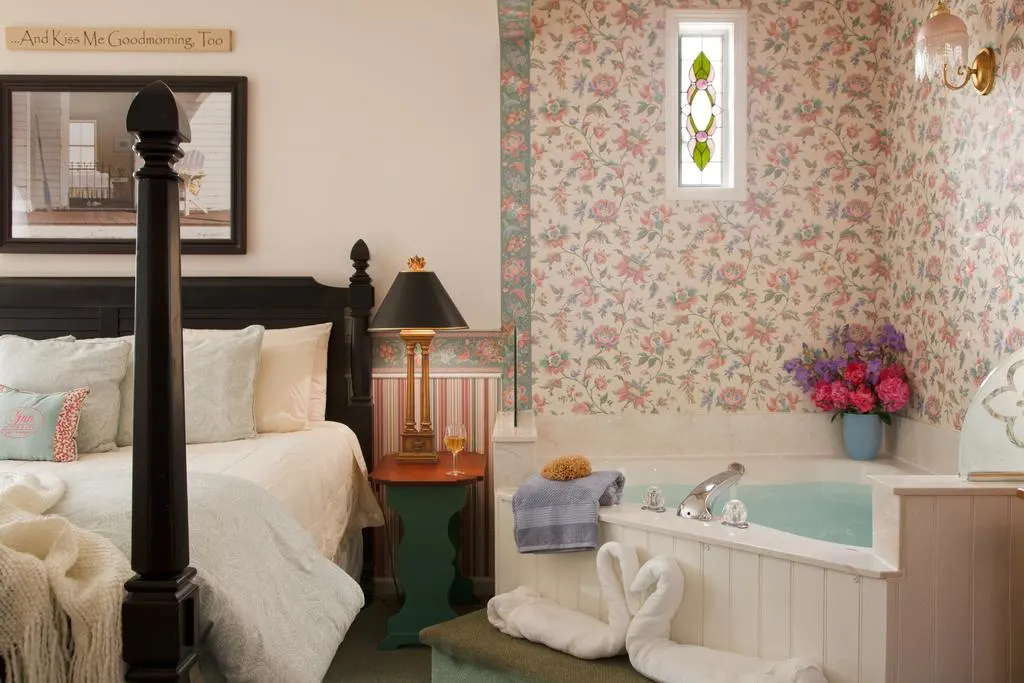 MICHIGAN LAKEFRONT HOT TUB SUITES
Another great lakefront location is Gun Lake, where you can stay at the Baypointe Inn. The Inn includes roughly 375 feet of Gun Lake frontage so you can stay on property and still enjoy the lake. It also includes 10 acres of wooded terrain that you're able to explore.
Go boating off the on-site boat dock and when you're done swing by the Terrace Grille Restaurant to refuel after a day in the sun. Book a suite with a whirlpool tub and soak your worries away each night in front of the in-room fireplaces.
The Hotel Saugatuck, which is one of Michigan's Historical Landmarks, is a must-stay location if you're traveling to Michigan.
Explore the local area and find many unique shops, art galleries, and mouthwatering restaurants. Enjoy a gourmet breakfast each morning and delicious desserts delivered to your room each night.
Grab one of the unique rooms with a private patio, premium king-sized beds, lake views, romantic fireplace, or Jason Hydrotherapy Tubs to relax in after a long day of exploring the town, each room uniquely decorated for your comfort and enjoyment.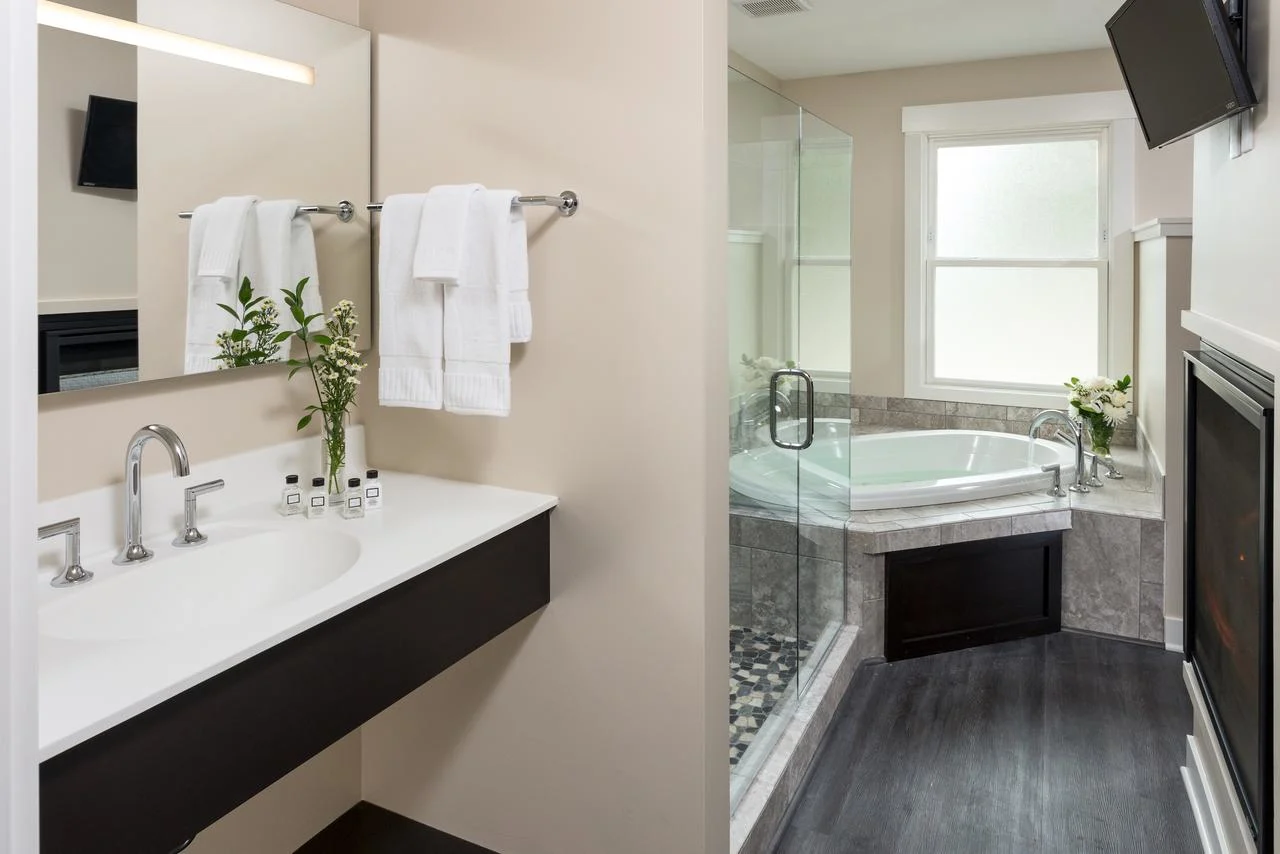 Stay at the New Buffalo Inn and Spa and enjoy a worry-free vacation!
Explore the backroads of Southwest Michigan, visit the Four Winds Casino and try your luck at the slots or poker, take a day trip to the New Buffalo Beach, or visit the local historical sites and romantic restaurants – most within walking distance of the Inn.
Book the Lighthouse Cottage and enjoy extra amenities such as the Outdoor Hot Tub just for you! Also included in the various rooms are fireplaces, luxurious walk-in showers, in-room kitchens, and spacious soaking tubs.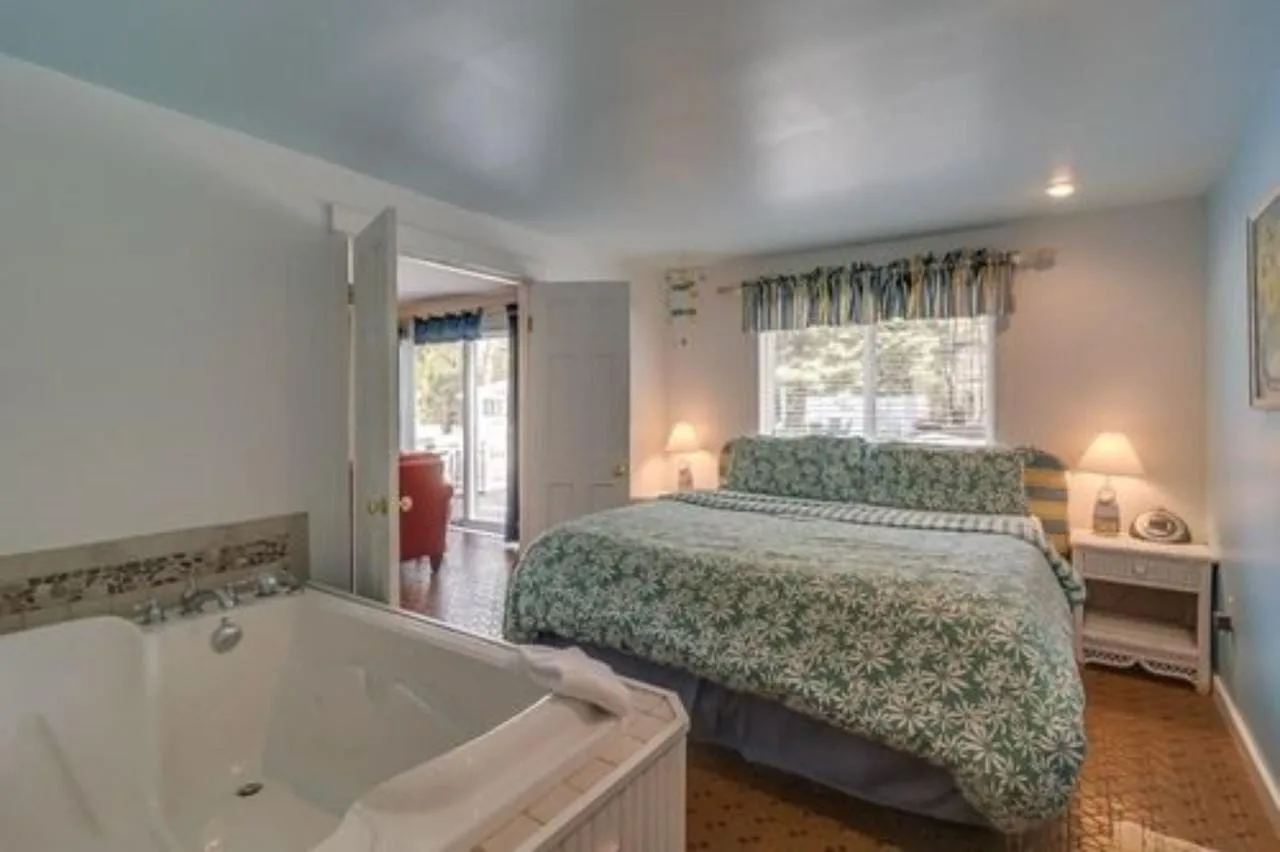 The Huron House, located on the beach of Lake Huron, is perfect for any romantic getaway.
Here you are close enough to the lake that you will be able to hear the waves hitting the shore and are close enough to walk along the beach without having to drive anywhere. W
ake up early to watch the sun rise over the lake before eating a mouthwatering breakfast. Some rooms include private decks, fireplaces, personal hot tubs, and Jacuzzi tubs, all to help you relax as much as possible during your stay.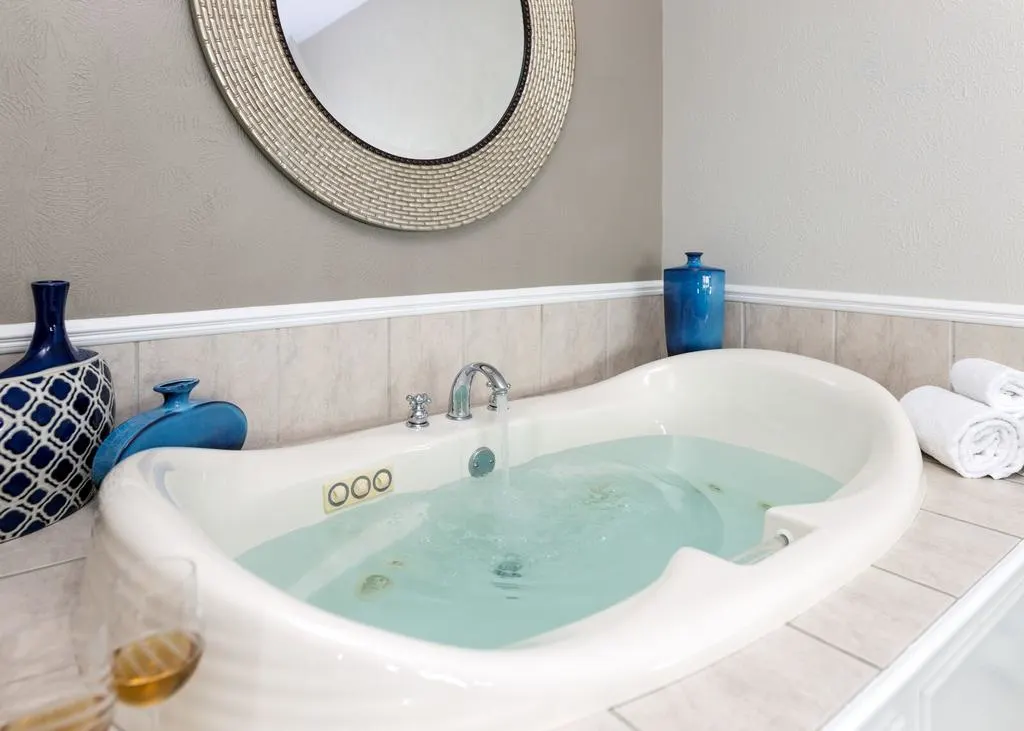 Located in St. Ignace, on the shore of Lake Huron, is The Breakers Resort – perfect for your trip to Michigan!
The on-site Beach Bar overlooks Mackinac Island and is the perfect spot to watch the sun rise each morning. Enjoy the private beach area, complimentary breakfast, full-service bar offering top-shelf alcohol (be sure to try the House Specialty drink – the Bay View Yacht Club Hummers), and much more while staying in luxury at this resort.
All of the rooms are beachfront and range in amenities like private balconies, whirlpool tubs, fireplaces, king size beds, and small kitchen areas.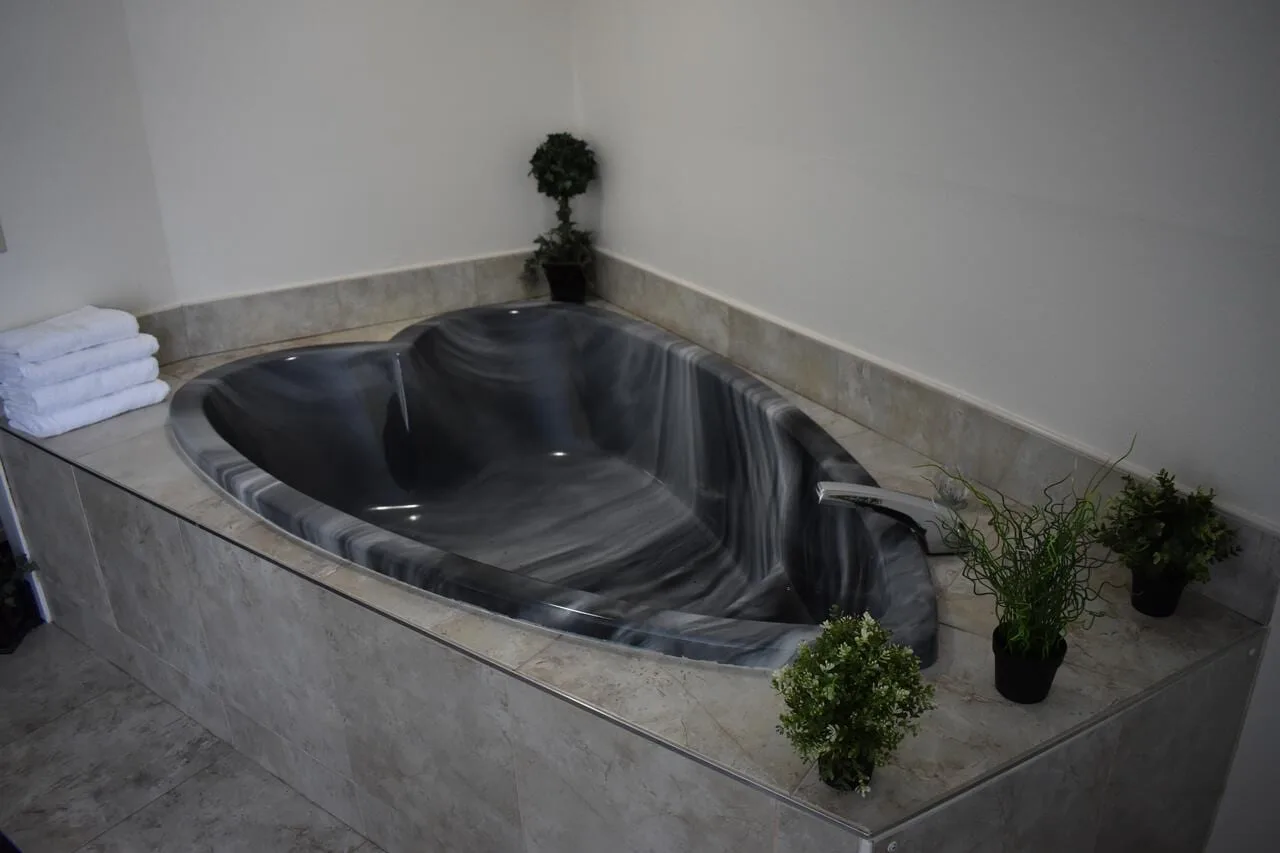 NORTHERN MICHIGAN JACUZZI SUITES (OR HOT TUBS): MACKINAC ISLAND, MACKINAW CITY, TRAVERSE CITY
Stafford's Bay View Inn, located on the shores of Lake Michigan's Little Traverse Bay, is the perfect location to sit back and relax to get away from the troubles of the world.
Enjoy the simple Victorian elegance, the personable service, mouthwatering food, and much more in this little piece of paradise. Enjoy room amenities such as cozy Victorian stylings individually decorated with period furnishings, views of the Staffordshire Garden, Victorian fireplace, whirlpool tubs, and private sitting areas.
During your stay, take advantage of the free lemonade, iced tea, and coffee as well as a $25 breakfast voucher each morning.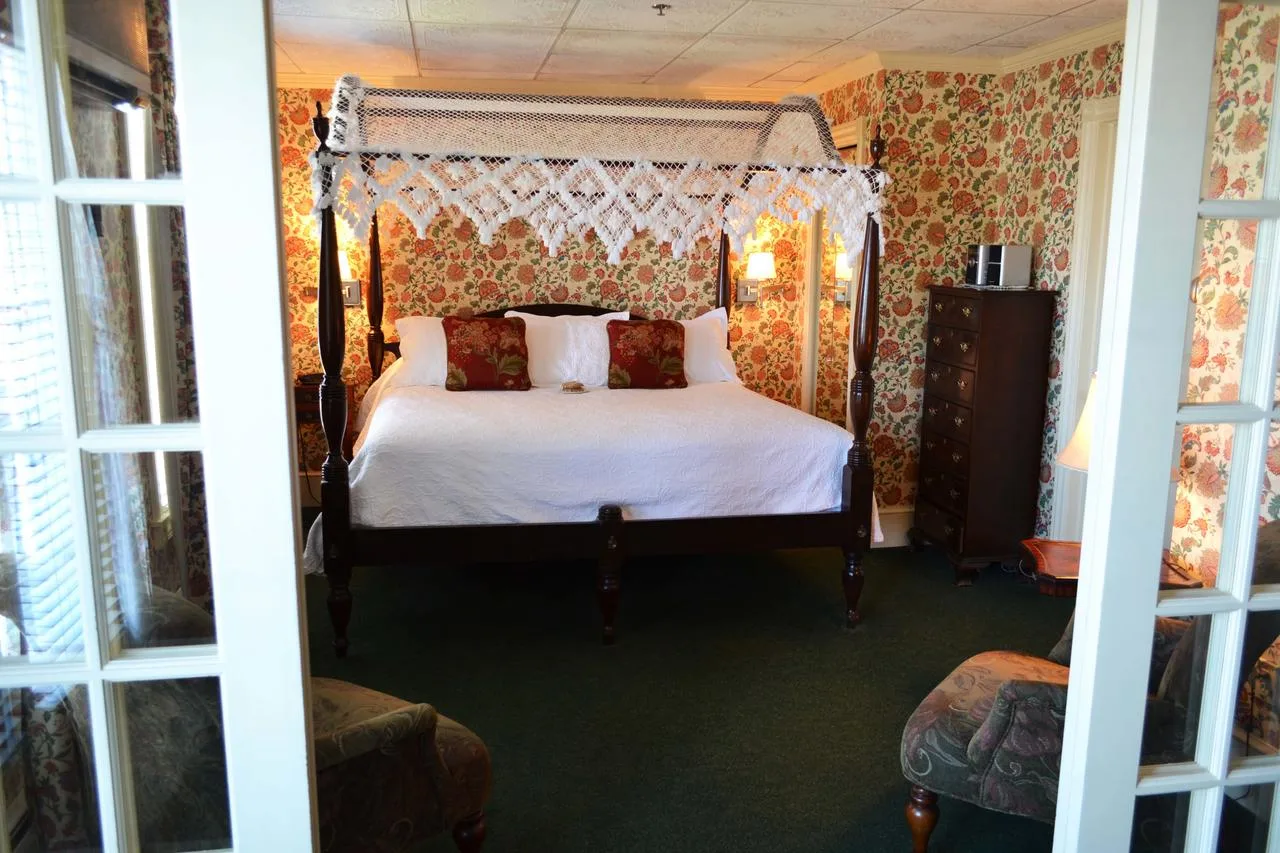 If your trip is taking you to Mackinac Island, book your stay at the Lilac Tree Suites & Spa and know you won't have to worry about a thing while there. Book a room with a Jacuzzi suite with a spa tub and soak all your troubles away. T
ake a trip to the Lilac Tree Spa and get yourself that massage you've been putting off. Try out a Carriage Tour and explore the island in the most romantic way possible. Rooms include gorgeous views of the area and each suite is unique.
Mackinaw City: Hotels with Hot Tubs in room in Michigan
Also located in Mackinac City is the Best Western Dockside Waterfront Inn.
Take a ferry ride with your significant other and enjoy the romantic sights together. Check out the downtown area for all the shopping and dining you can imagine or relax on the beach and forget the world.
Grab complimentary breakfast each morning full of hot waffles, eggs, pastries, fruit and much more to start your day off right. If you're looking for the ultimate relaxation, be sure to book one of the Jacuzzi rooms so you can soak away the night in your private tub.
Baymont Inn & Suites in Mackinac City wants to help you plan the most relaxing vacation you could dream of. Book your stay here and enjoy the many amenities the hotel as to offer.
Rooms adorned with some of the softest beds you will find, private whirlpool tubs, and free WiFi, you will find everything you want in your room.
Free breakfast is served each morning, there is an indoor pool and hot tub to check out, and you can park here for free and explore the city without ever having to drive anywhere.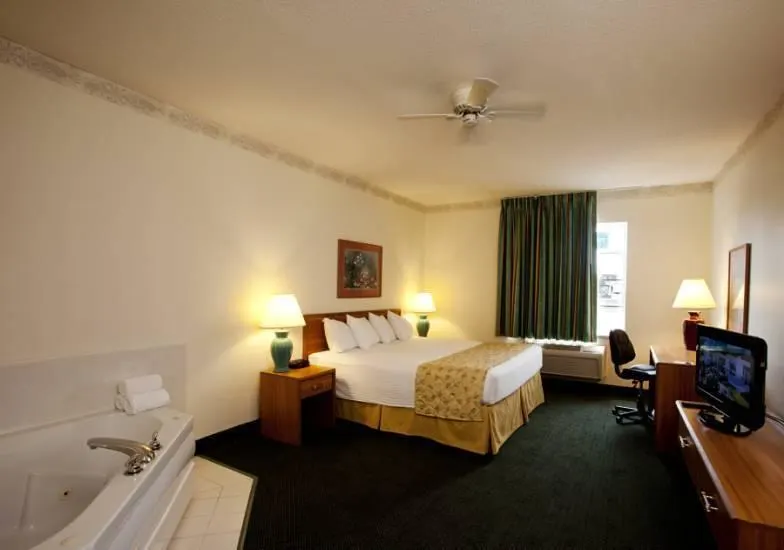 Located in Bay City, Michigan – check out the Historic Webster House. This modern Bed and Breakfast is here to make your stay as perfect as can be and they do not disappoint.
Check out the on-site spa complete with a dry sauna, double headed rain shower, an oversized whirlpool tub, and more – and is stocked with all the water, soda, and anything else you might want during your time at the spa.
Rooms include cozy linens to make you feel at home, private bathrooms, whirlpool tubs, fireplaces, and skylights. Enjoy complimentary breakfast each morning before starting your day.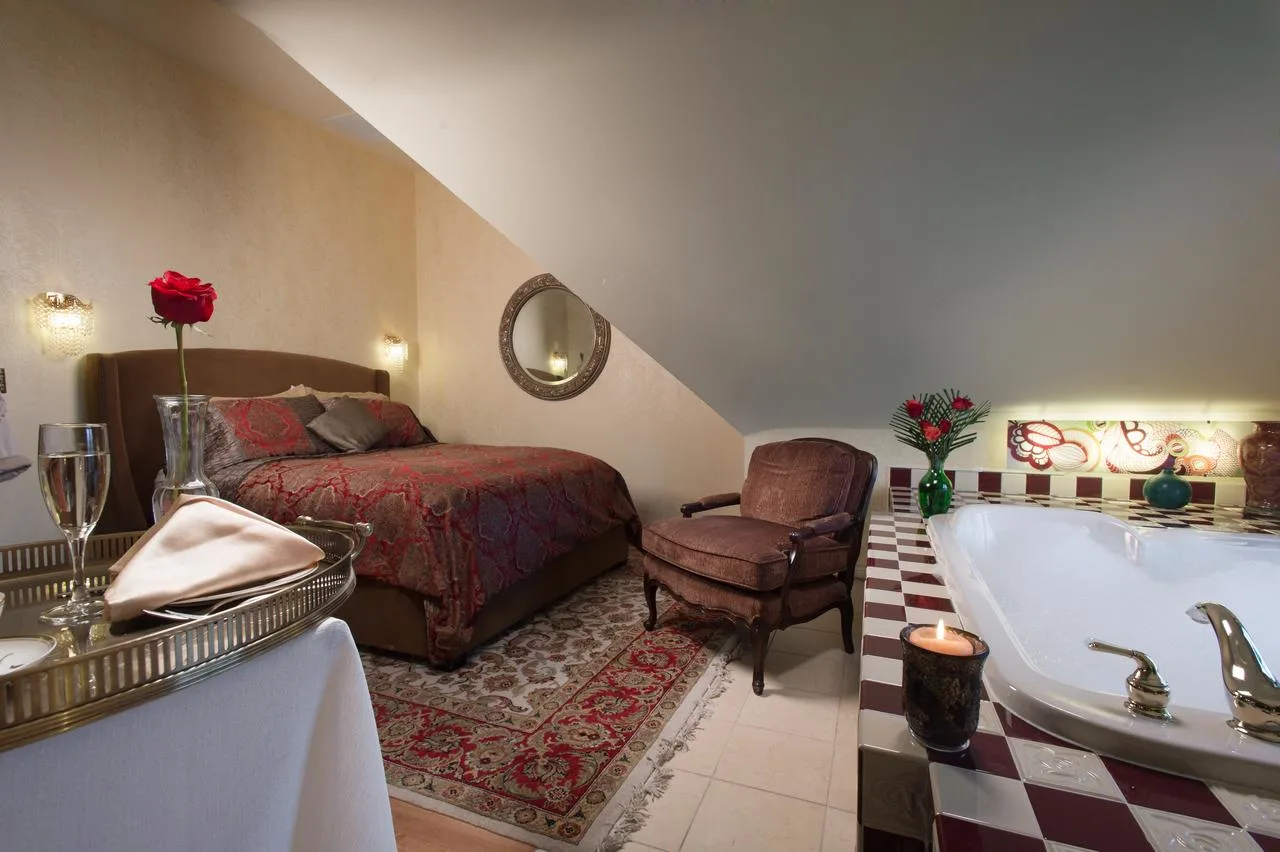 MARQUETTE, MI: COUNTRY INN & SUITES
The Country Inn & Suites Marquette, Michigan is located nearby the campus of Northern Michigan University and is a great spot to stay for your trip to the area.
Hike the Noquemanon Trail Network or explore the area from snowshoes or skis in the winter. Take a swim in the heated indoor pool or swing by the lobby for free cookies anytime day or night.
Walk to any of the local restaurants or check out the Westwood Mall nearby for some shopping. Enjoy luxury room amenities such as private whirlpool tubs, plush king-size beds, and much more.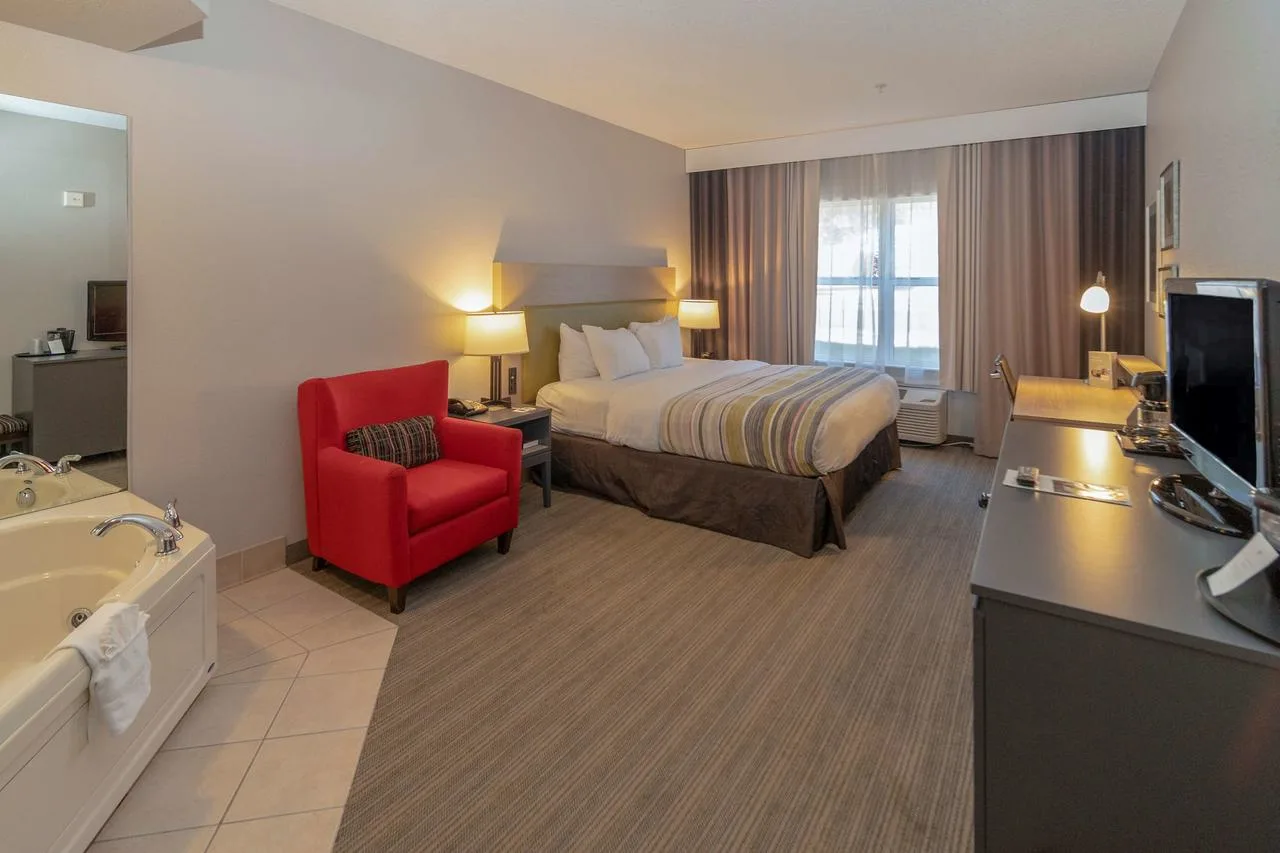 SOUTHERN MICHIGAN SPA TUB HOTEL ROOMS
At the Holiday Inn & Suites Ann Arbor Univ. Michigan Area, enjoy all the comforts of home while traveling. The rooms feature free WiFi, a microwave, a fridge, a coffeemaker, black-out shades, and if you book a suite you can get added perks such as separate living areas, a wet bar, a second TV, and Jacuzzi tubs to soak in after a long day of exploring the area.
Take a dip in the indoor heated pool, keep your workout going at the fitness center, or swing by the cocktail lounge and grab yourself a drink to help you unwind.
The Radisson Hotel Lansing, located near the Michigan State Capitol, is the perfect spot for your romantic getaway to Michigan.
Enjoy room perks such as coffee makers, wet bars, room-service, in-room jetted tubs, and luxurious king-size beds.
Book your stay here and explore the State Capitol, Lansing Community College, kayak with River Town Adventures, or take a day to visit the Impression 5 Science Center. Make sure to check out the on-site restaurant and lounge which offer food and drinks to help fuel you up after your adventures around town.
MORE JACUZZI SUITES (OR WHIRLPOOLS)
A hotel with a spa bath is great for couples because it provides the perfect opportunity to relax and unwind together.
The spa bath provides a calming atmosphere to help reduce stress and tension, while also providing a romantic setting for couples to reconnect.
A good hotel room also allows couples to enjoy a luxurious experience and feel pampered and cared for.
If you are already planning your next romantic getaway, you might like to check out these really romantic hotels across the USA: