Looking for romantic hotels with jacuzzi in room Houston Tx?
Look no further as we have you covered with the most romantic motels and hotels with a hot tub in room for a couples getaway to Houston Texas!
Hotels with Jacuzzi in room Houston Tx
SPA TUB SUITES IN DOWNTOWN HOUSTON
Hotel ICON Autograph Houston Spa Tub Suites– Just one mile from Houston city center, this luxury hotel boasts Deluxe King Rooms with a jetted tubs and city views. Couples particularly like this location. This perfect romantic getaway offers R&R after a busy day touring the city's festivities. One of the best jacuzzi suites in Houston.
Holiday Inn Houston East/Channelview– Located in Channelview, the newest, most state-of-the-art hotel in East Houston, features an upscale sports bar, excellent restaurants and many other activities to explore in the local vicinity.
La Maison Midtown– An urban bed and breakfast in Houston Midtown, La Maison offers a taste of Europe in the heart of Houston. You have your choice of seven luxurious guest rooms, each featuring an in-room Jacuzzi for you and your significant other to luxuriate in after a busy town or evening…or both, on the town! Be sure to check out the wonderful activities and excursions in the area plus the fine dining eateries.
Hilton Garden Inn Houston Westbelt– This hotel in Chinatown features a beautifully appointed koi pond, beautiful, natural surroundings and is conveniently located near the Houston Natural Science Museum and Houston Zoo. After a day of excursions, seeing the sights and enjoying activities, and investigating the scrumptious food establishments nearby, the beautiful Hilton rooms provide the perfect setting for R & R. One of the best hotels in houston with hot tub in room!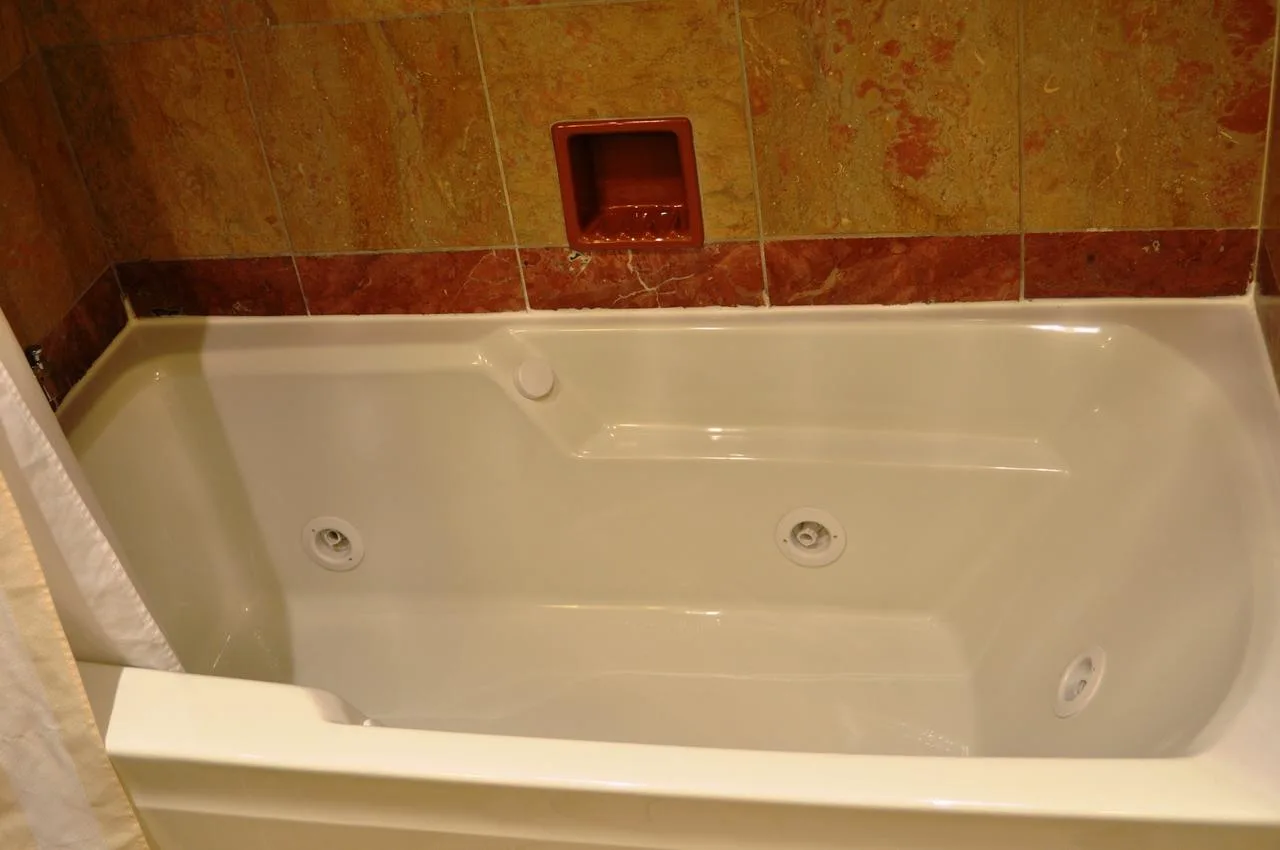 Best Western Galleria Inn & Suites– Located in Houston, this hotel is sure to provide a tranquil and comforting home away from home for any visitor. Great restaurants and activities in the area offer excursions away from the hotel but be sure to enjoy the nicely decorated and spotlessly clean in-room Jacuzzi for you and your sweetheart.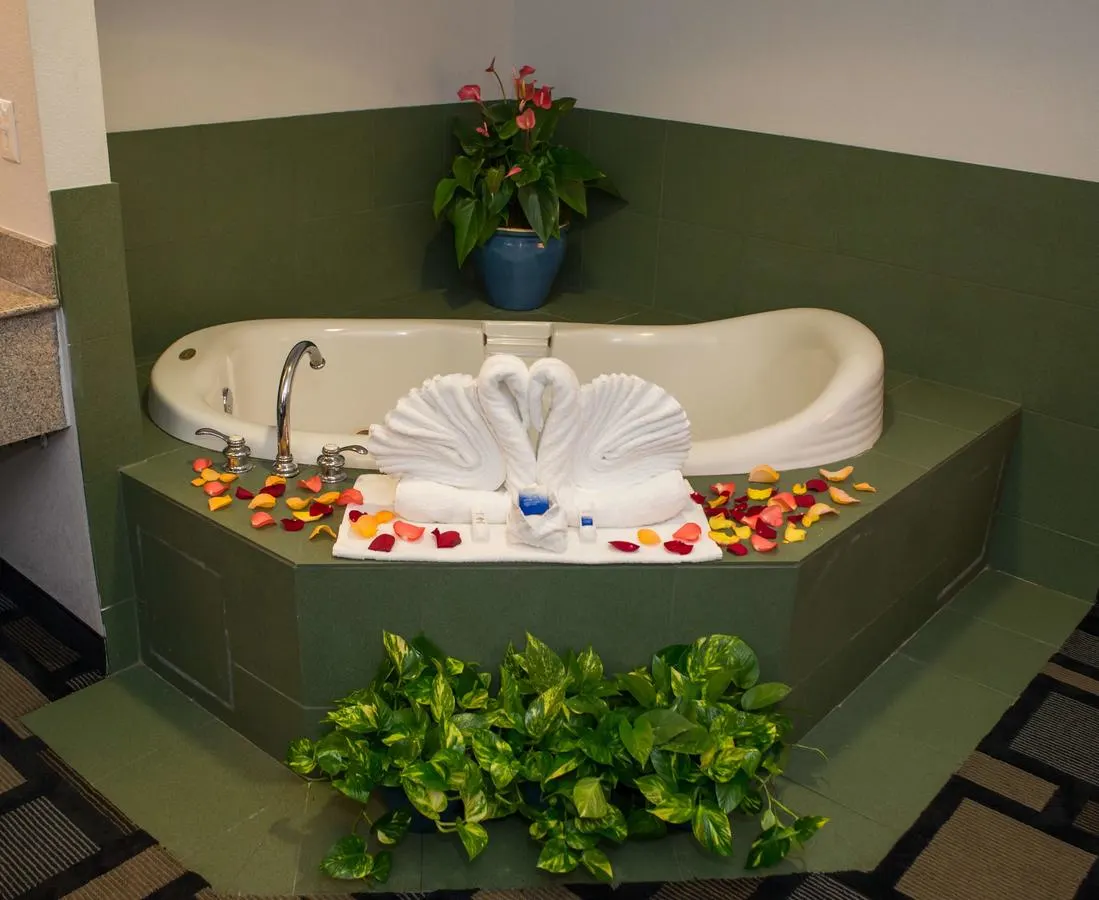 Country Inn & Suites by Radisson, Houston Northwest – This hotel is located directly on the grounds of Houston Intercontinental Airport. Be sure to stop by Willowbrook Mall, Houston Premium Outlets, and The Galleria during your stay. Sports fans can catch an Astros game at Minute Maid Park or cheer on the Houston Texans at NRG Park. Whatever your full day of activities and fine dining include, don't forget that each suite offers a Jacuzzi for you and your significant other to enjoy some well-needed R&R!
Comfort Suites Willowbrook– Explore all that Houston offers, and then relax at the Comfort Suites. Comfort Suites, conveniently located near a wide variety of attractions, from pro and college sports to fine arts to golf, the hotel is close to Willowbrook Mall, Nice Winery, Sam Houston Race Park and Wet n'Wild Splash Town, with easy access to the Gulf of Mexico and Galveston Island for those beach fans! Also, if the hunger-bug bites, there are plenty and many fine and quick-food eateries within arm's reach.
La Quinta by Wyndham Houston Kingwood Medical – Known as the "liveable forest," surrounded by trees, parks, and trails perfect for hiking, biking, fishing, bird watching, golfing, and more, Kingwood is the ideal location, with all activities and restaurants close by. Looking for excitement? Head to nearby downtown Houston to catch a show or enjoy a night out.
Comfort Suites Near Texas Medical Center-NRG Stadium– This hotel offers spacious guest rooms and friendly service. Comfort Suites' convenient location is close to NRG Stadium and other Houston attractions as well as several restaurants. Back at the hotel, relax in your cozy, yet spacious suite.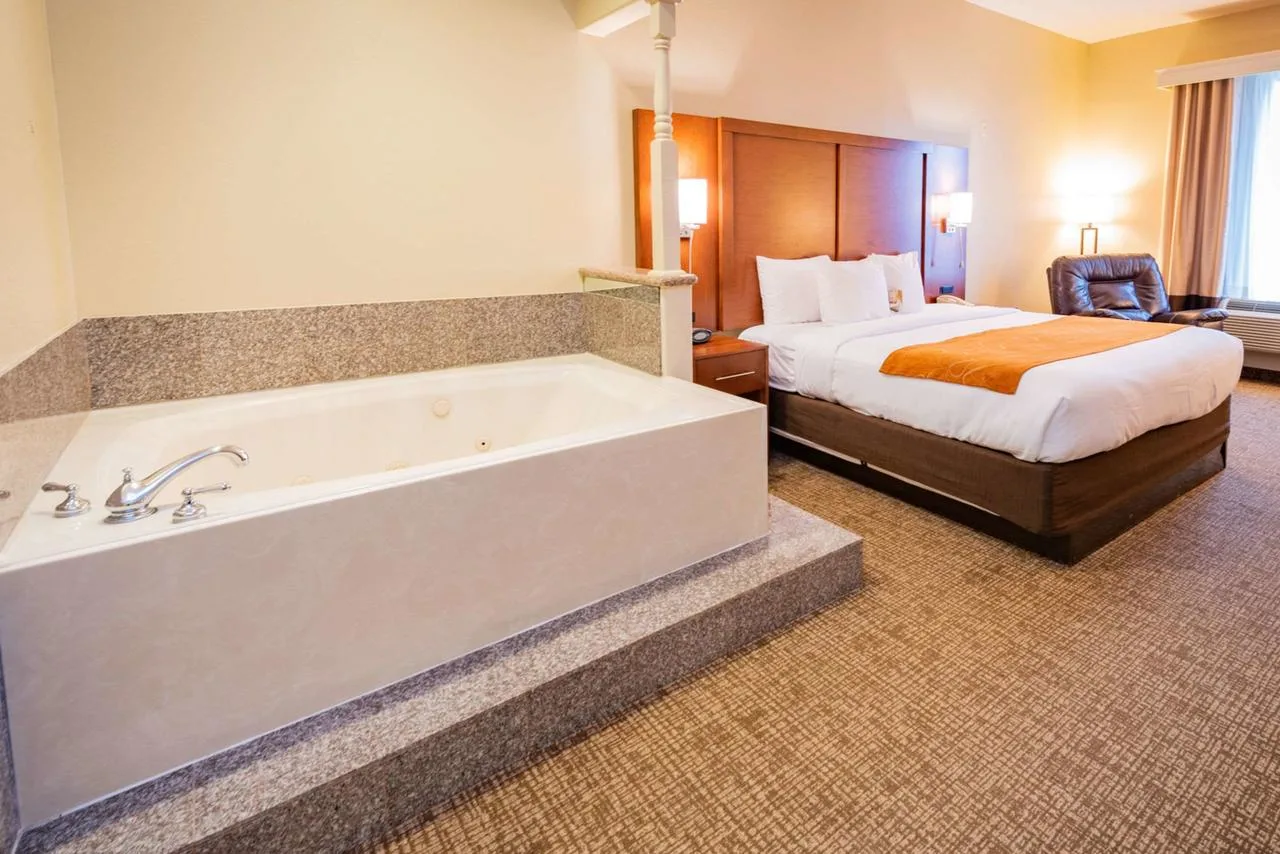 Camelot Inn and Suites– This hotel is not far from the Downtown Aquarium, Sam Houston Race Park, Lower Westheimer Shopping District, Greenspoint Mall, other activities for the tourist in you and fine eating establishments. One of the top choices for couples on a romantic getaway in Houston.
Scottish Inns & Suites Timber Creek, Houston, TX– This newly built suburban hotel is close to Bear Creek Pioneer Park, restaurants and other activities worth checking out. After a full, exhausting day of outings to your favorite or newly discovered haunts, a whirlpool tub is just what the doctor ordered on a romantic getaway.
Modern B & B– Located in Montrose, Texas, Modern is the place to stay. Centrally located within Houston's 610 loop, Modern will make you feel like you're living like a Houston inner-looper. Near many activities and possible excursion choices, along with various restaurant choices, The Spa Room features a King bed just a few steps away from a uniquely oversized whirlpool tub, perfect for any couple looking for an romantic weekend getaway in the privacy of their own suite.
WHIRLPOOL SUITES NEAR HOUSTON AIRPORTS
Best Western Plus Hobby Airport Inn & Suites– Located in city center, the Best Western Plus is close to the Toyota Center, Houston Natural Science Museum, cultural highlights, other entertainment and activities, as well as fine restaurants. You have such a variety of recreation, sights and dining venues to choose from. Looking to enjoy an event or a game? See what's going on at Minute Maid Park or NRG Park.
La Quinta Inn & Suites by Wyndham Kingwood Houston IAH Airpt– La Quinta offers an ideal location; from waterparks to the Mercer Botanic Gardens, and fine eating establishments, as well as other activities to partake of, there is something for everyone.
BUDGET HOUSTON MOTELS WITH IN-ROOM HOT TUBS
Winchester Inn & Suites– This hotel is the best place to stay in the Northeast Houston/Humble area, with downtown a 20-minute drive and close to the Houston Zoo, George Brown Convention Center, other interesting activities and entertainment venues to explore plus several fine restaurants when the hunger-bug strikes. One of the best motels with jacuzzi in room in houston tx!
America's Best Value Inn & Suites Houston– At America's Best Value Inn, you can enjoy a small business feel and rest easy knowing you are getting the best deal in town. America's Best Value Inn is close to the Downtown Aquarium, Buffalo Bayou Park, and Minute Maid Park as well as other activities and entertainment venues to enjoy along with several fine restaurants. Couples, please note: The rooms have hot tubs to wind down after a hectic day of excursions.
Super 8 by Wyndham Kingwood Houston North– Join the Super 8 for a pleasant and enjoyable stay while enjoying Big Rivers Waterpark, Kingwood Commons Shopping Mall, and Lake Houston Wilderness Park. And be sure to check out the other entertainment offerings in the area as well as the many fine restaurants. When all is said and done and you need some downtime, enjoy your in-room hot tub with your significant other.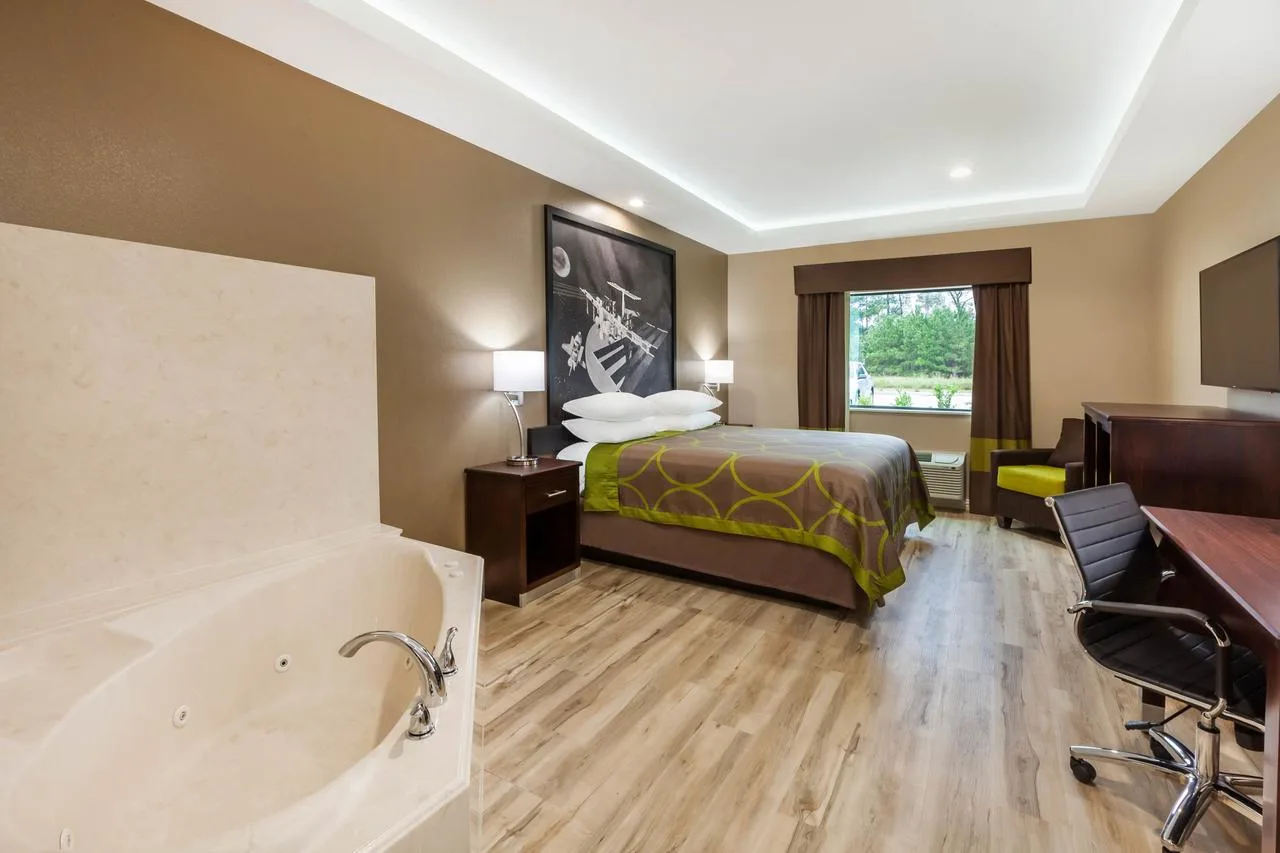 OTHER ROMANTIC HOTELS IN HOUSTON WITHOUT A HOT TUB
Make yourself home in luxury redefined at ZaZa. It might be hard for you to pull yourself away from the allure of ZaZa but don't forget about the wonderful array of entertainment, cultural sights, and fine dining experiences outside of ZaZa.
Staybridge Suites Houston NASA/Clear Lake
Ideally situated halfway between Downtown/Houston and Galveston Beach, the new all-suite Staybridge Suites is just five miles from NASA's Space Center Houston, a short drive from Kemah Boardwalk and the Armand Bayou Nature Center. Don't forget to check out the other local activities, entertainment and recreation, and enjoy some fine dining at the close-by restaurants.
Rated as one of the top 100 New Hotels in the World (Conde Nast Traveler Magazine), Magnolia is located in the heart of everywhere you want and need to be in Houston. Fine dining, a plethora of activities, entertainment venues and excursions are all nearby for your enjoyment.
Located in the lively Theatre District, this boutique hotel is listed as a Texas historical landmark. Don't forget to check out surrounding areas for activities, recreation and entertainment. The Houston Museum District is less than three miles from the hotel.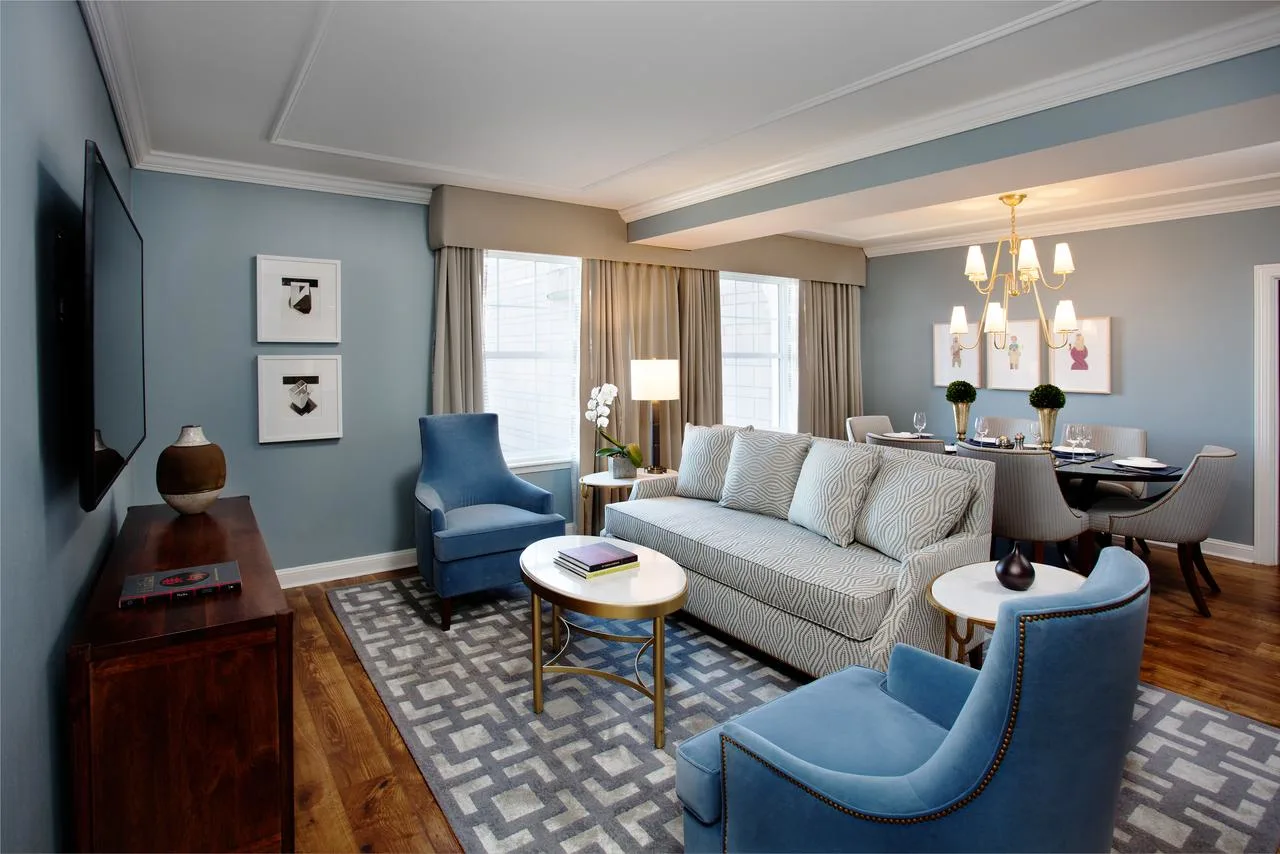 At the Four Seasons, urban sophistication meets bold Texas hospitality. This hotel is consistently rated high as a great place for couples to stay in Houston.
Centrally located near Galleria Mall, River Oaks District, Toyota Center, NRG Stadium Park, the Museum District and much more, this hotel is a top choice for a couples getaway.
Located in Houston's Uptown District, Indigo rubs shoulders with the area's world-famous shops and eateries, including the upscale Galleria Mall. After experiencing the area's attractions, recreational opportunities, cultural exhibits and general entertainment, and the hotel's unique artwork and design.
The Houstonian reflects all that Houston is –captivating, bold, uplifting and friendly. It is considered a historic gem in the middle of Houston.
The Houstonian consists of 27 acres of woods, trails, pools, and places to get away, adjacent to Houston's iconic Memorial Park, dubbed the "largest urban park in Texas."
Be sure to check out everything the area has to offer for a real Houston experience including other sights, entertainment, cultural exhibits, recreational activities and fine restaurants.
Hotel Derek is considered a top pick and is situated within walking distance of the Galleria Mall and a seven-minute walk from Water Wall.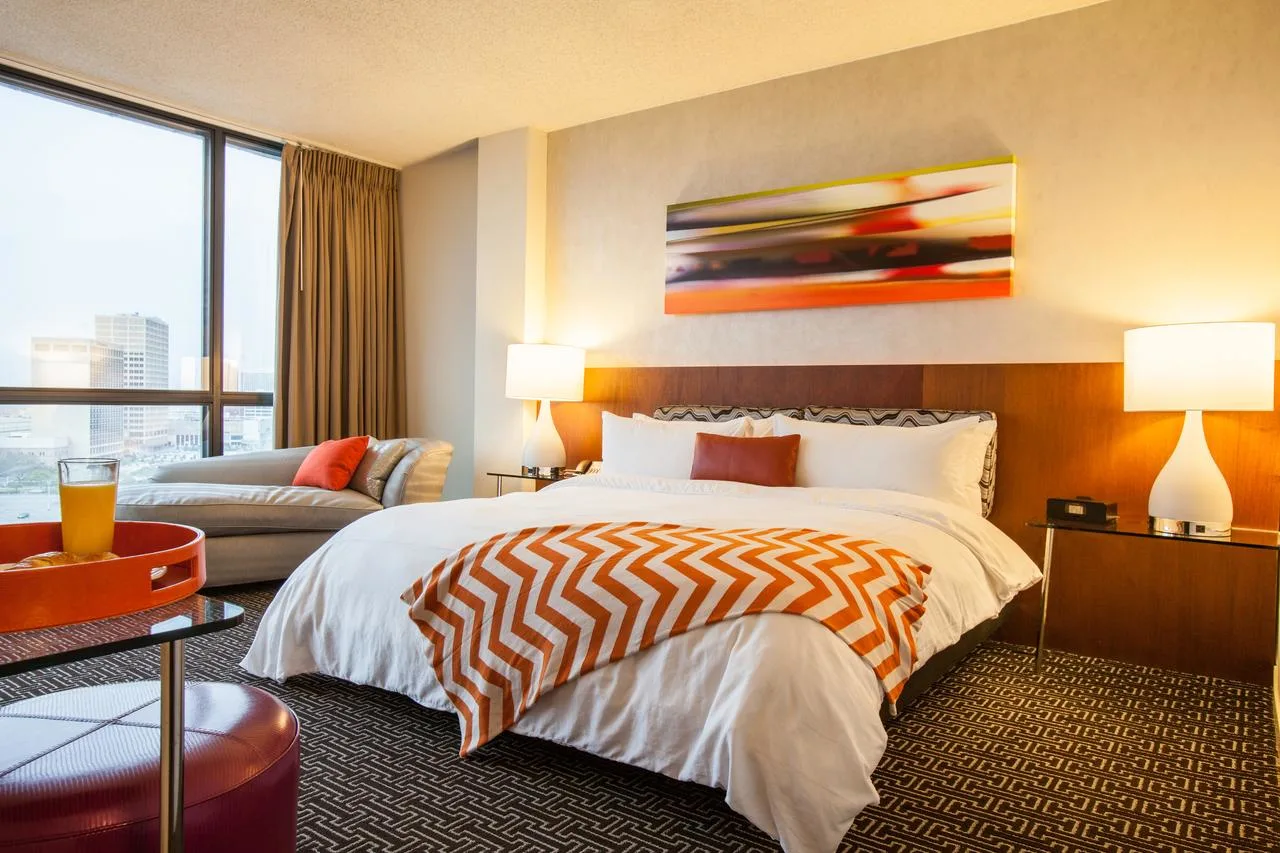 Rated #5 in Houston by the readers of Conde Nast Traveler, Hotel Alessandra, is the perfect place to plan a romantic escape for you and your significant other. After checking out the local activities, cultural offerings, entertainment select a fine restaurant to round out the evening's festivities.
Located next to the Theatre District and sports venue, JW Marriott eloquently carries the rich legacy of the city forward, blending past and present in a dynamic fusion. The JW Marriott speaks Houston at its finest. The hotel showcases paintings and sculptures created by local artists that provide a real flavor for Texas hospitality.
This hotel is an excellent choice for travelers visiting Grosseto. Visitors can check out II Giardino Archeologico and Duomo di San Lorenzo, some of Grosetto's top attractions as well as other local sights, entertainment venues, cultural exhibits and restaurants.
The Moran is West Houston's newest name in hotels and a relaxing oasis in the heart of Houston's exciting city centre, the city's shopping, dining, and entertainment mecca. Enjoy your visit.
Set within one mile of The Galleria in Houston, The Post Oak Hotel is practically next door to the Water Wall, Memorial Park, and Houston Arboretum and Nature Center. Aside from fabulous in room spas, the hotel features an outdoor swimming pool and a fitness centre.
Located within steps of countless beloved attractions including the Toyota Center, Minute Maid Park, and George R. Brown Convention Center, and other not-to-be-missed sights and dining opportunities, be sure to unwind and enjoy live music at the WXYZ bar.
Houston's original landmark hotel, The Whitehall shines with iconic mid-century architecture, gracious Southern hospitality, and award-winning cuisine.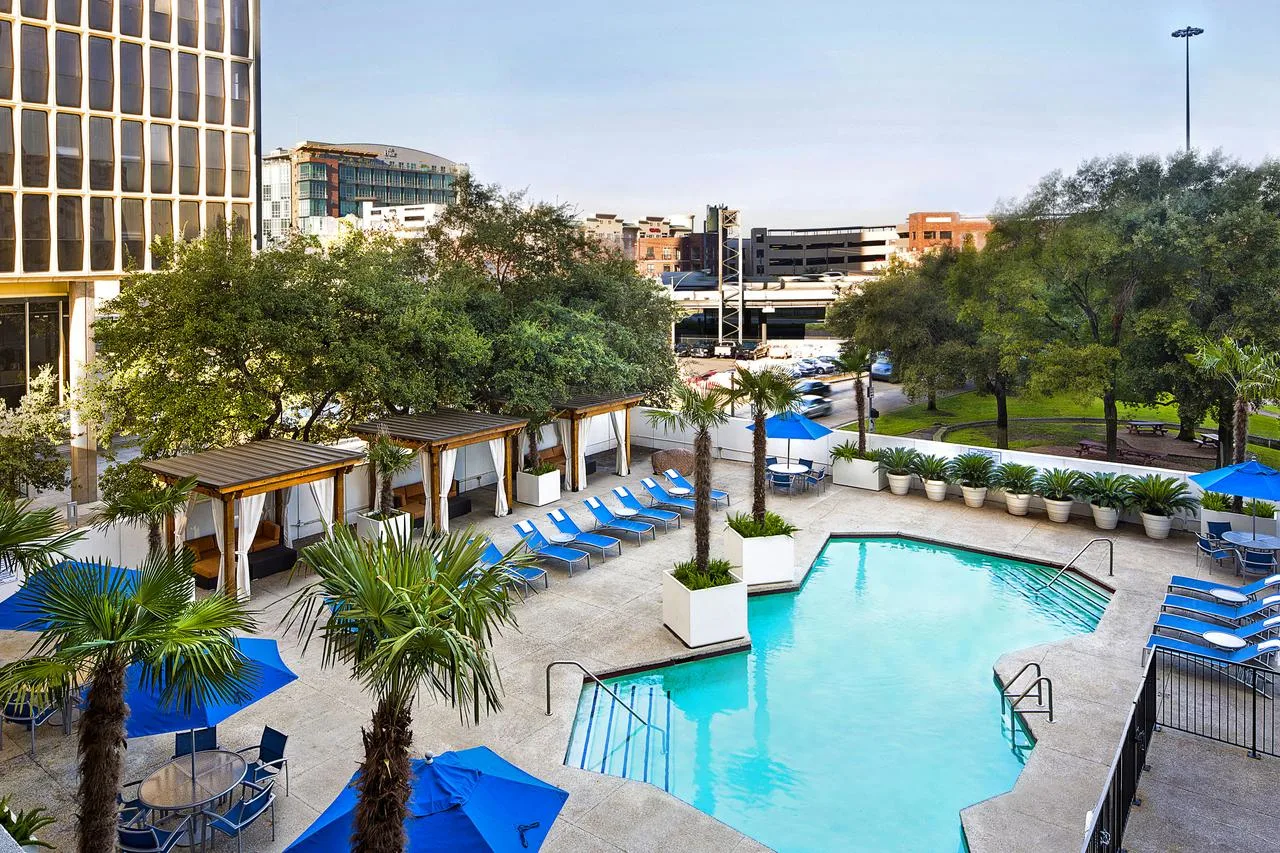 Sheraton Suites Houston Near the Galleria
With a stay at the Sheraton Suites, you will be within a five-minute drive of Greenway Plaza and Memorial Park. This four-star hotel is about six miles from the Houston Natural Science Museum and offers a complimentary shuttle to various sites.
**
Make sure you capture your stay on IG with some awesome Texas Quotes.
Looking for your next romantic getaway?
Why not try these?
***