Looking for Hotels with Jacuzzi In Room In VA?
Virginia has so many things to offer for a romantic getaway. There is history in every town that goes back to the very beginning of the United States. Not to mention Virginia's beautiful beaches and culture and the proximity to Washington D.C. and all the sights our nation's capital has to offer.
The things that make a romantic getaway even more special are the details that bring you and your significant other closer. One of these details is the luxury of a hot tub just for the two of you, in a private suite!
Virginia has lots of hot tub suite options throughout the state. So many, in fact, that the search for a perfect hotel hot tub suite can feel overwhelming. Luckily for you, we have done the hard work of checking out these hotels so you don't have to.
You'll be sure to find the perfect hotel with jacuzzi in room in VA with the right amenities, dining options, and attractions for you and your sweetheart.
HOTELS IN VIRGINIA BEACH WITH JACUZZI IN ROOM
There's a lot to enjoy at the Four Sails Resort, especially when you book a double-sized whirlpool tub to enjoy with your sweetheart.
On the 4th floor, you'll find an indoor pool to splash in, and one floor down, there's an exercise room and sauna. The 8th floor features a Sundeck, where you can catch some rays without ever leaving the hotel. You can also enjoy free bike rentals offered at the resort and a coin-operated laundry room.
You can find breakfast and lunch specials daily at the resort's 33rd Street Café, which boasts an ocean view and local entrees. You can also enjoy a dinner date in-season.
Off the resort, you can find more than 40 restaurants to eat at within half a mile. Some very close dining options include Duck Donuts, Lager Heads, Mannino's Italian Bistro Oceanfront, and TASTE at Oceanfront, all within 5 minutes or less on foot.
Looking for things to do? Neptune's Park is a 4-minute walk from the resort, and you can find lots of places to spend your days together within 3 miles.
Pacific Place Shopping Center is close by, as is the Virginia Museum of Contemporary Art. For some more nature, you can check out Cavalier Park or Owl Creek. And Croatan Beach is just a short drive away too.
Want some more inspo? Check out these fun date ideas in Virginia Beach!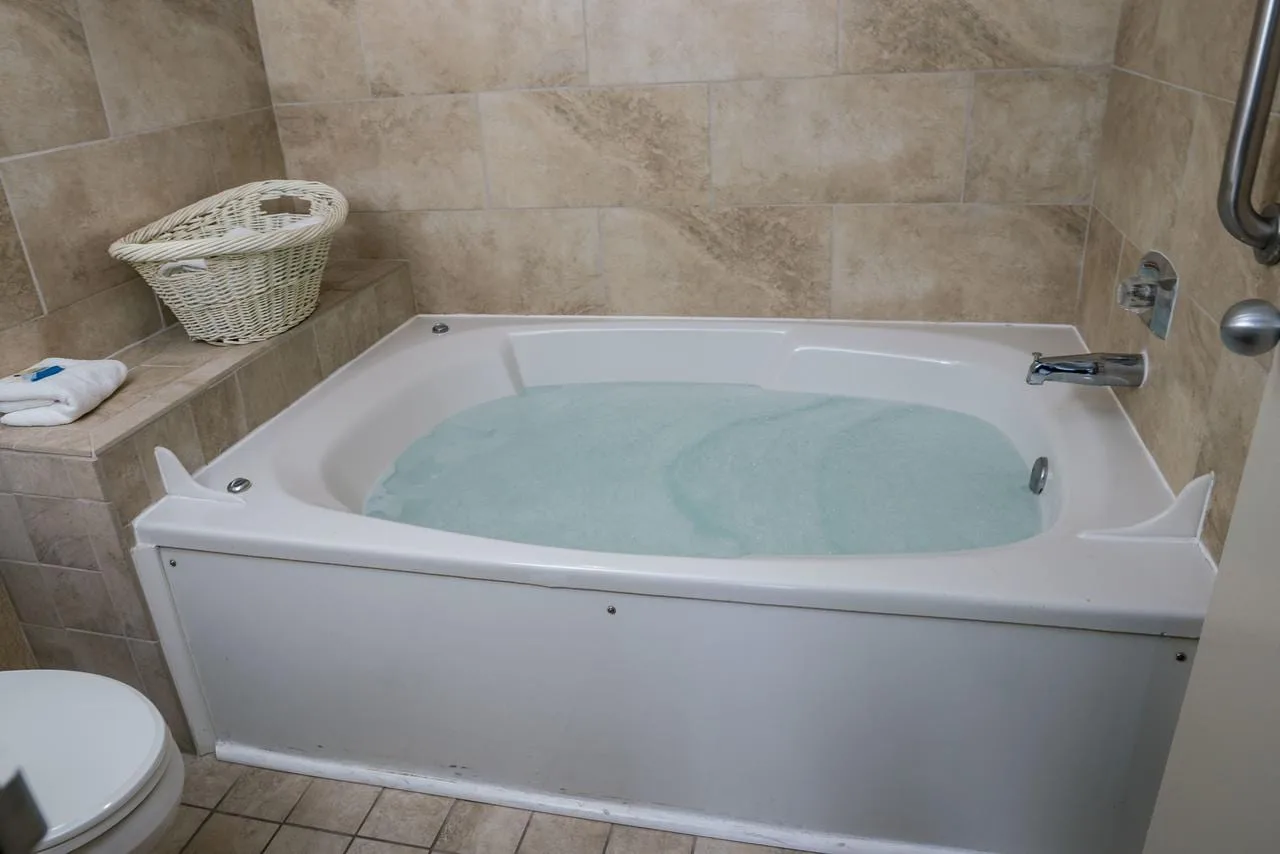 One of the best hotels in Virginia with a jacuzzi suite!
Free Wi-Fi is a given in most hotels these days, and the Hilton Garden Inn Virginia Beach is no exception. Every day, you can relax in the indoor pool or stay fit in the fitness center on-site, then enjoy a restful sleep in the comfort of your cozy bed.
You won't be short on close dining options here. The hotel's onsite Garden Grille & Bar serves breakfast and dinner daily. Ruth's Chris Steak House is just a 3-minute walk from the hotel, as is BRAVO Cucina Italiana. The Yard House is a 6-minute walk, and Tupelo Honey is even closer, at just a 2-minute walk away.
If you love entertainment, you'll love Virginia Beach. The Sandler Center for the Performing Arts is only a 5-minute walk from the Hilton Garden Inn, so you can enjoy a performance with ease.
If you want to catch some amateurs (or even perform yourselves!), Amplitude Karaoke is 6 minutes away on foot. Regal Columbus Stadium 12 is a 5-minute walk if you want to catch a movie. And, of course, there's always the beach!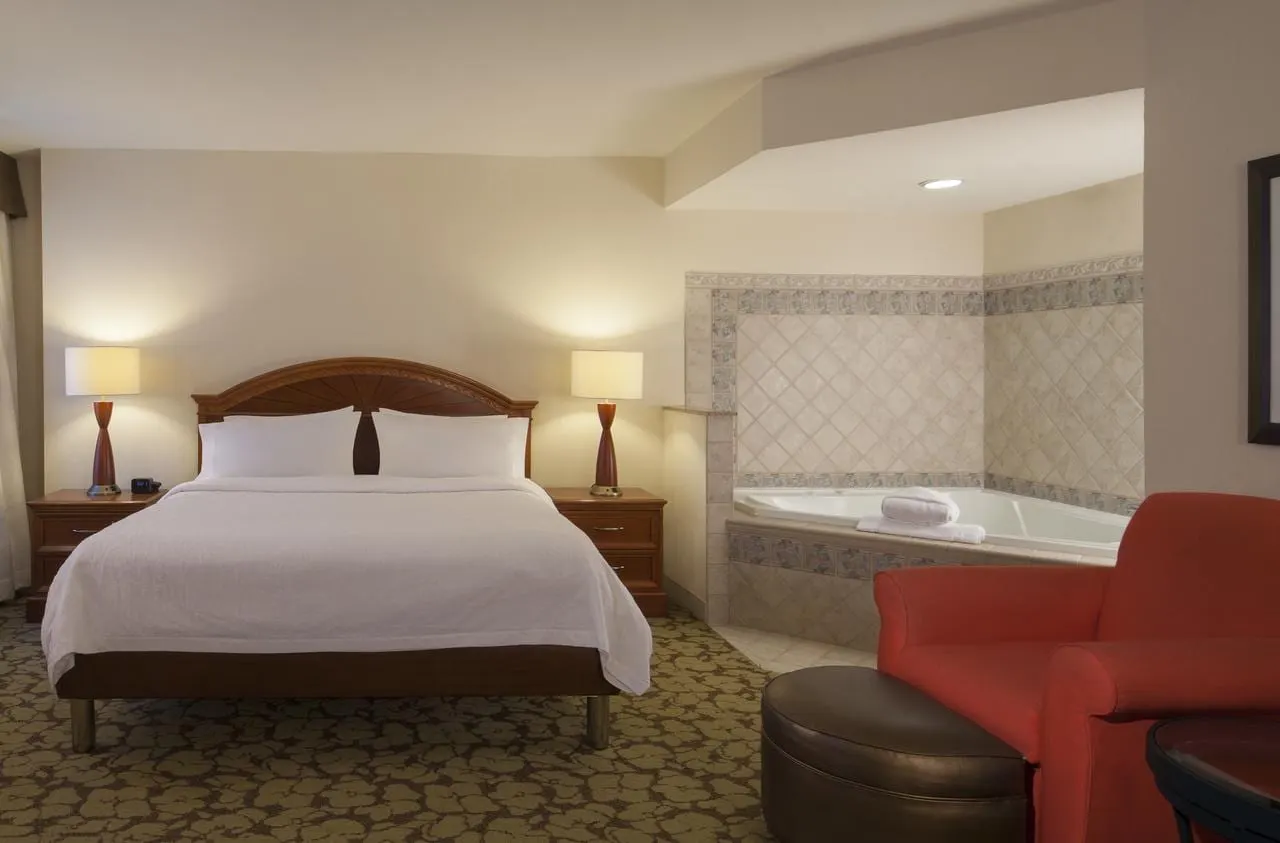 Book a room with a jetted tub at the Beach Spa Bed & Breakfast and relax in the lap of luxury. Enjoy room service, spend an hour in the garden, or take your bikes to the nearby trail. You'll also love the spa and laundry services offered right there on the property.
Breakfast is served a la carte every morning at the B&B, and there are lots of dining options between a quarter of a mile and 2 miles from your room. Check out Mojito's, Terrapin Restaurant, or Croc's 19th Street Bistro for nearby eats. You can also give Zoes Steakhouse a try, or Eat – An American Bistro.
Neptune's Park is a 12-minute walk from the B&B, and the Virginia Beach Fishing Pier can be reached on foot in about 30 minutes. Mystery Dinner Playhouse is just a short drive away, as is Cavelier Park.
You can also spend hours at Beach Mall Shopping Center, the Virginia Museum of Contemporary Art, and Pacific Place Shopping Center, all closer than a mile to bed & breakfast.
One of the best hotels with in room jacuzzi!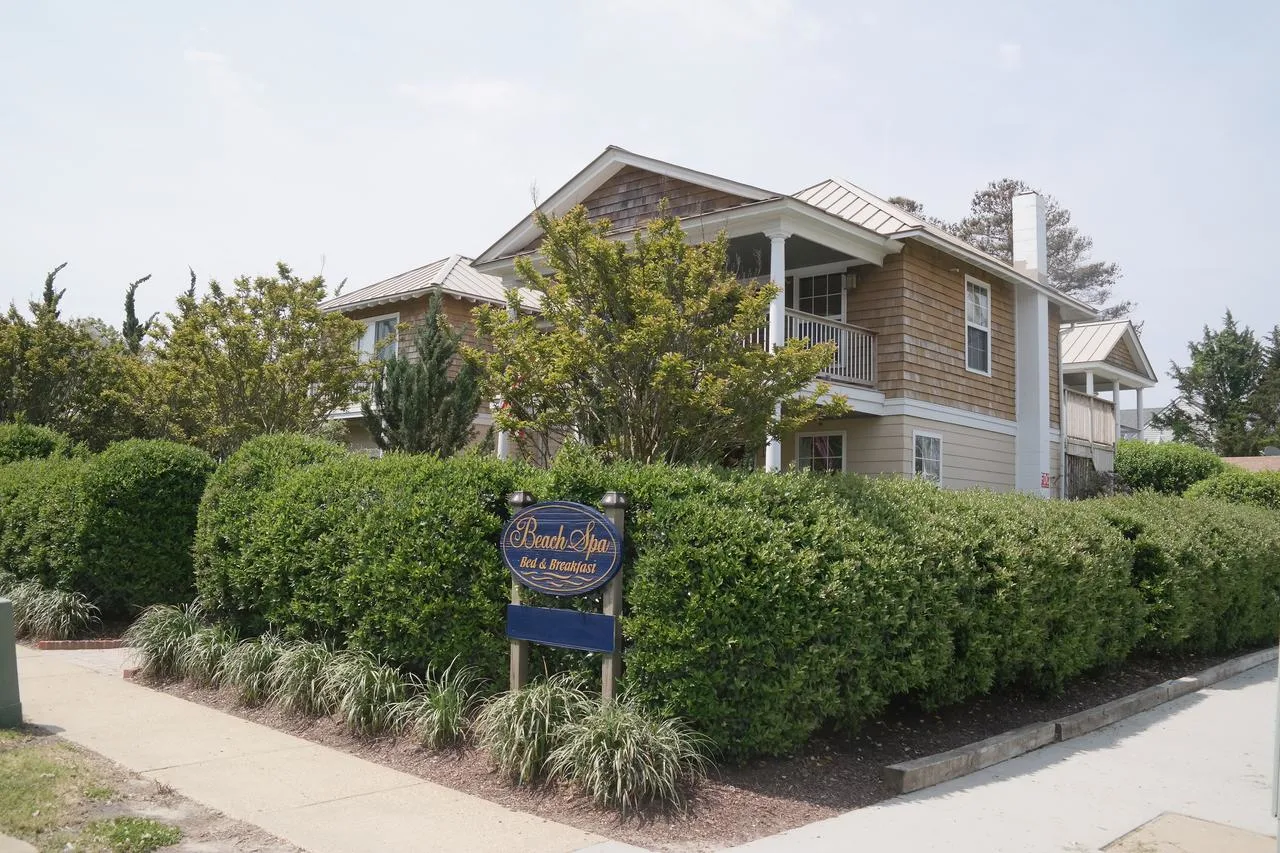 When you book a room with a whirlpool for 2, you'll be pleasantly surprised by this tub, specially designed for you to sit comfortably side by side with your honey—with back support! Definitely one of the best hotels with hot tubs in room in va!
Beyond your suite, you'll find a large, heated outdoor pool, a beach just for hotel guests where you can rent chairs and an umbrella for your comfort, and bikes available to rent. You can also wash your clothes in the on-site laundry room.
There are 40 restaurants within three-quarters of a mile of the Schooner Inn. Some of these include Side Street Cantina and Il Giardino Ristorante, which are a 12- and 10-minute walk from the inn, respectively. Waterman's Surfside Grille can be reached on foot in just 4 minutes, as can Sunnyside Café and Restaurant.
If the Schooner Inn's beach doesn't satisfy you and your sweetheart, Croatan Beach is just over half a mile away. You can also head to the Virginia Beach Fishing Pier, browse at the Beach Mall Shopping Center, or see beautiful sea creatures at the Virginia Aquarium & Marine Science Center.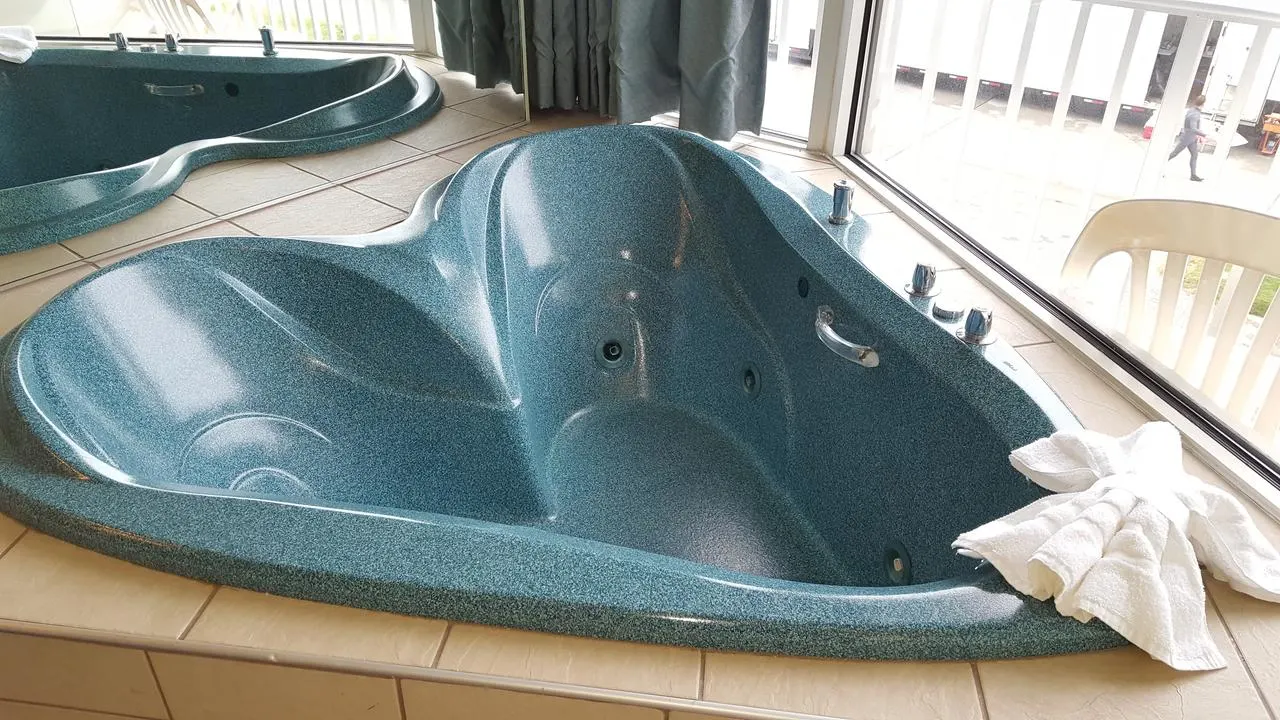 VIRGINIA B&B HOT TUB SUITES
One of the best jacuzzi suites in VA!
The Garden and Sea Inn is open year-round and is primed for romance. The property sits on five rolling acres of the Virginia countryside and features beautiful gardens perfect for an afternoon stroll, an outdoor swimming pool, ponds, porches, and fire pits to create a perfect, peaceful atmosphere for your getaway.
Book one of the private Jacuzzi rooms to make your stay at this inn perfect.
Breakfast is served every morning at the inn, and there are plenty of dining options just a short drive away. Try the fare at Dons Seafood and Chicken or Lins Asian Cuisine. Bills Prime Seafood and Steaks is worth the trip.
And if you're looking to stock up on snacks for the room, Food Lion supermarket and Walmart are both close by.
Want so fun activities nearby? There are beaches nearby to get sun-kissed at, and the Garden and Sea Inn is near to both Chincoteague National Wildlife Refuge and Assateague Island, where you can see animals like ponies and birds. There are lots of shops to browse and buy locally, as well as breweries and wineries for a buzzing good time.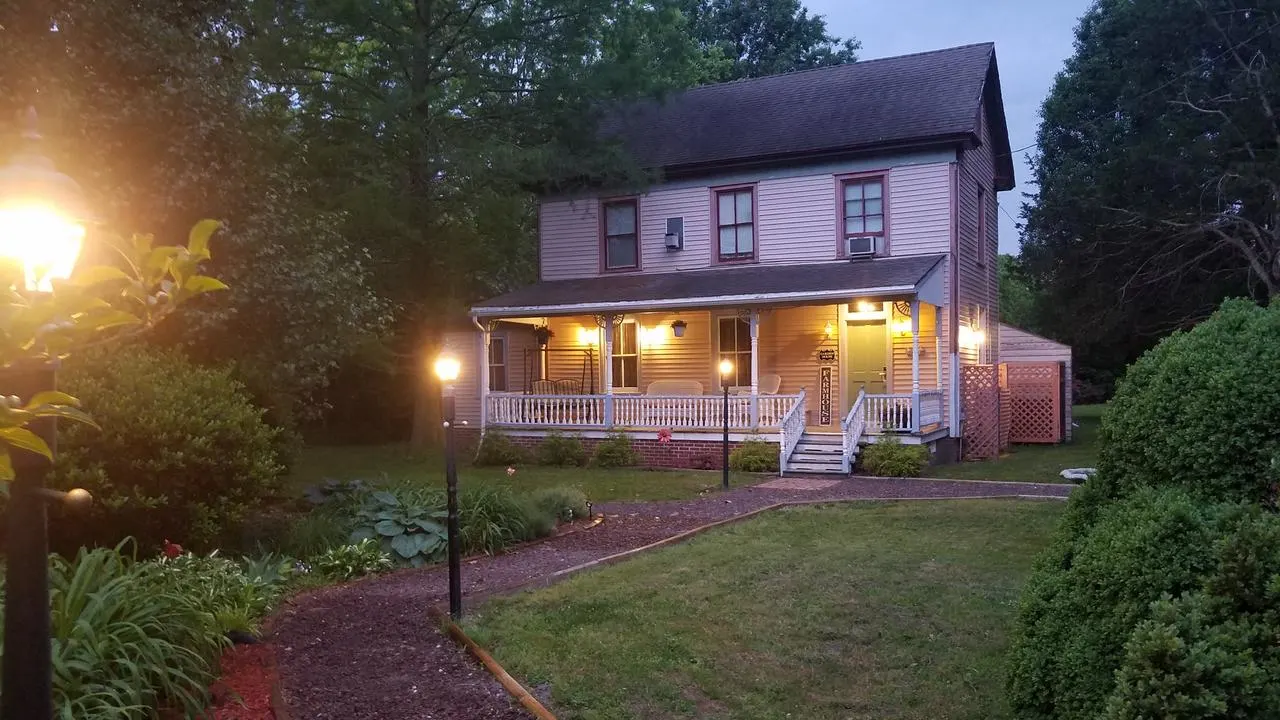 The Inn at Westshire Farms is designed to provide a calm atmosphere for you and your partner during your romantic getaway.
The main living room at the inn has an inviting fireplace where you can relax and socialize with other guests, or sit quietly and read. The outdoor patios offer beautiful views of the valley, and you can end each day cozied up in your private jetted tub.
The bed & breakfast conservatory at the inn serves your first meal of each day. There's a variety of culinary options to choose from locally. Check out the menus at The Split Banana, Zynodoa, Mill Street Grill, and Aioli.
From classic American dishes to Mediterranean fare, you'll find classic dishes and new favorites are all just a short drive away.
Spend an afternoon strengthening your partnership at Crack the Code Escape Room. You can also catch a play at the American Shakespeare Center. If you're looking for some cultural education, check out the Frontier Culture Museum nearby.
NORFOLK & CHESAPEAKE VA SPA SUITES
You can enjoy the luxury of room service, work up a sweat at the fitness center, and cool off in the indoor pool all from the comfort of the Hilton Garden Inn Chesapeake/Greenbrier. The Wi-Fi is free and the whirlpool suites will make this romantic getaway one to remember.
Breakfast, lunch, and dinner are cooked to order each day at the hotel's onsite Garden Grille & Bar. There are around 50 restaurants within half a mile of the Hilton Garden Inn, including Surf Rider, which is 12 minutes away on foot, and Black Pelican Seafood, Greenbrier, which is a 10-minute walk.
Abuelo's is an 8-minute walk, and Pop's Diner Co. is just a 7-minute walk from the hotel.
For a romantic dinner and a movie, take a 10-minute stroll to the Cinema Café. Also a 10-minute walk from the hotel is Greenbrier Mall, where you can shop til you drop if you wish, and GameWorks, where you and your sweetheart can find some fun.
Play in the comforts of the 21st century at MultiVRse Virtual Reality Arcade, only an 11-minute walk from the Hilton.
NEWPORT NEWS/HAMPTON VA JETTED TUB SUITES
There's a heated indoor pool at this Country Inn & Suites location, where you can relax and unwind before enjoying the private luxury of your whirlpool suite.
There's also a fitness center free to use and lots of movies to stream in the room with your free Wi-Fi.
Free breakfast is served every morning at the hotel. For a lunch or dinner date, satisfy any craving at Sal's NY Pizza, Island Flavours Caribbean Restaurant, Wing Bistro, or Kings Seafood, all just a 3- or 4-minute walk from the hotel.
Buckroe Beach is just 15 minutes from the Country Inn & Suites and Busch Gardens Williamsburg is around 25 minutes away.
If you and your honey want to catch a game, the Boo Williams Sportsplex is nearby, as are Memorial Stadium and Darling Stadium. For some sightseeing that's out of this world, NASA Langley Research Center is less than 3 miles away, and the Virginia Air Space Center is less than 4 miles away.
WESTERN VA WHIRLPOOL SUITES
Book a suite with a jetted tub at the Fairfield Inn Roanoke Hollins and enjoy all the amenities that come with it. The outdoor pool provides a fun way to cool off in the heat, and the fitness center is a great place to warm back up.
Enjoy beautiful mountain views from your room, and take advantage of the hotel's bikes available to rent.
The Fairfield serves a free, hot breakfast every morning. For a delicious meal off-site, take a walk to Hollywood's Restaurant & Bakery, or enjoy a short drive to the local cafe Bread Craft, The Regency Dining Room, or Lucky.
For some history of art and culture, check out the O. Winston Link Museum a short drive from the hotel. There's also the Virginia Museum of Transportation and the Roanoke Pinball Museum, so you'll learn a lot while also having fun on this romantic getaway.
If you are looking for hotels with jacuzzi tub in room – don't overlook this hotel.
You can unwind from the day with a workout in the onsite fitness center or a dip in the indoor pool. Every afternoon you can enjoy free, freshly baked cookies, and there's always complimentary coffee in the Country Inn & Suites lobby. You can also socialize in the hotel lounge by the fireplace each evening.
Breakfast is free at the hotel each morning, and you can grab snacks for the room at the local Krogers. For lunch and dinner options, check out the menus at Hollywoods, Lews, or The Q.
See a game with your SO at Roanoke Sports Complex, just a short drive from the hotel. Mill Mountain Zoo is a great way to spend a day hand in hand.
You can also browse the shops at Bennington Place Shopping Center and find something old to make new again at the Black Dog Salvage antique shop.
CENTRAL VIRGINIA HOT TUB SUITES
You'll fall deeper in love in your whirlpool suite at the Hilton Garden Inn Lynchburg. Located just 6 miles from downtown, you can start or end each day with a workout at the fitness center and a dip in the indoor pool no matter the time of year.
If you need snacks or forgot anything at home, you can find it at the Pavilion Pantry onsite, open 24 hours a day.
The Great American Grill at the hotel has meals to fill you up, but you'll also find around 30 restaurants within half a mile of the hotel.
Some nationwide favorites nearby include Chick-fil-A, where you can grab a quick bite just a 6-minute walk away, and Olive Garden, which is only 3 minutes away on foot. Blaze Pizza is also a 6-minute walk, as is the Mexican fare at La Carreta.
This hotel is in a perfect location for sports fans. See a game at your pick of Liberty Baseball Stadium, just a 12-minute walk from the Hilton, or at Lynchburg Stadium a short drive away. For some dramatic arts, you can see a performance at Alluvion Stage Company, also a 12-minute walk from the hotel.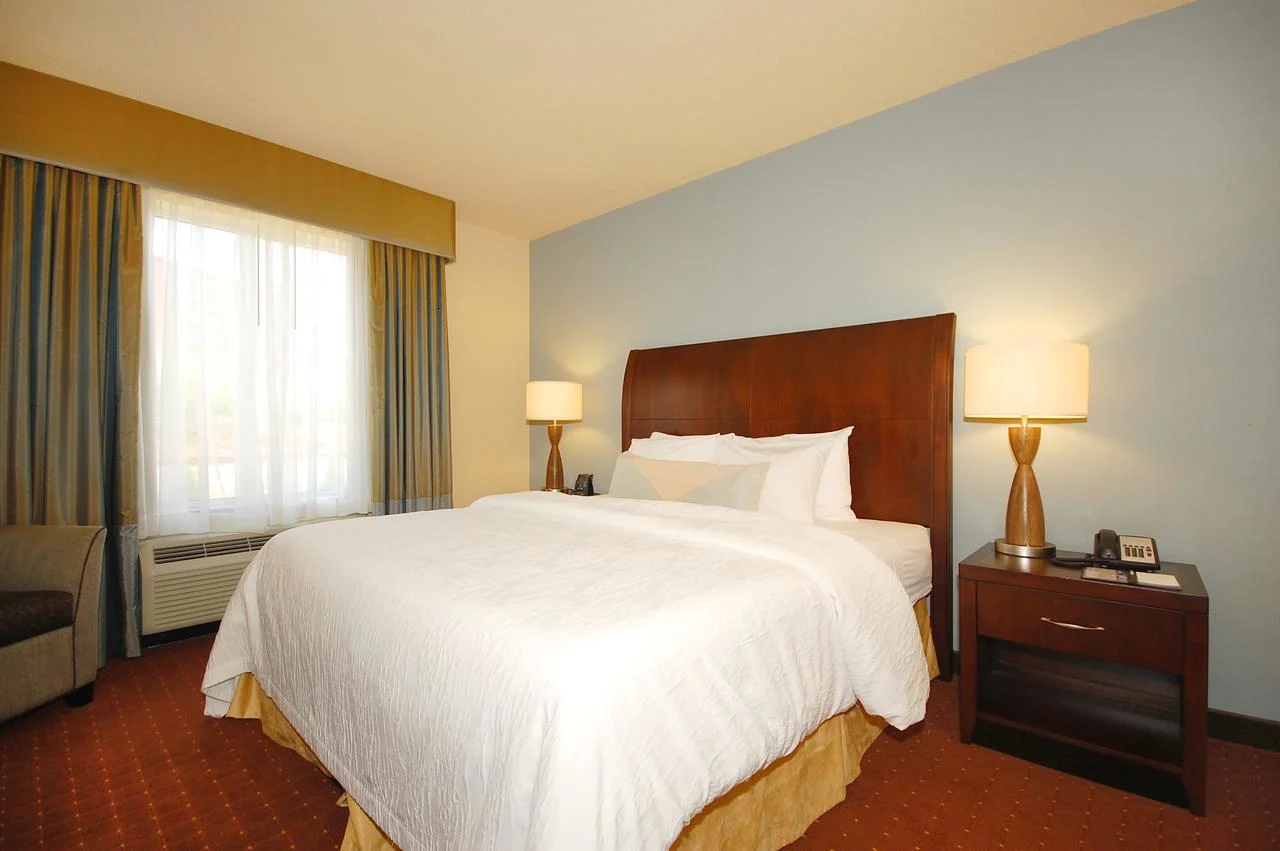 Go for a run at all hours of the day and night at the 24-hour fitness center onsite at the Holiday Inn Express. You can stay connected and stream your favorite guilty pleasures with the free, high-speed Wi-Fi, and stay on the go with the complimentary coffee available in the lobby.
Free hot breakfast is served every morning at the hotel. There are also lots of dining options within just one mile of the Holiday Inn Express. You're bound to find a favorite at Chili's Grill & Bar.
Or, try something new at Capital Ale House, grab a pint at Penny Lane Pub, or enjoy a latte at Tarrant's Café. For those loyal to the national brand, there's a Starbucks at 375 W Cary St., and for a local brew, check out Lift Coffee Shop.
You can see a performance at the Landmark Theater or the Carpenter Center for the Performing Arts. A romantic stroll through the Lewis Ginter Botanical Gardens is a great way to appreciate the beauty of nature and your partner.
For some spooky history, see the Edgar Allan Poe Museum. The Virginia Museum of Fine Arts is just 2 miles away, and the James River is just half a mile away, so you can always find something to do, rain or shine.
OTHER JACUZZI SUITES IN VIRGINIA
Travel to the heart of wine and horse country and stay at this inn, which sits on 265 acres of beautiful farmland that grows the very food served at the Goodstone restaurant.
On the property, you can enjoy the country spa, wine cellar dining room, Carriage House Bar, outdoor heated pool, and of course, the working farm. You and your sweetheart will also have access to 2 miles of hiking trails and bikes to take for a ride.
There are three dining and beverage options right on the property. There's a full country breakfast served every morning at the Inn's Bistro & Bar, which also serves cocktails, draft beers, and wine.
The Conservatory Restaurant offers an authentic farm-to-table dining experience. The Wine Cellar has an extensive collection of bottles to choose from, made from around the world.
If you're looking to expand your palate, the Goodstone's Wine Program can give you a taste of what it's like to taste wine like a real sommelier.
If you somehow tire of all there is to do at the Goodstone, you can venture into town to shop at the many boutiques in Middleburg. You can also admire art at the Gallery on Madison, or learn something new at the National Sporting Library & Museum.
There are 256 sprawling acres of this historic property, so there's lots to do and explore. You'll love the convenience of the fitness center and your choice of indoor or outdoor pool at the Historic Powhatan Resort.
You can also flex your skills on the onsite tennis court, or putt your way through a romantic afternoon on the resort's mini-golf course. Relax at sunset on the outdoor pavilion or your own private balcony.
The Historic Powhatan Bar & Grille allows you to get breakfast and dinner without leaving the comforts of the resort. Sit indoors or out on the patio by the pond. For some off-site eats, try Duck Donuts or Two Sisters Pizzeria, both a 14-minute walk from the resort. You can also check out HoneyButter's Kitchen, which is 15 minutes away on foot.
Historic Williamsburg offers history, culture, and adventure to make your romantic getaway one to remember. The cobblestone streets are bright with blooming flowers in the spring and summer, making the neighborhoods of the town picturesque for an afternoon spent exploring.
Book a ghost tour or see a civil war re-enactment, or enjoy the present with over a dozen golf courses in the area.
Already Looking for more romantic getaways?
Why not check out: