Looking for Romantic Hotels With Jacuzzi in Room NJ?
New Jersey is often overlooked, especially when it comes to romantic getaway destinations.
The culture, the beaches, the views—all things New Jersey has to offer! Not only are there lots of things to do and explore as a couple, but there are also great hospitality options, options with private hot tub suites.
A good hotel can make or break your vacation, and some amenities help make the experience oh so special. There are an overwhelming number of hotel options out there, but if you and your significant other are looking for the perfect in-room hot tub suite for your getaway, you've come to the right place.
Below, you'll find a list of some of the best hot tub suites in the Garden State, broken down by location. Whether your ideal getaway includes wineries and leisurely strolls on the beach, golf and shopping, or anything in between, this list has the perfect accommodations for your couple's trip to New Jersey.
18 Romantic Hotels With Jacuzzi in Room NJ
ATLANTIC CITY HOTELS WITH JACUZZI INSIDE ROOM
The newly renovated rooms and suites at the Holiday Inn Express will make your romantic getaway feel elegant and luxurious while still being affordable, located just outside buzzing Atlantic City.
Book one of their fully mirrored Jacuzzi suites for a relaxing and steamy evening in-room. You can also venture beyond your room to spend time at the pool or break a sweat at the onsite fitness center.
A fabulous motel with jacuzzi in NJ!
Enjoy a free breakfast at the hotel and, for your lunch and dinner needs, take a quick stroll for a taste of some local favorites. Grab a bite at Vic's Subs, China Sea of Absecon, or Bob's Seafood Market Absecon, all just five to ten minutes away by foot. You and your significant other will be sure to find a nearby and delicious meal to satisfy any craving.
The Holiday Inn Express Absecon is perfect for couples who love to take leisurely strolls together, whether to pay respects at a memorial, check out beautiful and historical architecture, or simply enjoy a bit of green.
Heritage Park and Dr. Jonathan Pitney Park are both a short walk away. You can check out the Absecon 9-11 Memorial in less than 15 minutes, as well as the Church of Saint Elizabeth Ann Seton in the same amount of time. And of course, AC and all its excitement is just a short drive away!
Book your stay here.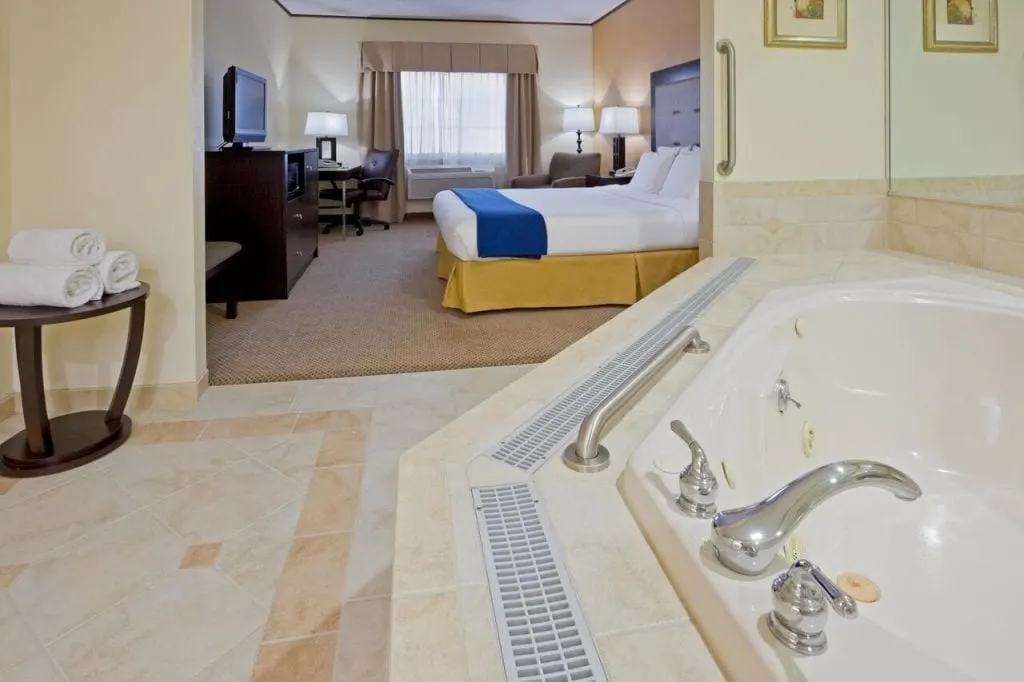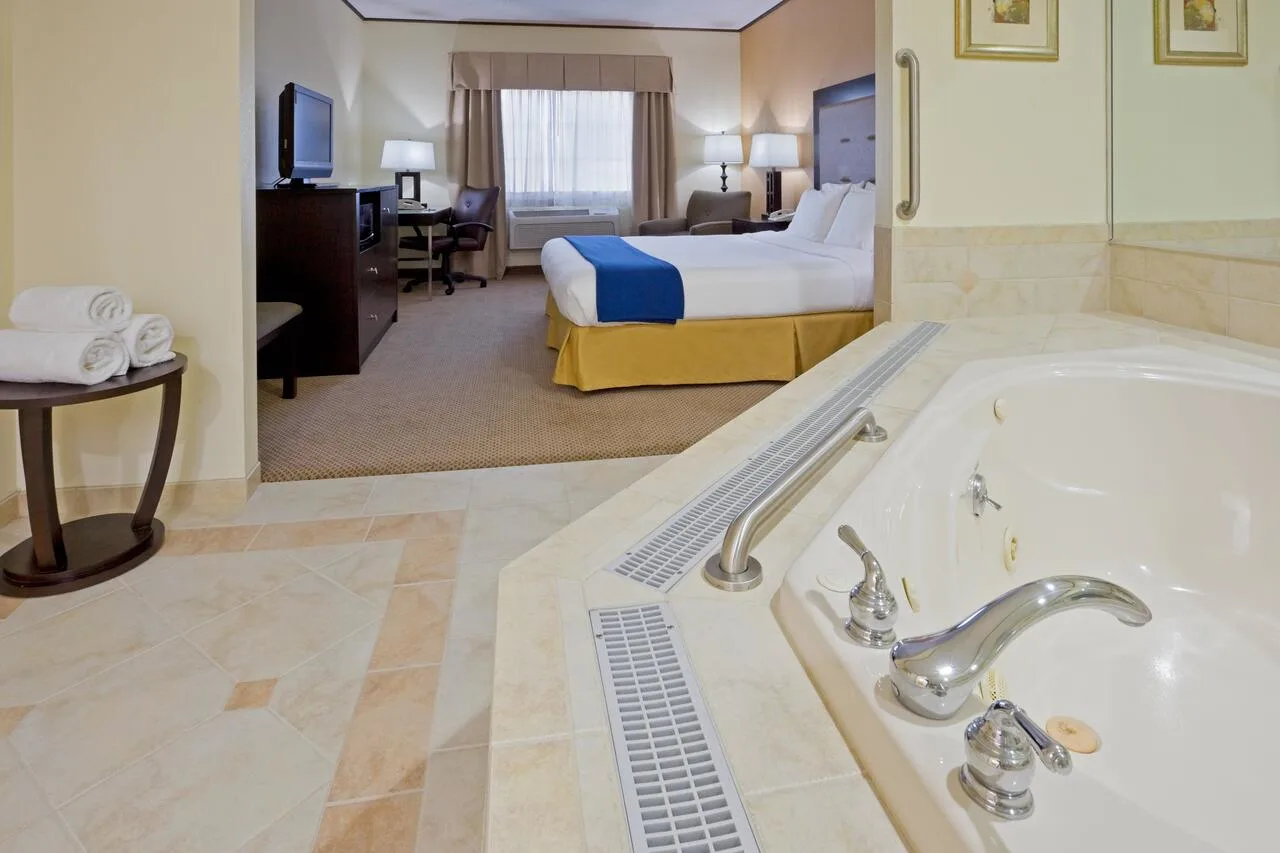 If you and your special someone are looking for a hotel a little closer to the action in Atlantic City, the 32-story Club Wyndham Skyline Tower could be perfect for you.
It was completely renovated in 2011 and features a fitness center, game room, activities desk and activities center, sauna, and an outdoor seasonal hot tub, in case the jetted tub in your room isn't enough.
There are more than forty restaurants within a quarter of a mile of the Club Wyndham. If you're looking to walk no longer than six minutes, check out Capriccio (Italian), EastWind (Singaporean), Kelsey's (bar), or Breadsticks Café & Grill (American).
Located right on the water, there's no shortage of activities for you and your sweetheart to enjoy. Fishing, water-skiing, live entertainment, mini golf, regular golf, beach, wineries, and boating opportunities are all at your fingertips. Not to mention there are 13 casinos within five miles of the hotel.
And to satisfy your sweet tooths, check out MADE Atlantic City Chocolate Bar and Lick Candy Store, both just a few minutes' walk away.
Book your stay here.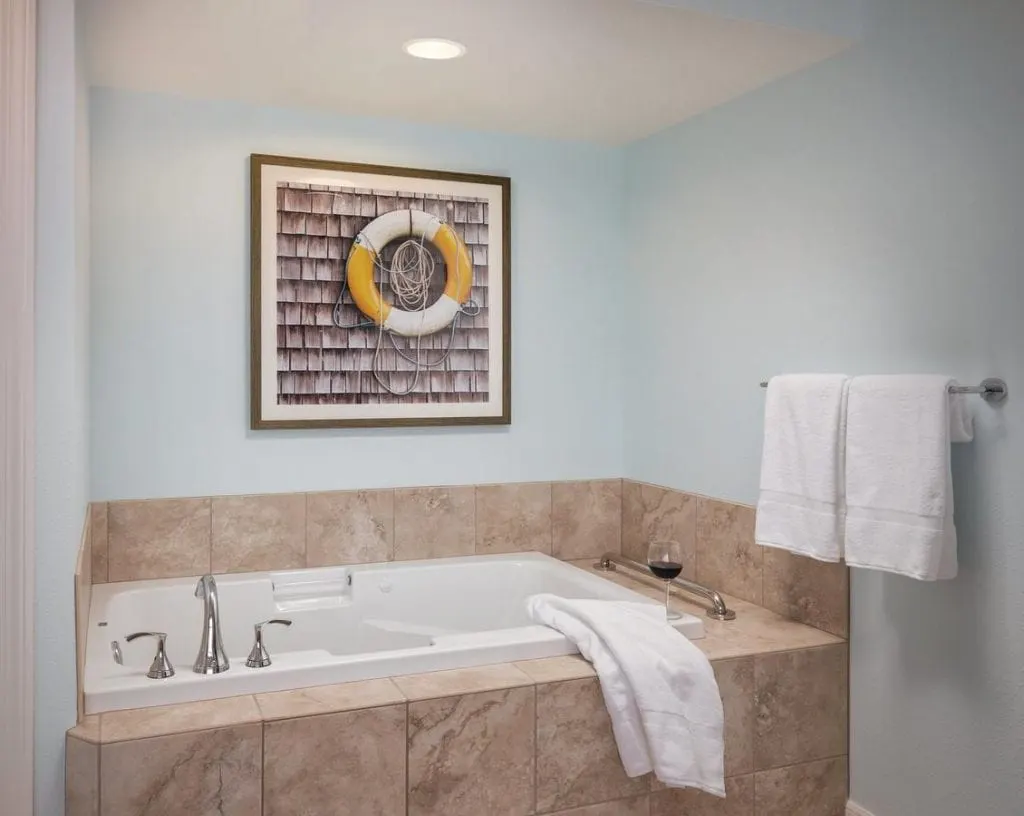 This Radisson location offers whirlpool suites built for two to provide maximum comfort for you both.
There is a pool and fitness center onsite, as well as complimentary coffee, tea, and cookies each day. After rolling out of bed, enjoy a free, hot breakfast at the hotel. For local cuisine, try Shea's Café & Bakery, Tacos el Tio, Vic's Subs, or JJ's Diner, all just a short drive away.
The Atlantic City Boardwalk is conveniently close by, perfect for strolling hand-in-hand. Tee off at Blue Heron Pines Golf Club, get some chuckles at Borgata Comedy Club, or bake in the sun on the Ocean City Beaches.
Shop luxury brands at Playground Pier, take a tour of Reneault Winery and sample the gourmet menu at the Tuscany House, or get fresh air among the critters at Edwin B. Forsythe National Wildlife Refuge.
Feel like kids again at Storybook Land or Escape At The Shore. Feel like adults at Black Cat Bar & Grill. All these and more are located within 10 miles of the hotel!
Book your stay here.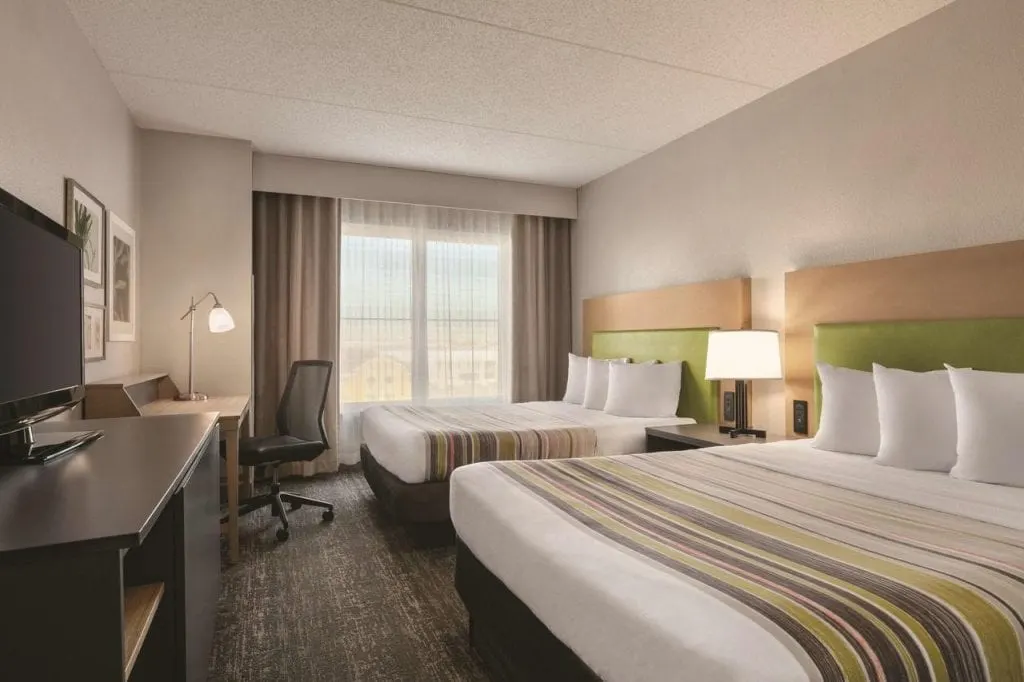 Warning—you may never want to leave this hotel!
The Claridge has been around since 1929 and boasts of being an architectural masterpiece just off the Atlantic City Boardwalk.
Book a whirlpool suite and take advantage of all the onsite amenities and activities offered, including room service, limousine service, an indoor pool, and complimentary coffee and tea.
There are multiple onsite restaurants and bars, including a rooftop bar and lounge that will no doubt elevate your romantic getaway.
Beyond the hotel, there are many, many dining options within minutes. Satisfy your cravings for Chinese food at Buddakan, or keep it classic with the American fare at Morton's The Steakhouse. You can also enjoy tasty food and cocktails at the nearby bars Kelsey's and The Continental.
Within the Claridge, find The Celebrity Theater, which offers entertainment just steps from your room.
Beyond the walls of your hotel, however, you'll find no shortage of attractions. The Atlantic City Boardwalk and Beach, of course, are just a few minutes' walk away. Visit Brighton Park to see the flower gardens, beautiful fountains, and the New Jersey Korean War Memorial.
For some indoor fun, try your luck at Caesars Atlantic City Casino or travel under the sea at Atlantic City Aquarium. Spend the day at the incredible over-the-sea amusement park, Steel Pier, or get directly on top of the water with Atlantic City Cruises, where you just might see some bottlenose dolphins at play!
Book your stay here.
The Marriott Fairway Villas offers whirlpool tubs for two, making this a great location for your romantic getaway. You can also find a fitness center, pool, and game room on site to keep you both entertained for hours.
Cook a romantic meal for yourselves in your fully stocked kitchenette, or take a stroll to Shea's Café & Bakery for some fresh-baked goods.
For other mealtime cravings, check out Vic's Subs, The Historic Smithville Inn, or Fred & Ethel's Lantern Light, all a short drive away.
Beyond the hotel, you can enjoy a nice, relaxing day at the Edwin B. Forsythe National Wildlife Refuge, do some shopping in Historic Smithville, stock up on treats at Smithville Peanut Butter Company, or enjoy cocktail hour at Black Cat Bar & Grill.
Book your stay here.
HOTELS WITH JACUZZI IN ROOM NEWARK NJ
The whirlpool suites at this Radisson location will help you relax after a long day.
Spend some time enjoying the indoor pool and fitness center, then refresh with complimentary coffee, tea, and cookies.
There is a free, hot breakfast offered every morning at the Country Inn & Suites, and more than 30 restaurants within three quarters of a mile. You are never more than a 10-minute walk from some of your national favorites here, with IHOP, Johnny Rockets, and Applebee's enticingly close by.
Nearby the hotel, you have the possibility to shop 'til you drop at the largest outlet mall in the state – The Mills at Jersey Gardens is just a seven-minute walk from your hotel.
Alternatively, if your favorite kind of date night is dinner and a movie, the AMC Loews Jersey Gardens is just six minutes' walk away. For an out-of-this-world experience, check out Dreyfuss Planetarium, and for a taste of celebrity, visit Carlo's Bake Shop, owned by chef and TV personality Buddy Valastro.
If the pair of you are the outdoorsy type, you can get in touch with nature at Great Swamp National Wildlife Refuge or Liberty State Park. And if all that doesn't satisfy, Manhattan is just a half an hour drive away.
Book your stay here.
Edison, NJ HOT TUB SUITES
You will love your whirlpool suite at the Fairfield Inn. Take advantage of the pool and fitness center to stay in shape and relaxed during your stay.
Enjoy a free, hot breakfast each morning of your stay at the Fairfield. For lots of culinary options within 15 minutes' walk of the hotel, check out Super Duper Deli for sandwiches, Franco's Pizza for a slice, a quick bite at Crazy 4 Falafel, or Indian fare at Godavari.
If the two of you are looking to get your hearts thumping and fulfill some childhood fantasies, you have come to the right place. You have not one but two trampoline park options: Rebounderz Indoor Trampoline Arena Edison is just a 14-minute walk away, and SkyZone Trampoline Park is a little farther, still just a short drive away.
Book your stay here
Stanhope, JACUZZI SUITES NJ
Book a suite with a jetted tub at the Whistling Swan, where you can also enjoy complimentary coffee, tea, soda, juice, and cookies each day.
If you're both looking to stay active during your getaway, guests receive discounted guest passes to the nearby Crunch Gym and can also use the Inn's bikes for free.
There is also a beautiful English garden onsite, complete with a koi pond, waterfall, and gazebo to enjoy.
The Whistling Swan offers a full, complimentary country breakfast buffet each morning. You can book a romantic dinner cruise on the lake with Lake Hopatcong Cruises, which includes a full cash bar. There are also a dozen restaurants within three quarters of a mile of the Inn, including Bell's Mansion, Carmine's Pizzeria & Restaurant, Bistro 46, and Rose's Place.
The Inn is located just an hour from New York City, but if you're looking for local amusement, there is no shortage! There are three nearby amusement parks, many antique shops, several bike and hiking trails, golf courses, wineries, breweries—not to mention boat, kayak, and canoe rentals, and so much more!
Book your stay here. One of the most romantic hotels in NJ with jacuzzi in room.
The Courtyard Parsippany has whirlpool suites and amenities to make your romantic getaway perfect.
Splash in the indoor pool, take a run at the fitness center, and satisfy your midnight cravings with the 24-hour Market.
The Courtyard's Bistro serves breakfast every morning and dinner and cocktails every night.
For a local spot, check out Sergio and Co Italian Specialties, Gourmet Café Restaurant, or H2Ocean Restaurant & Raw Bar, all just a short drive away.
Enjoy the outdoors at your choice of Tourne County Park or Grace Lord Park, both located just over two miles away from the hotel. You can also beef up on some niche local history at the Whippany Railway Museum just over four miles away.
Book your stay here.
Paramus, NJ WHIRLPOOL SUITES
You'll both find comfort in your whirlpool suite in Paramus, where you're never far from the wonders of both New Jersey and New York City.
You'll find classic hotel amenities to make your stay easy and relaxing, including spa services and a fitness center onsite.
Enjoy a free hot breakfast each morning and have a convenient meal at the Red Lobster on property. If you're a loyal Starbucks customer, you can get your caffeine kick in just 15 minutes' walk. Also be sure to check out Suburban Diner and Kook Hwa Bakery, both under 15 minutes away.
Take a trip to the Big Apple and explore the Bronx Zoo or Central Park, perfect for a romantic daytime outing.
For excitement a little closer to your hotel room, you can go bowling, play at the arcade, and swing in the batting cages at Humdingers. For some outdoor fun, check out Van Saun County Park and the New Jersey Botanical Garden, and don't forget to learn all about Newark's history at the Newark Museum.
Book your stay here. A perfect honeymoon suite in NJ.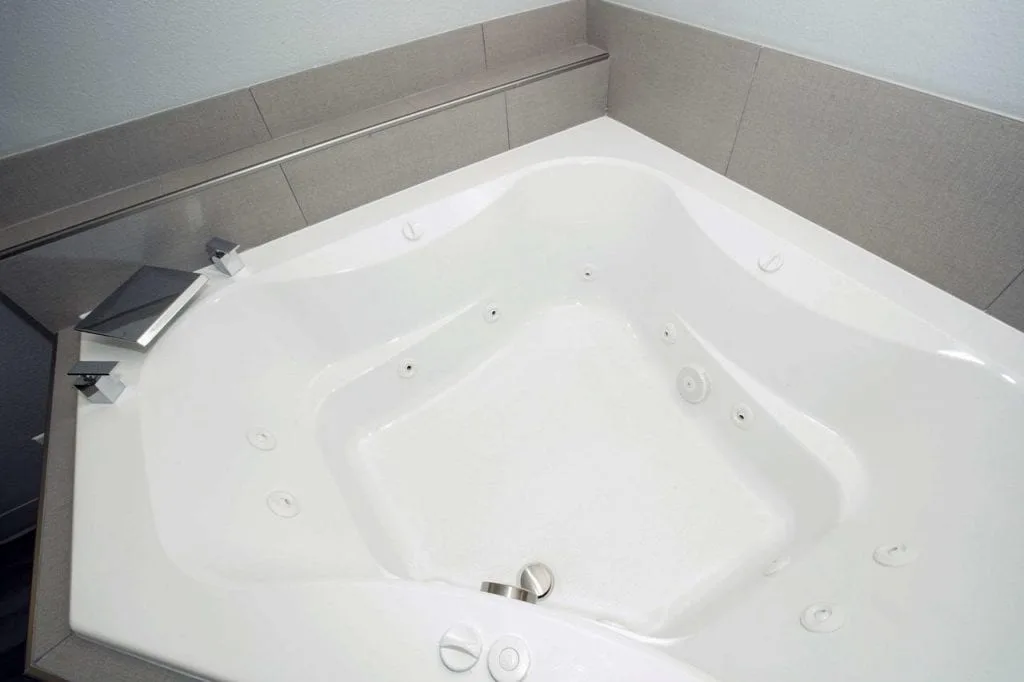 WHIRLPOOL SUITES Vernon, NJ
You'll get nice and cozy in your suite with a Jacuzzi for two and gas fireplace.
Cuddle up next to the fire and ask room service to deliver your favorite aphrodisiacs, such as chocolate-covered strawberries, to be enjoyed in the privacy of your room.
As the name of this B&B suggests, there is a bountiful country breakfast served each morning at the Alpine Haus. If you're looking to mix it up off the property, try Granny's Pancake House & Grill, Holland American Bakery, or Cravin' Thai.
Test your patience and communication with your partner at Solve It Escape Rooms, just a 16-minute walk from the B&B. You can also hike the Stairway to Heaven Trail, admire the Pacem in Terris Sculpture Garden, or see beautiful animals at Skylands Animal Sanctuary and Rescue.
Book your stay here.
JACUZZI SUITES Cumberland County NJ
The Hampton Inn & Suites has everything you ask for in affordable, comfortable lodging.
Book a whirlpool suite and take advantage of the outdoor heated pool in the summer and the fitness center year-round.
Free hot breakfast is served each morning at the hotel, and you can check out a variety of local grub and national chains nearby. Try Esposito's Maplewood III or Black Olive Restaurant & Pizzeria for Italian fare, Larry's II Restaurant, or those sweet rolls at Texas Roadhouse.
The Wheaton Arts and Cultural Center is a great place to spend an afternoon, as is Adventures of Escaping—another escape room location. The Parvin State Park is a lovely place for a picnic, and end your day at the Delsea Drive-In Theatre for an old-fashioned date night.
Book your stay here.
HOT TUB SUITES ALONG THE NEW JERSEY SHORE
CAPE MAY, NJ HOT TUB SUITES
A Jacuzzi suite at the Wilbraham Mansion comes with access to an indoor heated pool and bikes you can take out for a ride together.
This hotel is adults only, which makes it the perfect place for a quiet, romantic getaway. There's a free breakfast at the Wilbraham, as well as several restaurants within a five-minute walk. Try Sapore Italiano, Black Duck on Sunset, or Backstreet Simply Delicious, all in just minutes.
For some wildlife, take a quick walk to South Cape May Meadows. If you're looking for some shopping both new and old, check out West End Garage or Out of the Past Antiques.
And if you want to make your own romantic cheese platter, you can get everything you need at Seaside Cheese Co., all in a five-minute walk or less.
Book your stay here. One of the best hotels rooms with jacuzzi in NJ.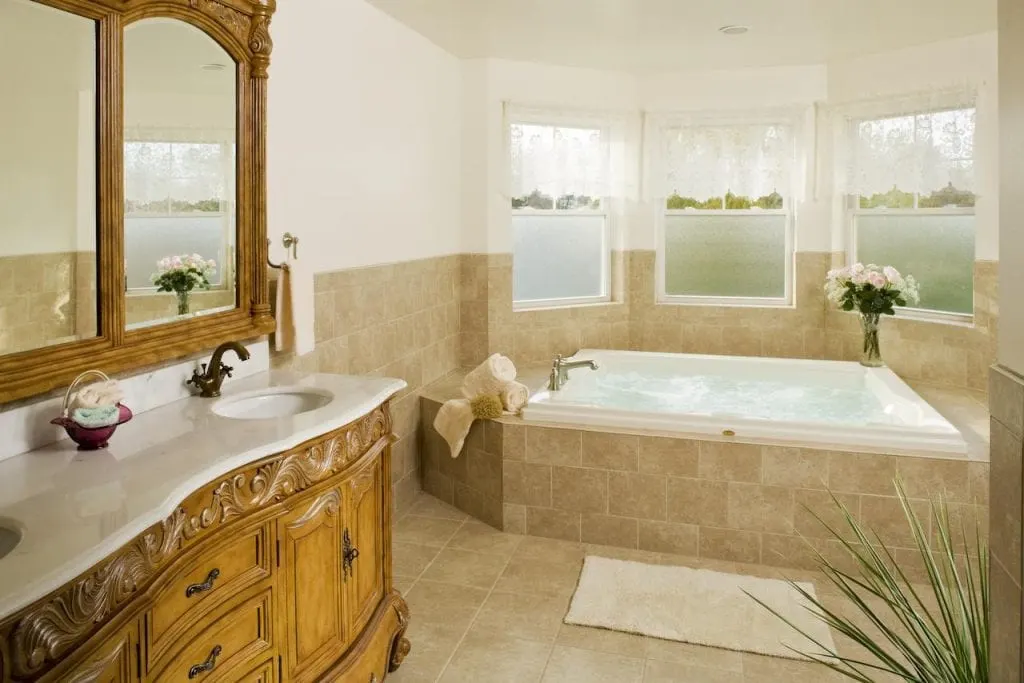 OCEAN CITY, NJ
Jacuzzi tubs for two make your stay in Ocean City comfortable and relaxing.
Watch the sun set from the Atlantis Inn's rooftop terrace, cuddle up next to the fireplace, luxuriate in the onsite spa services, and take advantage of the soundproof rooms with your special someone.
Enjoy a full gourmet breakfast at the hotel each morning, and for date nights, try one of several local café and restaurant options, all within six minutes of the Inn.
The Ocean City Boardwalk, Liberty Escape Rooms, and Haunted Gold are also a six-minute walk away. For some all-day fun, visit Gillian's Wonderland Pier amusement park, just a five-minute walk from the Atlantis.
Book your stay here.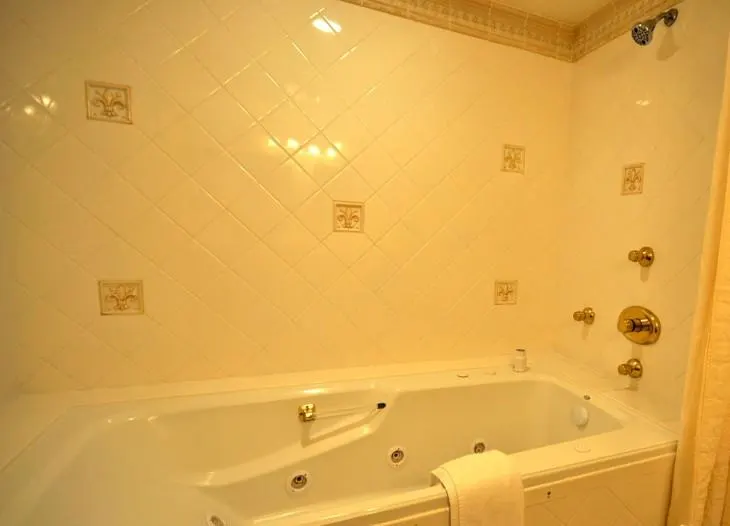 LONG BEACH ISLAND, NJ
Book a suite with a Jacuzzi for two at The Sand Castle, which also features an outdoor pool and complimentary bikes for guest use.
You and your sweetheart will love the ocean view from your room and the rooftop deck. For onsite fun, check out the common areas with a grand piano and game tables.
There's a free breakfast, of course, every morning. Other dining options include Mustache Bill's Diner, Kubel's, How You Brewin' Coffee Bar, and Viking Fresh Off the Hook, all just minutes from the B&B.
For sightseeing and window shopping very close by, visit Barnegat Lighthouse State Park, Viking Village, and Barnegat Light Museum.
Book your stay here.
POINT PLEASANT BEACH, NJ
Here, you and your partner will find comfort and luxury in your whirlpool suite with a marble fireplace.
There are bikes available for guest use, and each room is decorated differently, for a getaway experience that's unique to you and your SO.
There's a complimentary breakfast served each morning, as well as lots of nearby dining options. Joe Leone's Italian Specialties and Hoffman's Ice Cream are each just an eight-minute walk away. A seafood meal at The Poached Pear Bistro is a 15-minute walk, and Spano's Ristorante Italiano is a 12-minute walk.
For entertainment, you'll need to walk no longer than nine minutes to visit Jenkinson's Aquarium, Jenkinson's Boardwalk, and Point Pleasant Beach.
Book your stay here.
SPRING LAKE BEACH, NJ
Aside from amazing hot tubs, bikes are also available to rent and use at the Chateau Inn & Suites – a great extra perk to a romantic stay
Enjoy breakfast at the hotel in the mornings and treat yourself to one of the many nearby eateries for dinner, including Hoffman's Ice Cream, Whispers Restaurant, and The Breakers on the Ocean Restaurant. The Spring Lake Boardwalk is just a 12-minute walk away, and Third Avenue Chocolate Shoppe is a six-minute walk.
Catch a show at Spring Lake Theatre Company, just a nine-minute walk, or see beautiful art and architecture at St. Catharine Catholic Church, a seven-minute walk from the Chateau Inn.
Book your stay here.
HOT TUB SUITES SUITES NEAR PHILADELPHIA
The Best Western Burlington Inn has whirlpool rooms you won't want to leave. One of the best hot tubs in NJ.
They also offer a pool and fitness center to get the blood pumping. T
here is a free breakfast served every morning and lots of local dining options for your getaway dinner dates. Take a short walk to King George II Inn for a bite to eat or a short drive to The Robin's Nest, John & Molly's, or Kitchen87.
Local attractions include Burlington County Prison Museum and Village Idiot Brewing Company, both within three miles of the Inn.
Book your stay here.
Make sure you caption your amazing New Jersey vacation with some rad New Jersey Quotes!
****
More Hot Tub Suites and Romantic Getaways in the USA
Already looking for your next romantic getaway. We have you covered with the best romantic getaways in the USA including: