If you are searching for the very best hotels with jacuzzi in room Los Angeles then you have come to the right place. With a myriad of information on the www and not all that much useful it is super difficult to find a suitable romantic hotel with with a jetted hot tub or JACUZZI Tub in LA.
Never fear, we have done the hard work for you to help you find the best romantic LA hotel with a jacuzzi in room. Our ultimate list of hot tub hotels includes something for every taste and budget including quaint bed and breakfasts, motels, inns, luxury accommodation for honeymoons or anniversaries and even airbnb for people who want more space to stretch out and relax.
THE BEST JACUZZI HOTEL ROOMS WITH WHIRLPOOL TUBS IN LOS ANGELES
Best Western Royal Palace Inn & Suites
If you're heading to Los Angeles, check out a suite with a jetted tub in-room at the Best Western Royal Palace Inn and Suites and you won't be disappointed. Centrally located between the city, the beaches, Beverly Hills, Rodeo Drive, Marina del Ray, the Getty Museum, and more – you will be able to visit all the attractions you want during your stay.
Enjoy an outdoor pool, hot tub, pool room, fitness center, and sauna before heading up to your room to enjoy the luxury bedding.
Best Western Plus Sunset Plaza Hotel
If you like staying in Best Western hotels, another great option in Los Angeles is the Best Western Plus is a great option. Not only do the Queen Bed Suites include an amazing jacuzzi tub, the hotel is fabulous in its own right with a great courtyard pool. If you also need to get a bit of work done, each room also includes a dedicated work desk.
The hotel is also situated in a great area of LA close to attractions and top rated restaurants – Rodeo Drive is just 4.8 km away.
One of the most popular hotels in Los Angeles for having a hot tub in room. One of the best parts of this hotel is the absolutely incredible location, being just 3.2 km from Beverly Hills. Aside from the amazing in room jetted Fuji soaking tubs, couples love this hotel as it also outdoor swimming pool and lounge.
The hotel offers lots of extra perks too such as daily wine hour free bicycle rentals to ride around Beverly Hills.
Comfort Inn & Suites Near Universal
If you are looking for North Hollywood Jetted Tub Suites right near Universal Studios which are also quite romantic this is a great choice. The comfort inn offers lots of perks for couples looking for a romantic vacation in LA such a 2-Person Whirlpool Tub, a hot breakfast in the morning and outdoor pool to cool off in. What's not to love!
Holiday Inn Express & Suites Los Angeles Downtown West
If you want a reasonably affordable King Bed Suite with a JACUZZI tub in LA, you can't go past the Holiday Inn. Located in downtown LA, this not only has modern luxuries but include extra perks for budget conscious travelers such as a complimentary breakfast and a free shuttle service.
One of the most highly consistent plus of this hotel is the great customer service you receive by staff. If you want a hotel with service with a smile – this is a great option.
A great couples who couples or honeymooners looking for a hot tub in LA. As stated on their website, Hollywood Hotel is where all the action begins as it is located closely to the Santa Monica Blvd.
The hotel is pretty cool in its own right decorated in Mediterranean style with country wicker sofas and lounge chairs, teak beam tables and a mission style fountain. Inside the rooms is the essence of luxury. Book their 800 square ft Silver Screen Suite for your own private JACUZZI tub.
Intercontinental Los Angeles Downtown
If you are looking for the essence of luxury and the top of the line of honeymoon suites with JACUZZI tub in LA, you can't go past the Intercontinental.
If you are looking for JACUZZI Tub suites in downtown Los Angeles, make sure you book the one-Bedroom Intercontinental Club Room – not all rooms in the hotel has hot tubs so you will need to book this room to ensure it is in t here.
OCEANFRONT SPA TUB SUITES NEAR LA
If you want an oceanfront hot tub hotel near LA, don't miss the stunning Hotel Casa del Mar, a luxury Mediterranean hotel in Santa Monica right on the beach with jetted spa tubs and Italian marble bathrooms.
The absolutely incredible Terrazza Lounge is designed by renown interior designer Michael S. Smith with a contemporary feel in stark contrast to its classic Italian Renaissance exterior. One of the best hotels with a scenic view in LA.
One of the most beautiful chic oceanfront hotels with jetted hydrothermal massage tubs and oversized elegant white fireplaces is Shutters on the Beach. Inside is decorated in stunning Cape Cod theme, perfect for a romantic getaway.
Go out or stay at the hotel and dine at the beachfront café which offers a casual atmosphere with a bar and lite bites, the opportunities are endless. What's more is Santa Monica Pier is just 5 minutes' walk down the beach.
SANTA MONICA HOTEL WITH A WHIRLPOOL BALCONY
Le Meridian Delfina Santa Monica Hotel
Book a room at the Le Meridien Delfina Santa Monica Hotel and enjoy getting to explore the local area while having the added bonus of all the luxury amenities the hotel offers.
From the time of your arrival you are pampered with champagne, free parking, and thoughtful service. Take the house car anywhere within 2 miles of the hotel or rent a free beach bike and ride anywhere you want. Grab a suite and enjoy soaking in the in-room whirlpool tub after your long day.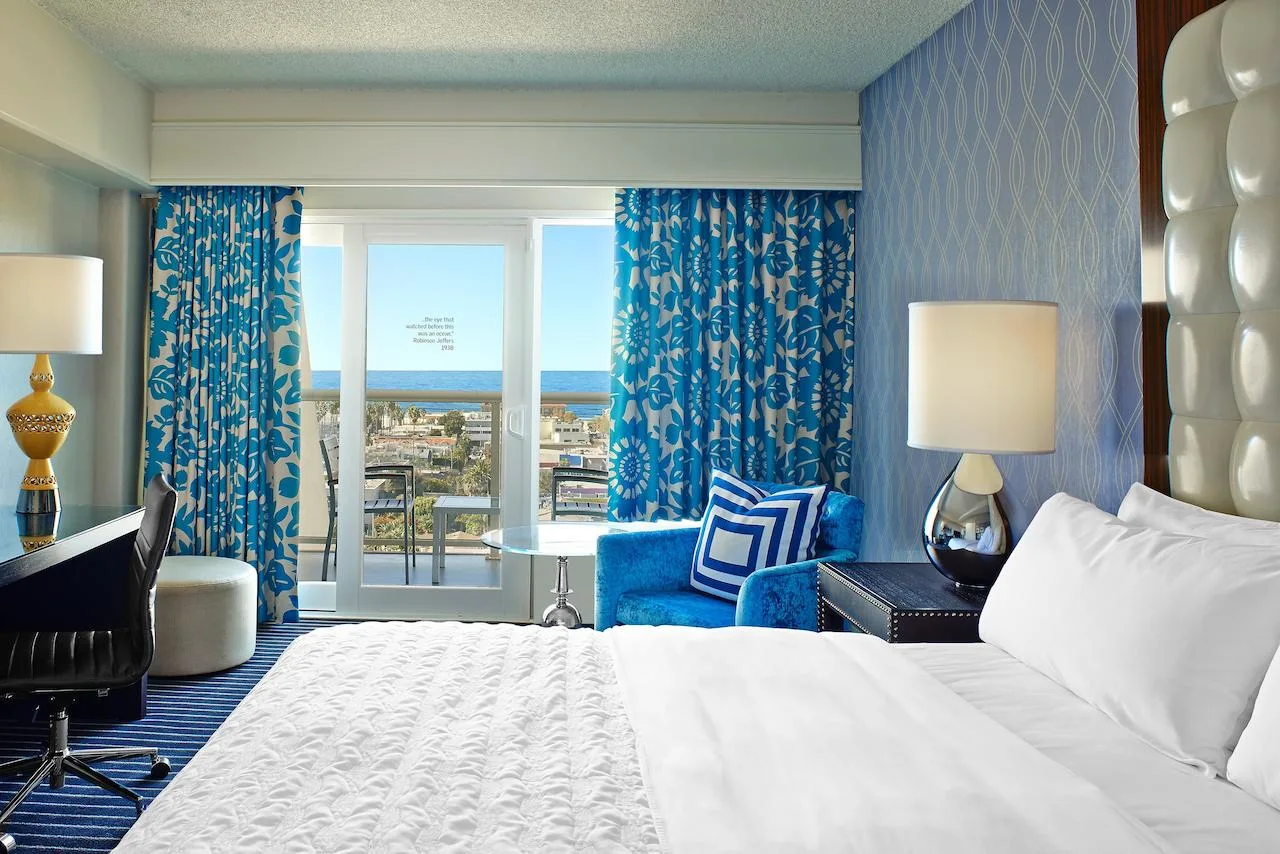 MORE HOT TUB SUITES NEAR BEACHES IN LA
MANHATTAN BEACH, CA
Stay at the Shade Hotel Manhattan Beach and soak up the sunshine from this unique, luxury hotel.
Take a movie magic backlot tour to see the magic behind the cameras at Paramount Studios, take beachside walks to the Manhattan Beach Pier or to The Strand, or relax back at the hotel with Tempur-Pedic mattresses, free breakfast, dining on the outdoor terrace (with firepits), or book yourself a suite and enjoy the added amenity of having a whirlpool tub in your room to soak in privacy.
REDONDO BEACH, CA
Down in Los Angeles' South Bay, book a whirlpool suite at The Portofino Hotel and Marina and enjoy an authentic SoCal stay with breathtaking views of the Redondo Beach through floor-to-ceiling windows and private balconies. While there is no private jacuzzi on the balcony, it sure is a nice view! Check out the waterside dining at BALEENkitchen complete with marina views, firepits, and a romantic backdrop with seasonal menus featuring unique meals and drinks both.
Take a trip to King Harbor and view their very own local colony of California sea lions basking in the sun right off the beach.
HERMOSA BEACH
If you want a spa tub in Hermosa Beach, don't miss Hotel Hermosa which offers a jetted tub in the 'Junior Suite with Spa Bath'. You won't regret booking here as the rooms as very spacious and also include great balcony's many with ocean views.
The perfect place to stay for a honeymoon or anniversary in LA.
CHEAP MOTELS LA WITH SPA
HARBOR CITY, CA
Rodeway Inn & Suites Pacific Coast Highway
One of the best affordable hotel hot tub suites in LA is the Rodeway Inn. Book a King Bed Whirlpool Suite for one of the best budget conscious romantic stays in LA. One of the best parts of the hotel is the best Southern California beaches such as Redondo Beach, Hermosa Beach and Manhattan Beach are just 3 to 7 miles away.
JACUZZI SUITES NEAR LAX AIRPORT
INGLEWOOD, CA
If you want a jacuzzi suite near the LAX airport, this hotel is a good choice.
Not only do they offer relatively cheap whirlpool suites in LA, it is located just 5 minutes from LAX airport so it is ideal for the last bit of rest and relaxation before your flight. Also included at the hotel is a great heated outdoor pool.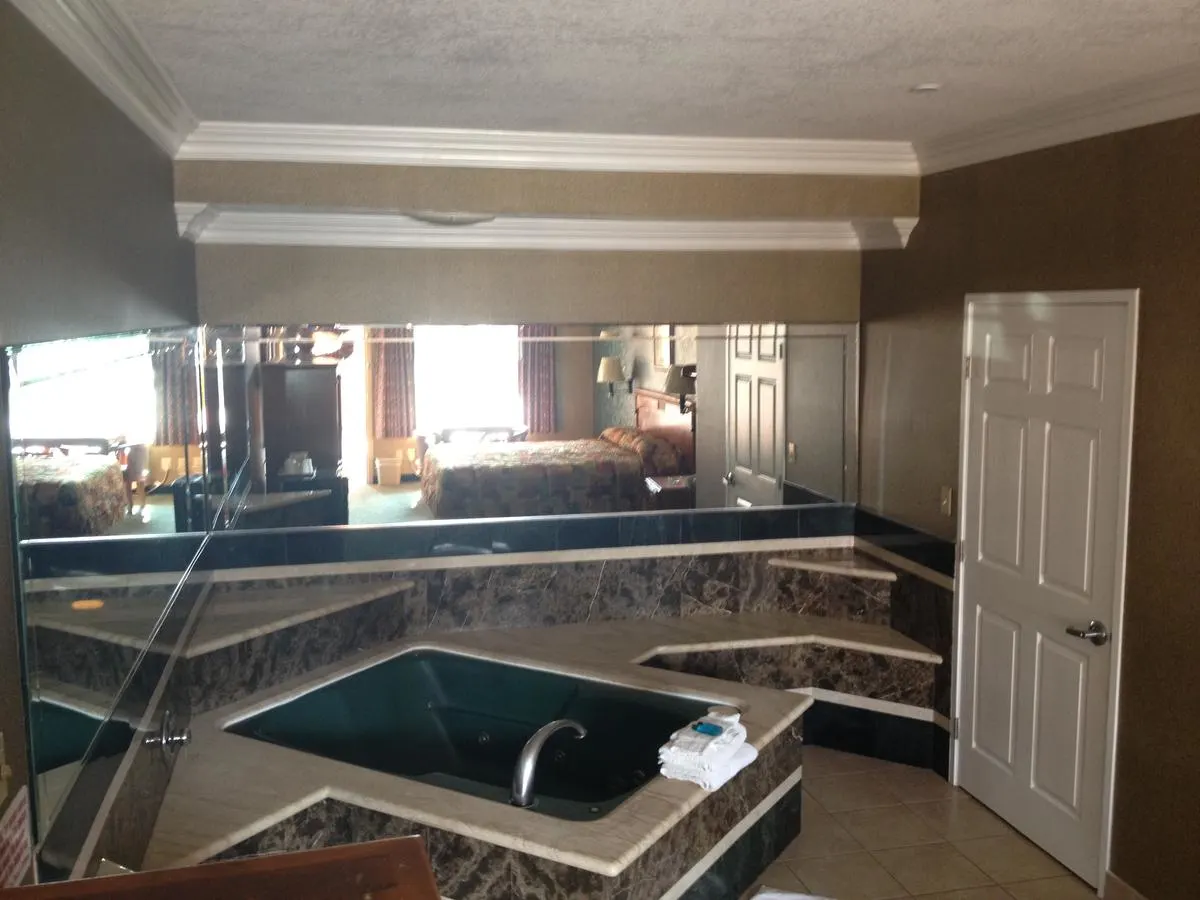 GARDENA, CA
Another hotel option reasonably close to LAX airport (only around a 14 minute drive away is the New Gardena Hotel. The accommodation at this hotel includes JACUZZI tubs in presidential suites, cute furnishings and a great included breakfast to start the new day.
More Romantic Hotels: