Looking for Washington State Hotels with Jacuzzi in Room?
If you are going on a romantic getaway in one of the best states of the US, you will definitely need a hot tub or whirlpool spa bath to up the romance.
Whether it is a honeymoon, anniversary trip or you just want to plan a special couples getaway, we have gone ahead and searched the net to uncover the very best hotels with hot tub in room in Washington State.
Washington State Hotels with Jacuzzi in Room
SEATTLE HOTEL ROOMS WITH A JACUZZI TUB
Silver Cloud Inn Seattle Lake Union
This quaint hotel has the feeling of home in the city – with bright and roomy spaces and appliances to match, the stay will be nothing short of lovely. The location is also equipped with onsite laundry, continental breakfast, a seating, and work area to ensure guests don't miss a beat of their day-to-day lives.
In addition to these amenities, the hotel offers a complimentary shuttle to local attractions such as the Pike Place Market, the Westlake Center, and the Space Needle – perfect for a quick family getaway.
Silver Cloud Hotel Seattle/Broadway
With a more modernistic, yet classic, touch, the Silver Cloud Hotel – Seattle Broadway is perfectly placed within the trendy Capitol Hill neighborhood.
With the business professional in mind, the hotel not only provides high-speed wireless internet, but also includes smaller amenities such microwaves and refrigerators for those looking to enjoy the city a bit longer. Located in the heart of downtown, the hotel is in an idealistic location for those looking for pleasure and play within walking distance of the building.
HOTELS WITH JACUZZI IN ROOM TACOMA, WA
Silver Cloud Inn Tacoma Waterfront
Located minutes from the heart of Tacoma, the Silver Cloud Inn Tacoma – Waterfront is the perfect getaway for all seasons. With its unique property in Tacoma's Old Town community, the hotel rests right on the shores of Commencement Bay.
While the hotel does serve as a family-friendly option to travelers, it is located just ten minutes from the Tacoma Dome & Convention Center for those on-the-move. The location is also perfect for any individual who loves scenery – with all waterfront-view guestrooms, a stay at the Silver Cloud Inn will not be soon forgotten.
One of the best Tacoma hotels with jacuzzi in room.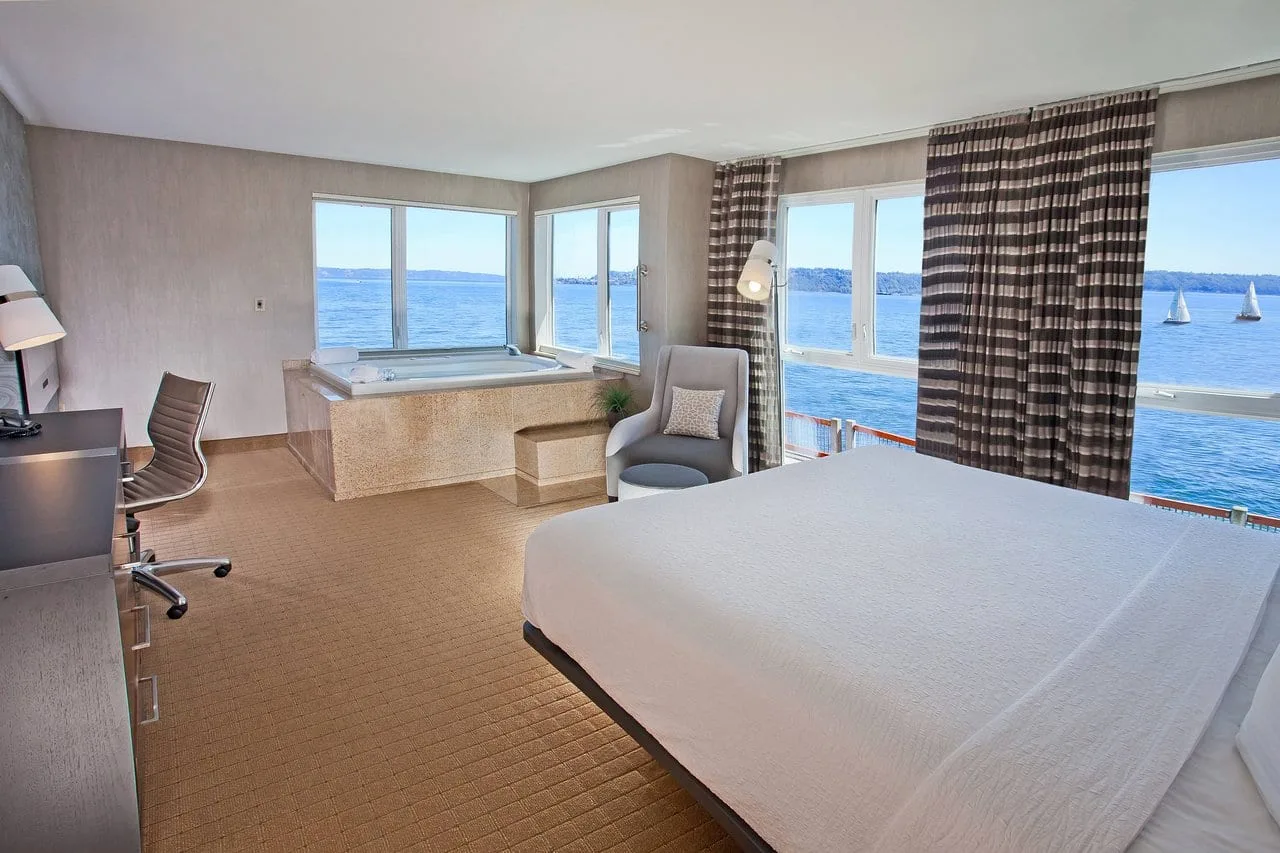 NORTHWEST WASHINGTON STATE SUITES WITH A JACUZZI TUB
Located directly between Seattle and Vancouver, the Wild Iris Inn serves as the perfect getaway location for those looking to get out of the city.
The location is likely to turn some heads with its views of the Cascade Mountains, and while you're soaking up the picturesque views, be sure to climb in the jetted spa tub or king side bed located next to the fireplace as twelve of their suites are equipped with these amenities.
BELLINGHAM, WA
For those who trust chain hotels, but are looking for a cozy, cabin feel, The Chrysalis Inn & Spa is the hotel to book. Nestled on the coast of Bellingham Bay, the hotel offers stunning views of scenery.
With warm fireplaces, whirlpool tubs, window seats, and a stroll on the rustic boardwalk, it will be hard not to feel relaxed. For those with a more adventurous spirit, the hotel is just a short road trip away from the boarder to Canada.
VERNON/BURLINGTON, WA
Fairfield Inn & Suites Burlington
Designed for the trifecta of value, comfort, and convenience, the Fairfield Inn & Suites Burlington is the perfect location for those on a short trip. Not only does the hotel come equipped with a full-size pool, but continental breakfast is served every morning to assist in getting the kids to get-up-and-go.
Located near the interstate, this hotel is the ideal area for road trippers looking for a quick refresher before hitting the road. Make sure while you're in town that you visit local attractions such as the Sakuma Brothers Farm, the Train Wreck pub, and the Heritage Flight Museum.
PORT ANGELES, WA
Nestled on the border of Canada, the Olympic Lodge – Port Angeles is the perfect locations for travellers looking to be close to the Seattle metropolis, but tucked away in the countryside.
With gorgeous views of the Olympic Mountains and the Strait of Juan de Fuca, guests will surely not be disappointed in their stay. The hotel is equipped with 105 guestrooms, a nearby golf course, breakfast, a gorgeous lodge-like lobby with a built-in fireplace, and much more.
PORT TOWNSEND, WA
The Blue Gull Inn & Breakfast is listed right under the definition of "cottage" – guests will enjoy their stay as an authentic Port Townsend local with its rich and enjoyable history.
The location is also within walking distance to the downtown district of Port Townsend where guests can entertain themselves with shops, restaurants, events, and much more. On a breezy summer day, guests can be sure to take a seat on the spacious front porch with old-school rockers to whisk their worries of reality away.
WHIDBY ISLAND, WA
Located on the coast of Whidbey Island, the Country Cottage of Langley offers a rustic, but quaint, getaway as guests are able to get-down to their roots. With surrounding gardens and foliage, guests will be able to enjoy the simplicity of nature and escape from reality.
In addition to their home-like amenities, guests will love the free cookies at check in to kick off their stay. Be sure to take your treat and relax on the porch as the location is set with spectacular views of Possession Sound and the surrounding, picturesque landscape.
OAK HARBOR, WA
Placed on the north end of Whidbey Island, the Coachman Inn is located right off the highway 20 interstate. With a simple and realistic feel, the Coachman Inn is the perfect hotel for road trippers to rest their eyes but enjoy some relaxation.
With spacious rooms and free breakfast paired with the Sunday newspaper, travellers will be sure to get a full-nights rest to be awake and recharged for the rest of their trip.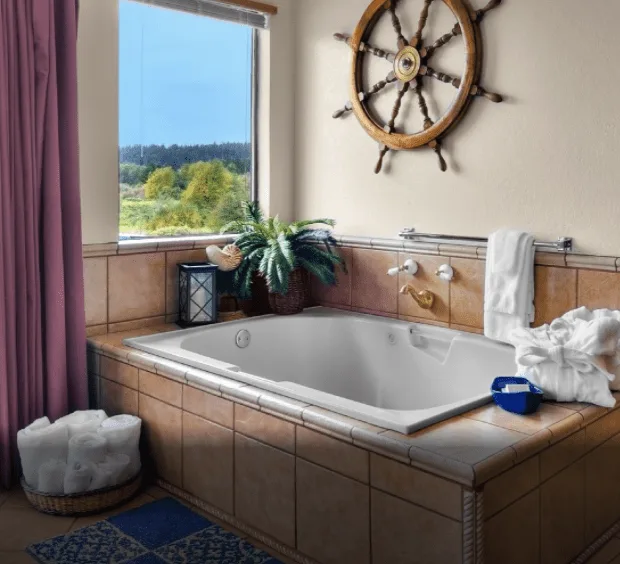 SAN JUAN ISLANDS JETTED TUB SUITES
Located on the historic San Juan Island, the Bird Rock Hotel is perfect for adventurous tendencies with a taste for luxury. Located near the downtown district, guests will be able to walk to various restaurants, attractions, and shops in the area.
While the hotel may have a historic look on the outside, the amenities within have a modernistic touch with a hint of sea-themed artistry. Guests will surely enjoy their stay while exploring San Juan Island.
WEST COAST WASHINGTON STATE COTTAGES WITH HOT TUBS
Resting on the coast, Westport Marina Cottages offer the perfect combination of homey, cozy, and warm.
With sounds of nature in the background, guests will surely be able to refresh and recharge. Cottages include driftwood décor with luxury accommodations ensuring an overly-satisfactory and well-rested stay.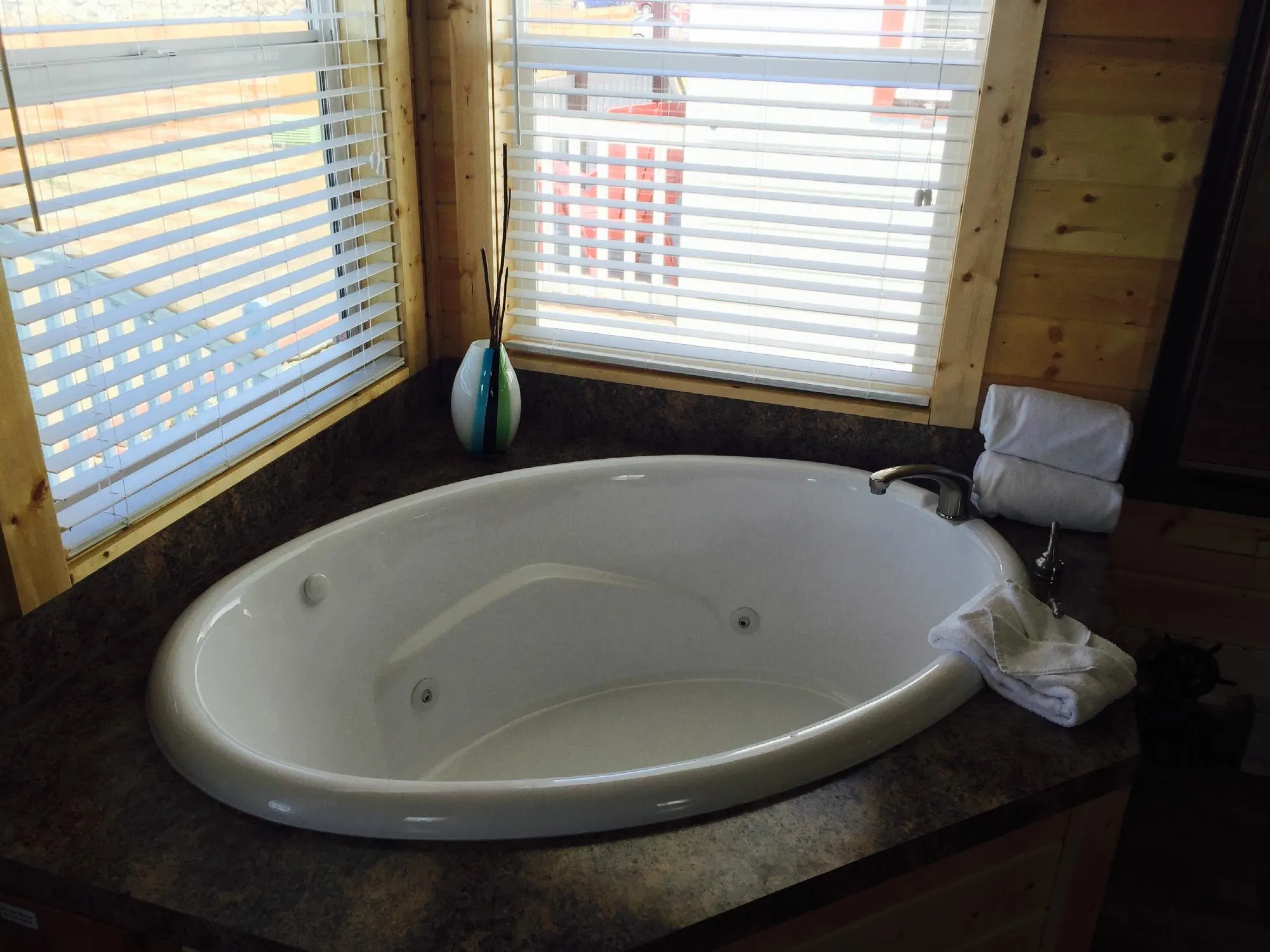 CENTRAL & EASTERN WASHINGTON STATE SPA TUB SUITES
LEAVENWORTH
Leavenworth is a really cool city to visit in its own right in the US. Along with the city of Helen in Georgia, it is one of the US German cities.
Along with hotel hot tubs, the Bavarian Lodge is a good choice for couples in Washington who are looking for luxury. Each suite including stunning views of the nearby mountains as well as a free buffet breakfast, a rustic beer pub and a heated outdoor pool.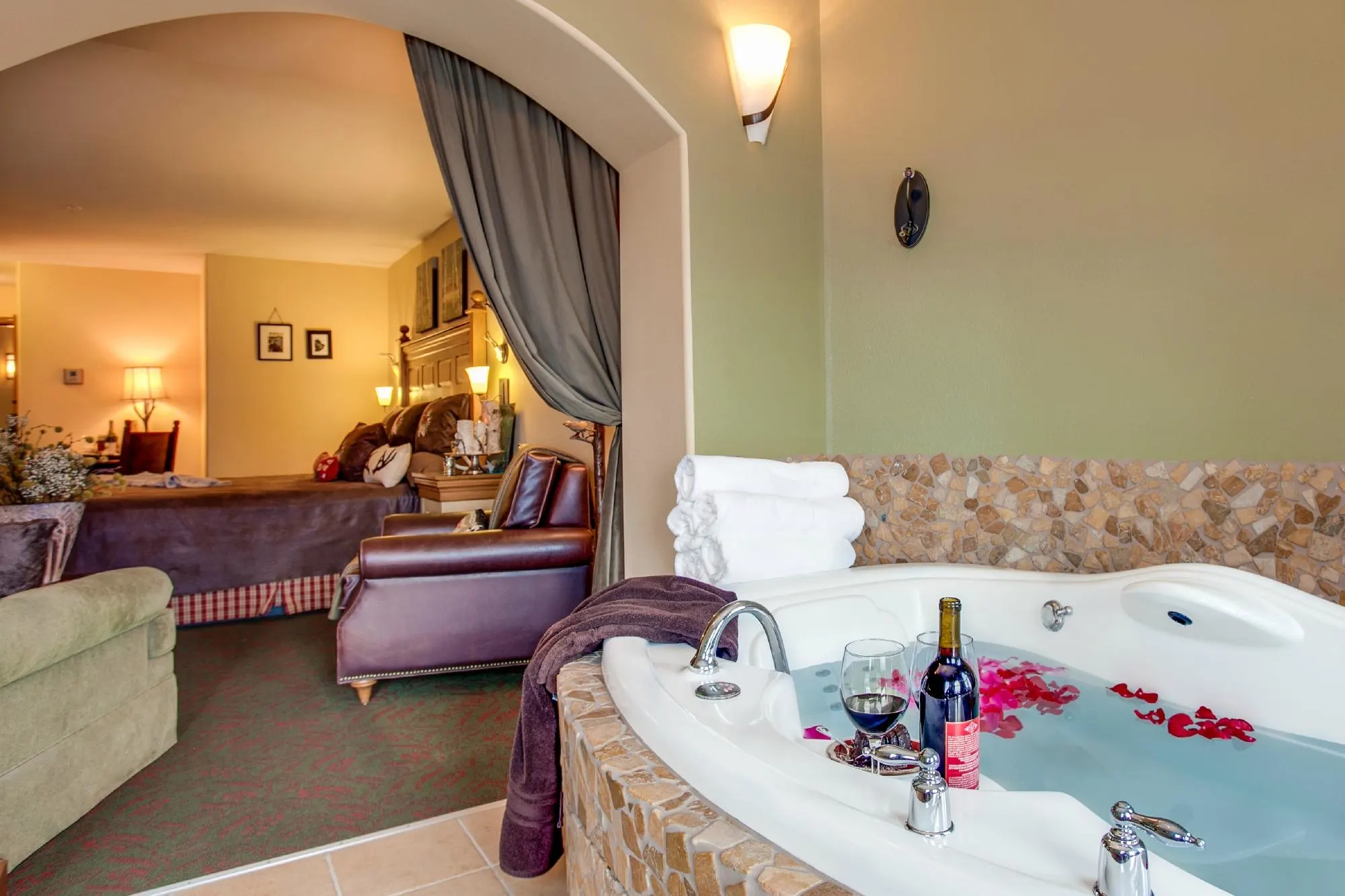 HOTELS WITH JACUZZI IN ROOM SPOKANE, WA
If you want a bit of luxe before jetting off, why not stay at the Hampton Inn by Hilton Spokane Airport! located only four miles west of downtown and just four miles east of the Spokane International Airport.
As well as whirlpool tubs, the hotel offers a 24-hour indoor pool and fitness centre as well as gift shop and free buffet breakfast. If you don't want to go out after a long day sightseeing, the onsite restaurant, The Sunset Bistro, offers lunch and dinner.
In addition to the airport, other nearby attractions include the Finch Arboretum, Indian Canyon Golf Course, and Riverfront Park, site of the 1974 World's Fair and Expo.
One of the best honeymoon suites in Spokane WA.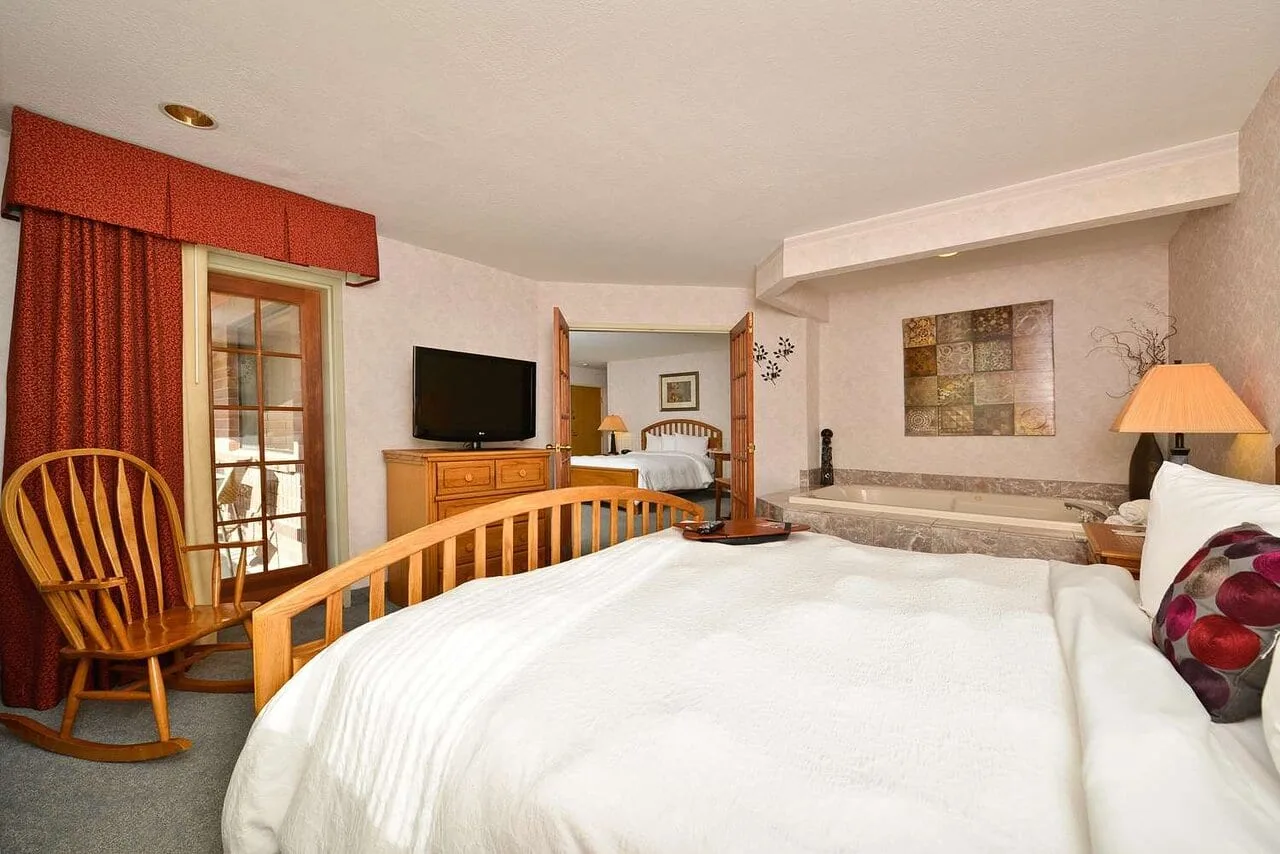 WENATCHEE, WA
Located in the Apple Capital of the World, The Holiday Inn Express Wenatchee Hotel is a fabulous place for a romantic getaway in Washington.
Located in the hills of the Eastern Cascades, the hotel is within easy walking distance of the hotel via the Apple Capital Loop Trail and many other attractions including the Wenatchee Valley Museum and Cultural Center; Liberty Orchards, Aplets and Cotlets Candy Kitchen; many Wenatchee and Columbia Valley Wineries; Leavenworth Bavarian Village and Lake Chelan.
Along with enjoy hot tub suites, couples will appreciate the incredible facilities at the hotel there for guests convenience including a 24-hour fitness room , award winning breakfast and fast free wifi access.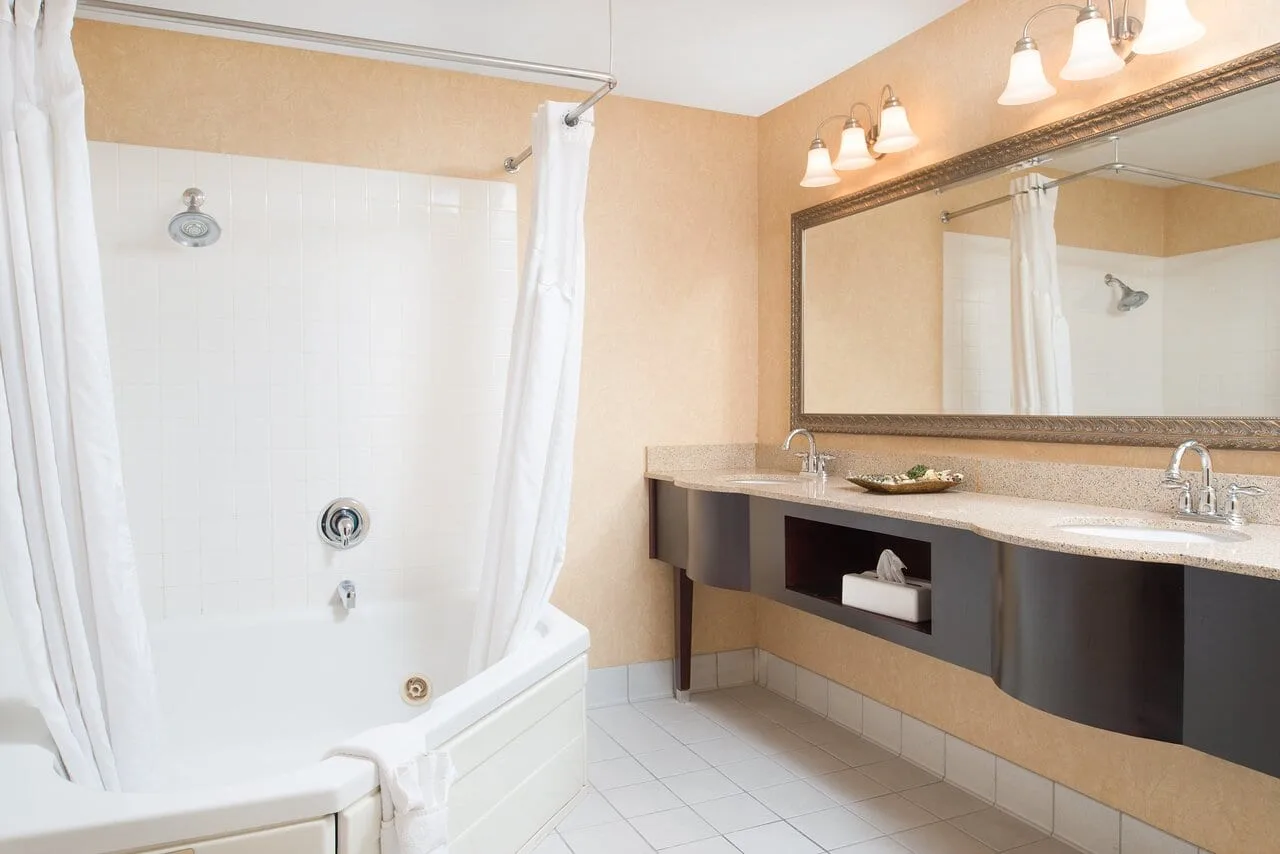 YAKIMA, WA
Fresh renovated rooms with stunning whirlpool spa baths are what couples can expect at the Fairfield Inn.
The hotel is located in a great spot in Yakima, close to the convention center wineries and the valley mall. What is great about the hotel is that it is situated close to downtown, in walking distance of great restaurants and cafes in the area.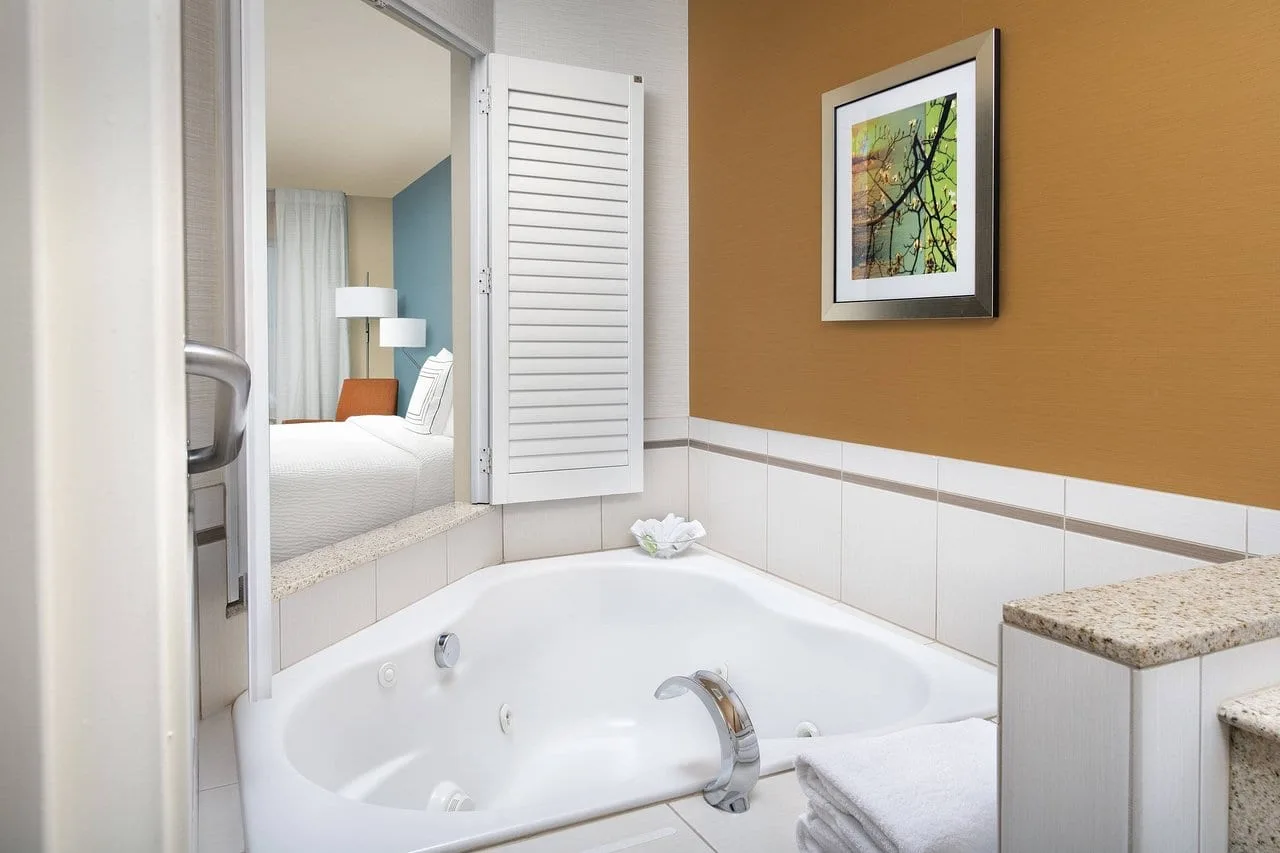 BUDGET-FRIENDLY HOT TUB SUITES IN SOUTHERN WASHINGTON STATE
Best Western Plus Vancouver Mall Drive
If you are a couple who likes a new, fresh, renovated hotel, this this may be the perfect spot. This hotel not only has incredible accommodation on offer bur they pride themselves on customer service and treating their guests as a friend first.
Not only is the hotel filled with modern conveniences such as free high-speed Wi-Fi, 32 in flat screen tv's, spacious desks, microwave, fridge and full hot breakfast buffet, if you feel like a little pick me up you can book an upgraded jacuzzi hotel suite designed for couples celebrating a special occasion like a honeymoon or an anniversary.
The hotel is also located near lots of fun activities including the world-renowned Cinetopia 23 Movie Theater, Vancouver Mall, lots of shops, restaurants, golf courses, the Portland International Speedway,historic Fort Vancouver, and Multnomah Falls.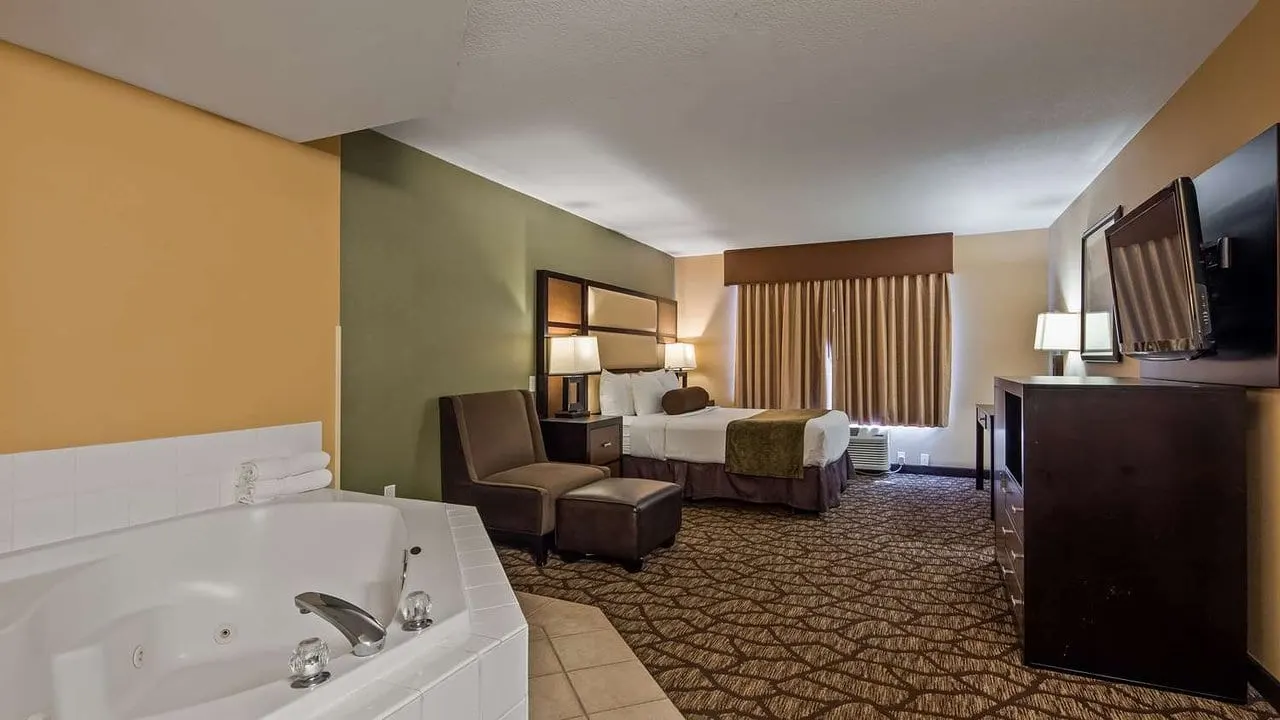 KENNEWICK, WA
Best Western Plus Kennewick Inn
A great choice for couples in Kennewick!
Not only does the hotel have great facilities like a great pool and a free breakfast, it is nearby some of Kennewick's top attractions including the Regional Veterans Memorial (3.1 mi), Toyota Center (3.1 mi), 9/11 World Trade Center Memorial Monument (0.5 mi) and WSU Master Gardener Demonstration Garden (0.8 mi).
After a long day sightseeing in the area be sure to relax in one of the hotels best rooms complete with a jacuzzi tub!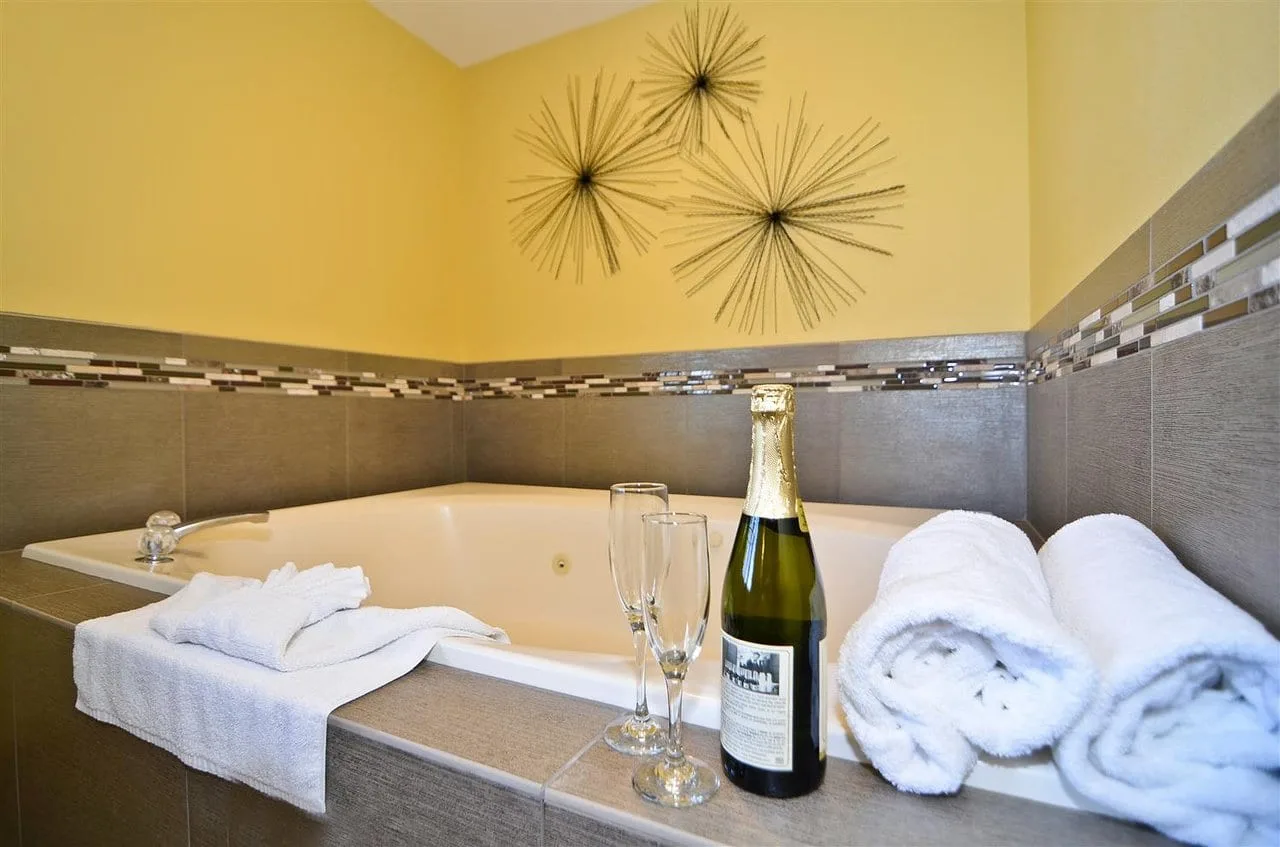 ***
More Romantic Getaways?
If you are looking for more romantic hotels you might also like: