Looking for the best hotels with private pools in room in the USA?
Sure a hotel with a private jacuzzi in room is cool, but a private pool suite is even cooler. So if you are looking to take the romance up a notch for a special occasion like a honeymoon or anniversary this is a great option.
Hotels with private swimming pools are not cheap but they are guaranteed to impress your wife, husband, boyfriend or girlfriend so they are hella worth it. Just make sure you book ahead if it's Valentines Day!
With a tonne of hotels out there on the WWW it's hard to find the perfect one to stay at. That's why, we have done the hard work for you and found the best romantic pool suites in the USA!
Best Hotels With Private Pools In-Room In USA for Couples
HOTELS WITH PRIVATE POOLS IN-ROOM IN FLORIDA
Miami: W South Beach Miami
If you are looking for a private yet decadent romantic getaway, look no further than the W South Beach Miami. With beautiful views surrounding the hotel, there is no such thing as a "bad view" here! Though, the real site to see is the self-proclaimed "Mega-suite". This suite comes fully stocked with a '42-inch LCD flat-screen television, On-Demand movies, easy access to the basketball court and gym, and, of course, a private plunge pool right off the deck.
There is no need to venture outside your own room when all the greatest views are right there in front of you. You can take a dip in your private pool then look out on your massive glass balcony to the magnificent views of the ocean. Not only this, but the room comes equipped with a full kitchen and grill. Staying in truly never looked so good.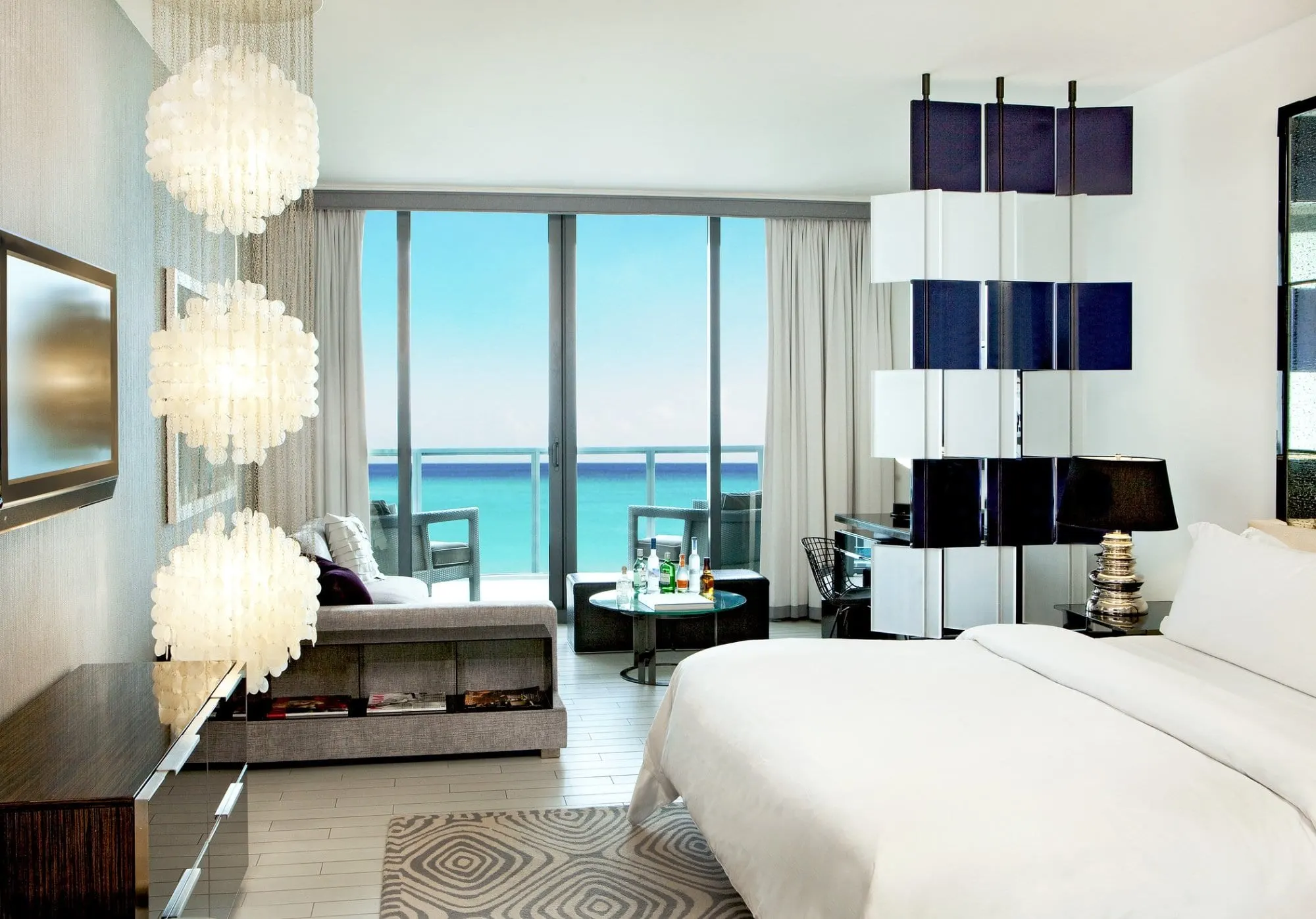 Sarasota: Sea Spray Resort
One-bedroom, one-bathroom room with a private walled-in pool attached: what could be better? The Sea Spray Resort in Sarasota, FL, offers several amenities that puts it above the rest, but the most coveted and memorable is without a doubt their private pools. Their unit called "Starfish" has a master bedroom overlooking beautiful views, as well as a pull-out couch for families or extra couples.
The pool is completely private with a thick wall hiding it away from the outside world and lounge chairs and seating areas scattered throughout. A grill is also stationed by the pool with a full kitchen right inside the suite, which allows you to make perfect evening meals to top off a beautiful day lounging at the pool.
A getaway unlike any other is how you would describe your time here at the Sea Spray Resort.
Augustine: Bayfront Marin House
Want a historic Bed and Breakfast with romantic and private rooms? St. Augustine's Bayfront Marin House includes several cottages that are perfect for a weekend getaway. "The Saltwater Suite" features a private, heated pool connected to your room.
Spend the night soaking in your pool then move inside to see a beautiful room with a queen bed and small kitchenette area, complete with all the essentials. The bathroom even includes a double rain shower with body jets. The opportunities are endless when you book a cottage here, so make memories in this special first-rate room, never having to leave the beauty of your own private getaway.
KEY WEST, FL
Right next to downtown Key West, you can find a beautiful hotel that offers luxurious amenities that make you feel like the royalty you are.
Offering modern interiors, H20 Suites Hotel has several luxury suites that will meet your every need. The room includes a king-sized bed, a beautiful marbled bathroom with a rain shower and vanity area, and a wet bar. There are several rooms to choose from, but each of the suites comes with its own private plunge pool, some even with a double private patio – one with a pool and the other with a small, relaxing swing.
The room itself is cozy, comfortable, and worth every penny. Staying at the H20 Suites Hotel guarantees a fun and memorable time, perfect for a romantic getaway. One of the best hotels with private plunge pools in the USA.
Key West, FL, offers several special places for visitors to stay, but Suite Dreams Inn Key West is a mark above the rest. Their suite, nicknamed the "Hemingway Retreat" for its luxurious feel that author Ernest Hemingway was known for, has 2-bedrooms and 2-bathrooms.
This magnificent suite was voted the "Best Suite in Key West" and for good reason. The private pool is encapsulated by surrounding tropical trees and orchids that overlook the decadent deck filled with lounge chairs and seating areas for even the smallest of parties.
Not only this, but the room allows for its two other suites—the Duval Suite and the Old Town Queen Suite—to connect, which means that this suite can hold up to twenty people. Perfect for a family getaway, a reunion, or even a simple friend meet-up, you are guaranteed to be surrounded by beauty and comfort here.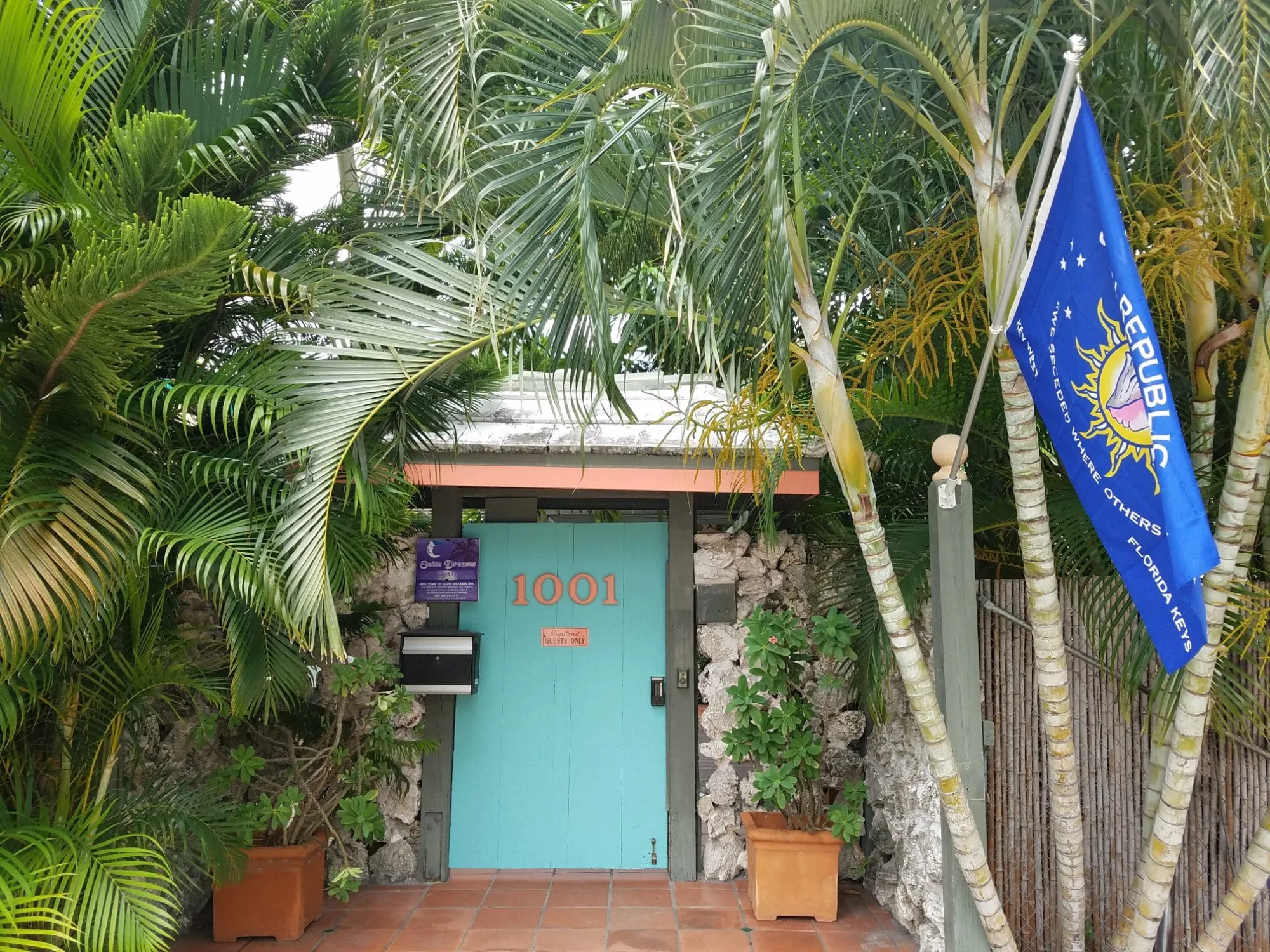 HOTEL PLUNGE POOL SUITES IN THE EASTERN U.S & THE SOUTH
Pennsylvania: Inn of the Dove
Located in Bensalem, Pennsylvania, this hotel guarantees your experience to be extremely romantic and memorable. With each room designed with romance in mind, the amenities include in-room hot tubs and fireplaces. Specific themes, like "Black and Gold", "Sweetheart" and "Jungle", take over every room.
For the most luxurious of patrons, rooms, like the "Dove Swimming Pool Theme Suite", come with large private pools, along with the amenities described above. With full beds, beautiful bathrooms, and an on-site gift shop, it will feel like your honeymoon every day you wake up here. You will never run short on romantic activities when you book with the infamous Inn of the Dove.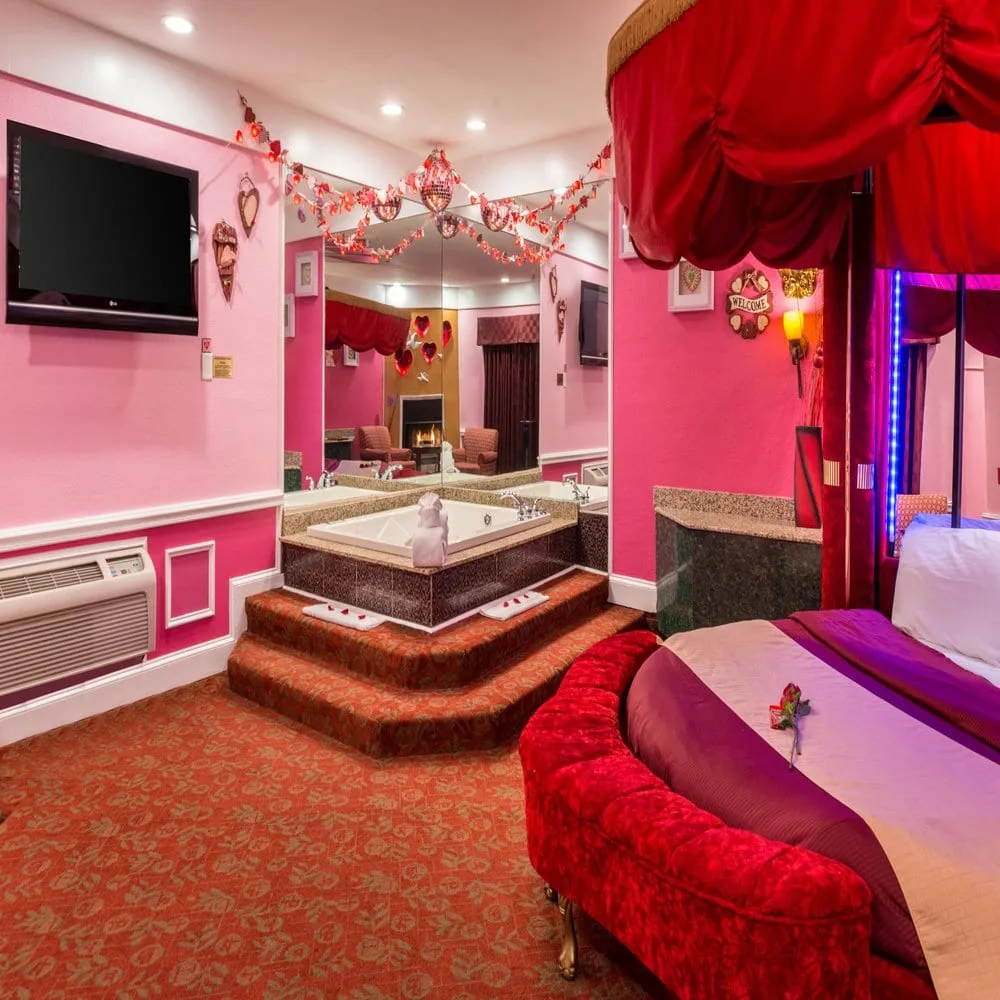 MIDWEST PRIVATE POOL SUITES
Illinois:
Sybaris Pool Suites Frankfort IL
With a many suites to chose from, Sybaris Frankfort provides an experience unlike any other. Each of their private pool suites can be rented for long weekends or even a few unbelievable hours in paradise.
The "Chalet Swimming Pool Suite" features a heated private pool with a beautiful waterfall and a slide that takes you directly from the comfort of your bed to the warmness of the pool below. Their other two suites, the "Majestic" and the "Paradise" Pool Suites, feature a private pool, as well as an attached hot tub, steam room, massage chairs, and a cozy fireplace, all just mere steps from the comfort of your own king-sized bed.
The romance never stops, and you'll never want it to stop, at the Sybaris Frankfort hotel in Illinois.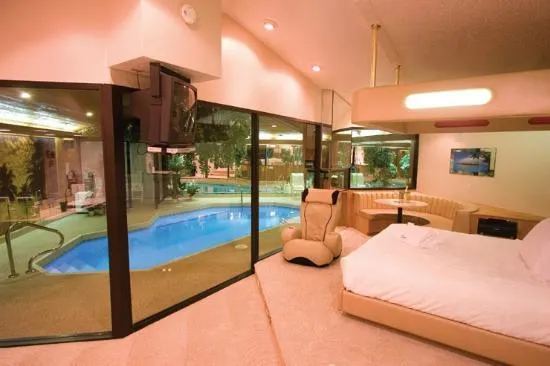 Champagne Lodge & Luxury Suites
Just outside downtown Chicago, you can find Champagne Lodge and Luxury Suites, a decadent boutique hotel that gives privacy and romance to any couple looking for a solace to spend some time together. They offer four different types of suites, though the most memorable and extravagant includes your own private pool complete with a walk-in shower, steam room, and a surround-sound system that connects to Sirius Satellite Radio.
Take a break from the demands of the city and come enjoy the relaxing nature of never having to leave the comfort of your own beautiful hotel room.
Keep warm by the in-room fireplace then take a dip in the pool, all without meeting the gaze of anyone other than your significant other. Is there anything better?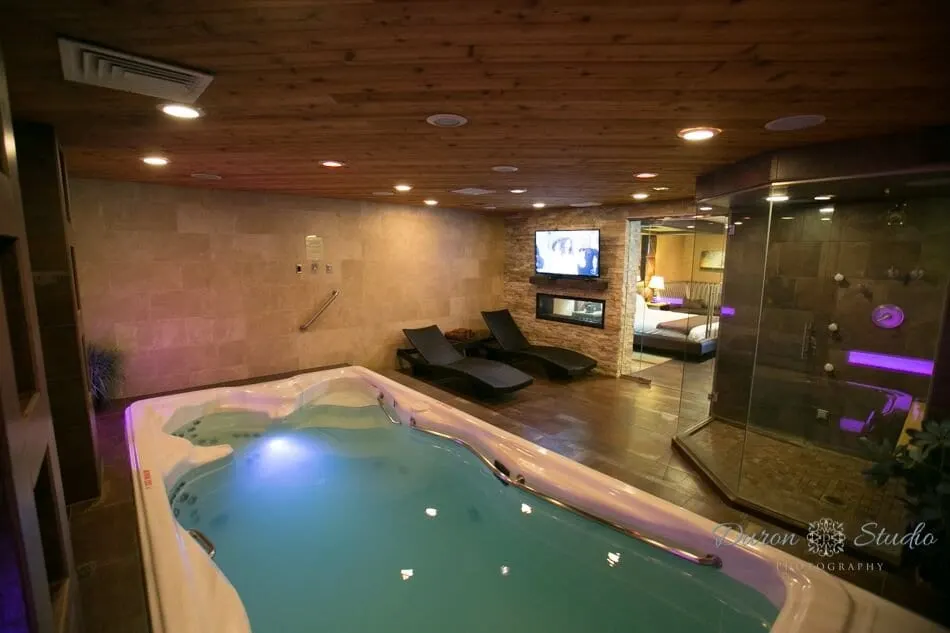 Indiana: Sybaris Pool Suites Indianapolis
Like the Sybaris Suite Hotel in Frankfort, IL, this Sybaris in Indianapolis offers several luxurious suites to those seeking an escape from their everyday lives. With a pool connected to their room, accessible either by a slide, like the one provided in the ultimate "Chalet" pool suite, or by sliding doors that keep your room separate from the indoor, heated pool, you will feel like royalty with each step that you take in your own luxury suite.
Each room comes with a fireplace, hot tub, steam room, massage chairs, and a walk-in shower, making sure that you never have to leave your ultimate getaway. Slide right into relaxation as soon as you step foot into one of these beautiful suites, so good, you won't even remember you're in a city!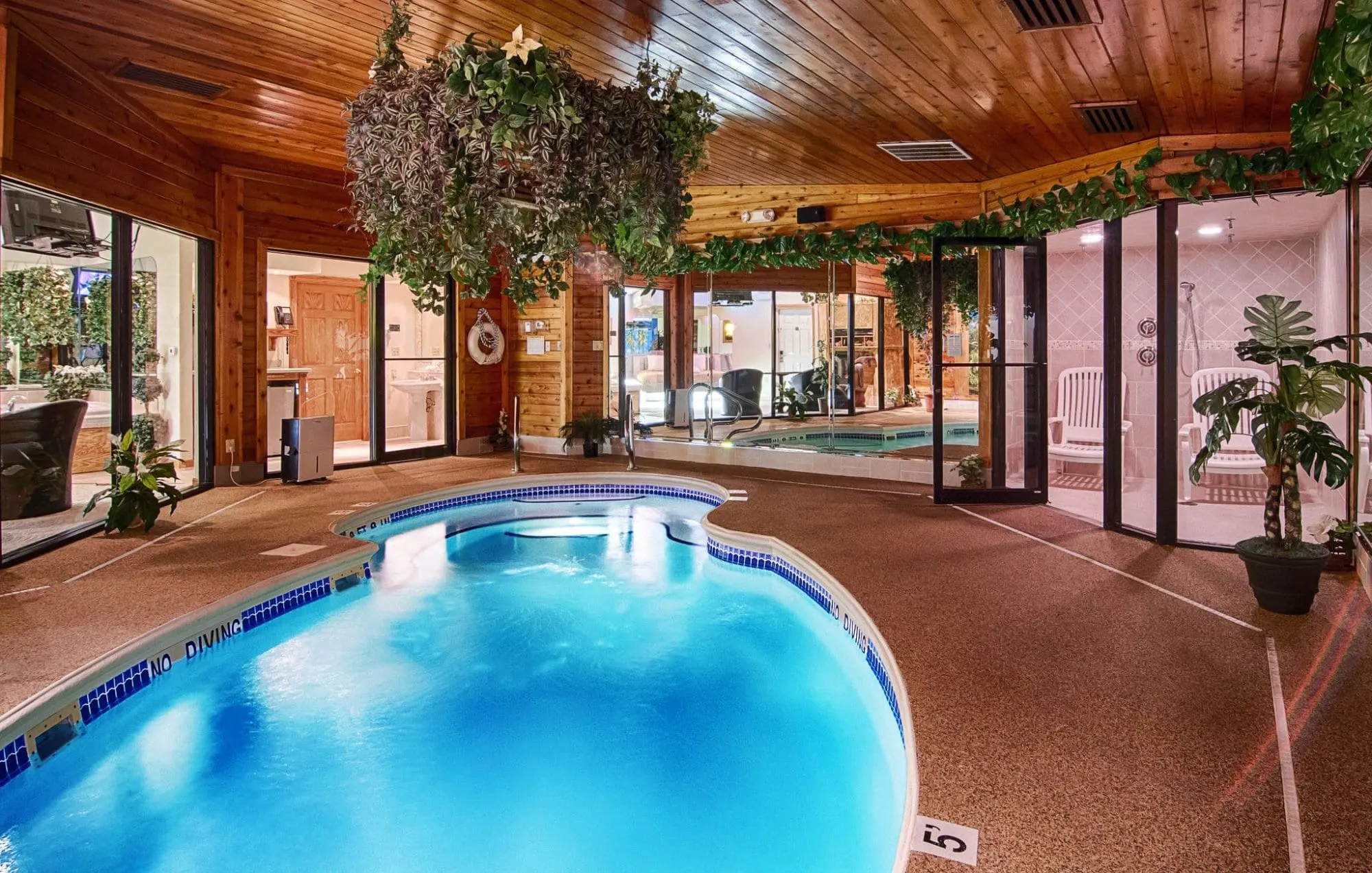 Ohio: Belamere Suites
Ever want to wake up with a complimentary breakfast brought to you then go immediately to your indoor, heated pool, just steps away from where you woke up? Belamere Suites in Perrysburg, Ohio, offers this wonderful escape. With a private sauna, a stereo system with radio and Bluetooth, and your very own attached personal garage, this is a getaway unlike any other.
Not only this, but you can add several of your own amenities to this dream-like package, like an in-room massage, romance package, birthday package, and many more. You will never want to leave this private yet incredible room, complete with chandeliers and marble showers. You will finally feel like the royalty you are when you book at Belamere Suites in Perrysburg.
Wisconsin: Sybaris Pool Suites Mequon
Slide right into paradise with this wonderful suite that continues to be one of the most talked about staycations in the Mequon area. Ever want to re-do your honeymoon, but you don't want to go too far from your home? That's what is great about the Sybaris Mequon Hotel, it is close to home but secluded enough that you'll forget all about the outside world. With a suite as sweet as the complimentary whirlpool jacuzzi in your room, you'll want to keep coming back to take a dip in the pool that is right off your balcony.
Some rooms even come with a slide that connects you directly to the pool below! Experience romance and seclusion with your loved one by booking the Chalet pool suite here at Sybaris Mequon.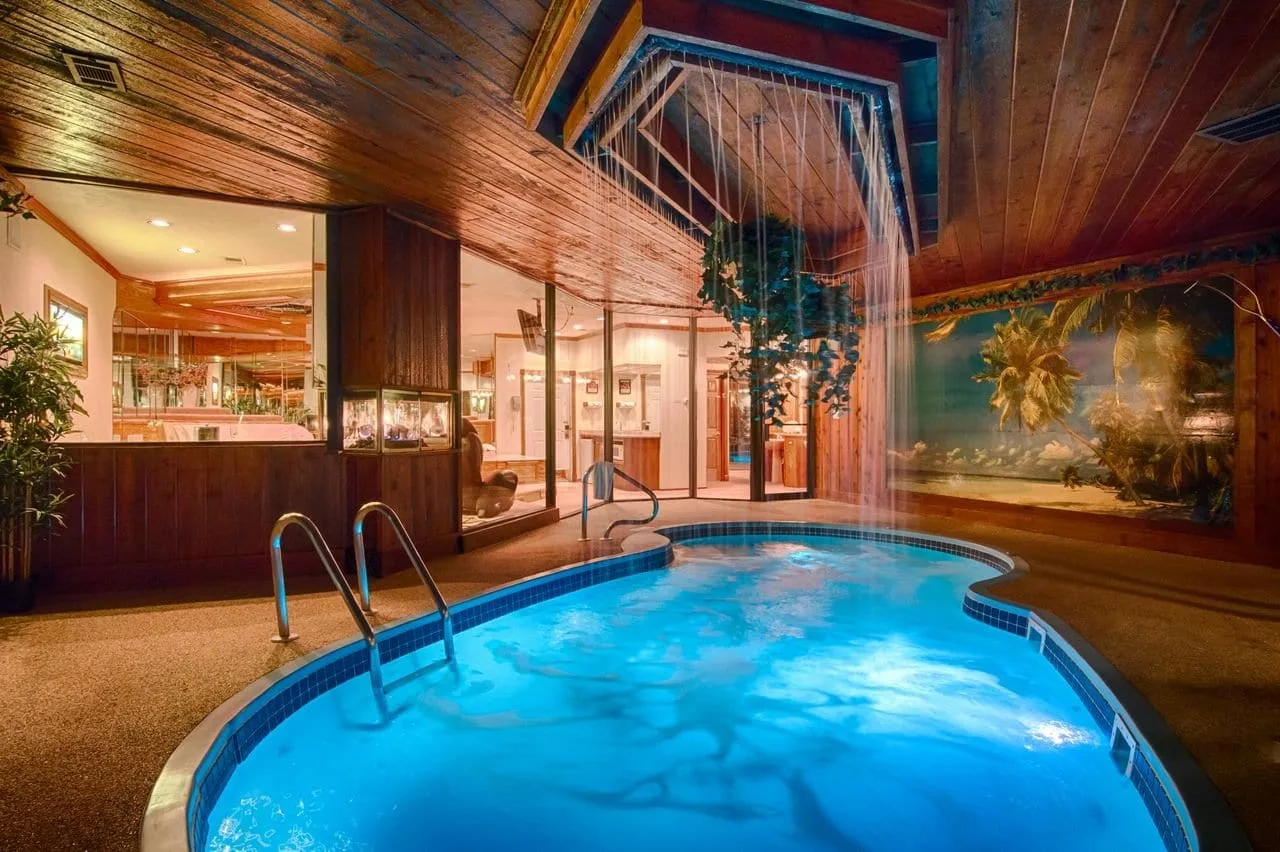 CALIFORNIA HOTEL WITH PRIVATE PLUNGE POOLS
Los Angeles: Beverly Hills Hotel
Come stay where Old Hollywood spent its best nights! This iconic hotel offers several private and secluded bungalows, each with a history as rich as the guests who used to stay here. From Marilyn Monroe to Rita Hayworth, prepare to indulge yourself just as they did when you book a night (or two!) at the Beverly Hills Hotel on Sunset Boulevard.
Bungalow 5 is known to keep true to the classic Hollywood style that is adorned throughout the hotel, though this one is extra special. Open your double French doors and walk outside to see your very own private pool with palm trees adding to the Los Angeles aesthetic that the place is known for.
You'll never want to leave the iconic bungalows that are a staple of Old Hollywood; you'll feel right at home.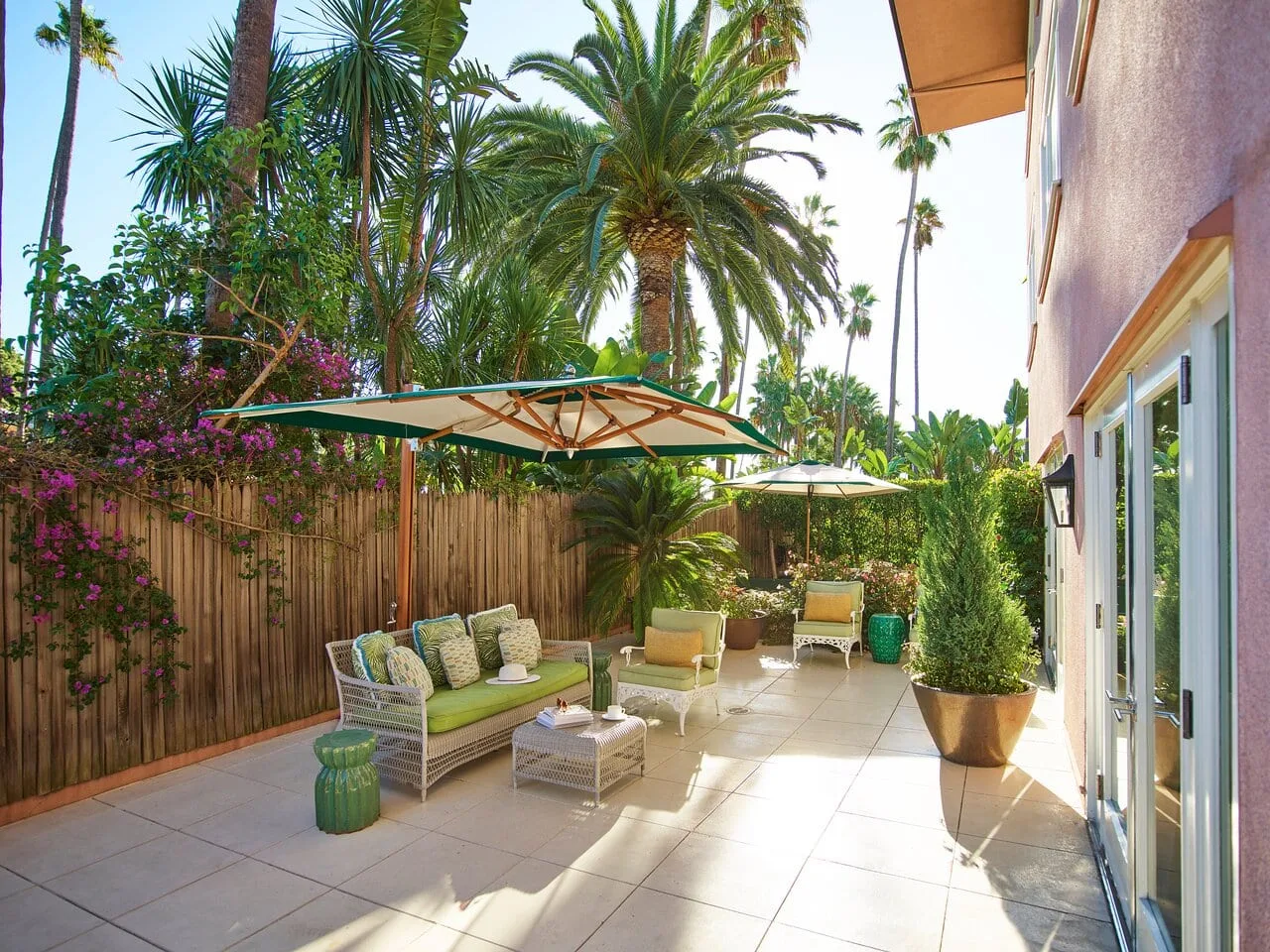 Coachella Valley: La Quinta Resort & Club
Want gorgeous views without ever having to leave the comfort of your king-sized bed? Want to swim in your own private pool that is just steps from the very view that left you breathless? At La Quinta Resort & Club in the Coachella Valley, they have all these things and more.
Several of their presidential suites are completely secluded with full kitchens, so there is no need to venture far from your lovely hotel. Open those French doors and experience all that the Coachella Valley has to offer. The decadence doesn't stop with a private pool and kitchen, there is even a connected whirlpool hot-tub to ensure complete relaxation as you take a few days off from your busy life.
A little R&R never looked so good.
Palm Springs: L'Horizon Resort & Spa
L'Horizon Resort & Spa is one of Old Hollywood's favorites. With guest lists featuring names like Marilyn Monroe and several U.S. Presidents, this place is one of the most iconic staples of wealth and excellence. The real piece de resistance is without a doubt the former home of Hollywood mogul Jack Wrather.
This suite has its own private yard and pool with chaise lounge chairs for complete relaxation. Furthermore, the suite features a full kitchen and dining area, a large living room, and built-in bar.
Everything inside was designed by William F. Cody and gives off the classic '50s taste, complete with vintage yet comfortable furniture to complete the look. You'll never want to leave this beautiful piece of Hollywood history!
WESTERN U.S. & SOUTHWEST
Arizona:
JW Marriott Scottsdale Camelback Inn
Take a breather in one of Western United States' most beautiful resorts! JW Marriott Scottsdale Camelback Inn offers several elite suites with your own private pool, overlooking a magnificent view of the surrounding mountains. Cacti line the outside of the wall separating you from the rest of society, adding to the secluded feeling that you want when booking at a resort such as this.
You have your own personal balcony or patio, aromatherapy bath amenities, and a full kitchen, all within reach while you look out at your gorgeous view. The king-sized bed and opulent bathroom add to the desert aesthetic that is right outside your backdoor. There is no other place like JW Marriott Scottsdale Camelback Inn, and you'll never want to stay anywhere else after living as lavishly as this.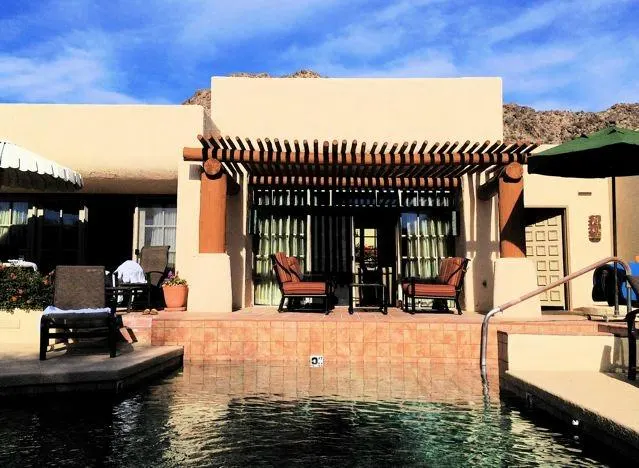 At the Four Seasons Resort in Scottsdale, Arizona, everyday is a dream. Book their two-bedroom suite, enough room for four adults and two children, and begin your private getaway. A king-sized bed and a heated plunge pool connected to your own secluded patio are just some of the many amenities that this suite has to offer.
There are even views of the mountain right on the horizon for you to enjoy while you lounge in your pool. Not only that, but when the night begins to fall, you can cozy up with your favorite person by the outdoor fireplace and gaze up at the stars with the complimentary telescope, making this experience unlike any other.
Tired of the kids and want some alone time? The trained staff will entertain the kids while you get some well-earned relaxation time. What's not to love about the decadent yet private getaway that the Four Seasons Resort has to offer?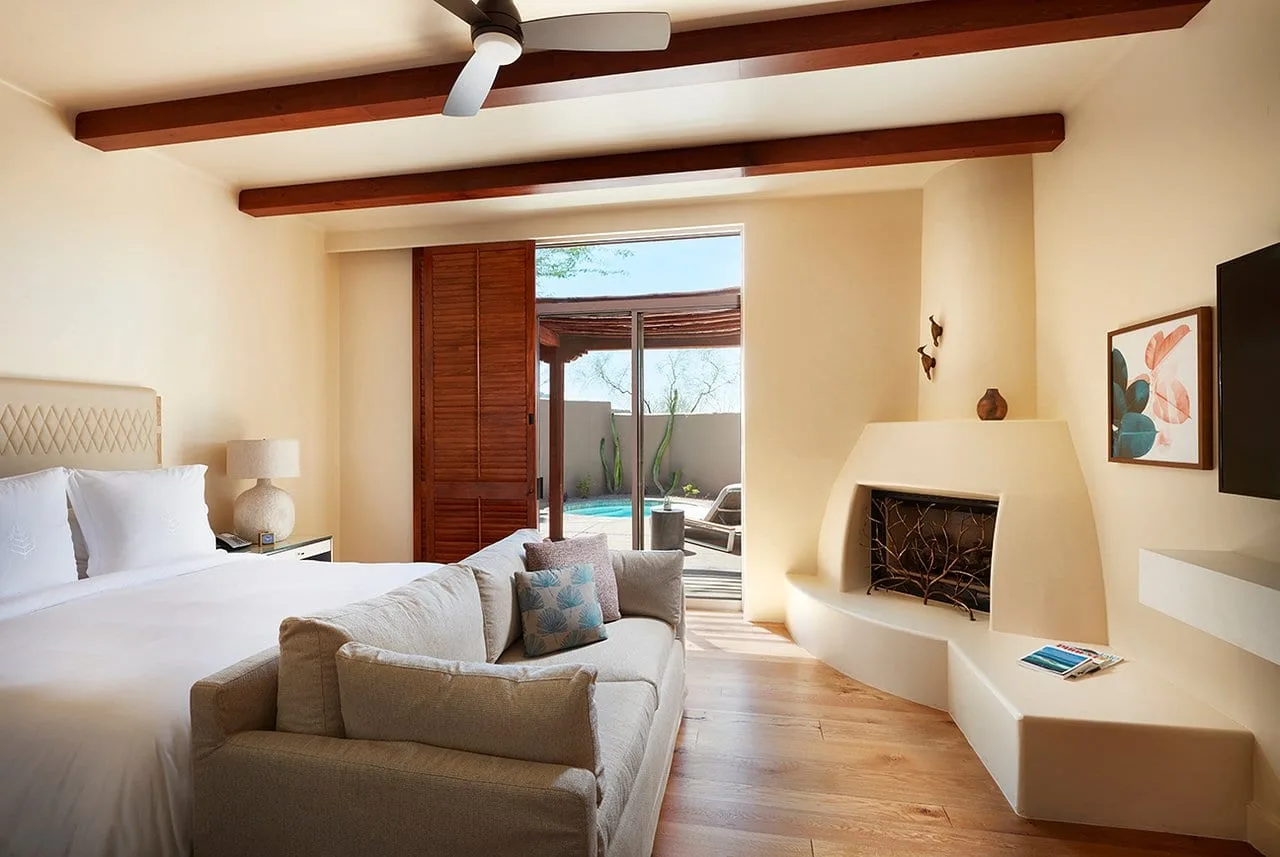 Utah: Amangiri Resort
Amangiri is known for its decadent vacations with complete seclusion and the ultimate relaxation. Go deep into the Southern Utah wilderness and stay at one of the many suites or homes that this place has to offer. Each suite comes with its own private full, plunge, or lap pool and gorgeous desert views surrounding every corner.
The private home, which is 600-acres from the resort, features complete seclusion from the rest of the world. With four-bedrooms and your very own private pool, this is the perfect family or friend getaway.
Nothing can beat the Amangiri in the beautiful Canyon Point. You will be surrounded by endless desert, making you feel like you will never leave this gorgeous vacation home.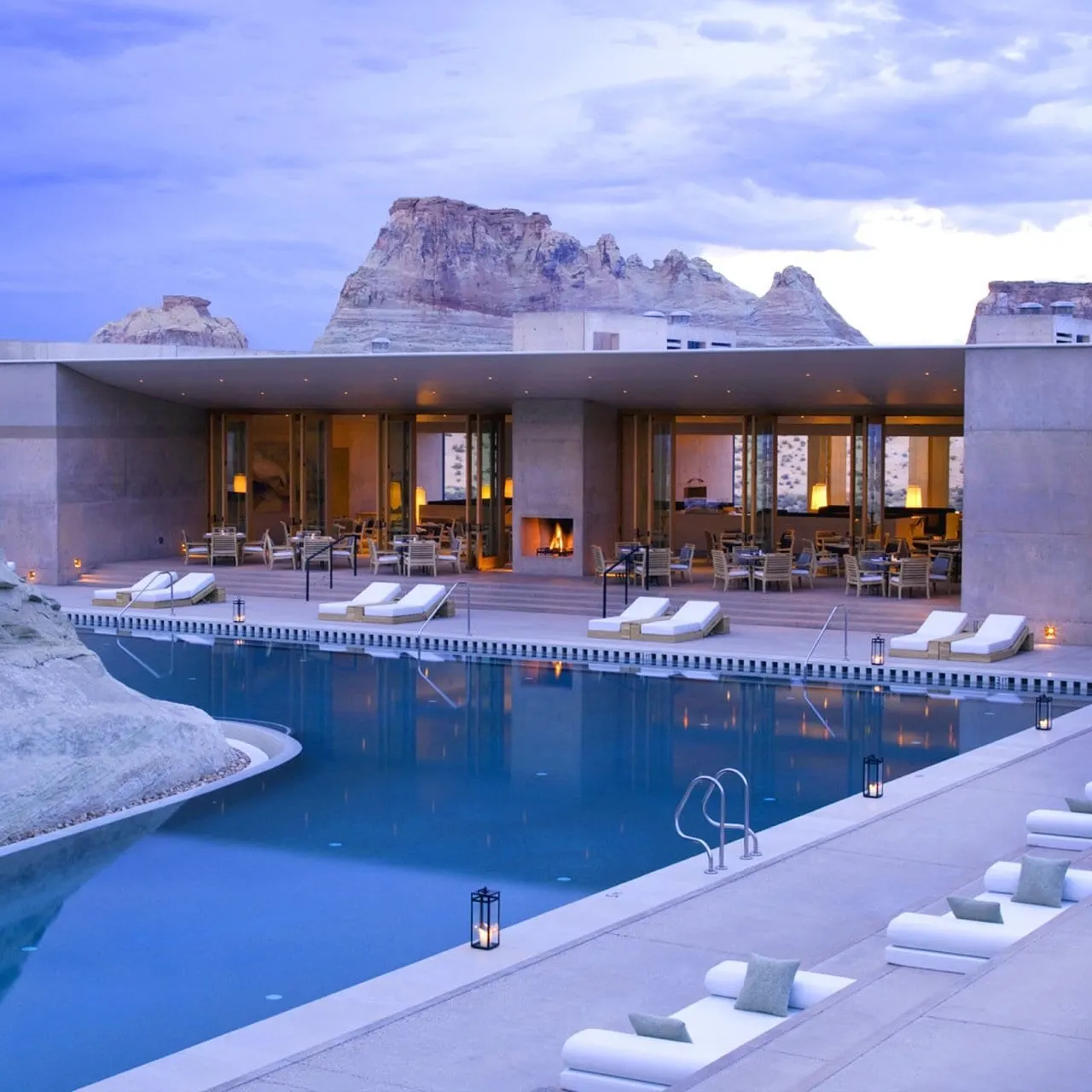 Las Vegas, Nevada:
MGM Grand 2-Bedroom w/Plunge Skyloft Suites
The two-bedroom Skyloft available at MGM Grand on the infamous Vegas strip offers gorgeous views and the ability to escape the demanding culture that Vegas is known for.
An in-room billiard table and a private patio with a plunge pool makes for a wonderful getaway for you and your loved one. The spa-inspired bathroom features an immersion bathroom and infinity-edge spa tub, making for the perfect night-in with countless amounts of memories ready to be made at each corner of the gorgeous loft.
With 3,000-square feet, there is ample room for you to bring your family along for a memorable and safe time on the Vegas strip, where several people have boasted that it almost feels too luxurious to be apart of the infamous strip. You'll never want to leave this oasis after spending a night (or more) within its gorgeous walls.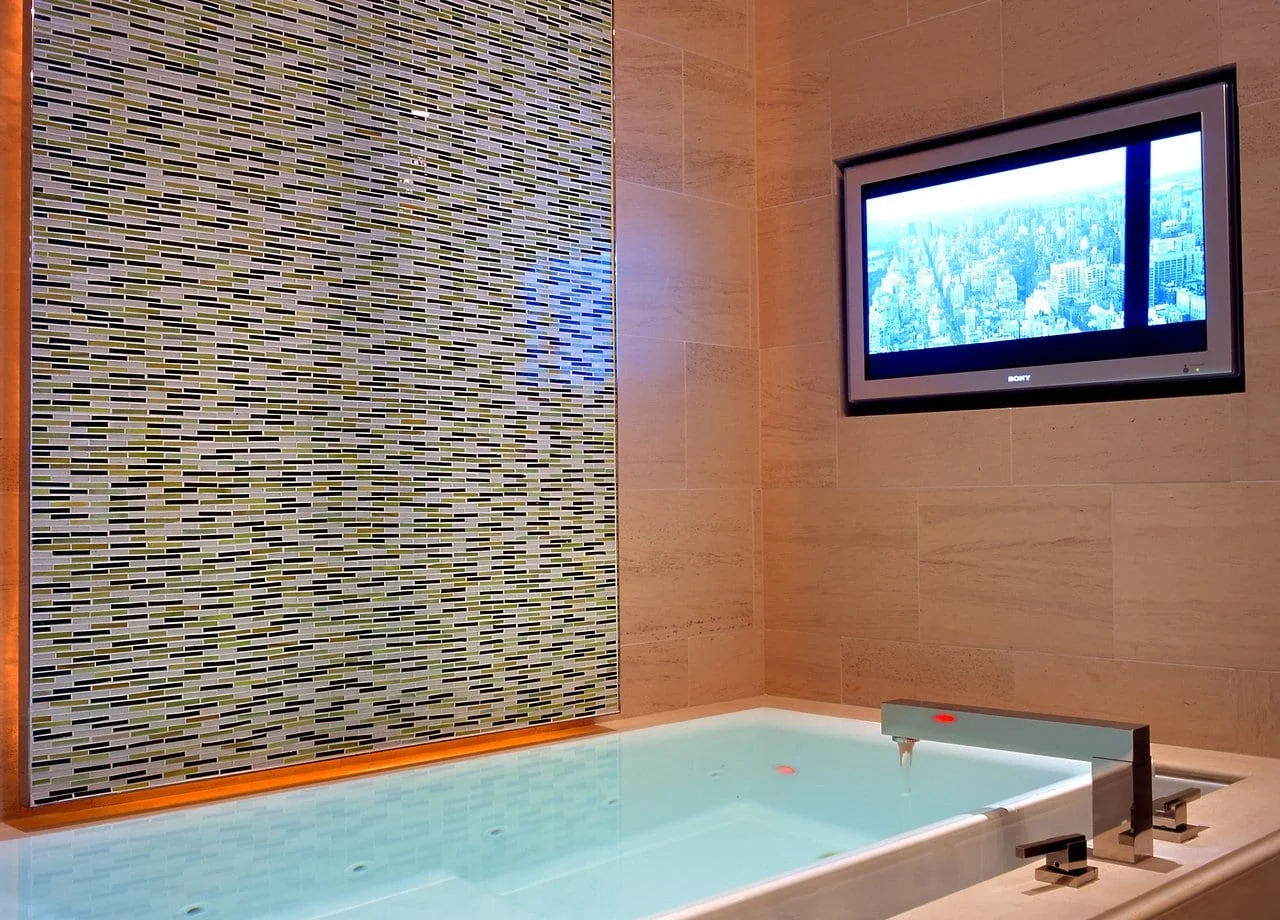 TEXAS
Hill Country: The Inn at Dos Brisas
The Inn at Dos Brisas is nestled between some of Texas' largest eastern cities, yet still manages to feel secluded from the rest of the world.
Take a look at their Haciendas suites, which feature an enclosed porch, pool deck, and patio, as well as your own private heated plunge pool. Take a dip in the pool then come inside to enjoy the high cathedral ceilings and a gorgeous view of the resort. The suite itself is decorated with tasteful vintage Spanish-style furnishings with French oak floors and beautiful master baths.
The Inn itself offers several fantastic activities, such as wine tastings, baking and cooking classes, and a daily sundown social. You will feel completely at ease as you forget the demanding world you left behind and immerse yourself in the relaxation that The Inn at Dos Brisas offers.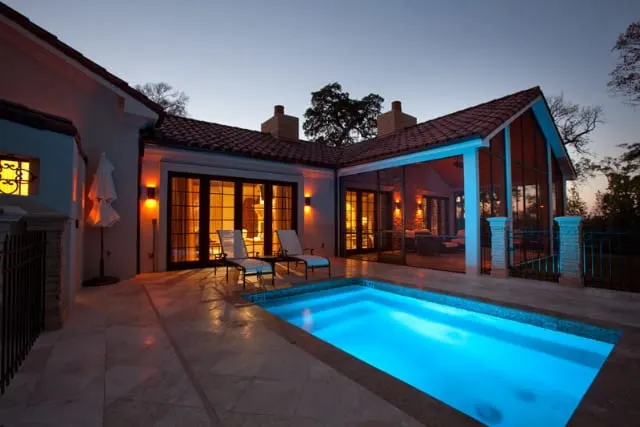 HAWAII
On the beach of Waikiki, you can find the gorgeous gem that is the Halekulani Hotel. Their premium villas are a self-proclaimed "home away from home". With your own private heated pool as well as a natural hot spring just steps away from your room, you'll never want to leave the one-of-a-kind experience that this hotel guarantees.
The villa itself is surrounded by beautiful landscaping and features a magnificent view of the East China Sea, which can be seen and enjoyed from the comfort of your own pool or hot spring. You will never want to leave the tranquil environment that the villa exudes and you will forever remember the complete relaxation that you felt while adoring the intoxicating views of Waikiki Beach.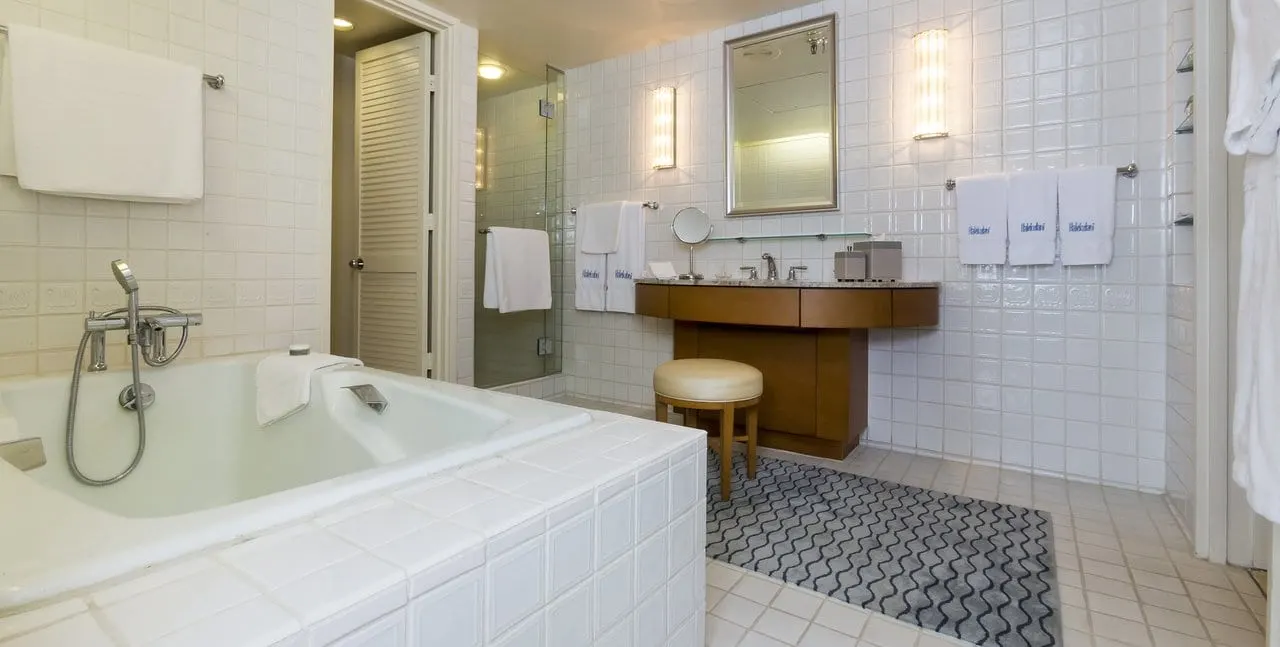 ***
More: