Wondering how many days in Milos you should spend?
Before we visited Milos and many of the other islands like Mykonos we had the same question. Of course the answer entirely depends on how fast you travel and how much of the island that you want to see.
We will endeavour to answer this question based on our experience and the main things to do in Milos.
How Many Days in Milos You Should Spend?
Long story short – we think to really get a true appreciation for the island you would want to spend at least 4 nights in Milos. This will give you 3 days to explore.
Click here to book accommodation in Milos during your dates.
Sure, you could even do a day trip to Milos and enjoy the island (even cruise ships dock at the island for 1 day only) but you wouldn't get to really experience everything the island has to offer in just one day.
For this reason, we recommend at least 3 days. If you want to travel slower and really soak up the island life like a local, you could easily stay a week in Milos and be very happy.
We would highly recommend booking a car to explore Milos as most of the activities we recommend below require transport. Book car hire for your trip to Milos here.
3 Days in Milos Itinerary
Day 1
On your first day in Milos, we would recommend taking a full day boat tour of the island.
This is one of the best things to do in Milos as it is the most straightforward way to see one of the best attractions on the island – Kleftiko.
The only other way to visit Kleftiko is to hire a quad and drive to a point from which you complete a hard hike for 40-50 minutes which passes through an area in the island which is known for poisonous snakes (not recommended!).
The boat tour is also a really good way to get orientated with the island of Milos which is why we would recommend completing it on the first day of your trip. The guides are really awesome too and they give you some fun facts about the island.
On the tour, you also pass by some of Milo's best fishing villages and learn about the history including one fishing village with an open toilet on the end that was named after a famous Milos prostitute – your guides will tell you all about it! The tour also includes exploration of the unique caves off the coast of Milos. Lunch and a free bar is also included in most yacht tours which is really nice, especially for those party goers among us!
After your long trip, we would suggest having dinner in Adamas, the main port of Milos, where you will be dropped off from your trip. If you feel exhausted (and you probably will!), Gyros of Milos, is a really great place for a quick dinner. They serve traditional gyros and souvlaki at great prices. You can eat in or take away. We went back multiple times for gyros here as they were seriously mouthwatering!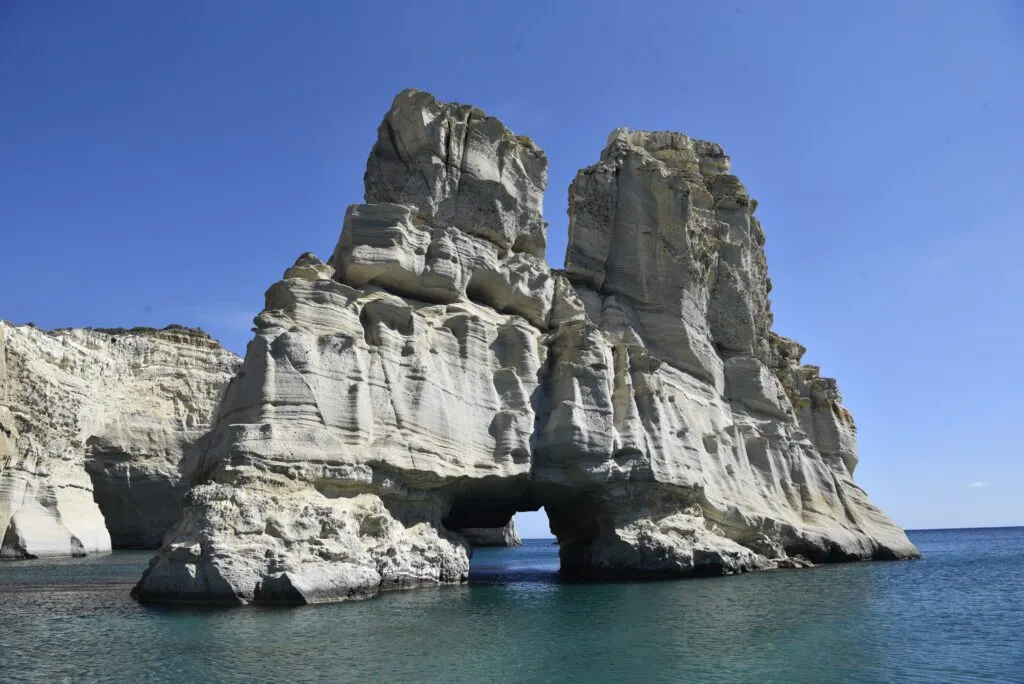 Day 2
Day 2 of Milos is all about exploring the best towns and fishing villages of Milos, outside of Adamas, the main port town of Milos.
You can't visit Milos without checking out the unique colorful fishing houses in Klima. This town is located pretty close to Adamas, only around a 10 minute drive away so you won't have to travel far to reach this really unique spot in Milos.
The fishing houses were not always houses as such. They were originally just used to store fishing gear but they were converted to homes in around the 1980s.
Something that we found cool is that you can actually stay in one of the colorful fishing houses that line the harbor in Klima. If you want to have this unique experience, even for a night, you can book your room here.
We suggest visiting Klima first so you can watch the sunset at Plaka Castle but Klima is another nice spot to watch the sunset so you can flip the day we recommend if you want.
A cool traditional village to check out after Klima is Trypiti Village. This village is only worth visiting if you are traveling to Milos in the high season as it tends to become quite dead by October. The houses you see today at the Trypiti were built on top of the Ancient Klima. Don't miss the cute windmills in the village.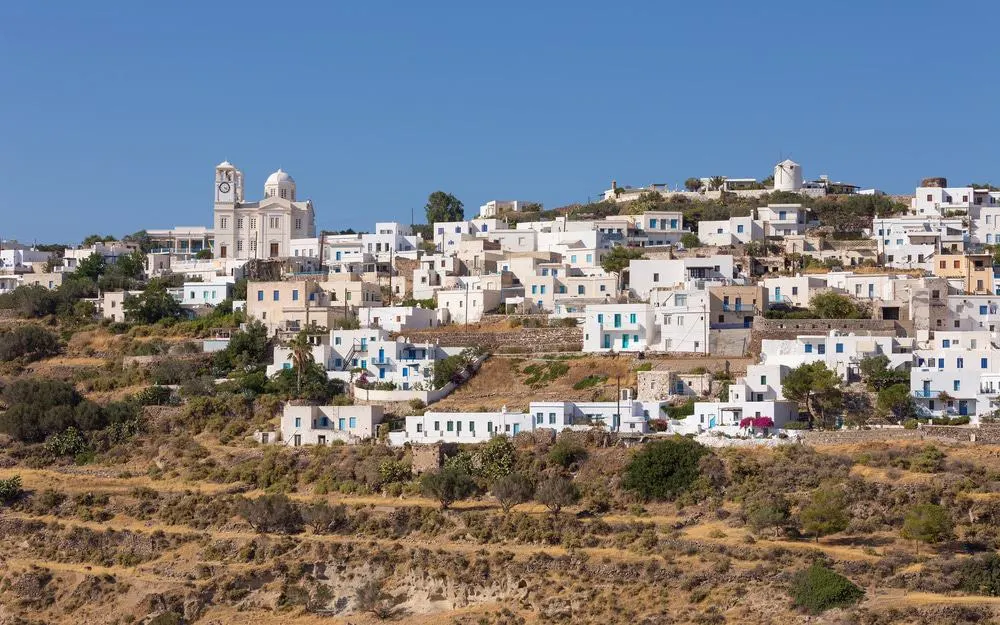 The very interesting Catacombs of Milos are located near Trypiti Village and also your final stop of the day, Plaka. The Catacombs date back to the 1st century AD as a traditional early Christian burial site with over 2,000 early Christians buried here. They were only discovered in 1840 when German archaeologist Ludwig Ross excavated the area. The tunnels span 180 metres but only 2 short sections can be visited by tourists – this is enough to get a good feel for the place.
Despite their website seeming to indicate they are open year round, the catacombs are closed in off season from October.
Around 200 metres from the catacombs is another ancient site in Milos that is worth checking out: the Ancient Theatre of Milos, first built in Hellenistic times in the 3rd century BC and reconstructed by the Athenians in Roman times. It also has a lovely view so even if you aren't into ancient sites usually, it might still be worth going to.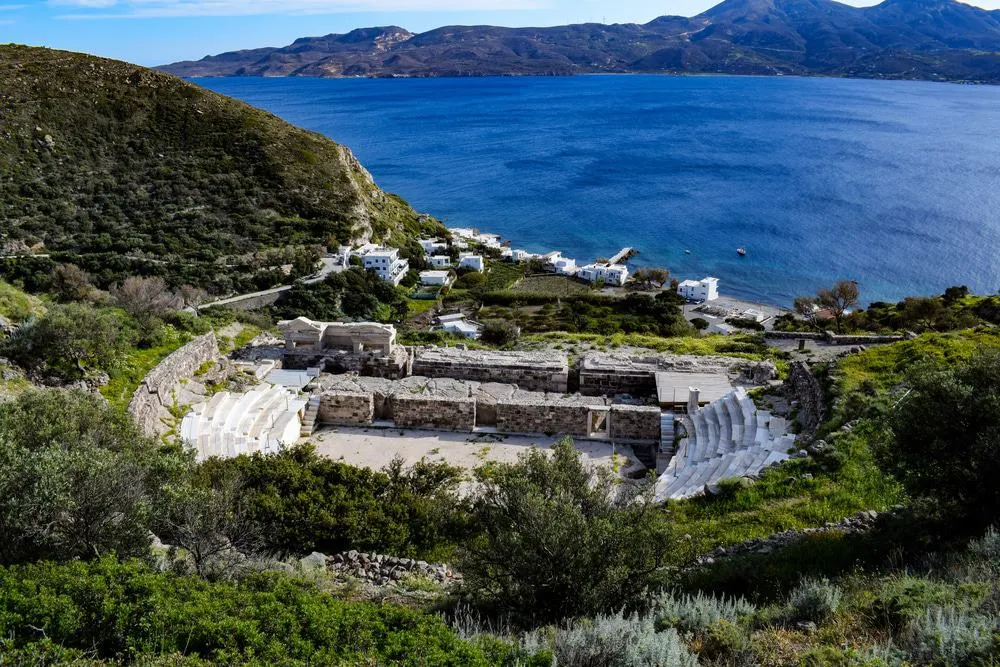 Your last stop is the cute village of Plaka with stunning traditional greek streets decked out in picture-perfect blue and white. If you are looking for a good instagram shot, well you are in luck my friend, as nearly every street of Plaka is picture perfect.
One of the unmissable things to see in Plaka is the absolutely stunning Plaka Castle, located on the second highest peak of Milos. It is a short steep climb from the town but it is well worth the effort as the view from the top is nothing short of stunning. You will find signs from Plaka town directing you to the castle.
Not much is left today of the actual castle on the top of the hill today which was used as a refuge from pirate attacks. However, the view in itself is amazing and there is also two whitewashed churches, Panagia Skiniotissa and Panagia Thalassitra on the way up to check out. If you are looking for a good place for sunset, Plaka Castle is a 'must do'!
As you are already in Plaka, we would suggest staying for dinner in the area. There are tonnes of great restaurants in Plaka but if you only have time for one we would suggest Avli Milos, which serves up great traditional food. Note: the restaurant is closed by mid-late October.
Many people choose to stay in Plaka as an alternative to Adamas, as it just as big of a town. If you would like to do so, you can check out accommodation in Plaka here.
Day 3 in Milos
Day 2 of Milos is all about exploring the best beaches of Milos.
One of the most iconic beaches in Milos and one definitely not to miss when traveling to this island is the moon-like beach of Sarakiniko.
You've probably seen this alien-like beach on Instagram and truth be told, it does live up to the hype, it is a pretty cool beach that is worth a visit. I have personally never experienced a beach like Sarakiniko. This is the #1 must do in Milos if you ask me!
Sarakiniko is the way it is as the wind and sea have moulded white volcanic rocks into this unique environment over many many years.
There is some cliff jumping available at Sarakiniko for adventure seekers and a little beach to enter the water, between the white volcano cliffs, for those less adventurous among us.
This beach is totally packed in the high season of July – August but by late October there is practically no-one there. I really liked this beach as I'm not a huge fan of sand.
Another beach we loved almost as much as Sarakiniko was the very impressive 'red cliff' beach of Firiplaka. Milos has some seriously cool beaches and this beach, to our surprise, also provided a wow factor. The red, brown and yellow cliffs that surround this beach make this an impressive sight.
There is one bar at the beach with umbrellas and sun loungers available for rent. If you come late in the afternoon/early evening, when the bar is closed you can use these for free and watch the sunset which is really nice.
If you are traveling with kids, they will love exploring the rocks that divide the beach into 2 parts. For the adventurous, there is also a fun cave that you can swim through at the beach.
As long as you are not mobility impaired and enjoy a bit of adventure, we would also suggest you visit the very cool Tsigrado Beach, with stunning turquoise blue water. I should note you may not enjoy this beach very much if you are afraid of heights as the only way to reach the beach is by climbing down a tall ladder via a crevasse in the rock.
If you feel a bit uneasy on your feet, I wouldn't bother with this beach as there is a sign warning of danger and descending at your own risk in the carpark at the top. The beach itself is fairly small and note, due to this fact, it gets rather crowded in summer.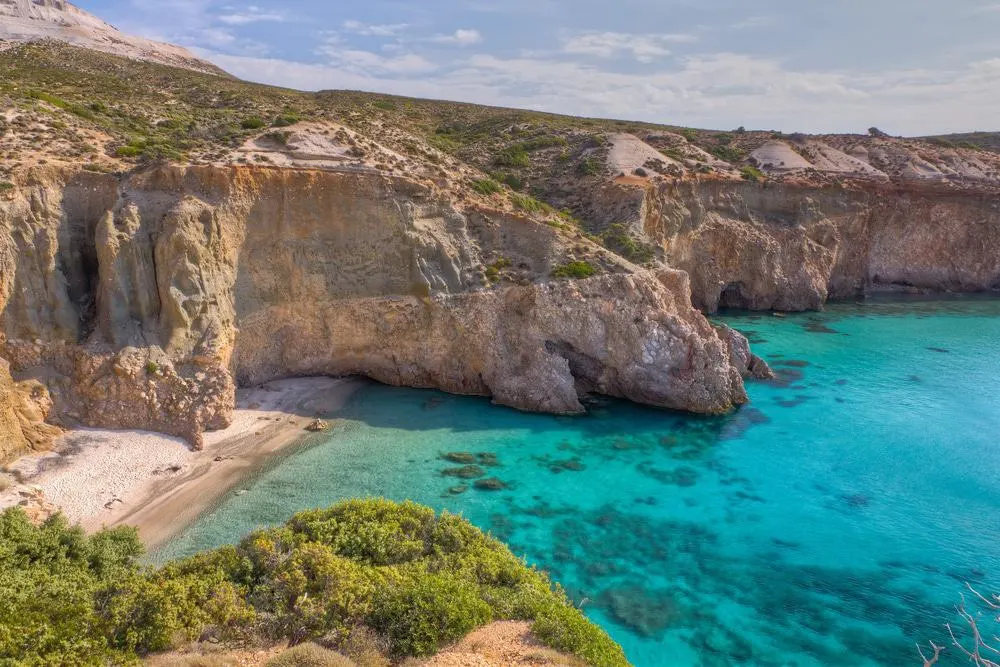 Other really nice beaches in Milos to check out include Paliochori Beach, Firopotamos Beach, and Paliorema with the ruins of a sulphur mine behind.
If you get sick of beaches, you might also like to check out the Milos Mining Museum, especially if you are a history buff. What is interesting about Milos is mining dates back to the Neolithic Period. In the museum you will find a nice history about mining in the area through the ages as well as prehistoric obsidian tools and weapons.
On your last night, we would suggest having dinner in Adamas, or the restaurant we would recommend which is just outside Adamas – O! Hamos! Tavern.
Provided you are not a vegan, you will LOVE O! Hamos! Tavern, a traditional greek family run restaurant.Menus here are hand written by the family who run the restaurant with a description of how their restaurant came to be. They pride themselves on providing a farm to table experience (with produce coming from their family farm). There is seriously no fresher than O! Hamos! We ordered the Piglet and Goat which were both very good.
Extra time and Don't Know What to Do?
If you have some spare time and don't know what to do you might also like to check out:
Adamas World War Two Bomb Shelter – Very interesting to see, especially if you are a WW2 history buff. The bunker has 12 chambers to check out.
Cave of Sykia – This is another part of Milos that can only be accessed by boat. There is a pretty good chance your boat tour on day 1 will go here.
Milos Archaeological Museum – A very interesting museum to visit. Many early Cycladic, Minoan and Mycenaean artefacts are located within the museum.
Where to stay in Milos for all budgets?
As Milos is a lesser known greek island, and less popular than Mykonos and Santorini, prices are more affordable year round. For the very best deals, you will want to travel in shoulder seasons.
Our favorite time to visit Milos is either in April/May or September. By October, things are closing down in Milos and you may find some restaurants closed and the boat tour is not running every day.
Budget Accommodation in Milos – As we mentioned, the great thing about Milos is that it is a less expensive greek island as (so far) it is not as popular as other islands like Santorini and Mykonos. This means budget travelers are in luck as there are great options of accommodation in Milos for budget travelers.
One place that consistently is a winner with budget travelers is Sarakiniko Rooms. We were recommended this hotel by a lovely Brazilian traveler on the ferry and while we didn't end up staying here, we can see why she would recommend it!
Mid Range Accommodation in Milos – There is also good mid range accommodation in Milos.
We wanted a slightly bigger apartment during our trip to Milos and found an absolute ripper at Akis House. This luxury apartment is in really close walking distance to Adamas town, is clean, very comfortable and the host is really nice. A big win!
Luxury Range Accommodation in Milos – If you are wanting something a little bit more special, there is also a good range of luxury accommodation in Milos.
We were very tempted by the Volcano Luxury Suites in Milos. This time we decided to stay in Adamas, but we bookmarked this beauty for next time we visit Milos. Milos is a relatively small island so if you choose to stay outside of Adamas, it isn't really a huge problem.
***
See more: