Applying for a Chinese Visa in Hong Kong is not only convenient but also saves money as the Chinese visa office in Hong Kong charges far less for visas than applying in most other countries around the world.
How to apply for a Chinese Visa in Hong Kong?
This article will give you all the necessary information on how to apply for a Chinese Visa in Hong Kong.
[box] This post is part of our guide to the best train routes in China.
Rail is the easiest way to travel in China – we have prepared a one month itinerary from Hong Kong to Beijing via picturesque Guilin, Avatar mountains in Zhangjiajie, adorable pandas in Chengdu and the terracotta warriors in Xian.
Make the most of your time in China with the best China itinerary![/box]
Where is the Chinese Visa Office located in Hong Kong?
It is easy to apply for a Chinese Visa in Hong Kong.
To apply for a Chinese Visa in Hong Kong you need to go to the Chinese Resources Building, located at the following address in Hong Kong:
3/F Lower Block, Chinese Resources Building, 26 Harbour Road, Wanchai, Hong Kong
The opening hours are Monday to Friday (except public holidays) 09.00 – 12.00/14.00 -17.00.
When you arrive at the building, pass through security & proceed to the third floor where you can get your Chinese travel visa processed.
There is different information on the internet as to the address of the Chinese visa office in Hong Kong. Initially, we went to the wrong address. The address posted above is correct.
What do I need to bring to the Chinese Visa Office in Hong Kong?
When you reach the third floor of the Chinese Resources Building, the officer directs you to fill out a 4 page Chinese Visa Application Form.
Along with this form, to apply for a Chinese Visa in Hong Kong, you need to bring with you:
A recent passport photo (Within the last month);
Copies of your passport & Hong Kong entry card;
Flights or other transportation showing you are leaving China;
All hotel bookings for your entire stay in China (full hotel bookings with full names on each booking)
Our Chinese visa was initially rejected as we attempted to save paper and only provided a one page printout of our hotel bookings.
This was not sufficient as it did not include the full print out receipt of each hotel with the full names of all visa recipients on each individual hotel booking.
Don't make this same mistake as it wastes time!
We recommend Booking for your hotel reservations in China as you can add all guests names to the booking. You can also select hotels with a free cancellation policy if your travel plans change.
How to add two names to your hotel booking confirmation
If you are travelling with another person, make sure both your names are on the hotel booking.
This requires a couple of simple steps:-
Book your hotel (we use Booking because free cancellation allows flexibility)
After you click book you will land on the confirmation page > look for Guest Name and click edit (click for photo);
On the new page look for the photo of your room. Next to the photo will be the first Guest Name – click edit and add your second guest separated by a comma (click for photo);
We then click Print Confirmation or ctrl + P. You will need to print one for each hotel for your visa meeting in Hong Kong.
Where can I print in Hong Kong & get a passport photo for my Chinese Visa?
Passport Photo – You can purchase a passport photo at the Chinese visa office in Hong Kong. However, there is sometimes a line up.
Printing – You can print your hotel bookings & flights at any library in Hong Kong for $1 HKD a page. There is a small library in each area of Hong Kong including nearby the visa office in Wanchai. We also used the local library at Tsim Sha Tsui to print.
What if I don't have a scheduled itinerary ready for China?
If you don't have a set itinerary or travel plan for China, you can make a Chinese itinerary on booking.com choosing hotels only with free cancellation.
We created a guide to (in our opinion) the best train routes in China! If you plan to spend anywhere from 1 week to 6 months in China – don't miss this guide.
The visa office will also require evidence of flight, bus or train tickets leaving China at the end of your visa.
If you are unsure of your travel plans when applying for the Chinese Visa in Hong Kong, most American Airlines offer a small window of free cancellation for flights going in and out of America.
How long does the Chinese Visa take to process in Hong Kong?
You will get your Chinese visa back 4 business days after you submit it at the Hong Kong office (including the day of submission).
For instance, if you submit your visa on a Tuesday you can collect your visa on a Friday and pay the visa fee upon collection. A list of fees applicable for the Chinese Visa in Hong Kong can be found here.
Cool, I've got my Visa – where should I visit first?
Shenzhen or Guangzhuo are not far from Hong Kong and can be reached be metro.
Or head straight to the amazing Guilin & Yangshuo to see the real China. We've got you covered for the bullet train from Shenzhen to Yangshuo too!
Did you find this guide helpful? Let us know in the comments below!
Save this to Pinterest!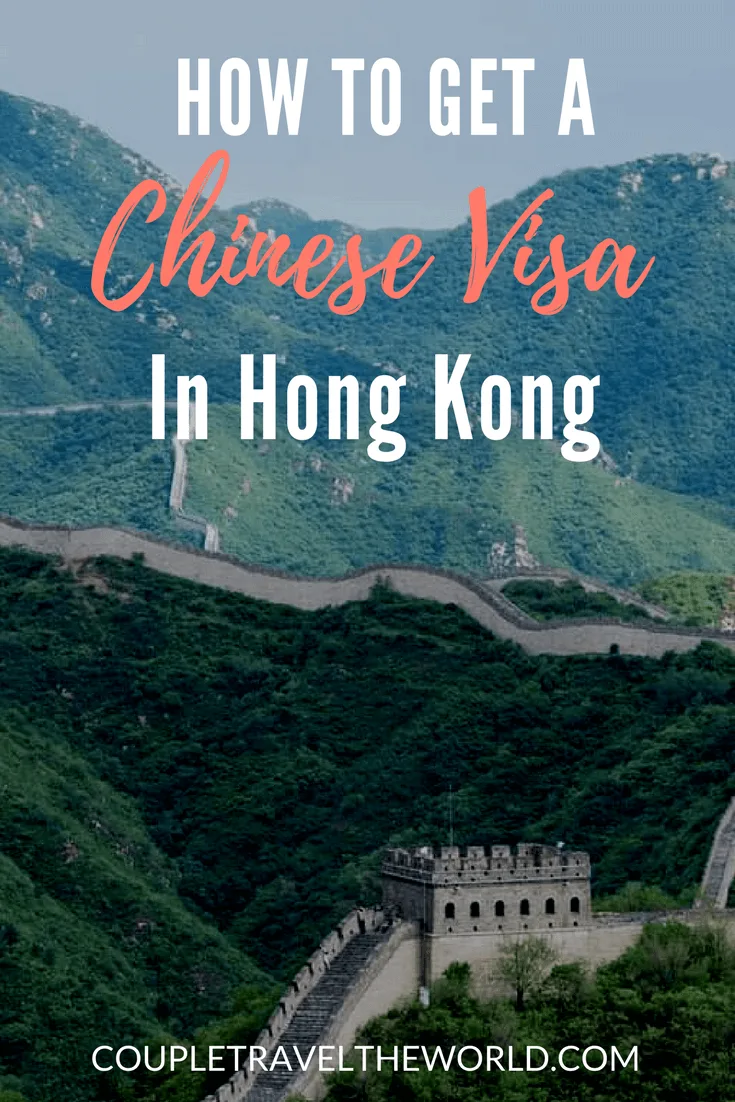 Disclaimer – This post contains affiliate links. This means that if you purchase an item or service through our links we will receive a small commission at no extra cost to you. If you found this post helpful, we would appreciate you using our links to help keep our site running!