If you are searching for how to DM a girl on Instagram or any other social media like face book, tinder, etc, out extensive guide will provide you tips on how to DM a girl the right way and impress her.
Girls have to go through a lot of creepy and weird messages from guys on Instagram and because of this it gets harder for genuine guys like you to DM them.
But you don't have worry. The tips I'm about share will help you out. Knowing how to DM a girl is same as communicating with any girl in real life. It can be tricky, but if you do it right, you can score a date with her in no time. If you are confused or finding it hard to DM her, read on so that I can show to it's not as hard as it looks.
How to DM a Girl on Instagram Without Being Creepy
Before I go into detail, there are two things that you need to be aware of. First, you should show the girl that you are not just another desperate guy who is attracted by every girl he sees on instagram and sends the same message to all of them.
And second, you need to have a clear mindset and have to confidence to reach out to her effectively. It might take some time to head in the right direction so you need to have enough patience.
Read the below tips, follow them or improvise them and get started.
What Is DM?
DM or direct message is a way to sending a private message to another user which can be seen and read by only that user and no one else.
The way of sending a DM is more or less the same in any social media app. DM is a way to conversing privately between two people.
If you want to DM a girl you should know that you have to be following her or be her friend and similarly if you want to get a DM from the girl, she should be following you. Unlike instagram some social media apps allow you to DM a girl without following them.
Be Confident
Confidence is the most important factor any guy needs if he wants to impress a girl.
If you doubt yourself thinking that you are not good enough for the girl, then your chances of getting rejected by her is more.
Always have better understanding of yourself and know your worth. A girl needs a man who makes her life more beautiful and not mess it up.
She wants her man to stand with her against all odds. Whenever you text or DM a girl online, always show your high self esteem. The internet is providing all the privacy you need so there is nothing for you to be afraid of.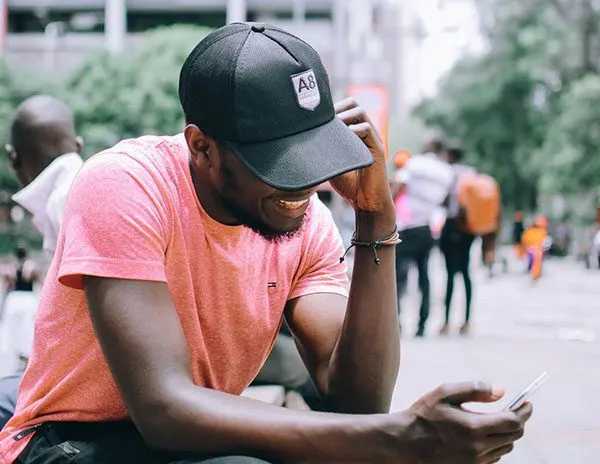 Read Before You Send That Text
Before you send that text to a girl, proofread once to make sure that you have not done any mistake. It hardly takes a few extra seconds.
Girls pay great attention to detail and they will judge even for the smallest mistakes. Make sure that the message you send her is perfect.
You are not trying to impress the girl with your grammar here, but to show her that you are a careful and responsible person. Only click on the send button once you are sure that you have got the message right.
Realize You Can't Win Everytime
Before you even decide to text a girl it is important to realize and start with the right expectations. Because of all the creeps and scammers hanging out in social media, most women don't even bother checking their DM's.
But it doesn't mean that all women are the same and you won't find success. If that was the case I wouldn't even bother writing this guide.
What I'm trying to tell is not all your message can be a winner. Failure is what leads you to success. So beat yourself up just because a woman has not responded. This is something that you don't have control on. Realize this fact and move on.
Get To Know Her Better
Before you can successfully start DMing her, you need to establish a bond with her first. If you have sent 2 or 3 texts and she hasn't replied yet, she is giving a hint that she is not interested.
In that case, you can try sending a subtle, non offending flirty text which can be more welcoming by her. Once the girl has started replying to your DM's you need to find you if the girl is already having a boyfriend or even interested in men.
You don't want to waste your time if the girl turns out to be a lesbian.
Check And Interact With Her Profile
A woman's profile can say a lot about her that creeps don't usually pay attention to. This will help you differentiate yourself from the rest.
Go through her profile description, check out her photos, her captions, her response to comments from other people and it will help you build a picture about what she is, her likes and dislikes, her values among others. Such valuable information will help you in approaching her in a meaningful way. When you understand a person, you can have a real and authentic conversation and strike a chord with her.
Once you have checked her profile, follow her profile, like her posts and interact with her profile like any normal person would do before you reach out to her through DM. This doesn't mean that you have to like every picture she posts within micro seconds.
Just interact in a way how you would do with a normal friend. Once she is used to seeing you in her notifications, it will make reaching out more natural. Just don't go liking her posts that were posted 3-4 years back. This will make you a creep. There is a very thin line between interacting with her profile and stalking her.
Don't Be Obvious
When Researching Her Profile Be anonymous whenever you are researching or watching her social media profile and don't do anything that might make her feel like someone is constantly stalking her.
You will give yourself away if she finds out.
Check For Mutual Friends
Having mutual friends can work in your favor as it will give the girl good enough reason to trust you and accept your friend request.
This is also one of the factors that girls use to find out about guys who approach them. She will open up better if there are familiar people around in her social life.
Online scammers have become a cause of concern, more than ever for girls, so it will make her feel much safer if you have mutual friends. It will even help you in converting your online crush into a real date.
Respond To Her Stories
If you want a more valid and natural reason to message her, then rather than commenting on her photos or surprising her with a DM you can just respond to her stories.
Girls expect comments when they post stories and they will be usually friendly when they know that someone is going to respond.
For example, if the girl has uploaded a photo of a restaurant that you have also visited, you can comment something like "Is that [restaurant name]? I love their food a lot. Their wood baked pizza is amazing." Your first message to that girl doesn't have to special and you can keep it simple and natural.
Don't Feel Bad If You Get Rejected
In some cases girls are not okay with the concept of DM and she might reject or directly or won't even bother replying.
And there could be many reasons why she doesn't like DM's. If you ever encounter such girl and get rejected, don't feel bad about it or even get violent and start abusing her with negative comments on her profile or even in her DM's.
You will only end up being a jerk and your profile might end up with a bad reputation. There are so many fishes in the sea of social media. Just find another fish and get started again.
Don't Start With A Compliment
This is what creeps do. They thinking complimenting a girl on her photo or through DM will impress her. And if your head is blank as to what to DM the girl, it can get tempting to start with a compliment.
But in reality, it is not the first time a guy is trying to approach her that way and it totally lacks originality. It will also not be a sincere or genuine compliment. The girl will just see you as another person who is trying to hookup with her. Messages like "Damn, you are looking so hot." is a sure way to get you ignored or blocked for good.
Be Patient
If you have sent her a DM and haven't got any reply from her for a while, don't start sending repeated messages. Do not even try to confront her on her public timeline or wall that she is not answering to your messages.
Also don't humiliate her or talk negative about her just because she has not responded to your approach. Be a gentleman accept her response with maturity.
On the other hand she can busy with a lot of things or even traveling in a place with no internet. Wait for a while before you come to a conclusion that she is not interested in you.
If she was really interested reading your first message but later reads your other messages how you are talking ill about her, you will have completely destroyed your chances of any success with her. You will also show yourself as a desperate person if you are just bombarding her inbox with messages.
DM Her Only
If You Have Something To Say No matter how head over heels you have fallen for her, don't constantly DM her whenever she uploads a photo or posts an update.
It will project you as a desperate or needy person. There is no such hard rules on how often how you should DM her. Just keep it natural and only DM her only if you have something to talk.
Be Clear About What You Want
Are you looking for a girl just for a hookup or build a real relationship? Are you too far to actually meet her? Are you looking to make your fantasies into a reality?
The girl you are sending a DM should be clear about what your intentions are so that she can find out if she is interested in you or not. If not, how will she find out what you are offering if you don't put that out in your conversation?
I'm not telling you spell out everything in your first message. Take enough time to get to know each other to make sure that both of you reflect on each other's interests. If you are just looking for a hookup, then don't be overly romantic.
You will be breaking an innocent girl's heart and she will not be the same ever again. Be honest with her and don't make any promises to her that you are not intending to keep.
Be Natural
Keep your conversations natural just like you would talk to any person. You have to text her like how you would normally talk to any other girl in public, atleast during the first few messages.
Once you have got past the initial stuff, you can then turn your DM's a bit more flirty. But before that you need to be sure that the girl is comfortable to take the conversation to the next level.
Try to maintain a balance between normal and spicy in your conversation. Girls don't like to rush whether it's on the bed or even just causal talks.
Have You Already Met Her Somewhere?
If you have already met the girl somewhere that you are trying to DM, you will have much better valid reason to contact her.
Even a simple DM like, "Hey Emily, your dance was really good. Did you win the competition? I couldn't stay till the end." is all you need to let her know that you know each other and will give you a good starting point. You can then take it easily from here and treat your DM's as any text conversation.
Don't Stalk Her
If you say things about what you know about her, it will freak her out. Don't talk like a stalker whenever you DM her. If you talk like you know everything about her, you will get blocked faster than the speed of light.
It doesn't matter what you know about her, just pretend as if you don't know her. Don't give her an impression that you are following her.
Don't Be Desperate
Your girl will see you as just another desperate guy if you are just seeding her 'good morning babe' messages every day.
She can clearly tell that you are just copying and pasting that same message to 20 other girls. Just remember that there are many other guys who are trying to impress her just like you. If you want to stand out from the rest and make her notice you, then you should be unique than the rest.
Play it cool and maintain your thirst to minimum. Keep your vibes positive and exceptional that will make it hard for her to ignore you. And don't worry if you don't have that swag, just keep your conversations casual.
Don't Send Or Even Ask For Nudes
Another obvious tip, but this is something that guys still do even now. This may be one of the worst ways to approach a girl unless the girl is also expecting the same.
Just because you want to see the girl naked doesn't mean that the girl also wants the same. Don't even think of asking her to send nudes or even send her any d*ck pics. You will never ever hear from again.
Don't Use Pickup Lines
"Are you a thief? Cause you stole my heart" isn't cute anymore. Pickup lines are beaten to death and are not attractive anymore. Your girl might just yawn and block you for good. It's time to grow up.
Remember You Are Not Alone
As I already said above, you are not the only person who will be trying to impress a girl. The inbox of a girl is usually a crowded affair.
And if the girl is beautiful with thousands of followers, she might not even get enough time to respond to all the messages. If you want to stand out from the crowd, then you should compose messages that are unique and far from common clichés.
This might sound like an obvious tip, but you need to have a decent talk with the girl if you want any chances of her responding to your message. Wish her a good day, admire her and don't ask any usual obtrusive questions.
Give Her A Reason
To Respond Your DM should be in such a way that she should be compelled to respond. If you send her something that isn't a question or doesn't give her any reason to respond, then your DM has already reached a dead end as she will not know how to respond.
Always send her a text in such a way that that it will give her a reason to respond. Also make sure that the DM you send has something that she is interested in. You can do that by checking her profile which will give you enough ideas for your DM.
Don't Be Political
Keep your DM free from politics, religion and other provoking messages. You should keep your conversations healthy and not something that will offend her or even you.
Don't Be Serious Always
You might scare the girl if you are always being serious in your conversation. Try to keep your conversations funny and witty.
Find topics that are not serious to talk to. Use your sense of humor and make her smile. If you are someone who is approachable, then you are giving her all the reasons to respond.
Setup A Date
Conversing online is your first step towards building a romantic relationship, but for your chemistry to work you need to meet the girl in real life.
It's true that you can develop feeling by conversing online, but real chemistry is only developed by meeting in real life and having a date. If all you are doing is sending her DM's and isn't helping you in setting up an actual date, then all your hard work will go waste.
Remember that real romance happens offline. Social media will only help you with your introduction. Only you can convert that to a real date. Don't restrict yourself to social media. Once both of you are comfortable with each other, look for the chance and set up a meeting with her.
Conclusion
Becoming an expert in DM (direct messaging) is getting harder. But if can take some time and look through several factors, you will realize that it is not all that hard or complicated. The internet is providing you with all the required tools making it easier to connect with a girl you like, unlike several years back where such comforts was not available.
Today you can talk to any girl you want and start a relationship without needing to have a personal connection with her. Being honest and avoiding being creepy is the right way to DM a girl.
If you want it to be serious then be the best you can be. The first thing a girl analyzes once she gets your DM is your intentions. Give her the best first impression and seal the deal. Do it right and the rest gets easy. Good luck.
****