After spending some time exploring the beaches of Puerto Viejo we decided it was time to cross the border to Bocas del Toro, Panama.
The Puerto Viejo – Bocas del Toro crossing is popular with tourists to Panama and Costa Rica, with hundreds making the journey daily.
Despite a bad start where the shuttle we paid for didn't arrive we found crossing the border between Costa Rica & Panama very doable.
Here we have broken down the process into simple steps to make traveling between Puerto Viejo and Bocas del Toro a breeze.
Service Announcement: Did you remember these essentials in your Central America Packing List?
How to get from Puerto Viejo to Bocas del Toro
You have two main options if you want to reach Bocas del Toro from Puerto Viejo or vice versa – DIY or a shuttle service!
We have experience both ways, as we travelled from Puerto Viejo to Bocas del Toro without a shuttle. Then we did the shuttle from Bocas del Toro to Puerto Viejo.
The journey is possible if you don't speak English but knowing a few simple Spanish phrases will help you out.
Option 1: Puerto Viejo to Bocas del Toro DIY
To get to Bocas from Puerto Viejo we did a DIY option involving catching the bus to the border, taxi to the ferry and ferry to Bocas.
This was forced on us after the shuttle we booked in Puerto Viejo didn't arrive and the tour operator literally shut up shop and tried to hide (more on that later).
For now, let's show you how to get from Puerto Viejo to Bocas del Toro without a shuttle or tour.
Step 1: To Costa Rica immigration (Sixaola Costa Rica Border)
Potentially, the cheapest option to reach Bocas del Toro from Puerto Veijo is to take the bus from Avenida 73 & Calle 213.
The bus departs Puerto Viejo to Sixaola every two hours as follows: 6:30am, 8:15am, 10:15am, 12:15pm, 2:15pm, 4:15pm, 6:15pm. The cost of the bus is 1500 Colones (2.70 USD).
Get off this bus from Puerto Viejo when it reaches the end of the line in Sixaola. The bus takes about 1 hour 30 minutes.
From there you need to visit the Costa Rican immigration & pay your departure tax of $7.
This requires you to fill in an immigration form, scan in your passports & pay the departure tax. We payed for the departure fee using Mastercard in the immigration office (which cost us an additional $4 fee). Therefore, it is best to have cash ready!
Alternatively, I heard subsequently that you can pay at the pharmacy or convenience store and it only costs a $1 transaction fee.
From this point you must walk over (a relatively long) bridge, a little hard if you have big heavy bags to the Panama immigration.
Here you need to pay an entry fee to enter Panama of $4 USD & show proof of return tickets out of Panama.
If you aren't sure exactly when you will be leaving Panama, an easy option is to purchase flights out of Panama into the USA.

The USA have customer service rule that requires carriers to give passengers a 24 hour free cancellation with no penalties. Provided you remember to cancel your flights, this is an option.

Do note that that some Airlines (United) do a hold of your flights for 24 hours instead of issuing you proper tickets which might not suffice. We haven't had any problems cancelling flights with Delta & America Airlines in the past.
Step 2: Costa Rican immigration to the water taxi in Almirante
From this point you need to get a shuttle or taxi to the water taxi in Almirante. There is another option of getting a public bus from this point but I have been advised against this option as it is a bit of a milk run.
The daunting thing at this point is that locals swarm you trying to get you to go with them in their taxi or shuttle. The issue is you aren't entirely sure who to go with/which is a safe option etc.
The usual price of a shuttle is $10 USD pp however, if no-one happens to be travelling to Almirante water taxi when you arrive (which happened to us) we had to negotiate the price of the entire shuttle for ourselves.
We negotiated the shuttle down from $40 USD to $30 USD. When we were travelling to Almirante our shuttle decided to divert off the track which concerned us for a while until we confronted him and headed back on route again.
Luckily, we were tracking our journey on Google Maps or god only knows where we were headed. This didn't feel like the safest option. The shuttle from Sixaola to Amirante takes about 45 minutes to an hour.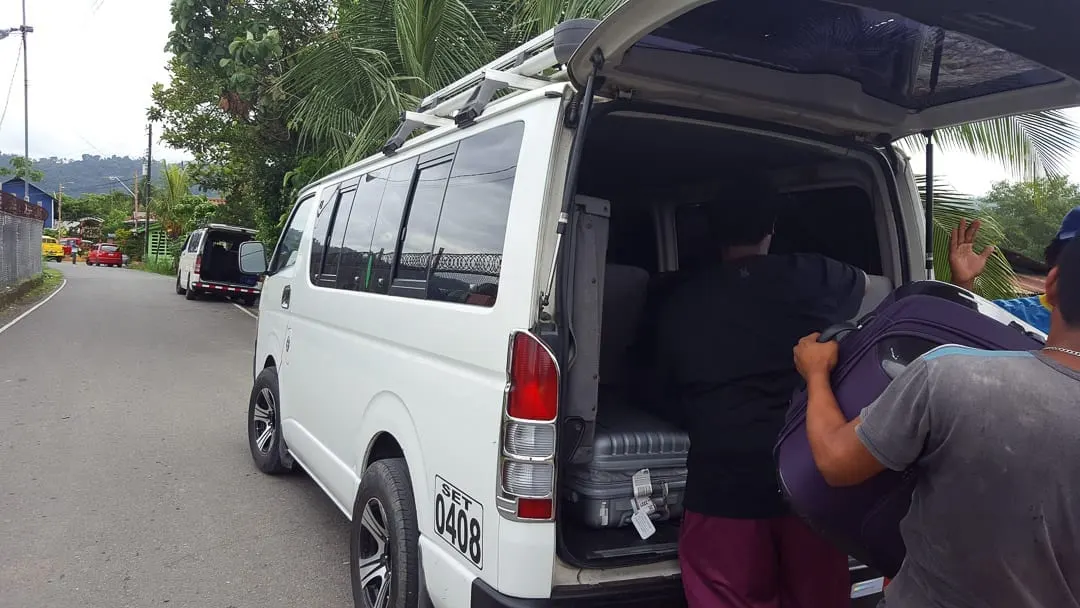 Step 3: Water Taxi from Almirante to Bocas del Toro
When we reached the water taxi service we payed $6 USD pp for the water taxi to Bocas town in Bocas del Toro.
We looked up different ferry operators and services before our trip, but by the time we made it to Almirante we just jumped on the only ferry which was still running.
What is very important to note is that the last water taxi to Bocas town is at 6PM so you really need to be on the 12.30pm bus from Puerto Viejo at the latest.
We got on the 1.30pm bus and were very rushed, causing us to have to pay a premium for a shuttle to ensure we made it to Bocas. The reason this happened to us is because we waited for a shuttle at our hotel in Puerto Viejo (paid $25 USD) which didn't show up. We prepaid the shuttle in advance!!
Total cost of to get from Puerto Viejo to Bocas del Toro DIY: We payed $23.70 USD pp but if we had been able to share the shuttle from Sixaola to Almirante it would have cost us $18.70 pp.
Option 2: Puerto Viejo to Bocas del Toro by Shuttle
Despite our shuttle failing to show in Puerto Viejo (we luckily managed to get the money back from our bank) we decided to take a shuttle back from Bocas del Toro to Puerto Viejo.
Jump to our Puerto Viejo Bocas del Toro: Shuttle vs DIY below to find out why.
We paid $23.00 USD pp from Coconut Hostel (click to open Google Maps), which is in a central location in Bocas Town.

We shopped around and $23.00 USD was pretty much the cheapest price out there & a lot cheaper than booking from the Costa Rican side.
It may be possible to contact Coconut Hostel & organise the shuttle travelling the opposite direction.
The shuttles run from Coconut Hostel at 8am or 12 noon and require you to be at the Hostel 30 minutes in advance.
Puerto Viejo – Bocas del Toro: Shuttle or DIY?
We recommend taking a shuttle from Puerto Viejo to Bocas del Toro or Bocas del Toro to Puerto Viejo.
Why? Quite frankly, the first option was a bit stressful & didn't save us a whole lot of money. We didn't feel entirely safe when our shuttle diverted off route.
In order to avoid being scammed in a shuttle in Bocas we didn't pay in advance and chose to pay on the day of leaving, walking to the pick up location ourselves.
Despite being scammed in our first shuttle experience, this shuttle was much better than DIY option above.
The reason being is that you feel more secure going in an official shuttle marked with Coconut Hostel than with an unofficial local on the street.
The benefits we found is that it is a faster journey & the shuttle drops you to your Hotel in Puerto Viejo.
Aside from these benefits, the process is basically similar to the above.
The shuttle selling pitch is that they will assist you through immigration. Well, this doesn't really happen and you are left to figure it out by yourself. The only silver lining is that on the shuttle are other people and it is nice to have safety in numbers and work out issues as a team.
Costa Rica Panama Border Fees: There is no entry fee to Costa Rica but you are required to pay an exit fee of $4 to Panama.
Overall, if you can spare the few extra dollars (and avoid being scammed!) our vote on this one goes to the Shuttle service!
We can commend Coconut Hostel (click to open Google Maps) as we used their service without trouble (no affiliation).
Bocas del Toro to Puerto Viejo DIY
If you are travelling from Bocas del Toro to Puerto Viejo then the DIY is a little easier. Let us explain why.
Catching the bus from Puerto Viejo to Sixaola was simple and dropped you right by the border.
The difficulty we faced was mainly on the Panama side after completing the Sixaola border crossing.
In particular, as we were there late in the afternoon there was no one to share the taxi from Sixaola to Almirante ferries.
If you are doing the return journey and leave early in the day, you'll be catching the ferry from Bocas del Toro to Almirante (easy, just go to the pier).
From Almirante to Sixaola you should have plenty of time to wait for people to share the shuttle to Sixaola with you. Even as we were arriving in Almirante late in the afternoon we saw lots of people still heading to the border.
That's the hardest part over and done with!
Sixaola to Puerto Viejo de Talamanca
From Sixaola, just follow the instructions above in reverse about crossing the Panama Costa Rica border and catch the bus to Puerto Viejo which will drop you near Avenida 73 & Calle 213.
That said, you might still find on the Costa Rica side in Sixaola that unscrupulous taxi drivers tell you the bus is no longer running.
If you have daylight, we recommend hanging around the shops just past the border bridge where you'll have a good vantage point of buses arriving from Puerto Viejo.
Even though the it may be easier to DIY it from Bocas to Puerto Viejo, we decided to catch the shuttle instead.
Where to Stay
We found choosing accommodation in Puerto Viejo and Bocas a little tricky. We moved around to several hotels and Airbnbs.
We recommend booking a hotel, as the Airbnb we found (and paid more than a hotel for) turned out to be a horrible experience. We find the personal nature of Airbnb ratings artificially inflates the ratings.
Puerto Viejo Hotels
In Puerto Viejo we stayed at Cabinas Montel Sol which was basic, comfortable accommodation run by a lovely family.
We were grateful that we could leave a large suitcase there while we visited Bocas for a week or two.
If you are looking for something more fancy, why not try a jungle resort.
If you are in need for some R&R then this adults only resort should be on your radar.
Bocas del Toro Hotels
If your budget can stretch it – book an over water bungalow or this 5 star adults only resort.
In Bocas Town itself, treat yourself to a luxury oceanfront hotel (you are literally on the water).
We stayed at Bocas Condo Rentals and can highly recommend it for clean rooms, a lovely hostess and the fastest wifi we found on Bocas.
One place which has good reviews, which lured us in, but would never recommend in a million years is this horrible Bocas hotel. The hotel is run by rude, sarcastic Dutch tax-dodgers expats. There's seriously better places to stay in Bocas then living in someone's extended house.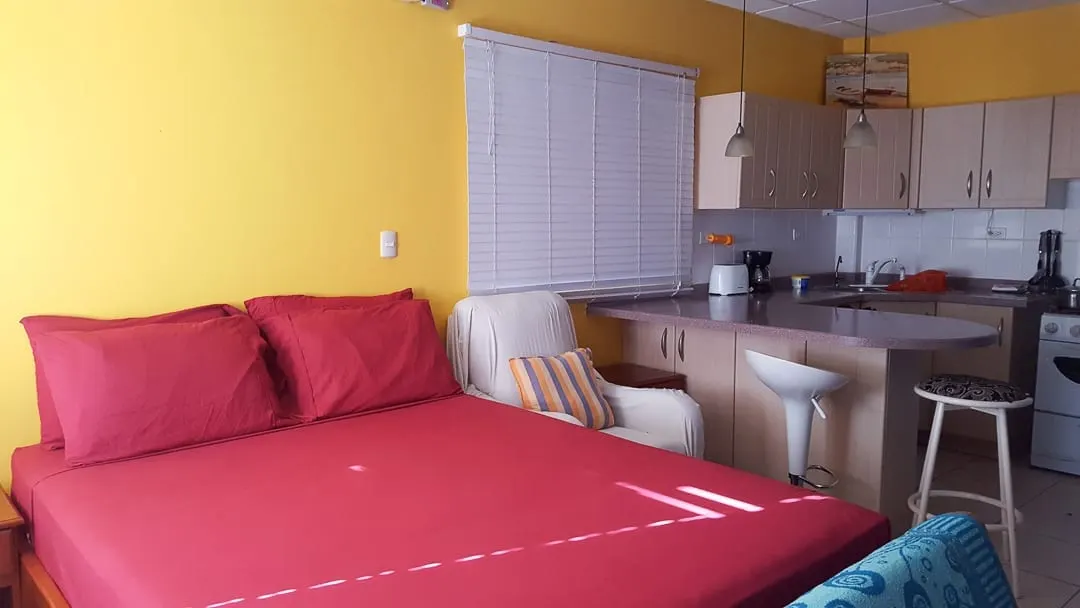 More Costa Rica & Panama Travel Blog Posts
Wondering what to do in Bocas del Toro? You must not miss starfish beach, island tours, red frog beach (just to name a few). Read about all of the must do things in Bocas (and where to eat lobster at local prices) in our Bocas del Toro Travel Guide.
In Costa Rica you really can't miss the incredible cloud forest in Monteverde. We found a few interesting free hikes and can point you in the direction of what not to do when you're hiking (hint – if the path is too slippery to walk down, running doesn't make it better). Read our post if you need to know how to get from San Jose to Monteverde. Find lots of photos of that carnage and more unique travel tips in our Monteverde Travel Guide.
La Fortuna is another must see destination in Costa Rica. From iconic volcanoes to canopy zip lining tours, dramatic waterfalls and secret (free) hot pools, we cover it all in our La Fortuna travel guide.
We travelled around Costa Rica by car, which was a great decision. The roads aren't always easy, or well paved but we safely negotiated it in our rental car. Many agencies have restrictions on where you can drive, so we investigated a lot to find a good provider. Read more about it in our guide cheap car rental in Costa Rica.
We had a love hate relationship with Costa Rica. So much so that we decided to right about the things you'll love and hate about Costa Rica. Let us know if you felt the same or if we're just dramatic!
Oh, and it would be remiss of us not to mention visiting Nicaragua. We were wary about visiting this country – the journey from San Jose to San Juan del Sur seemed horrible, but it turned out even easier than crossing the border to Panama!
If you're considering visiting the country north of Costa Rica, start with our Nicaragua travel blog posts to see if it's right for you. Heads up – you'll probably be blown away by the history, surf, sand boarding volcanoes, peering into molten lava and swimming in volcanoes too.
Share your experiences or questions about crossing the Costa Rica – Panama border below.
Save this to Pinterest (so you can find it again later!)