There are 4 popular ways to travel from Cartagena to Medellin: bus, plane, train and car. We cover all the options.
If you can't snag a cheap flight, in our opinion the best way is to travel by bus from Medellin to Cartagena.
We're fussy campers but we took this option and we were happy with our choice.
If you are travelling from Medellin to Cartagena we've got you covered too.
How to Travel from Cartagena to Medellin
How far is Cartagena from Medellin? The distance from Cartagena to Medellin is 635km (~400 miles). The drive would take around 12 hours excluding rest breaks.
The thought of driving 12 hours didn't appeal to us, when we could get a good rest on a night bus from Medellin to Cartagena instead.
We're going to focus on how to get from Cartagena to Medellin by bus, plane and train.
Cartagena to Medellin Bus
There is a direct bus from Cartagena to Medellin operated by Expreso Brasilio which departs at 6:15am. There are 11 more services daily – most are night buses which we recommend as the journey is 13 hours and costs from 90,000 Colombian Pesos.
If you've arrived in Colombia in Cartagena, congratulations, the best is yet to come.
Even though Cartagena is fantastic, we loved everywhere else in Colombia even more.
We recommend the night bus from Cartagena to Medellin which takes around 13 – 14 hours.
Cartagena Bus Terminal
Cartagena Bus Terminal is not our favorite. It's got that run down, unpleasant vibe about it.
You'll find lots of taxi drivers waiting to quote you exorbitant fares.
Do yourself a favour and bring a phone with wireless data and book an Uber or Grab when you arrive.
Cartagena Bus Terminal Map
Which seat should you chose? Cama v Semi Cama
If you have the option, book a Cama or Cama Suite option over a 'semi cama' option.
Cama means bed and you will get a fully reclinable seat (think of it like a first class seat).
If you chose a semi-cama option then you will get a seat which reclines a bit, but it's not much different to a regular bus or plane seat.
Bus journeys in South America are really quite good. You are served full meals and drinks, buses have wifi and often you will have a personal TV too.
We travelled all the way from Brazil to Colombia predominantly by bus. If you are starting your South America journey then check out our guides to how to get around below.
Cartagena to Medellin Bus Times
We travelled with Expreso Brasilio bus company and recommend their service.
The bus times from Cartagena to Medellin as of March 2019 are as follows:
6:15am (first bus)
7:00am
13:00pm
14:00pm
15:30pm (overnight bus)
16:30pm (overnight bus)
17:30pm (overnight bus)
18:30pm (overnight bus)
19:30pm (overnight bus)
20:30pm (overnight bus)
21:30pm (last bus) (overnight bus)
Night Bus: We actually really recommend taking a night bus over other buses. Not only is it perfectly safe (buses don't usually stop to pick up more random passengers) but you will save time waiting around airports, you won't pay for that night's accommodation and you'll arrive the next morning ready to explore a new city.
Cost: Cartagena to Medellin bus tickets cost from 90,000 Colombian Pesos to 125,000 pesos.
Arriving in Medellin
The bus from Cartagena to Medellin will arrive at Medellin North Terminal: Google Maps.
Unlike Cartagena Bus Terminal, we felt perfectly at ease in this large, slightly modern bus terminal.
If you arrive early in the morning and would prefer to wait until sunlight before making your way to your Medellin accommodation, then there are seats where you can rest up.
Another note, not only is Medellin perfectly safe (we weren't offered cocaine once nor did we feel in danger at any time).
But there are also so many awesome things to do in Medellin. We cover the best ones in our guide.
The easiest way to get from Medellin North Terminal is by Uber. We used it all the time in Medellin – it's super cheap and easy.
Cartagena to Medellin Flights
If the idea of a 14 hour bus ride doesn't appeal to you and you would prefer to catch a flight from Cartagena to Medellin, then you are in luck.
Colombia has the cheapest internal flights in South America so it's one of the few places where the price is competitive with a bus fare.
The caveat here is you do need to book in advance to get cheap flights.
Flight time: Non-stop flights from Medellin to Cartagena take about 1 hour 10 minutes.
Operating Airlines: Major airlines flying between Cartagena and Medellin include LATAM, Viva Air, Avianca.
Cost: Flights start around 200,000 pesos ($65 USD)
If you are planning a trip from Cartagena to Medellin but don't want to spend 200k pesos on flights, we recommend setting a price alert on your preferred date.
If there is a sale you will be alerted about the cheap flights to Cartagena or Cartagena. If not, you can always book the bus closer to your departure date.
Search for your cheap flights here on our go to site for flights.
Medellin to Cartagena Bus
What we loved about the bus from Medellin to Cartagena was it was direct (no annoying breaks), it was overnight (saved time and accommodation) and comfortable as we chose a cama bed option.
Our bus also had personal televisions, wifi (which didn't really work), meal service and a toilet.
We travelled with Brasilia bus company and can recommend their service: https://www.expresobrasilia.com/
Price: Medellin to Cartagena bus tickets cost from 90,000 Colombian Pesos to 125,000 pesos.
Night bus: Totally recommended. We've travelled all over South America, mostly by overnight buses. Book a Cama suite if possible.
How far is Cartagena from Medellin?: The bus journey takes around 13 – 15 hours. The flight is about 1 hour + all the waiting around. The bus journey is quicker at night when there is no traffic and longer during the daytime when the bus has to contend with city traffic and roadworks.
Medellin to Cartagena Bus Timetable
The timetable for buses from Medellin to Cartagena as of March 2019 is as follows:
5:30am (first bus)
6:30am
8:30am
11:00am (usually the cheapest option but arrives 1:00am in Cartagena)
16:30pm (overnight bus)
17:30pm (overnight bus)
18:30pm (overnight bus)
20:15pm (overnight bus)
21:30pm (overnight bus)
22:30pm (last bus) (overnight bus)
Cartagena Bus Terminal (Google Maps) is around 20 – 30 minutes from the main tourist area in Cartagena.
We preferred to travel in the taxi to our hotel during daylight hours rather than at 1am, so we took the overnight bus.
Regardless of what time you arrive in Cartagena we recommend having wireless data on your phone to call an Uber/Grab.
Like any city in the world, if you rely on taxi drivers you'll end up out of pocket.
Medellin Bus Terminal to Cartagena
We caught our bus from Medellin Bus Terminal North (Terminal del Norte): Google Maps.
Night Bus Tip: Eat dinner in the terminal. There are lots of restaurants including Subway.
We opted for grilled chicken and fried plantains which was delicious.
If fried plantains and chicken are on the menu, we can't pass it up as it reminds us of our favourite dinner in Granada, Nicaragua.
Medellin to Cartagena Flight
There are indeed cheap flights from Medellin to Cartagena (at least by South American standards).
Using Kiwi.com we found cheap flights as low as $40 USD here.
If you're flying to or from Cartagena then there's a good chance you will fly with Copa Airlines.
We flew with Copa Airlines from Cartagena to New York city.
If you're considering flying with in the Americas don't miss our Copa Airlines review.
Medellin to Cartagena Train
It is possible to catch a train from Medellin to Cartagena. However, it's a long route via Bucaramanga.
Where is Bucaramanga you ask?
Way out here as you can see on this Medellin to Cartagena Train Map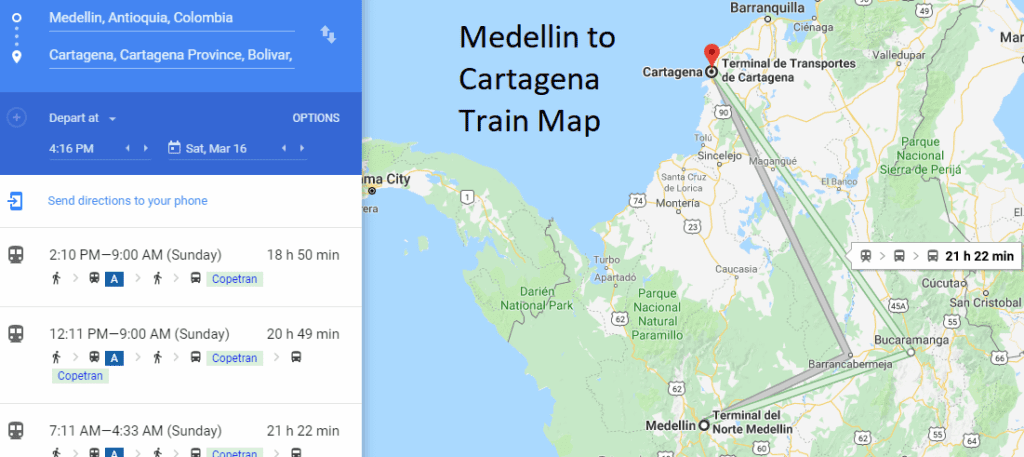 Now, it's not the train duration which was the deal breaker for us (although over 20 hours is a loooong journey).
No, it was the idea of transferring trains in Bucaramanga which seems like a major hassle.
Personally I'd rather be sleeping on an overnight bus to Cartagena.
Where to Stay? + Get $25 USD off any hotel!
In Cartagena we recommend staying in or nearby the fortified walls (Cartagena is a former fort which is the centrepiece of the town).
Medellin is a sprawling city so it's not easy to find a perfect location when you'll be travelling far and wide visiting epic parks, taking day trips and enjoying the party scene.
We recommend finding a well rated hotel and catching Ubers or the Metro around.
Read our guide to the Best Places to Stay in Medellin.
More Colombia Travel Blog Posts
2 Week Colombia Itinerary: This post covers the post important places to visit in Colombia in 2 weeks. You can easily spend much longer using this itinerary.
Cartagena Travel Guide: Everything you need to know about Cartagena including delicious cafes we stumbled upon.
Medellin Travel Guide: The best things to do in Medellin and how to stay safe
Guatape Day Trip: Did you know there is a magical town adored by locals and tourists alike a short trip from Medellin?
How to Travel from Medellin to Salento: Salento is an unmissable town on any Colombia Itinerary but getting there can be tricky. We show you exactly how to get there in simple steps.
Salento Travel Guide: This tiny town in Colombia's coffee growing region was our favourite place in Colombia. When activities include drinking beer while playing games with gun powder in cowboy saloons, it's easy to see why.
Salento Hotels Guide: Wondering where to stay in Salento? This tiny town has some of the coolest accommodation in Latin America including swanky eco-resorts, glamping in the Valley de Cocora and the best places to stay if you want to party!
How to travel from Salento to Cali & Popayan: This journey involves a few buses. We simplify how to get around.
8 Things to Do in Popayan: The UNESCO listed white city is far more than a stepping stone to Ecuador.
Ipiales to Quito: Continuing your South America trip? We show you how to safely cross the infamous border to Ecuador and a perfect side trip to the most beautiful church in Colombia too.