Travelling from Medellin to Salento? Awesome, Salento was our favorite place in Colombia and you'll love it!
If you are wondering how to get to Salento from Medellin that you're in good hands. This is a straightforward journey but there are a few choices so we'll run through the options so you can select the best for your budget and time.
Below, we describe exactly how to travel from Medellín to Salento whether you are looking for a flight, bus (there are direct and indirect options) or driving by car.
Finally, we'll describe the reverse journey from Salento to Medellin (and we'll share the safe neighborhoods with best accommodation to stay too). We found some information on the forums to be out of date: we try to keep this content up to date – feel free to add a comment below.
If you're looking for the cheapest option, click here to jump straight to how to catch the Medellin to Salento Bus.
Best Option: How to Get from Medellin to Salento Colombia
Medellín to Salento Travel in 2023
Flying: There is no airport in Salento but you can fly into the nearby towns of Pereira, Armenia or Manizales then transfer to Salento.
Bus: Flota Occidental is one of the largest bus companies on the route. We traveled with them and can recommend their service. You can book a direct or indirect bus straight from their website: www.flotaoccidental.co
Shuttle: you can now book a shuttle from Medellín in advance online. Check One Way Transfer Availability & Prices
Where to Stay in Salento: We've identified the best places to stay in Salento including glamping in the Cocora Valley, the best party hostels and romantic lodges with giant hammocks and sweeping views.
Where to Stay in Medellin: In Medellin we've identified the top 5 safe, ideally located neighborhoods for exploring the city and the best places to stay in Medellin from boutique hotels to funky hostels in the heart of the action.
Medellín,

Colombia Map

The distance from Medellin to Salento may look far on a map but it's only 247km (153 miles) and the travel time in a car is about 6 hours. Salento is East of the Colombian capital, Bogotá.

So despite the distance not being that far, the winding one lane roads make driving between these two Latin American hotspots an option we wouldn't recommend.
1. Flights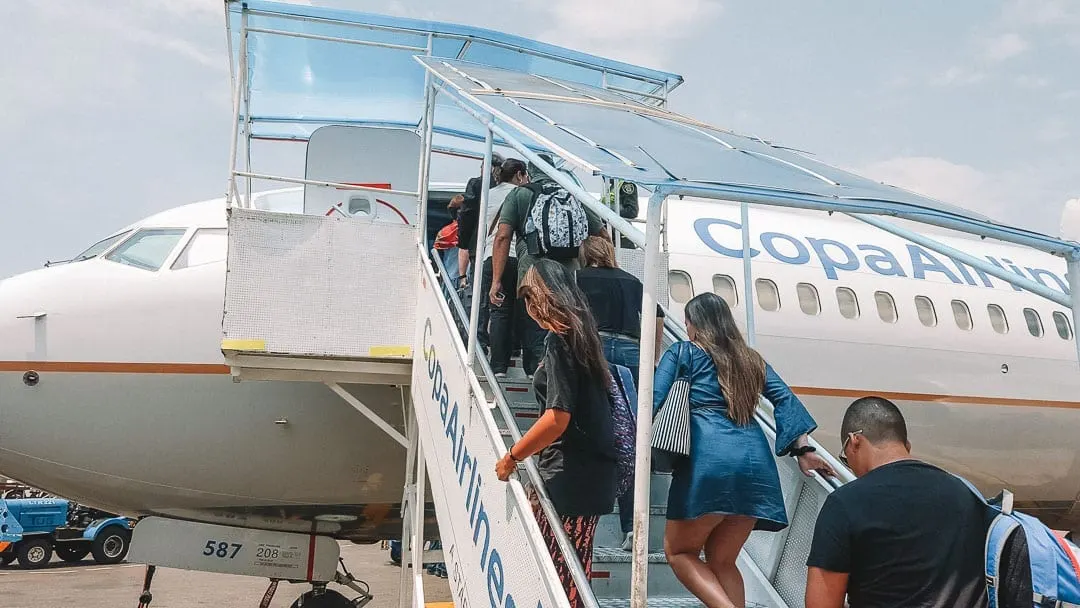 While there are no direct flights from Medellin to Salento, you can catch a direct flight to the nearby towns of Armenia, Pereria and Manizales.
Booking a cheap flight to Salento, transferring via Armenia, Pereria and Manizales is the easiest way to travel from Medellin. As the flight takes just 45 minutes, it's also the quickest way to travel. You can easily do a day trip to Salento from Medellin and fly back the same evening (though we recommend spending a few days in one of Salento's romantic hotels). Our tips, using Skyscanner to find cheap flights:
Click here to see the prices for your dates
You can fly to Salento from Medellin José María Córdova International Airport. You'll arrive in Pereira (Aeropuerto Internacional Matecaña), Armenia (El Edén Int'l) or Manizales (La Nubia). Airline options include Easyfly, VivaAir and Avianca.
We've seen direct flights from as little as $45 including checked bags which is a pretty good deal considering the time savings.
After arriving you'll need to make your way to Salento.
Pereira to Salento – 1 hour
Armenia to Salento – 1 hour
Manizales to Salento – 2 hours
We detail public transportation options from Armenia to Salento below, a small town 30 minutes to the east, but from the Airport you're probably best arranging a transfer to save time.
2. Bus (and our reviews)
When we first made this journey a few years ago, there were no flights. The only bus options were a mini-van style direct service that departs 6 times a day or a more luxury indirect bus via Armenia.
In 2023 things are a lot easier we're pleased to report. The direct bus is no longer a minivan – but a fully fledged coach with plenty of room for bags, seats allocated upon purchase, wifi, power plugs and a bathroom.
None of these features existed in the minivans which made the direct journeys on our first trip, so we opted for a luxury indirect bus via Armenia. This indirect bus is still an option today, and operates as a useful back up in the event you don't get a ticket on one of the four direct bus services each day.
We'll explain both options.
Direct Bus to Salento (Medellín para Salento)
The fastest way of getting from Medellin to Salento by bus is the service operated by Flota Occidental which departs at 9am from Terminal de Transportes del Sur. It costs 54,000 pesos and takes 6.5 hours.
The direct bus to Salento timetable as of 2023 is as follows:
The price of the direct bus is 47,000 pesos ($15 USD).
Flota Occidental direct buses to Salento depart from Medellin, Terminal de Transportes del Sur.
To book, visit the terminal, call Flota Occidental on (57) (6) 3211656. Alternatively, you can book your ticket online on their website www.flotaoccidental.co.
Note: due to current world events, bookings can no longer be made online until further notice.

Indirect Bus to Salento (with Flota Occidental)
If you are unable to get a ticket on the direct bus to Salento from Medellin, don't worry! There's another perfectly viable option to get you there in good time. You'll first need to travel from Medellin to Armenia, then transfer in the terminal to catch a bus from Armenia to Salento.
On our first trip to Salento we caught this indirect bus because (at the time) the last direct shuttle left at 4pm and we wanted to spend the day riding horses among the coffee tree covered mountainside (read about this activity and many more in our Salento Travel Guide.
Medellin to Armenia
The two main bus companies that travel to Armenia are Flota Occidental & Empresa Arauca. Flota Occidental boasts slightly more glamorous buses but is also a little more expensive. Both bus companies take around 7 hours to make the journey.
Empresa Arauca runs from Terminal del Sur in Medellin daily. Schedule:
4:30am
6:30am
8:45am
9:45am
11:00am
2:00pm
3:00pm
6:00pm
The bus fare is 45,000 pesos ($14 USD).
If you are confident with your departure times, you can book your ticket on their website http://www.empresaarauca.com.co or call Flota Occidental on (57) (6) 3211656.
However *usually* the buses don't sell out and sometimes you can even get a slightly better deal from the bus terminal in person. We suggest checking the website for availability ahead of time.
Flota Occidental departs every hour from 4:30am to 12.30am the next morning.
The Medellin to Armenia bus schedule with Flota Occidental is:
4:30am
5:30am
6:30am
7:30am
8:30am
9:30am
10:30am
11:30am
12:30pm
1:30pm
2:30pm
3:30pm
4:30pm
5:30pm
6:30pm
7:30pm
8:30pm
9:30pm
10:30pm
11:30pm
12:30am (next day)
The bus costs 47,000 pesos ($15USD) or 49,000 pesos ($16 USD) if you are one of the lucky few to get an even more luxurious cama seat. A more luxurious seat is definitely a worthwhile investment but you need to book a long time in advance.
This bus can also be used as an overnight bus between the cities. Like Empresa Arauca, you can purchase tickets in person or via their website www.flotaoccidental.co.
Armenia to Salento
Once you have reached the Armenia bus terminal, proceed inside the Terminal and up two flights of steps. Then continue straight in the same direction until you reach the end of the terminal.
Step 2, walk outside to where further buses are waiting. If in doubt – say 'Salento' & a local will point you in the correct direction of the shuttle and driver. Even better, say 'donde esta el bus a Salento' which means where is the bus to Salento? The bus price is 4,000 pesos ($1.30 USD) and takes around 1 hour.
3. Driving by Car
If you enjoy driving, going from Medellin to Salento by car might be the best choice for you. Know this, the distance may only be 247km (153 miles) but the journey will take 6 hours because the roads are particularly narrow and windy in parts.
That said, we always love a good road trip and if you drive yourself you will have the advantage of being able to drive out to the Cocora Valley by yourself, you can stay in some of the awesome remote ecoresorts and not need to rely on the hotel's jeeps to shuttle you back and forth.
It's easy to hire a car from Medellin Airport or in the city centre (click here for prices). There's no tolls on the journey either: bonus!
4. Private Transfer from Medellín
Now you can also book a seat on a private transfer to Salento from home. The transfers cost $18.50 one way, have plenty of leg room and are well reviewed.
These transfers run only on Tuesday and Thursday from Parque el Poblado, Medellin.
Check One Way Transfer Availability & Prices
Salento to Medellin
If you're travelling north to Medellin like we did, you can use any of the above options to get you there.
Considering the distance between Salento and Medellin is only 247km (153 miles) taking about 6.5 hours the bus is an easy, hassle free way to get there.
Book a flight ticket from Salento to Medellin (via Pereira, Armenia or Manizales airports), a one way transfer or the bus (as we did). Uber operates in Medellin so you can easily order one from your bus terminal.
If you're looking for a safe neighborhood to stay in Medellin, we wrote a detailed guide where to stay in Medellin and the best hotels, hostels and resorts to stay in.
The Salento bus station for the direct shuttle from Salento to Medellin is located on Carrera 2 between Calle 4 & Calle 5 in Salento.
Where to stay in Medellin?
Medellin has a bad reputation for being dangerous. Even when we took a walking tour of the city we were told not to "offer papaya" which means don't show any valuables.
So staying in a good area is super important.
Read our guide to the best neighborhoods in Medellin for all the best places to stay.
Where to stay in Salento?
We stayed at Casa La Eliana and would highly recommend it. The hotel was not only affordable but was was very clean & comfortable. See our video below of what you can expect at Casa La Eliana.
Or check out this link to the top rated accommodation providers in Salento, Quindo, Colombia.
Okay, okay. You want a more comprehensive guide, right? Check out this post about where to stay in Salento.
Unmissable things to do in Salento
You might have noticed but we loved Salento. It's easily one of our favorite places to visit in Colombia.
When we think about where we'd travel back to next time we visit, Salento is top of the list above Medellin, Bogota or Cartagena.
So why do we love this tiny town an overnight bus ride away from Medellin?
La Cocora Valley & South America Coffee Region
Well, I can't think of another destination in Colombia, South America or even the world where you can spend a day like this:
8am: Wake up, hang on to a Jeep for dear life while you trundle out to hike the Valle de Coroca: – a scene straight out of Jurassic Park sans a herd of Brachiosaurus.
2pm: Arrive in Salento to leave again. This time by horseback because we're exploring the lush countryside by saddle back. Yeah, you're gonna take your horse to the old town road, then ride 'til ya can't no more. Through Salento's famous coffee fields, seemingly-precarious mountain-top paths, small streams and even some deeper ones.
6pm: Getting to Salento at dusk, it's time to leave your horses behind and head to a "tejo" bar. What' Tejo you ask? The object of the game is to make explosions by throwing weights at small packages of gun powder. Your accuracy may improve after a few beers. Or it might get worse. Either way, beers will be consumed.
8pm: Time to visit a Salento Cowboy saloon. Like a real cowboy saloon with gruff looking Colombian men wearing cowboy boots and chaps. Make your way to a bar to order a couple of Cervezas then play snooker at one of the giant tables. Don't mind the open air urinals…
10pm: We're on South America time now so the party only really gets started late. Head to one of the many bars or al frasco areas.
For more all the nitty gritty details about where to book a horse riding tour, which reasonably-priced restaurants we recommend eating at, where to take a coffee plantation tour and much more, take a quick look at our Salento Travel Guide.
If time permits, we would also highly recommend doing a coffee tour while in Salento. Salento is famous for being Colombia's coffee region so if you can fit in a coffee tour it is highly recommended.
We went on the Ocaso Cafe Tour and would highly recommend it. The great thing about Ocasos is that the tours are in English and the premises are stunning!
They have an amazing premises where you can order a coffee, absorb the view & watch the native birds feed out of their bird feeders.
Other worthwhile coffee tours in Salento include:
Forget forums read real Reviews and tips from our Colombia Itinerary: Cartagena to Bogotá to Medellín
Are you lucky enough to have at least 2 weeks in Colombia? Wondering what to do? Don't miss our post about What to do in Colombia in 2 Weeks which contains an overview of all the amazing things to do.
If you don't know Spanish, here's 10 super simple Spanish phrases which helped us incredibly when travelling South America.
Salento is the middle destination of every good Colombia itinerary. To the north is Medellin and Cartagena. To the south is Popayan and Ipiales (then onto Ecuador of course!)
If Medellin is your next destination and you loved the countryside of Salento then you're in luck. Medellin has some incredible parks which is just one of the things we cover in our Medellin travel guide.
Whether you live in Medellin or are just visiting, you shouldn't pass up the opportunity to visit the colorful town of Guatape. The town is home to quite possibly the largest boulder you'll ever see and according to the locals – the best view in the world. The view is seriously impressive – and can be seen in a day trip to Guatape from Medellin.
After Medellin you must visit the fortified city of Cartagena. Of course we show you how to travel from Medellin to Cartagena.
If you are heading south next, there are a few bus options. Use our guide to travel from Salento to Cali or Popayan.
Popayan has an average reputation and is known as a boring transit city. We disagree. Hence our aptly named post about 8 Things in Popayan in 1 day (which don't suck).
Ecuador next for you? Don't worry – we show you how to travel from Ipiales to Quito. Ipiales is a border town featuring a magnificent church which you can visit before you cross the border. Stick with us gang and even your transit days won't be boring!
We hope this helped you plan your trip from Medellin to Salento. We would love to hear from you so please leave a comment below!
Save this How to Guide to Pinterest so you can find it again later!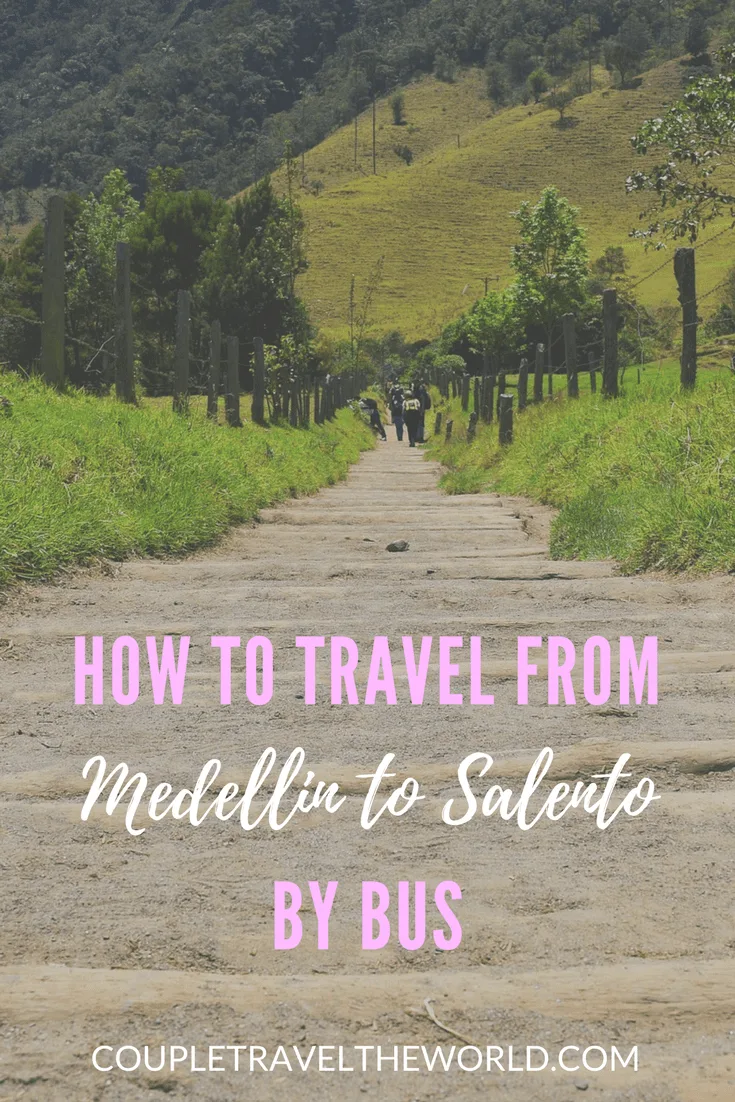 Disclaimer – This post contains affiliate links. This means that if you make a booking through our links we will receive a small commission at no extra cost to you. If you found this post helpful, we would appreciate you using our links to help keep our site running!