There are three ways to get from Puerto Princesa to El Nido. Bus, minivan and flights. For us there was only one obvious option…
In our opinion, the best way is to take the bus so we'll explain how to get the bus from Puerto Princesa to El Nido first.
Puerto Princesa to El Nido by Bus
In researching our trip we read two bus companies operated this route: Cherry and Roro.
However, after visiting San Jose Bus Station in Puerto Princesa we can report as of 30 September 2018, only Cherry bus company operates.
The current bus fare is 650 PHP. Note, they only accept cash and we didn't see an ATM at the bus station.
There are two options – buses with or without air conditioning.
Not only do the more expensive buses have AC they also have a comfortable 3 (2 – 1) seat layout.
Having a bit more space is a huge convenience on long bus rides, so consider it over the 4 (2 – 2) seat non-AC option.
New Bus Schedule as at October 2018
As you can see from the photograph there is a new bus schedule.
Puerto Princesa to El Nido Bus Schedule
7:00am (air conditioned)
9:00am (air conditioned)
9:20am (non airconditioned)
11:00am (air conditioned)
1:00pm (air conditioned)
3:00pm (air conditioned)
5:00pm (non airconditioned)
9:00pm (air conditioned)
11:00pm (air conditioned)
What it's like on the Cherry Bus with AC
Our bus was relatively modern, and featured plush 'Lazyboy' reclinable seats.
There are no power plug electricity sockets or wifi, but there was a large tv playing the latest Mission Impossible and Rambo.
There were seatbelts and the driver didn't drive like a maniac (speed limit is 80 km / h for the buses).
The journey is quite scenic, the island is covered by banana and coconut trees and every now and again you drive adjust to the sparkling blue ocean.
We stopped once after 3 hours for a 20 minute break. The bus also had a toilet.
The bus was a comfortable experience, which we would do again.
Bus Facts
Duration: 6 hours
Price: 650 PHP for Air Con. 380 PHP no Air Con.
Puerto Princesa Bus Station is at San Jose Terminal. Google Maps: https://goo.gl/maps/Kyc5DN5EmwD2
El Nido Bus Station is at El Nido Transport Terminal (don't confuse it with the old station). https://goo.gl/maps/JLphy35vcvv
PP Bus Station to Town Centre
Tricycles are the most convenient option here. We paid 120 PHP for a 15 minute ride from the town centre.
How to get from El Nido Bus Station to Town centre
El Nido bus station is about 10 minutes drive from town. It's way too far to walk.
Fortunately, tricycles operate on a fixed rate of 40 PHP ($1 USD) for the ride, no negotiation necessary.
Puerto Princesa to El Nido Minivan
A minivan from Puerto Princesa to El Nido is quicker than a bus, taking 5 hours.
The quicker journey is the key selling point for the vans, and the angle our opportunistic Tricyle driver took to pitch his friend's van.
Despite his offer of a special deal of 100 PHP off – bringing the minivan price to 400 PHP – we knew better.
You see, a few days prior we were transported by minivan to the exceptional Subterrenean Underground River National Park.
Roads on Palawan, particularly from Puerto Princesa to Sabang (Underground River) and El Nido are winding.
Yet the drivers are exceptionally skilled at speeding through these winding hills.
When I'm driving I love winding roads, but being a passenger is not my idea of fun. Especially not when I'm in a cramped minivan with 9 strangers.
We've done the nauseating minivan to get to and from Maccu Pichu. The alternative there was a several hundred dollar train.
In Palawan there is a comfortable, affordable and safe option from Puerto Princesa to El Nido: the bus.
Unless you have a strong stomach avoid the minivans.
How much is the van from Puerto Princesa to El Nido?
The van costs 400 – 600 PHP depending on your bartering skills. I assume you can barter less, but we had no interest in going down that road.
Minivan Facts
Duration: 4.5 – 5 hours
Price: 350 – 500 PHP
Departure: As they are filled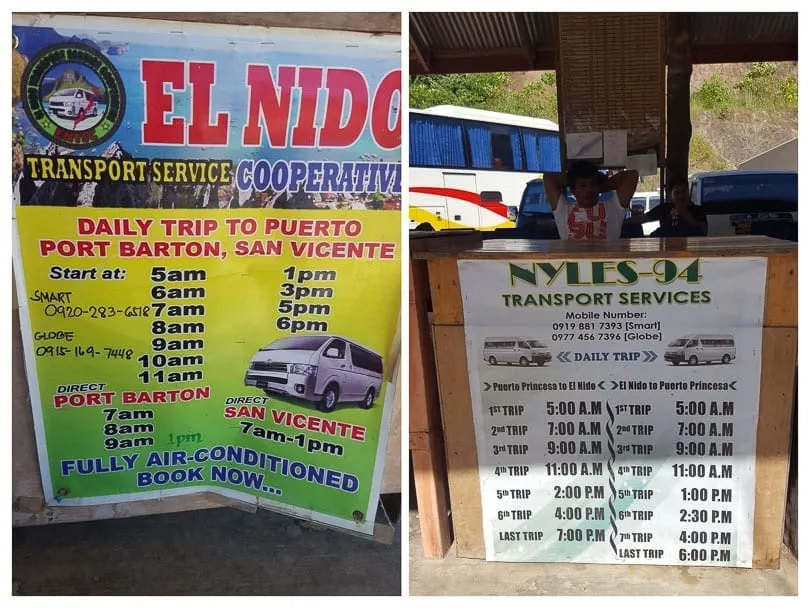 Puerto Princesa to El Nido Flights
Air Swift flies daily between El Nido and Puerto Princesa airport.
Like many of the airports in the Philippines outside of Manila, PP airport is small.
Although small airports like facilities like decent coffee shops, we love them because everything is less stressful.
Shorter queues to check in, breezing through security and 15 minute walks to the gate (I'm looking at you Copenhagen Airport).
That said, unless you're bold enough to stroll in as check-in closes, you still need to arrive 2 hours prior.
Add in 1 hour flight time, delays, waiting for bags etc and the time starts to rack up.
Not to mention our pet hate – packing everything to comply with carry on / baggage weight allowances.
The best we saw flights for during our trip was $100 – which you can access here.
Where to Stay in Palawan
In El Nido we stayed at the very nice Sea Cocoon. Check out our review and photos here!
In Palawan there are some amazing hotels both in Puerto, El Nido and Coron.
Use this Booking.com discount link and save $25 off your stay at any Palawan hotel!
Frequently Asked Questions
How many hours is Puerto Princesa to El Nido?
Bus – 6 hours. Van 5 hours. Flights – 40 minutes.
What is the Airport for El Nido?
Land in Puerto Princesa, visit the outstanding Underground River and use this guide to travel by bus from Puerto to El Nido.
Or, take a flight straight into El Nido Airport (ENI).
What are things to do in Puerto Princesa?
Don't miss the Subterranean Underground River.
What is the best island hopping tour in El Nido?
That's a hard one. It's a toss up between the Iconic Lagoon Tour, White Sand beaches & caves tour, or Snorkeling tour.
We compared the options and begrudgingly picked our favourite El Nido Tour.
How do you get to Coron?
Take the ferry. Read more how to get from El Nido to Coron by Ferry.
In Coron there are tonnes of tour options. We pick 4 Coron Tours which rocked! If you love freediving lagoons or white sand beaches we'll help you find the perfect Coron tour for you.
If you have any questions about how to travel from El Nido to Puerto Princesa, let us know in the comments below!