To sum it up, Las Vegas could not typically be classified as a budget friendly getaway. However, this post will explain how to visit Las Vegas on a budget.
If you're travelling with a partner, you might also want to check out our guide to the best things to do in Vegas for couples.
Whether you have your eye set on Vegas for a romantic getaway, or if you plan to live it large with buddies as a high roller, Las Vegas is definitely a place where you could stay in the most amazing 5 star hotels, see incredible shows and just generally splash a lot of cash around.
This is great for a special occasion or couples retreat, where the likes of the Wynn or the Venetian are sure to impress the even pickiest of dates.
However, what if you want to visit Vegas on a quick weekend break for no special occasion and not spend a ton of money?
We investigated and found it is still possible to visit Las Vegas on a budget and have an amazing time!
Remember, what happens in Vegas stays in Vegas!

Don't miss our Vegas Quotes post for the perfect Instagram caption
Keep reading to find out the best tips and tricks for traveling to Las Vegas on a budget.
How to visit Las Vegas on a budget? Budget Accommodation Options in Las Vegas
The accommodation in Vegas is very different from anything else we have experienced. A lot of the hotels are themed and have food courts, clothes stores & even theme parks located inside.
For people who haven't been to Vegas, you really have to see these hotels to believe it. It is amazing how much money is spent on the hotels in Vegas!
While there are some amazing 5 star hotels on the Las Vegas strip (including ones with amazing hot tubs in room) which we would choose in a heart beat if we were coming to Vegas for a special occasion, there is also decent budget accommodation available in Las Vegas for the budget conscious traveler.
At first glance, we found it difficult to find decent accommodation on the Las Vegas Strip at a reasonable price. However, after considerable research, we found a few affordable & decent accommodation options in Las Vegas that we would recommend.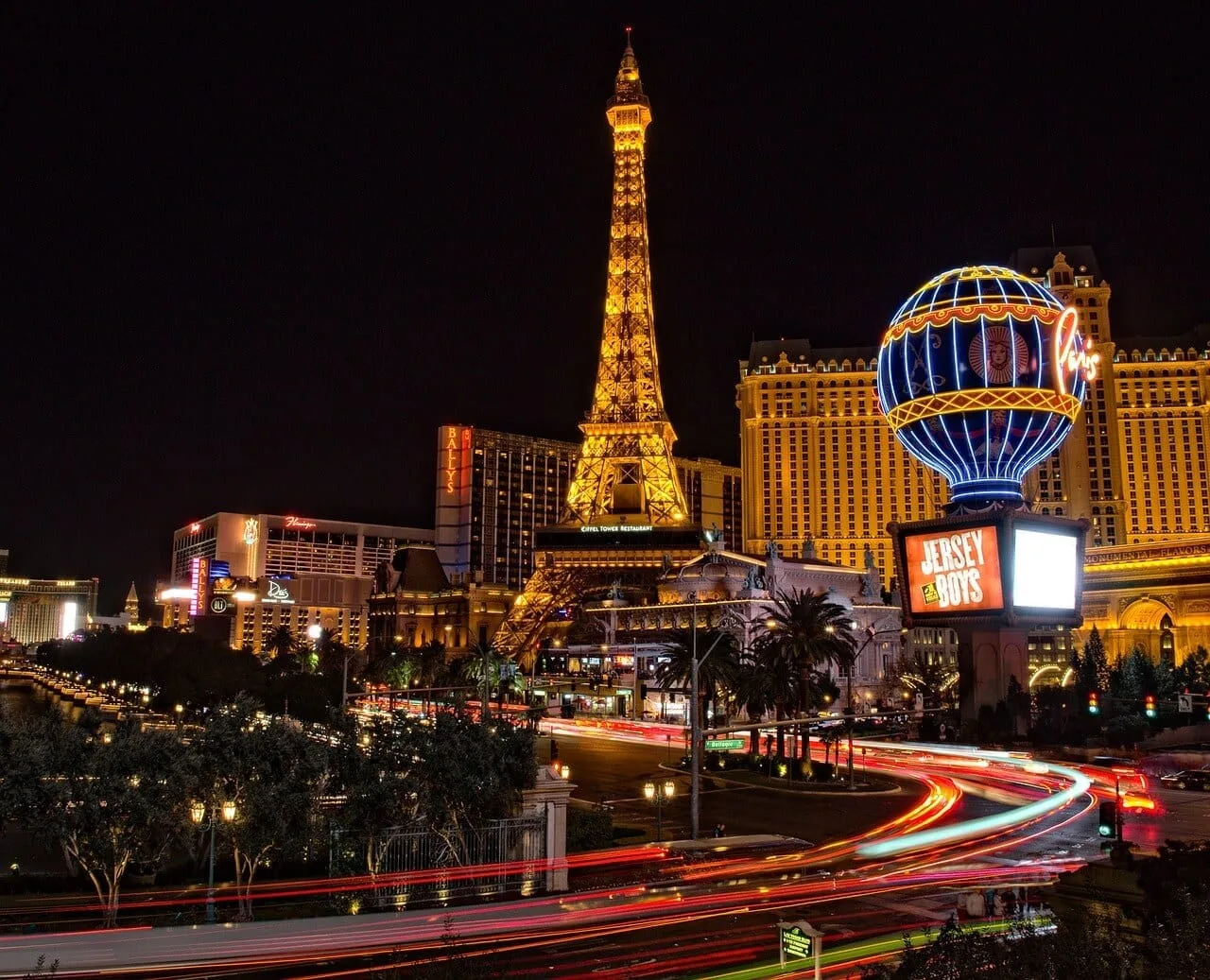 Circus Circus
The first time we traveled to Vegas, the only affordable accommodation available was Circus Circus, a circus themed hotel located at one end of the strip.
We were a little apprehensive to book this accommodation as we were warned strongly against it by an American we met in Ocala Forest Park. He told us to never set foot in Circus Circus due to the undesirables that lurk in the casino.
However, at a price of $26 USD a night, the cheapest directly on the Las Vegas Strip (and about $100 cheaper than anything else) we simply had to give it a go!
And, for all those hanging on the edge of your seats in anticipation of what staying in Circus Circus is like, the verdict was that we were actually pleasantly surprised!
The rooms were older style but they were very clean & comfortable. It also has a fast wifi connection and an interesting circus themed interior with free circus shows, a theme park and fast food court inside. We didn't even run across any undesirables in the casino!
For those cruise lovers out there, the best way that I can describe staying at Circus Circus is like being on a cruise ship. Almost being the operative word as, of course, unlike a cruise ship, you have to pay for all the food & beverages inside the hotel.
Circus Circus has at least 3 accommodation buildings you can stay in, which differ, based on price. The Manor Lodge, the cheapest accommodation available in Circus Circus, is what we decided to book. However, when we arrived, we were surprised to be treated to a free upgrade to the Skyrise Tower! Woohoo!
The Skyrise Tower in Circus Circus was very nice and if it is only slightly more expensive, I would definitely recommend booking it over the Manor Lodge.
I have read previously you can score an upgrade by slipping the hotel receptionist a $20 note but luckily, we didn't have to exercise this strategy and got our upgrade for absolutely free!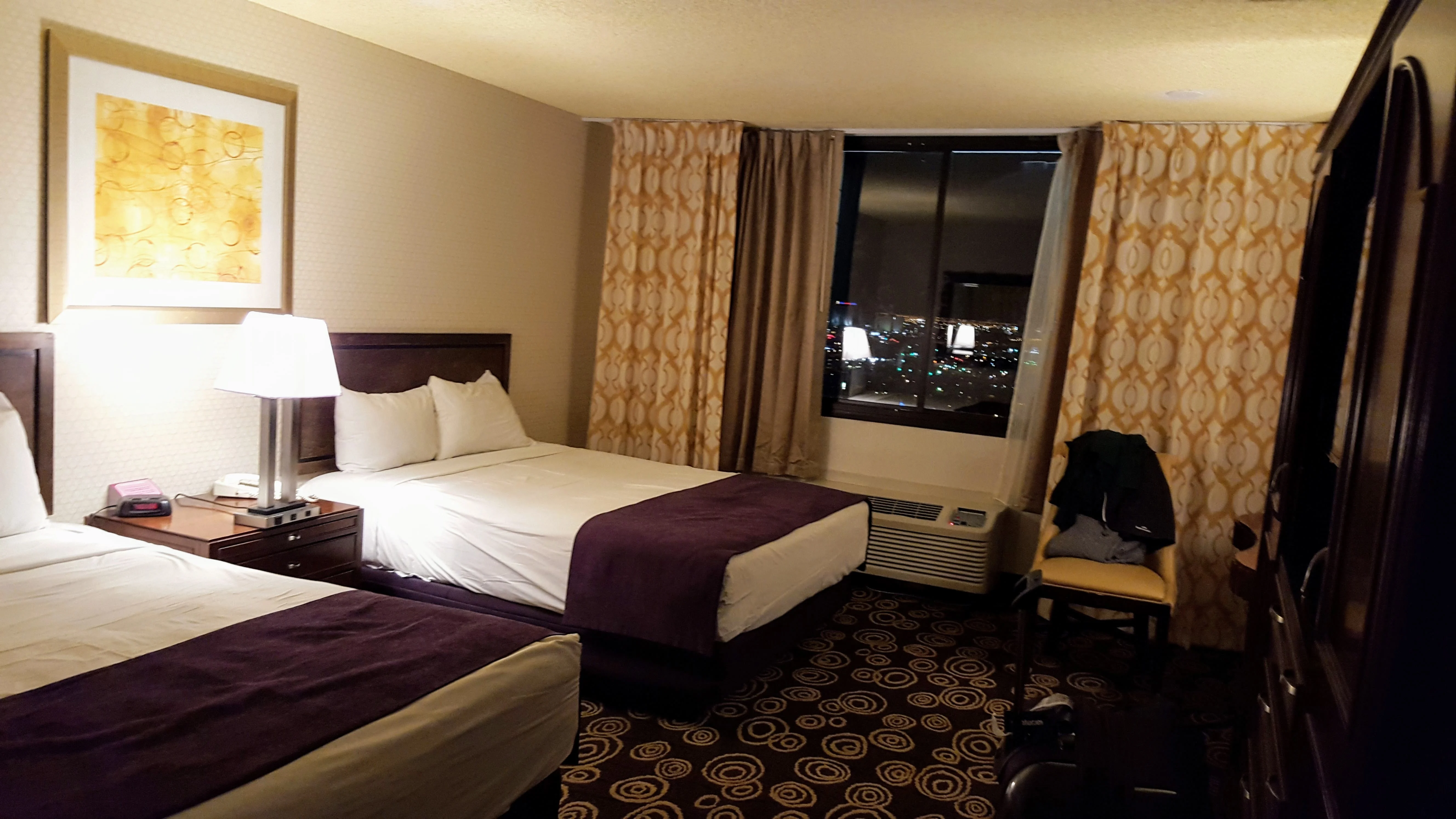 The cool thing about Circus Circus is the hotel sometimes offers additional perks. At the time we booked, the hotel was also offering a $20 free beverage credit.
If you manage to get Circus Circus's free beverage credit, the best value bar at the hotel is Slots-a-Fun bar, which offers $3.24 (incl. tax) Coronas. That means a total of 6 beers free for your hotel credit!
If you aren't a beer fan, I would personally highly recommend the frozen strawberry daiquiris served at the West Bar. They are absolutely delicious!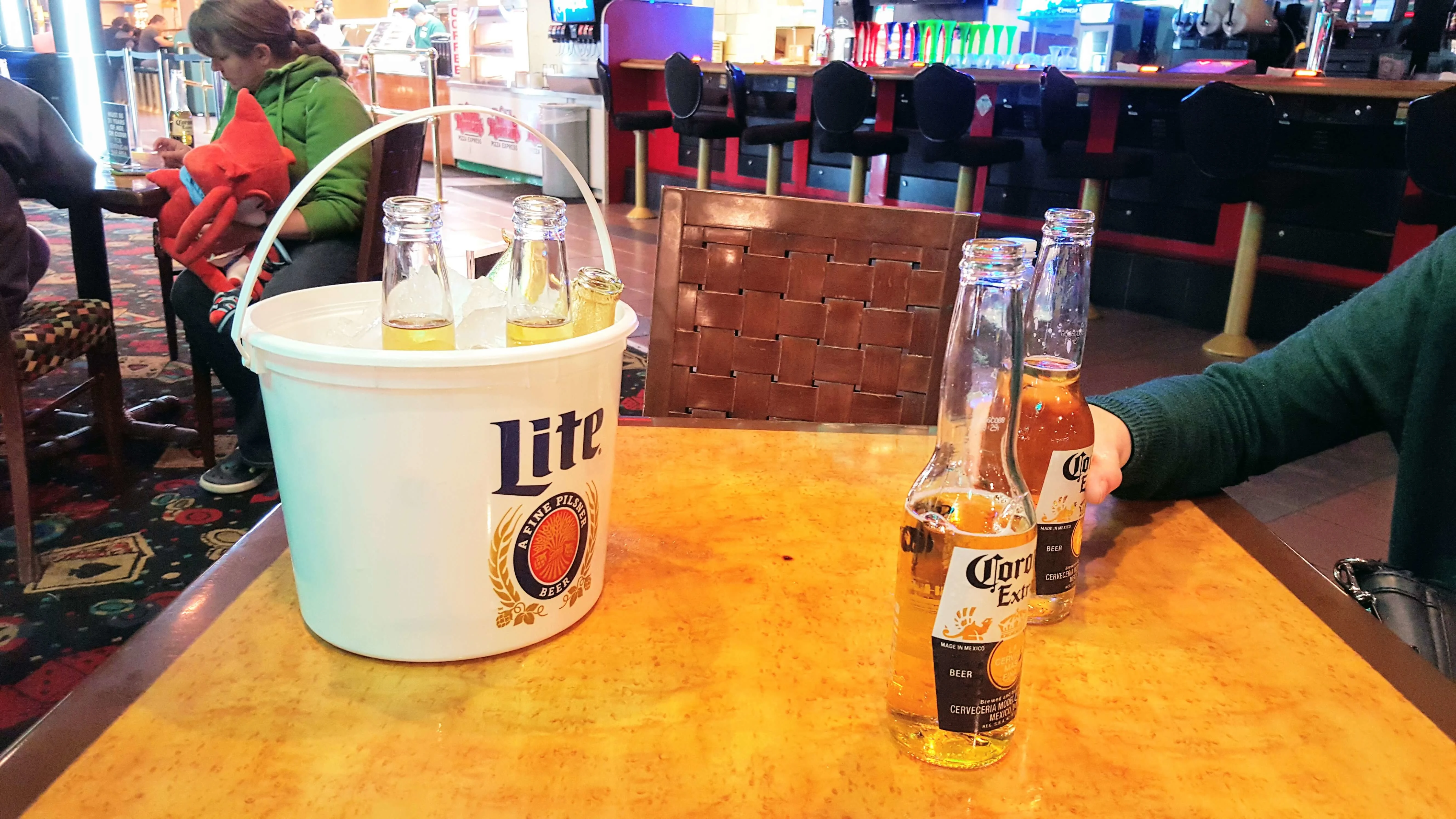 To top off the comfortable rooms and free beverage credit, the cost of gambling at Circus Circus is probably also one of the cheapest available on the main strip with $10 minimum tables as opposed to $15 minimum tables in many of the more expensive hotels.
As an extra perk, to get you in the gambling spirit, there are free gambling lessons at Circus Circus in Blackjack, Roulette, Craps & Slots if you would like to learn more about a particular casino game.
Overall, we totally satisfied with our decision and would definitely return to Circus Circus if we were traveling to Las Vegas on a budget!
The Plaza – Downtown Las Vegas
After visiting (and thoroughly enjoying) the Downtown area of Las Vegas on our first trip, we felt like our next stay should be near Fremont Street due to its vibrant & quite frankly wacky atmosphere.
We decided to stay at The Plaza Hotel & Casino. We paid $25 USD a night mid week plus a resort fee of $18 USD and were very satisfied with our choice.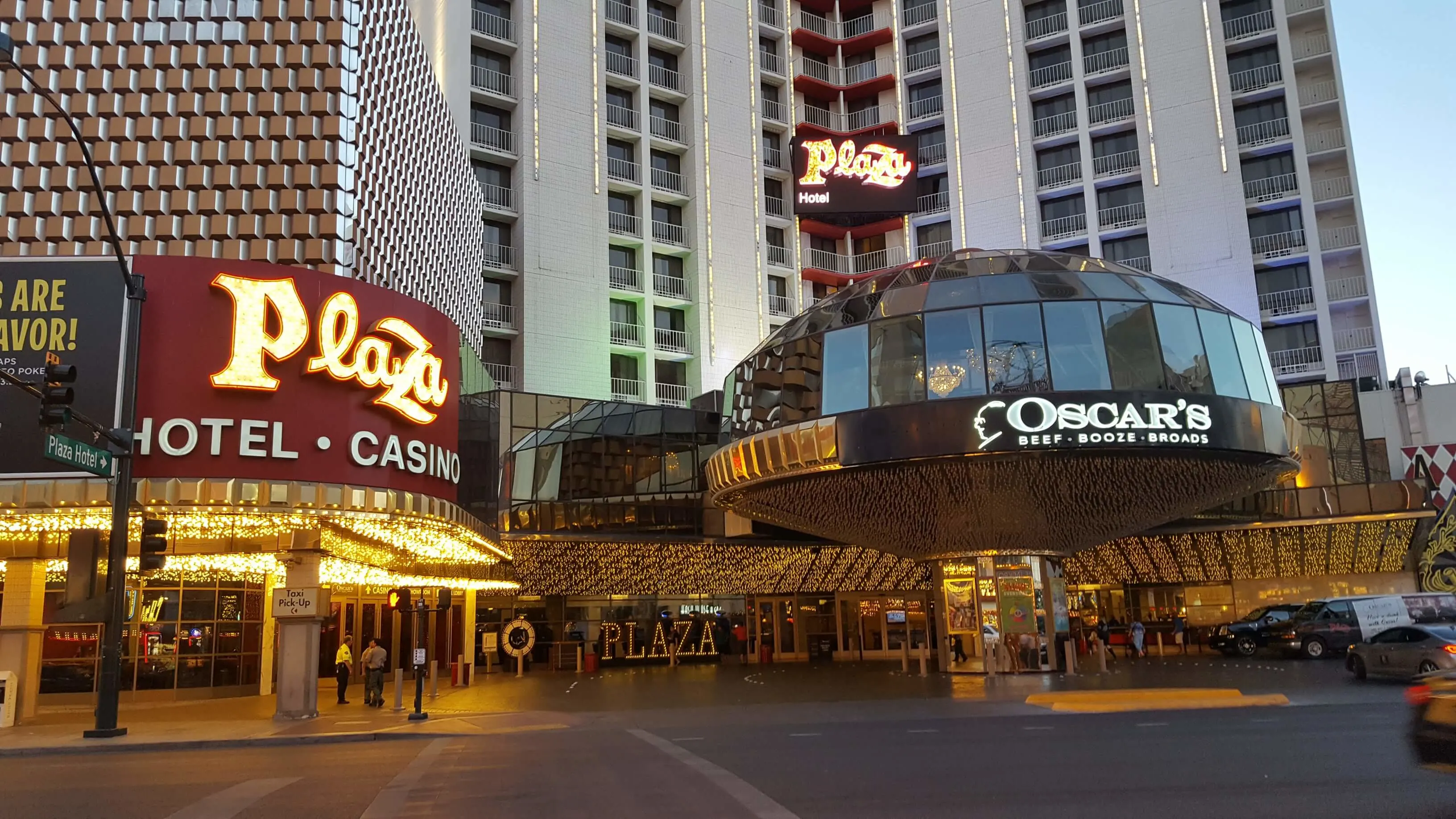 The rooms were very spacious, wifi was fast and the hotel provided great access to the heart of the Las Vegas downtown area.
The Plaza Hotel also has a newly renovated pool area which is very nice for relaxing in the summer.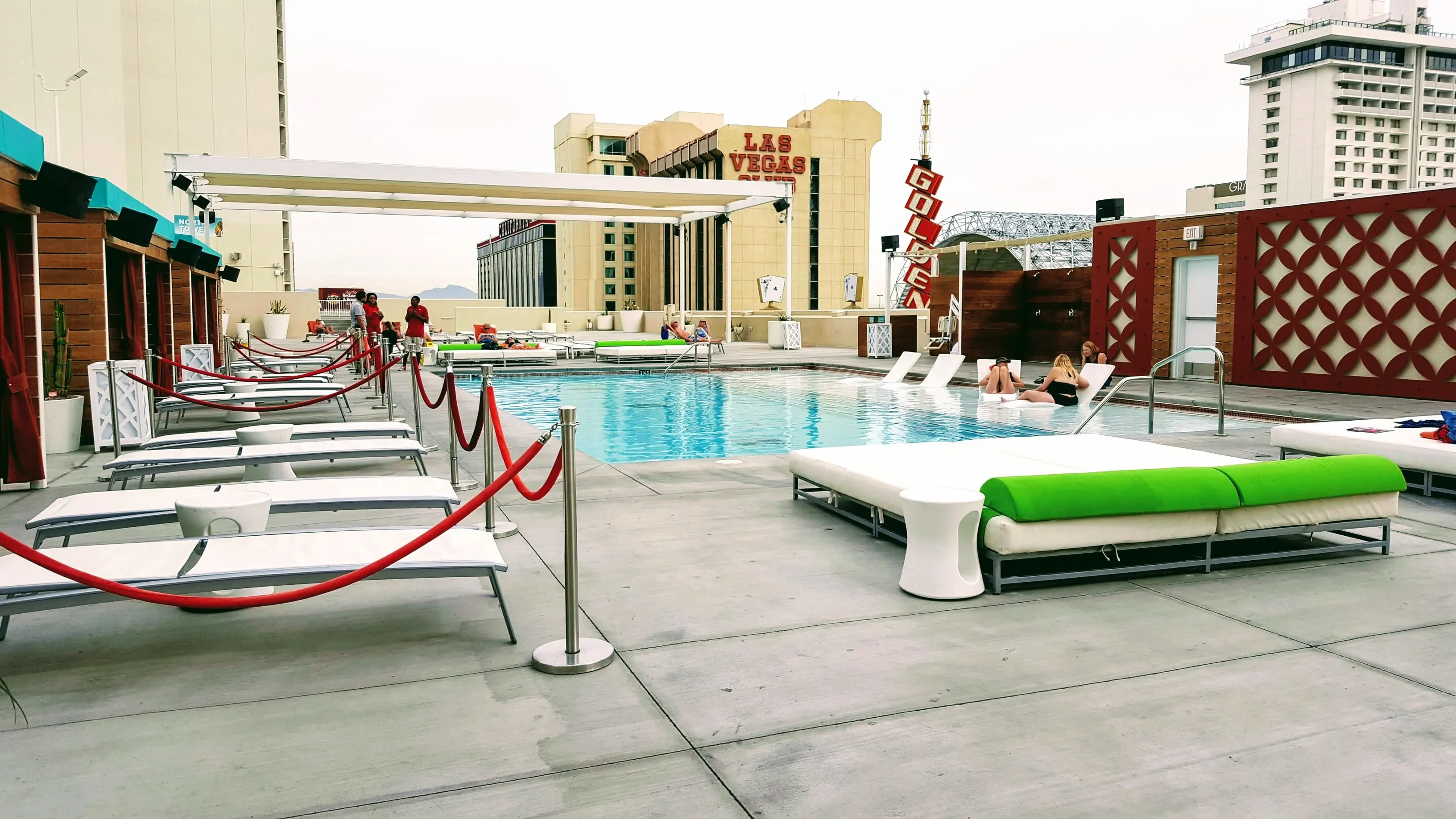 If you are planning to rent a car in Las Vegas or are leaving on a flight from Las Vegas, it is also helpful that the Plaza Hotel in Las Vegas offers a free shuttle service to the airport! Note that they only offer this service to the airport, it is not available coming from the airport.
Other budget accommodation options
Other potential options for cheap hotels on the Las Vegas strip include Super 8 at Ellis Island or the Stratosphere Hotel & Casino. Be warned though these hotels do require a little bit of walking to the heart of the Las Vegas strip!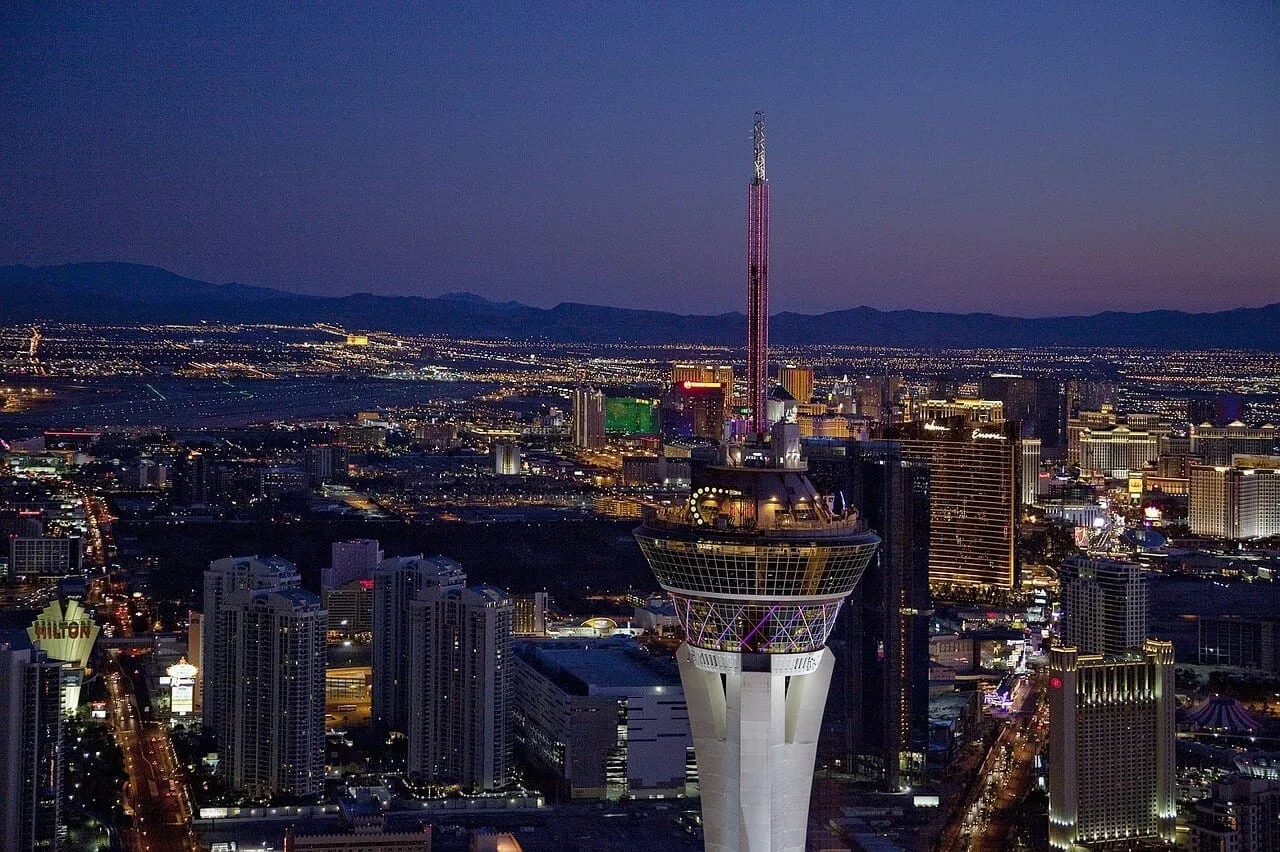 You might get lucky and be able to score another great budget option during your dates. For the best deals, we suggest searching for hotels in Downtown Las Vegas.
As a general tip, for the best price of accommodation in Las Vegas, go on the weekdays if possible as the price of accommodation in Las Vegas often triples on the weekends.
The best luxury hotels in Las Vegas
If we were going to Las Vegas for a special occasion like Valentines day, an anniversary or a birthday, after walking through the casinos, we would probably have choose the Wynn or the Venetian.
The Wynn hotel was just overall a very luxurious and modern hotel. The casino was also very glamorous at the Wynn.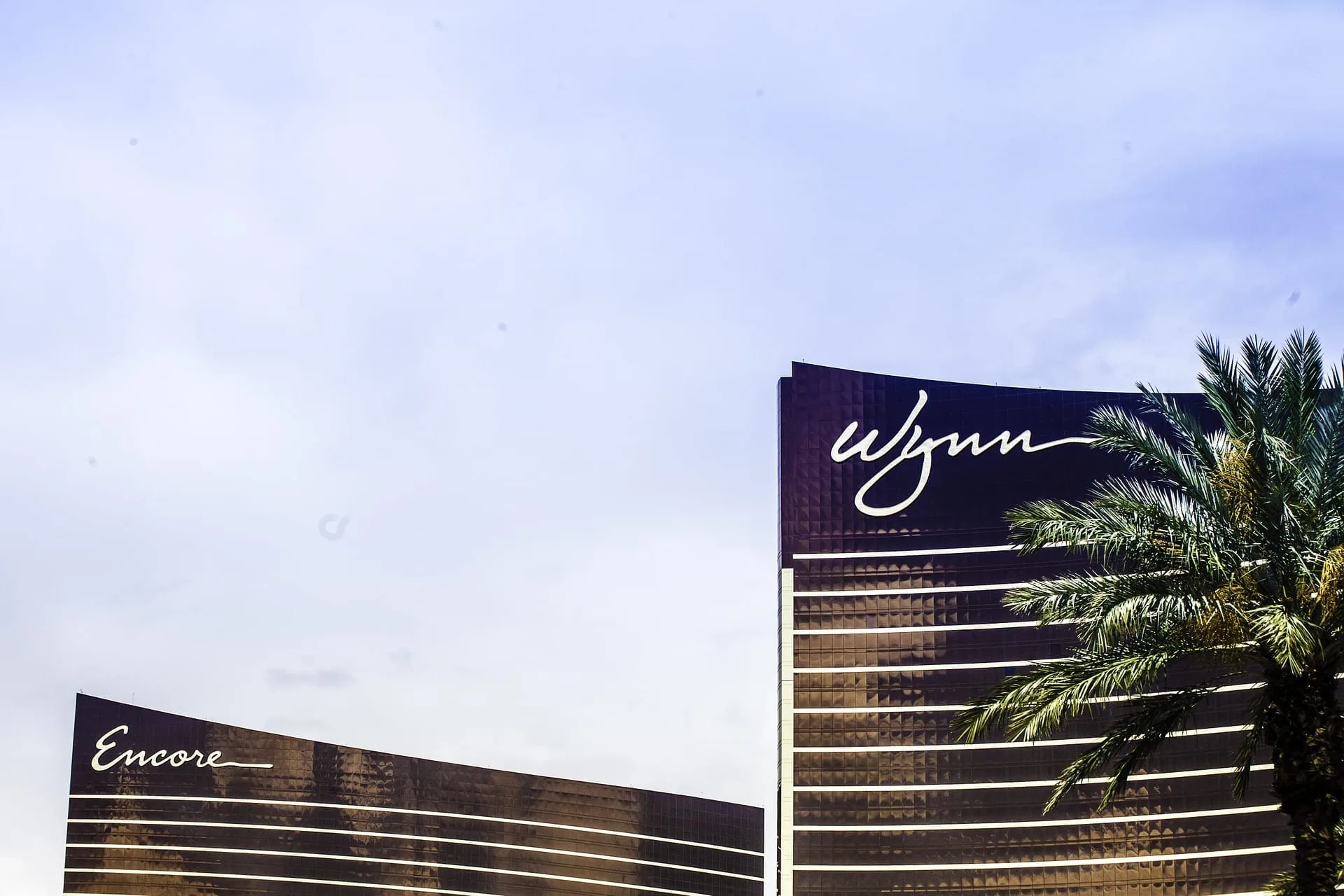 We were also particularly impressed with the Venetian, a hotel designed to be the city of Venice. It was amazing to see gondolas traveling though the hotel & a real life sized Rialto Bridge!
For the best deals on luxury accommodation in Las Vegas, we suggest searching for 5 star hotels on the Las Vegas strip. Go on the weekdays if possible for the best price on luxury accommodation in Las Vegas as the price of Vegas triples on the weekends.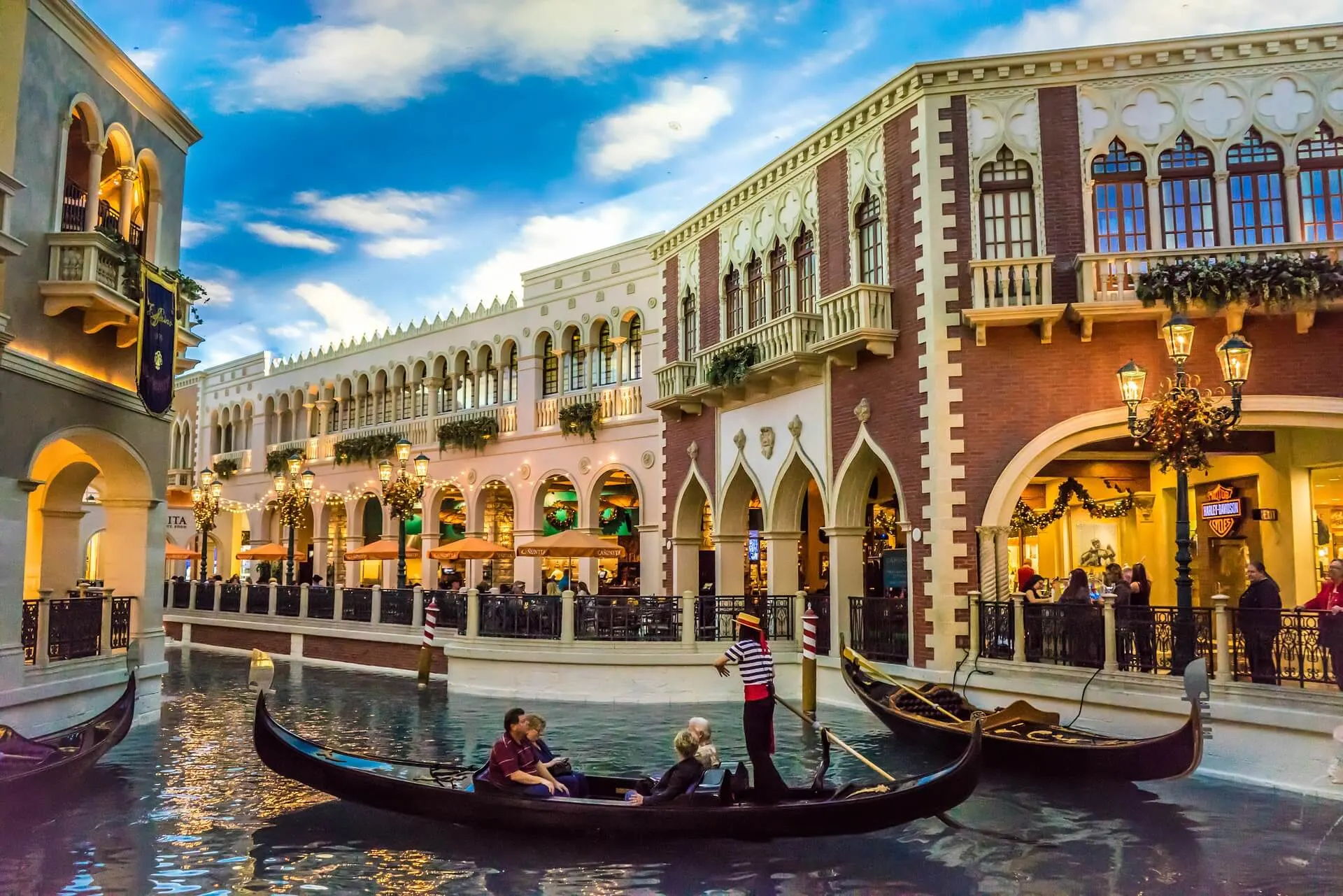 Pro Tip: Factor the nightly resort fee in Las Vegas
One thing to be mindful of with accommodation in Las Vegas is that the nightly rate does not include a resort fee. A resort fee in Las Vegas is a fee for the use of the facilities in the hotel such as a pool & gym (if any) and wifi.
In our case, when we stayed at Circus Circus, we paid a nightly resort fee of $23 USD a night & tax.
The resort fees in Las Vegas differ from hotel to hotel. For example, when we stayed at The Plaza Hotel & Casino we paid a resort fee of only $18 USD.
Differences in resort fee prices, especially at luxury hotels, can add up if you are staying in Las Vegas for more than a few nights. We use this website to compare resort fees in Las Vegas.
Budget Food & Drink Options in Las Vegas
Like accommodation, food can be phenomenally expensive in Las Vegas.
Although most hotels have cheaper options available including a Mcdonalds & Subway located within the premises, the cost of even these low-cost fast food restaurants can be as much as double the usual cost in Las Vegas.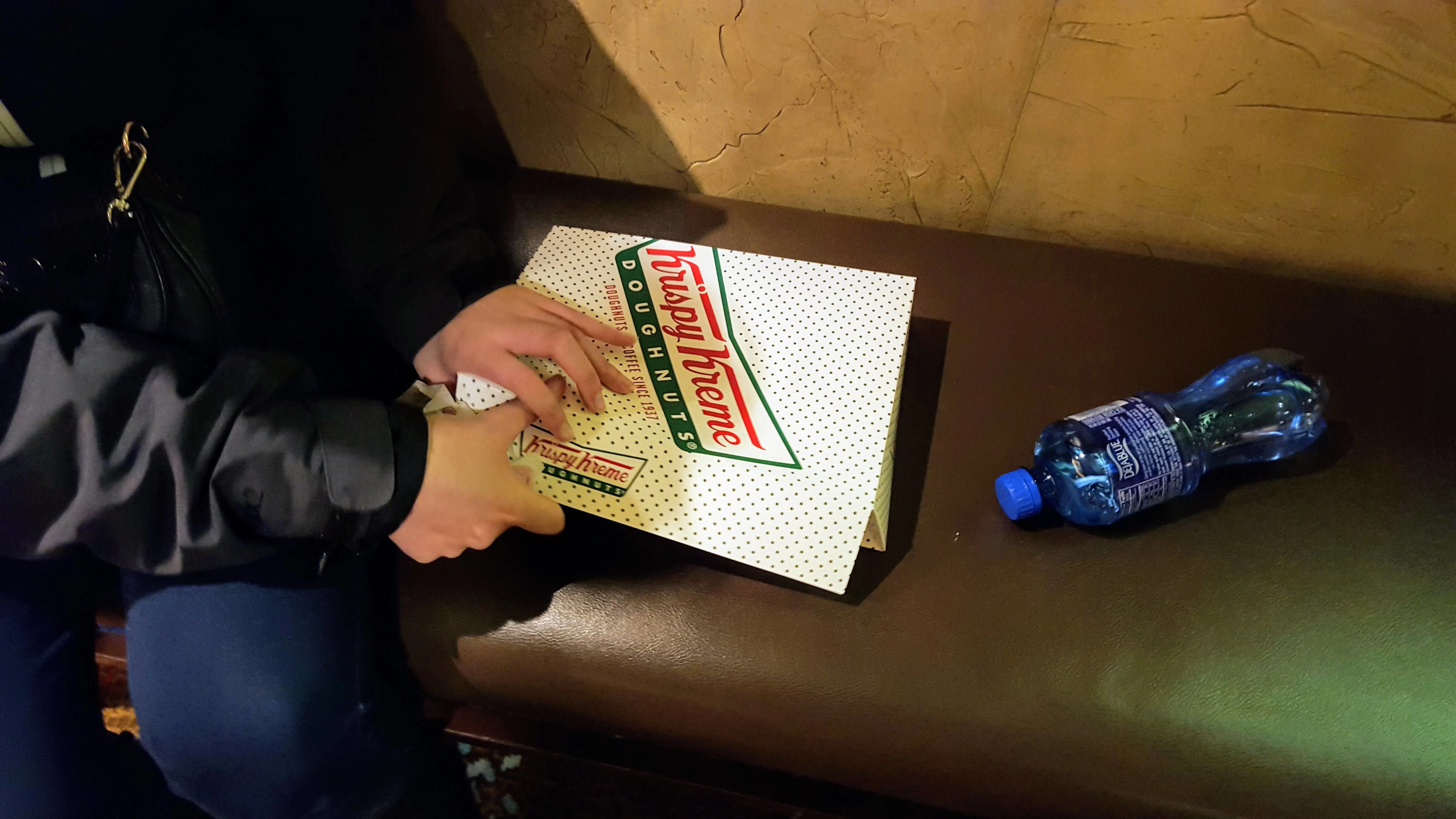 Where to find cheap fast food in Las Vegas?
We purchased a meatball subway in Circus Circus and it cost $9.50.
Later during our stay, we found a plaza, a short distance away, across the road from the Stratosphere Hotel that served normal price subways. Woohoo! The address of the plaza is Sahara Paradise Plaza, 2246 Paradise Road to be exact.
In the same complex is a normal priced McDonalds and even a great Thai restaurant called Thai Pepper which serves delicious Thai meals for around $7 USD!
We ordered the Pad Thai & it was really tasty. We appreciated that despite the low cost, Thai Pepper had generous serving sizes. We even found one meal take away was enough between two for a light dinner or lunch.
If you are nearby during lunchtime, take full advantage of Thai Pepper's $5.95 lunch specials!
There is not a lot of cheap food options available directly on the Las Vegas Strip. However, while checking out the Casino at Treasure Island, we stumbled upon a good find: crispy crème donuts for $1 – a much better deal than Circus Circus & a great snack after a few hours of gambling!
Do note also, if you happen to be over 350 pounds, you can eat for free in Fremont Street. Unfortunately, we didn't quite quality for this deal!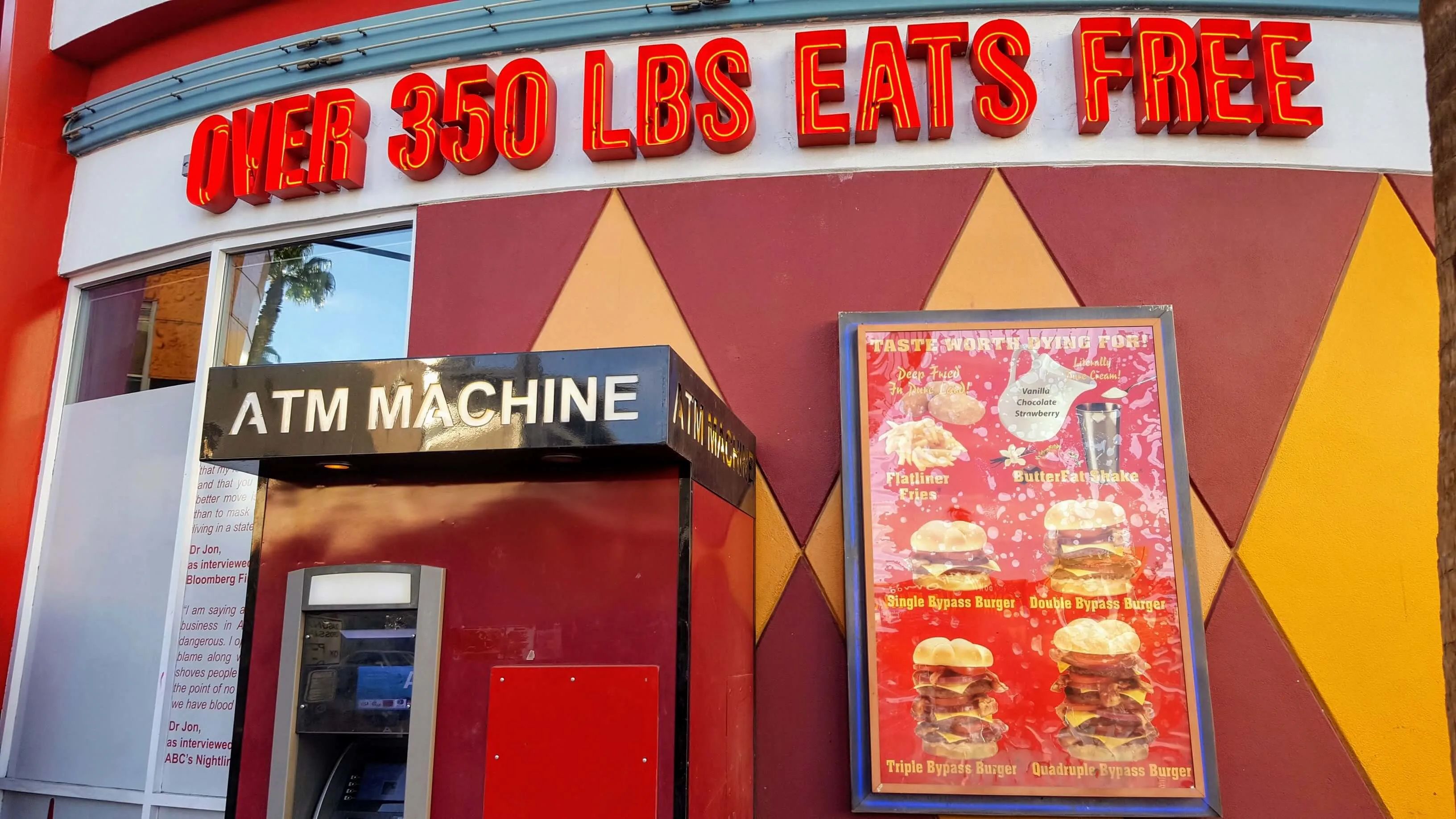 Supermarket/Convenience Stores in Las Vegas
There are numerous convenience stores located on the Las Vegas strip.
Directly to the left of Circus Circus, around 100 metres down the road is a CVS convenience store, which is probably the cheapest option for food on the Las Vegas strip.
You can hunt out some good deals at CVS on the Las Vegas strip. They have a $1 section which has tuna packets, big packets of strawberry drop biscuits & chips. They also stock have $1.99 pringles, 79 cents apples/bananas (per piece), $2.99 bread & peanut butter for $3.50.
However, the best part of this store for us was being able to withdraw money for no transaction fee! Basically, for foreigners every ATM on the Las Vegas strip charges a $6 transaction fee. Finding a way to withdraw cash with no ATM fee was a big saving!
Note, there are a number of CVS convenience stores in Las Vegas. Depending on where you are staying, there is another CVS in the middle of the strip near the Treasure Island Hotel.
Las Vegas Travel Tip: Don't drink the water from the hotel rooms in Las Vegas, it made us a little sick. You can get large water bottles from CVS or there is usually free water in the hotel gym.
The most affordable Las Vegas Buffet
While in Vegas one of the 'things to do' is to experience a Vegas Buffet!
We hunted for the best buffet in Las Vegas and tossed up between splurging on an expensive 5 star buffet such as the Bellagio Hotel buffet priced at around $40 – $60 USD per person or going for a cheaper buffet option.
After pouring through hundreds of reviews, the quality of the 5 star buffets on the Las Vegas strip didn't seem to justify the high price.
We instead opted for a cheaper Las Vegas buffet located in the Downtown Las Vegas area. We decided upon the Main Street Station Casino Garden Court Buffet priced at only $11.99 per person on a Monday night.
While the buffet was certainly plentiful with everything from ribs to pizza to tacos, the food for most part was pretty average.
The saving grace for this buffet was the cheap price and the fact that the building interior was absolutely stunning.
To experience a Las Vegas buffet at a cheap price I would recommend it. I can only imagine (based on the reviews) that some of the expensive buffets are also pretty ordinary.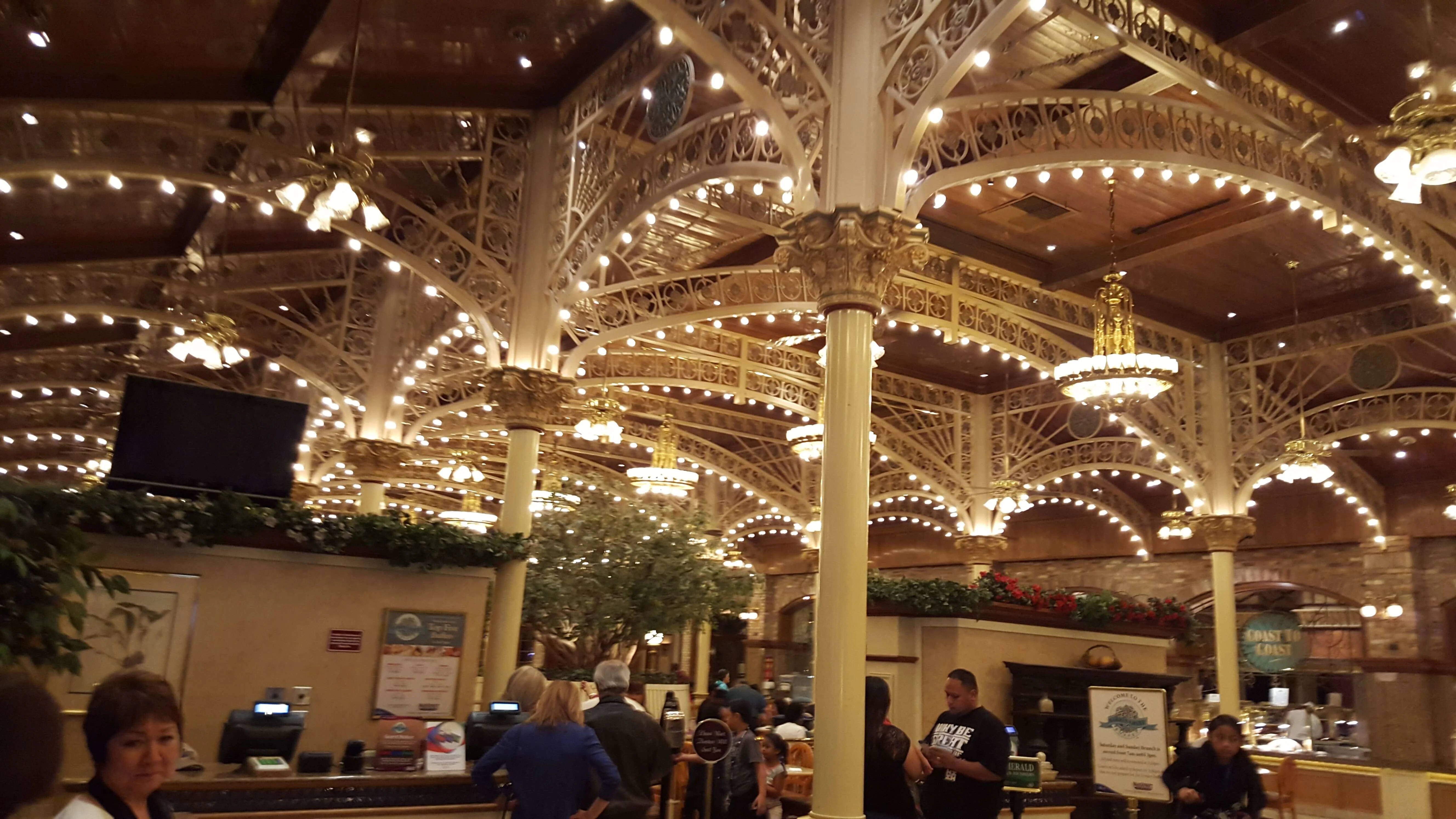 Free Drinks in Las Vegas – Are they still available?
You will be pleased to know that yes, you can still drink for free (or nearly free) in Las Vegas while gambling at the casinos.
The cheapest way, if you are purely interested in getting a cheap drink, is to go on the one cent poker machines in the casino.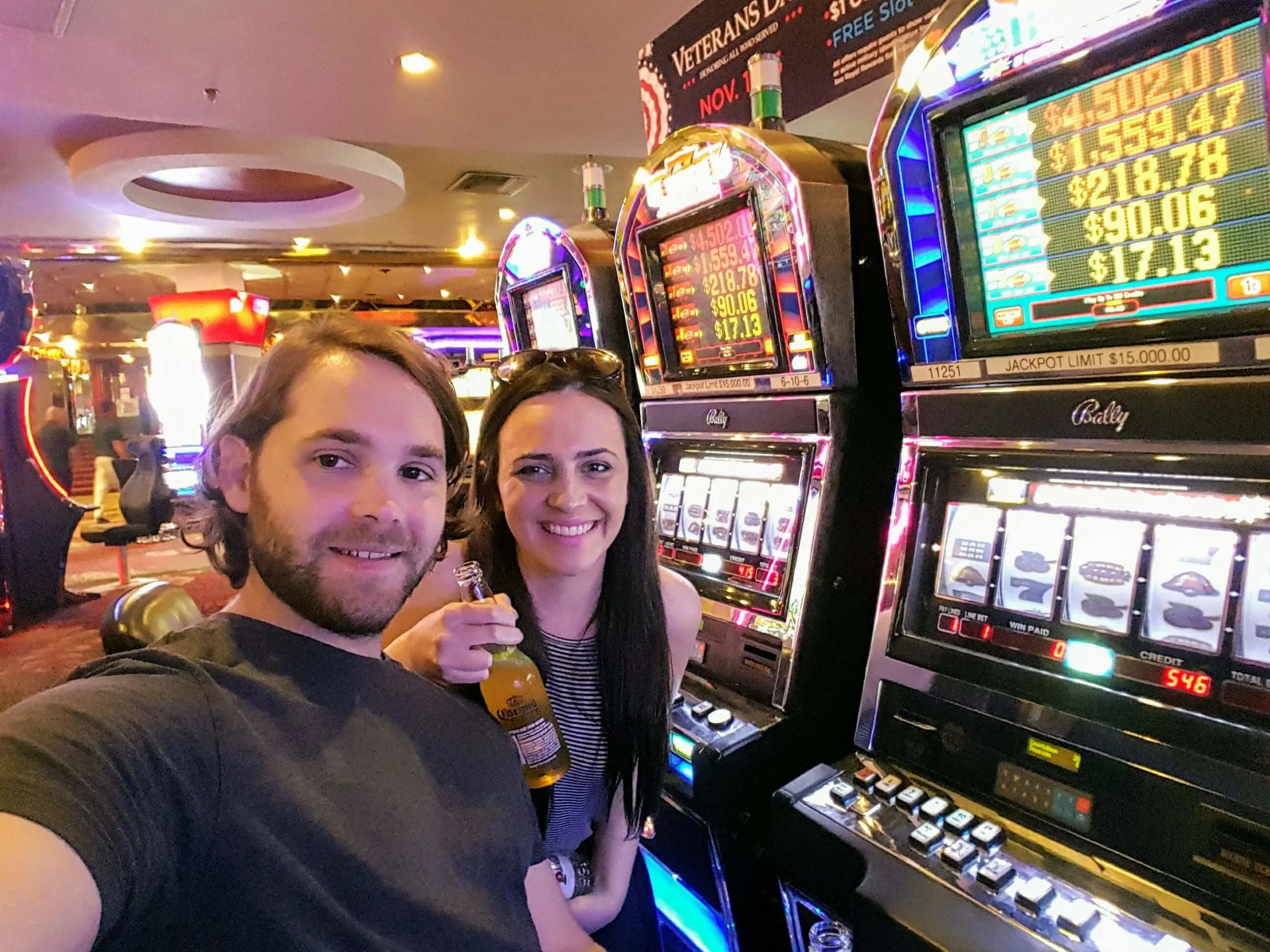 You'll probably have to wait for around 20 spins before a waitress comes over to take your drink order. When she returns, the drink is free but its courtesy to give the waitress a tip. We usually gave $1 and they were always happy with that.
I did see other people not tipping at all, and, while I would rather the practice of tipping be eliminated in favour of higher prices and fair wages, when the drink is free, a tip is more than fair!
No drink menus are available so you can pretty much order what you want including cocktails! Simply, ask the waitress, she will tell you no if they can't do it.
To get the absolute cheapest drinks, select a casino at one of the cheaper hotels like Circus Circus. One cent machines are not available at the more luxurious casinos such the Wynn. You can also get a good deal on hotwire so you might want to check it out too.
Budget Activities in Las Vegas
While there are plenty of activities available to those who want to splash some cash, there are plenty of budget and free activities in Las Vegas to enjoy. Here are our favourite affordable or free activities in Las Vegas!
We traveled to Las Vegas as couple. If you are looking for romantic things to do for couples in Las Vegas you might like to check out budget (and non budget) activities for couples here.
The Fremont Street Experience
This was probably our favourite Las Vegas experience and in many ways we regretted not staying the first time we went to Las Vegas in accommodation in Downtown Las Vegas.
Fremont Street in the Old Vegas is out of this world!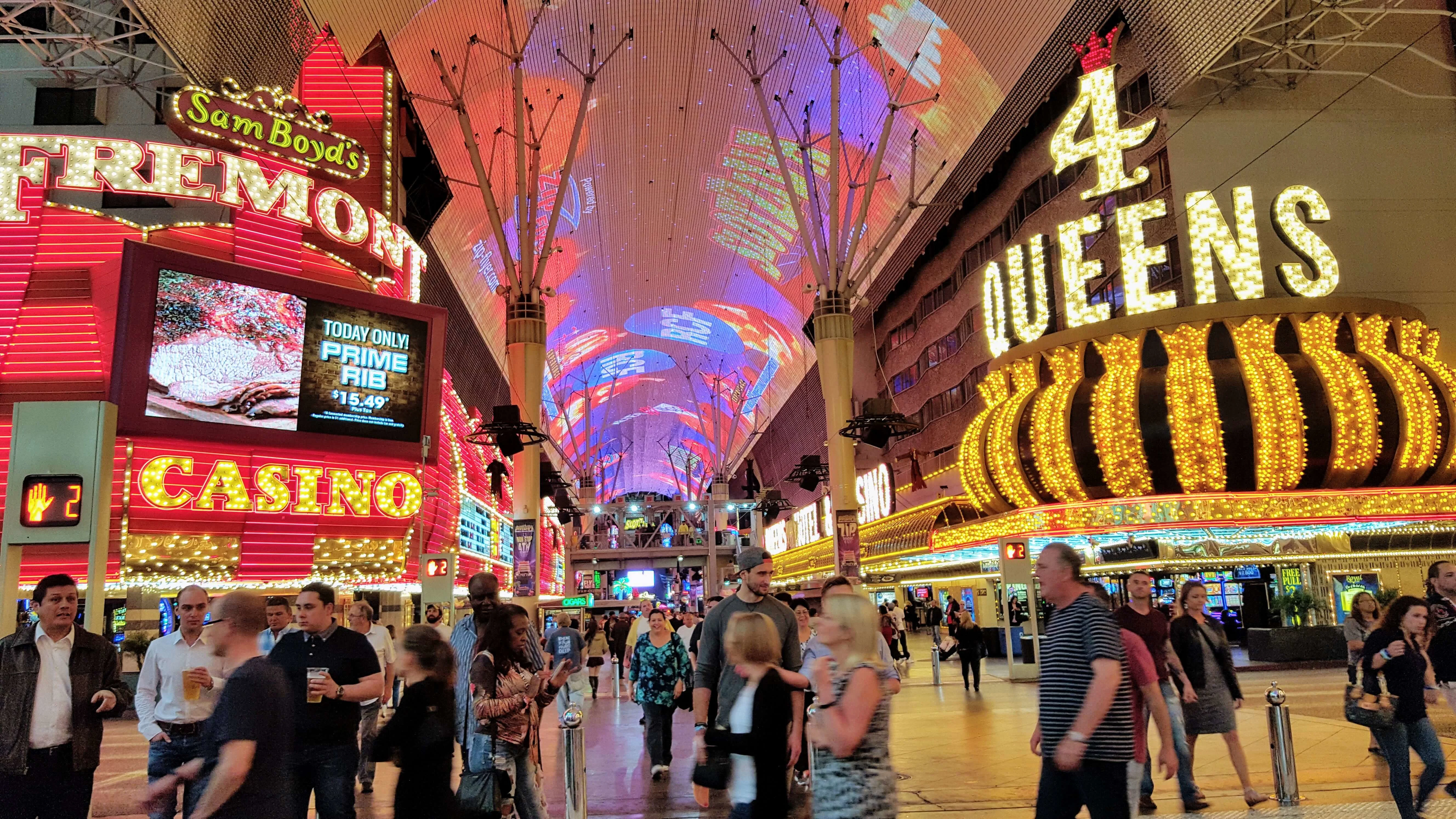 It is a very happening street with a lot of weird & wonderful buskers & just a whole lot of atmosphere! I imagined Downtown Vegas to be full of old men in seedy & outdated casinos but quite the contrary, a lot of young people congregate in Fremont Street for the great atmosphere & cheaper prices.
To sum it up, it is basically a pedestrian mall with a covered roof that runs a Light & Sound Show every hour. The Downtown Las Vegas light show is pretty amazing as it lights up the whole street with different songs & pictures.
There is also an epic zip line that runs along the entire top of the street and really good street performances along the mall. While we were at Downtown Las Vegas, we saw Elvis perform in the street for free!
Free Shows in Las Vegas
The shows in Las Vegas can set you back a lot of money. While seeing Brittany Spears or Justin Bieber in Las Vegas would be a pretty cool experience, it certainly is not a good idea for those wanting to conserve a little cash.
The good news is you can also experience shows for absolutely nothing in Las Vegas! Many of the casinos in Las Vegas offer regular shows in accordance with the theme of the hotel.
Some of our favourites include the Volcano Show at the Mirage Hotel, the Water Show at Bellagio and the Circus Acts at Circus Circus.
The Mirage Volanco is very impressive as it shoots fire high into the air, much like a real-life volcano. The Bellagio water show is also spectacular as water spurts into the air in perfect synchronization to music.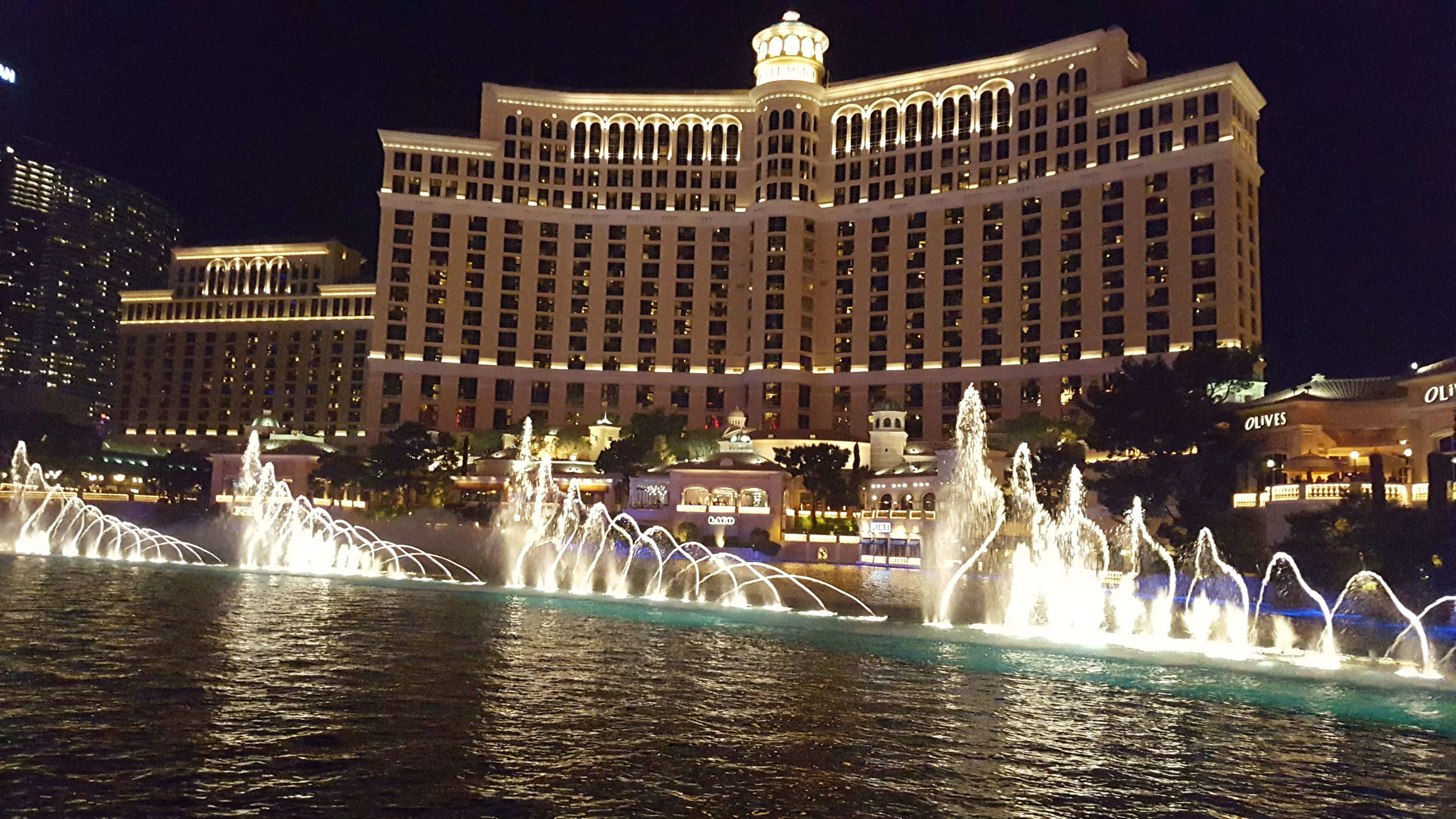 While Circus Circus's free circus acts weren't as good as the other two mentioned, they were amusing & impressive enough to be enjoyable.
Here, we have listed the timetable of the free shows available in Las Vegas:
| | |
| --- | --- |
| Fountains of Bellagio | Mon – Fri 3pm – 8pm (Every 30 minutes); Sat & Sun Noon – 8pm (Every 15 minutes) |
| Circus Circus Live Circus Acts | 11am – 12am Daily (Every 45 minutes) |
| Mirage Volcano | Sun – Thurs 8 – 9pm; Fri, Sat, Sun 8 – 10pm (Every Hour on the Hour) |
| Flamingo Wildlife Habitat | 8am to Dusk Daily |
| Fremont Street Experience Viva Vision Light & Sound Show | Mon – Thurs Dusk to Midnight; Fri – Sun 8pm -1am (Every Hour on the Hour) |
Budget Gambling in Las Vegas
Believe it or not gambling in Las Vegas can be somewhat of a budget pastime.
The price of gambling differs from Casino to Casino. At the more expensive Casinos (such as the Wynn, Venetian etc) there is a $15 minimum for table games.
However, at the cheaper Casinos such as Circus Circus and Treasure Island, there is only a $10 minimum for table games. This price difference can really start to add up after a few rounds.
To make your gambling money go further, the Flamingo Hotel offers a special $5 blackjack rate! There is also virtual roulette and blackjack tables at the cheaper casinos for $3, which was really popular option for affordable gambling in Las Vegas.
However, my personal favourite is the 25 cent Roulette at El Cortez Hotel & Casino in the Downtown Las Vegas. There is a $1 minimum but in terms of Roulette it doesn't get much cheaper than this!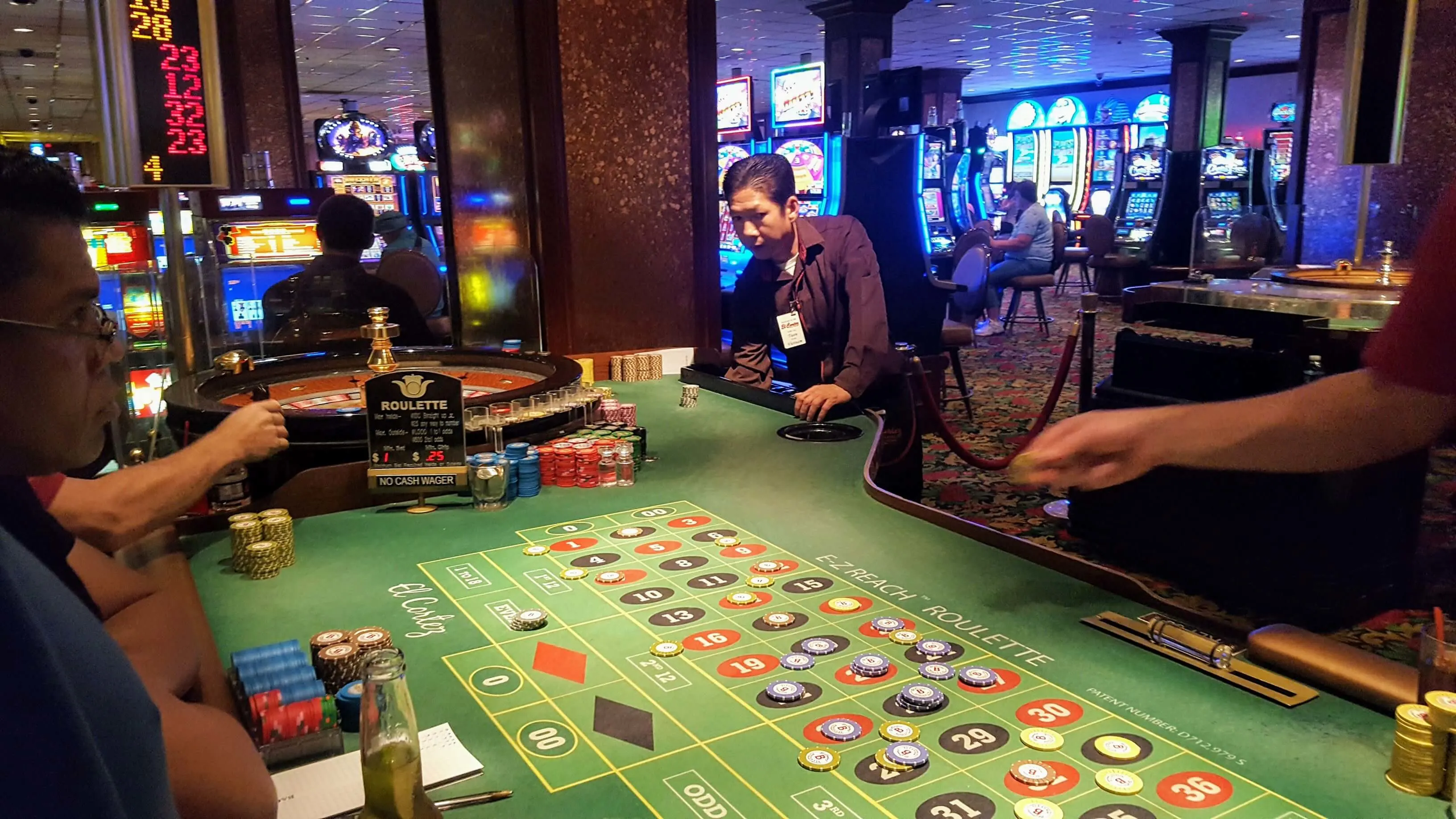 Budget Transportation in Las Vegas
Despite Las Vegas being a relatively expensive destination, transportation can be relatively inexpensive if you know how to travel like a local!
Public Transport from Airport to the Las Vegas Strip
The cheapest way to reach the Las Vegas strip from the airport is to get the 108 Public Bus, which can be reached Terminal 1. The 108 bus costs $2 a ticket one way. Payment can be made in $1 notes on board.
If you arrive at any of the other terminals you can get a free shuttle bus from outside to Terminal 1 (look out for the black shuttle Van).
If you are staying in the Downtown Las Vegas area, the WAX bus is the cheapest way to go. It departs from the same location as the 108 Public Bus and also costs $2.
Transport from the Las Vegas Strip to Fremont Street
From the Las Vegas Strip, the simplest way to access Fremont Street is by the Deuce Bus.
The Deuce Bus costs $6 per person for 2 hours or $8 for a 24 hour ticket.
During the day, we felt energetic and walked to Fremont Street from Circus Circus (which took approximately 50 minutes). We intended to catch the bus home however, there is no one way option on the bus!! The bus driver was nice enough to offer us a free lift. If we went again, I'd definetely purchase the 24 hour ticket.
Car Hire in Las Vegas
From Las Vegas, we have made trips to both the Grand Canyon & Yosemite on separate occasions.
At the airport, car hire is located a short shuttle ride away from Terminal 1. We usually rent our car through Budget Car Rental as they generally have the cheapest prices.
If you have purchased the cheapest car category through Budget, they will try to convince you to upgrade your vehicle.
In our experience, this wasn't necessary as you get to choose the vehicle you want from a range of vehicles and they *usually* have a slightly better value car available that you can select than the one you paid for.
We hope you enjoyed our ultimate budget guide to Las Vegas. If you have some extra budget tips for visiting Las Vegas or if this guide has been helpful, we would love to hear from you so please leave a comment below!
Save this How to Guide to Pinterest!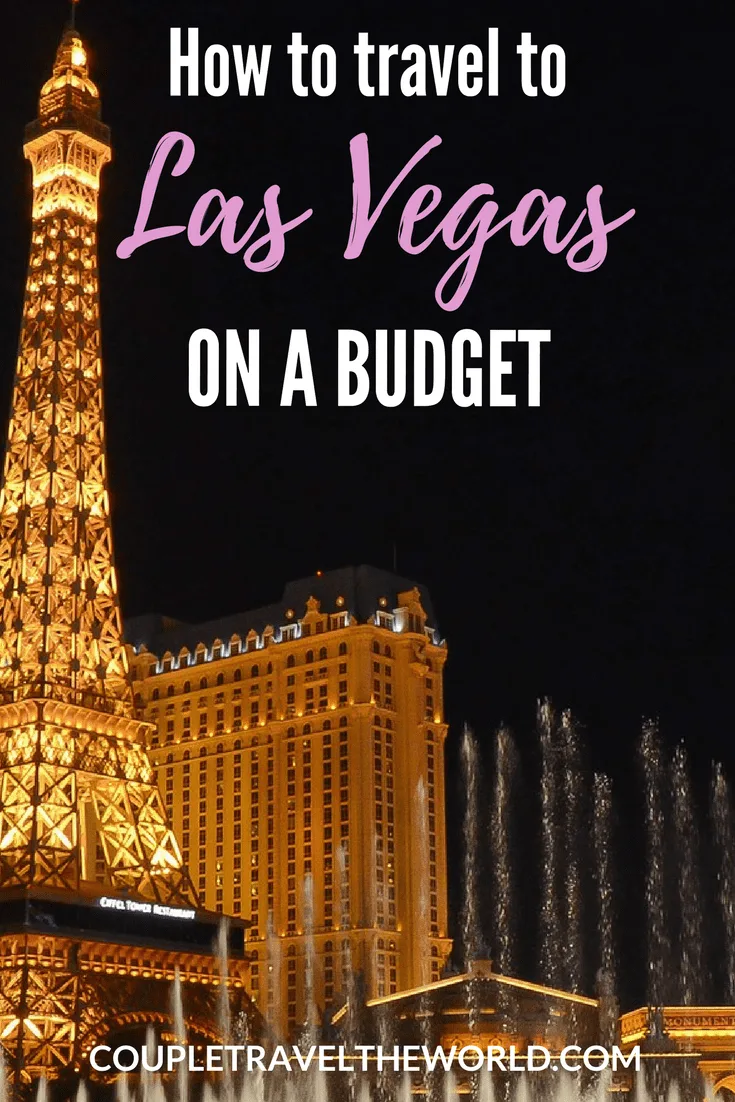 Disclaimer – This post contains affiliate links. This means that if you make a booking through our links we will receive a small commission at no extra cost to you. If you found this post helpful, we would appreciate you using our links to help keep our site running!