If you are travelling from Lima to Cusco, a nice place to break up the journey is the town of Ica, Peru. Huacachina, is a tiny oasis in the desert a short taxi ride from Ica.
Hucachina was like nothing we have ever seen before or since. It's easy to imagine how relieved you would be to stumble upon this oasis if you were really stuck in the desert without water for days.
In Hucacachina you can stroll around the lake in the middle of the desert and eat delicious Peruvian cuisine nearby. You can also sandboard the dunes and ride around in a dune buggy (crazy driver is optional – depending on your tour).
If you plan to visit Ica, Peru – Huacachina is an unmissable day trip.
Ica, Peru: Huacachina Day Trip
Like most travellers to Peru who chose to stop in in Ica, the drawcard was Huacachina. More particularly, the desert oasis and the opportunity to go on a sand-buggy/boarding tour.
We had heard only positive reports from our Uyuni Salt Flat buddies so we decided we just had to make the stop here!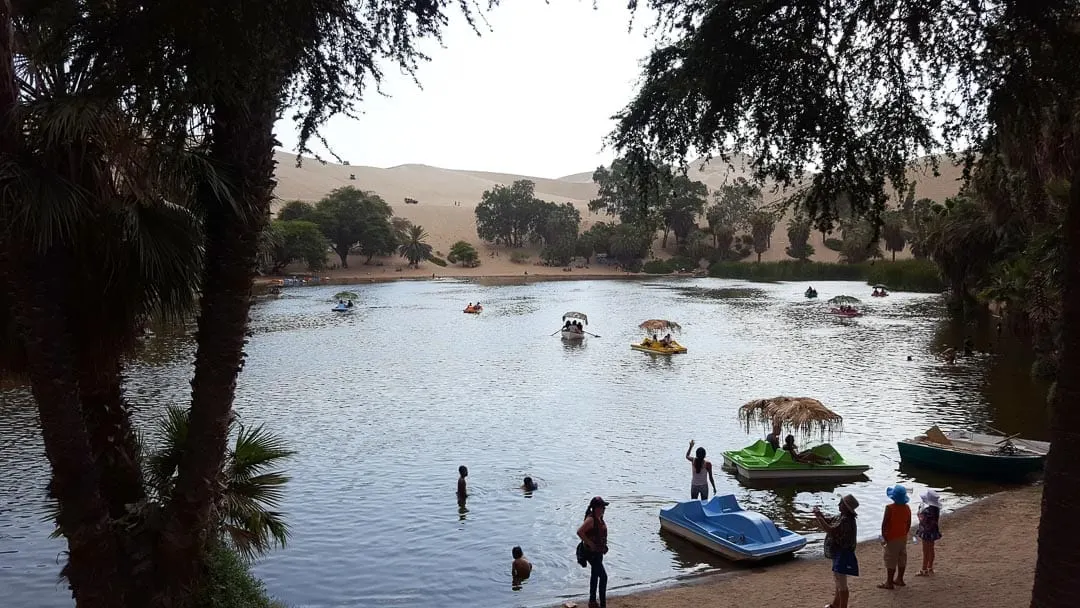 How to Get to Huacachina from Ica, Peru
If you are arriving to the area by bus, your bus will most likely stop in the nearby town of Ica (only a 10-15 minute drive away from Huacachina).
The accommodation in Ica is generally a lot less expensive than the touristy town of Huacachina so we would recommend staying here if you are travelling on a budget.
We stayed at Diamond Monkey Lodge. It provided clean & comfortable accommodation with a light breakfast included for only $15 USD a night.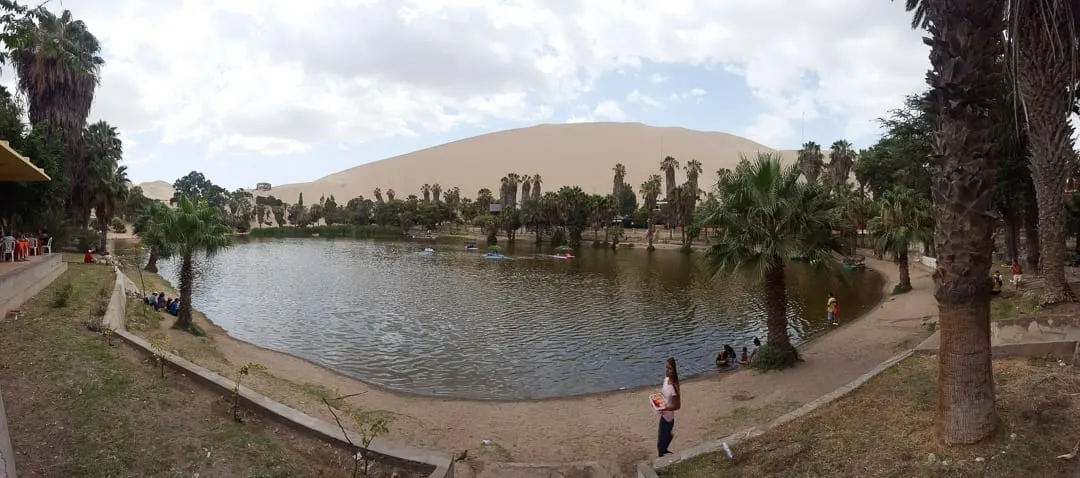 Booking a Huacachina Sandboarding Tour
In Ica you book a tour with your hotel. Our hotel offered the Huacachina sand buggy / boarding tour for 50 Soles per person.
However, we would recommend booking the tour yourself in the town of Huacachina.
Book a sand boarding tour in Huacachina, rather than in Ica, and you get get a deal for as little as 25 soles per person.
Note: it does require some negotiation with the vendors for this deal!
How to Get to Huacachina from Ica, Peru
A cab or a tuk tuk can be purchased for around 4 soles per way to reach the town of Huacachina.
It's really as simple as walking out from your hotel in Ica and hailing a passing driver. There are tonnes.
Tips for Negotiating a Huacachina Sandboarding Tour
Once you arrive in Huacachina, vendors will madly approach you trying to sell you their tour.
This can be a little overwhelming but on the plus side – the more vendors the better the deals!
The tours either go for 1 or 2 hours. We negotiated to go on the 2 hour tour which was split 50/50 between dune buddy riding and sand boarding.
I wouldn't recommend going on the 1 hour tour as a 2 hour tour went very fast so I couldn't imagine a 1 hour tour being enough time plus it would most probably cost you the same!
Dune Buggy Huacachina Experience
The dune buggy ride was an exhilarating experience and definitely not one for the faint of heart.
I have heard it previously described as a roller coaster ride and this most certainly is true!
You zoom down extremely high sand dunes at a million miles per hour.
Our fellow dune buggy riders shrieked with excitement as the buggy went up and down the various sand dunes sometimes even being airlifted off the ground.
I often wondered if the buggy was going to make it or whether the whole thing was going to roll.
However, our group of adrenaline junkies loved this near death experience screaming at the driver "Vamos!!"
One thought that eased my mind is that the drivers are super experienced and have grown up in the area dune buggy riding and driving their whole lives. With that in mind, Vamos!!
Huacachina Sandboarding Experience
And, if you are thinking the sand boarding element of the adventure is going to be more tame, think again.
This is definitely the highlight for adrenaline – junkies. During the tour, you take on about 8 mammoth sand dunes.
As I was peering off the cliff, all I was thinking was holllyyy hell this is steep.
However, if you manage to push through the initial fear, you don't go half as fast as expected.
One tip I would give if you want to control your speed is to dig your feet into the sand.
Huacachina Sandboarding Tips
Wear old clothes & shoes you are happy to get extremely sandy;
Bring a camera case for your phone or camera if you wish to bring it down the dunes. Otherwise, it will get totally wrecked!
There is potential to get injured so make sure you have adequate travel insurance.
How to get to Ica, Peru?
From Cusco: If you are coming from Cusco, you can get the Civa cama overnight bus for 110 soles per person. This leaves Cusco at 6pm in the evening and arrives at Ica at 11am the next day.
From Lima:, it is a 4-6 hour bus ride away (depending if you take a direct service) and costs around 25 soles per person with Peru Bus.
More Peru Travel Blog Posts
If you're visiting Peru from Cusco or Lima, make sure you check out these Peru travel posts to keep you occupied on the journey.
What's the worst that can happen? They put you into a nice sleep!
How to travel from Lima to Cusco or Cusco to Lima: Yes, we recommend stopping in Ica on the way! But there's direct bus options too.
How to Travel from Cusco to Machu Picchu: You don't need a tour or expensive train to get to Machu Picchu. In fact, you can do it yourself for a couple of dollars.
Salar de Uyuni: Okay, this one isn't actually Peru – it's about one of the most iconic places on any South America itinerary – the Uyuni Salt Flats in Bolivia. You know, the place where the endless white salt flats distort perceptions and make it possible to recreate cool optical illusions like being chased by a monster dinosaur toy.
Of course, we wouldn't dangle that carrot in front of your without telling you how to get there from Ica or Machu Picchu/Cusco.
You should catch the bus from Cusco to La Paz (how to do it) > we recommend stopping at the awesome Copacabana (Bolivia, not Brazil) and Isla del Sol.
There's even a crazy Bolivian festival where the Bolivians dress like Peaky Blinders and get drunk and perform choreographed dances around town. I digress …
So, you've reached the La Paz from Cusco. There's tonnes of things to do in La Paz like visiting a witches market. But you want to know about the Salt Flats.
Well, you can reach Uyuni from La Paz by bus. In town, you can book a tour to explore the salt flats – this isn't something you want to DIY. We did a 3 day / 2 night tour which was awesome. I could go on. But I won't in this post.
If you have any questions about Ica, Peru, Huacachina or Dune Buggy Tours, Sandboarding Tours or just about travelling in South America, let us know in the comments below and we'll get back to you ASAP.