Iceland is one of our all time favourite places to travel and the ideal place for a honeymoon!
If you are planning an Iceland Honeymoon you will be spoilt for choice with incredible things to do.
As we travel as a couple we like to suss out all the romantic things to do in each area we travel.
Well, we have given it some thought and believe these are the 17 most romantic things to do in Iceland on a honeymoon.
Plan Your Iceland Trip!

🛌 Find the perfect hotel on Booking.com

🎫 Get exploring by booking tours and excursions on Viator

🚗 Find the cheapest car with Car rentals
Honeymoon in Iceland: 17 Romantic Things to Do in Iceland
Drive the Golden Circle
The Golden Circle is not one place but a route that encompasses three of the best tourist spots in Iceland: Þingvellir National Park, Gullfoss waterfall and the Geysir geothermal area.
If you want to travel the Golden Circle you have two choices: to join a tour of the Golden Circle or DIY drive it yourself by hiring a car in Iceland.
We recommend driving yourself: You can see full instructions on the best route on our Golden Circle DIY guide
The best places to stop include:
Þingvellir National Park, one of the best spots along the Golden Circle route, is a romantic place to take a walk or hike. The National Park is the only place from where you can see the Mid-Atlantic Ridge on land.
Gullfoss Waterfall

is one of Iceland's most renowned waterfalls, standing at 32 meters high. You cam often see a stunning rainbow at

Gullfoss Waterfall.
The Geysir Geothermal area, Nestled in the Haukadalur Valley, the Geysir Geothermal area, home to a vast volcanic landscape and two important geysers, the Great Geysir and the Strokkur Geysir. Witnessing these geysirs shoot water high into the air is an incredible experience.
Unless you are a confident driver, it is best to complete the Golden Circle route outside of winter as there is less ice on the road. April is a nice time to visit Iceland. You might like to check out the reasons to visit Iceland in April here. If you do want to experience the magic of Iceland in winter, make sure you check out our guide of the dos and don'ts of this time of year.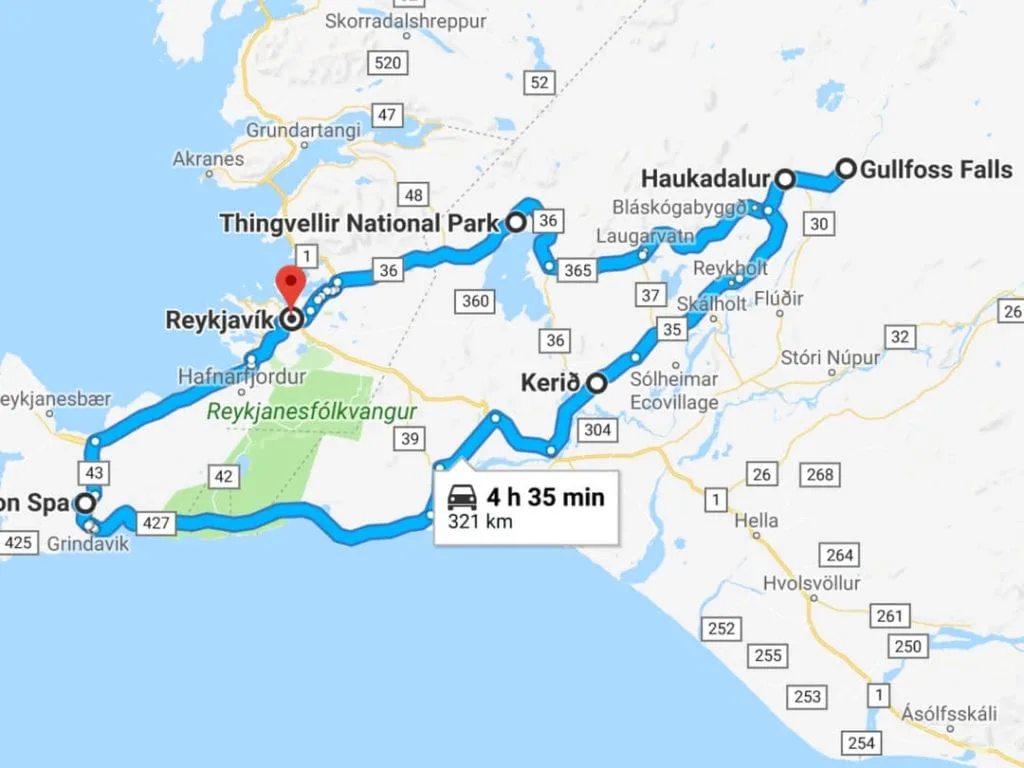 Drive the Ring Road
The Golden Circle in Iceland can be completed in a few days but if you have a longer time frame for your Iceland trip we would recommend driving the Ring Road in Iceland, a longer self drive route.
Like with the Golden Circle, you will need to hire a car in Iceland to complete the Ring Road. You will
The entire route 1 (another name for the Rind Road) is 1332 km long and will take around 13 hours to complete. It is best to break up this travel time over 7-10 days.
The Ring Road is one of the most romantic drives in Iceland covering many of Iceland's many amazing waterfalls, stunning glaciers, active volcanos and many other natural wonders.
You will also pass many adorable Icelandic Horses as you drive along the Ring Road – cute enough to make even the coldest of hearts melt.
Tips for driving the Ring Road:
Some places along the Ring Road don't accept credit cards so bring cash with you;
If you choose to camp or campervan the Ring Road you need to go into a registered campground. It is illegal to camp on public property along the Ring Road.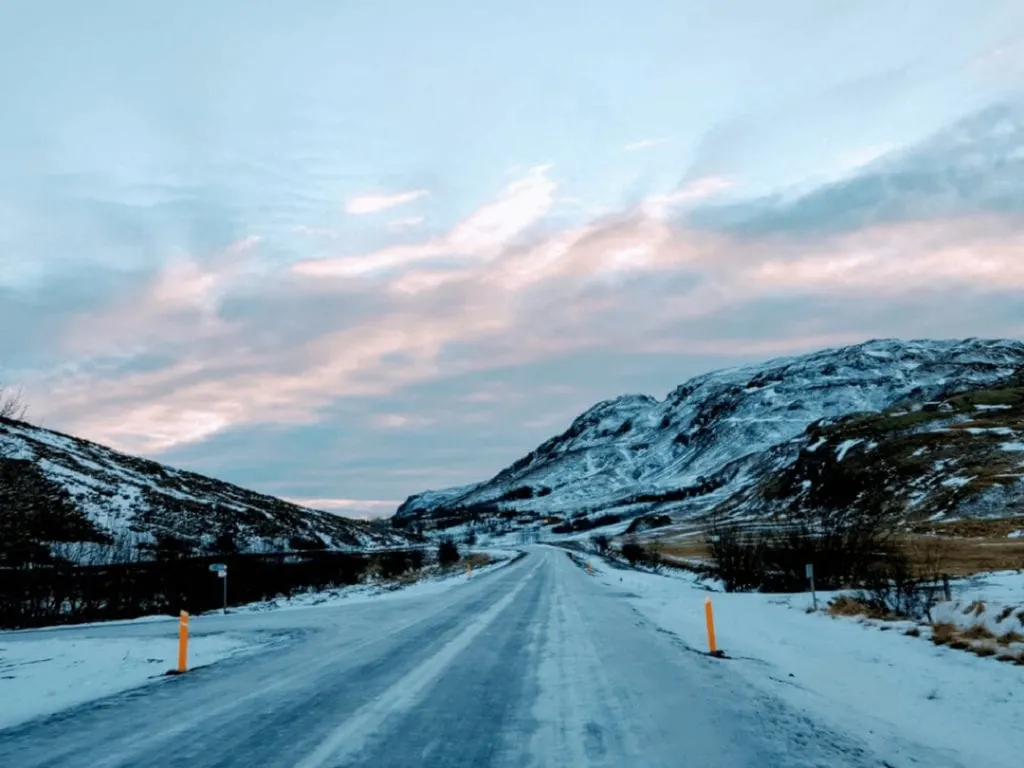 Go Horse Riding
Riding on an Icelandic Horse was one of our favourite things we did in Iceland. You can see more information about our experience Riding an Icelandic horse here.
Gazing at the countryside from a saddle in another experience all together and certainly very romantic – perfect for a honeymoon in Iceland to remember!
Interestingly, Icelandic horses are found in this magical island at the end of the world. The horses are sturdy, brimming with stamina, sure-footed, have a heavy coat but are short in stature.
You can find many horse farms and various companies that offer horse riding tours all over Iceland.
Here are some of our favourite Icelandic Horse Tours:
We would highly recommend a tour as it is extremely fun to get to ride an Icelandic horse however, if you don't like the idea of riding one, if you have your own car, you can see them in paddocks all over Iceland. They are extremely friendly, one actually came over to see us as we stood at the fence of the paddock.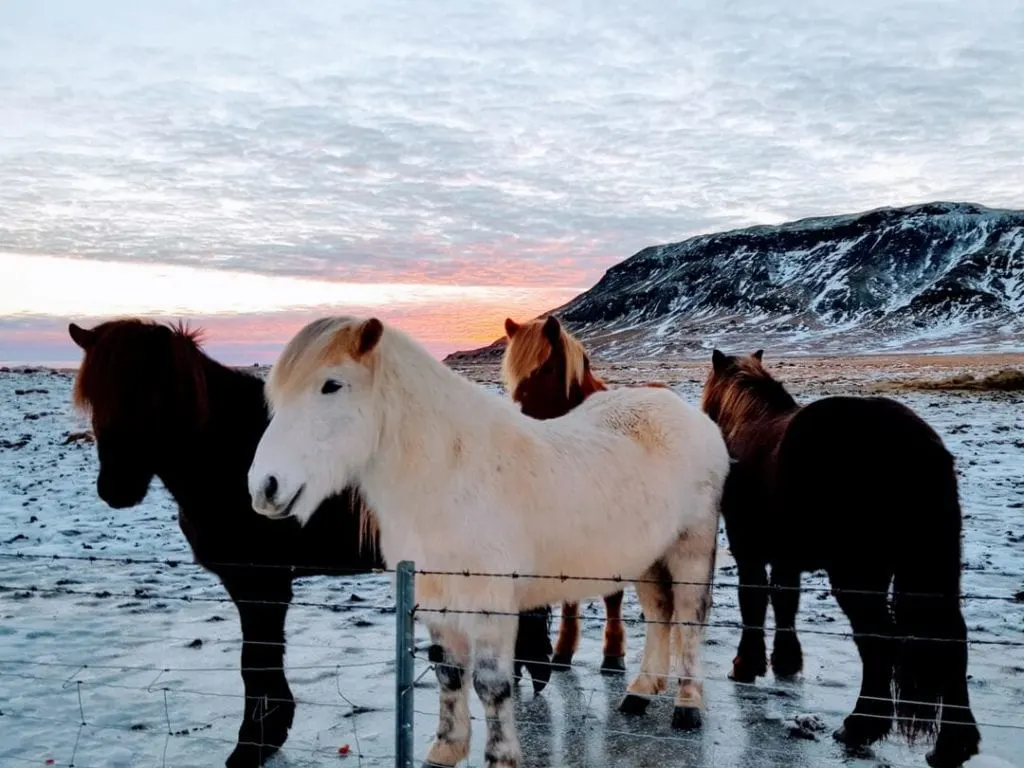 Visit the Hot Springs
Iceland is famous for its many hot springs; some are widely popular and quite crowded while others have a nice homely feel and less crowds.
We would highly recommend visiting the hot springs in Iceland for a honeymoon as it is a very romantic experience. You can find hot springs spotted along the countryside of Iceland.
Reykjadalur valley, near the town Hveragerði is a natural hot spring or stream that you can reach by hiking around 90 minutes.
If you're afraid of heights, it is best to head to Hellulaug in the Westfjords. The hot spring is 60 cm deep and has a temperature of 38 degree celsius. In summer, you may prefer to take a cool dip in the sea, which is close to the hot spring. Note: there are no modern facilities at this hot spring.
Visit Grettislaug if you are craving a romantic hot spring experience with the bonus of modern facilities like outdoor shower and changing rooms. On the western side of Skagafjörður fjord, in Northern Iceland, this pool is piled with rocks and surrounded with astonishing views of the sea and mountains. Since this pool is on private property, you will have to pay a small fee to enter.
Last but not least, the most famous and commercialised hot spring in Iceland: the blue lagoon. You may or may not like to visit the Blue Lagoon on your honeymoon in Iceland.
On the plus side, it is the most beautiful hot spring in Iceland with baby blue water. On the downside, the Blue Lagoon is the busiest hot spring in Iceland, which may not provide for a romantic experience – you decide!
If you don't have your own car, the Blue Lagoon is the easiest hot spring in Iceland to visit on an organised tour. You can purchase your ticket and optional transport here.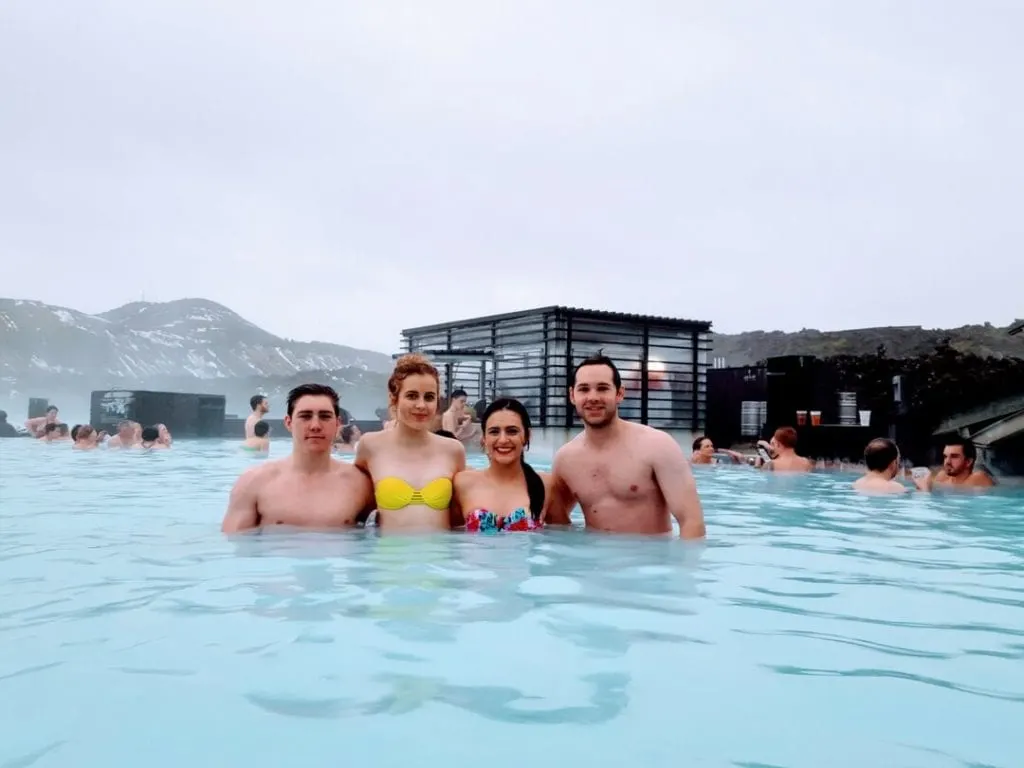 Go Hiking in Iceland
Hiking is best way to see all the beauty Iceland has to offer. If you are a fit and active couple, it is a very romantic experience to be alone in stunning nature together.
Hikers also have the added benefit to visit all the hidden places in Iceland that are even more spectacular than the most popular sights.
Some of the best hikes in Iceland include:
Laugavegur & Fimmvörduháls
The Laugavegur Trek
The Fimmvörduháls Trek
The Hornstrandir Trek
Unless you are an experienced hiker, it is best to hike Iceland with an experienced guide since Iceland has a very raw and untouched terrain.
A glacier hike in Iceland is an experience to remember. We would recommend this glacier hike with a guide.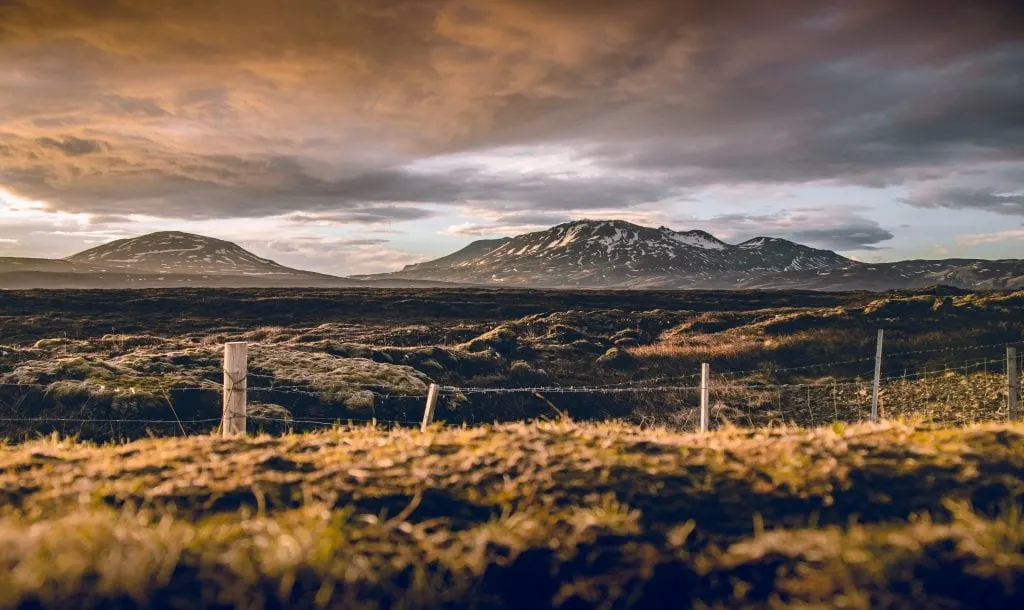 Visit the Black Sand Beaches
One of the most iconic and amazing things to see in Iceland is the stunning black sand beaches.The black sand is formed from lava rocks, hence the black hue of the beach.
In the South Coast of Iceland, Reynisfjara black sand beach is a stunning beach with strong and destructive waves. Due to its beauty, it is a popular filming site in Iceland.
If you are a fan of Games of Thrones, you will want to visit as parts of the HBO Games of Thrones, season 7 were shot at this majestic beach
Other black sand beaches in Iceland include the Black beaches of Dyrholaey and Vik Black Beach in the town of Vik: two beautiful beaches with fantastic views.
Not far from the town of Vik, you will come across the amazing Reynisdrangar Basalt Columns. Nearby the columns you will also find a natural cave.
If you happen to cross Westmann Islands on your trip, you can also visit its stunning black sand beach.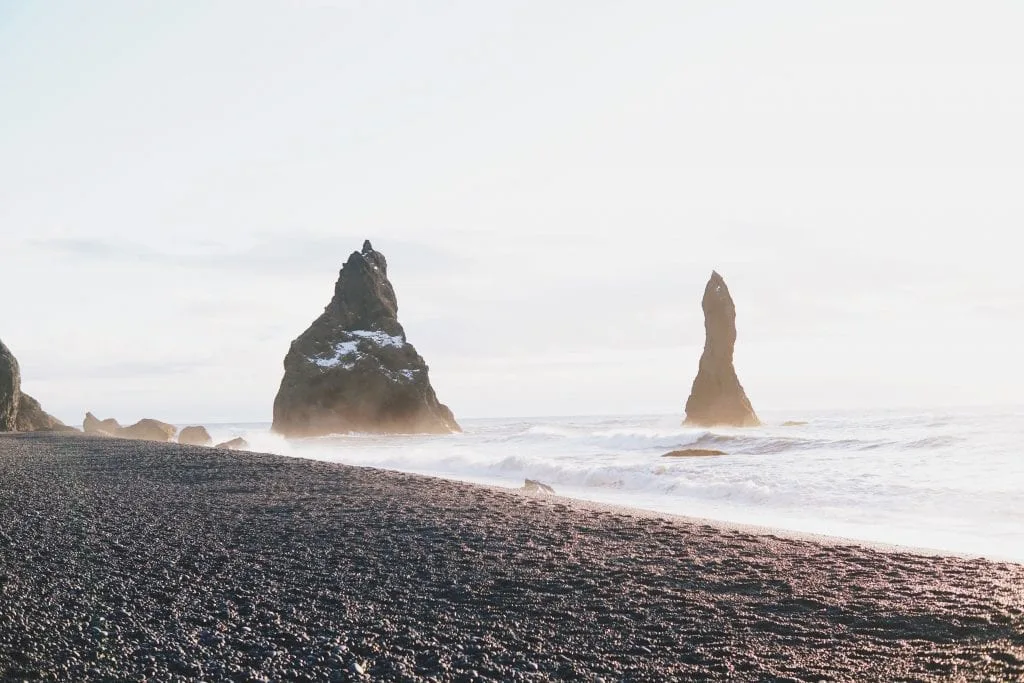 Visit a Glacier
One of the best things to do in Iceland is to visit a glacier
The largest and one of the best glaciers in Iceland is the Vatnajökull glacier which has many small glaciers on either side of it, many of which have their own names.
Another beautiful glacier is Breiðamerkurjökull, home to the blue Crystal Ice Cave, is located five hours drive from Reykjavik.
If you feel like something a little more adventurous, the glacier of the 'mire valley', Mýrdalsjökull, rests on top of an active volcano.
It is necessary to visit the glaciers in Iceland with a guide.We would recommend this glacier hike with a guide.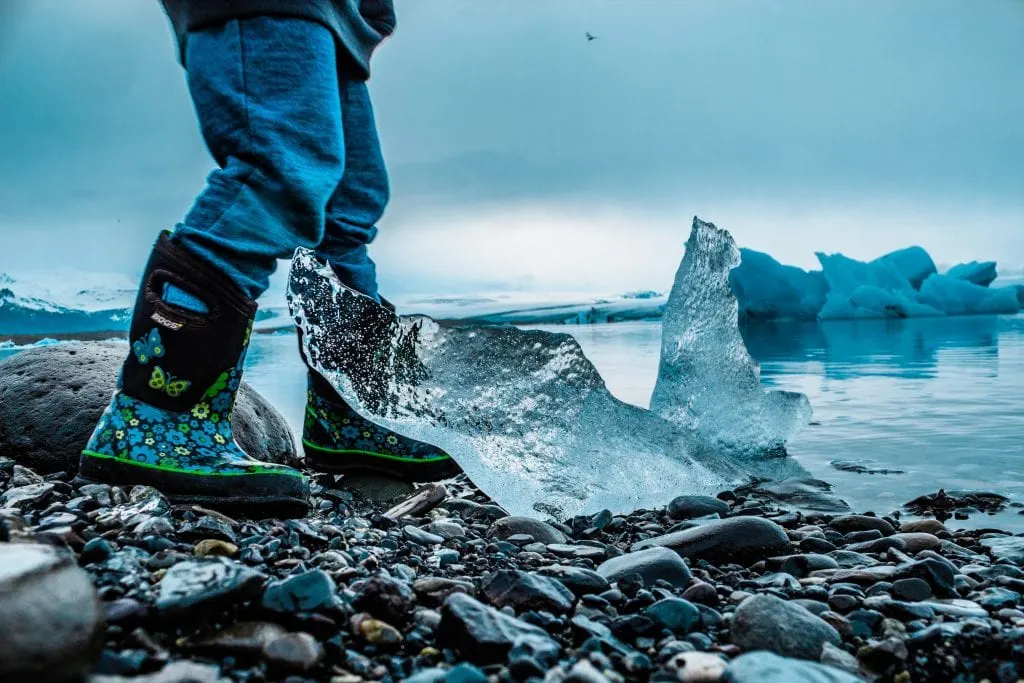 Visit Jökulsárlón Glacier Lagoon
Make sure you schedule a stop to Jökulsárlón Glacier Lagoon during your honeymoon in Iceland.
Huddled in the South Coast, this lagoon is dubbed the 'Crown Jewel' of Iceland for its beauty.
The Jökulsárlón Glacier Lagoon is both a dramatic and beautiful sight due to large glacier chunks floating in the lagoon.
Breiðamerkurjökull, a glacier outlet from the Vatnajökull feeds the waters of this striking Lagoon.
To visit Jökulsárlón Glacier Lagoon, it is necessary to take a boat tour. The boat tour will take you past floating ice bergs and energetic seals native to the lagoon.
Visit an Ice Cave
Albiet not a cheap activity, one of the best things to do in Iceland is to visit an ice cave. In saying this, if you can't splurge a little on your honeymoon, when can you.
Ice caves in Iceland are amazing. The light shining on them makes them look like crystals.
If you would like to visit an ice cave, you will need to visit Iceland in the winter months (until April) when it is safe to enter.
One of the most incredible ice caves in Iceland, known as the Crystal Cave, is located in the Vatnajökull Glacier. A large glacial river forms this cave each summer. The Waterfall Cave, which is in the same glacier, has a small river and waterfall running through it. You will need a tour to visit the Crystal Cave.
If you would also like to visit the Jökulsárlón Glacier Lagoon, you can get a tour straight from the parking lot as it's east of the Lagoon.
Glacier Cave in Katla and Langjokull Ice Cave are other ravishing ice caves in Iceland.
Go Skiing or Snowboarding
Iceland is a country with snow trails that are perfect for skiing and snowboarding.
If you and your spouse have a flare for adventure, then you just have to visit one of the ski resorts in Iceland.
Blafjoll mountains is the largest ski resort close to Reykjavik and it has slopes that are good for snowboarding, downhill and cross-country skiing.
Alternatively, the Hlíðarfjall ski resort near Akureyri in Northern Iceland is well-known for its enthralling views of the fjords.
You can also visit Westfjords if you are an extreme skier since it even offers heli-skiing – skiers' race from the peak to the ocean and a helicopter oversees their development.
Explore Reykjavik
You can't visit Iceland without a few days in the capital. There are tonnes of great date ideas for couples in Reykjavik!
Reykjavik is a cool city with lots of great things to do, ranging from art, shopping and food to local pools.
The capital has around 18 pools, all with cheap entry fee. Sundhöll Reykjavíkur, the oldest pool in Reykjavik, was renovated in 2017 and now has three hot tubs, an indoor and outdoor pool, two saunas and even a children's pool.
If you're in central Reykjavik, you can alternatively visit Vesturbæjarlaug, a swimming pool in the western part of the city.
While in Reykjavik don't miss the Hallgrimskirkja Church, a brilliantly sculptured building. The church boosts the best view of the entire city and has glass art worth seeing.
Another impressive architectural masterpiece in the city is the Harpa Concert and Conference Hall. If you are lucky on your honeymoon you might even get a chance to witness an Icelandic Symphonic Orchestra or some famous band playing.
Food and shopping are two things that go hand-in-hand with any honeymoon.
Stock up on some fashionable, high quality outdoor clothing in Iceland in the stores Ice Wear and Cintamani. If you prefer just to pick up a simple Icelandic souvenir, the flea market at Kolaportið is a must-stop on your honeymoon.
If you want a honeymoon to remember, try some traditional Icelandic food at one of the many restaurants in Reykjavik including Matur og Drykkur (a cod's head that is cooked in chicken stock), fermented shark or even a boiled sheep's head. Not exactly my thing but something to remember.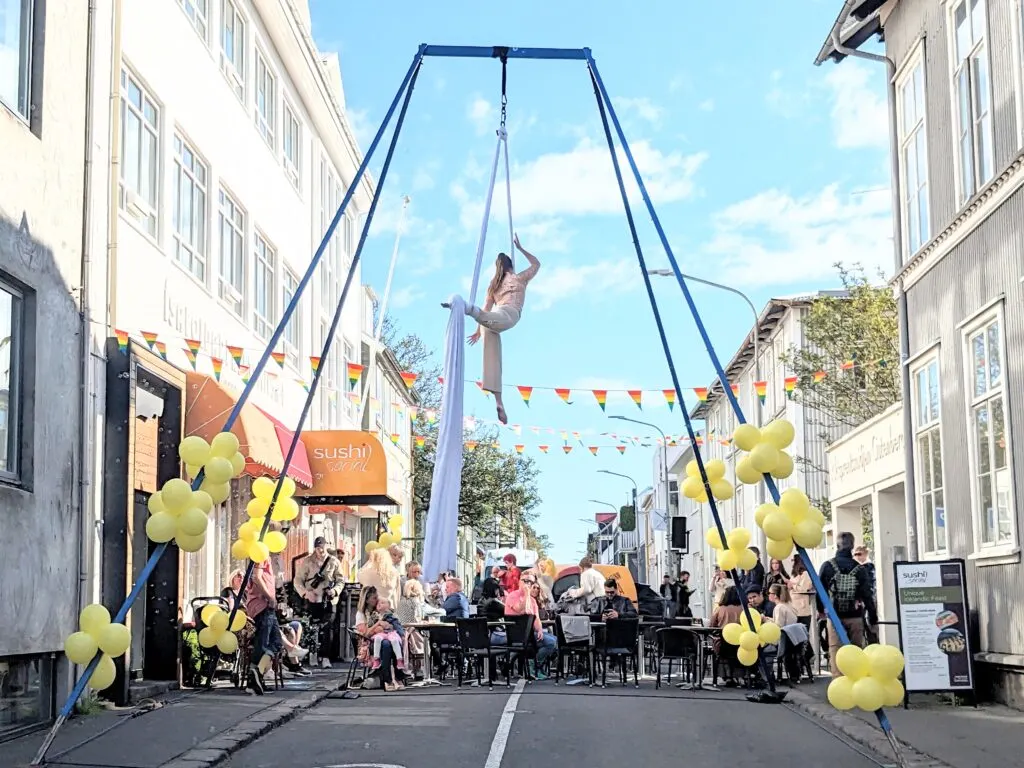 Go Looking for The Northern Lights
Seeing the majestic Northern lights is definitely one of the most romantic things to do in Iceland.
The best time for viewing the northern lights is before summer (even up to April in Iceland there is a chance to see the amazing northern lights).
It is essential to have complete darkness in order to have the best chance to view the Northern Lights.
For the very best chance of viewing them, we would highly recommend booking a Northern Lights Tour. We have avoided these tours in the past but have had little success finding the Northern Lights on our own.
You have a few choices when going on a Northern Lights tour: you can either sail by boat, travel via jeep to access lesser-known viewing areas or go on an economical bus tour.
Northern Lights Tours are high tech. They usually have weather specialist to inform the guide to where the Auroras can be seen.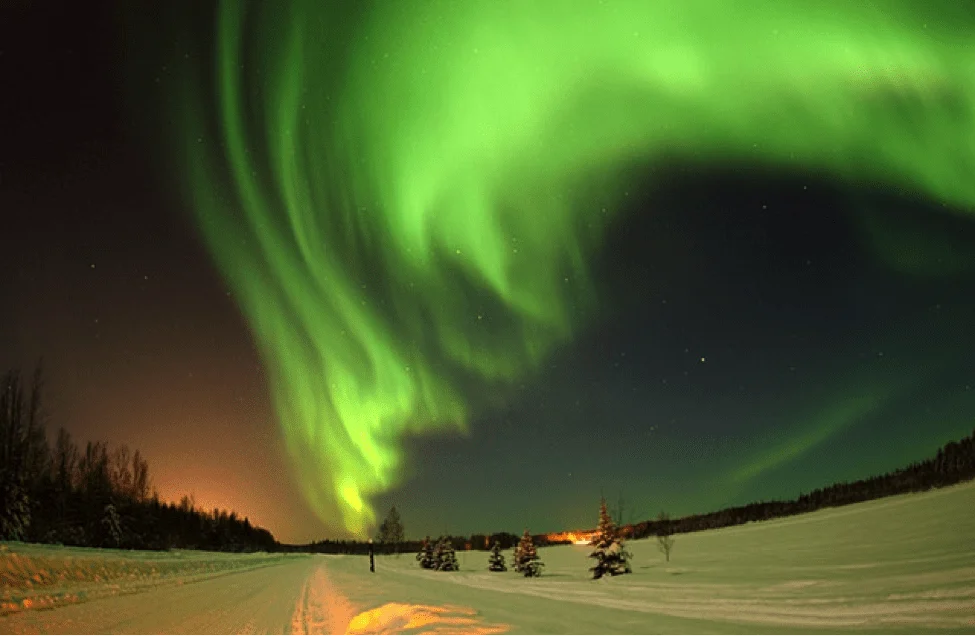 Go Wildlife Viewing
Iceland is home to animals of various species, some of which can only be found in Iceland.
Húsavík is the whale-watching capital of Iceland. Here you can see humpback whales and blue whales. If you fancy watching orcas otherwise known as killer whales, you have to go to Snæfellsnes Peninsula.
Here is the whale watching tour that we would recommend booking.
Cute little puffins are also native to Iceland. They have an entire colony at Látrabjarg Peninsula, Westfjords so be sure to have your camera at hand if you want to catch a few clips of these vibrant birds in their natural habitat.
In summer, there is a chance of seeing puffins also at the Golden Plover.
For the best chance of seeing puffins we would recommend booking a puffin exploring tour.
And how can we forget the Artic Fox? If you're in Hornstrandir, you might see a artic fox but it all depends on luck and timing. Artic Fox sightings in Iceland are possible but rare.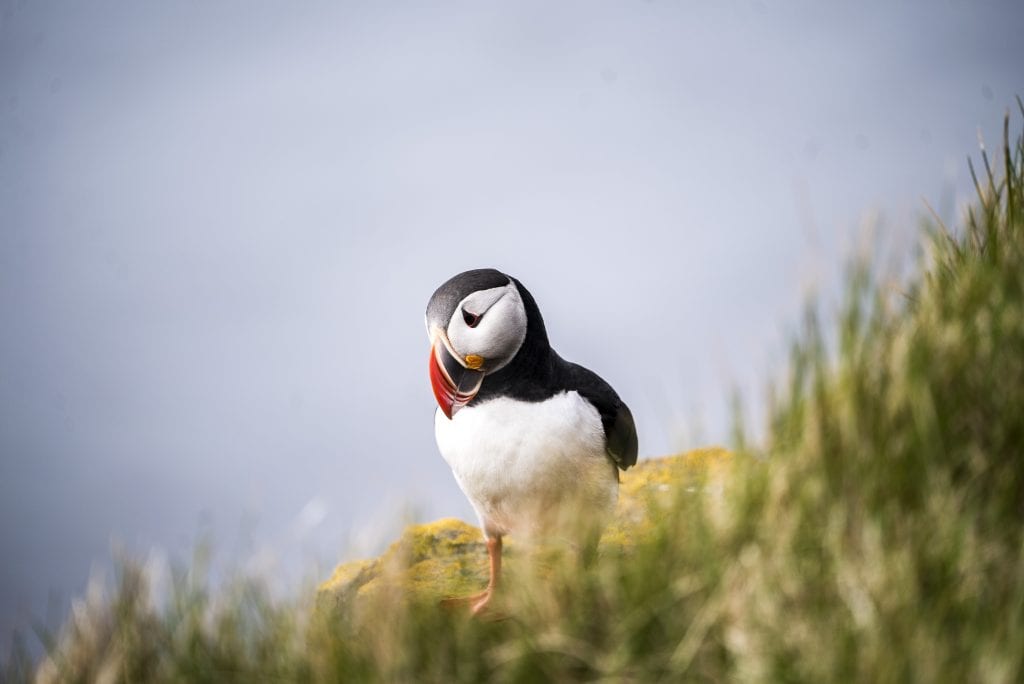 Visit the Best Waterfalls in Iceland
A visit to Iceland certainly would not be complete without a trip to some of the beautiful waterfalls the country has to offer. I'm envisioning my inner Justin Bieber right now who went to Iceland to film a music video with some of the beautiful waterfalls in Iceland.
Some of the best waterfalls in Iceland can be found on the Ring Road.
Seljalandsfoss, the most beautiful waterfall in Iceland is located just off Ring Road so you can visit it on your road trip. Skógafoss, another waterfall along the Ring Road, is also spectacular.
Up North, you will find Goðafoss, Iceland's little Niagara Falls.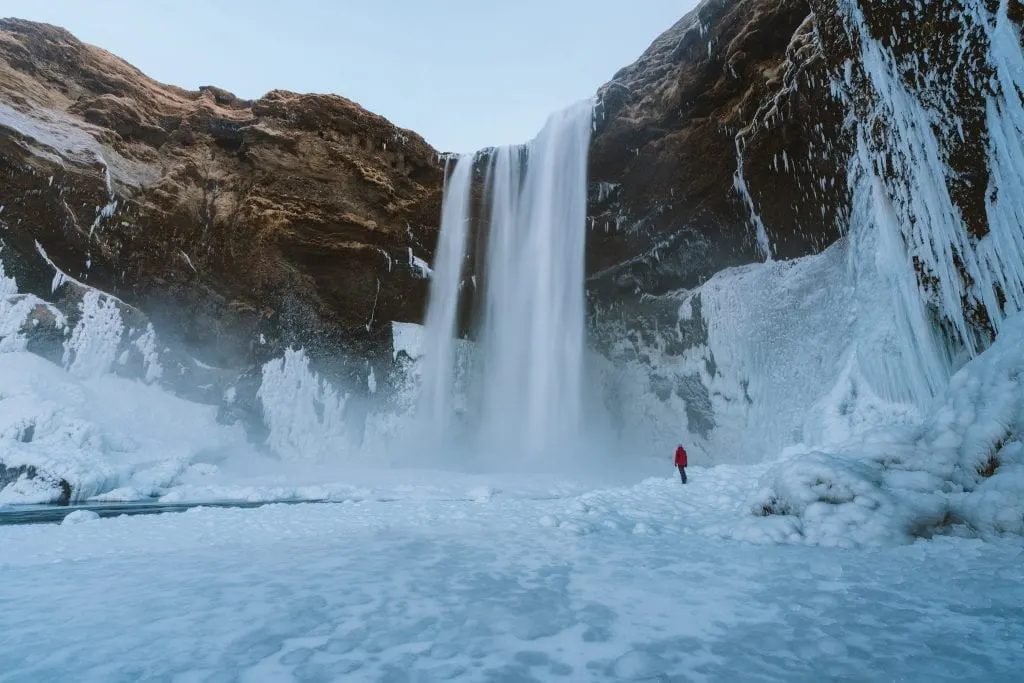 Visit a Volcano
Iceland, the land of fire and ice seems to have it all which is why it is the ideal place for a honeymoon filled with excitement and adventure.
There are many inactive and active volcanoes in Iceland that are worth a visit.
Eyjafjallajökull is Iceland most popular volcano but Thrihnukagigur is the only volcano that allows visitors to go into the Volcano since it has been dormant for around 4000 years.
A tour to Thrihnukagigur is a rare chance to see cooled magma within a volcano up close and personal. While it is expensive, going into a volcano is a once in a lifetime experience – great to experience on your honeymoon with your significant other.
Visit the Geysers
Geysirs are some of the best things to see in Iceland. The good news is that it is possible to see amazing geysirs during a shorter trip to Iceland on the Golden Circle.
The Great Geysir in Iceland may be inactive but it's the earliest geyser that was documented in European Literature. Pretty cool to visit if both you and your spouse are history lovers.
If you're both looking for more adventure among the geysers, drop by the Strokkur Geysir which sprouts out hot water every 6 to 10 minutes.
Alternatively, Gamla Laugin is a secret lagoon that has a small geyser. Enjoy a soak in a hot tub while watching the geysir erupt.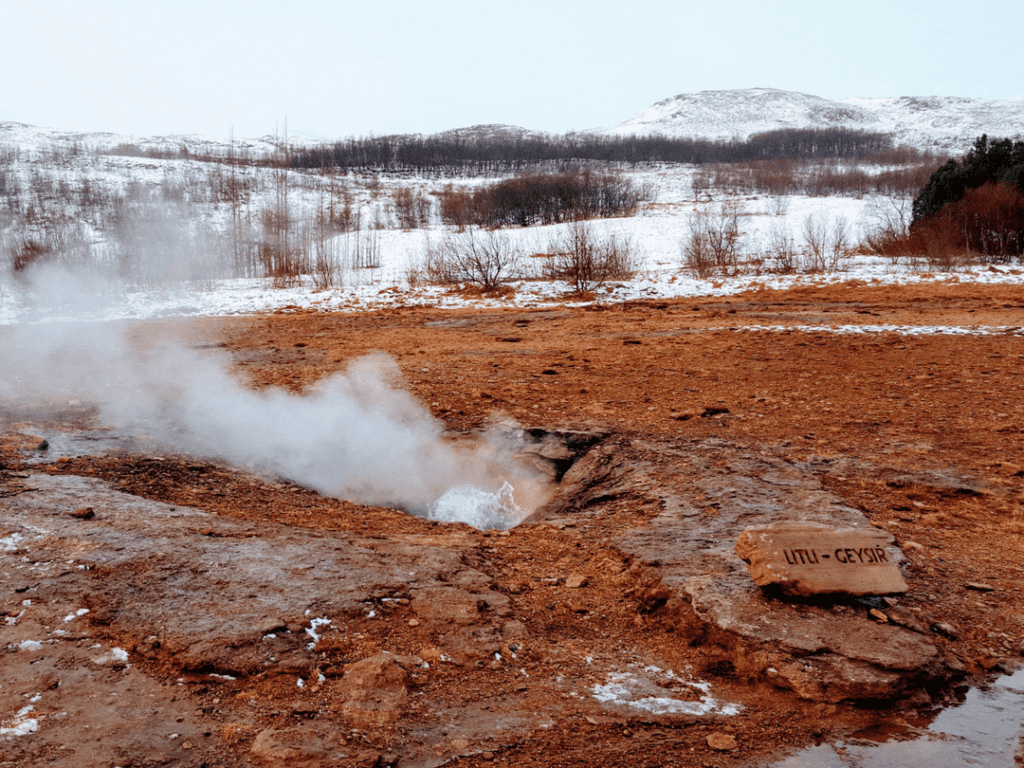 Visit Stunning Fjords
You might think of stunning Fjords when it comes to a country like Norway but hey, Iceland has amazing Fjords too!
Here are some of the best fjords to consider visiting in Iceland:
Hvalfjörður and Borgarfjörður: two big Fjords north of Reykjavik

Westfjords: a beautiful wild-fjord land in Iceland
Honeymoon to Iceland? Yay or Nay
In our opinion, Iceland is the perfect place to honeymoon for a couple who loves adventure.
With glaciers, volcanoes and amazing wildlife viewing opportunities – there are no shortage of amazing things to do in Iceland.
While it might not be a stereotypically romantic place like say Paris, Iceland is a magical island and romantic in its own right.
The great thing about a honeymoon in Iceland is that there is NO DOUBT you will make ever-lasting memories together – I mean its not every day you get to visit a volcano, soak in a hot spring and see the northern lights all in on day!
Getting Around Iceland
We highly recommend traveling Iceland by car. It gives you the freedom and flexibility to go where you want, when you want.
We would recommend using RentalCars.com for the cheapest and most reliable car rental in Iceland.
We love this provider as we can find the most affordable car and there is free cancellation available on most cars so if your travel plans change up for a few days before, you can cancel your car free of charge.
Where to stay in Iceland?
There are some seriously cool hotels in Iceland to stay at, especially if you are traveling to Iceland on a honeymoon and want something a little unique and special, in Iceland you have come to the right place!
Here are our top hotel picks in Reykjavik in accordance with budget:
Budget: Skuggi Hotel Reykjavík by Keahotels
Mid Range: Canopy by Hilton Reykjavik City Centre
Luxury: Black Pearl Apartment Hotel
While venturing outside of R, it is nice to get something unique. We would recommend accommodation with a hot tub for a premium Northern Lights viewing experience. Here are our top picks along the Golden Circle.
Going to Iceland? Here are some more Resources
If you are headed to Iceland, lucky you! Here are some more resources you might like to help you plan your vacation:
***
Save this Iceland Honeymoon Guide to Pinterest so you can find it again later!