If you are spoilt for choice as when to holiday, visiting Iceland in April is a great choice.
April in Iceland is off season so it will be slightly less expensive. Of course, it is expensive year round but prices will be slightly more affordable in April.
Also, the weather is PERFECT in April – you are not affected by the harsh conditions of winter and summer has yet to set in and there are many unique festivals to enjoy.
It is actually so perfect in April, I could argue it is the best time to go on honeymoon in Iceland.
Keep reading for 13 reasons why visiting Iceland in April is the perfect time of year to go.
13 Reasons Why Visiting Iceland in April is the Perfect Time to Go
1. The April Weather
The weather in Iceland in April is a bit of a treat.
To the delight of Icelanders, daylight hours increase from 3 hours in December to 13 -16 a day in April.
If you prefer green countryside to snowy flats, April brings marks Spring in Iceland bringing with it green countryside and flowing waterfalls (rather than frosted over ones) and beautiful flowers.
The downside to April weather is that it can easily rain, hail or be sunny in the same hour.
Despite the fact that it is Spring, do not expect 20 degrees celsius weather. Temperates average around 7 -10 degrees Celsius (45 F) by the end of April so you will still need to bring your winter woolies with you.
The plus side is that you will achieve far greater daylight hours and temperatures will likely not fall below freezing. A win for a country called Iceland!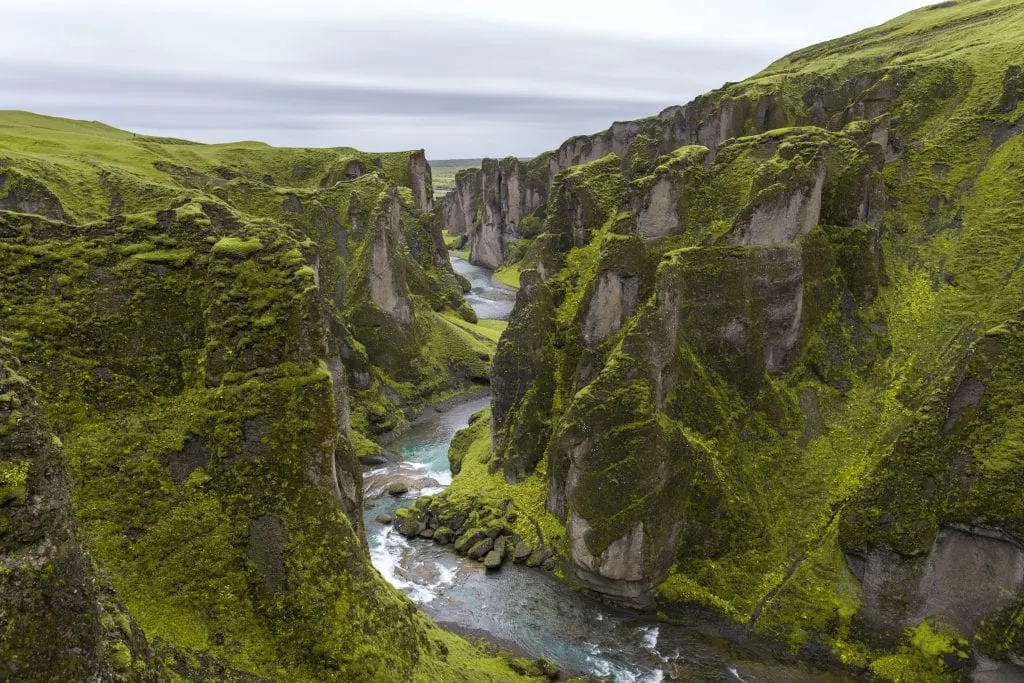 2. Visiting in Low Season
If you avoid Easter travel, the majority of April is considered low season.
This means that the prices of accommodation, the availability, price of tours and even flights to Iceland is considerably lower. If you are traveling on a budget, April is a great time to go as you achieve a lot more bang for your buck.
Also, we personally love traveling in low season as there is far less people around – imagine being shoulder to shoulder in the blue lagoon – yuck.
Crowds in popular spots across the South Coast and Lake Mývatn will be also be far less. This means you get a chance to experience Iceland's beauty with hoards of people. And, I'm all for that!
The busiest month to travel to Iceland is August. If you want a summer month before August, June in Iceland is a good time to consider.
3. A chance to experience April Fools in Iceland
This international tradition, held on 1 April, is taken quite seriously in Iceland.
Don't be surprised if there is a harmless April Fools joke at your hotel or on your tour in Iceland.
Icelandic newspapers also join in on the fun; every year on April fools, they publish a fake story, hidden within the real news, which is kind of hilarious.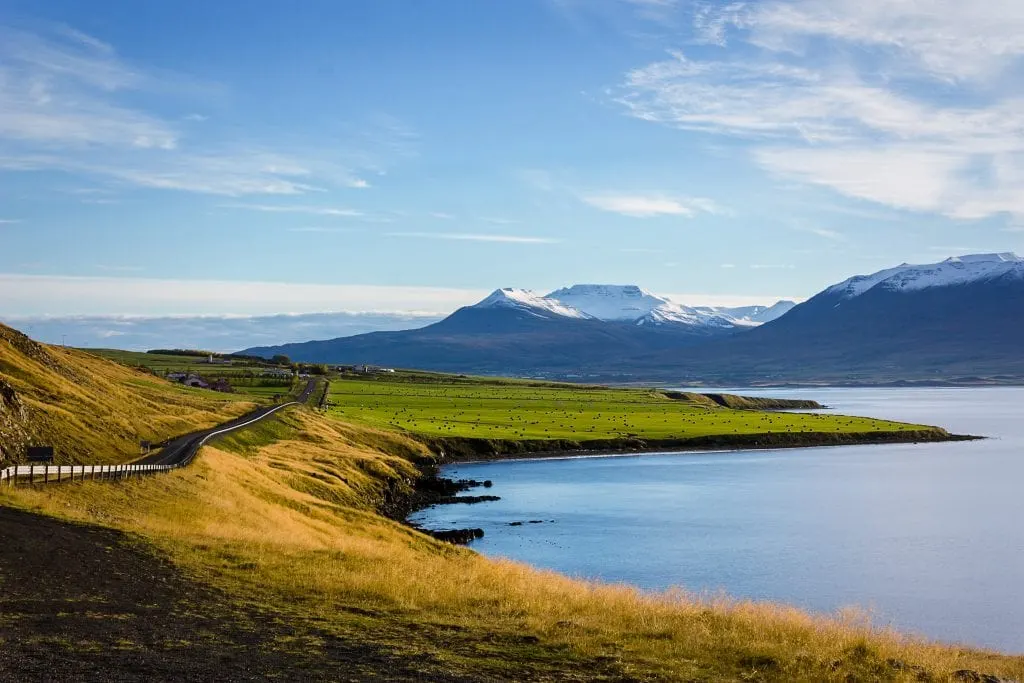 4. A chance to see an abundance of wildlife
April is an ideal month for wildlife viewing as it is the month when new wildlife is born.
It is also the best time of year to view whales and puffins in Iceland.
Whale Watching
You can go whale watching year round in Iceland. The best time of year to see them however is from April till the end of summer.
Many species like the Humpback whale, killer whale, orcas and minke whales can be scouted in the cold waters around Iceland.
April is a great month for wildlife in Iceland in general. If you go on a marine wildlife tour, you can often see other wildlife such as harbour porpoises, white-beaked dolphin and sharks.
If you would like to go for a whale watching tour while in Iceland, the whale tours that depart from the Old Harbor in Reykjavík or from small fishing villages like Húsavík in the north of Akureyri.
Puffin Viewing
Puffins or Lundi as the Icelanders call them are majestic birds that can be found all over the island.These cute birds are seriously the superstars of Iceland.
Iceland boosts a high puffin population but you can only view them from April onwards because they spend the winter elsewhere and return to Iceland in April for the summer.
One well-known Puffin spot is Látrabjarg in the Westfjords, which is the westmost part of the island.
If you are feeling adventurous, you can either hire a rental car and go there yourself or go on a puffin exploring tours. While I'm not usually the biggest fan of tours, they are usually when you have the best chance to spot the wildlife as an expert points you in the right direction.
People seldom get to see Puffins outside of Iceland so April is a perfect time to visit to have a chance to see these cute little birds.
5. Great viewing of the Auroras
Believe it or not, the enigmatic northern lights are even more magical during April than in the winter months.
We have visited Iceland in December before and seen nothing over multiple days due to to cloud coverage.
If you want a chance to see the Northern lights in Iceland in April, it is best to travel in the first half of the month.
To see them in all their exuberance, a pitch-black background is needed (aka no city lights) so in April you'll have to go at a later hour to gaze at the northern auroras.
It's best to hunt for them in the light-free countryside, away from the cities.
Viewing the Auroras is highly dependant on luck – we should know – we have been disappointed numerous times.
The dancing lights are very elusive so you might end up going home without having seen them at all. This is largely due to rain and cloud coverage.
For the very best chance of viewing them, we would highly recommend booking a Northern Lights Tour. We have avoided these tours in the past but have had little success finding the Northern Lights on our own.
You have a few choices when going on a Northern Lights tour: you can either sail by boat, travel via jeep to access lesser-known viewing areas or go on an economical bus tour.
The tours are pretty high tech – they even have weather specialists, who foretell the peak time to view the auroras.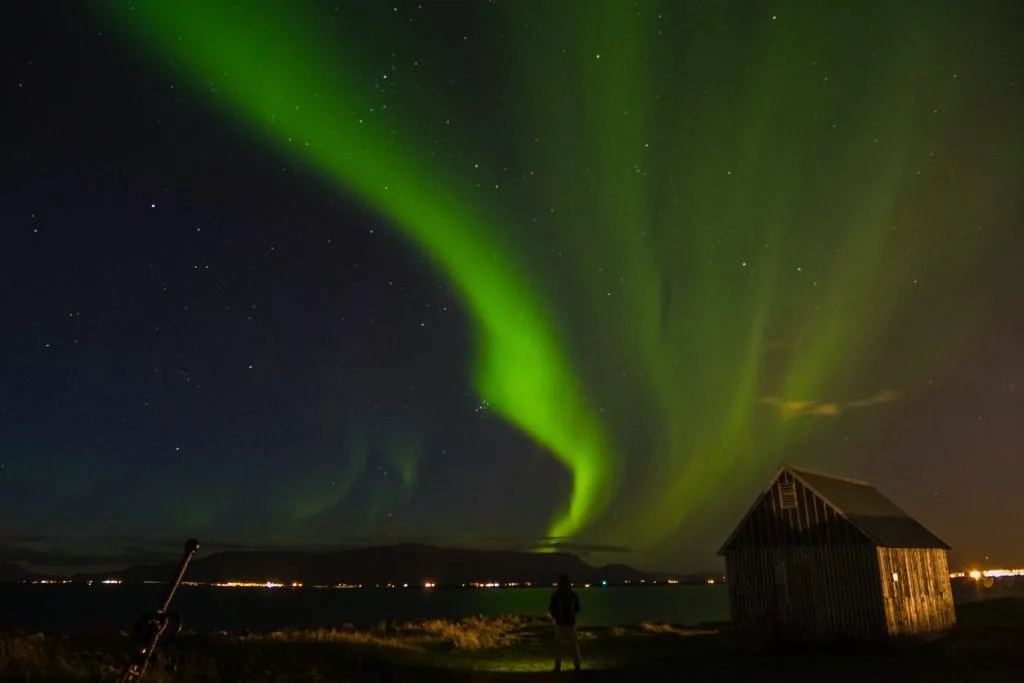 6.Eve Funfest Festival
Iceland in April is a great time for festivals. If you are a festival junky this is a perfect time to visit.
If you are a hardcore science fiction fan, you'll have to schedule a visit to the Eve Funfest Festival held from 2nd to 4th of April in Reykjavík, Iceland.
Eve online is a multiplayer online role-playing game, that is uniquely sci-fi; it was developed by the Icelandic company CCP Games.
To participate, players and developers travel to the city of Reykjavík, clad in distinct costumes. In the game's 6000 worlds, the players explore, trade and fight battles to give sustenance to their gaming spirit.
In 2020, this festival will bring forth presentations, parties, player camaraderie, tournaments and Hatari and Permaband will bless the crowd with their performances.
7. AK Extreme Festival
Love snowboarding and music? Then the AK Extreme festival is the place for you.
AK Extreme is a snowboarding and music festival that is held at Hlíðarfjall, the mountain next door to Akureyri, in the northern part of Iceland in early April.
This four-day mega event attracts adventurists and music lovers from all across Iceland and the world.
In 2020, for the main event, a horrifying Big Jump set up will be constructed out of fifteen shipping containers from Eimskip in the middle of town.
During this time, music concerts will be held all over town, enlivening Akureyri.
If you love snowboarding and music it is an event in Iceland in April not to be missed!
8. The Golden Circle
The Golden Circle in Iceland is possibly the most popular self drive route year round and April is a great time to do it, especially if you are a nervous driver.
For those of you who don't know, The Golden Circle is a self drive tourist loop in southern Iceland that covers 300 kilometers or 190 miles of Iceland's most beautiful spots.
The route extends from the capital to Iceland's southern uplands. The Golden Circle has three primary stops on the route: Þingvellir National Park, the geothermal area (including geysers Strokkur and Geysir) in Haukadalur and the Gullfoss waterfall.
The Golden Circle is a must do in Iceland year round but April brings with it untainted scenic beauty and a chance to witness nature at its best.
Iceland is starting to green up in April. Also, if you prefer a flowing waterfall, it may be a better option to see Gullfoss waterfall, when water will be flowing as opposed to December when the waterfall is frozen over.
When we traveled the Golden Circle route in December, it was a difficult drive, we had to drive very slowly due to ice on the road. It was also difficult to walk out to see the geysirs as the ground was frozen over and slippery.
The snow is melted in April so visiting some of Iceland's beauty is nowhere near as difficult.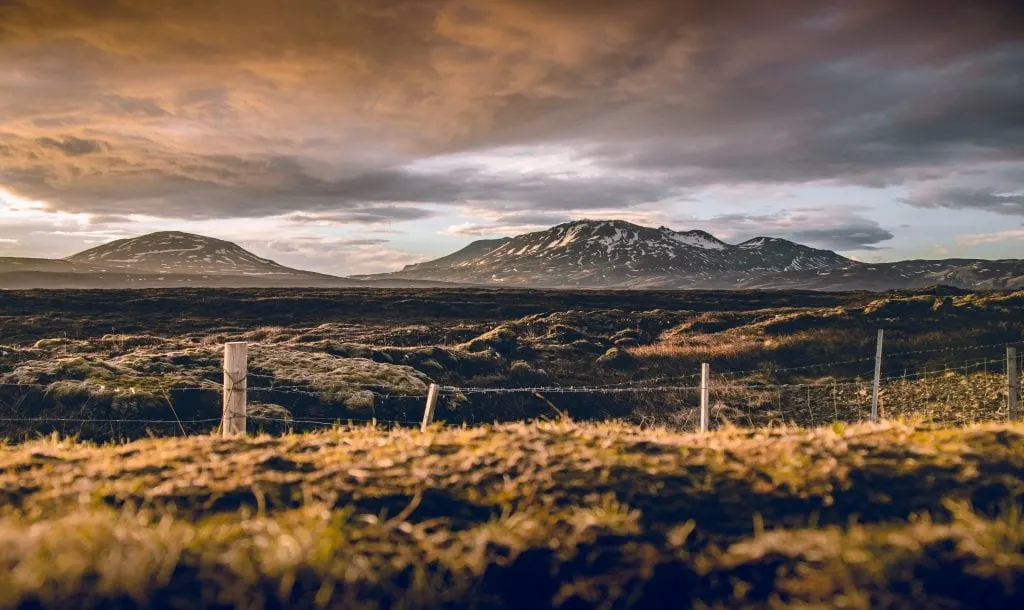 9. Children's Culture Festival
If you are traveling to Iceland with kids in April you might want to schedule a visit to the Children's Culture Festival – one of the most popular children's festivals in Iceland.
The Children's Culture Festival will be held on 9th April in 2020.
This festival is held to introduce the youth to the various types of art through workshops and performances. It is a very hands on festival with an emphasis on participation to help children grow as artists.
The festival has a lot of activities for children such as a circus, visual arts, theatre workshops, storytelling, film, music, dance activities and puppetry.
Many kindergartens, primary schools, libraries, theatres, music and art schools take part in order to develop an educational platform for children.
10. Easter!
Easter 2020 falls on the dates of 9th to 13th April.
Despite the fact that prices slightly increase during the dates of Easter, Iceland is a great choice to spend Easter with your family.
If you want to experience something unique and interesting, an illegal bingo game takes place at Austurvöllur in downtown Reykjavík on Easter. Icelandic atheists play it to spite the Icelandic Laws.
Iceland have a few different and unique easter eggs which we would recommend trying at Easter. The first is an Easter egg filled Icelandic candy and like Chinese fortune cookies. The second, for liquorice lovers, is a liquorice-chocolate egg.
One of the most popular activities during Easter is to go skiing. If you would like to go skiing over Eatser, Blafjoll is only 30 minutes away from the capital.
A typical Easter dinner you can experience in Reykjavík is the Easter Leg: Roasted Lamb with sugar-glazed potatoes and gravy.
11. Aldrei Fór Ég Suður Festival
Usually this music festival takes place over the Easter weekend but in 2020, this festival will take place on 19th and 20th of April, a few days after Easter.
Aldrei Fór Ég Suður can be translated to I Never Went South and is one of Iceland's biggest music festivals.
The festivals founding story is quite interesting. In 2003, Mugison and his father decided to host a music festival at Ísafjörður, their hometown. At that time, the roads were covered with snow so they knew that the people who dared to venture out would be true music lovers. Such was the case and still is whenever this upbeat festival is held.
Every year, around 3000 people travel to Westfjords just for the Aldrei Fór Ég Suður.
Performers include brass bands, heavy metal bands, accordion players and rappers.
The festival included less known artists in Iceland as well as popular Icelandic names such as Retro Stefson and Páll Óskar among others.
Unlike most other music festivals, entry to this festival is free. The management decided to make entry free so that new artists would be not restrained by financial problems and be free to participate. Due to this, it's also called 'The People's Rockfest'.
Drop by Ísafjörður around Easter if you consider yourself to be a true music lover.
12. Hot Springs April in Iceland
Iceland is home to some of the best healing waters in the world including the Blue Lagoon, the Secret Lagoon and Reykjadalur.
The hot springs of Iceland, being hot by definition are great year round.
If you prefer not to freeze your butt off before getting in April is a perfect time to visit some of the best hot springs in Iceland.
The Blue Lagoon
The Blue Lagoon is the most renowned hot spring in Iceland with its milky blue water and a 37 to 38-degree Celsius temperature.
We loved spending time wallowing in the blue lagoon and trying on the natural mud masks. The entry price is expensive, around $85 USD but it is worth every penny, believe me.
The only 'downside' is that it is not a natural hot spring but came about due to an accident in a man-made construction in 1976.
You can spend a whole afternoon or morning at the lagoon, it is an impressive full facility spa resort including in-water bars, restaurants, gift shop and message facilities.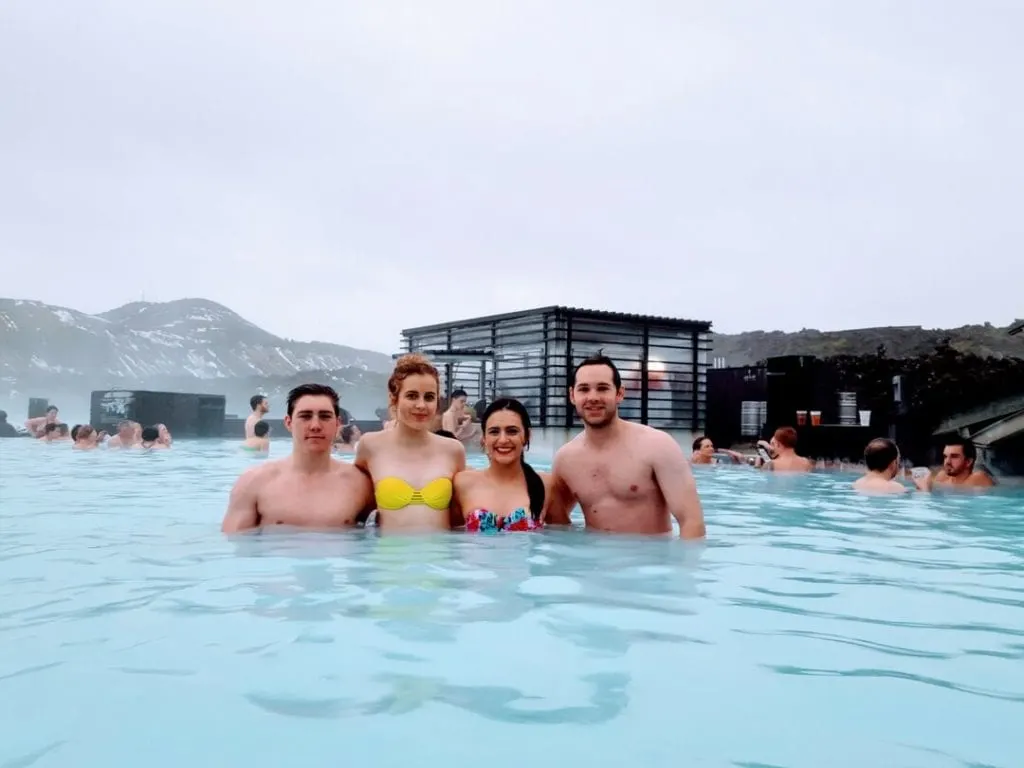 The Secret Lagoon
If you prefer something a little less touristy, you may prefer to make a visit to the Secret Lagoon in Iceland with water at a constant 37 degree Celsius.
If you are driving the Golden Circle, this hot spring is a possible addition to your journey.
Located in the village Flúðir, this Lagoon is the oldest swimming pool found in Iceland. The water is nowhere near as pretty as the Blue Lagoon but it certainly has less tourists.
While taking a dip, you can take delight in the picturesque scenery surrounding the pool and a small geyser that sprouts out water every few minutes.
The entry price of the secret lagoon is around half the price of the blue lagoon, at around 23 USD.
Reykjadalur
If you want to visit a hot spring without the stupidly expensive entry fee, we suggest visiting Reykjadalur.
Reykjadalur is a true wild experience. You will need a car if you want to experience this hot spring.
This steam valley is a 45-minute drive from Reykjavík but you will have to hike up from Hveragerði town to reach the spring.
The hike will take you along the top of deep gorge so if you're afraid of heights, this may not be the hot spring experience for you.
13. Visit the Glaciers
With slightly warmer days and more boat tours running, April in Iceland is the perfect time to visit the glaciers.
Iceland is a country that has around 10 per cent ice caps so you have a unique opportunity to see and touch some icy glaciers.
Some of the best glaciers in Iceland include:
Sóheimajökull Glacier: A stunning rugged glacier with blue crevasses. It is the ideal spot for ice climbing and glacier hiking. Do hike up this mighty beast if you have an appetite for adventure.
Vatnajökull: Next up is Europe's largest glacier

along the South Coast of Iceland

.

The entire area of this impressive glacier offers hiking trails but with an added bonus of the extraordinary views of the frosty wilderness.

Jökulsárlón Glacier Lagoon: You can also find gigantic icebergs swimming in the exceptional lagoon

, which is just a short drive from Skaftafell.
Ice caves are also stunning and worthwhile to visit however, most of them are closed in Spring.
In April, the only the cave at the Mýrdalsjökull Glacier is open for business. If you would like to see an ice cave, it is best to sign up for a tour.
You can even go snowmobiling on these mighty glaziers and Langjökull, the second biggest glazier is an infamous snowmobiling spot.
Bonus: First Day of Summer (What in April?)
Don't you think April is a bit too early to start celebrating the beginning of summer?
Apparently, in Iceland, it isn't. Icelanders follow the Norse calendar, which only has two seasons: winter and summer. As a result, summer arrives a little early in the magical island at the end of the world.
The first day of Summer in Iceland is usually on the first Thursday after 18th of April (the last Thursday of April) and in 2020, it is expected to be celebrated 23rd of April.
The Golden Plover or lóa as the Icelanders like to call it, is a bird that is thought to bring springtime to Iceland.
Every year, newspapers are on the lookout of the first signs of this graceful creature. Its sightings are reported in the national newspapers along with a vibrant picture of the beautiful and colorful bird.
Its arrival is considered a good omen for the summer ahead since it spends the summer in Iceland and only after its arrival can the First Day of Summer be celebrated.
Street parades led by scouts bearing the Icelandic flag are held throughout the country.
In honor of the arrival of summer, people wear summer dresses and light-colored clothes.
No mass is held on this day as in 1744 under Danish rule, the Danish Church banned masses on this day. This had little effect on the holiday. Nowadays, it has become a public holiday and a country-wide event.
Kids in Iceland love this event as traditionally parents give summer gifts to their kids on this day as a sign of blessing of the warmth of summer. Usually such gifts include bicycles, balls, toys and other outdoor equipment.
Be sure to join in the fun on the First Day of Summer if you're ever in Iceland in April.
Summary: Iceland in April – Why is this the month for you?
Iceland is an awe-inspiring country, even more so in April as the ice thaws and summer begins nurturing the country into a stunning green land.
Not only do you get a taste of both summer (first day of summer) and winter (northern lights) but there are some unique reasons to visit Iceland in April including the cute little puffins and awesome festivals like Easter, AK Extreme, Aldrei Fór Ég Suður and Eve Funfest only available in April.
We are sure you will enjoy your visit to Iceland anytime of year but I'm sure you can agree, April in Iceland is uniquely special.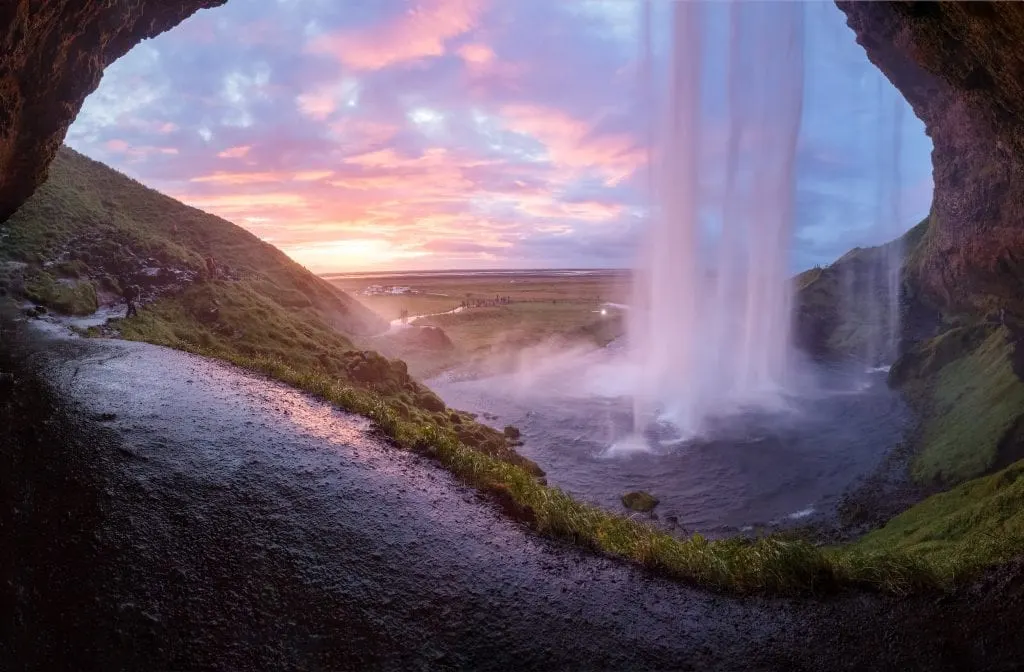 Getting Around Iceland
We highly recommend traveling Iceland by car. It gives you the freedom and flexibility to go where you want, when you want.
We would recommend using RentalCars.com for the cheapest and most reliable car rental in Iceland.
We love this provider as we can find the most affordable car and there is free cancellation available on most cars so if your travel plans change up for a few days before, you can cancel your car free of charge.
Where to stay in Iceland?
There are some seriously cool hotels in Iceland to stay at, especially if you are traveling to Iceland on a special occasion and want something a little unique and special, in Iceland you have come to the RIGHT place!
Here are our top hotel picks in Reykjavik in accordance with budget:
Budget: Skuggi Hotel Reykjavík by Keahotels
Mid Range: Canopy by Hilton Reykjavik City Centre
Luxury: Black Pearl Apartment Hotel
While venturing outside of R, it is nice to get something unique. We would recommend accommodation with a hot tub for a premium Northern Lights viewing experience. Here are our top picks along the Golden Circle.
Going to Iceland? Here are some more Resources
If you are headed to Iceland, lucky you! Here are some more resources you might like to help you plan your vacation:
Save Iceland in April to Pinterest so you can find it again later!