Iceland in June: Should you Vacation in the Icelandic Summer?
Considering a trip to Iceland in June? In most places around the world, summer is an extremely hot and unpleasant time to travel but not so much in Iceland!
After our article on Iceland in April, we had readers ask whether summer would be a good time to travel to Iceland?
In response, we have detailed exactly what it is like to travel to Iceland in June, one of the most popular times of the year for travel.
Planning a Trip to Iceland?
If you are planning a trip to Iceland you might be interested in our other guides to Iceland travel including:
June in Iceland is a perfect time for a road trip. Book your car hire here.
Weather in June
After a long, harsh winter, summer is quite a pleasant time to travel to Iceland.
It is one of our top picks for a European summer vacation as the temperature reaches a maximum of 20 degree Celsius (68F)
Sure, you won't see the Northern lights and the snow has melted but the new found heat renders absolutely magical colour to the countryside. As it is a cold, nordic country, in some places around the country you may be able to spot a speck or two of white snow which is pretty cool!
If you love flowers (hello me?!!) flowers find themselves in full bloom in June including purple Lupines that magnify the beauty of the countryside.
No-one likes rain on vacation and June affords its visitors with more daylight hours and less rain as compared to winter months which is always a win.
Again, as it is a nordic country, it can still get a little chilly at times in June so be sure to pack your warm clothes too.
What we love about June travel to Iceland is that the roads are much safer to drive as the ice has meted. We had a really hard time slipping all over the road as we drove the Golden Circle route in December. It is an ideal time to go in search of the natural beauty of Iceland that is not possible in winter.
Recommended: Iceland Car Rental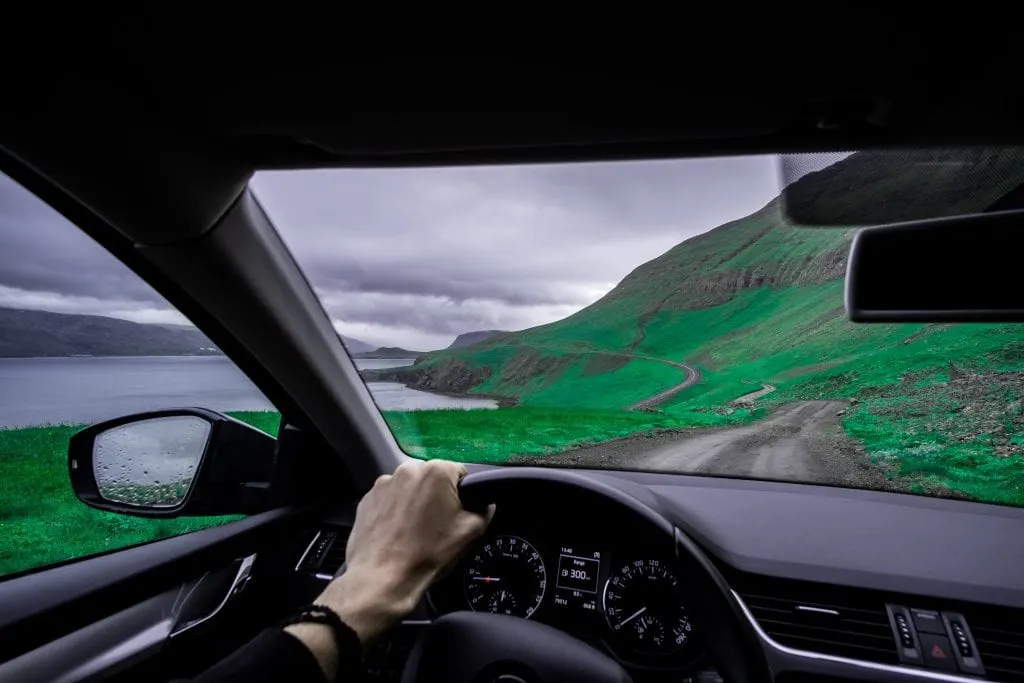 Things that Make Iceland in June a special time to travel
Okay so now we have established that the weather is lovely, here are some of the things that make a trip to Iceland in June a special time to travel.
Independence Day
When June shows its face you show the Icelandic National Independence Day is always right around the corner on the 17th.
On 17th of June in 1944, Iceland gained independence from Denmark, hence this day is celebrated with great vigor all over the magical island.
The date was chosen as the birthday of the leader of the independence movement, Jón Sigurðsson.To this day, he is honored on this fervent day by the wreath that the Chairman of the City Council places on his grave during the great parade.
But what does this mean for you?
Well, being in Iceland on the 17th of June is a pretty special time to be there.
It's a festive day in Iceland and there are many festivities to enjoy around the country with food stalls selling ice-cream and hot-dogs, puppet shows, children's playgrounds and a circuses.
Every year, a woman is appointed Fjallkonan (the woman of the mountain) to illustrate the fiery and fierce nature of the Icelandic people.
The Icelandic flag is hung high at the full mast and fireworks light the sky of Reykjavik in the evening.
To end the day on a happy note, a concert at Austurvöllur is staged with Icelandic artists and an accordion ball is held at the City Hall.
Highly recommend scheduling your travel to include Iceland National Independence Day.
The Midnight Sun
So June may not bring with it the amazing northern lights but it comes with something else pretty special – The Midnight Sun!
The infamous Midnight Sun that is visible around one and a half month before and after the 21st (the summer solstice) in Iceland.
It's unique phenomenon worth seeing if you are travelling to Iceland in June, July or even August.
With the sun up in the sky at all times – figuratively – visitors have an unexpected chance to explore Iceland 24/7 since it is bright all day long, including the night.
The sun still sets and rises to an extent but not like it does in other months. The sun usually sets around midnight and rises around 3:00am but it is still considerably bright at night.
If you love photography, seeing the midnight sun is a must do in Iceland!! You might want to organise a really unique place to stay in Iceland to truly master the shoot.
The science behind this marvel is just as interesting as it is. It occurs due to the change of seasons and because Iceland lies just on the boarder of the Artic Circle. It's not in the Circle but near it.
Something that may be of interest: The 2020 Suzuki Midnight Race will be stationed at Laugardalur, Reykjavik on 25th June.
If you are interested in taking part in the event, three types of races are held: a half marathon (participants have to be older than 15), a 10k race (preferable for participants to be higher than 12), a 5k race (for all ages). This race attracts participants and crowds from all over Iceland and the world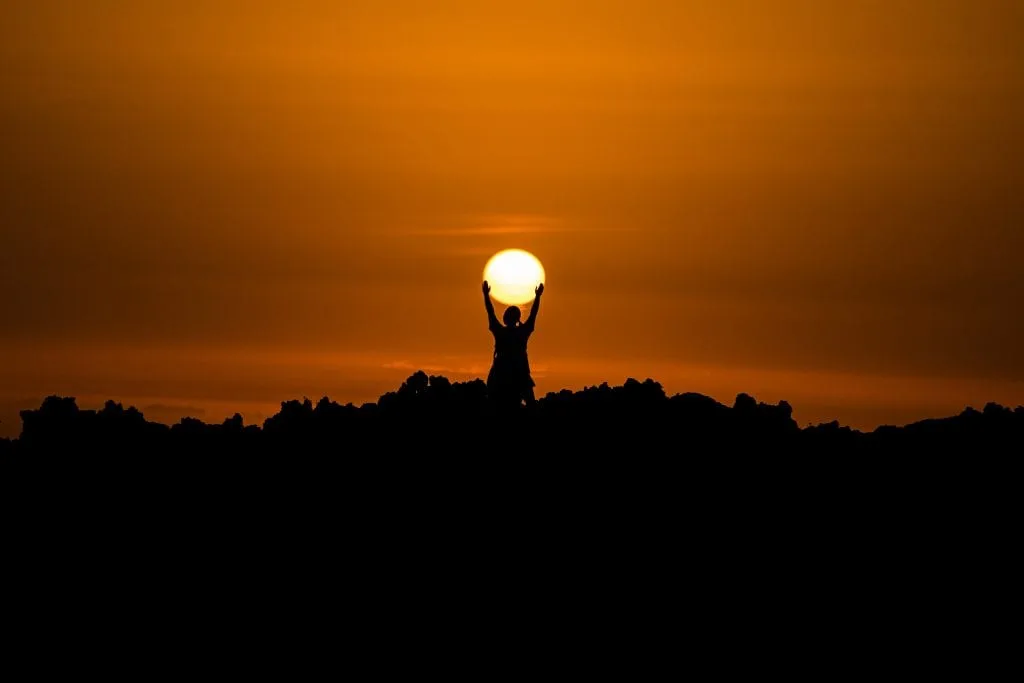 Secret Solstice Music Festival
From 26th to 28th June in 2020, the Secret Solstice Festival will hit it off in Laugardalur, Reykjavik with a huge bang.
Even more of a reason to travel to Iceland in June if you love music festivals!
This music festival is often dubbed as the Midnight Sun Music Festival since it always happens when the Midnight Sun reigns supreme in the sky.
Local and International artists come to this festival to bless their fans with awesome music.
Approximately 150 acts are staged at the park and over the years famous artists like the "The Prodigy" and "Radiohead" have performed in this one-of-a-kind festival.
Besides the music, three distinct side events make this event even more exciting for the crowd. These events are not included the fee of the ticket and seats are limited so you want a chance to be a part of them, be sure to book ahead.
The Lava Tunnel features a concert inside an 52000-year-old lava tunnel also known as the Raufarhólshellir Cave. The inside of the cave shines with astounding colors that can take one's breath away. On the down side, only 50 guests can fit inside the magnificent cave and be given a tour of the Lava Tunnel.
The Geothermal Pool Party

is exactly as it sounds, 82 people will party and enjoy in a swimming pool but with an additional bonus of music by artists like British DJ Lee Burridge and dancing.

Iceland has a lot of glaciers and its people decided to put Langjökull, its second largest glacier to some good use by organizing an

Into the Glacier

event. In it, the 100 to 120 or so guests will be treated with songs by Martin Garrix and the awe-inspiring scenery of the inside of the glacier. The Secret Solstice Festival is worth attending so mark it up in your bucket list.
Snorkeling in Silfra
You might have snorkeled before but have you ever snorkeled between two tectonic plates? Probably not.
Silfra provides you with a unique opportunity to do this if you're up for the adventure!
Silfra is an opened rift between the Eurasian and the North American plates and has perfect snorkeling a number of reasons.
The water of Silfra is very clear meaning that you can actually see your surrounding under water very distinctly.
The prime reason for this is that the water simply comes from underground. The melted water from Langjökull can take up to 50 or 100 years to make a 50km journey through the lava field, which as some of you might know is the best natural filtration plant on the planet.
Entirely pure water flows into the fissure and a gentle current is there in this natural spring rather than the water being stationary.
Via this gentle current, you can just lie on the surface of the water and let it carry you across.
It's a nice and comforting experience to just lie back and experience the magic of the fissure.
June is an ideal month to go snorkeling because the water is at 2 to 4 degree Celsius which might seem cold but this as warm as its gunna get! Wet suits are provided for warmth.
Don't miss an opportunity to snorkel in Silfra when you visit Iceland in June.
Recommend: Silfra Snorkeling Tour
Fishing in June
Fishing is a historical activity in Iceland as the first settlement in Iceland survived on just fish and wool.
Is anyone else thinking of Flokie right now?
If you want to catch some cool fish, we would recommend scheduling fishing into your iceland in June trip.
Most of Iceland's rivers and lakes are frozen in the winter months and fish youngling usually hatch somewhere in the summer months (from April to October) – of course the time is different for all species.
Fishing is both a leisure activity and done for commercialization but fishing is highly controlled and moderated in Iceland. Hence, to make sure that no species dies out due to over fishing, Iceland has a few strict laws with regard to fishing that you need to be aware of.
We would recommend harbour fishing in Iceland in summer as opposed to fishing in a lake or river since you will an expensive permit for this type of fishing.
Don't bother to lug heavy equipment with you on a Ryanair flight as lots of companies have rods available to rent.
Wondering what type of fish you will catch in June in Iceland? June is the month of trout fishing and the arrival of the first salmon in Iceland.
If you are particularly interested in trout fishing mid June is a better time to go.
Recommend: (if you want to go sea fishing rather than DIY): Iceland Sea Fishing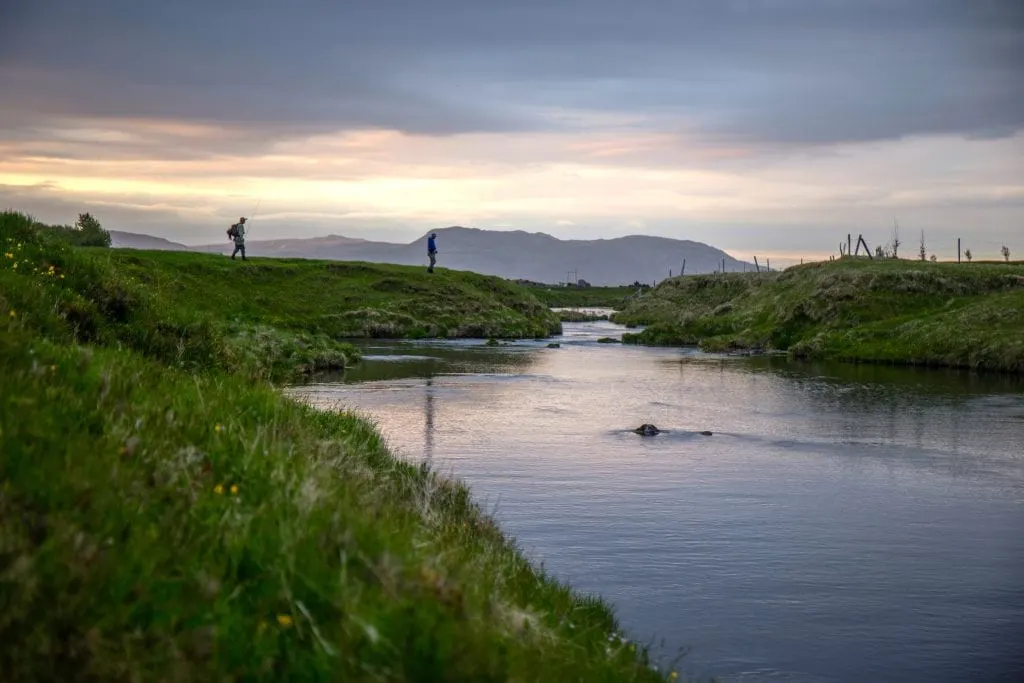 Fisherman's Day
What did I tell you fishing is popular in Iceland. They even have a day dedicated to it!
On the first Sunday in June, Iceland celebrates Sjómannadagurinn (Fishermen's Day) to honor all the courageous souls, who have worked effortlessly to support the fishing industry in Iceland. This industry is very important and can even be called the lifeline of Iceland.
Why should you care?
Well, it is a great time to travel as to honor the brave people who risked their lives at sea, most towns throw a town-wide celebration with various sorts of entertainments in which children and adults can become more familiar with the mysteries of the ocean, all the while devouring a hot-dog or two.
People from the fishing industry usually give a speech and traditional seas shanties (a song sung by sailors while doing hard work). Seeing a shanty sung is a pretty cool experience.
Reykjavik has taken this 'Day' to a whole weekend and called it the Festival of the sea. This festival takes place at the Old Harbour, where there is something for everyone.
The Ugly Fish Display is an interesting event in which you can see strange creatures caught in the trawler's net.
Other than this, there are musical acts and you can eat seafood from restaurants and street vendors will offer you barbequed delicacies.
Other than Reykjavik, Grindavík, about 45 minutes from Reykjavik, is a fishing town that is an ideal place to celebrate this special day that honors the fisherman of the past, present and the future.
Lobster Festival in Höfn
Iceland really admires the sea and the creatures that live there and Höfn will top off its birthday in 2020 with lobster and langoustine on the 23- 25 June.
Live music concerts are held with lots of tasty lobster to boost the fun.
You can relish the Icelandic lobster from Humarhöfnin (the Lobster Harbour) while the Pakkhúsið Restaurant can treat you with S-class local langoustine.
However, if you're craving lobster rolls, head over to Hafnarbudin at Ranarslod 2 in Höfn. You can find seafood in any part of Iceland but if you're a lobster lover, Höfn is the place to be.
Lava Caving
Iceland is a country of opposites and you will find both ice caves and lava caves there.
While you can't visit an ice cave in June (they can only be viewed in the winter months until April) the lava caves are open for caving in summer.
In June, the caves are accessible for exploring the lava tubes that have shaped Iceland into the country it is – talking in terms of geography.
Huddled in Hallmundarhraun lava field in West Iceland, Víðgelmir is the largest lava field cave in Iceland. It is referred to as The Cave and guided tours are present for tourists and locals alike to take advantage of.
The scenery inside the cave is exotically beautiful and invites a person to think upon what forces created them.
Aside from their beauty, the reason for their origin is also intriguing. When a river of lava flowed after a volcanic eruption, the lava on the surface cooled and after the eruption stopped, a lava tube would form.
Other than The Cave, you can drop by the Raufarhólshellir Lava Cave or the Vatnshellir Cave right under the Snæfellsjökull glacier in the Snæfellsnes peninsula. You might want to visit it to find out why it's called the "Into the Underworld" cave.
In Mývatn, the Lofthellir Cave is where you can come face to face with ice sculptures inside of a lava cave. This cave is the only such recorded in history.
Tip: when visiting any cave, be sure to take guide with you or sign up for a tour because you don't want to down there with sense of direction.
Recommended:
A Picnic in Austurvöllur Park
Austurvöllur is a renowned picnic and sunbaking hot-spot in Reykjavik, the capital city of Iceland.
This park is more popular with the locals than the tourists, who go to the park to socialize and have picnics with their family and friends. Some spread out blankets or sit directly on the grass or on the chairs in the cafes that are in the park.
It is a good place to relax and bathe in the sunlight that is a gift for Icelanders after a frigid winter.
Food at the cafes in pricy so if you don't wan to empty your pockets buy something from the supermarket or bring a picnic basket with home-cooked food with you.
You might want to spend a few bucks – about $2.50 – to buy hot-dogs from the Bæjarins Beztu Pylsur as the local do. Trust me when I say that it will be worth it since its literally the best hot-dog in town!
Color Run Reykjavík
The Color Run will start on Iceland on 6th June in 2020. In every kilometer of the 5 kilometers that the contestants have to run, they are showered with colored powder of various shades.
It happens in other parts of the world as well and was inaugurated in 2012 and is now hosted in 300 cities in 50 plus countries but why not try your first colour run on your trip to Iceland in June?
In Reykjavik, this event transpires to bring happiness in society and also to support local charitable organizations that are involved in children welfare and rights.
In 2017, it gathered $60.750 for the Benefit Society for Children with Disabilities and the Icelandic Red Cross.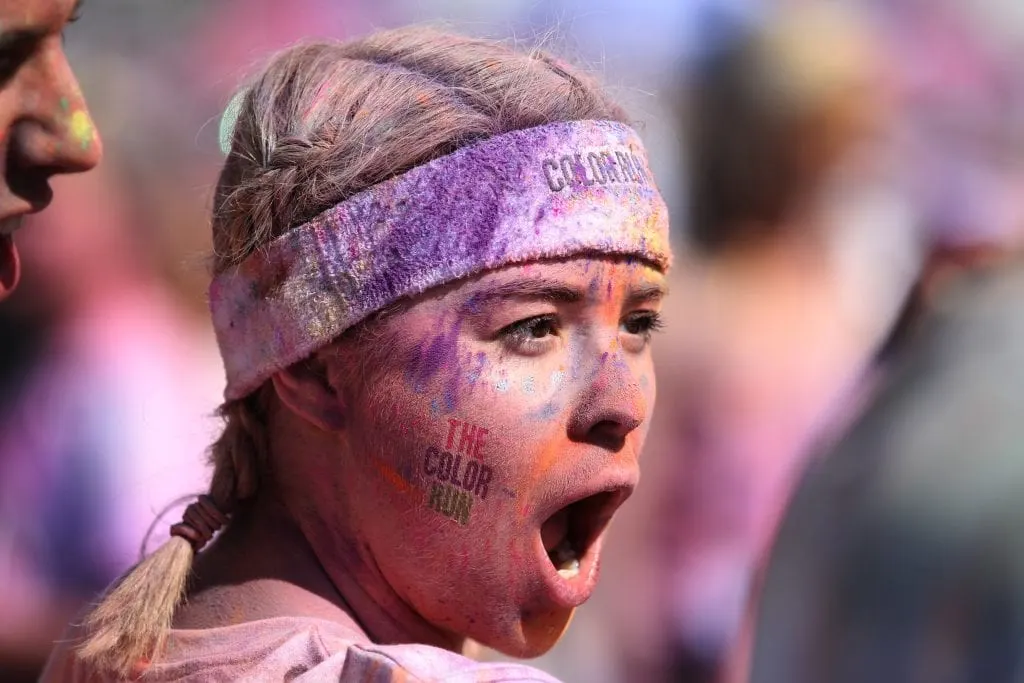 Reykjavik Art Festival
Dubbed as one of the oldest art festivals in Europe, the Reykjavik Art Festival is a depiction of Art in all its forms.
In 2020, it will last from 6th to 21st of June and Reykjavik will be redecorated in its essence.
Every year, the festival organisers give a theme to all the artists who wish to display their pieces at the exhibition. In 2020, the theme is "Heimar" in Icelandic, which can be translated to "World".
The theme is a testament to the history of the world and the direction it is leading to.
The theme asks the artists to understand the worlds we live in and the various possibilities associated with each of them. It's an interesting theme and is open to interpretation from every angle.
If you're an aspiring artist, be sure to apply but if just you admire Art like us, traveling to Iceland in June for the festival is the perfect time to go.
The festival is a multidisciplinary festival in the sense that it does not only exhibit visual art but also other forms of Art.
In Reykjavik at the time of the festival, you will find not only the traditional static pieces in the museums, but also public shows, music, literature, performances and street installations which are pretty cool.
In the Reykjavik Art Museum, you can even hang out at the Festive Hub, ad hoc pop up bar where snacks, drinks and routinely music shows are present.
Moreover, the Harpa Concert Hall and the Reykjavik City Theatre also organize editions from John Cage and Nina Simon.
When you are not enjoying art in Reykjavik City, we would suggest heading to the blue lagoon for a dip. While the lagoon is particularly cool in winter, we would recommend it for a visit year round.
You can't go to Iceland and miss the blue lagoon now can you?!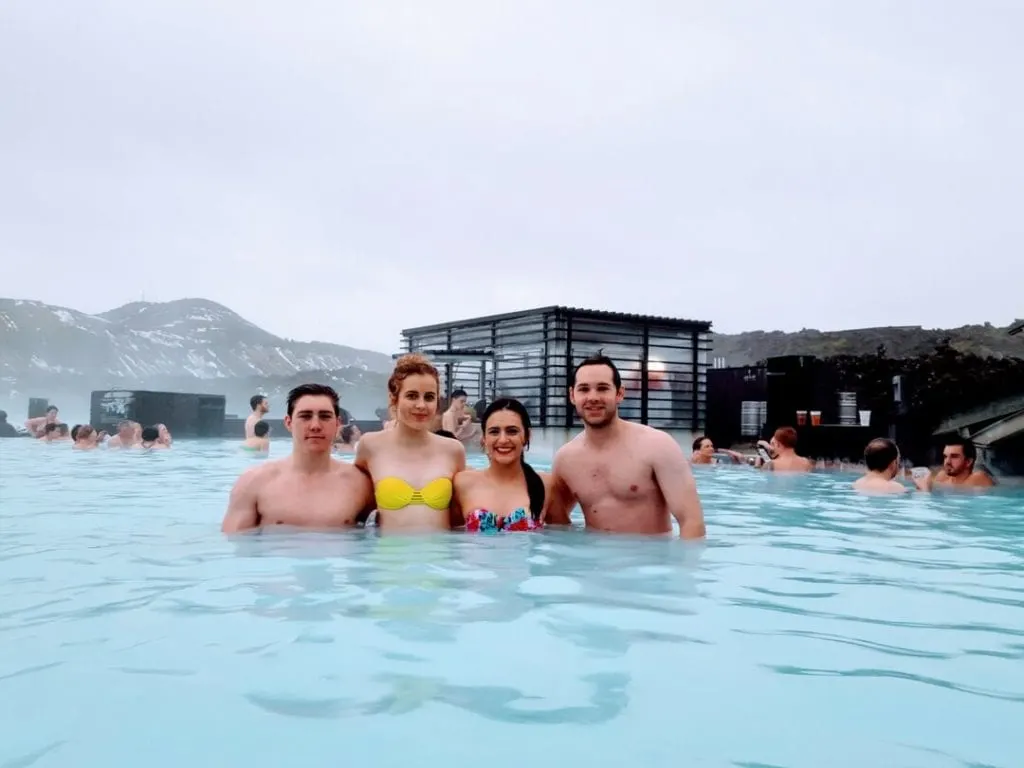 Hiking in Iceland in June
If you love hiking, June is a good month to go hiking with more hours of sunlight, stable weather and less snow fall.
Hiking treks in June are easier to access and offers a much better chance to explore the natural beauty of Iceland as the ice has melted and does not hinder hiking like it does in the winter months.
Many roads to the Highlands open in June along with the Laugavegur trail, which leads to the Landmannalaugar and Þórsmörk nature reserve, a nice place to witness mystical scenes.
Glymur in west Iceland has treks for all levels of trekkers like the Húsafell hiking trails. Some of the well-worn treks with growing flowers lead to the striking Glymur Waterfall.
The Mountain Esja, near the capital is the most visited hiking trails in Iceland. Mt. Esja is the resident mountain of Reykjavik with varying views every day.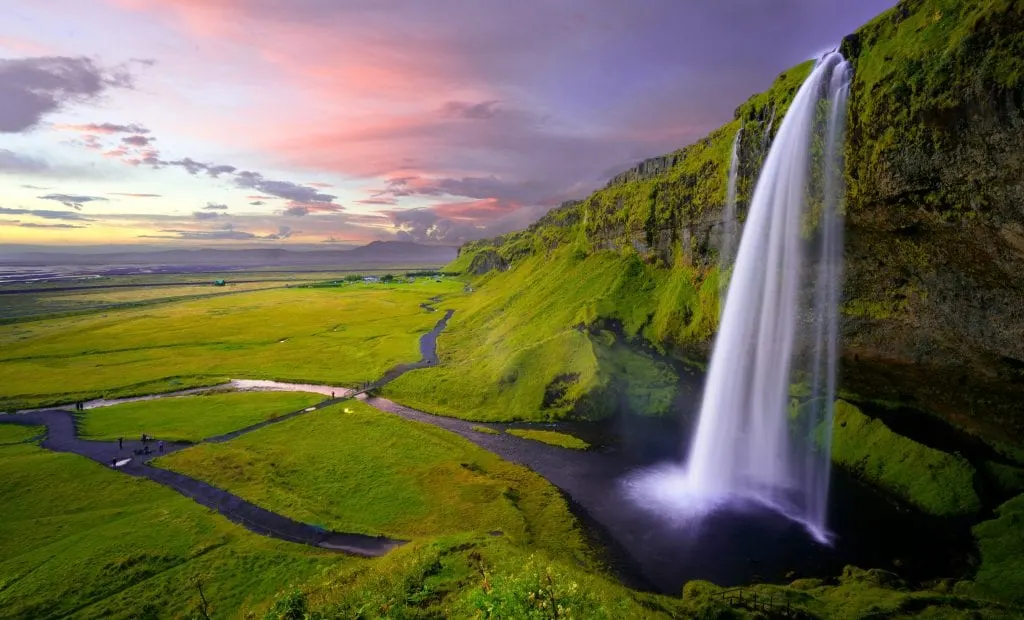 Viking Festival
Viking Festival in downtown Hafnarfjörður takes place on the second weekend of June celebrating the Viking culture and traditions.
If you love the tv show Vikings you simply can't miss this festival.
This festival is the biggest and oldest of its kind and it will teleport you in the past when Vikings lived in Hafnarfjörður.
In the festival, you can delve into Viking food, music, ships, crafts, weapons, games and storytelling.
The main attraction for most guests is the Battle Reenactments in which people can learn to throw spears and axes and shoot with a bow and arrow and even have their fortunes told!
Besides the teaching, in the Viking reenactment battles, Vikings put on a realistic display of a real Viking battle twice during the festival. As of yet, no real blood has been spilt in the battles.
After the battle, the Vikings lie dead on the field and then suddenly get up and start running towards the crowd. Don't be scared of seeing equipped Vikings coming towards you as its part of the fun.
To take a break from the festivities, you can dine at the Fjörugarðurinn restaurant, which can seat about 350 guests.
If you have a flare for adventure be sure to request the a "Viking Kidnapping". In this strange event, when you get out of the bus in front of the restaurant, a Viking will kidnap you and bring you into The Cave, where the Vikings sing Icelandic folk songs and serve you meat.
Iceland in June: Yay or Nay?
If you don't miss missing the snow and the beautiful northern lights, June is a great time to travel to Iceland.
While you miss these things, there are lots of benefits of traveling to Iceland in June like the mild weather, green pastures and abundance of festivals and events on.
***
Did this article help you decide whether to travel to Iceland in June? If you decide to go let us know!
Pin to Pinterest (So you can find it again later!)