Considering Iceland in winter as your next holiday destination?
Iceland has to be one of the most spectacular destinations in the world (great for a honeymoon); however, also one of the most expensive & most treacherous. In order for your stay in Iceland to be perfect, there are some necessary 'do's and don'ts' to be aware of to ensure that your winter vacation to Iceland is perfect and (relatively) budget friendly. If you are not careful a fun weekend trip to Iceland in winter can make your bank account look very sad by the end of the trip!
We traveled to Iceland during the winter months and absolutely loved the trip. With that being said, there are important things to keep in mind if you are planning a vacation to Iceland in winter as well as some unmissable activities which we will also cover below. I literally cannot wait to get back to Iceland in winter. We have been to a lot of places around the world and this definitely is at the top of the list!
The best Iceland travel tips in winter right here!
Iceland in Winter Travel Tips: Dos and Don'ts to Winter Iceland Travel
DO:
1. Get a suitable car (4WD + snow chains)
In Iceland destinations that you may want to reach are far apart making it impossible to get anywhere without a car. A smaller car may suffice in summer months; however, in winter the roads can get very slippery due to iced roads and it is therefore imperative to hire a four wheel drive.
To ensure absolute safety when on the roads in Iceland snow chains should also be applied to the tires.
You can read our guide to renting a car in Iceland for more tips.
Tip: Looking for a great car rental? We booked with Rental Cars, Booking.com's car rental booking service and were provided with a new & reliable car with good tread on the tires and GPS navigation built into the car.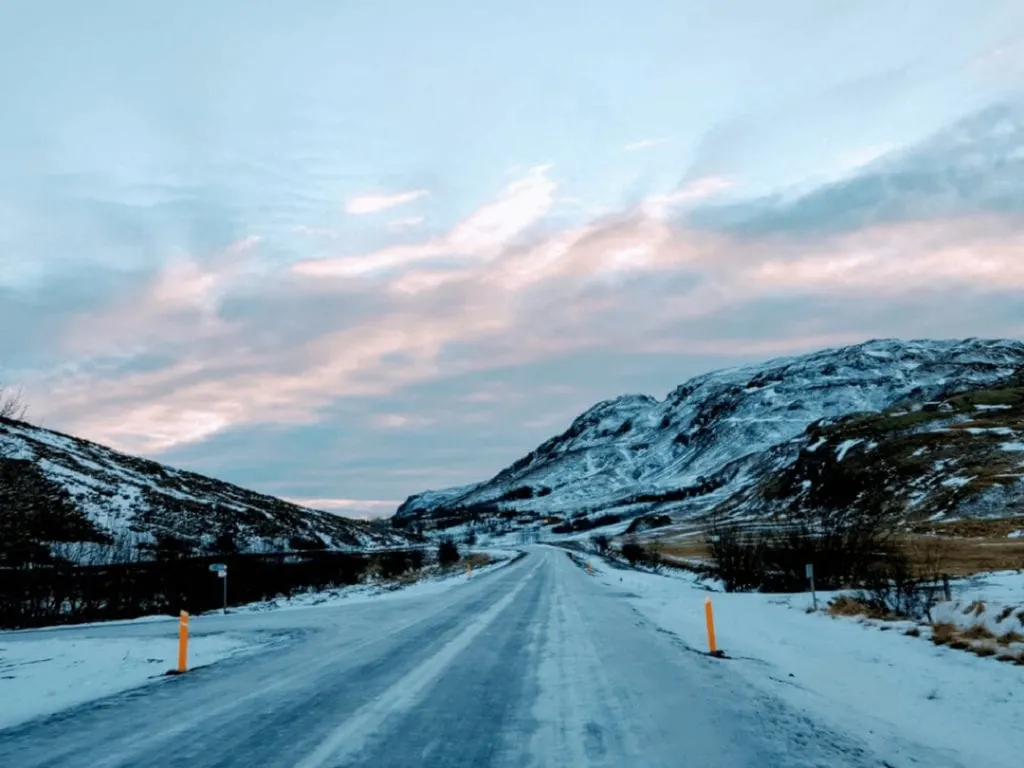 2. Make sure your car has a navigational system
If you decide to do Iceland independently (without a tour) make sure you have a navigational system in the car. We got lost on numerous occasions even once late at night making it impossible to see the few signs that were provided.
The roads are quite long & not well lit making the small unpaved turn offs (often without street signs) possible to miss without your navigational system.
Tip: Looking for a great car rental? We booked with Rental Cars, Booking.com's car rental booking service and were provided with a new & reliable car with good tread on the tires and GPS navigation built into the car.
3. Stay near the Golden Circle
If you decide to visit Iceland the golden circle is a must visit tourist circuit, which holds many of Iceland's main attractions. It is encompassed by the Gullfoss waterfall, Thingvellir National Park and Iceland's infamous Geysirs.
As many of Iceland's best attractions are in the Golden Circle region, to save on fuel & ensure that you make the most of your time, it is highly recommendable to stay in the Golden circle.
The Golden Circle drive was definitely the highlight of our time in Iceland. If you haven't got very long to spare, the circle can be completed in only a few days. If you want a longer route, you can alternatively ring the popular Ring Road.
Driving the Golden Circle is a piece of cake if you know where you're going. We spent so much time plotting all the best things to do along the Golden Circle into Google Maps.
Lucky for you dear reader, you can now easily view and save our Golden Circle Map straight to your phone. See our Golden Circle Route Map below. Let us know if it helps you!
Tip: For the best places to stay in the Golden Circle see here!
4. Stay at a place where you can gaze up at the Northern Lights (preferably with a Hot Tub)
There is seriously nothing better than staying in a jacuzzi hotel in Iceland where you look up and see the Northern Lights above. We made a whole list of cool hotels in Iceland to check out.
The Reykjavik Domes ticks all the boxes in this regard with super cool accommodation including hot tubs outside facing the night sky so you can watch the incredible Northern lights.
As the name suggests, these domes are huddled within Reykjavik so the beauty of the domes is that you can also visit the highlights of Reykjavik including the Harpa Concert Hall, the National Museum, Hallgrimskirkja and Perlan or you can bathe in the Laugardalslaug Geothermal Pool.
Tip: You might like to also check out airbnb for a good accommodation deal. As Iceland is an expensive country, your best bet to reasonable priced accomodation is to look on airbnb. We stayed in an amazing 2 bedroom guest house (ideal for 4 people) which we couldn't have been more pleased with.

Not only was this guest house cosy and warm but there was a hot tub outside which was just amazing to sit it at night and look for the Northern lights. The backyard lead onto a river which was great for an afternoon stroll. Furthermore, we found the homeowner & Icelandic people in general to be very welcoming and friendly so staying in an airbnb is a great option in this country.
5. Visit the Blue Lagoon
The Blue Lagoon really does live up to its name and is well worth the price due to the fact that you can stay all day. Steam coming out of the baby blue water sure makes the blue lagoon feel truly like a magic place. Disclaimer: It does require you to run into toasty water as fast as humanly possible to avoid the ice cold air in Iceland.
One tip when visiting the blue lagoon is to buy a water proof case for your phone & a selfie stick. While they do sell them on premises, the prices are ridiculously expensive. Taking a million pictures while frolicking through the baby blue water is obligatory!
When visiting the blue lagoon there are a few options to chose from. We paid 50 Euros a person, which was the comfort package. This included entrance to the lagoon, silica mud mask, the use of a towel, first drink free and an algae mask.
Although the algae and silica mask were quite small (Sample size) they were well worth it. I would definitely recommend getting the comfort package over the standard package as it saves you from bringing your own towel and provides you with extra samples. Be warned though: your towels may get stolen; however, the staff are more than willing to give you another if you provide proof that you bought the comfort package. More premium packages than this are available; however, if you are on a budget it is probably worth saving your money for other activities.
One super cool aspect of the blue lagoon was the free mud masks available in big barrels that you could apply while in the water. You could lather this on as much as you want (and oh yes we did!) and leave it on for 5 minutes to purify your skin.
This truly was a day of self-pampering & one that we will always remember. NOTE: after you do go in the blue lagoon it can make your hair quite dry so do condition it afterwards, or perhaps not get your hair wet at all.
6. Take a tour on the amazing Icelandic Horses
The horses in Iceland are truly majestic and the scenery that surrounds you whilst on this tour is something that you will never forget.
Some of these tours can be quite pricey; however the one that we did was reasonably priced. We did a three hour tour with Solhestar which cost 11,000 ISK ($90 USD). This included the tour guide picking us up from our hotel and dropping us back.
If you are interested in doing a tour that involves pick up and drop off from Reykjavik, it is best to plan this on your second day, before you drive out to your golden circle location.Even though we were absolute beginners the lady did allow us to eventually gallop the horses which was a lot of fun! In winter they provide you with high vis outfits which are also very warm as the wind can get quite cold.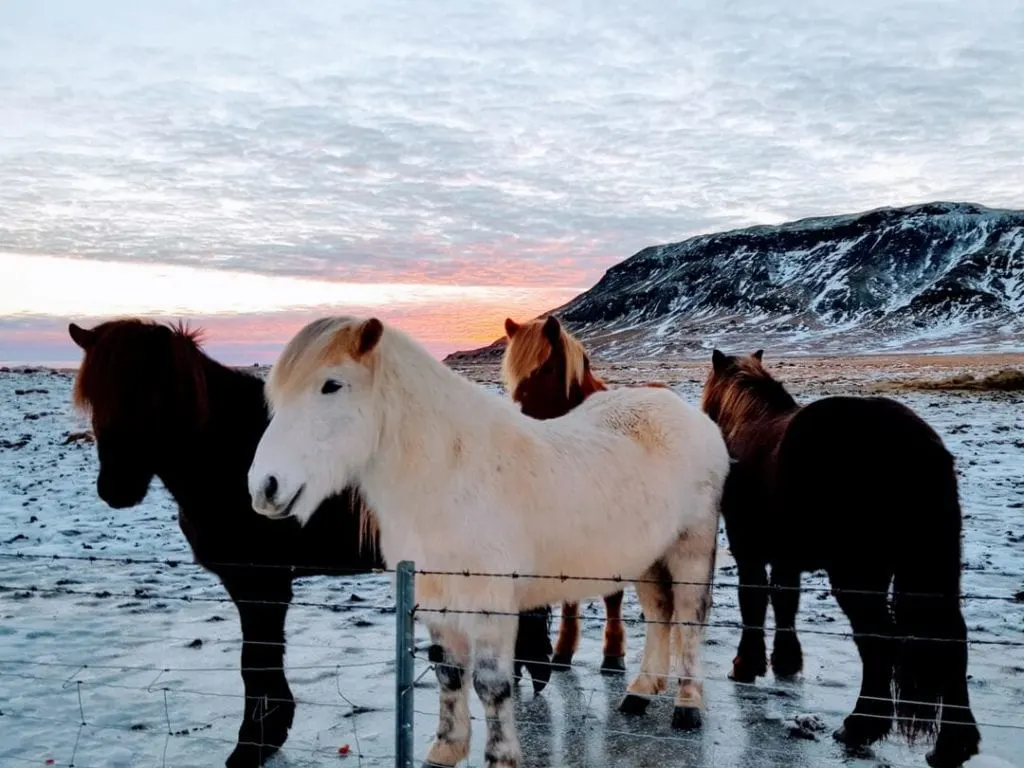 7. Try the Icelandic Pepper Cookies (Piparkokur)
The Icelandic Pepper cookies are so delicious that you could definitely live on them. We were introduced to this biscuit when we were offered some after our horse riding tour. We were told that the cookies are typical for around Christmas time. They are indescribably delicious (they taste quite gingery) and can be purchased at any supermarket or convenience store.
8. Research the flights for a while before you go
The prices of flights to Iceland can be quite expensive, even from countries nearby. We researched this for a while and the flights that we got were only reasonable.
I recommend to use apps like 'Hopper' when researching flights. This convenient app tells you if prices are likely to drop or increase in the following weeks. It can also send you a notification when prices of flights have gone down. We flew from Gatwick, in London, to Reykjavik and one way this cost $114 USD.
DO NOT: Iceland in Winter Travel
1. Drive on roads that are marked unsafe in winter
The roads in Iceland are VERY slippery and due to this they do mark some roads unsafe on certain days so it is important to look this up and do not drive on them.
Unfortunately, we accidently ventured onto one of these roads and even with tire chains and a four wheel drive our car drifted all over the road- very scary when there is a lake either side of the road.
2. Get up too late
Sun doesn't stay out for long in Iceland and it is important to get as much out of your day as possible. If you do decide to travel in December just remember the longest day gets an average of 4.58 hours of daylight.
3. Enter a sauna or pool without showering first (in particular the blue lagoon)
It is protocol in Iceland before entering public swimming areas that you must wash thoroughly. Icelandic people are accustomed to showering naked but they will have locked doors so this is not a must.
4. Spend your whole time in Reykjavik
Reykjavik was pretty but not somewhere where I would spend my whole time. I spent 1 day here and this was enough.
5. Be turned off by the smell
Be warned because of the sulfur in Iceland there is times when all you can smell is rotten egg. Trust me you will get used to this and it is nothing compared to the beautiful scenery and destinations that you will get to visit.
Iceland Travel Restrictions and Requirements
As of 2023, Iceland's borders are only open to travellers from EU/EEA and Schengen states, and approved countries.
***
See more Iceland Travel: