Koh Lanta is unlike other Thai Islands we have visited. It has a very chill & relaxed vibe.
In low season (May 16 – October 31 ) a few things to do on the Island are closed. Despite a few areas being closed (for instance, Koh Rok) it is a fabulous time to visit due to the lack of crowds.
If you are traveling in this time, here are 9 Incredible Things to Do that are all possible to do in Koh Lanta's low season.
While in Koh Lanta we stayed at the amazing Crown Lanta Resort. Keep reading to see pictures of this place (believe me, you will want to stay here!)
9 Incredible Things to Do in Koh Lanta in Low Season
There are lots of awesome things to do in Koh Lanta in Low Season. Here are what we consider to be the 9 Most Incredible Things to Do in Koh Lanta's Low Season.
1. Take an Island Tour from Koh Lanta
The water in the island itself if nice but it is not mind-blowingly good. If you want to see crystal clear blue water, you will need to go on an island tour.
We went with Opal Tours and it was an absolutely fabulous experience.
We visited in off season so a few sites that were not possible and we still had a great time.
The landscapes & beaches were saw on our tour were stunning.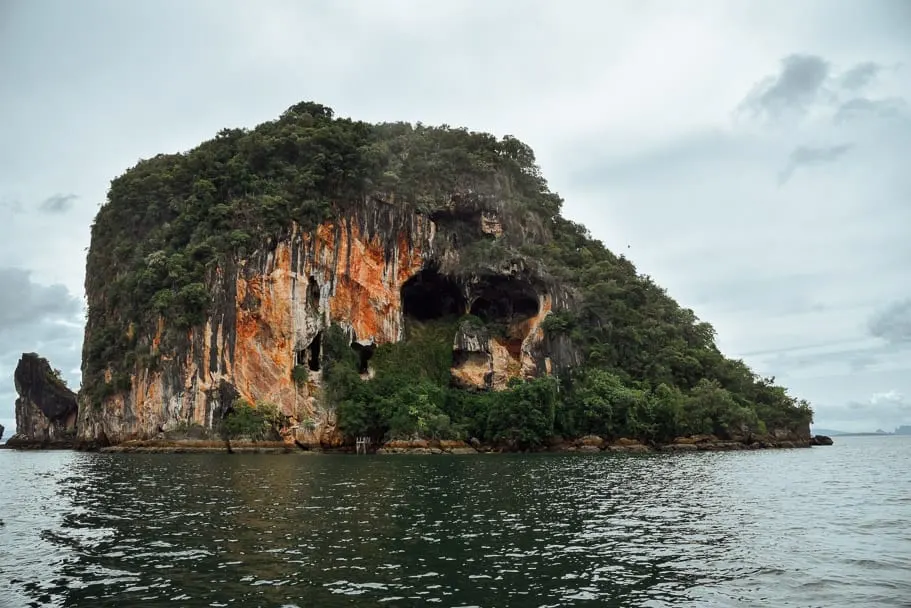 The tour consisted of admiring the jaw dropping scenery, a cave, a monkey infested beach & two main islands which were the highlight of the tour.
The first island we stopped at, BuBu Island was for swimming & relaxing. The island is very pretty as the water is an emerald green with gorgeous yellow tinged sand.
We loved that there was hardly anyone at BuBu island. We were one of the few tours that pulled in so a quick walk down the beach and you had the whole place to yourself. Also a benefit of traveling in low season!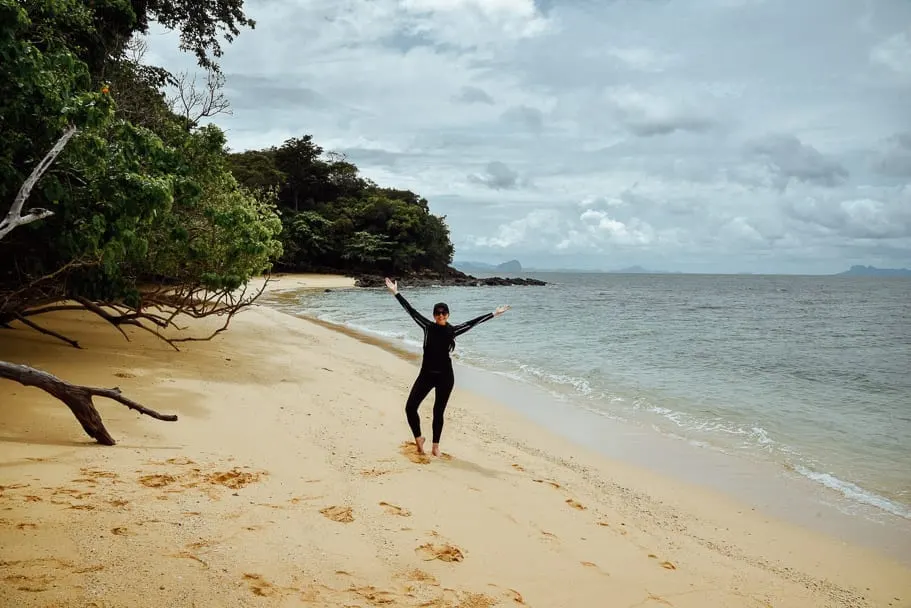 The next island was lunch but also our favourite stop of the tour – Koh Ngai. The water was breathtakingly beautiful on this island.
Here, you also get an opportunity to snorkle and see absolutely stunning colourful reef fish.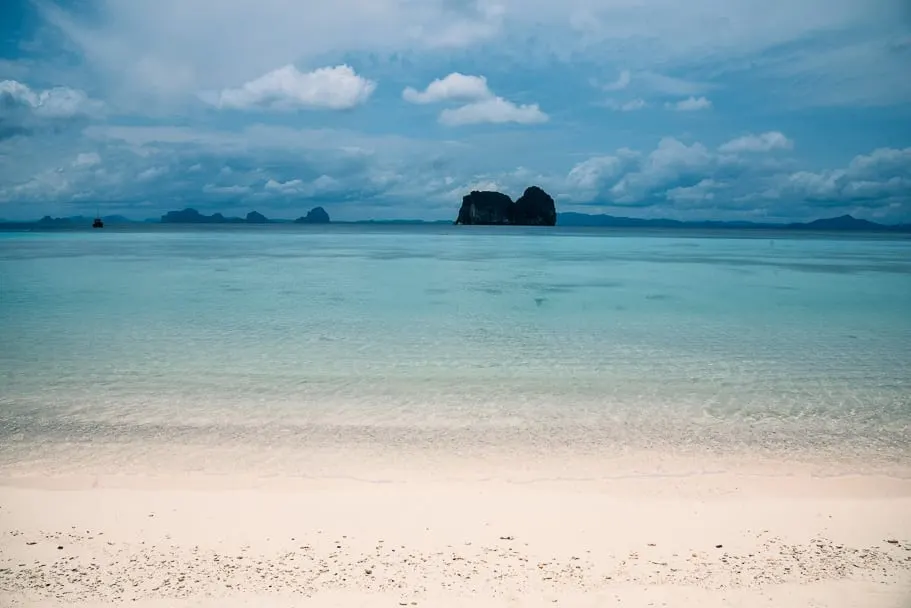 Opal Tours was fabulous because not only was the speed boat top quality, the guides great and the lunch was very delicious too!
Lunch consisted of a few dishes including outstanding Massaman Curry!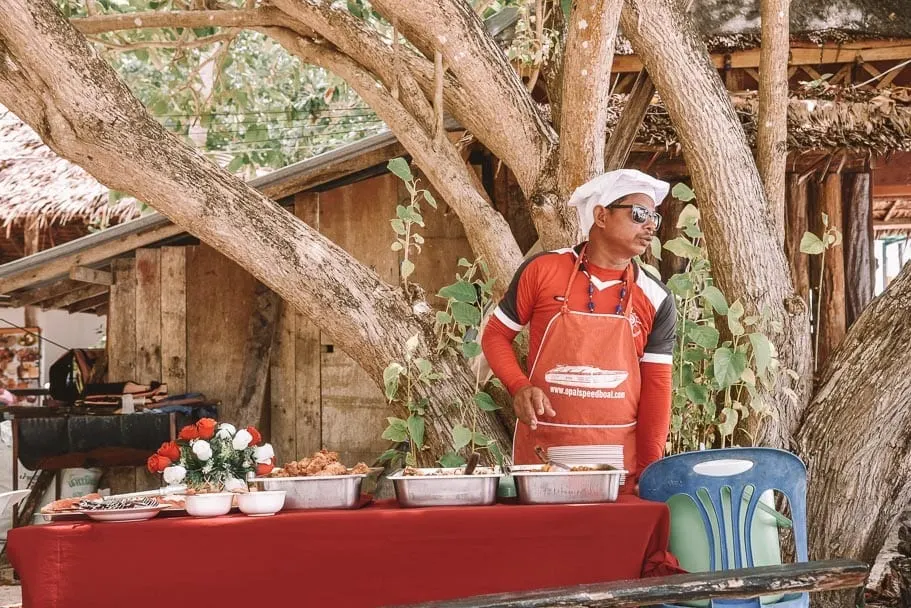 2. Koh Lanta National Park
One place that we would highly recommend visiting while in Koh Lanta is the Koh Lanta National Park.
We rented motorbikes for the day to visit this gorgeous area of Koh Lanta.
To enter the National Park there is a 200 baht entry fee.
Inside the National Park is a gorgeous lighthouse (which you can climb to the top for an awesome view of the bay), a stunning beach & a nature walk.
There are also monkeys that roam the park. Be very careful as one attacked us as we went close to take a picture.
In low season, there is hardly anyone at the National Park.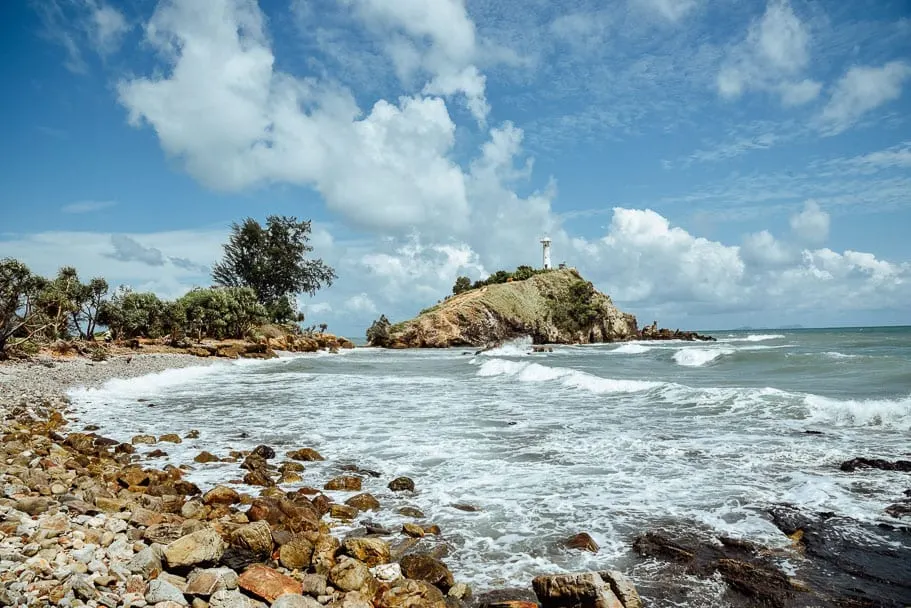 3. Lanta Animal Welfare Centre
One of the unique things to do in Koh Lanta is to visit the Lanta Animal Welfare Centre.
The welfare centre was set up to assist home the stray animals on the island. They also organise a desexing program to control the number of stray animals on the island.
Here you can volunteer to walk a puppy/dog or simply enjoy playing in their cathouse.
There is also a cafe where you can buy a drink to support the welfare centre.
If you choose to walk a dog, there is numerous routes to enjoy. Be careful not to go on the wrong route as the dogs are separated accordingly. We accidentally walked the wrong path and got in trouble by the volunteers at the centre.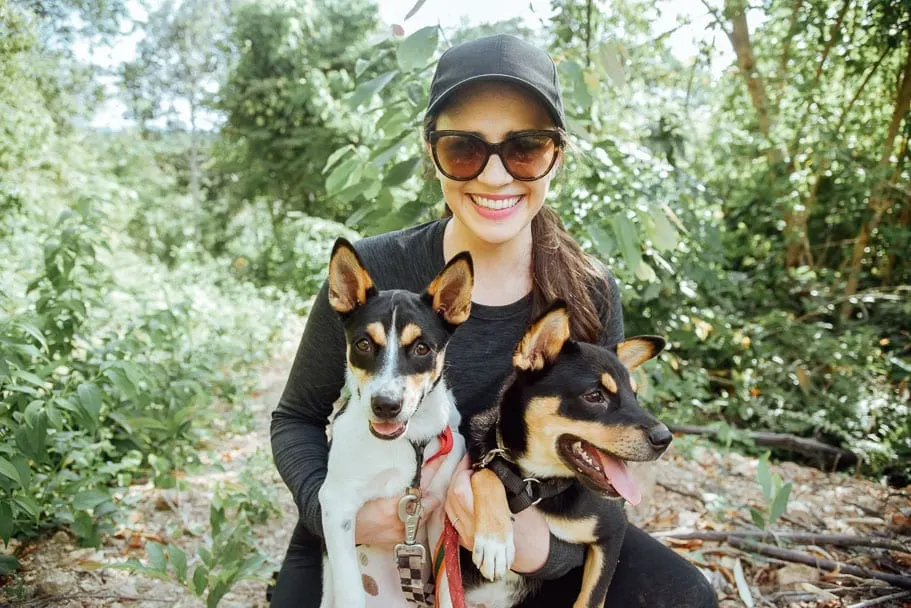 4. Night Activity Koh Lanta: Visit a Bar for Sunset
Koh Lanta is known for having amazing sunsets.
At the end of a busy day of sight seeing it is perfect to kick back and relax at a bar over a gorgeous sunset.
A great place to enjoy a sunset in Koh Lanta is Reggae Bar at Crown Lanta. Even if you are not staying at the hotel, you can still visit to enjoy a cocktail while watching the sunset.
Little huts (where you laze on cushions & mattresses) by candlelight overlook a rocky beach where waves come crashing in – it is the most relaxing place on the island to watch the sun set in Koh Lanta.
The bar even offers a happy hour each night from 6:30pm to 7:30pm where drinks are half price.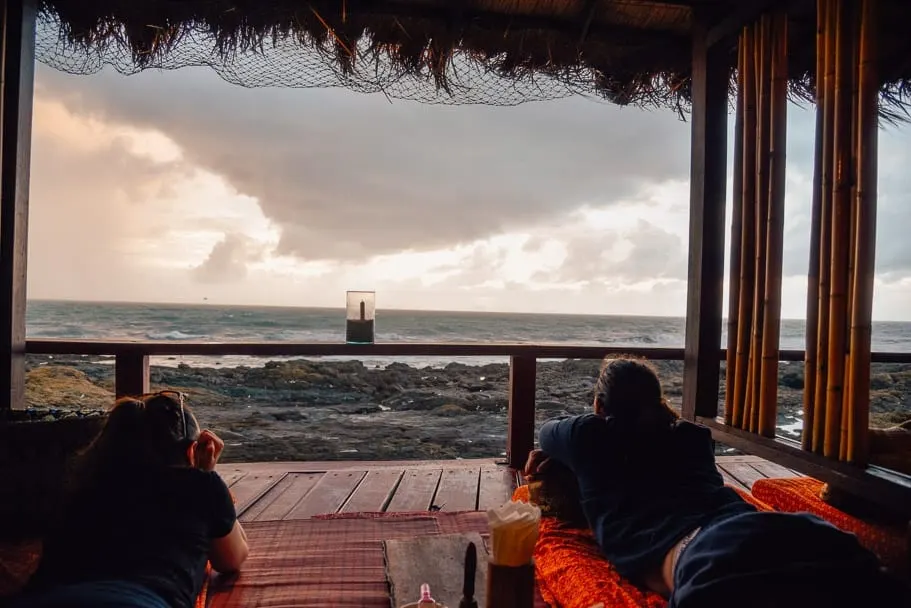 5. Stroll the Old Koh Lanta Town
It is worthwhile to take a quick stroll in the small but quaint old town of Koh Lanta.
In the little old wooden houses that line the waterfront, you will find anything from souvenirs to smoothies to cafes, bars and restaurants.
The fruit smoothies in the old town are absolutely delicious and cost only 40 Baht – highly recommended to take away thirst after a long day in the sun.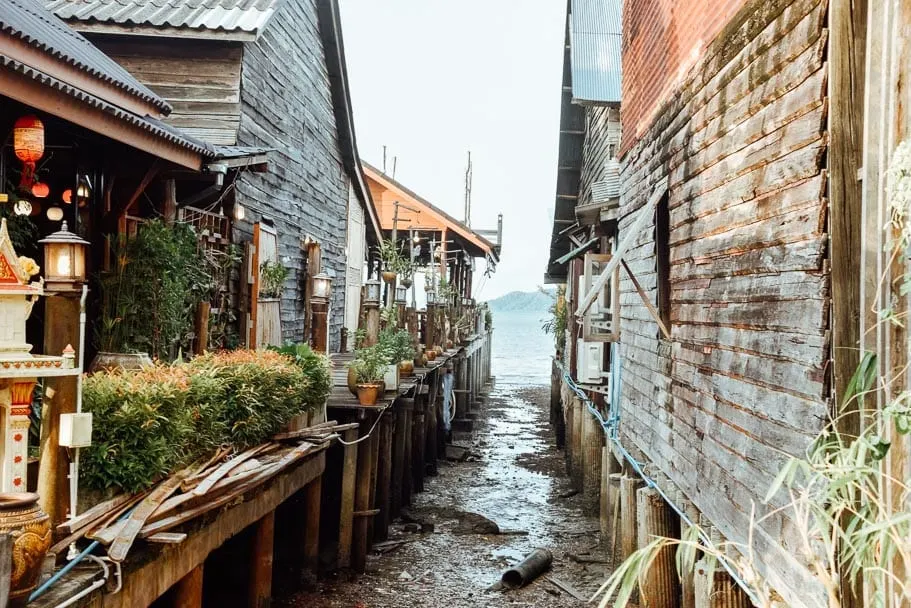 6. Get a Thai Massage
You can get a Thai massage directly on the beach but if you want a amazing high quality massage, we would highly recommend the spa at Koh Lanta.
It is a little more expensive than off the beach but for the quality & experience of the staff, it is definitely worthwhile.
We both enjoyed Thai massages and walked out feeling like we were floating on air.
The beauty salon at Crown Lanta is so good it is always booked out well in advance so make sure you book early if you want to visit!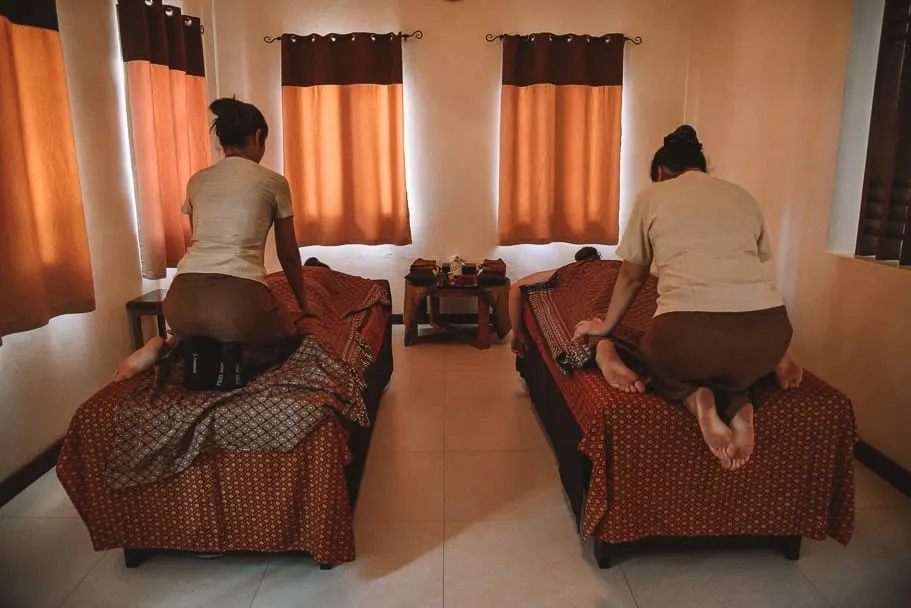 7. Hire a Motorbike and explore
One of the best decisions we made while visiting Koh Lanta was renting a motorbike for a day to explore the island.
This is how we reached Koh Lanta National Park, the Animal Welfare Centre and saw many other amazing beaches around the island.
You can rent a motorbike for only around 150 Baht for the day. We rented our bikes from Lanta Nuttapol Travel & Tour and everything went smoothly.
We visited an amazing little restaurant/bar for some drinks while on the road called The Other Side Villas. The owner is lovely and the view from the restaurant was great.
When we pulled in we weren't sure if the bar was open because the gate was closed however, we ventured in anyway and it was open at the back of the property.
No-one was around and we had the entire place to ourselves – definitely the best kept secret on the island.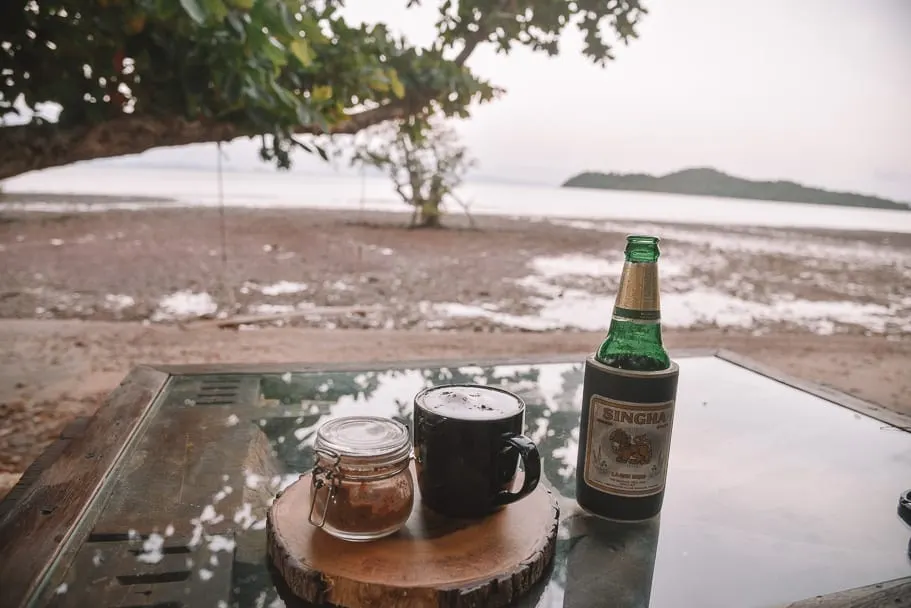 8. Things to do in Koh Lanta at Night – A seafood buffet & fire show
One of the best experiences we had in Koh Lanta happened when the sun went down for the evening. Koh Lanta's seafood buffet & fire show is not to be missed!
The seafood is fresh and delicious (it even includes lobster) and the dinner comes complete with Thai dancers & a fire show.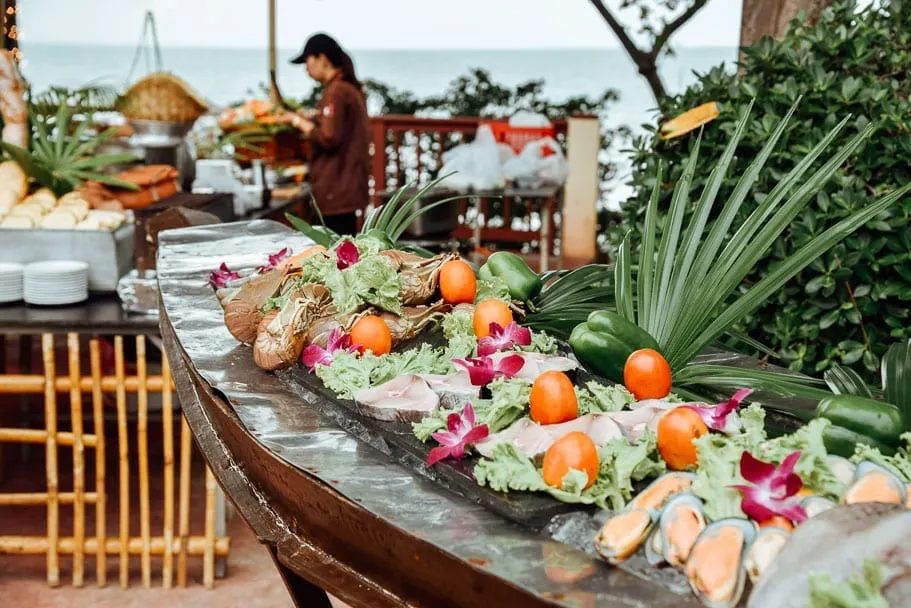 The buffet also includes lots of other options if you don't enjoy seafood including roast duck & pork, a noodle station and much more.
To our delight for desert mango sticky rice was an option for desert.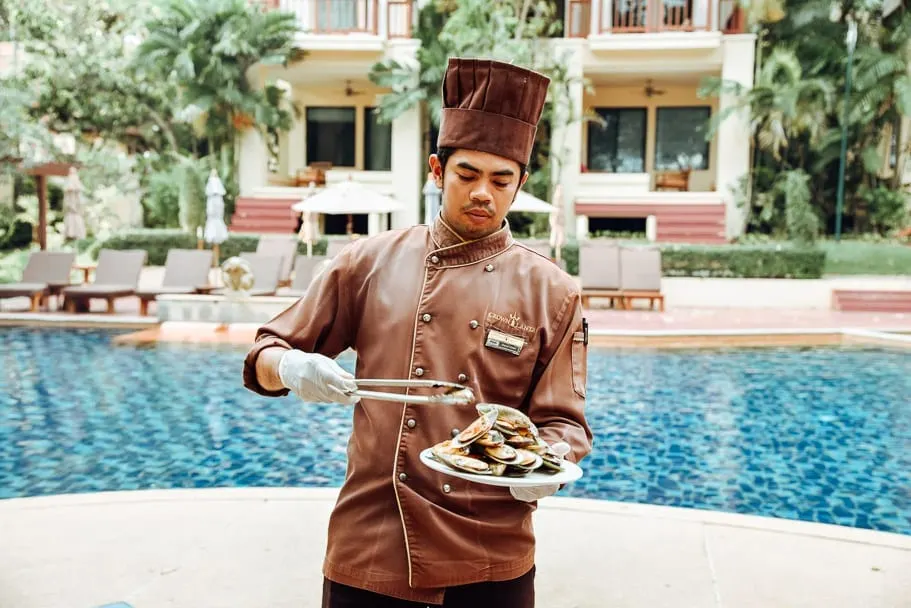 As you are eating dinner you are entertained by very talented Thai dancers and fire twirlers.
We found this to be a very fun experience in Koh Lanta and would highly recommend it.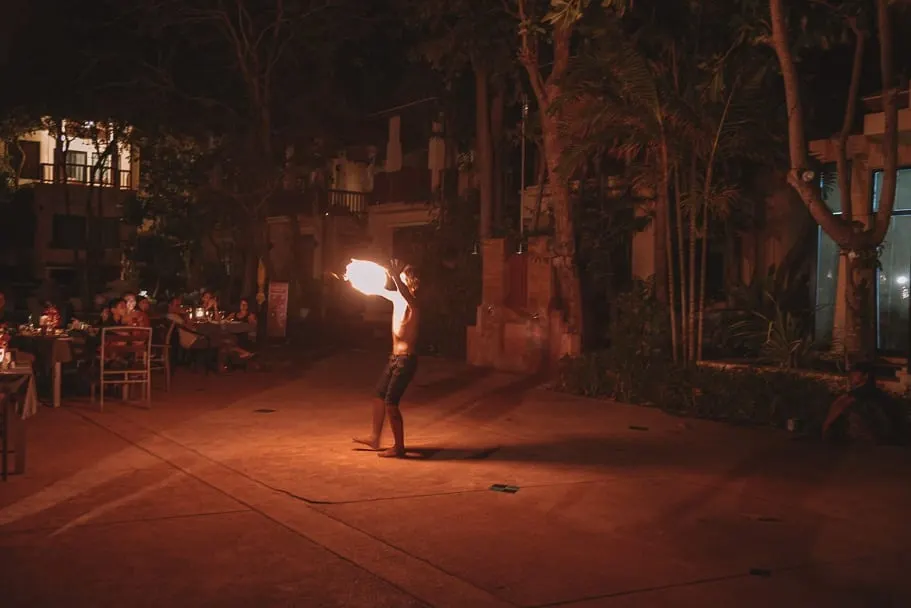 9. Explore Nui Beach
The best rated beach on the island by tripadvisor is Nui Beach and we can understand why.
The beach looks like a piece of untouched paradise.
And in low season this is how many people are there! Pretty good huh?!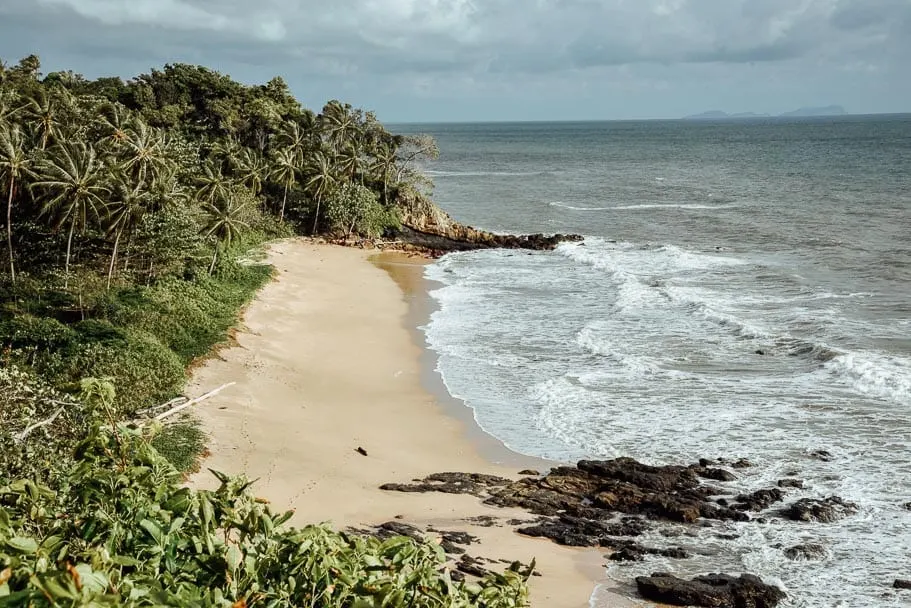 Nearby Nui Beach is these super cool beach huts on stilts where you can enjoy a drink or a bite to eat.
We enjoyed some very delicious coconuts here.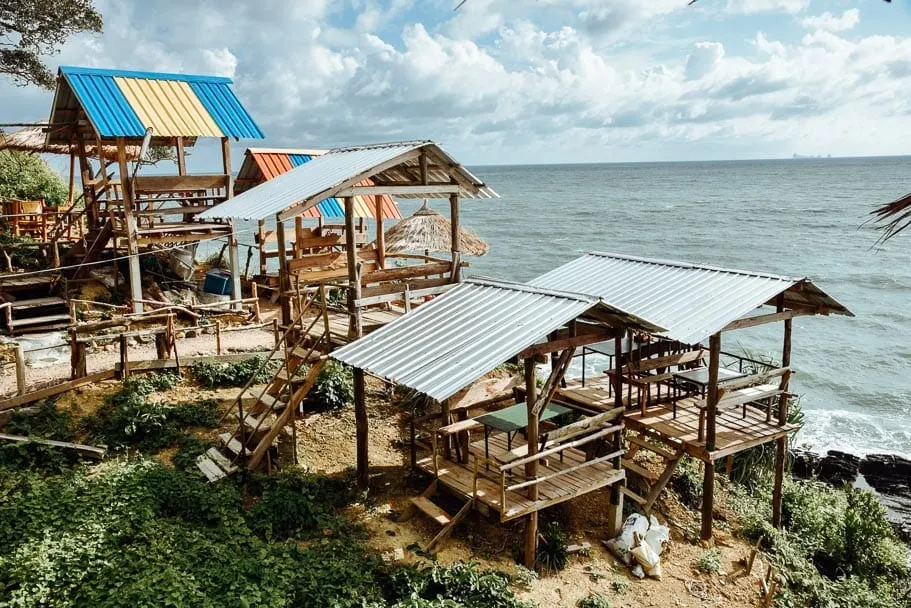 Where to Stay in Koh Lanta?
We stayed at Crown Lanta while in Koh Lanta and would highly recommend it. The hotel is a stunning four star hotel with a private beach.
Aside from absolutely amazing rooms (and a delicious buffet breakfast) it has some of our favourite things to do in Koh Lanta including Reggae Bar, their Spa & the Seafood Buffet Fire Show!
We also appreciated that this hotel is located only a hop, skip & a jump from the Koh Lanta ferry.
As we got off the ferry someone from the resort was there waiting for us to take us just 5 minutes to the resort. Such a relief after a long ferry ride over.
Rooms Crown Lanta
Crown Lanta has lots of rooms to suit different budgets and family configurations.
It is an absolutely gorgeous hotel and we couldn't recommend it more for a stay in Koh Lanta.
If you are looking for something a little bit special (for a special occasion or couples vacation) we would highly recommend the private pool rooms.
Not only do they include a huge private pool (really you could do laps in this pool) but the view of the private Crown Lanta Beach from the room is phenomenal.
Outside in your own private pool includes two very comfortable deck chairs perfect for relaxing and watching the waves roll in.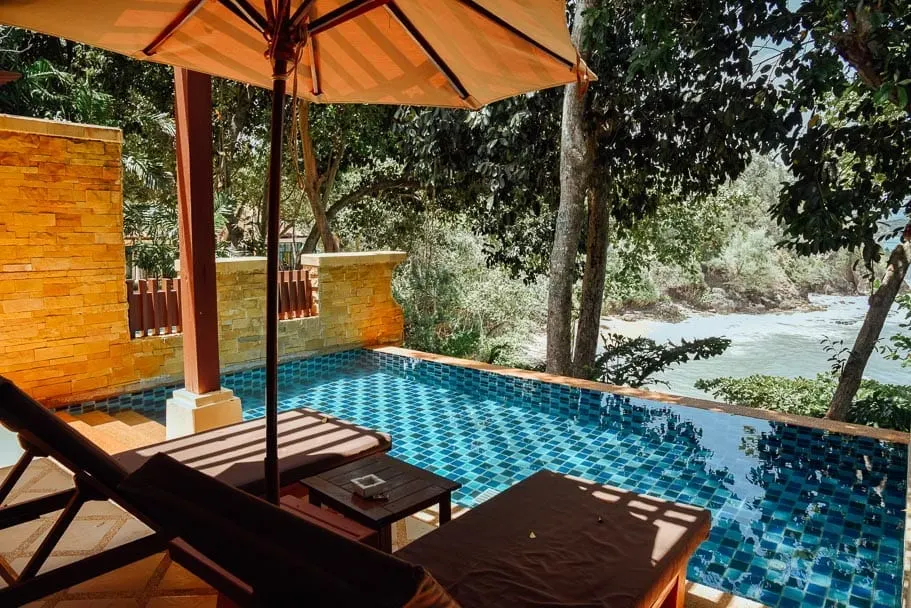 Inside the private pool villa was absolutely delightful too.
The room included a very plush day bed, a great flat screen tv, tea & coffee amenities and we were delighted to find a large and plentiful fruit platter waiting for us upon arrival.
The very large and comfortable lounge room opened to a spacious bedroom with a very comfortable bed, desk & large wardrobe.
Aside from an amazing pool area another feature we loved is the huge bathroom with a massive double bath tub.
This bath tub is perfect for bubble baths and Crown provides high quality soaps, shampoo and conditioner for guests to enjoy in the luxurious tub.
Food at Crown Lanta
We loved the restaurants and food options at Crown Lanta.
Aside from Reggae Bar, Crown Lanta has an amazing cliff restaurant. We were lucky enough to enjoy the signature seafood buffet.
We liked the restaurant so much that we decided to ear lunch there on a different occasion and it was absolutely delicious.
Having spent a bit of time in Thailand at this point, we were a little tired of Thai food so we opted for the burger and pizza.
Washed down with a cocktail in a coconut and a frozen mango daiquiri – safe to say we were very happy.
Included in the room rate is also a delicious buffet breakfast. At the breakfast is a great selection of Thai and Western food including waffles and pancakes made to order, fresh juices, bread and yogurt.
Crown Lanta Facilties
We absolutely loved Crown Lanta's facilities which included a stunning outdoor pool with a swim-up bar.
We would highly recommend an early evening swim at the pool as it is the perfect place for some star gazing
The hotel also has a gym and a great spa (as mentioned above).

Our take on Koh Lanta
This chilled relaxed island was everything we were looking for after the hustle and bustle of Phi Phi Island.
We hope this guide assisted you in planning your Koh Lanta trip.
If you need help with what to do or where to stay in Koh Lanta, we would be happy to help, leave a comment below!
Save this to Koh Lanta Guide Pinterest (so you can find it agin later!)
We were hosted by Crown Lanta & Opal Tours during our time in Koh Lanta. However, this does not impact our views & experience.