Ipiales to Quito, Ecuador is a popular bus route from Colombia to Ecuador. The safest border to cross is Tulcan (Ecuador) / Ipiales (Colombia).
We actually travelled from Quito to Ipiales by bus. It's really simple and can be done in a day. If you stop at Ipiales you must visit the local church which is one of the most famous in Colombia. We show you how to do this in a day trip.
Note – if you are coming from the amazing Salento Quindo region or the charming (and totally not dangerous) capital of Medellin in Colombia, you can follow these steps in reverse to cross the border by bus from Ipiales – Ecuador.
Quito to Ipiales (Ipiales Quito Bus)
To travel the Quito Ipiales segment of the journey, follow these 3 simple steps.
If you are doing the reverse (Ipiales Quito) then just make your way to Ipiales then follow the steps in reverse.
Quito to Tulcan (Ecuador Border) Bus
You can reach Tulcan from the North or South terminal in Quito. It takes 5 hours from the North terminal and 6 hours from the South terminal in Quito.
We took a night bus as we wanted to complete the next part of our journey during the day.
We left Quito's South terminal (Quitumbe) at 1.00am in the morning and arrived at Tulcan at 7.00am.
The only bus company running was Expreso Tulcan and it cost $7 USD per person. It costs around $10 USD for a taxi from Quito centre to Quitumbe.
If you don't have a lot of bags, you can alternatively reach the station for $0.25 using the trolley bus system. However, this system isn't in operation late at night.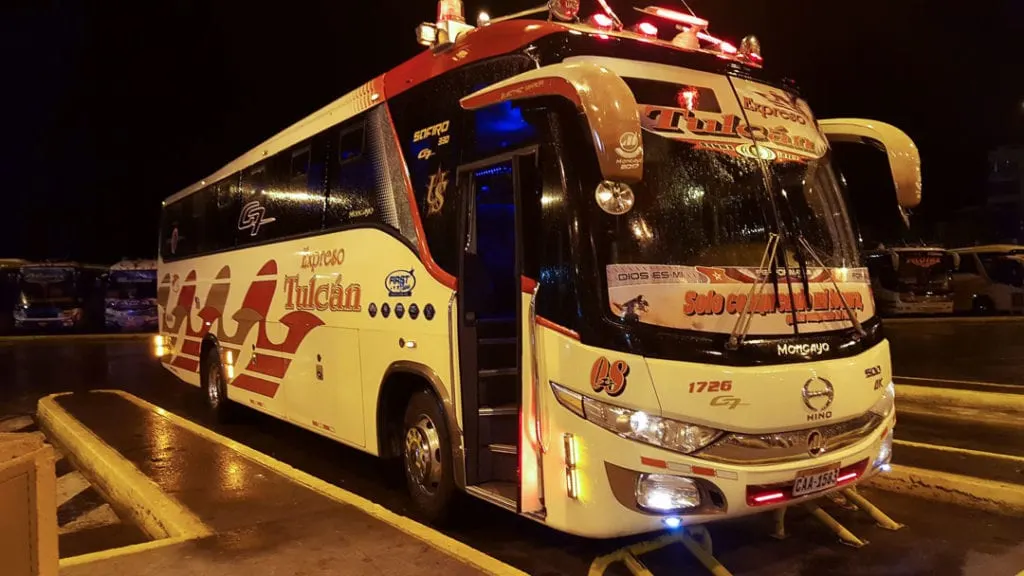 Tulcan to Colombia Border
From Tulcan to the border we took a taxi which cost $3.50. Apparently, there is a collectivo that runs this route but they were nowhere in sight. If you have big bags a collectivo probably isn't a viable option in any event.
The taxi will drop you at the Ecuadorian customs office. Here, you can get your exit stamp. It took us approximately 20 minutes in line to get the stamp.
From here, you need to walk about 200 metres to the Colombia immigration. The Colombia immigration was super fast and only took us approximately 5 minutes as there was only one person in front of us.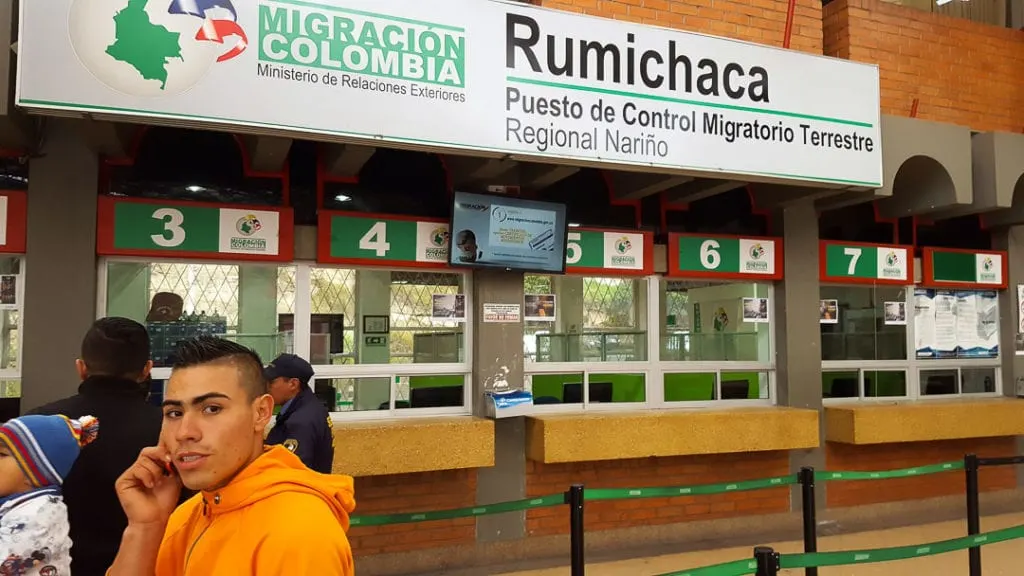 Colombian Border to Ipiales
From the Colombian border control to the Ipiales bus station we paid 8000 Colombian pesos ($2.7USD). There are people to exchange money with at the border but watch out for dodgy exchange rates.
There is not a lot to see in Ipiales except for an absolutely beautiful European style church known as Las Lajas.
Is Ipiales Safe?
We didn't find it to be scary or unsafe at all. The taxi drivers were a little nonchalant but we didn't feel they were out to rip us off.
Day trip: Las Lajas Sanctuary
Las Lajas Church is an absolute must-see in Ipiales. Thankfully, Ipiales Bus Station is well equipped for a day trip during your transit from Ipiales to Ecuador.
You can pay for bag minding at the Ipiales bus station at a rate of 2000 Colombian pesos per bag. You can get a collectivo taxi from the bus station to Las Lajas Santuary for 2,000 pesos a person or negotiate a private taxi for 6,000 pesos.
After the taxi drops you off, it is a steep 10 minute walk down to Las Lajas. The church is absolutely magnificent as it is built over a stream in the mountains. It is also free to enter. We spent around 1 hour looking around the church before going back to the station.
Ipiales to Pasto, Popayan, Salento, Medellin or Bogota
From Ipiales bus station, it is easy to travel onward to Pasto, Popayan, Salento, Medellin or Bogota.
The route between Pasto & Popayan is dangerous during the night so it is necessary to do this during the day time.
We decided to travel to Popayan (the white city) which takes around 8 hours. We actually found there were enough interesting things to do in Popayan to make it worth a night or two (including some of the best food we tried in Colombia).
We departed Ipiales at 11.30am and arrived at 7.30pm at night. We chose to go with Bolivariano bus serviced by Fronteras which was the most deluxe bus offering with individual tvs and working wifi.
We paid 30,000 pesos each. Note: the cost was 30,000 pesos at the Bolivariano bus counter and 40,000 pesos at the Fronteras bus counter for the same bus.
Where to Stay in Colombia & Ecuador?
In Popayan, we stayed at Hostal Marruecos which is highly recommended if you are travelling on a budget.
Wherever you are staying in South America you can use this Booking.com discount link and save $25 USD off your stay!
You can use this link even if you have an existing account but the booking must be over $50 USD. Consider booking a few nights if you need to get over the threshold.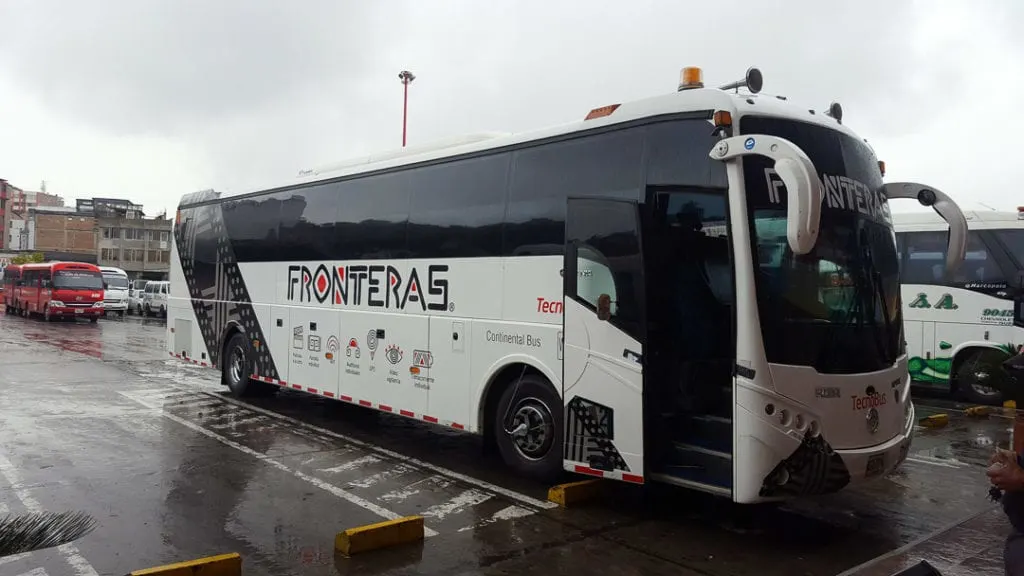 Essential Colombia and Ecuador Travel Blog Posts (worth reading)
If you're about to jump on an overnight bus you should really save these posts to read along the way.
You'll either find some really interesting information about Colombia and Ecuador or they'll put you to sleep.
It's a win win either way!
First things first. Here's a short guide to super important, simple Spanish phrases which you can use all over South America.
Knowing a little bit of Spanish helped us so much on our travels. Make sure you know these phrases. They're so easy!
Colombia Travel Blog Posts
Wondering what to do in Colombia in 2 weeks? We've got you covered from Ipiales all the way up to Cartagena.
After spending time in Popayan Colombia head north to the coffee growing region of Salento. We show you how to travel from Popayan to Salento or Cali or even Bogota.
What's in Salento you ask? You'll find stunning hikes in lush countryside dotted with Jurassic coconut palms, cowboys, saloons and exploding gun powder drinking games. If there's one place in Colombia you shouldn't skip – it's Salento.
We then show you how to safely travel from Salento to Medellin by bus.
If you're expecting the capital to be like a scene out of Narcos, you will find yourself sadly disappointed. Medellin is a thriving city with welcoming locals and a rich history. Of course, we needed to learn all about Pablo Escobar when were there too. Don't miss our Medellin travel guide.
From Medellin you really must take a day trip to Guatape where you'll find 'the best views in the world' from an iconic rock 200m high. The view is pretty unreal. We show how to get to Guatape from Medellin and what to do there.
After dwelling in cities and countryside it's time to hit the beach! There are several different ways to get from Medellin to Cartagena. We compare the options, what they entail and show you how we did it.
The fortified city of Cartagena is really a sight to behold. The cobbled-stoned streets and horse-drawn carts will transport you to Spain for a few days. It's worth the venture.
If you're flying to North America or Central America chances are you'll fly with Copa Airlines. Read our Copa Airlines Review from Cartagena to New York.
Ecuador Travel Blog Posts
Ecuador was home to lots of attractions we had never planned to visit before we landed in the country.
This is especially true for our Ecuador Amazon adventure where we fished piranhas and then went swimming a few metres away! That's just the tip of the iceberg during our incredible adventure.
We didn't dwell too long in Quito. We favoured time in the picturesque town of Banos where we visited the Devil's Cauldron waterfall – you might have seen those epic photos.
In Banos you'll also find the Swing at the End of the World (Casa del Arbol). If you're scrolling through images of South America it won't be long before you see this epic swing.
If your South America itinerary continues to Peru you'll need to make your way to Guayaquil. The town has a less than stellar reputation but we managed to find 5 Things to do in Guayaquil which didn't suck!
We hope our guide helped you to get from Ipiales to Quito (or Quito to Ipiales) safely. Let us know if you have any questions about the bus, Ipiales, Ecuador or Colombia!