Looking for jacuzzi suites in San Diego? Or hotels with a private romantic hot tub in room?
There's no secret that San Diego, being located right on the water, is a very romantic place to vacation for couples and what is better than staying in a hotel with a whirlpool spa? Nothing!
So whether you are on a honeymoon, anniversary trip, romantic getaway or looking for a special place for Valentines day in San Diego we have listed the best jetted hot tub suites in town: both oceanfront and city!
Jacuzzi Suites San Diego: Romantic Hotels with In Room Hot Tub
DOWNTOWN SAN DIEGO WHIRLPOOL SUITES
Hilton San Diego Gaslamp Quarter
Decorated with a retro look, the Hilton San Diego Gaslamp Quarter Hotel is located in the most historic area of the city. Filled with boutiques, villages, and a beautiful landscape to match, the hotel is the ideal location for those looking for a city getaway while enjoying the views San Diego has to offer.
The hotel is also located near the San Diego Convention Center, so for business travelers looking for some fun in their spare time, the Hilton San Diego Gaslamp Quarter is the place to book.
SAN DIEGO BUDGET IN-ROOM JACUZZI TUBS
Hotel Iris San Diego JACUZZI Tub Suites
Located just off of highway 8 in San Diego, the Hotel Iris San Diego is a great location for travelers looking to stay on a budget.
With lower prices, but luxurious amenities, the hotel is a great location to refresh and get back on the road. The hotel is also a great location for air travelers as a low-budget option. The building is equipped with jacuzzi-tub suites, perfect for unwinding after a long day at the office.
Rodeway Inn San Diego Near Qualcomm Stadium
Rodeway is the perfect romantic getaway for budget conscious travelers who are looking for hot tub suites in San Diego at an affordable price.
This hotel provides great value for money including an array of amenities including a flat screen TV, air conditioning, and a refrigerator in the rooms, a pool and breakfast daily. It is also close to some of the best attractions in the area including Mission San Diego de Alcala (1.3 mi) and Qualcomm Stadium (2.1 mi).
Feeling hungry? We highly advise trying some of the best Mexican restaurants in the area including Cantina Mayahuel, Ponce's Mexican Restaurant, and Ceviche House.
Another cheap jacuzzi suite in San Diego can be found at non other than the Old Town Inn – and isn't it a beauty!?
This tuscan-style property is sure to impress the pickiest of couples including long term and short stay guests as well as anniversary trips and honeymoons. If you are thinking to stay longer in the area, this accommodation includes a wide selection of room types, including large apartments with kitchens.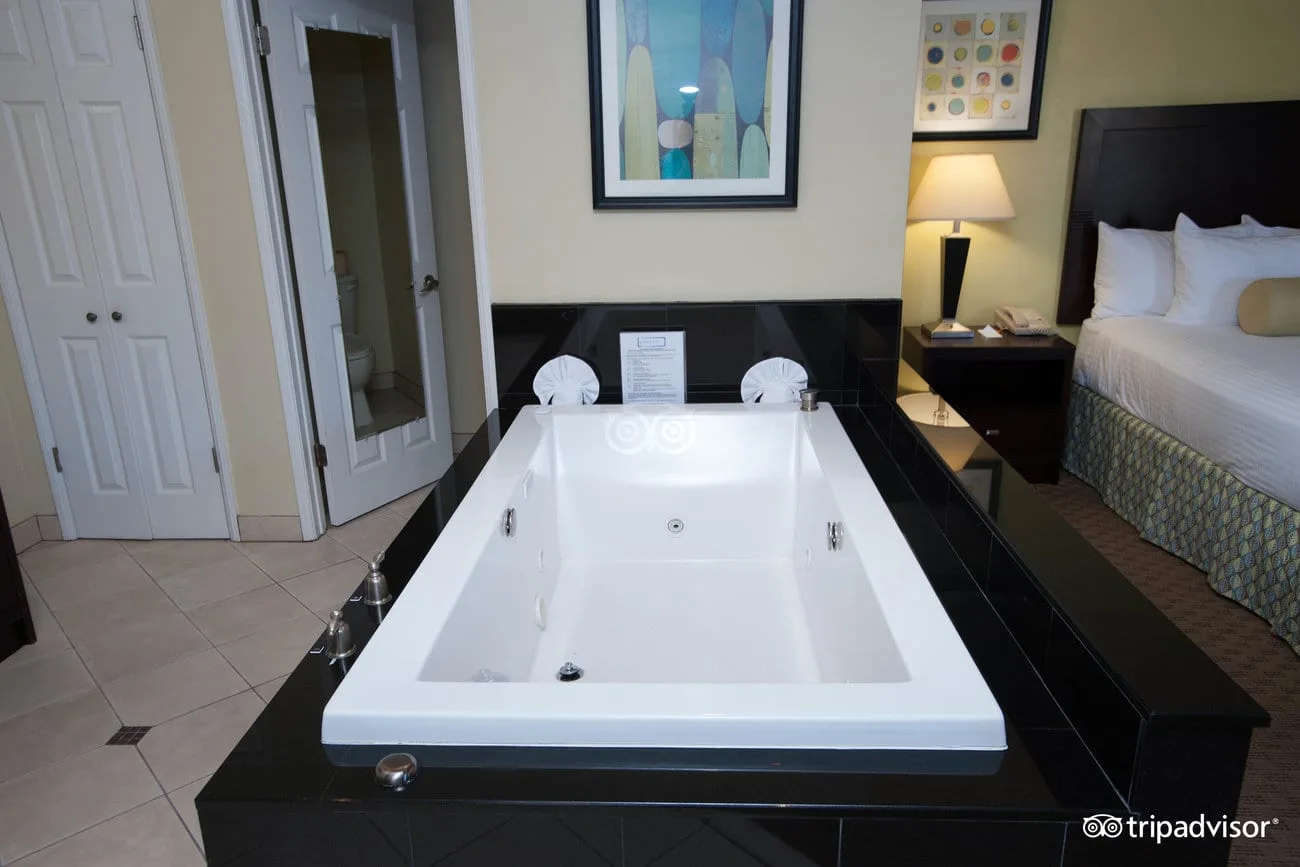 Holiday Inn Express & Suites San Diego – Mission Valley
Let's next consider the Holiday Inn Express in San Diego – a great option for couples in California looking for a romantic getaway!
This hotel caters for romantic stays with amazing hot tub suites as well as a large outdoor pool to cool off in come summer time. This hotel also boasts a great location with both Downtown San Diego and the San Diego International Airport close by.
MORE: Hotels in San Diego with Jacuzzi
Hillcrest House Bed & Breakfast
If you want something sure to impress your SO, don't go past Hillcrest. This hotel wasn't named the winner of "Hall of Fame" for Best San Diego Bed & Breakfast for no reason.
This quaint B&b was originally built in 1910 and subsequently renovated as a Arts & Crafts inspired Inn for couples, mainly. It is also situated in a prime position for exploring the area being only 10 minutes from major attractions such as, the Gaslamp District, Zoo, Old Town, Seaworld, Beaches, Convention Center and the Airport.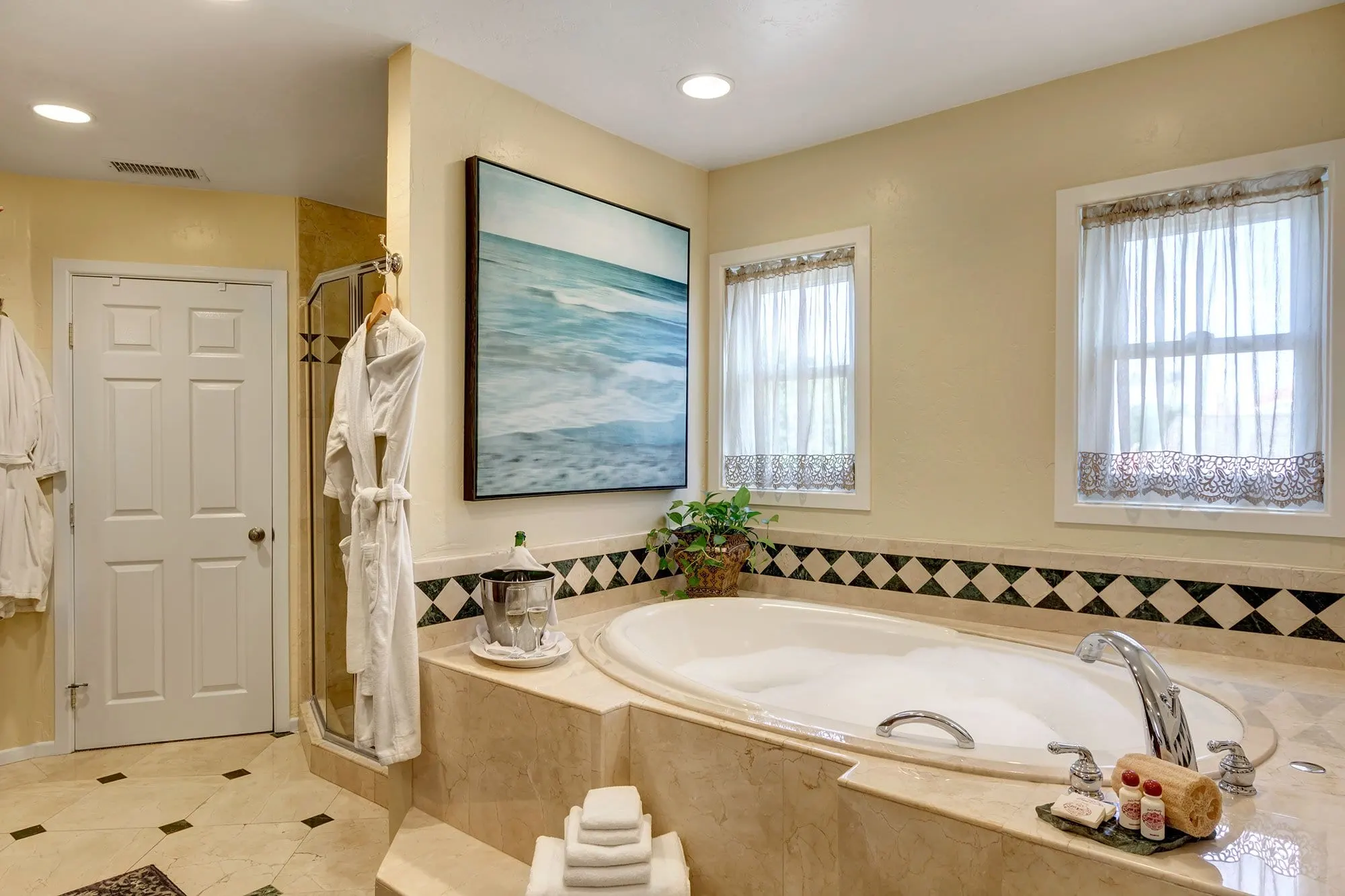 Stay at the Hotel Solamar in downtown San Diego and settle in for a unique experience. Located in East Village's Gaslamp Quarter you will be able to enjoy the area's SoCal vibe along with the modern comfort and amenities of the hotel.
Take a dip in the rooftop pool, check out the various dining destinations, and at the end of the night go to your room and relax in your in-room Jacuzzi before settling in to your luxurious bed linens for a good night's sleep.
The perfect luxury boutique hotel in San Diego ideal for a romantic couples vacation. Great location too being just two blocks from the Gaslamp District shops, entertainment and restaurants, the USS Midway and steps away from the Convention Center. Note: this hotel also offers a dedicated spa treatment package.
What a super cool and romantic place for couples to stay in San Diego! Located in one of the hippest districts of San Diego, Little Italy, this hotel is a breezy gateway to everything the city has to offer travelers.
Nearby Downtown San Diego, you can enjoy quaint bistros, shops and art galleries right on the doorstep of the hotel. The hotel is also in close proximity to some of the best attractions including Petco Park and the vibrant Gaslamp nightlife district, Old Town San Diego, the museums of Balboa Park, and Qualcomm Stadium.
If you are looking for one of San Diego's best oceanfront jacuzzi hotels then the Pacific Terrace is the best choice. Overlooking the stunning Pacific Beach area of San Diego this hotel is ideal for a special getaway like Valentines day, an anniversary trip or honeymoon.
As well as soaking in the in room hot tub, make sure to enjoy the incredible balcony with a late afternoon drink – the view is magic. There are also lots of other fun things for couples to do in the area such as bike ride down the boardwalk or just walk hand in hand down Pacific Beach's oceanfront boardwalk. More active couples might like to take advantage of the exceptional surfing, sailing, fishing and cycling opportunities in the area.
Attractions such as SeaWorld, the San Diego Zoo, La Jolla, Mission Bay, Torrey Pines State Beach are also close by.
Those with a luxurious taste will surely enjoy the Tower 23 Hotel – with oceanside accommodations in addition to private balconies, travelers will surely soak up some sun in this beach-side resort.
In addition to the ocean views, guests can also enjoy a sun deck equipped with a fire pit and complimentary surf and turf cuisine. The modernistic, but cozy touch of each hotel room will surely trigger the urge for guests to extend their stay.
Club Wyndham Harbour Lights Hotel
Right in the heart of the Gaslamp Quarter, the Club Wyndham Harbour Lights Hotel is the perfect stay for travelers looking to enjoy the options of the downtown San Diego city.
The hotel is also an idealistic location for those looking to stay a bit longer in the city – with its studio apartment guest rooms, guests find it easy to extend their stay and enjoy the features of the city.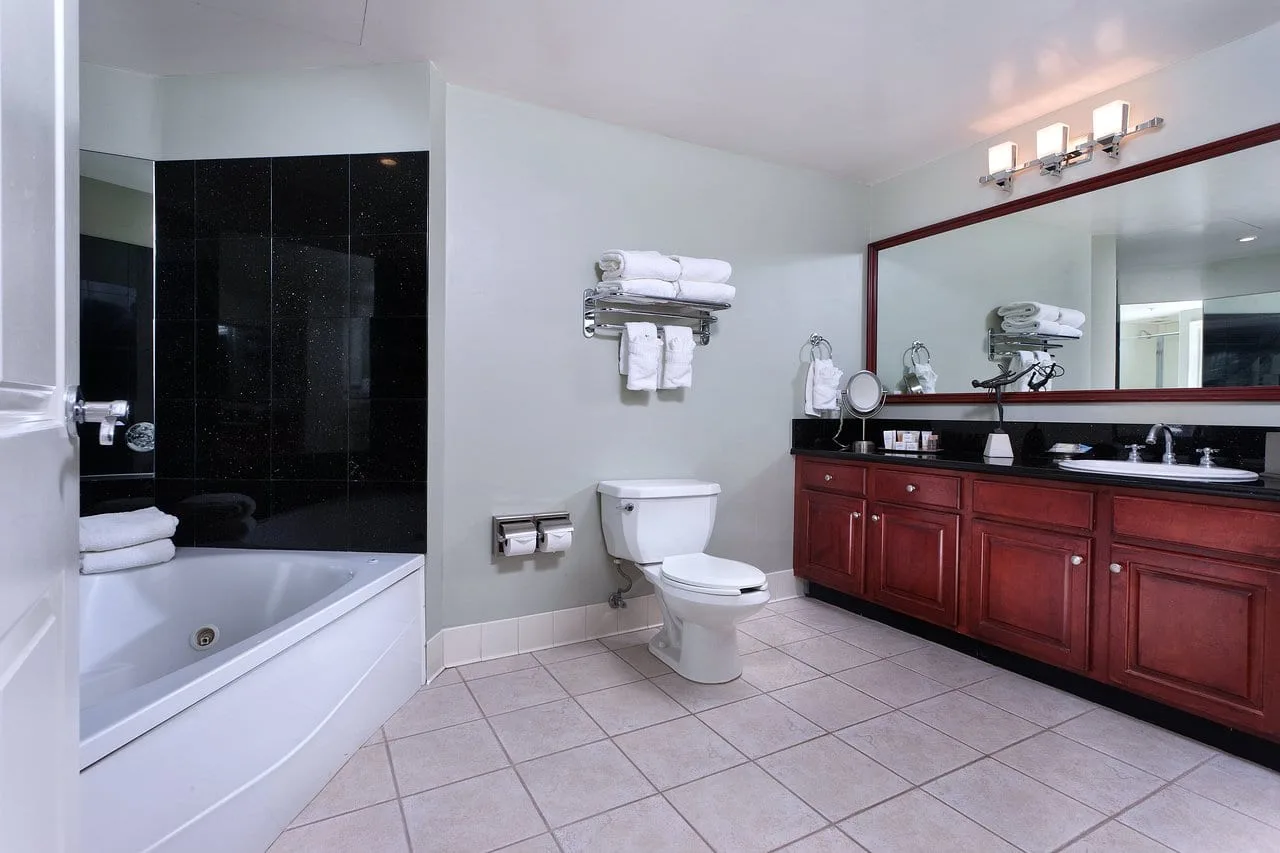 Located oceanside in beautiful San Diego, the San Diego Mission Bay Resort is the quintessential vacation spot in the city. With a modernistic, yet tropical feel, the resort is loaded with amenities and features.
Guests aren't only treated to sand and sunshine when visiting the location – travelers also have the ability to visit the luxurious spa, fitness center, and various local amenities as the hotel is located near the downtown district.
Nestled in the Porta D'Italia, or Little Italy, neighborhood of San Diego, the Found Hotel is the perfect location for travelers on-the-move looking for the luxury and appeal of a boutique hotel.
While guestrooms come with a smaller, cozier feel, the atmosphere makes up for lost space. Guests can enjoy surrounding restaurants offering authentic and traditional Italian food with plenty of bars, shops and attractions within close proximity to the San Diego airport.
SPA TUB SUITES IN LA JOLLA, CORONADO & CHULA VISTA
LA JOLLA, CA
Located in the corners of La Jolla, CA, the Pantai Inn is the perfect getaway experience for those looking for a relaxing, refreshing, but adventurous vacation. Within walking distance of restaurants, shops, and attractions, guests will surely find spontaneity in their stay at the Pantai Inn.
When returning to their guestroom, travelers will be a comforting and charming space with unique wood and stone carvings, art, and furniture.
CORONADO BAY, CA
Right at the tip of the Crown Island peninsula in San Diego, the Coronado Bay Resort delivers a scenic ocean view for all guests. While the noises from the city linger over the bay, the hotel offers a serene and relaxing atmosphere while offering various activities for their guests including water sport rentals, tennis courts, colorful gardens, and much more.
With all these amenities, the guest rooms are also hard to beat with their modernistic, but homy, touches.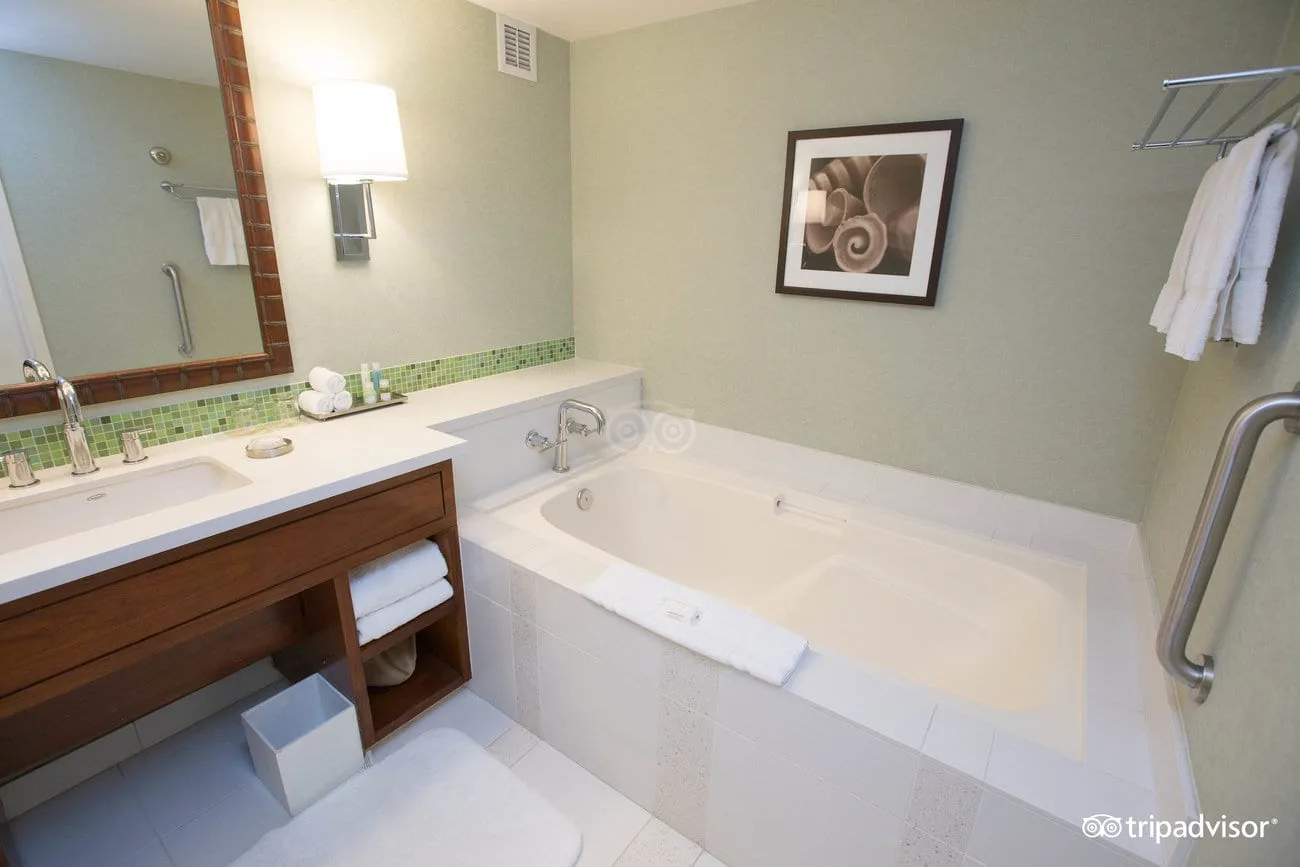 Those looking for a stay in San Diego but want more of a secluded experience away from the city, the 1906 lodge is the place to book. While the location is not located in central San Diego, it is just minutes away from all the city has to offer – restaurants, shops, attractions, and more.
Upon return, the 1906 lodge offers a luxury experience with plush beds, fireplaces, a spa tub, wet bars, hairdryers, and much more – all of the necessities for a successful stay in the San Diego area.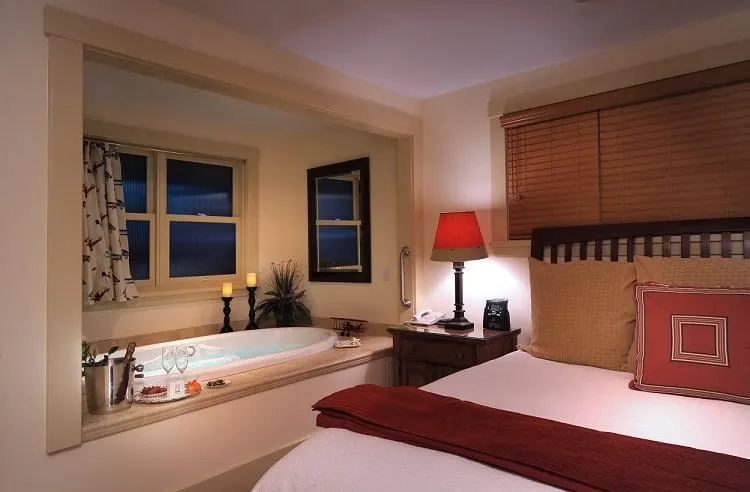 CHULA VISTA, CA
Comfort Inn Chula Vista San Diego South
For out-of-towner's looking for a quick place to rest, the Comfort Inn Chula Vista San Diego South is the location to beat. With cozy accommodations in addition to ample office space – this location is perfect for any leisurely or business traveler.
The hotel also offers free Wi-Fi, parking, and a continental breakfast for those on-the-go. The swimming pool and fitness centre also allows guests to not miss a beat of their daily lives.
***
More Romantic Getaways in California?
You might also like: