KL Forest Eco Park is one of the best free activities to do in Kuala Lumpur.
We loved KL Forest Eco Park as it is a rainforest oasis right in the middle of Kuala Lumpur city centre.
We have seen fabulous rainforest in Costa Rica but never in the middle of the hustle & bustle of a city.
The park is one of the oldest permanent forest reserves in Malaysia. In order to bring tourism and life to the park, Malaysia installed an amazing 200m canopy walk.
The aerial canopy walk provides visitors with a great view of Kuala Lumpur and the rainforest.
Unfortunately this park is only a fraction of what once was there. Due to development of the city including the KL Tower the park has reduced in size over the years from 17.5 hectares to only 9 hectares today.
KL Eco Park: The Best IG Spot in Town
In our opinion, the KL Forest Eco Park is not only a gorgeous spot for a stroll in the city but is one of the best Instagram spots in Kuala Lumpur.
The best shot is taken from one of the high towers looking down at the canopy walk.
The best time for taking Instagram photo is between 7-9 am in the morning during the weekdays. The park gets quite busy after 10am in the morning.
Things to do in KL Eco Forest
Although it is a relatively small space there are numerous things to do in the park. These include:
Canopy Walk – Highlight of the park & not to be missed!;
Small Hikes & Nature Trails (Jelutong Trail, Penarahan Trail, Arboretum Trail);
Herbal Garden;
Information Centre; and
Timber Product Gallery
With permission, there is also possibility to camp in the park for the true nature lovers.
Eco Park Hours & Admission
The park is open from 7am to 7pm daily.
There are no charges to enter the park including to use the Canopy Walk.
How to get to the Park?
The park is located around 10 minutes driving outside Kuala Lumpur centre.
One of the best (and a very affordable way) to get around Kuala Lumpur is by Uber. It costs 7 MYR from Bricklands to get to the Canopy Walk.
You can enter the park from three entrances. The best entrance for access to the Canopy Walk is outlined below (Masjid Jamek metro).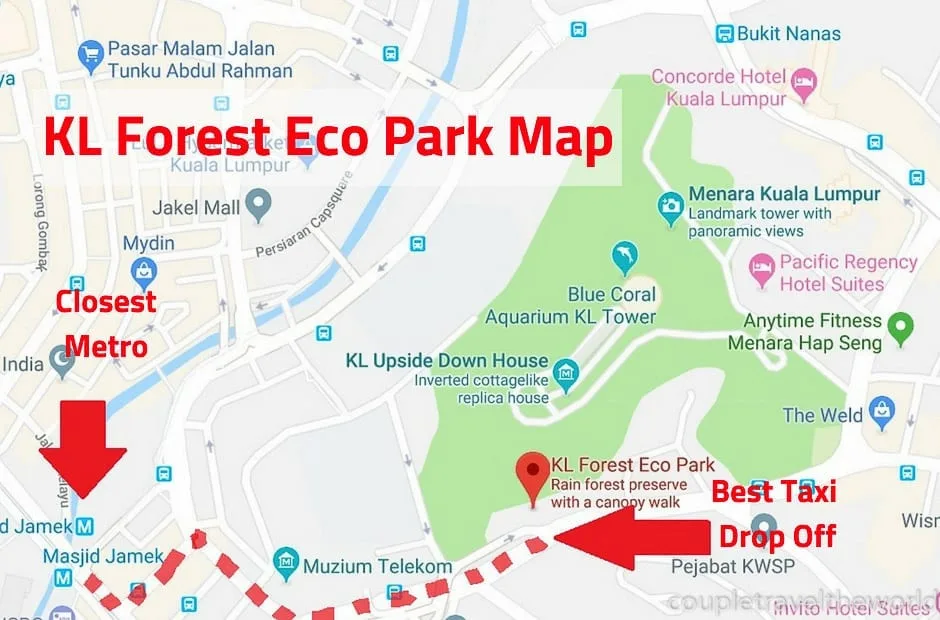 More Things to do in KL
KL Eco Forest is conveniently located in the middle of town. It's easy to jump in a Grab to visit a few of the other must-see attractions in town, even if you only have a day. Make sure to check out Batu Caves for the iconic colouful stairs (we visited a day or two before they were repainted – so you can enjoy our misfortunately colourless photos) and the also spectacularly colourful Thean Hou Temple.
If you have any questions about visiting the park or KL in general we would be happy to help, leave a comment below!
Save this to Pinterest (so you can find it again later!)