Looking for a La Vela cruise review?
When choosing to make a trip to Halong Bay, there are so many options to choose making it very hard to know which cruise line to pick.
We decided to go with the La Vela Cruise 3 day 2 night Halong Bay Tour and we didn't regret our decision to travel on this luxury cruise line.
In this La Vela Cruise Review you will find a detailed food review (breakfast, lunch & dinner), room review & tips, an itinerary review including details of the day trips + what to expect on your luxury Halong Bay cruise.
La Vela Cruise Review (Premium)
La Vela cruise line is a new cruise line on the market managed by the well established Paradise Luxury Cruise line.
The interior of the La Vela cruise was very fresh and modern. La Vela cruise currently has two boats in operation – the La Vela Classic & the La Vela Premium.
We chose to stay in Balcony Cabin on the La Vela Premium Cruise for a little extra luxury.
3 Day 2 Night Itinerary
You begin your 3 day 2 night journey with La Vela providing a pick up service from your hotel in Hanoi at around 7.30am in the morning.
From here, it takes 4 hours to reach the magnificent Halong Bay. There is one stop between Hanoi and Halong Bay at a workshop for the disabled who make clothing and hand stitched wall hangings.
While the shop is rather expensive, it is a worthwhile stop as the proceeds go to a good cause.
About 2 hours later, we arrived at the check in point for the La Vela cruise line and enjoyed some light snacks and beverages prior to embarking the cruise at La Vela's restaurant.
Five years ago, we visited Halong Bay with another cruise line and waited to board the ship in the hot sun at the cruise port – Not Fun! In comparison, this was a very pleasant experience.
Cabins
By 12.45pm, we were embarking onto the La Vela cruise to begin our Halong Bay experience!
As we boarded, we were greeted by staff with a cold drink that went down an absolute treat in the scorching summer sun. The two couples on the trip, Nadia & Michael & Lisa & Paul both were checked into Premium Balcony Cabins.
Despite both rooms being Premium Balcony Cabins, one of the rooms had a jacuzzi bath and one did not.
If you are travelling on La Vela for a honeymoon or special occasion, be sure to ask for the Premium Balcony Cabin with a jacuzzi. We love a good hotel with jacuzzi.
The rooms were very plush and modern and each had a balcony to soak up the absolutely gorgeous Halong Bay views.
A balcony is definitely a worthwhile expense if you chose to go on the longer 2 night Halong Bay cruise as you have more free relaxation time to soak up the scenery.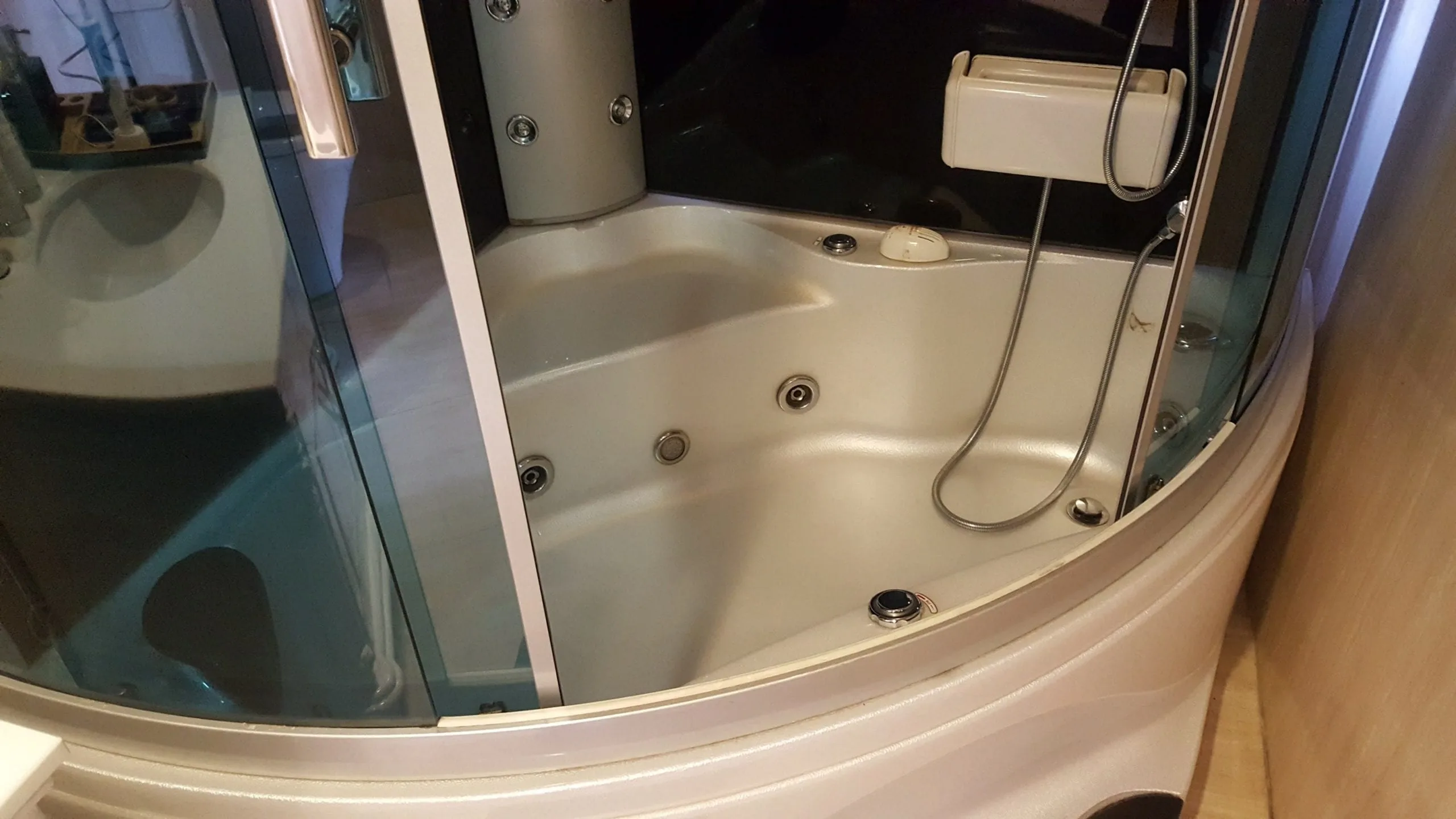 Halong Bay Cruise Lunch
Shortly after checking into the rooms, La Vela had an extremely plentiful lunch waiting for us. Along with a main dish of chicken or fish, four different pasta dishes are provided buffet style along with a full salad bar and a desert station.
What a treat! If you are wondering what meal to select, the peanut sauce on the chicken meal was absolutely delicious.
We felt that the quantity of food provided for the welcome lunch was very generous. As we ate our lunch, we were delighted to see our first images of the spectacular Halong Bay. What a sight!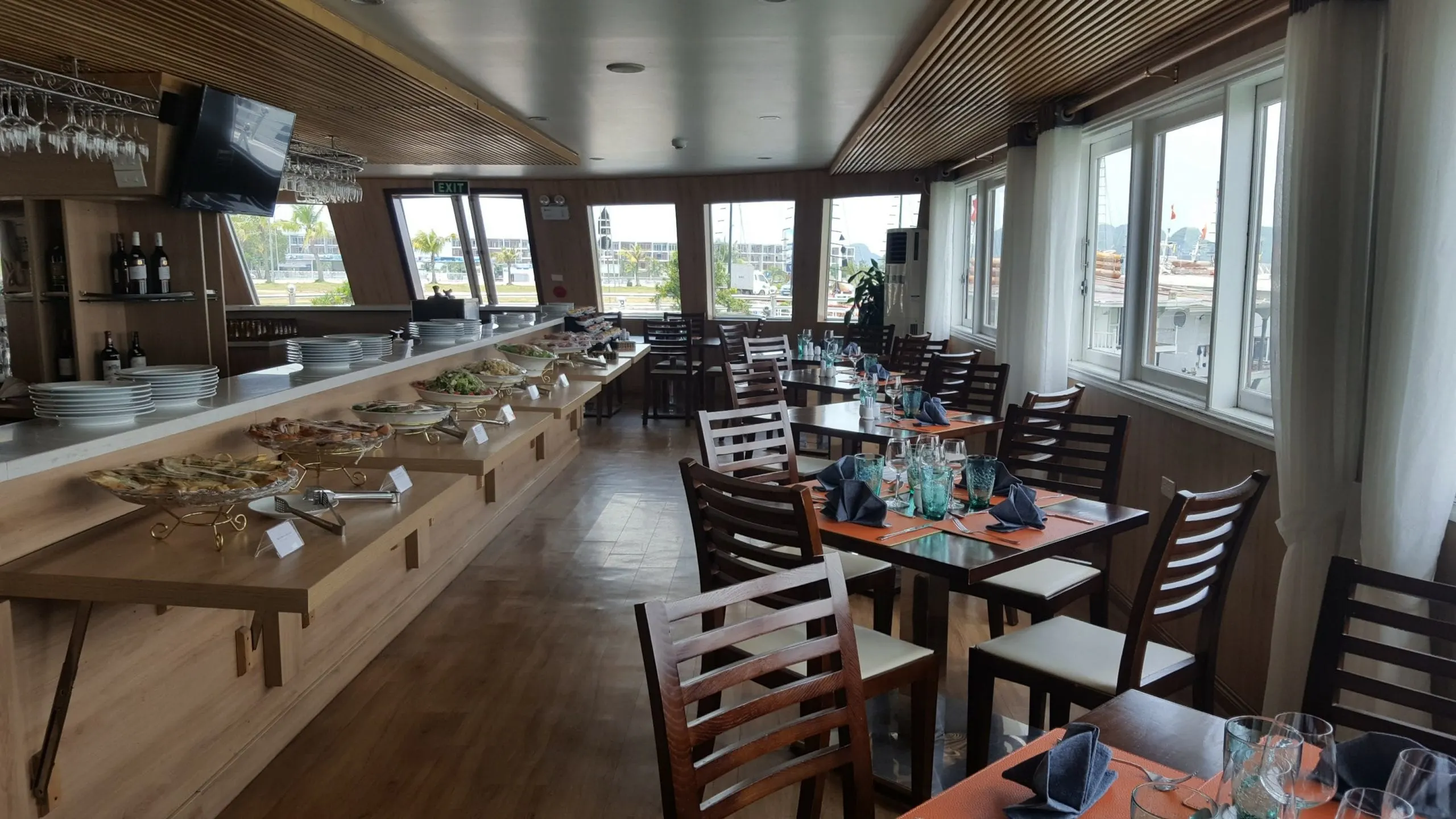 Sun Sot Cave, Halong Bay
After a very quick photo break, we embarked on our first excursion of the cruise to the amazing Sun Sot Cave.
The 600 step hike to the top is well worth the aching leg muscles as you are rewarded with an absolutely gorgeous view of Halong Bay.
We particularly enjoyed this short excursion as the inside of the Sun Sot Cave was magnificent with hundreds of unique limestone foundations to admire.
A guide from La Vela cruise also joined us to explain interesting facts about the cave and point out different animals and objects that people have spotted over time in the natural cave formations.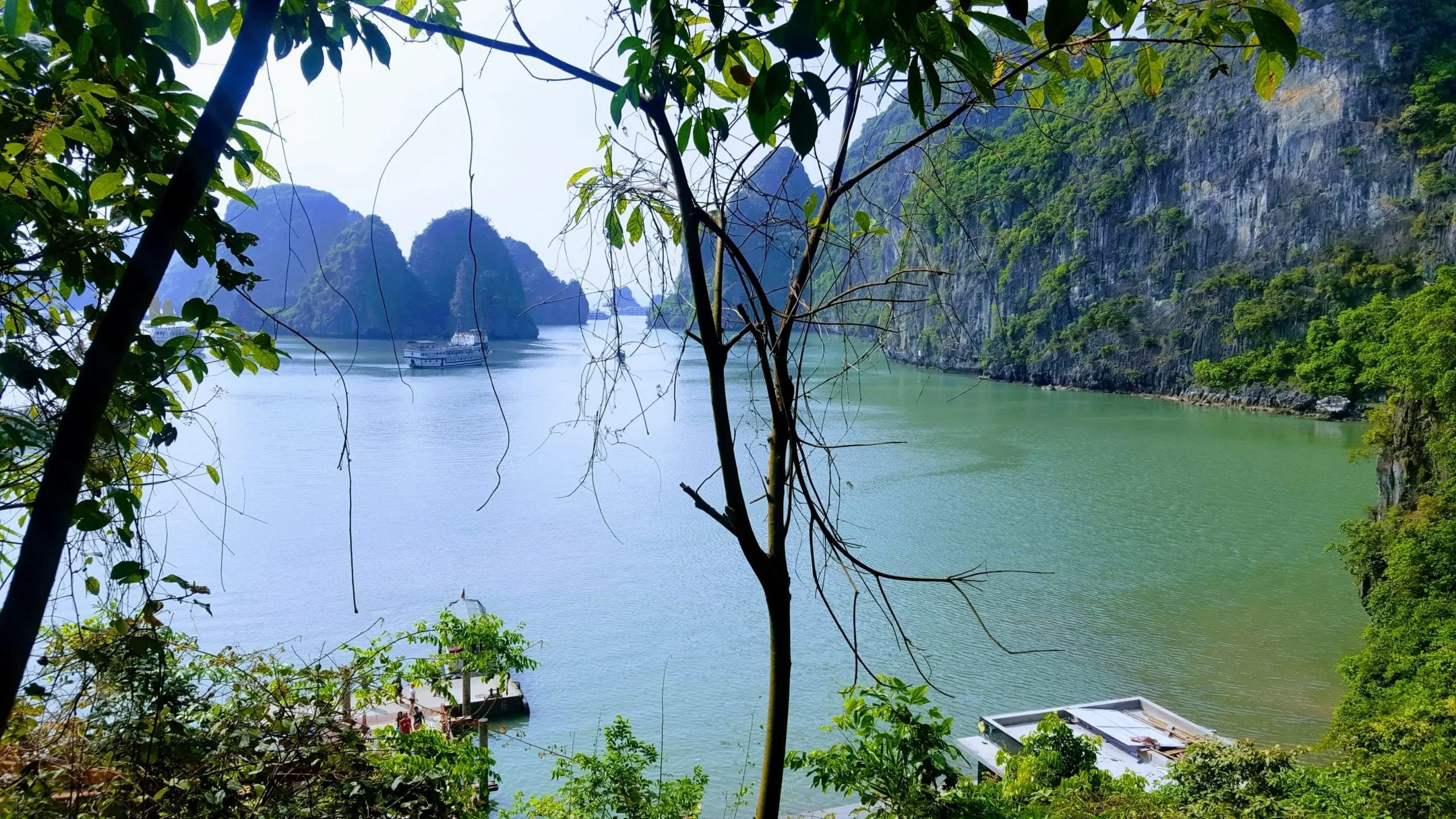 Best Halong Bay Sunset
Following our cave excursion, we sat on the sundeck of La Vela and enjoyed the breathtaking views of Halong Bay as we passed by Tiptop island, Soi Sim beach and Frog Lagoon.
If you booked a one night tour with La Vela, at this point you have the opportunity to visit a pearl farm and go kayaking in the world heritage site (activities that we would complete the following day).
We would personally recommend booking the 2 night tour as you have extra time to relax & soak up the fantastic scenery.
Later that afternoon, La Vela conducted a cooking demonstration, explaining how to make the perfect fried spring rolls.
This finished to one of our favourite times on the La Vela ship, happy hour!
Happy hour (or the buy one get one free drink promotion) runs twice daily between 5.45pm – 6.45pm and 9.00pm – 10.00pm.
The price of beers are normally 50,000 Dong and wine is 170,000 Dong so happy hour is a great time to drink up!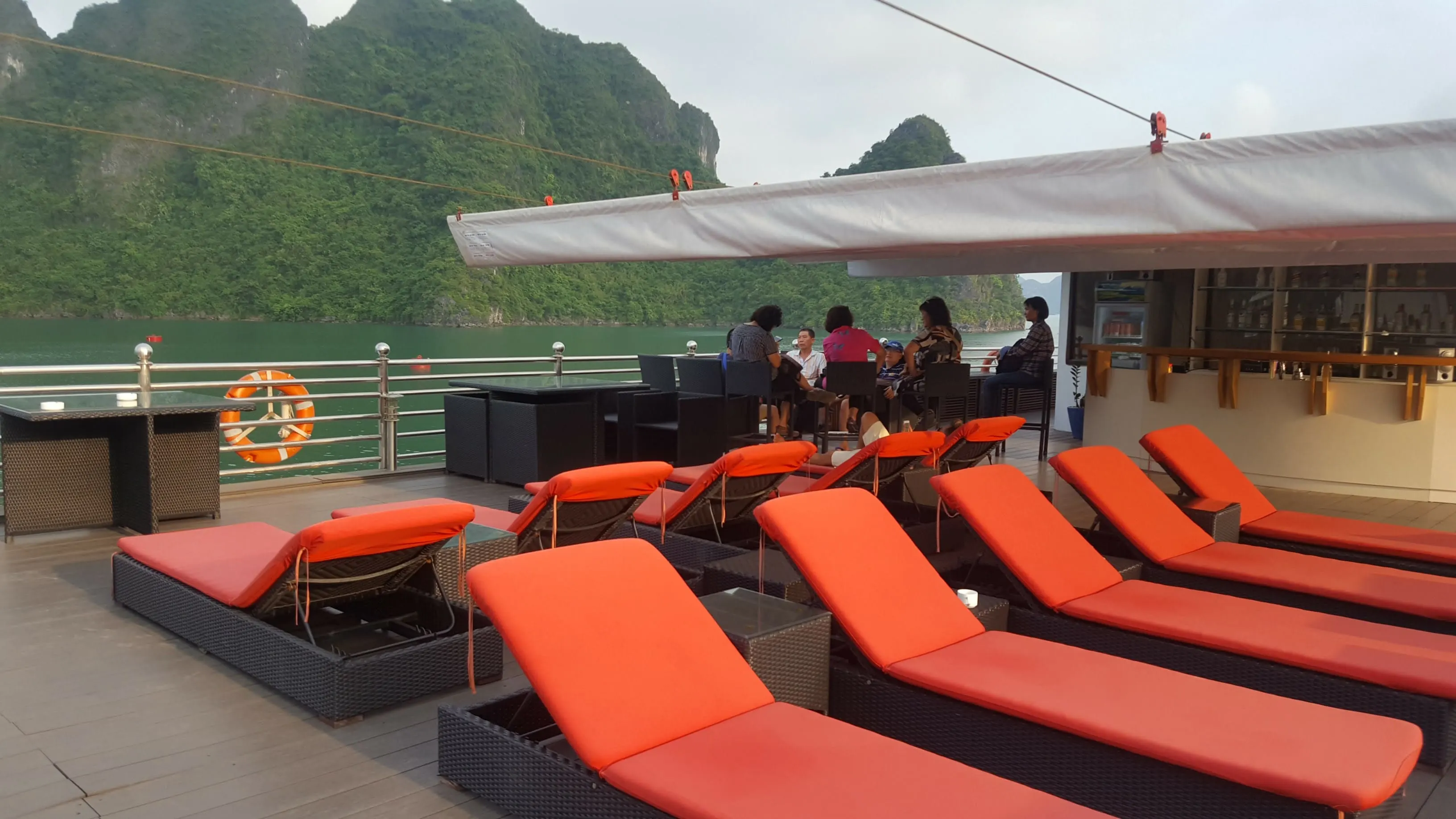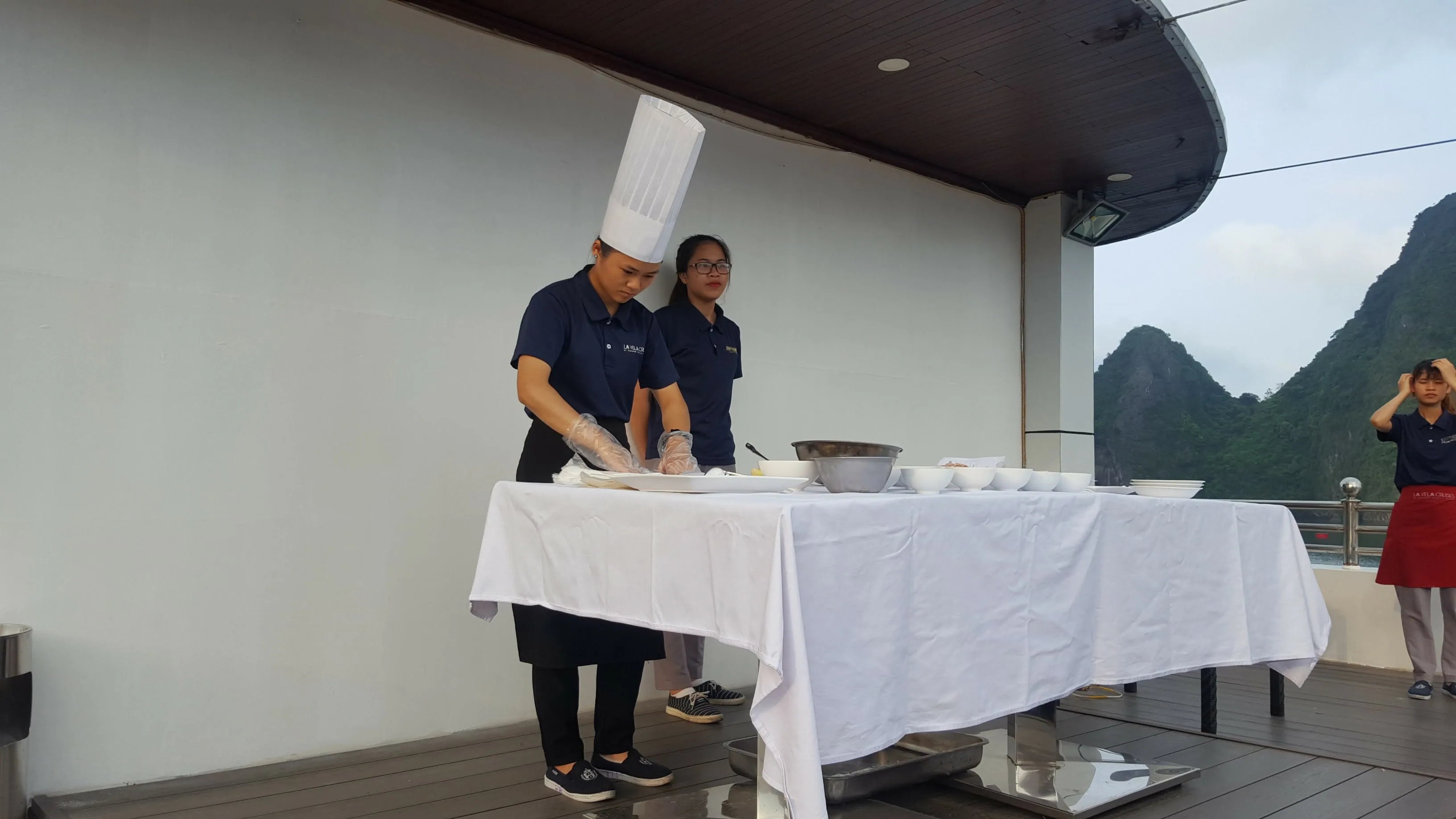 Restaurant Food
Dinner is served in the restaurant on the boat at 7.15pm daily. The dinner menu on the first night of the cruise consists of mushroom soup for entree, a choice of chicken or prawns for main and tiramisu for desert.
The dinner was surprisingly far lighter than lunch. The prawns were delicious but a very messy meal considering the shells are left on.
After dinner finished, the head chef presented each person who participated in the cooking demonstration with a certificate of achievement. Everyone clapped as you went to collect it.
This was one of our least favourite experiences onboard as we personally found it a little cringeworthy.
We learnt our lesson & were quick not to sign up for the cooking class the following day! After dinner, if you wished, you are able to try your hand at squid fishing.
Even if you don't manage to catch anything, it is fun to see all the squid swimming around in the water below.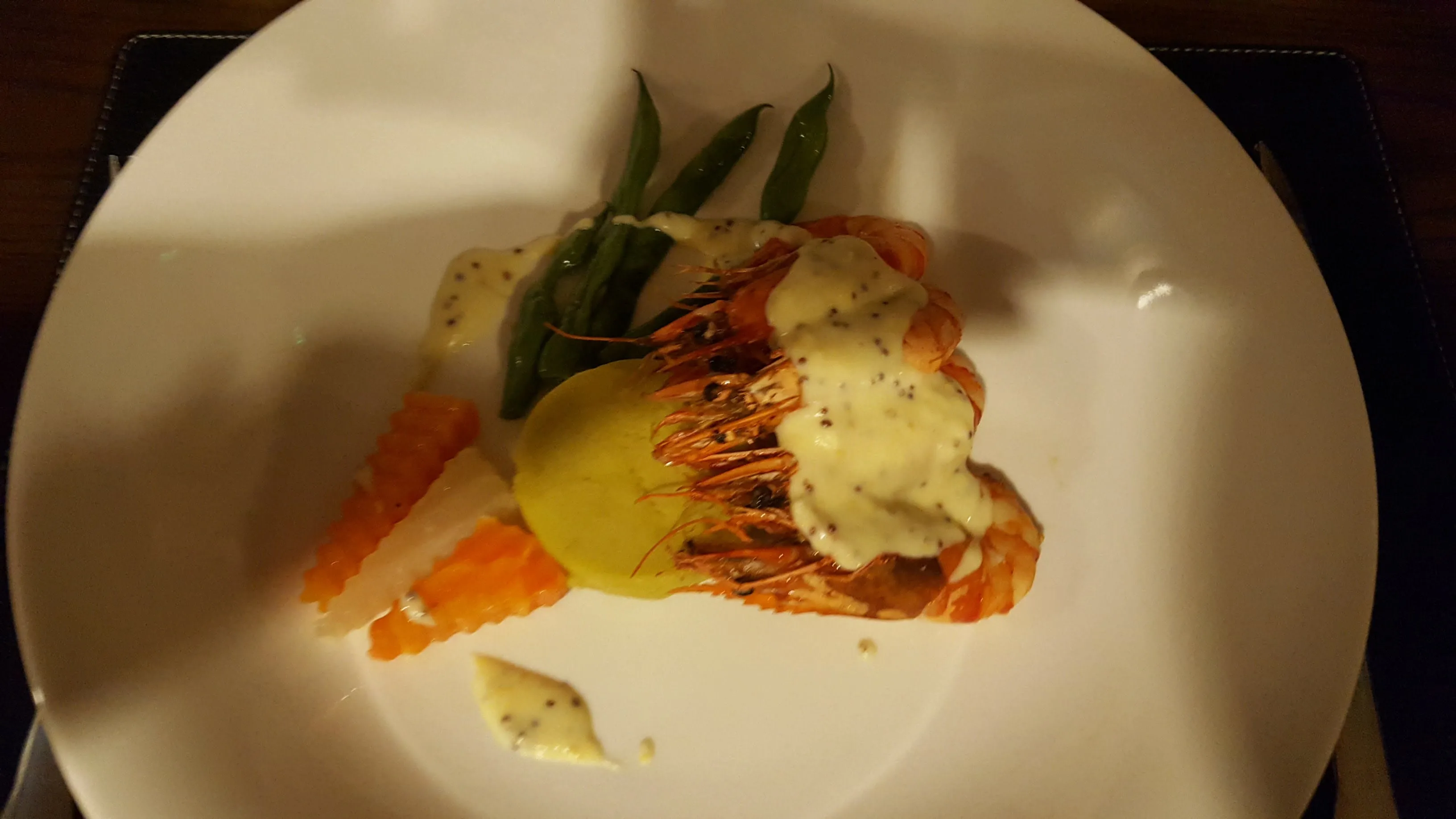 The next day commences with an early morning session of Tai Chi followed by a hot breakfast served at 8.00am. You have the choice of a few different breakfast choices.
We tried both the Continental and the American breakfast with the American breakfast reigning supreme.
The one night cruisers visited Tiptop Island for swimming and hiking between Tai Chi and breakfast.
We were pleased to have the extra time to ourselves in the morning (clearly not morning people!).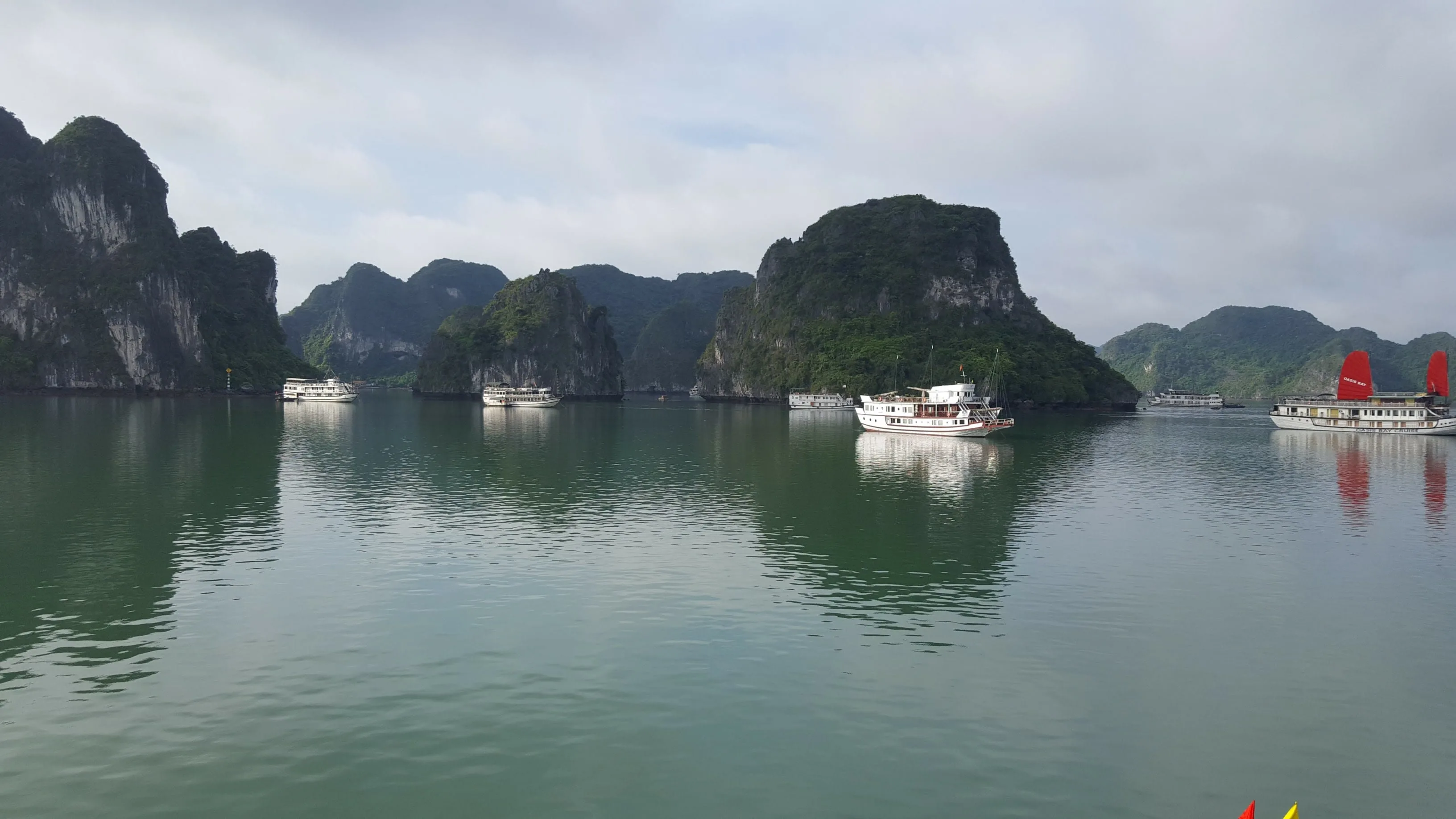 Tiptop Island and Fisherman's Village
Directly after breakfast, guests on a two night tour are transferred to a day boat to spend the day exploring Tiptop island, the Pearl Farm and the Fisherman's village.
There is very little time between breakfast and getting on the day boat so it is very wise to have everything ready before going to breakfast!
We learnt the hard way and had staff knocking on our door after breakfast to hurry us along.
The day boat firstly took us to Tiptop island where we had an hour to either swim, relax or hike the 400 steps to the very top of the island to a sensational view.
The staff informed us that this is now the only area in Halong Bay in which swimming is allowed.
Five years previously we were able to jump off the top of the day boat directly into Halong Bay anywhere the boat was anchored.
However, new restrictions have meant that swimming and kayaking is now only allowed in certain areas of Halong Bay.
With this in mind, if it is your dream to swim in Halong Bay, be sure to take the opportunity at Tiptop island as it is the only opportunity you now get.
After Tiptop Island, the day boat continues to the Tung Sau Pearl Farm. The pearl farm staff gave a very informative presentation as to how pearls are farmed in Halong Bay from the ground up.
A delicious Vietnamese 9 course lunch on the day boat followed. The rice paper rolls were particularly delicious.
The day excursion concluded with a trip to a traditional Vietnamese fishing village where you are able to see first hand how the locals live.
In order to explore the fishing village, you can choose to travel by canoe or by bamboo boat, where a local will row you along.
We chose the lazy option and decided to travel by bamboo boat so that we had hands free to take pictures of the amazing scenery.
After returning to the ship, we enjoyed some happy hour drinks and a fantastic sunset. Our final dinner onboard included pumpkin soup (so delicious we asked for a second helping), a choice of 2 out of 3 dishes (pork, shrimp or chicken) for main and fruit for desert. Once again, we felt La Vela cruise provided a very generous helping as we left feeling totally satisfied.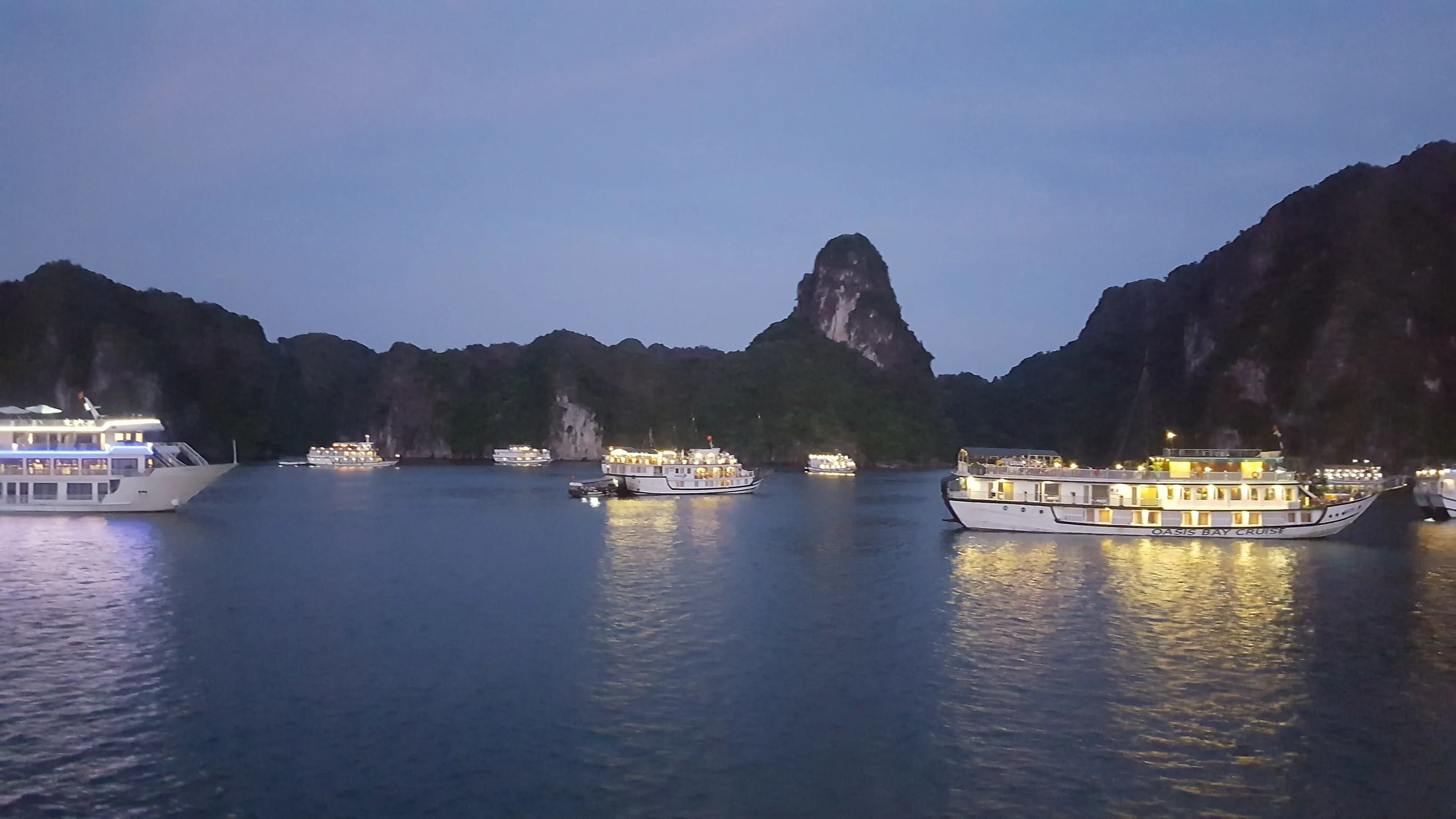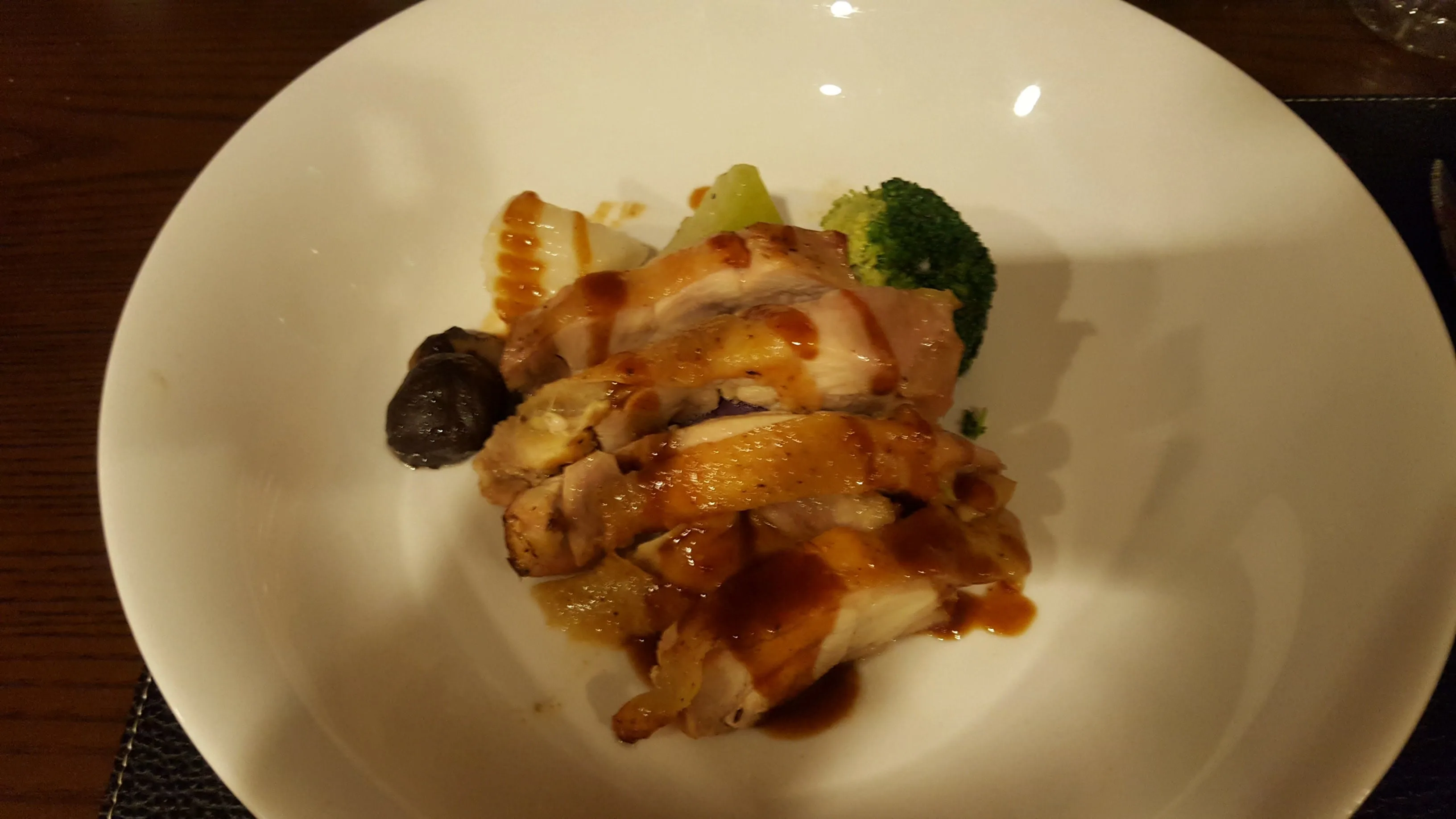 Activities on La Vela Cruise Line
After Tai Chi & breakfast on the final day, La Vela requires you to leave the room by 9.00am so they can start preparing for the next guests to check in. As you cruise for a final time through the amazing Halong Bay, a traditional Vietnamese tea ceremony is demonstrated by the La Vela staff. A nice conclusion to our fantastic Halong Bay experience.
After disembarkation, guests who have booked a La Vela transfer are treated to a delicious complimentary lunch in the 1958 Restaurant onshore before being transferred back to Hanoi. The buffet lunch consisted of sushi, salad and fruit along with fresh to order Vietnamese sandwiches and Pho soup. This was one of our favourite meals during our time on the La Vela cruise. For the lunch alone, it is worth booking a transfer with La Vela.
Overall, both couples had a fantastic time on the La Vela premium cruise and would recommend the La Vela company to any family or friends who wish to travel to Halong Bay in style.
You can book a La Vela cruise via their website or through booking.com.
Contact details for the La Vela Cruise Company:
Save this Halong Bay Review to Pinterest!
This blog is co-written by two couples. This trip was in part sponsored and made possible by La Vela Cruise. However, it does not in any way influence our views or opinions of the experience.