Wondering which are the best Lavender fields near London in the UK?
In the UK, lavender fields are a delightful sight, offering a unique and picturesque experience to visitors. One of the most renowned locations for lavender fields is the Cotswolds region, specifically the Cotswold Lavender Farm. Here, during the summer months, the landscape transforms into a sea of purple, with rows of lavender plants stretching as far as the eye can see. The scent of lavender fills the air, creating a soothing and tranquil ambiance.
The lavender fields in the UK not only provide a stunning visual spectacle but also attract tourists and photographers seeking to capture the beauty and essence of this enchanting flower.
Here we have listed 13 Amazing Lavender fields in the UK and for the English fields we have provided driving hours from London!
Where to find amazing Lavender Fields near London
We once stumbled across a random lavender field while road tripping in New Zealand and have found ourselves obsessed with lavender fields ever since!
I must admit, the view of a lavender field with colors of indigo, wisteria, blue and even mauves is pretty tantalizing.
While Provence is well known in Europe for having the best lavender fields, the UK also has some pretty good ones too!
While we recently spent some time in Cambridge in the UK we decided to go on the hunt for amazing lavender fields in the UK!
Mayfield Lavender Farm (SM7 3JA) (1 hour from London)
The Mayfield Lavender Farm is arguably the most instagrammable in all the UK.
Why?
Because it is the field with the cute red phone box! So English!
It is also only 1 hour from London. Definitely one of the most romantic activities to do from London.
These fields are located 15 miles from Central London at 1 Carshalton Road, Banstead in North Surrey Hills.
You can roam the alluring fields from 1 June to the 2 September from 9am to 6pm.
The Mayfield Farm allows children (under 16) to enter free of charge. Adults are required to pay £2.50 per person.
The farm has a shop and a cozy al-fresco café.
The shop stocks lavender oils, fragrances and toiletries, garden accessories, bunches of lavenders and their wreathes, etc.
You can also relax at the café while having sandwiches, burgers, paninis, ice-cream and the infamous lavender cream tea. Don't forget to try this tea, it's divine!
Cotswold Lavender Farm (WR12 7JY) (2.5 hour from London)
The Cotswold Lavender Farm allows visitors to stroll in Lavender paradise between June 8 – August 4 from 10am to 5pm.
Traditionally, the optimal time for lavender frolicking is mid-July but it can vary annually due to weather conditions.
If you get a chance to visit the Cotswold Farm, you have drop by The Gift Shop and The Tea Rooms.
At the Shop, you will find an array of bath & body stuff – soaps and body scrubs – and skincare items like hand creams and lotions.
You can also buy lavender teas, seeds and even lavender chocolate.
At the Tea Rooms, you can savor lavender shortbread, scones (lavender or fruit), delicious soups, freshly brimmed rolls, quiche and the Lavender & Lemon cake. Mmmm
The Cotswold Lavender Farm is located at the Hill Barn Farm, Snowshill, Broadway in Worcestershire.
The Farm is in the Cotswold Hills and close to large towns like Gloucester.
To enter the fields of purple, visitors are required to pay an entry fee of £4 for adults and £2 for children (5 – 15 years).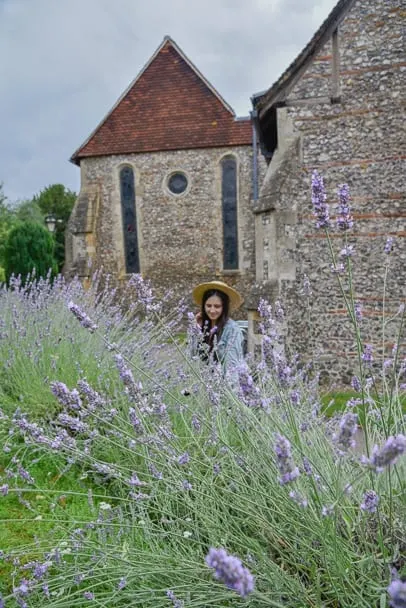 Somerset Lavender Farm (BA3 5WA) (3 hour from London)
Somerset Lavender Farm is located in Faulkland Somerset, near Bath and the town of Bristol.
You can meander through these fields (note: this farm contains no less than 20 varieties of lavenders!!) from 1 May to 30 September 30.
You can visit the field from 10am to 5pm every Wednesday to Sunday. It's even open on Bank Holiday Monday!
Somerset Lavender Farm's shop has many lavender products including important oils, toiletries, lotions, eye pillow and lavender bags.
There is also honey produced from bees at the farm which is very delicious and healthy.
The farm café serves homemade cakes of lavender and other fruits. You can buy light lunches, hot or cold drinks as well.
The great news about this Lavender Farm is that entry is totally free!
Hitchin Lavender Farm (SG5 3UA) (1.5 hour from London) – The best lavender field near Cambridge
Nestled in Cadwell Farm, Ickleford, Hitchin in Hertfordshire is an appealing farm as it is close to both London and Cambridge.
It is also only a 1 hour drive from one of our favourite little towns near Cambridge, Bury St Edmunds.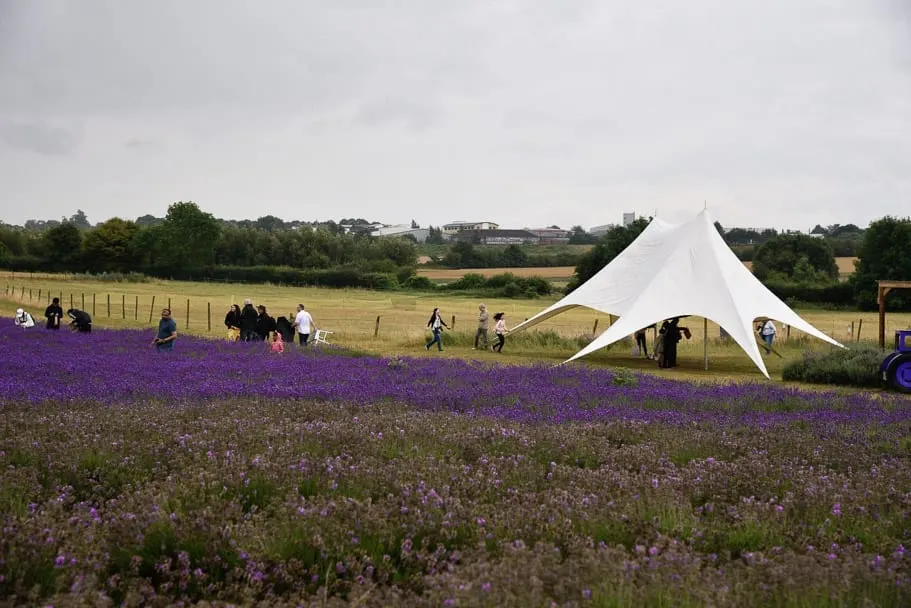 Around mid-June to mid-August, this farm is open from 9.30am to 5pm. On Tuesday and Friday, it's accessible till 10pm.
To see Lavender in full bloom, adults have to pay £6.00 and it is £3.00 for children (5-14 age).
While most farms discourage the picking of flowers from the fields, Hitchin Lavender Farm actually encourages it so Look forward to cutting lavender, sunflowers and wildflowers when you come.
You don't have to worry about the cost as it's covered in the entry fee.
From its homey onsite café, you can get lunch including – Home Freshly Baked Potatoes, Sesame Seed Bagels in the Barn and Baked Camembert served with Fig bread & Sweet Chilli Jam, etc. MMM!!!
There is also a lavender shop which sells skincare, bath & body items and lavender oils.
It also has teas (Lavender and Camomile), lavender necklaces and wrapping paper and ideal lavender gifts for loved ones.
Kentish Lavender Farm (TN14 7UB) (less than hour from London) – Best Lavender near Dartford
If you are near Dartford you can travel to Castle Farm, Redmans Lane, Shoreham, Sevenoaks in Kent to catch a glimpse of some extraordinary Lavender fields.
The farm is around 16 miles from Dartford, a town not that far off from London.
What we love about this farm is the entry fee is absolutely free. They do however, offer Lavender Tours for £7.50 per person.
The farm is up and running the whole year but note that lavender is only available from the end of June till the end of July.
You can visit the farm 7 days of the week from 9.30am to 5pm (on Sunday opens at 10am).
The farm sells lavender toiletries, candles, natural sleep products, message oils and food essences.
Food is also sold at The Hop Shop – it doubles as a café. There you can relish chocolate, jams, fudge, cakes, biscuits, Lavender ice-cream and salts.
Yorkshire Lavender Farm (YO60 6PB) (4 hour from London)
The Yorkshire Lavender Farm with a Lavender Maze, the Pyramids, the Plant Nursery, the Sculpture Park and the Play Area for kids is really a must-visit.
You can admire the Lavender in the various gardens of the farm including the Mediterranean Dry Garden, Purple Patch Garden, Sensory Garden and The Wibbly Wobbly Way, etc.
If you decide to stop by the Farm, you should definetely eat at EJ'S Tea Room.
They serve morning coffees, afternoon creams teas, lunches, sought-after 1-2 courses cold buffet, lavender scones and lavender ice-cream.
It is also possible to shop at the onsite Gift Shop.
The Shop is home to essential lavender oils, lavender soap, sticks and sprays, lavender perfumes, lavender bags, lavender bubble bath, lavender shampoo and dried lavender. You can even find products to aid in sleeping.
The farm is open 23 May to 29 September from 10am to 5pm.
The general admission is free but the gardens have a fee.
The lavender farm is situated at Terrington, York in North Yorkshire,44.3 miles from Middlesbrough.
If you find yourself in Yorkshire, why not visit the dazzling fields?
English Hampshire Lavender (GU34 3HP) (2 hour from London)
English Hampshire Lavender us one of the most picturesque lavender fields in the UK.
Snuggled in Hartley Park Farm on Selborne Road, Alton in Hampshire, the Lavender Fields bring out the beauty of the countryside.
You can take private group tours to the Lavender Fields or wait for the Annual Open Days (this year 6 & 7 and 13 & 14 of July)
Activities include wandering the fields, talks on lavenders (approximately 2 hours duration), tractor and trailer rides, scrumptious Ploughman's lunches, Tractor Ted kids mealboxes and Lavender cream teas and cakes.
From the shop on the Farm, you can buy lavender body care products and take the aroma of lavenders home with you. The Lavender Gift Set is particularly popular as a memento or present for others.
The entry fee is £4 for adults and kids between 2 to 12 years pay £1.
Nearest town: The town of Petersfield is 10.4 miles off from the farm and Clanfield is 16.1 miles away from the farm.
Lordington Lavender (PO18 9DX) (2 hour from London)
Another instagrammer's paradise is the Lordington Lavender fields.
You can visit the Lordington Lavender fields in West Sussex in the Open Week.
Dates for 2019 were Monday 8 July to Sunday 14 July from 10am to 4pm.
The entrance fee was £6 for anyone above 16.
Inside the farm you can go on tractor rides, walk within the clusters of Lavender, eat lavender cakes, teas and other homemade lavender delights.
At the shop you can purchase lavender oil, hand & Body cream, lavender soother, lavender essential oils and even English Lavender Dog Shampoo for your furry friends.
The Shop also stocks greeting cards with Lavender fields sketched on them and Lavender candles.
The nearest town to this field is Waterlooville, 10.4 miles off the field.
Shropshire Lavender (TF10 8AH) (3 hour from London)
Shropshire Lavender is open to the public until 26 August on Fridays, Saturdays and Sundays from 12pm to 5pm.
It's huddled in Wellbank Farm, Pickstock in Shropshire. Come and snap photos of the Lavenders, the wildflowers, birds in the gardens like Wrens, butterflies and bees. The entry is free!
Arthur's Tea Shoppe has the most delightful sweets like Lavender scones, baked sponge cake along with cream teas and coffee.
This farm has an onsite shop and an online shop. At the shop you can buy body care products such as Handmade Lavender & Goats Milk Heart Soaps, Tiny Lavender Guest Soap and Lavender Bath & Shower Gel.
Set in the picturesque Shropshire countryside, the Farm is around 3 miles from the market town of Newport.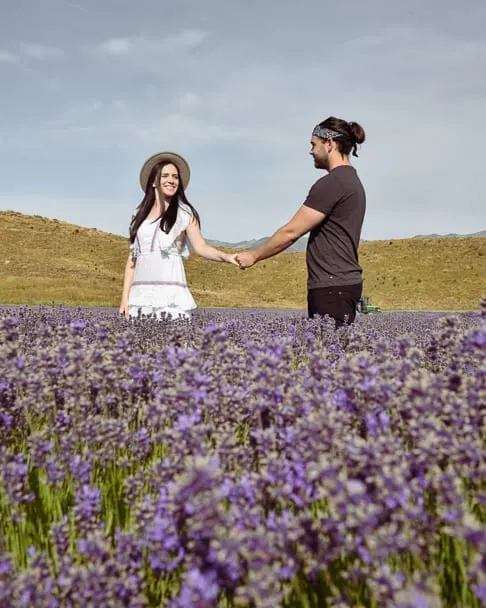 Wolds Way Lavender (YO17 8HW) (4 hour from London)
Another great lavender field to visit in England is the Wolds Way Lavender field.
The Lavender fields along with the Shop, the Tea Room and the Visitor's Center are open to the public from March 30 to September 29 at Wintringham, Malton in North Yorkshire.
The fields are located about 26 miles from York.
You can visit the farm between 10am to 5pm during July and August when the lavender is in bloom.
The farm showcases 120 varieties of lavender on the farm.
It is also a great place to brig kids as there is a living maze (at least 2000 Willow trees make it up) and giant games like Hopscotch, Limbo, Drafts, Chess, Jenga, Hoopla and Nine Mens Morris.
If they love adventure you can also take them to the Timber Trails.
At the farm there is aTea Room, which serves homemade Lavender scones with jam and cream.
You can also browse through stacks of handmade soaps, moisturizing hand creams, shampoos, Gift sets and lavender oils.
Entry Fee: £6.00 per adult, £5.50 with concessions and £5.00 for children from 2 to 16 years.
Best Lavender Fields in Wales UK
FARMERS' Welsh Lavender (LD2 3HU)
If you find yourself in Wales, a great lavender field to visit is the Farmers' Welsh Lavender Fields.
Stationed at Cefnperfedd Uchaf, Maesmynis in Builth Wells, this farm is open all year round.
The Lavender fields are the most stunning during midsummer.
The lavender distillation season is from late July to mid-August but visitors can still be shown the out-of-season distillation of oil from Lavenders.
From the Shop, you can try and buy body care items, lavender products, and lip balms.
Waxed cotton kit bags, denim aprons, Welsh woven blankets, seasonal jams, and the FARMERS' pleasurable lavender chocolate bar are also available.
The FARMER'S Natural Face Cream – a new edition – is particularly recommended!
In the summertime, you enthusiastic swimmers can take a dip in the majestic pond at the farm.
It is possible to enjoy cakes along with tea and coffee at the farm if it is organised in advance.
If you're thinking of a group visit to the farm, then you will be greeted with refreshments.
Subsequently, a small talk on Lavenders – their varieties, best types and cultivations techniques – will ensue. Then, you will be taken on tour of the Lavender fields and the distillery.
If you want to make a day of it you can also stop for a visit to the Llandrindod Wells spa which is 12 miles from the farm.
Wye Lavender of Rhayader (LD6 5NR)
Another place to enjoy lavender is the Wye Lavender of Rhayader in the Welsh Hills.
If you would like to visit these fields you first need to hike up to Wye Lavender, Bryn Pedol, Rhayader in Powys. It's 26.3 miles away from Presteigne – one of the Gateways to Wales.
You can make this hike from 10am to 5pm through the months of July and August.
The farm offers Teas & Tours where the staff will give you a tour of the farm and also have a talk regarding all things lavender.
You can then relax by sipping the farm's infamous Lavender cream tea while surrounded with soothing Lavenders.
You can order baked Lavender scones with strawberry and fresh whipped cream, coffee or tea and lavender biscuits from the farm.
Included in the entry fee of £12.75 per person is a bouquet of Lavender.
From the Lavender Farm Hut Shop, you can purchase organic lip balms and soaps and lavender oils.
Best Lavender Fields in Scotland UK
Lothian Lavender (EH41 4NJ)
The Lothian Lavender is the best lavender fields in Scotland.
At the foot of the Lammermuir Hills in East Lothian, you can find the Lavenders nestled alongside the woodland surrounding the fields.
The Lothian Lavender began in 2010, when Sue, the owner started hand embroidering lavender bags.
Since then, she and her husband have expanded the fields but it's still relatively a small business.
In their online shop, they stock traditional cold press soaps, hand blended hand creams, embroidered lavender bags and hand poured candles.
They have also widened the fields so that they can have more dried lavenders to use in making bags.
Many shops in Scotland have products from Lothian Lavender. Some of these shops include: Planet Soap in Crieff, Beech & Birch in Gifford, Leuchie House in North Berwick, Hazel Rebecca in Gullane, Haddington Herbals in Haddington and Floors Castle in Kelso.
The fields are located about 14 miles from Musselburgh, the largest town in East Lothian.
NOTE: This field is not yet open to the public.
Lavender Fields Near Me (UK Map)
We have identified 13 incredible lavender fields in the UK – one of them is going to be near you.

***
See more: