Looking for the very best Long Distance Relationship Gifts for Him?
Don't worry we have you covered with 23 super special and meaningful long distance relationship gifts for guys that are just perfect for your long distance boyfriend!
If you are in a long distance relationship you will know how super challenging they can be. Spending weeks and months apart can make you feel so lonely and disconnected. Sending your partner something fun and special in the mail could just make their day and reconnect you in the best way possible while you are so far apart.
Issue is gifts for people in long distance relationships can be challenging! It is hard to find that special something that is justtt right. Below we have hunted the web (including amazon) and found 23 actually good long distance relationship gifts for him.
Aside from gifts you might also like to reconnect through fun long distance dating ideas including:
23 Best Long Distance Relationship Gifts for Him!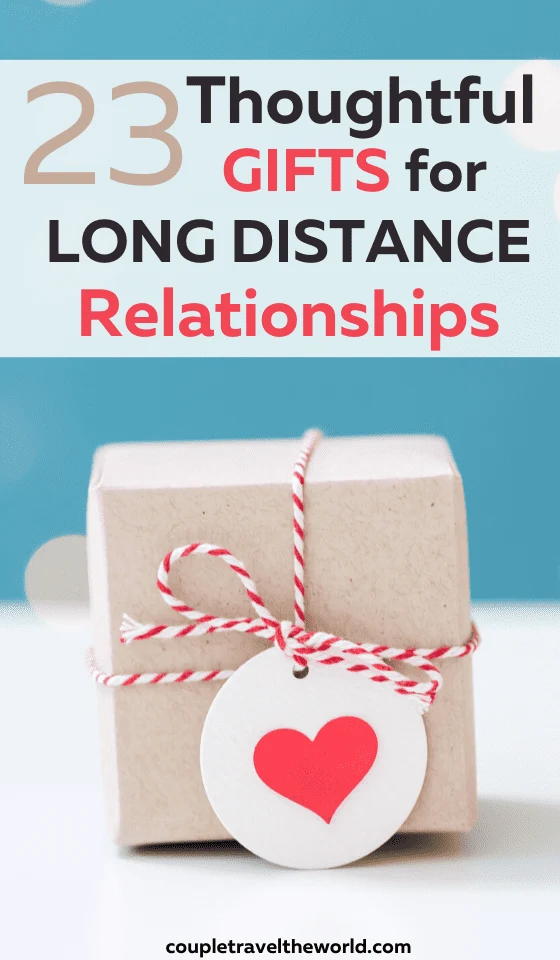 These are special high-tech bracelets that will allow you and your partner to "feel" each other at a distance! One of the coolest long distance gifts for him.
This is amazing technology that might be exactly what you're looking for! Here is a product of ingenuity born through necessity: it is smartly designed for both form and function. And it can cure some of that feeling of anxiety to find a way to feel close to your beloved when you are miles and miles apart!
The Touch Bond Bracelet is about as good as it gets for connecting in real time, discreetly, with a light little buzz of your love. With this device, any time you want to let your partner know you are thinking about him, you press the button on your matching bracelet and your partner will feel a pulsation on his wrist.
All you need to do, is buy a set, both of you then download an app to your phones, set up your profiles, and it uses Wifi and Bluetooth technology to communicate!
Every time you push the button on your bracelet, your partner's bracelet will vibrate and flash a color so they know you are thinking about them. (You can change the settings on the app to make it vibrate without light or color in case you go into a meeting.)
The bracelets come in several handsome styles, often resembling a sleek exercise step-counting band, but there are more elegant varieties as well, made out of leather or precious metals.
The only draw back with the technology is you need to be near Wifi and have the app open on your phone to work, but that's a small price to pay for the encouragement and closeness this device can bring to your long distance relationship.
These bracelets are similar to the Touch Bond bracelets, except without the technology. The come in sets as well.
There are many styles out there. One example is two puzzle pieces that fit together, another is a yin/yang design.
You can also have your initials engraved with a heart motif, or use a quote that is meaningful to you. Then every time you look at your matching bracelets you will think of how much you love and miss each other and know your partner is wearing it too.
Keychains come in sets as well, so each partner carries one half. A really cute long distance relationship gift.
A popular design is the map with a heart in each partner's specific location. So if you live in California, and your partner is in New York, you can choose a design with a map of the USA that has two hearts on it displaying your two locations.
Other ideas are adding charms to keychains of things your partner loves, where you can choose the charms yourself. Engraving your initials would be another great idea!
This is a sweet way to let your partner know you are thinking of them.
They are called Long Distance Light Up Lamps and are are sold in sets of 2 or more. They work when they are attached to Wifi.
You can send your loved one a light lamp and once they're both set up, every time you think of each other, you can touch the lamp and your partner's lamp will light up no matter how far away they are!
Most can be programmed for different colors for specific people, so if you wanted to use this to say hi to your whole family, you could! Red for your wife, blue for your son, green for your daughter, and so on.
It is also a very romantic way to connect privately with your beloved so only they will know. You can use it to say goodnight, for example, or good morning to see if the other is awake!
Because you can program the colors and the timing on it, you could assign certain colors to convey different things, like being happy or sad or "missing you".
Long Distance Light Lamps are a wonderful gift that can be a fun and romantic way to keep in touch throughout the day and night.
Did you know you can order long distance phone covers with maps of countries or states on the back that have a heart on the location of your beloved?
Pretty cool stuff!
Wouldn't it be nice to have a reminder of your loved one on the back of your phone so you can see it all the time? Maybe you can have two cases made so they match (perhaps one is more masculine and one is a more feminine version.)
We all love a good pillow, but these pillows go beyond that!
If you are looking for something special to buy for your SO, a relationship pillow is a cool idea.
A special long distance relationship pillow gives you something to hug and to rest your tired head on that symbolizes the love for your partner when you two are miles apart.
These also come in many designs showing each partner's location with hearts in between or drawings of figures of two people holding up cups to their ears with string in between them.
Some come in regular pillow size, and some as body pillows or you can get a simple throw pillow size for your sofa.
You can also go 'all the way' and buy Boyfriend Pillows and Girlfriend Pillows! These come in the shape of the torso of a man or a woman with one arm to wrap around you.
These are bracelets custom made with the geographical coordinates of your choice engraved on them.
Do you two have one special place that sums up your love for each other with the memory it brings? One place in the world that solidified your life together as a couple?
Why not find out the exact coordinates of where it happened, and have them printed on a lovely bracelet for your partner?
These bracelets come in many materials, from leather to silver and gold, you can find any style to suit your tastes.
Make a his and hers (or a hers and hers or his and his) set and you will always have this bracelet to wear that will remind you of the wonderful memories you share together and the hope you will be by each other's sides again very soon.
This is a great stag gift that can be used as a gag gift for your boyfriend! Send him a Grow Your Own Girlfriend in the mail!
You just add water and the girlfriend will begin to grow in 2 hours and then grow to full size in 72 hours! Later, you can watch it shrink as it dries out — then water it again and watch it grow!
A silly and fun gift that gives and gives.
I Miss Your Face Teddy – Send your partner a sweet little stuffed teddy bear holding a heart that says "I miss your face!"
It's a cute little cuddly bear for your cute little cuddle bear.
What a great way to remember your beloved then to custom order a photo blanket which you can cover with pictures of your wonderful times together.
You can order these in whatever blanket material you like, from cotton to chenille, and then add as many pictures as you like to make a collage.
You can also use one photo for a giant portrait of the two of you together. A great snuggly way to feel close.
There are two ways you can do this. You can buy a beautiful box and fill it with lovely things you know your partner will enjoy, or you can buy a pre-made box with pre-chosen meaningful little momentos and romantic phrases on it to signify your love.
Another variation on this is the traditional care package with presents and food treats.
A perfect idea for a long distance care package for him.
This is a very personal way to touch your partner's heart from far away- write little love notes for him and assign future dates for when to be opened!
This is probably one of the most romantic things you can do in any relationship, but especially a long distance one. The cool thing about these cards is that they help you know what to put inside!
There are all types of designs for long distance relationship mugs from sweet to funny.
One of our fav ldr gifts for him.
You can get ones that say, "My heart belongs to an American woman" with a heart that looks like the American flag. Of course, there are styles for all countries and states, too.
There are also ones with long romantic poems on them if you prefer. There are also mugs with the map and heart locations design on them. Or you can simply have your names printed on them.
The below mugs are some of my personal favs. So cute!
This would be a great gift to give to your partner when it is time to leave for another long period of time apart.
You can find elegant frames in many different styles with the engraving "I love you more than the miles between us" written in lovely font.
Just slip a sweet photo of the two of you embracing or kissing, and voila! A beautiful, touching memory of instant joy for you to gaze at until the next time you are physically able to embrace.
There are many options for either making or buying a keepsake box. It's such a nice idea to put things that are meaningful into a nice looking box so your partner will have them anytime he wants to look.
One of the best long distance gift ideas for him.
You can find handsome boxes that are made for this purpose, some with graphics of love, or some that come in shapes that may be meaningful in and of themselves (like the shape of a baseball or a guitar or a beer he likes). Or you can have a box engraved with your names and the date you met on them.
You can also make a DIY box yourself, using your imagination or ideas off of Pinterest. Present it to your loved one filled with momentos like concert tickets or photos or shells from that romantic walk you two took on the beach.
If you're crafty and you want to make something special for your partner, why not try making an Explosion Box?
They are multilayered handmade boxes with personalized touches on every square inch, which you can decorate with paper and scrapbook embellishments, to show him how much you love him.
They are designed so the layers "explode" when you open the box, and a cool array of colors and patterns dazzles the eyes, with a special gift you choose for him as a centerpiece.
It can be a gag gift or even jewelry, but the explosion box makes a splash when it is opened, with its unexpected layers and surprises!
A cool valentine's day gift for a long distance boyfriend.
These are beautiful framed pieces of art, and they're custom made for you and your long distance lover! One of my personal fav distance gifts for him.
What a great surprise idea for your long distance boyfriend.
Imagine a heart shaped matting with one side of the heart a vintage map of your location, and the other half of the heart has a vintage map of your partner's location.
You can have your names embossed with a love quote or the date you two met.
You can have two of these made and both of you can hang them over your beds or above your kitchen tables, so when you see it, it will remind you that no amount of distance can keep you apart.
Just like it sounds, you can find candles that say, "I miss your face." Many have an option to write a personalized message on the back, so you can send your lover some sweet nothings matched to a flame!
Add a scent to really drum up those olfactory memories!
Another unique gift you can make or buy. Fill it with photos. Let him know how much he means to you.
Feel free to embellish it with scrapbook crafts or stickers. Add vacation pictures, graduation pictures, concert ticket stubs — any memorabilia from your history together as a couple that made you feel special and loved.
A very charming idea for a long distance relationship gift is a compass. You can find gorgeous handmade compasses that come in lovely leather boxes.
A perfect surprise for a long distance boyfriend.
There are many styles to choose from that have the moniker, "So you can always find your way home." This makes for a cherished gift complete with symbolism, utility, and tradition that he will love.
Pour your heart onto little slips of paper with all the reasons you love your partner. You can make the slips little heart shapes or just use different colored slips of paper.
This "Reasons Why I Love You" Jar is the perfect place to put your little words of love in. Fill the jar with 52 slips for the weeks in a year, or 365 slips for one love message per day.
A very personalized long distance gift and such a cute long distance relationships gift for your boyfriend!
This is a special gift that takes some time to prepare, and your partner will feel loved and appreciated during your long absence from each other.
Maybe your first date was a coffee date. Or maybe you just love to go sit in cafes together. Or maybe one of your favorite moments together are mornings over your first cups of coffee.
If coffee brings you together, you're in luck! Here's a practical gift that is both beautiful and useful.
The embossed words on the face of the spoon will remind you of each other while you sit and sip your coffee. You can pair these with matching coffee mugs as well, but they make a fine gift on their own.
It is nice to buy these "Let's have coffee together forever" spoons as a pair though, so you can each have a matching one to feel connected! Special order for engraving is also available.
Get him a Superman apron so he always knows he's your "man of steel". There are so many funny and sexy apron designs with the Man of Steel on the front.
Delight your partner with his favorite superhero image. Let him know how strong and reliable you think he is, that you think he is the sexiest man alive, by giving him this fun gift.
It will remind him of you and your smile every time he puts it on. One of the best gifts for a long distance boyfriend.
Date Ideas for Next Time you Are Back Together?
Keep these date ideas in mind for next time you guys reunite:
Save to Pinterest: Best gift for boyfriend long distance