In all guide books to Lviv you will see that Lviv High Castle is one of the best things to do in the city of Lviv.
We have spent several months in Lviv and would not rate Castle Hill as one of the best things to do in the city.
Lviv High Castle
High on the hilltops of Lviv, sits a place called Castle Hill.
One would expect, given the name, to find a castle located on this hill. Sadly, you won't find a grand castle there but a viewpoint (average at best) with a Ukrainian flag and a close up view of a television tower.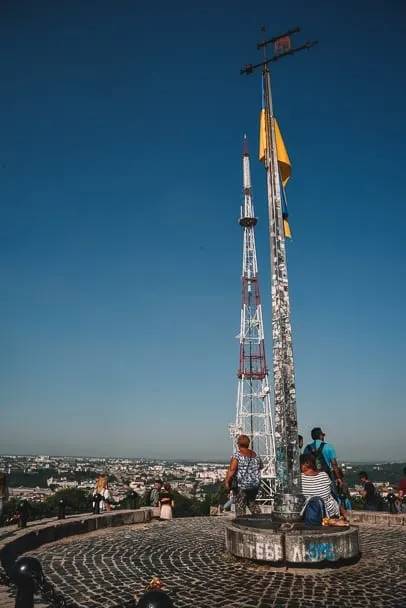 If you are interested in a better, prettier view of Lviv, we would recommend Lviv Town Hall which boasts a very pretty view of the pink and green rooftops of Lviv.
One nice part of hill is the short hike uphill is quite pretty and very green in the summertime.
If you are exhausted after your walk up, don't despair, there is a little store where you can buy water, ice creams, coffee etc.
History of the Castle Hill
For history buffs you might enjoy this Lviv hilltop. If you would like to learn about the history we would highly recommend taking a tour.
As one would expect, various castle once sat on this hilltop. Over the years, different castles were built and destroyed by the Polish, Lithuanians and Swedes.
Nowadays none of the former castles remain just a hilltop with a vivid history.
Getting to Lviv High Castle
Should you not believe us and which to visit Castle Hill anyway, here is how:
By Walking: Around 30 minutes by foot from downtown Lviv
By Uber: From downtown Lviv expect to pay around 70 UAH (3 USD) for a ride to High Castle.
By Tour: Tours of Lviv cover this attraction. We would recommend free walking tour.
If you would like to DIY, we would highly recommend getting an Uber on the way there. It is an uphill hike to Lviv High Castle by foot and quite exhausting. When you reach Lviv High Castle entrance there is another 10 minute uphill hike.
Walking back from Castle Hill is quite pleasant however as it is all downhill.
If you do walk down, see if you can spot this cool new church. It was one of our highlights to visiting Castle Hill.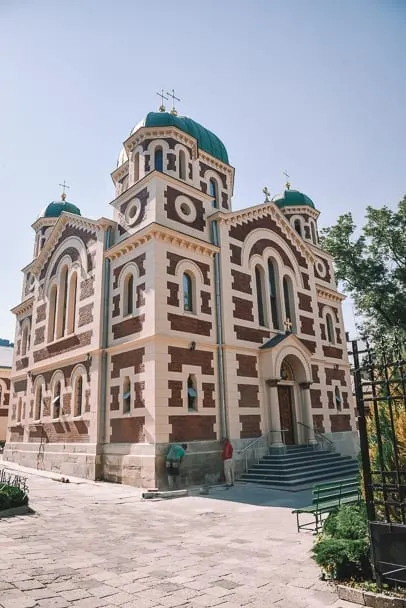 More Lviv Blog Posts?
We love Lviv! We usually spend a few months here every year and have got to know the city well. If you're planning to visit for the first time check out our guide to where to stay in Lviv (we'll show you the best areas to stay).
You might also enjoy our posts on:
Save this to Pinterest (so you can remember not to visit it later)