[et_pb_section admin_label="section"][et_pb_row admin_label="row"][et_pb_column type="4_4″][et_pb_text admin_label="Text"]
You can't come to Kiev without visiting Maidan Nezalezhnosti, known in English as Independence Square Kiev. It really is a must do on any Kiev itinerary.
Independence square reminded us a lot of Russia – grand statutes and big expensive spaces. We learned this was because much of the original square was destroyed and replaced with this soviet era architecture.
5 Interesting Things to Check Off
If you are visiting independence square, make sure you check off these 5 things!
Hotel Ukraine
Independence monument
Founders of Kiev Monument
Lyadsky Gate
Musical Fountains
Independence Square
Independence square was always on our list of things to do while in Kiev.
On the first day of our travels, we decided to take a free walking tour to get acquainted with the city.
All free walking tours start from Independence Square (we would highly recommend taking one if you would like a deeper knowledge of Kiev.
The square is a large space with multiple fountains. Directly in front of you, you will notice the Independence monument, a very tall statute with an angel on top.
Behind Independence Square you will notice a drab skyrise hotel which Ukrainian's love. Why? Because in soviet times the hotel was named Hotel Moscow. Since independence it's known as Hotel Ukraine. You can book a stay here. The rooms are soviet era style but full of charm and character.
Next to the independence monument is a smaller statue, founders of Kiev Monument,in honour of the founders of Kiev. As it was such a long time ago, the exact date is unknown. However, they are believed to come from Scandinavian decent which is why the Ukrainian founders are often depicted as vikings.
The city of Kiev was actually named after one of these founders however his name is pronounced a little differently.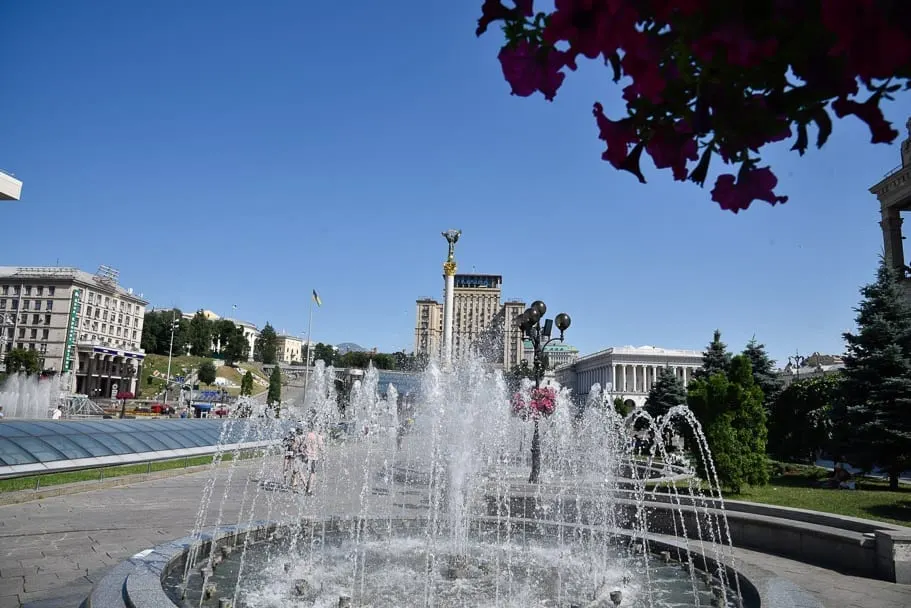 In Russian, Kiev is pronounced "Keev" (curiously, this was the more common pronunciation in Lviv, Western Ukraine – at least among the English-speaking Ukrainians we met). The correct way to pronounce Kiev in Ukranian is 'COO-yov'.
Ukrainians are protesting to have the name of Kiev pronounced in this way (as opposed to the Russian way, which we say) and to have the name recognised internationally as Kyiv. Some airports and other places of significance have had a name change since the protests.
Around the square is lined with al fresco restaurants, cute cafes and bars. You can even try Crimean food at one of the restaurants.
Even if you are not interested in the history behind it, we would recommend a stop to Independence square to soak up the ambiance.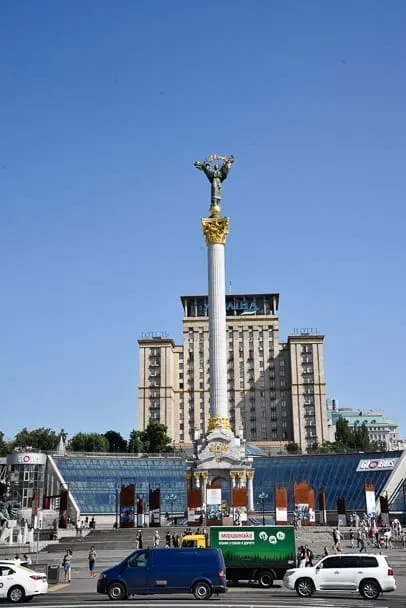 History of Independence Square
As you would expect given the name, it has been the home of Ukraine's independence movement in the 1990s.
Since then, any protests will traditionally be held in this square.
As you would probably expect, this was not the original name of the street. The Russian name for the street was was Perevisyshch
Kiev has such a vivid history and much of it took part in independence square. Therefore, we consider it a must see in Lviv.
More Ukraine Blog Posts
Love the Ukraine? So do we! Here are some more Ukraine blog posts that you might find helpful:
Save this to Pinterest (so you can find it again later)
[/et_pb_text][/et_pb_column][/et_pb_row][et_pb_row admin_label="Row"][et_pb_column type="1_3″][et_pb_image admin_label="Image" src="https://coupletraveltheworld.com/wp-content/uploads/2019/06/independence-square-kiev-ukraine.png" alt="independence-square-kiev-ukraine" show_in_lightbox="off" url_new_window="off" use_overlay="off" animation="left" sticky="off" align="left" force_fullwidth="off" always_center_on_mobile="on" use_border_color="off" border_color="#ffffff" border_style="solid" /][/et_pb_column][et_pb_column type="1_3″][et_pb_image admin_label="Image" src="https://coupletraveltheworld.com/wp-content/uploads/2019/06/Maidan-Nezalezhnosti-things-to-do-kiev.png" alt="Maidan-Nezalezhnosti" show_in_lightbox="off" url_new_window="off" use_overlay="off" animation="left" sticky="off" align="left" force_fullwidth="off" always_center_on_mobile="on" use_border_color="off" border_color="#ffffff" border_style="solid" /][/et_pb_column][et_pb_column type="1_3″][et_pb_image admin_label="Image" src="https://coupletraveltheworld.com/wp-content/uploads/2019/06/Independence-square-kiev-ukraine-.png" alt="Independence-square-kiev-ukraine " show_in_lightbox="off" url_new_window="off" use_overlay="off" animation="left" sticky="off" align="left" force_fullwidth="off" always_center_on_mobile="on" use_border_color="off" border_color="#ffffff" border_style="solid" /][/et_pb_column][/et_pb_row][/et_pb_section]