Prague, the city of a hundred spires. Bisected into two parts by the majestic Vltava River, this beautiful city has many incredible things to see and hidden gems waiting to be discovered!
Things to do in Mala Strana Prague
One of our favorite areas in Prague is known as Mala Strana Prague, a historical district which literally means Lesser Town. Mala Strana really does not live up to its 'Lesser Town' name though. We would go as far as to say as it has some of the best places to visit in Prague within.
This hillside area is the home to the notorious Prague Castle along with other buildings crafted in Renaissance and unique Baroque architecture. Rich gardens, elaborate palaces and meandering cobblestone lanes are a manifestation of its long history.
If you are in Prague, this is a MUST SEE area to visit.
John Lennon Wall in Mala Strana Prague
Are you interested in graffiti? You can see some awesome art at the John Lennon Wall in Velkoprevorske Náměstí.
Many talented and inspired artists have painted the wall through the years. Mostly, the wall is covered in colorful images of John Lennon, the lyrics of Beatles and political graffiti.
Over the years, the authorities have whitewashed it many times but to no avail. It was always repainted with John Lennon's songs or peace messages or just inexplicable drawings.
This rainbow point in Malá Strana is worth seeing.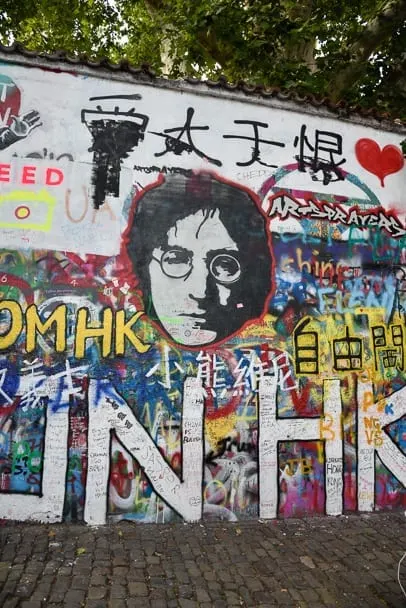 KGB Museum
This museum at Vlašská houses the weapons, uniforms and artifacts from Russia's most feared Committee for State Security.
Interestingly, the KGB Muesum is a private collection. The owner is obsessed with Russian history so the KGB Museum in Prague showcases his collection.
The exhibition shows the spy cameras, an original garotte (a wire) that is also called Stalin's scarf and scary electrical interrogation equipment.
Unexpected items include the Vladimir Lenin death mask and strange Soviet uniforms.
Phones, badges, typewriters, photos (rare ones included) and patches also lines the selves at the Museum.
The eccentric museum owner will give you a tour but not a history lesson ;). WARNING: Don't offend the owner by criticizing the Soviets. He's zealous about Russia and might even kick you out if you offend him.
It costs 348Kč per person to enter the museum which is open Tuesday to Sunday from 10:00am-5:00pm.
Kampa Park
Huddled on the bank of the River Vltava, Kampa Park is a restaurant with three summer terraces and a winter garden.
Stocked with local and international dishes, this fine establishment has delicious food with the most spectacular views.
This enigmatic place is also away from the hustle and bustle of the city – a calm and slow-paced park.
You can order fish or meat dishes along with wine (150+ delicious varieties).
Moreover, you can choose to dine in the fashionable and romantic dining rooms or special riverside terraces that overlooked the Charles Bridge.
Other than the restaurant, farmers' markets are arranged on the weekends. David Černý's Crawling Babies exhibit is also at the Kampa Park so be sure to drop by to see it.
It is open from 11:30am-4:00pm and from 6:00pm-10:30pm daily.
Charles Bridge
The Charles Bridge is perhaps the most iconic landmark in Prague.
If you are an instagrammer, it is difficult to photograph this bridge with no-one in it. We visited the bridge at around 6:30am in the morning and there were already a lot of people around including wedding photographs being taken.
If you are interested in history, Charles IV, the Holy Roman Emperor and the Czech King, had the Charles Bridge constructed from 1357-1402.
It replaced the Judith Bridge; whose demolition came at the hands of a flood.
Built of sandstone, this bridge connects the Old Town with Malá Strana. Two towers, one at each end of the bridge, stand guarding all those who pass through.
Many Baroque Statues are displayed on either side of the bridge, enticing tourists and locals to study them. St. John of Nepomuk, a Czech martyr has a statue of his own on the Charles Bridge.
Some say that the construction workers might have combined egg yolks with mortar when they built the bridge. Well, that might explain why it has survived so many strong floods haha.
Undeniably, this Stone Bridge is the most beautiful bridge in all of Europe with its architectural style, towers with amazing views and intricate statues lining the bridge.
If you see just one thing in Prague make sure it is the Charles bridge.
Prague Castle, Mala Strana Prague
Perched on top of the hill overlooking Old Town, lies the ancient Prague Castle Complex.
It is also one of the most important things to see in Prague, only second to the Charles Bridge in our opinion.
Here's some history for you: In the 9th Century, Prince Bořivoj, the first Bohemian Christian Prince, established the Castle.
Over the years, the monarchs who came after the prince, added various parts to it. Palaces were constructed, gardens were built or renovated and some towers were even destroyed. Nowadays, it's the office of the President of the Czech Republic.
Its architecture is wide and diverse with the Romanesque-style buildings of the 10th Century and the Gothic-style reconstruction in the 14th Century.
The architecture is so unique and stunning that it's the 12th UNESCO World Heritage site.
Many monuments and gardens together make the Complex complete.
The Old Royal Palace, built in 1135, is a popular tourist spot with the Vladislav Hall. The Golden Lane and the notorious Daliborka are also inside the Complex.
Moreover, the Bohemian Chancellery is where the second defenestration – aka throwing people out the window – took place.
Put Prague Castle on your bucket list – you want to visit it at least once in your lifetime.
If you're planning on going to the Castle, be sure to bring money as most of the buildings inside the Complex have entrance fees. However, the gardens and some courtyards are free.
The castle is open in Summer from 5:00am-12:00am and in Winter from 6:00am-11:00pm.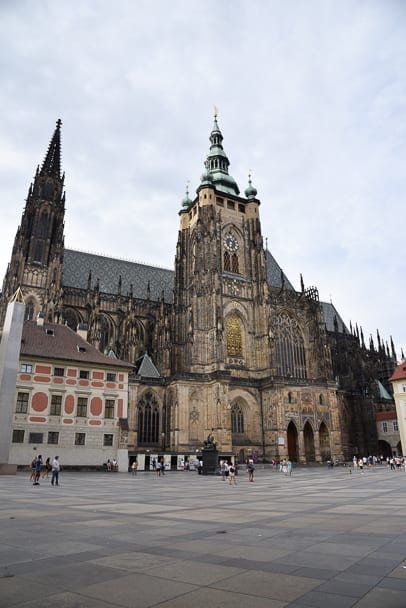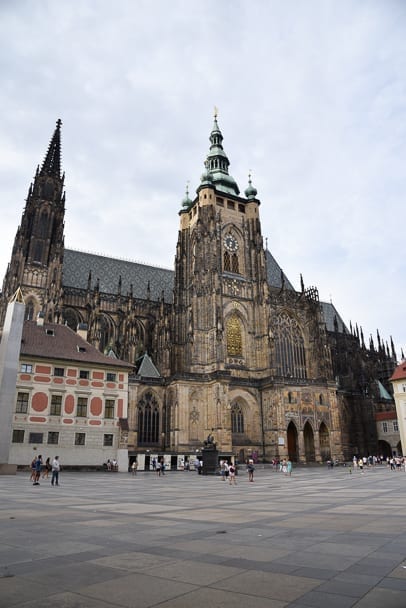 Church of Our Lady Victorious
Stationed in Karmelitská 9, this Church has the infamous statue of Infant Jesus.
The statue is placed in a glass case in the middle of the altar. Made of wax, it depicts Jesus dressed in a royal robes when he was only a few years old.
Not only is the infamous statue of Infant Jesus preset at the Church of Our Lady Victorious but religious items like crosses, sculptures and chalices along with the 46 robes of Infant Jesus are present there.
The Church is an awe-inspiring Baroque building with amazing altars like that of St. Joseph and St. Anna.
The Church was rebuilt from 1634-1669 with the help of many artists. If you're an artist, then drop by to explore its beauty.
One great thing is that entry is completely free!
It is open: Monday to Saturday from 8:30am-7:00pm. On Sunday from 8:30am-8:00pm.
Saint Vitus Cathedral
The Saint Vitus Cathedral is the best spot in the entire Prague Castle. Intending to make a coronation church, a treasury for valuable items and family tomb, the Holy Roman Emperor Charles IV had the St. Vitus Cathedral erected in 1344.
It's truly a paradise for art lovers as it boasts Renaissance, Gothic, Romanesque and Baroque styles of architecture.
The large treasury holds many precious items of the Czech Republic. Some even date back to the middle ages!
One notable antique is the arm of Saint Vitus. He was a Sicilian who was martyred in 303. These days, he is popular as the Patron Saint of entertainers and dancers.
Similarly, you can marvel at stained glass windows and the walls adorned with Bohemian gemstones at the St. Wenceslas Chapel.
Are you up for a long walk? Then, climb to the top of the Great South Tower of the Cathedral via its 287 steps. It would truly be a crime if you visited Prague but missed the largest Cathedral within it.
The Cathedral is open in Summer from 9am-5:00pm and in Winter from 9:00am-4:00pm.
There is an entrance fee if you wish to go inside the Cathedral.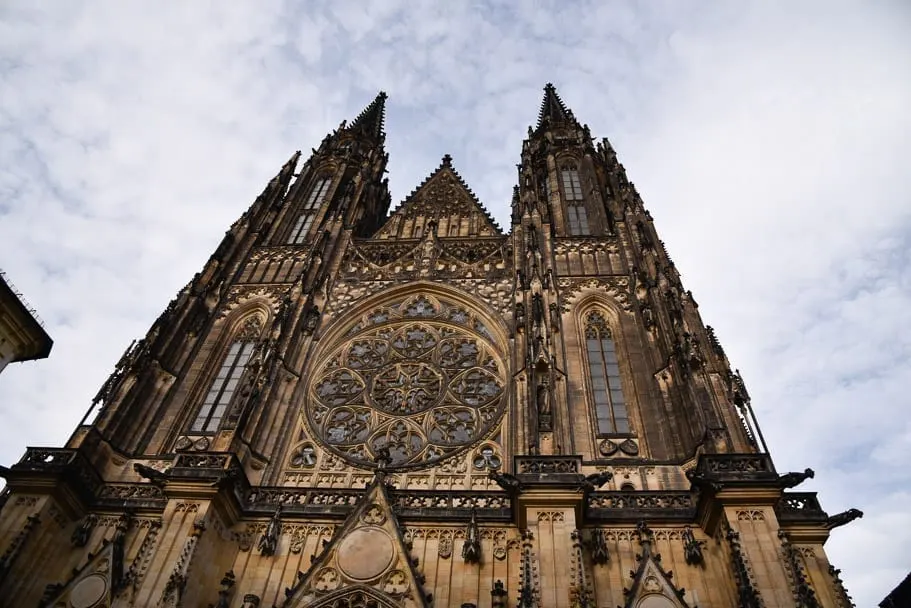 Church of Saint Nicholas
Situated at Staroměstské nám, this Church was finished in 1737. We can thank Kilián Ignác Dientzenhofer – a mastermind in his own time – for this marvel.
This Church is breathtaking with a 70m high dome. Decorated in Rocco and Baroque architecture, this building has the most majestic church interior in all of Prague. The stucco decoration, frescoes and statues add to its appeal.
Stop by the Church to immerse yourself in its Baroque façade and interior.
It is open: 9:00am-4:00pm in Winter and in February from Monday to Thursday. 9:00am-5:00pm in Summer and in February from Friday to Sunday.
There is an entrance fee of 100Kč per adults, 60Kč for children and students (10-26 years) and seniors above 65.
Wallenstein Garden
This is a must see in Mala Strana and we think it is a hidden gem in Prague.
This garden is absolutely stunning and includes gorgeous Baroque-styled statues. An islet in the big pond has a marble fountain of Hercules on it.
The most charming part of the garden is Sala Terrena – a grand room furnished with frescoes illustrating Trojan Wars. It is occasionally used for theater performance and classical concerts.
Look out for white and blue Peacocks with all their feathers out in the garden – they are just gorgeous and make the perfect pictures!
The garden is open: Monday to Friday from 7:30am–6:00pm. Saturday and Sunday from 10:30am-6:00pm.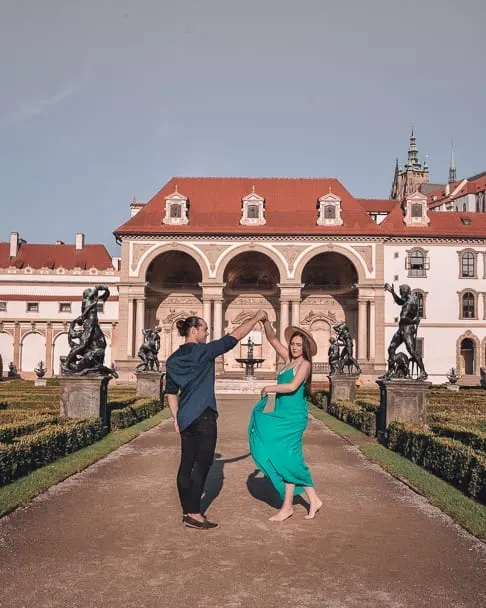 Franz Kafka Museum
In the summer of 2005, this museum opened in the extraordinary Herget Brickworks building on the Malá Strana bank of the Vltava River.
Franz Kafka (1883–1924) has a museum showcasing his literary work.
If you are not aware, Franz Kafka is a significant figurehead in the Literature World of the 20th Century. The thing that sets him apart from his fellow writers is that he rarely names the places he describes in his novels and stories.
The first editions of Kafka's works, correspondence, photographs, drawings, diaries and manuscripts are exhibited there. You won't find them anywhere else in Prague.
Often, he used the schools, offices and streets he had visited in Prague in his writings. They were allegories to represent different types of suffering.
Everything in the museum shows how Kafka was influenced by the city and in turn how he affected Prague through his words.
It is open: 10:00am-6:00pm. There is an entrance fee of 260Kč per adult, 180Kč for students, disabled and senior citizens and 650Kč for family.
Petřín Hill
This peaceful hill has twisting pathways and hidden gardens. It can be found in Praha 1 above the left bank of the Vltava River.
Petřín is renowned for its rose gardens and the Petřín Tower which has the most amazing views!
The Petřín Tower is better known as Prague's eiffel tower. It was built in 1891 for the Jubilee Exhibition as a replica of the Eiffel Tower in Paris.
You can reach the top by taking the 299 stairs; it will only take about 4 minutes if you're fit. If not, you can the elevator that the elderly and disabled use.
Petřín has lots of awesome places to explore. Parks like Nebozízek, Rose Park, Lobkowicz Garden, Park at the Look-out Petřín Tower and Seminary Garden in the hill are lovely.
If you want to learn more about Czech heritage drop by the Czech Ethnographic Museum; it exhibits the traditional Czech culture.
Opening times of the tower & gardens: Tower and Gardens in Summer from 10:00am-10:00pm. In Winter from10:00am-6:00pm. Czech Ethnographic Museum from Tuesday to Sunday from 10:00am-6:00pm.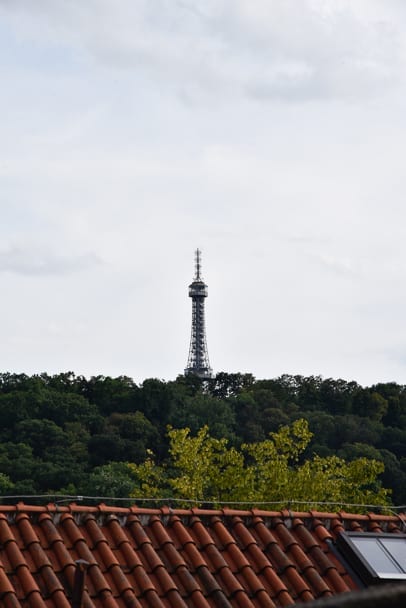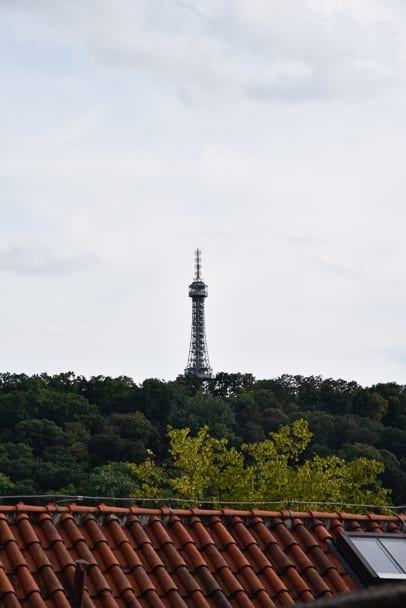 Strahovský klášter
Nestled atop the Petřín Hill at Strahovske Nadvori in Prague, this monastery was constructed in 1140.
It's home to the Church of the Blessed Virgin Mary and the Classical Philosophy Hall embellished with frescoes – paintings done on the walls quickly with watercolors or wet pastels.
Visit the Strahov Gallery to view prominent Gothic, Baroque and Rococo paintings, and Rudolfian art.
The unique Strahov Library is mind boggling. Divided into two halls, the library has old geographical globes and rare books as far as the eye can see. Over 18000 religious books can be found in the Baroque Theological Hall and the grand Philosophical Hall has 42,000+ ancient philosophical texts.
Beautifully sculptured cabinets hold treasure like an 18th Century electrostatic device and glass cases full of wax fruit.
It is open: Tuesday to Sunday from 9:00am-12:00pm and 12:30pm-5:00pm.
Memorial to the Victims of Communism
Seven, bronze, naked men stand on concrete stairs with anguish marring their faces.
Created by sculptor Olbram Zoubek and architects Zdenek Holzel and Jan Kerel, these sculptors symbolize the suffering of the victims under the Communists.
The first statue is fully intact while the others have lost a limb or are torn apart until the last man who is the most injured.
Words are etched on the bronze strip in front of them: "Victims of Communism 1948-1989: 205.486 convicted, 248 executed, 4.500 died in prison, 327 died during illegal crossing the boundaries and 170.938 people emigrated."
This exceptional art piece is devoted to the people that were arrested, shot, hanged and exiled in the dark period in Czech.
It not only depicts their pain but also their bravery to stand up again and again to face their enemies.
They were true heroes. You can pay your respects to the victims at this memorial anytime as it's open 24/7.
It's located at the foot of the Petřín Hill in Újezd street.
Museum of Alchemists and Magicians
Covered from top to bottom in alchemy symbols and artifacts, this museum has true magic in its walls. Stories of King Charles IV and Emperor Rudolf II rooted deep in alchemy are astounding.
Also, the history of the magician Žit and the world of Doctor Faustus is enigmatic. You will even get the chance to enter Faust's House – well, a replica of it – which is one of the most magical spots in Prague.
Other than poking around factual history, you can witness how a Homunculus (artificial human) is made or boil a cauldron in an attempt to make the elixir of life.
You can also take a tour of the Kelly Tower, which is said to have been the laboratory of the alchemist Edward Kelley. Are you a fan of magic and alchemy?
If you are a fan of all things MAGIC then don't forget to visit this magical place.
It is open: 10:00am-10:00pm
There is an entrance fee of 170Kč per adult and 120Kč for children.
Liechtenstein Palace
Once this splendid palace belonged to the Princely Family of Liechtenstein.
In 1591, it was constructed on the grounds of five city houses and later rebuilt in the Classical style in the 18th Century.
When the palace lost its appeal to the Princely Family of Lichtensteins, they sold it to the Earl of Ledebur.
In the 1980s, Academy of Musical Arts acquired the palace. Since then, they have hosted recitals and concerts in the restored music conservatory.
It has a Bohuslav Martinů concert Hall that can seat about 200 people. It's mostly used for concerts of graduates.
The Grotta
This artificial cave is something out of a fairytale. The Grotta is a strange cave in Prague with arcade promenade. Its structure is captivating and urges you to stroll inside to explore its mystery.
Millionaire Moritz Gröbe wanted to build something different and voila he came up with the idea of an artificial cave. Construction began in 1871 and was finished by 1888.
This enticing cave became open to public in 2011 after renovation.
So there you go, our top picks of things to do in Mala Strana Prague – our favourite neighbourhood in Prague due to the amazing Castles, Churches and gardens in the area.
We feel that Mala Strana really has something for everybody. Are you an architect or artist? Then, you should drop by the Prague Castle or the Charles Bridge. If you want to get some peace and quiet in the city, visit the gardens.
Whatever you do, when you are in Prague, you simply must visit this famous district.
Where to Stay near Mala Strana Prague?
We stayed in two amazing Hilton Hotels while in Prague – Hilton Prague Old Town and Hilton Prague.
Hilton Prague Old Town is right in the centre of Prague which is great and Hilton Prague is the largest hotel in Prague where famous people like former president Barack Obama have stayed.
Here are our recommendations on where to stay in Prague by budget:
Want more Prague other than Mala Strana Prague?
We love Prague! Here are our recommendations as to:
And, if you are in Prague don't forget to try one of our favourite meals ever – Prague duck!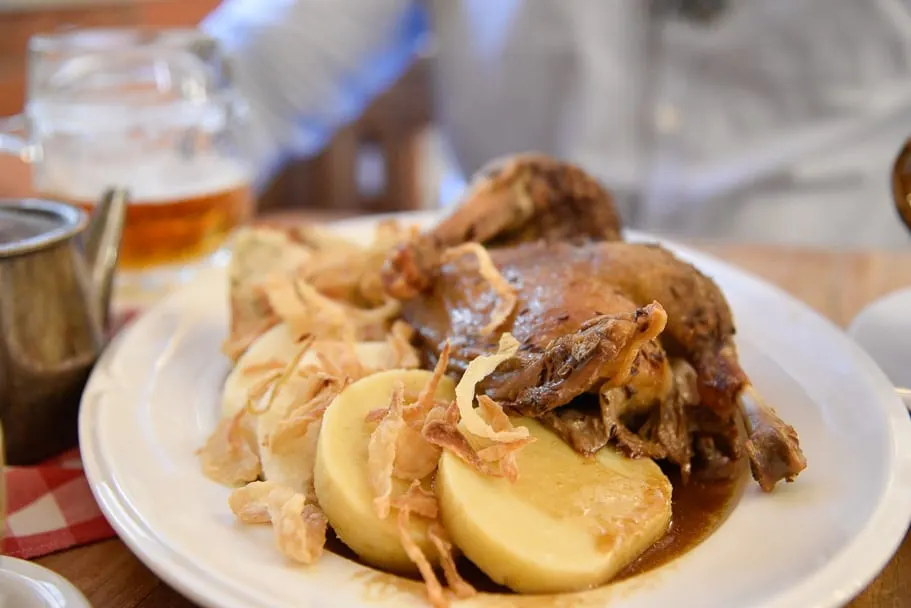 Save Best Things to Do in Mala Strana Prague to Pinterest so you can find it again later!